EDITOR'S PICK
ARB 10000011 Series II Speedy Seal Tire Repair Kit
Case Dimensions: 13.5" X 8" X 2.5"
Weight: 3 lbs total weight
Professional tire repair kit
Kit includes insert and reamer tools, repair plugs, a razor blade, an Allen key, lubricant, a pair of pliers, a pressure gauge, and valve repair kit
High-visibility carrying case
PREMIUM PICK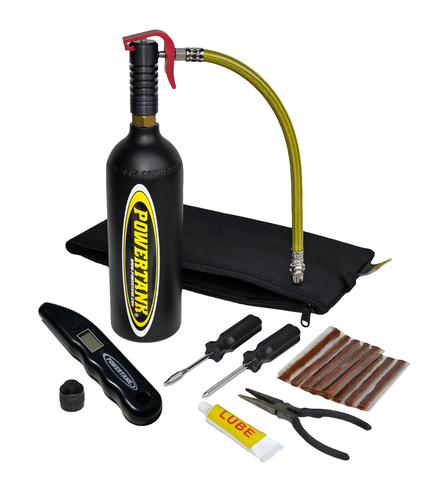 Power Tank PTM-1025 Power Shot Trigger System
Dimension: 14" X 10" X 6"
Weight: 6 lbs total weight
Refillable tank-based tire repair kit
Kit includes 20 oz. tank, steel braided hose, digital pressure gauge, and plug kit with hand tools and lubricant
Comes in a vinyl zipper carrying pouch
BUDGET PICK
Smittybilt 2733 Tire Repair Kit
Case dimensions: 9" X 6" X 2"
Off-road-focused tire repair kit
1.8 lbs total weight
Kit includes insert & reamer tools, rubber plugs, pair of pliers, patches, pocket knife, pressure gauge, bailing wire, extra valve stems, and rubber cement
Comes in a cloth case
Statistics show that by the time you finish reading this review, around 1,000 tire punctures will have occurred in the United States alone. That's more than 200 million tire punctures a year for 280 million registered vehicles on the road. So to say that you are highly likely to experience a tire puncture would be an understatement.
It goes without saying that tires are vital components of any vehicle. They are the only contact point between your car and the road, so it is essential to take care of them. But no matter how careful you are, avoiding a tire puncture is pretty much impossible. There is no going around the fact that tires are defenseless against wear and sharp objects on the road and that punctures happen when you least expect it. The next best thing to do is be prepared when the inevitable finally happens. The good news is, all you need to quickly fix an unwelcome puncture is a simple and inexpensive tire repair kit.
But although flat tire repair kits are apparently simple, there is a lot to consider before selecting one from the plethora of options online. To help you with the process, we have narrowed it down to 9 of the best tire repair kits we could find. Of course, there might be many other good models not included in the list as I made sure to only include those that I have extensively used and tested during my 15 years in the field. If you use a different tire repair kit and think it should be included here, don't hesitate to let me know in the comment box below!
Tire Repair Kit Reviews
If you are looking for cheap tire care equipment that actually functions how it is supposed to, Slime is the brand for you. Its 2410 Small Tire Tackle Kit is a competent 14-piece kit you can use to replace a leaking valve core in just a few minutes. The kit contains a pocket-sized air pressure gauge, a 4-way valve tool, four chrome hex-head valve caps, four plastic caps, and four valve cores. The center of attention here is the 4-way valve tool; you can use it to remove defective valve cores, insert new ones, and re-tap treads.
Slime's 2410 repair kit is a handy tool and one that everyone should have in their glove box. The 14-piece set comes organized in a box format that occupies minimal space. Moreover, thanks to universal measurements used in tire valves, this kit is helpful for cars, trucks, motorcycles, trailers, etc.
Of course, it's worth mentioning that this kit doesn't come with plugs and patches to repair punctures. However, I thought it would be a good idea to include it here since it's a perfect complement to any flat tire repair kit. Indeed, when repairing a flat on the side of the road, it's not uncommon to have some problem with stuck valve cores. And it's no use to install a plug on a flat tire if you can't even inflate it back once it's fixed. Your best bet is to keep one of each in your glove box so you'll be prepared for everything.
Highlighted features
Tire valve repair kit
Come with 4 hex caps, 4 plastic caps, 4 valve cores, a 4-way tool, and a pencil gauge
3.25" painted pencil gauge with 10-50 PSI range
It does not affect tire sensors
Useful for most valve repairs
Pros
Inexpensive tire repair kit
High value for money
Easy to use
Has everything you need
Compact and organized housing
You can use it for cars, trucks, motorcycles, etc.
1-year manufacturer warranty
Cons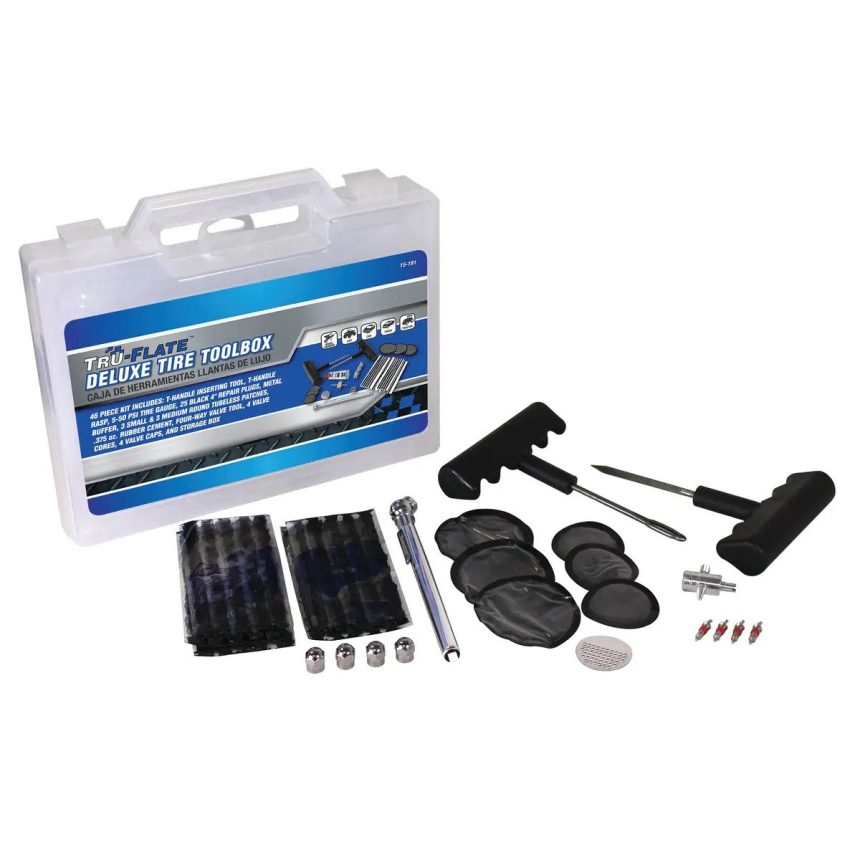 The Tru-flate deluxe repair kit is a versatile tire solutions kit that offers you different ways to fix pretty much any puncture. The 46-piece kit includes 25 4″ plugs, 3 small and 3 medium round patches, a 4-way valve tool, 4 valve cores & 4 caps, a 0.375 oz. rubber cement tube, a 5-50 PSI pencil gauge, two t-handle tools, and a metal buffer. All this is neatly organized in a compact plastic briefcase, so it occupies minimal space in your trunk.
What makes Tru-Flate's kit genuinely worth the money is its ability to work on all types of tubeless tires. Besides, you get the option to choose between plugs and patches to repair a puncture. The kit also includes a 0.375-oz. rubber cement tube to ensure a long-lasting fix. Rubber cement is not always essential but if you have it, you might as well use it. It will help the plug fuse with the tire and will reduce the risk of leaks. The 4-way tool will make it easy for you to repair broken or leaking valve cores and even replace them if necessary.
This kit is ideal to be left in the trunk for those "ah crap" scenarios. It's also suitable for professional mechanics, as it can repair more than 25 punctures with the included equipment. Eastwood also sells replacement plugs and patches when you need more but you can also use it with any other manufacturer's plug and patches.
Highlighted features
Tire valve and puncture repair kit
46-piece kit includes tire plugs, patches, tools, valve accessories, cement tube, and a pencil gauge
5-50 PSI pencil gauge
Organized in a plastic storage box
Pros
Can fix up to 25 punctures
Easy to use
Long-lasting and versatile tire repair kit
Included rubber cement to effectively seal punctures
All-around tire repair kit
Includes everything to repair a puncture on-the-go
Compact plastic storage box
Cons
None – when it's good, it' good!
Smittybilt is predominantly known for developing high-quality aftermarket accessories for Jeeps and other off-road vehicles. With a mighty 50 years of experience in the field, the brand develops a tire repair kit specifically for off-roading environments. The Smittybilt 2733 tire repair kit has everything you need to mend a punctured tire successfully. It includes a pair of pliers to remove the penetrating objects, aluminum tools, 30 self-vulcanizing plugs to fill the hole, tire patches, a pocket knife, a pressure gauge, and some baling wire. You also get a couple of extra valve stems and a 4-way valve core tool.
Since this is an off-road tire repair kit, all equipment such as the reamer and insertion tool is built to handle extreme environments. If you regularly hit the trails, having the Smittybilt 2733 tire repair kit handy is in your best interest. It won't take much space either since all the mentioned equipment comes neatly stored in a cloth carrying case weighting merely 1.8 lbs.
Highlighted features
Case dimensions: 9" X 6" X 2"
Off-road-focused tire repair kit
1.8 lbs total weight
Kit includes insert & reamer tools, rubber plugs, pair of pliers, patches, pocket knife, pressure gauge, bailing wire, extra valve stems, and rubber cement
Comes in a cloth case
Pros
High-quality aluminum hand tools
Convenient carrying case
Lightweight and portable
Can repair valve issues and tire punctures
More than 30 punctures repair capacity
Perfect for off-road vehicles
Cons
The pressure gauge is not as accurate as other models
The Black Jack KT340 tire repair kit is a true commercial-grade model. Where most kits have tools with a metal grip (which are durable but can get quite cold when fixing flats in winter), both hand tools in the KT340 are fitted with a soft yet durable rubber T-bone grip for the operator's comfort. At the same time, there is also a solid steel inner core to make sure the tools last a long time without getting easily damaged. Another unique feature about the T-bone handles is interchangeability; using a set screw, you can change the probes on each handle. While you get a 6″ spare needle, the T-bone handles are fitted with a spiral probe and a 4″ open eye needle as standard.
If that does not impress you, then the screwdriver surely will. The Black Jack screwdriver included in this kit is far from normal; it is a reversible screwdriver with a standard Philips head on one end and a valve core removing tool on the opposite (if you are a pro mechanic and you've been using that classic red valve core screwdriver, try this one! You won't regret it!).
Other contents include a tube of rubber cement, one hex wrench, a razor blade for cutting excess plug material off, and 40 4" (20 thin and 20 thick) rubber repair plugs. Moreover, every component has its designated place in a custom case to make sure nothing gets lost.
If you are a mechanic, trust me, you'll like this one. The soft grip on the hand tools will minimize fatigue and allow you to work efficiently for longer durations. Meanwhile, people looking for a kit to keep in their car can also buy the Black Jack KT340; it will do the job just fine but most will never use it to its full capacity. However, that should not be a problem as this kit has a 20-year shelf life.
Highlighted features
Case dimension: 12.8" X 2.5" X 7.1"
Weight: 3 lbs
Commercial-grade tire repair kit
Includes 2 hand tools, a spare attachment, a reversible screwdriver, rubber cement, a razor blade, 40 rubber plugs, and one hex wrench
Molded plastic case
Pros
Versatile tire repair kit
Soft grip on hand tools for optimum comfort
Multipurpose and well-engineered tools
40 punctures repair capacity
Convenient and efficient storage case
High value for money
Cons
No replacement valve cores included
Does not come with patches
Costs more compared to other tire repair kits
Another heavy-duty model is the ARB 10000011 Speedy Seal Tire Repair Kit. ARB is a brand with a rich history in the field, specialized in aftermarket off-road equipment; be it storage solutions, air compressors, lighting equipment, or suspension systems, ARB has it all. The invaluable knowledge ARB gathered from its 45-year experience makes the 10000011 Series II kit one of the best tire repair kits out there.
The improved Series II kit includes an insertion needle, a reamer tool, 40 self-vulcanizing repair plugs, a pocket knife, a pair of pliers, a dual chuck pressure gauge, lubricant, and an Allen key. There is also a separate valve repair kit with a 4-way tool, 4 valve cores, 4 metal & 4 plastic valve caps, and two valve stems.
ARB's superior quality standards are highlighted by the use of high-grade materials such as spring steel in the hand tools. Such high standards make it perfect for commercial use by professional mechanics (that's personally the kit I've been using for the past 4 or 5 years). And once you use up the included 40 repair plugs, ARB will sell you more in packs of 50.
This one is truly made for professionals. Of course, it still works fine for DIYers but they might be better with a smaller kit—it might take a while before you have to fix 40 flats on your car.
Highlighted features
Case Dimensions: 13.5" X 8" X 2.5"
Weight: 3 lbs total weight
Professional tire repair kit
Kit includes insert and reamer tools, repair plugs, a razor blade, an Allen key, lubricant, a pair of pliers, a pressure gauge, and valve repair kit
High-visibility carrying case
Pros
Reliable and long-lasting tire repair kit
Can repair punctures and valves
40 punctures repair capacity
Strong plastic case
High-quality steel tools
Detailed instructions included
Cons
No patches included
The case is slightly larger than other models
If you are not happy with the conventional tire plugging kits and are looking for something unique or different, we got just the thing for you. Meet the Stop & Go 1075 tire plugger, an innovative model that uses a spring-loaded gun instead of you having to jam the plug into the tire using hand tools. The main aim of this system is to decrease the required human effort and time taken to repair a puncture.
All you have to do beforehand is use the reamer tool to enlarge the puncture hole sufficiently. The tire plugger gun will then securely install one of the included mushroom rubber plugs. The plug's mushroom end goes in first, so you get a secure and long-lasting seal without the possibility of leakage.
The Stop & Go 1075 comes in a vinyl zipper carrying pouch will all the necessary tooling. It includes 25 mushroom rubber plugs, a plugger gun, insertion & reamer tools, and a folding knife. You don't get a pair of pliers but be sure to add one of your own in the pouch (nail and screw can be really hard to remove from a tire).
Overall, if your line of work requires driving long distances frequently, the Stop & Go 1075 is one of the best tire repair kits. Its innovative engineering and unique approach greatly help in reducing the time it takes to repair a puncture. However, if you are a professional fixing flat tires all week long, you might be better with a conventional kit. Regular plugs are simply a lot easier to find and often cheaper.
Highlighted features
Pouch Dimension: 6.5" X 9" X 1"
Weight: 2 lbs
Includes a plugger gun, 25 rubber plugs, insertion & reamer tools, and a folding blade
Vinyl zipper pouch for storage
Pros
Plugger gun reduces the required effort
Ingenious approach and engineering
Faster than conventional models
25 punctures repair capacity
High-quality and long-lasting tooling
Lightweight and portable tire repair kit.
Cons
Can't be used to repair valve stems
No pliers or pressure gauge included
Up next, we have the Overland Vehicle Systems off-road tire plug repair kit. It is a 53-piece conventional tire repair kit focusing on hardcore 4X4s, trucks, trailers, recreational vehicles, etc. Its off-road-focused nature is evident by subtle yet effective features like the extra-long rubber plugs. Where most kits have rubber plugs measuring anywhere between 3"-4" in length, Overland's kit features massive 8" plugs allowing you to use them on heavy-duty tires with thicker threads. Of course, if you are plugging an average car, you can just cut the extra length using the included pliers.
The kit also includes high-grade 6.75″ reamer and probe tools with knurled handles for optimum grip, 20 self-vulcanizing plugs, a pair of heavy-duty pliers, an 8.75″ pressure gauge, two Allen keys, lubricant. It also comes with a small valve repair kit with chrome hex caps, plastic caps, tire deflators, valve cores, and a standard 4-way tool.
Overland's tire repair kit is perfect for individuals with high off-road activity in their life. It costs a little more than basic kits, but you certainly get your money's worth. Besides, Overland offers a lifetime warranty with a money-back guarantee if you are not happy with the product.
Can't go wrong with this one!
Highlighted features
Case dimension: 21" X 14" X 4.5"
Weight: 8 lbs
Heavy-duty tire repair kit
Includes hand tools, pliers, 25 plugs, valve repair kit, 2 Allen keys, lubricant, and a pressure gauge
High impact storage case
Pros
Can repair punctures and leaking valve cores
25 punctures repair capability
Extra-long 8" rubber plugs
High-quality hand tools with knurled handles
Perfect for off-road tires
Lifetime warranty and money-back guarantee
Cons
Weights more than other models
Another technologically advanced tire repair kit is the Slime 50123, an all-inclusive automatic repair kit that requires you to do nothing more than merely push the ON button. Simply put, the Slime 50123 flat tire repair kit is three main components built into one compact package—a tire inflator, a tire repair kit, and a tire sealant.
The way it works is quite ingenious; instead of using traditional rubber plugs or interior patches, all you have to do is connect the air hose to the flat tire's valve and plug the compressor into your car's 12V outlet. The inflator will fill your flat tire with a mixture of air and Slime's emergency tire sealant within 8-10 minutes.
If you are looking for a quick and effortless fix to a tire puncture, the Slime 50123 flat tire repair kit is the one for you. The only downside is that, unlike the conventional plugging method, this kit only provides a short-term fix. You would still have to take your car to a tire shop to repair the puncture properly within 3 days or 100 miles.
Still, in an emergency situation, it's better than nothing. And it's also perfect for anyone who simply doesn't know how to fix flat tires. If you aren't sure how to correctly use a flat tire repair kit, just keep the Slime 50123 in your trunk.
You'll thank us later!
Highlighted features
Case dimension: 9.9" X 2.8" X 8"
Weight: 3 lbs kit
Automatic tire repair kit
Includes an air compressor
Comes with 15.2 oz. Slime emergency sealant
Pros
Backlit digital display works in all lighting environments
An easy and quick fix to tire punctures
Ergonomic design features
Portable kit protected by a plastic casing
Environmentally friendly and TPMS safe
Can repair punctures up to ¼"
Integrated pressure release valve
Cons
It cannot repair faulty valve cores
Only provides a short-term fix
On the expensive side
Requires additional sealant cartridges over time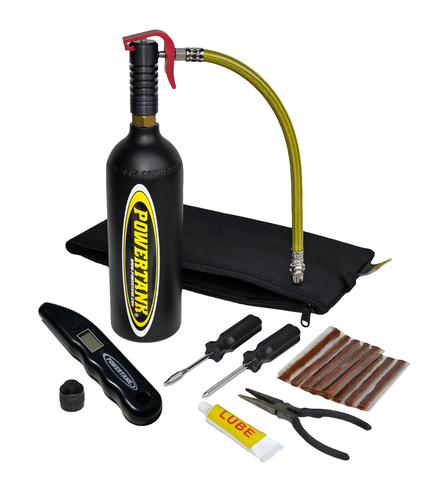 Another tire repair kit that eliminates the need for a separate portable air compressor is the Power Tank PTM1025. Power Tank is a brand known for producing high-quality air systems primarily for off-road applications, and the PTM1025 power shot trigger system is a fine example of that.
The kit consists of a 20 oz. lightweight aluminum tank and everything you need to plug a tire. Once you have successfully plugged the tire using the usual tools, you can fill it up using the stored CO2 from your Power Tank.
The 20 oz. tank will fill between 3 to 5 tires before you need to get it refilled at any local sporting goods or paintball shop for a small fee. These tanks are built from aluminum to keep the weight down while providing the required strength. Plus, the attractive matte black finish is icing on the cake.
Get Power Tank's model if you are in the market for a rugged and all-around tire repair kit. It may cost significantly more than other models, but Power Tank's track record is anything to go by; this will be the last kit you ever buy.
Highlighted features
Dimension: 14" X 10" X 6"
Weight: 6 lbs total weight
Refillable tank-based tire repair kit
Kit includes 20 oz. tank, steel braided hose, digital pressure gauge, and plug kit with hand tools and lubricant
Comes in a vinyl zipper carrying pouch
Pros
Easy and convenient to use
Quick refilling time even on large tires
High airflow rate
Lightweight and rugged aluminum tank
Zipper pouch for easy storage
5 punctures repair capacity & 3-5 tires refilling capacity
Backed by a lifetime warranty
Cons
On the expensive side
Bulkier than other models
Tank needs to be refilled
Frequently Asked Questions (FAQs)
Is there anything else I need to fix a tire puncture?
Another significant piece of equipment you need to get your car back on the road after a tire puncture is a suitable tire inflator. It is a type of portable air compressor that you can use to refill your tire after the puncture has been repaired. Tire inflators are cheap and compact devices that you can easily store in your car's trunk without taking up any significant space. If you don't already own one, make sure to check out our best tire inflators review first.
What other emergency equipment do I need to keep in my car at all times?
Even though traveling by car is a regular day-to-day activity for most people, you never know what misfortune the driving gods may bestow upon you on any given day. To prevent being stranded on the side of the road, you must always do your best to prepare for any eventuality you are presented with.
For that purpose, there are some things you should keep in your car at all times. In addition to a tire inflator and repair kit, you should also have a scissor jack, jumper cables, a properly inflated spare tire, and the tools to change a tire.
The list of safety equipment includes a first aid kit, a fire extinguisher, a couple of high-visibility jackets, reflective triangles, a flashlight with spare batteries, and good old duct tape.
Of course, everything mentioned above is a general guide to the equipment you should keep in your car. The list can significantly change depending on various factors such as climate conditions, driving environments, local laws, etc. If you'd like to know more, check out our post about to put together the perfect car emergency kit.
Which method of repairing a puncture is better, rubber plugs or patches?
Well, it won't be overly fair to compare both these methods of repairing a puncture as they have a unique and distinct approach. Using rubber plugs is a convenient and quick process to provide immediate solutions in emergencies.
On the other hand, there are several elaborate steps to fixing a puncture using interior patches. You first need to take the flat tire off your car, remove the tire from the rim, buff the surface, and only then can you install the patch. The next step would be to reinstall the tire and balance it before putting it back on your car.
So to install an interior patch, you will need a car jack, a tire-rim separator, and a wheel balancing machine (which I doubt you have unless you work in a repair shop or own the most badass house garage ever), while everything you need to install rubber plugs is present in your tire repair kit.
As a general rule, only professionals use patches. Nonetheless, don't think that plug fixes are any less efficient than patches. Yes, patches are permanent and plugs might leak after 2-3 years. But given that most tires have a lifespan of about 4-5 years and unless you install the plug 3 days only after having your brand new tires on, it should last more than long enough.
How many punctures can a tire take before it needs to be replaced?
Statistics suggest that an average vehicle is unlikely to have more than 1-2 tire punctures a year. But if you have a streak of bad luck (or run over a box of nails) and manage to get multiple punctures on the same tire, you should know that there is no fixed limit to the number of tire punctures you can repair before needing a replacement.
Tire companies or car manufacturers would advise you against having 2 plugs within 16″ of each other, but in reality, you are good as long as you don't have more than 2 punctures 1″ apart. It's really a question of judgment here. How expensive are your tires? Are they almost worn out or brand new? Of course, if your tire is brand new and cost $400 apiece, I would install as many plugs as possible. On the other hand, if it's kinda old and now has 6 holes in it, you might be better just buying a new one.
Nonetheless, never try to repair a sidewall puncture. Installing a plug or a patch will never work. Even if the repair seems fine while the tire is off the car, the weight of the vehicle will deform the hole and will inevitably cause the plug to leak. In that case, the only solution is tire replacement.
Verdict
A tire repair kit is an essential piece of equipment for every vehicle on the road. Although several kits may look similar in terms of included components, there are often subtle differences capable of significantly impacting that kit's usability. Therefore, it is crucial to purchase the best kit depending on your needs, only after looking at each model carefully.
Of course, there no clear winner here; instead, the list includes 9 of the best tire repair kits on the market. However, if you are looking for a kit to keep in your car for emergencies, the Smittybilt 2733 Tire Repair Kit and Stop & Go 1075 are probably your best bet. On the other hand, the ARB Series II model is more suited for professional mechanics and tire technicians.