EDITOR'S PICK
CRAFTSMAN CMMT99436 Digital Torque Wrench
50 ft-lbs to 250 ft-lbs torque range
Available measurement units: ft-lbs, in-lbs, and Nm
Bi-material secure grip handle
Alloy steel construction with polished chrome finish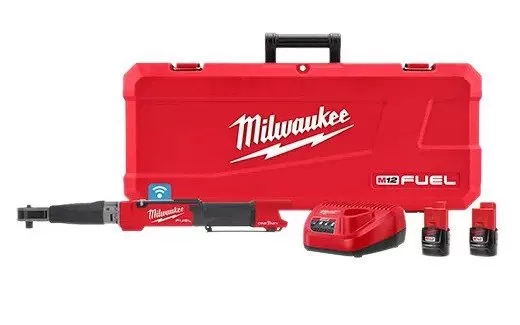 Milwaukee 2466-22 M12 FUEL Digital Torque Wrench with One-Key Kit
10 ft-lbs to 150 ft-lbs torque range
Available measurement units: Nm, ft-lb, in-lbs, & Kg-cm
Accuracy: +/- 2% clockwise & +/- 3% anti-clockwise
Plastic, rubber, and aluminum construction
BUDGET PICK
GEARWRENCH 85077 Electronic Torque Wrench
25.1 ft-lb to 250.8 ft-lb torque range
Available measurement units: Nm, ft-lb, in-lbs, Kgf-m, & Kgf-cm
Accuracy: +/- 2% clockwise & +/- 3% anti-clockwise
Alloy steel construction with chrome finish
If you've done some engine work in the past, you sure have used a torque wrench at some point to precisely tighten nuts to the required torque value. However, you might have used one of those click-type model that is kinda outdated now. In today's world, where electronic tools are becoming increasingly reliable and more affordable than ever, mechanical torque wrenches just don't cut it anymore. Digital torque wrenches are not only more precise but also significantly more user-friendly. Consequently, if you are serious about your tool game, your average click-type torque wrench could use a slight upgrade.
Electronic tools are designed to make your life much easier while also increasing speed and efficiency in the workplace. And everything a mechanical torque wrench can do, a digital one can do even better. All you need is to program the required torque value, and the wrench will then alert you when the pre-set value is reached. Some models even come with specific visual and audible warnings and a plethora of features that traditional click-type torque wrenches can only dream about.
The only problem? It is easy to get overwhelmed by the hundreds of options available online. So, to help you choose the best digital torque wrench for your needs, we have curated and reviewed some of the best digital torque wrenches currently on the market.
As usual, this list was created using the knowledge and experience gained after almost 15 years of working in the field. Nonetheless, I am not the absolute reference in the matter, and different people may prefer different models. I tried to make sure to include different torque wrenches catering to various budgets and work types, but of course, I might have missed a couple. If you use a digital torque wrench not included in this list, make sure to leave a comment below, and I'll happily review it too.
Enjoy!
Best Digital Torque Wrench Reviews
The GearWrench 85077 electronic torque wrench is equipped with a 72-tooth ratchet mechanism with a 5° swing arc, making it really easy to operate, even in really tight spaces. And worth mentioning, GearWrench claims its digital torque wrench is accurate up to +/- 2% clockwise and up to +/- 3% counterclockwise—not an easy feat for an entry-level, budget-friendly model.
GearWrench's digital torque wrench offers a torque range of 30 Nm to 340 Nm in its primary scale. An alternative scale measures torque in ft-lbs, starting at 25.1 ft-lb and going up to a maximum of 250.8 ft-lb. Apart from these two measurement units, you also get others such as in-lb, Kgf-m, and Kgf-cm. Although, in all honesty, you might never need the last two when it comes to auto mechanics, but you never know. Better safe than sorry, right?
You can select the unit you want and many other things like the torque ceiling by using the buttons next to the digital display. Once the wrench is close to your pre-set torque value, you get a warning followed by an audible buzzer, vibrating handle, and solid LED light when you've reached the target value.
The 85077 electronic torque wrench boasts an alloy steel construction with a rubberized handle for optimum grip. The handle area and the digital display housing are designed to resist oil, grease, and any other solvents that it will most probably be covered with at some point.
The GearWrench 85077 digital torque wrench is a great entry-level digital torque wrench perfect for DIYers and beginner mechanics. If you don't regularly do a lot of engine work but still want to make sure you have a reliable digital torque wrench just in case, get this one. It's pretty inexpensive and will last you for years. On the other hand, if you use your torque wrench every week, you might be better with one of the more professional options below.
Looking for a GearWrench digital torque wrench in 3/8″ drive instead? It's here!
Highlighted features
25.1 ft-lb to 250.8 ft-lb torque range
Available measurement units: Nm, ft-lb, in-lbs, Kgf-m, & Kgf-cm
Accuracy: +/- 2% clockwise & +/- 3% anti-clockwise
Alloy steel construction with chrome finish
Pros
Multi-layered target torque alerting system
Rubberized handle provides good grip
Easy to clean
Reasonably priced
Wide torque range with 5 available units
Comes in a blow-molded plastic carrying case for portability and secure storage
1 year limited manufacturer warranty
Cons
Not suitable for critical applications
The ACDelco Tools ARM3174A is a digital torque wrench specially designed for critical automotive applications. Like the previous model, it is a 1/2″ drive with a 72-tooth gearing system. Available measurement units include Kg-cm, Nm, and in-lbs, and it offers a torque range of 5 ft-lbs to 99.5 ft-lbs, which is less than the previous model, but you get better accuracy at +/- 1.5% clockwise & +/- 2.5% counterclockwise.
However, the best part about the ACDelco Tools ARM3174A is that it comes with an angle indicator capable of measuring up to a maximum of 720°. Thanks to this feature, you won't need to purchase an angle indicator separately.
ACDelco's digital torque wrench comes with an industrial-grade anti-slip handle to make sure you never lack grip, even with hands covered in grease (ok, you might still need to wipe them from time to time, but you get the point). There is also a backlit LCD screen you can use to set your target torque value and track the actual value in real-time. You even get visual, audible, and haptic feedback when the target torque is reached.
The ACDelco Tools ARM3174A digital torque wrench is perfect for those looking for an advanced and more accurate version of the previous model. The angle indicator adds significant value, but on the downside, you will have to make do with a narrower torque range.
Looking for an ACDelco digital torque wrench in a 3/8″ drive instead? It's here!
Highlighted features
5 ft-lbs to 99.5 ft-lbs torque range
Available measurement units: ft-lbs, Kg-cm, Nm, and in-lbs
Accuracy: +/- 1.5% clockwise & +/- 2.5% anti-clockwise
Alloy steel construction with chrome finish
Pros
Auto shut-off functionality after two minutes left unused
Offered with an angle indicator
Great value for money
Easy to use ergonomic design
Backlit LCD display
Comes in a heavy-duty hard-shell case
1 year manufacturer's limited warranty
Cons
Narrower torque range compared to the previous model
Batteries not included
The Craftsman CMMT99436 is a ½" drive digital torque wrench designed for highly critical and heavy-duty applications such as torquing cylinder-head bolts where the tiniest of deviation from the required torque value can result in catastrophic consequences. Craftsman's model offers a fully digital LED-backlit screen for optimum readability, and you get a versatile torque range spanning 50 ft-lbs to 250 ft-lbs. Moreover, you can change the measurement unit to in-lbs or Nm (none of the more scientific/electronics-oriented units here, but mechanics don't really need that anyway).
Like the previous model, the CMMT99436 comes with an in-built angle indicator to make your life much easier. You might not come across bolts with torque sequences requiring specific angles, but trust me, when you do, you'll be happy you have one. I've mostly seen head bolts with such procedures, and it was a bitch (and rather nerve-racking) to torque them by marking the bolts with chalk and all.
Of course, Craftsman making mostly tools intended for professional use, you also get the usual convenience-enhancing features such as multi-layered alerts, a high-grip handle, etc. To put it simply, it has pretty much all the same bells and whistles as the previous ones in a higher-end package.
If you are a professional mechanic looking for an accurate, reliable, and heavy-duty digital torque wrench to use in the shop without breaking the bank, this is the one. In fact, our team of experts liked it so much that it was awarded the highly coveted "Editor's pick" title.
Looking for a Craftsman digital torque wrench in 3/8″ drive instead? It's here!
Highlighted features
50 ft-lbs to 250 ft-lbs torque range
Available measurement units: ft-lbs, in-lbs, and Nm
Bi-material secure grip handle
Alloy steel construction with polished chrome finish
Pros
Sophisticated alerting system with dual LEDs
Great user interface
Wide torque range
Suitable for critical applications and rough use
Backlit LED display makes it usable in low-lit environments
Clear storage case for easy identification
Angle measurement functionality
Lifetime limited manufacturer warranty
Cons
Not much to say here… When it's good, it's good.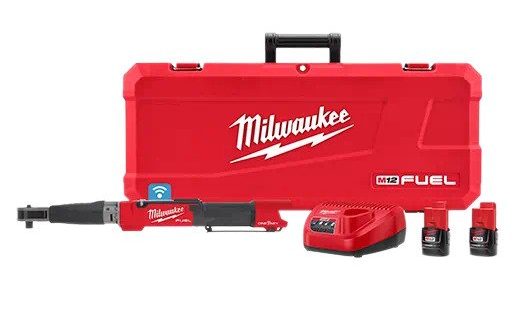 If you thought the previous model was impressive, wait till you see Milwaukee's take on a digital torque wrench. Meet the Milwaukee 246622, the definition of a digital torque wrench cranked up to eleven. Worth mentioning, it's the world's first torque wrench fitted with an electric motor to do most of the tightening for you. All you need to do is the final rundown.
The 246622 torque wrench also comes with Milwaukee's advanced digital platform "One-Key" that allows you high levels of customizations along with the ability to save final torque data for future reference. The onboard computer is operated by a large LCD screen where you can set a torque limit, switch between measurement units, choose between 6 pre-programmed languages, view saved data, and much more.
Next to the LCD display, there is a collection of LED lights that are part of the alerting system. As you reach near the target torque, white lights will appear progressively and turn green when the target torque is reached. If you keep going (not sure why you would do that, but still…), the lights will turn red. Of course, during all three stages, the lights are also accompanied by audible and haptic feedback.
Moreover, you also get the widest torque range in the list, between 10 ft-lbs and 150 ft-lbs, while other available measurement units include in-lbs, Nm, and kg-cm. The Milwaukee 246622 is accurate up to +/- 2% clockwise and +/- 3% anti-clockwise—not the most precise out there but more than good enough for auto mechanic applications.
Milwaukee's digital torque wrench on steroids comes with two rechargeable batteries and a charger. You might think that two batteries might be overdoing it, and you would be right. Unless you torque bolts all day long on an assembly line, you will probably never even drain out of the first battery. However, Milwaukee's batteries are interchangeable and can be used with other power tools from the M12 series.
The Milwaukee 246622 is by far the best digital torque wrench you can buy. Now, we realize that the high price tag will make it out of reach for most weekend DIYers and auto mechanic apprentices. And it's ok. If it's your case, you are much better buying a more affordable model that will still do the job just fine and spend those hard-earned bucks on power tools you'll use much more frequently, like your impact wrench, for example. However, if you are a seasoned mechanic looking to up your game and buy a torque wrench that will make your coworkers jealous, look no further and get the Milwaukee 246622. Trust me, you won't regret it!
(In the spirit of full disclosure, I have to admit that this is the torque wrench I've bought and have been using at work for the last two years or so, and I still love it as much as day one. It's pretty awesome aside from the fact that everyone now comes asking to borrow my torque wrench since then…)
Looking for a Milwaukee digital torque wrench in 3/8″ drive instead? It's here!
Highlighted features
10 ft-lbs to 150 ft-lbs torque range
Available measurement units: Nm, ft-lb, in-lbs, & Kg-cm
Accuracy: +/- 2% clockwise & +/- 3% anti-clockwise
Plastic, rubber, and aluminum construction
Pros
Motorized operation Saves up to 50% time
User-friendly large LCD display
LED alerting lights with audible and haptic feedbacks
6 available languages
Tough and durable body
Comes with a carrying case
Compatible with all Milwaukee M12 batteries
5 years manufacturer limited warranty
Cons
On the expensive side (but worth every penny!)
The final product on the list is a wee bit different from what we've seen so far and is intended for weekend DIYers who know they will rarely need a torque wrench and think it might not be worth it to spend money on one (but of course still need one on rare occasions and not interested in just eye-balling it either). Instead of a full-blown digital torque wrench, the ACDelco ARM6024A is an adapter to turn your regular ratchet into one.
Simply attach this adapter onto your regular ½" ratchet's drive and attach the required socket to the adapter. The adapter will then provide accurate torque readings through the LCD display in real-time.
ACDelco's ½" drive digital torque adapter offers a torque range of 25 ft-lbs to 250 ft-lbs. Moreover, you can use the buttons provided to select your preferred measurement units and set the maximum torque limit. Once the pre-set limit is reached, the device will alert you with an audible buzzer and flashing LED lights.
The ACDelco ARM6024A is the perfect alternative for those who don't use a torque wrench often or don't have the budget to buy a full-fledged model. It is as accurate as previous models and is almost as capable. However, it's a bit bulky and may not fit in tight areas, but still, it's a pretty good compromise.
Highlighted features
25 ft-lbs to 250 ft-lbs torque range
Available measurement units: Nm, ft-lb, in-lbs, & Kg-cm
Accuracy: +/- 1.5% clockwise & +/- 2.5% anti-clockwise
Digital torque wrench adapter for regular wrenches
Pros
Can be used with any ½" ratchet wrench
LED and buzzer for warning
Cheaper than a proper digital torque wrench
High accuracy
Wide torque range
Easy to mount or dismount
1 year manufacturer warranty
Cons
LCD display may be hard to read when used deep in an engine bay
Makes your ratchet head much bulkier and may not fit in tight spaces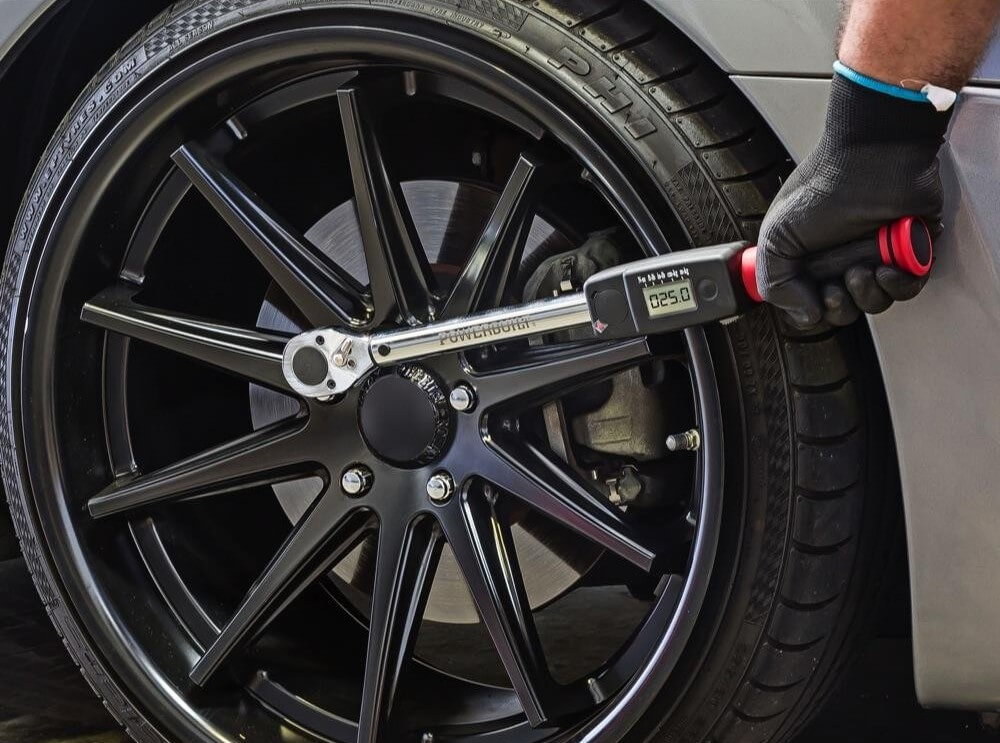 What to Consider When Choosing a Digital Torque Wrench
Accuracy
As you already know by now, applying the right amount of torque to bolts is of paramount importance in specific areas like engine head bolts. Even the slightest deviation can potentially result in severe problems and cause various components to not sit right, and cause leaks. So, a digital torque wrench should be highly accurate to prevent such mishaps from happening. Most models in the list are at least accurate up to +/- 2% clockwise and +/- 3% anti-clockwise; this should be the minimum accuracy you are looking for in a digital torque wrench.
Torque range and measurement units
A digital torque wrench's range is defined as the variation between the maximum and minimum torque limits it can measure. Each bolt needs to be tightened to a specific torque value, and these values can vary significantly. Torque wrenches with a wider torque range are obviously more versatile and will be suitable for a wider range of applications.
Most digital torque wrenches offer ft-lbs as the standard torque measurement value, mostly because most manufacturers will also use recommended torque values using this unit (most torque wrenches will also display Nm, which you may come across working on European car models).
If you are working on imported vehicles where the instructions are provided in another unit, say kg-cm, you will have to convert the values to ft-lbs. Doing this can potentially affect accuracy due to human error. So in order to eliminate the guesswork, make sure to buy a digital torque wrench with several available measurement units.
Nonetheless, if you mostly work on automotive applications, ft-lb and Nm should be more than enough.
Alerting methods
The last thing any mechanic wants is to over-torque any bolt. To prevent this from happening, digital torque wrenches come with specific ways of alerting the operator when the target torque is reached. These include using an audible buzzer, haptic feedback, and even flashing LED lights in some instances.
Each alerting method, of course, comes with its own set of advantages and disadvantages. Audible signals are beneficial when working in tight spaces when you can't see the torque wrench's display but are not the best in noisy environments. Haptic feedback fixes that but is not that useful when working with thick gloves (if you often work outside in the winter, you know what I mean). And lastly, LED lights are super handy when working in a low-light environment (which is pretty much every repair shop ever), but you gotta keep an eye on the display at all times.
To put it simply, when it comes to alerting methods, the more, the better!
User interface
Another essential factor to consider when choosing the best digital torque wrench is the user interface, which includes how you interact with the wrench's computer system and how well it does what you want it to do. Some models may offer basic systems with a couple of buttons where each button is programmed to do several tasks; this can complicate things and be challenging to remember which button does what, especially if you don't take out your torque wrench regularly.
Ideally, you'd want a torque wrench with a simple layout where each button is meant to control one parameter. However, that's not always possible with an entry-level model, so you'll have to be the judge here.
Grip
Using a torque wrench is all about slow and steady controlled motions to get the best possible results. You can't achieve this if your hand keeps slipping off the handle due to a lack of grip (and I've rarely seen a mechanic with non-slippery hands). For that reason, you need a digital torque wrench with a good anti-slip handle designed to provide optimum grip at all times.
Price
Of course, any digital torque wrench's price point and value for money are also important. If you are looking for a wrench for critical applications such as engine head bolts, spark plugs, etc., the smart choice would be to go for a high-quality model, even if it costs a bit more. After all, buying a more expensive model that will last for years is still cheaper than buying two or three during the same period.
However, I know this is also not always possible. I remember when I started in the field, I had so many tools to buy at the same time, I really had to prioritize. If this is your case and you are soon preparing to start your career as an auto mechanic, keep in mind that it's very unlikely you'll be doing a lot of engine work right away. You'll be changing a lot more tires and brake pads in the first few years, so you'll be much better investing in a good impact wrench and ratchet set instead. You'll have more than enough time to focus on a torque wrench after you've received a couple of paychecks.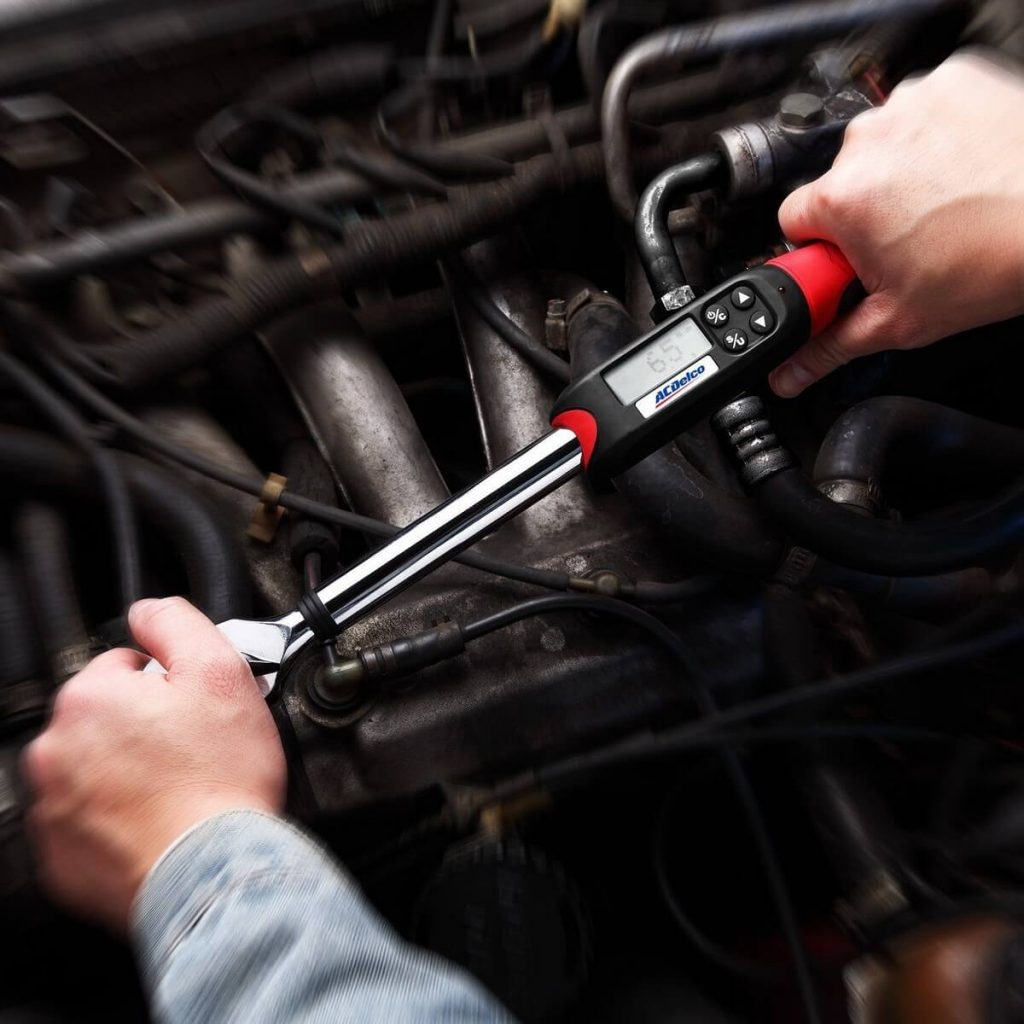 Frequently Asked Questions (FAQs)
Do I really need a digital torque wrench?
If you regularly use a mechanical torque wrench for critical applications that require utmost precision and accuracy, then yes, you need to try a digital torque wrench. It will make your life so much easier by automating a large chunk of the process and doing most of the hard work for you. Moreover, highly advanced models like Milwaukee's are true game-changers in the industry. The brand claims it can cut your working time in half, thanks to the electric motor that does most of the tightening for you.
However, if you only rarely need to torque bolts, digital torque wrenches are usually much more expensive than their mechanical counterparts that still do the job just fine. After all, they've been fixing cars and overhauling engines with good ol' click-type torque wrenches for years, right?
In all cases, just remember that you are still better with a cheaper torque wrench than no torque wrench at all. But honestly, if you torque bolts for a living, try a digital model. I promise you'll never want to go back to mechanicals.
Do digital torque wrenches need to be recalibrated? If yes, then how often?
Yes! All torque wrenches, whether they are mechanical or digital, require frequent accuracy checks and recalibration. It is common practice to recalibrate torque wrenches once every year or after every 5,000 cycles, whichever comes first. However, the criteria can differ from model to model, so we recommend referring to your owner's manual for more information. Furthermore, recalibration may also be necessary if the wrench has suffered a hard impact or extremely rough use.
And never drop your torque wrench, or it will need to be recalibrated or at least checked.
Is it worth getting a digital torque wrench adapter?
Digital torque wrench adapters like the ACDelco ARM6024A are designed to turn your regular ratchet into a digital one. They can be pretty accurate, but we still recommend getting a proper digital wrench if you plan on using it frequently. Adapters are only suitable for those who will use them once in a while, so spending on a proper digital model is not worth it.
Verdict
Now you have significant knowledge about digital torque wrenches that should help you pick the best model for you. I still want to say that we think that the Craftsman CMMT99436 is the best overall option. You get a wide torque range, decent accuracy, durable construction, and Craftsman's trusted reputation.
However, if money is no limitation in your hunt for the best digital torque wrench, no other model even comes close to the Milwaukee 246622 M12 Fuel torque wrench. Simply put, it is the Rolls Royce of digital torque wrenches and will make you wonder why you didn't buy one sooner.