EDITOR'S PICK
MILWAUKEE 2780-20 M18 Fuel Angle Grinder
POWERSTATE Brushless motor
Easy to handle and well balanced
Compatible with any M18 Fuel battery
Redlink Plus technology
PREMIUM PICK
MAKITA XAG20Z 18V LXT Angle Grinder
Adjustable speed
Electric brake stops the wheel in less than 2 seconds
Powerful and long-lasting brushless motor
Automatic Speed Change for the most optimal power and torque
BUDGET PICK
CRAFTSMAN CMCG400B V20 Angle Grinder
Reliable motor
Tool-free pad and protector replacement
Very well balanced
Adjustable side handle
Best bang for your buck
No matter whether you wrench on the side, are a professional auto mechanic, or even just started in the field, you need an angle grinder. Whether it's to cut exhaust pipes, grind welds, or even clean out rust, a good angle grinder will definitely be an excellent addition to your toolbox. You can use them for cutting, polishing, and grinding, meaning that you get a powerful and versatile tool at your disposal.
However, finding an angle grinder that will fill your needs without paying too much for something you don't really have a use for can be difficult, especially with the wide range of choices on the market today. The trick is really to think about what you need it for, how often you'll use it, and how much you can afford. Once you have correctly evaluated your need and budget, it will be much easier to select the right one for you.
Once you are there, we have prepared a list of the seven best cordless angle grinders to help you find the best one for your garage. That being said, since different mechanic's types and skill levels will need different tools, we made sure to cover a little something for everyone. Some are best suited for beginners, while others are perfect to be used 40-hours a week in the shop and handle whatever you throw at it for years.
Of course, we could never try all of them, and there may be other very good models out there. If you use a different angle grinder and think it's worth being put on the list, don't hesitate to leave a comment in the box below. We'd like to hear more about what you work with!
Best Cordless Angle Grinder Reviews
We'll be kicking off this list with one of the best cordless angle grinders currently on the market, the Milwaukee 2780-20, featuring the POWERSTATE brushless motor, claimed to last 10x longer than most competitors.
The brushless motor doesn't only make it durable but also as powerful as some of the most powerful corded angle grinders out there. With a maximum speed of 8500 RPM, we can see why the comparison is easy. Meanwhile, the metal casing and durable gears will ensure long life with minimal chances of malfunction.
Moreover, Milwaukee implemented its Redlink Plus technology in the 2780-20 model. Redlink Plus is an onboard system optimizing performance while reducing overheating, thanks to the communication between the motor and charger.
Also, an exciting point with Milwaukee's cordless tools is the interchangeable batteries, allowing you to use the same battery packs with all M18 Fuel models. Since the motor is kinda powerful, it also drains the batteries quite fast. Your best bet here is to buy at least two packs and charge one while you use the other.
The Milwaukee 2780-20 is designed to be balanced and easy to handle, making it comfortable even after being used for a long period. The no-lock paddle switch is also super comfortable, much better than some other trigger models.
While it's a little on the pricier side, if you are a professional mechanic, welder, or metal worker, Milwaukee 2780-20 M18 Fuel Angle Grinder is the model you need. Its versatility and longer lifespan will more than make up for the higher price tag. On the other hand, if you are still a beginner or just wrench on weekends, it might be a bit much. It would probably be better to check out the cheaper but still pretty decent options below.
Pros
POWERSTATE Brushless motor
Easy to handle and well balanced
Compatible with any M18 Fuel battery
Redlink Plus technology
Cons
More expensive than most (but totally worth it!)
On the opposite side of the price spectrum, you get to the Porter-Cable 20V Max Angle Grinder. It's the go-to tool if you want a decent grinder that still performs quite well at a lower cost.
The Porter-Cable PCC761B is equipped with a powerful motor capable of putting out 8500 RPM. While such as speed rating does put it in the same ballpark as the Milwaukee 2780-20 above, it doesn't have as much torque and might bite a little more when trying to cut thicker metal plates. However, when it comes to grinding, it will do just fine.
Wheel replacement is carried out easily via a spindle lock, and internals are evenly balanced for a comfortable feel that won't put too much strain on your wrist while working. Meanwhile, the handle can be set in 3 different positions for better grip no matter the kind of work you intend to tackle.
I personally appreciate the handle guard preventing you from hitting your hands when the grinder bites in and kicks. However, it's important to mention that the casing is not as sturdy as others, and, given the much cheaper price tag, you can't expect it to last as long or be as light as Milwaukee models, for example.
That being said, if you only use your angle grinder every once in a while, the Porter-Cable PCC761B 20V MAX Angle Grinder will do the job just fine.
Pros
Relatively cheap
Decent performance
Adjustable side handle
Easy to handle
Comfortable
Cons
Slightly heavier than more expensive options
Trigger-type switch
Dewalt always makes excellent tools, and its Flexvolt Advantage cordless angle grinder is no different. Thanks to the state-of-the-art 1550W brushless motor, this tool can put out 9000 RPM, more than enough to cut and grind pretty much whatever you want, even thick metal and cement.
Worth mentioning, Dewalt batteries provide up to 54% longer runtimes than other third-party batteries. If what you are looking for is long-lasting batteries, this is the one for you.
Moreover, Dewalt's kickback brake system activates as soon as the grinder starts to bite, de-engaging the e-clutch in under a tenth of a second to prevent damage to the motor and potential injuries.
Another interesting protection feature is the e-switch. The onboard software monitors how the tool works, and in case of an unexpected shutdown resulting from a power outage or short battery, it will prevent the tool from being activated and potentially damage internal components. To regain functionality, you will need to do a full power cycle, i.e turn it off and then back on.
The DeWalt FlexVolt Advantage 20V MAX Angle Grinder also comes with a lever-type switch for a more comfortable grip, and it's also the lightest angle grinder so far. However, it's also on the pricier side but is worth every penny. If you are serious about grinding, this one won't disappoint.
Pros
1550W brushless motor
9000 RPM
Kickback brake and e-clutch safety features

Among the lighter options on the market

Well balanced and easy to handle
Lever-type switch
Cons
Slightly pricy
Best battery life only with Flexvolt batteries
If you are looking for the best price-to-performance ratio, the Craftsman V20 cordless angle grinder is what you need.
The high-powered motor can put out up to 8500 RPMs, which is somewhat standard in the industry. Similar to the models above, a spindle lock enables you to change disks with ease, and the handle can be adjusted in three different positions. Even the guard is adjustable depending on the task at hand.
Weight-wise it's not the lightest option on the market, and it is slightly longer than average. However, the molded handle and casing are designed to fit your natural hand position, eliminating strain when used for longer periods. In addition, the gear housing helps with heat dissipation over a longer runtime.
All in all, the Craftsman CMCG400B V20 Angle Grinder is certainly not the best model in the game, but with a much more affordable price tag and Craftsman's well-known reputation in the automotive tool segment, you simply can't go wrong with this one.
Beginner auto mechanics just starting in the field often can't afford to buy the most expensive angle grinder on the market since they just spent all they had on a quality impact wrench. If this is your case and you still need an angle grinder that can get the job done, look no further!
Pros
Reputable manufacturer
Reliable motor
Tool-free pad and protector replacement
Very well balanced
Adjustable side handle
Best bang for your buck
Cons
The motor is not brushless
Not the most compact option
Trigger-type switch
Moving away from the budget options, we have Makita's XAG20Z 18V LXT BL angle grinder, which is very similar to the Milwaukee model.
Makita's brushless motor is designed to be robust and long-lasting while keeping itself as cool as possible for added durability. A motor that doesn't overheat during operation will always last longer.
Furthermore, you will get up to 8500 RPMs, and combined with the manual adjuster, and excellent flexibility depending on the use. This tool also has a unique technology capable of automatically adjusting the speed and torque depending on the circumstances, ensuring optimal performance at all times.
To eliminate waiting times once you turn off the tool, the XAG20Z features an electronic brake capable of stopping the paddle in less than 2 seconds, so no need to wait 30 seconds every time you want to drop your grinder. Moreover, the Electronic Torque Control will automatically stop the wheel if it feels it biting into something, preventing the grinder from kicking back.
Makita's cordless angle grinder also has a soft start option, preventing the grinder from jerking on startup. This option also helps reduce strain on the gears, further prolonging their lifespan. An anti-restart option also prevents it from automatically starting once a new power source is mounted. Once the battery is depleted and you replace it, you will need to turn the tool off and on again to get it to run.
Like the Milwaukee model, the Makita XAG20Z 18V LXT Angle Grinder is perfect for professional auto mechanics, welders, and metalworkers alike. If what you need is a reliable and powerful angle grinder with all the most interesting bells and whistles, this is the one you need.
Pros
Adjustable speed
Electric brake stops the wheel in less than 2 seconds
Soft start eliminates jerky motion and protects gears
Powerful and long-lasting brushless motor
Automatic Speed Change for the most optimal power and torque
Cons
Not the longest-lasting batteries
You may be able to find some lighter options
Bosch has been around for quite a while and makes tons of excellent tools. One of the many in its lineup is the GWS18V-45, a great all-around cordless angle grinder. Interestingly, even though it doesn't have all the techy features that other pricier models have, what really makes it stand out from the crowd is the incredible battery life that Bosch designed to hold a charge for an entire day.
Despite not being a brushless motor, Bosch argues that it can be as durable as its competitors' brushless motors variant. Besides, the brushes enabled the brand to develop a cordless angle grinder with the highest RPM on this list, reaching 10000 RPM without load.
To protect the user from the motor's power, the GWS18V-45 is equipped with a burst-resistant wheel guard and restart protection that cuts power to the angle grinder when the battery is discharged or disconnected. When a new battery is reconnected, the tool doesn't automatically start—you'll need to shut it down and power it up again.
Regarding the ease of use, the tool is very well balanced, making it very easy to handle. If you need to change the accessories, the spindle lock will help you complete it with ease and without a tool. The only real drawback, at least in my opinion, is the slide switch. Some people like it as it allows you to kick it on and let it run without having to hold the switch. I just don't like it… but to each his own, right?
The Bosch GWS18V-45 18V Angle Grinder is a good all-rounder. It cuts and grind and does pretty much whatever you need it to without costing an arm and a leg. The slide switch might make it more suitable for longer use than quick cuts, though, and consequently may make it more ideal for metalworkers than mechanics.
Pros
Longest battery life out of all angle grinders on this list
Among the most powerful tools
Vibration control handle
No tools required to change the accessories
Cons
The handle has only two settings
Not as many safety features as the others
Slide-switch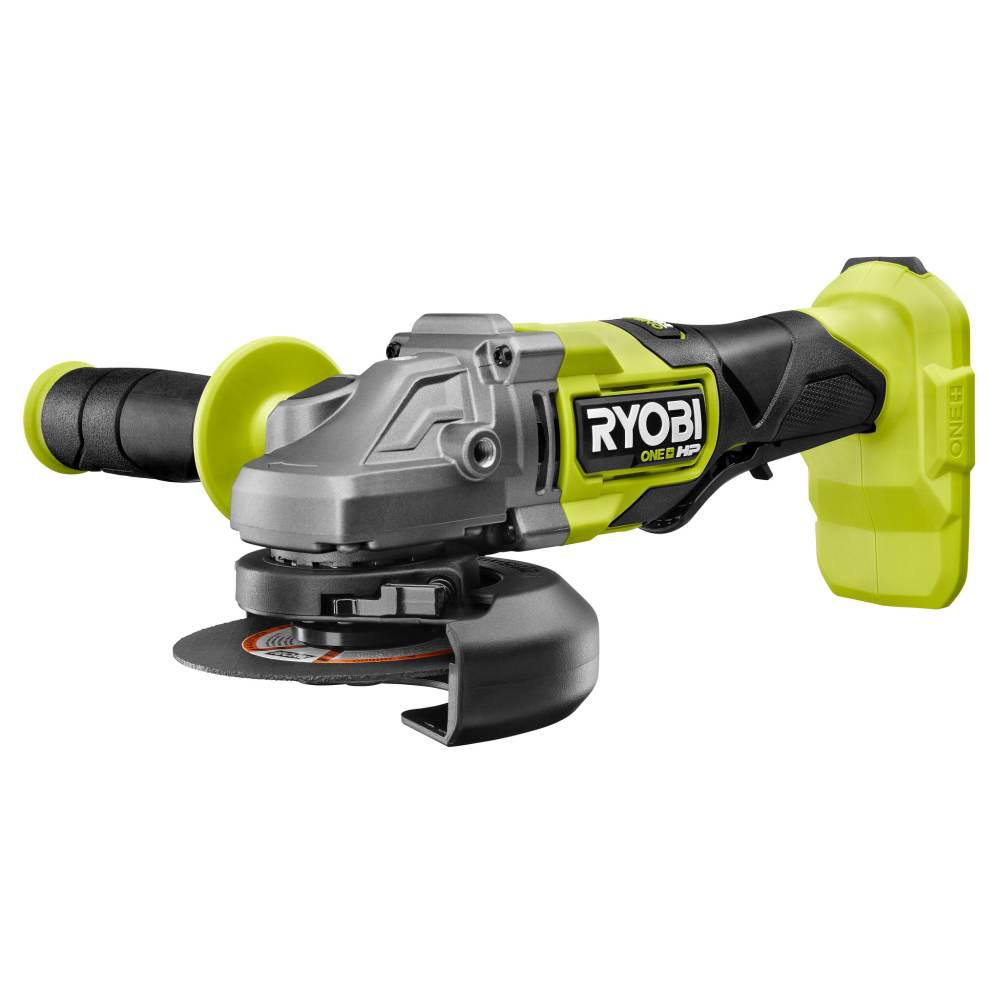 Ryobi is not a very popular company when it comes to automotive power tools, usually more into the construction tools segment, but I had to include this excellent grinder in the list. The company equipped the One+ HP with a brushless motor, capable of cutting up to 30% faster than some of its competitors. When it comes to power, it can put out up to 9200 RPMs when the wheel is not under load.
Handling the One+ HP is not the best experience, but it's far from the worst. While it has a molded handle, other options are slightly more comfortable to hold. I just find Milwaukee's grip to be better, but that might be just me. Despite that, since it is lighter than some of the others on this list, you shouldn't have issues working with it for prolonged periods. Besides, you can move the side handle in 3 different positions for easier handling.
When it comes to changing the accessories or the guard, similar to other angle grinders on this list, you can do it tool-free. The same goes when switching the paddles.
Finally, Ryobi designed the One+ HP to work with any battery in its lineup. The battery sits on the bottom, and with the motor and gears on the front, it provides excellent balance.
And worth mentioning, if you own any other Ryobi ONE+ tool, just know that the batteries are easily interchangeable. If any of the previous angle grinders on the list were made for you, give the Ryobi One+ HP Brushless Angle Grinder a try. You won't be disappointed!
Pros
Relatively light cordless angle grinder
Battery pack compatible with all Ryobi ONE+ tools
Easy wheel replacement
Quite affordable
Cons
Not the most comfortable
Other angle grinders have more safety measures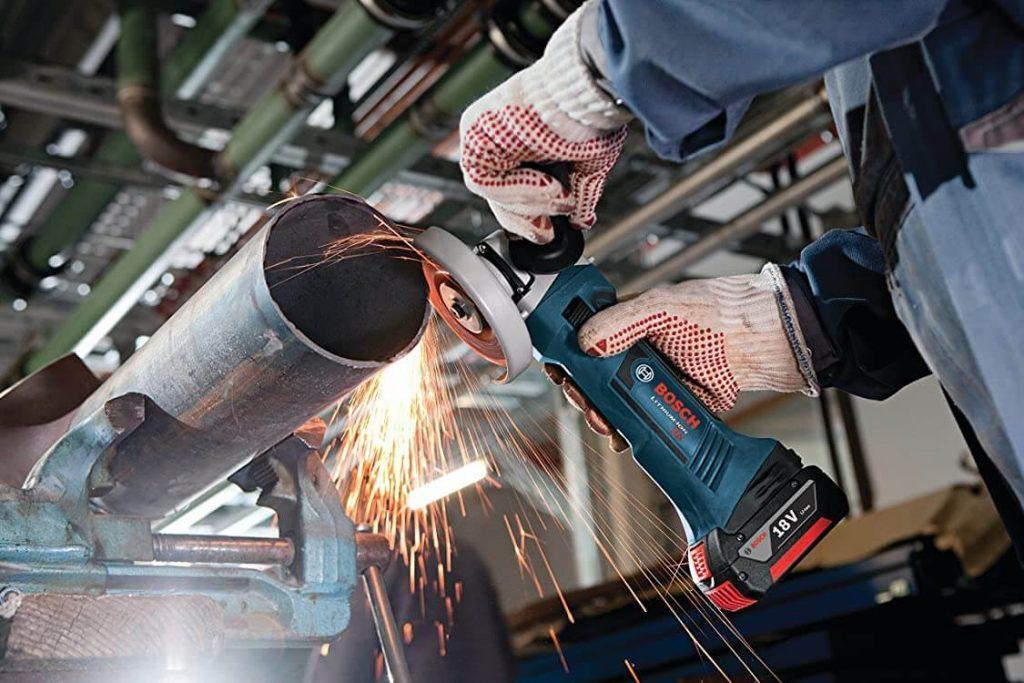 Buying Guide: Factors To Consider When Buying A Cordless Angle Grinder
Before committing to buying one, there are multiple aspects of a cordless angle grinder that you should consider. To get the most out of your purchase, make sure to always begin by correctly evaluating your needs and budget, then prioritize what is more important to you and start with that.
Handling
All seven products mentioned above are easy to handle and well-balanced. The only difference between them is the length and the weight. If you need a tool that will be carried around a lot or if you'll grind holding it over your head, you should consider the lighter options. On the other hand, if you plan on grinding cement and marble, heavier options might actually help put some load on the head.
Ease of use
Using the tool isn't just about grinding. Every now and then, you may need to change a wheel, move a protector, or put the handle in a different position. When you are on the market for a cordless angle grinder, try to go for a model that doesn't require any tools for changing the accessories. Luckily, most of them these days feature some kind of tool-free mechanism. Just make sure to stay away from the older models that used to require a special wrench to do so.
The same can be said regarding the upper handle. In most cases, the handle can be placed in 3 positions, on the left, right, and top. However, during my research, I found some models with fixed handles that could not be moved. I don't claim that they are bad, but they lack the flexibility of the others. Of course, these were not included in the list, but just in case you shop around…
Power
There are some trade-offs with a lighter angle grinder, which often comes in the form of a less powerful motor. When you have a more compact cordless angle grinder, you get a smaller motor, meaning you may struggle in a highly demanding situation. However, all the grinders included in the list above have powerful motors good enough to reach speeds up to 8,500 to 10,000 RPM.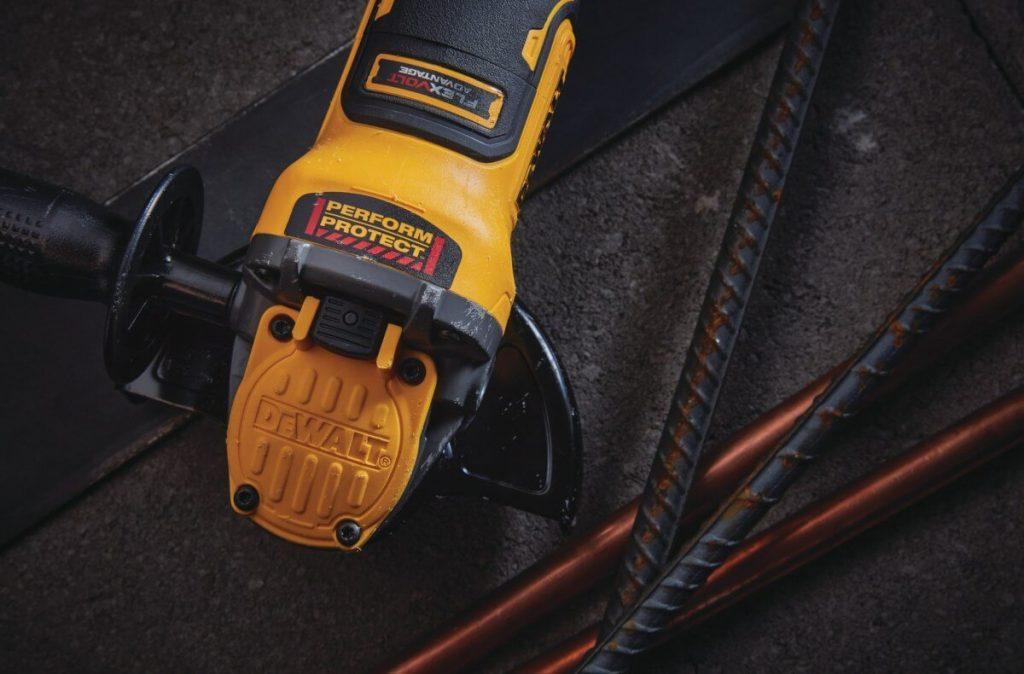 Battery life
Big or small, all cordless angle grinders draw juice from a battery. Each manufacturer has its batteries, and some offer multiple options. I would recommend getting the biggest battery the manufacturer provides for the best battery life. On the other hand, a bigger battery also means a heavier battery.
Alternatively, you can also just buy multiple batteries and switch with a full one when your battery is dead. That's personally the trick I use. When possible, I try to buy tools from the same manufacturer so all the battery packs can be interchanged. I personally go with Milwaukee Fuel tools, but that's just me. The same could be done with Craftsman, Ryobi, Porter-Cable, DeWalt, or any other manufacturer selling interchangeable batteries.
Safety Features
The safety features of a cordless angle grinder are something that not many people pay attention to. However, electric brake, automatic shutdown, kickback prevention, soft start, and tons of others are implemented to protect both you and the machine. Not all manufacturers have the same set of safety features, so keep an eye out for them. You probably won't get all the best features in a single tool, especially the cheaper ones, but try to avoid the ones with no safety features—or watch out for your hands!
FAQs
How long will it take to recharge the batteries?
The batteries' charge times will depend on how big the battery is and how powerful the charger is. These parameters depend on each manufacturer. However, this information is usually readily available on their websites.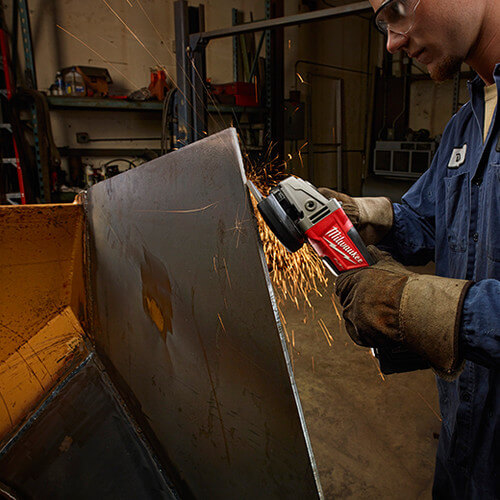 What is the battery life of a cordless angle grinder?
The battery expectancy of an angle grinder will depend on the battery's size and the motor's power requirements. Some manufacturers will offer several batteries in various sizes. In that case, the smallest one will have the shortest battery life, and the biggest one will offer the most.
As a general rule, we could say that the cheapest and smaller battery packs paired with the most powerful grinder can last only 1-2 hours. On the other hand, some angle grinders, such as the Bosch GWS18V-45, come with batteries that can last a whole day of work.
What is the largest wheel I can install on an angle grinder?
It depends on the manufacturer's specifications. For the models included above, 4–5-inch plates can be used. However, there are some with bigger or smaller options available too.
Are cordless angle grinders better than corded models?
Both have their advantages and disadvantages, and you should get the one that works better for you. The cordless ones are more flexible as you can carry them around wherever you need to. You can use them in places with no electricity. On the other hand, you have a heavier tool that will depend on a charger. Also, to get a better battery life, you may need to sacrifice power slightly.
Final Verdict
Cordless angle grinders are useful tools, and if you have the budget, you should get one. Of course, a good die grinder will usually do just fine, but it may take a lot longer to cut a 4″ pipe or grind thick welds. With the wide range of choices available on the market, getting the best angle grinder possible can be a struggle, especially if you haven't used one in the past.
However, if you compare the models included in our best cordless angle grinders list above, I'm sure you'll find a favorite. In addition, you can check the buying guide and FAQ sections and then cross-examine them with your particular needs. By doing that, I'm positive you'll make a perfect choice and have a great time grinding!