EDITOR'S PICK
Ingersoll Rand 3101G Heavy-Duty Air Angle Die Grinder
Incredibly well-built
Affordable
Best value for money
1/3 HP motor
1-year warranty
Ergonomic design
Extremely lightweight
PREMIUM PICK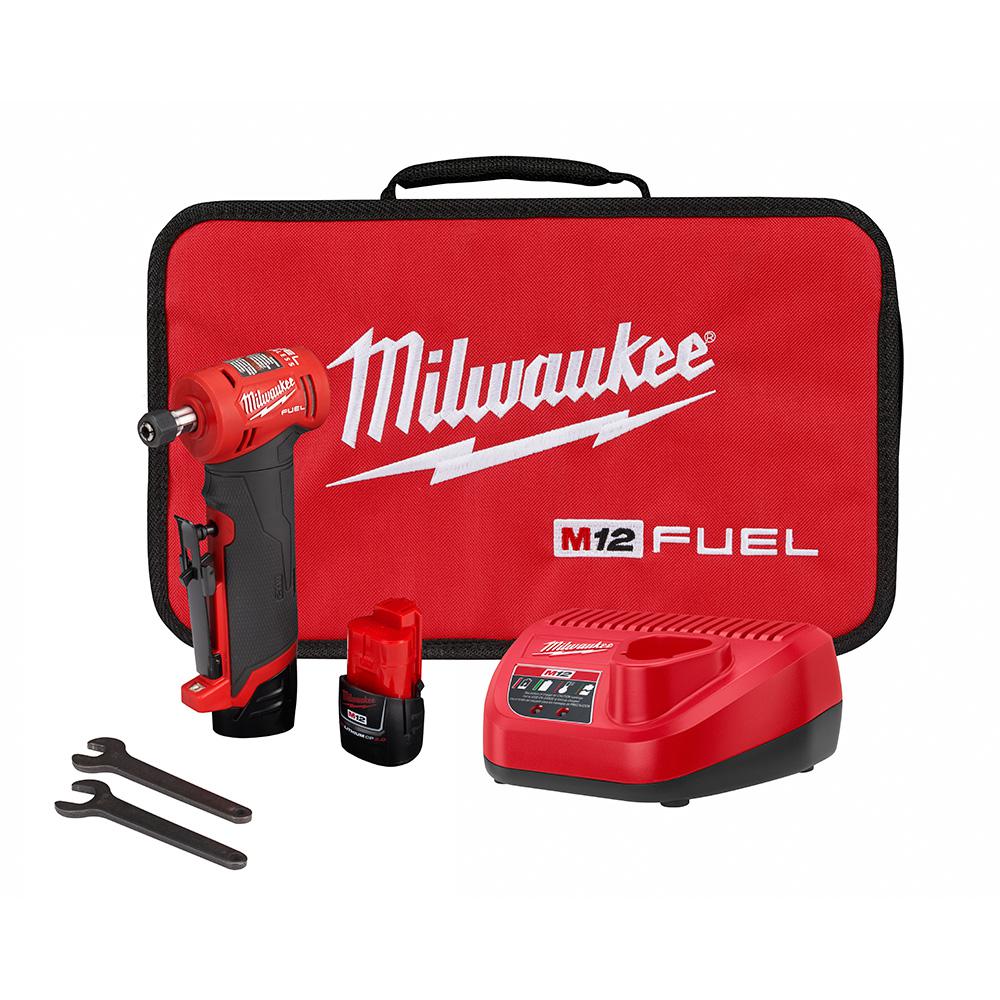 Milwaukee M12 FUEL Cordless Die Grinder
Cordless, Reliable
0.3 HP brushless motor
Variable trigger
4-Mode speed control
Powerful12-volt battery
5-year warranty
2-year battery warranty
Ergonomic design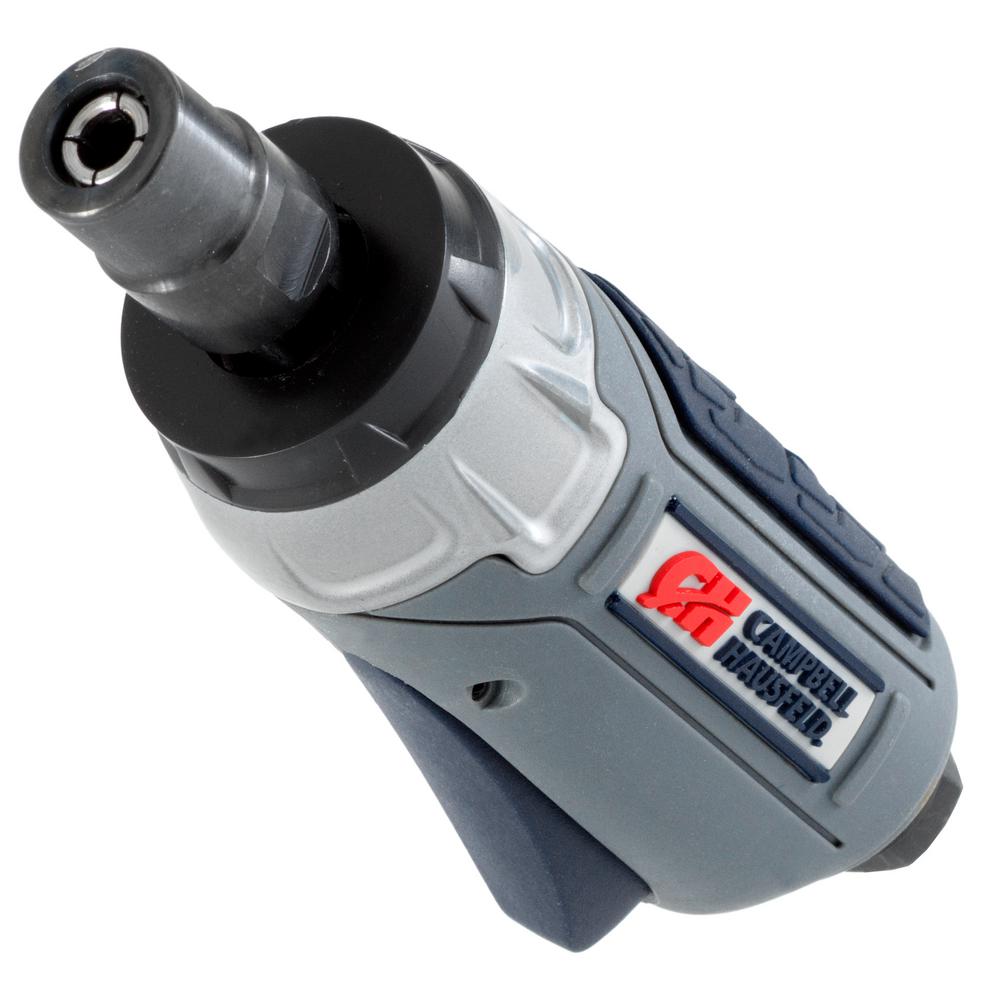 Campbell Hausfeld "Get Stuff Done" Straight Die Grinder
Durable
Perfect for beginners and weekend DIYers
Extremely lightweight design
Rubber handle for increased comfort
Several airflow adjustments for full control
2-year warranty
Die grinders are essential power tools that every auto mechanic, welder, auto body repairman, and steelworker should have in their tool chest. They can be attached to a wide range of accessories to tackle various tasks such as sanding, polishing, cutting, grinding, or honing. Most die grinders come with a standard ¼ inch chuck, designed to hold multiple bits from grinding wheels, cut-off, and sanding discs, as well as a wide range of specialty tips.
While most die grinders are quite similar in design, different models will have different power levels, trigger styles, weight, and prices. Some are better suited for specific tasks, while others are a good all-arounder. Consequently, it might sometimes be a challenge to find one that fits your needs and budget.
If you're looking for a reliable die grinder powerful enough to tackle whatever you throw at it, you have come to the right place!
To help you find the right die grinder for you, we've compiled a list of what we think are the best die grinders currently available on the market.
Enjoy!
Die Grinder Reviews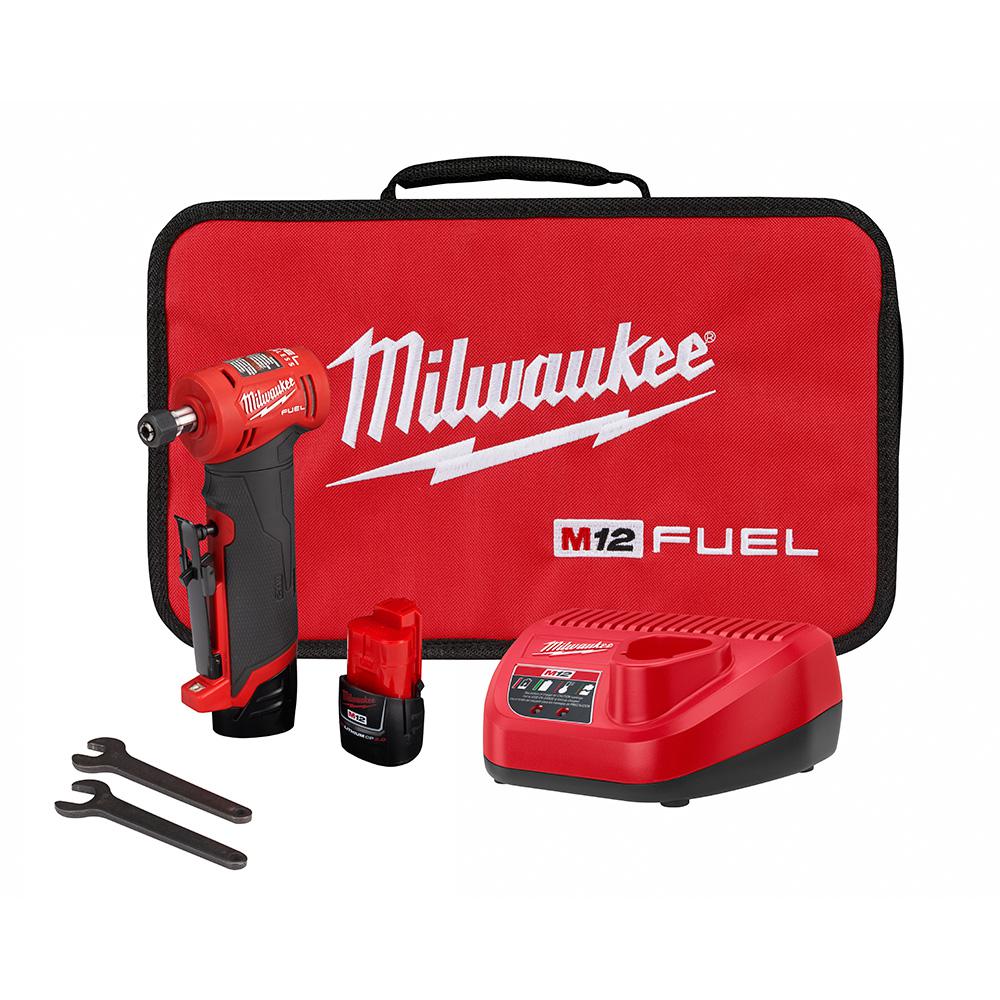 If you're looking for a die grinder capable of delivering the performance demanded by professional mechanics, look no further – the Milwaukee M12 FUEL is the model you need!
Milwaukee is a world-renowned power-tool company that makes reliable and long-lasting products specifically designed for the automotive industry. In fact, pretty much every power tool Milwaukee produces is quite incredible. Its M12 FUEL right-angle die grinder is no different.
The Milwaukee M12 FUEL provides customers with an exceptional build quality, much better than most others on the market. It will last you for years. Milwaukee is so confident in the reliability of its die grinder's brushless motor that it offers a 5-year extended warranty on the grinder itself and 2 years on the battery. That being said, I personally own four different cordless power tools from Milwaukee. Each is already older than 5 years, and I never had to have them repaired, warranty or not.
If you've used a die grinder in the past, you know very well that they make quite a racket. However, cordless tools are usually much quieter than air-powered ones. Nonetheless, the M12 die grinder is even quieter than most, thanks to the unique design of its brushless motor.
Talking about the motor, the Milwaukee M12 die grinder's powerful 0.3 HP motor will make sure it doesn't stall or get stuck, regardless of the pressure applied to the head.
For more precise use, the 4-Mode speed control can reach up to 25,000 RPM for the toughest jobs but also run a little slower for more delicate tasks. The adjustable speed will provide you unprecedented control, a feature missing in most cheaper models. And for even better control, the variable trigger will allow you to fine-tune the grinder's speed even further.
Auto mechanics will appreciate the M12 FUEL die grinder's compact nature, allowing it to fit into tight spaces. And worth mentioning, thanks to Milwaukee's patented design, it doesn't require daily routine maintenance like most variants in the same price range.
Pros
Cordless

Reliable

0.3 HP brushless motor
Variable trigger
4-Mode speed control
Powerful12-volt battery
5-year warranty
2-year battery warranty
Ergonomic design
Cons
Ingersoll Rand is also a famous name among mechanics due to its incredibly reliable power-packed products. If Milwaukee produces the best battery-powered tools, Ingersoll Rand makes the best air-powered ones.
The latest addition to the company's collection of die grinders is the 3101G model, providing more than enough power to seamlessly grind, polish, deburr, cut, and handle the toughest jobs.
Even though the Ingersoll Rand 3101G looks like any other die grinder out there, don't be fooled. The important is what's inside. It features a ball-bearing build and 1/3 hp motor that is exceptionally compact, rugged, and lightweight.
Moreover, even though it doesn't feature intricate ergonomics like some other models, the rubber grip is actually quite comfortable, even when used for a prolonged period.
The Ingersoll Rand 3101G can reach 20,000RPM, which is a little lower than the Milwaukee M12 but still more than good enough for any auto mechanic-related task.
On the other hand, it's also much cheaper than the Milwaukee one. In fact, it's one of the most cost-effective die grinders on the market. It's still more expensive than other Chinese-made models, but since the Ingersoll Rand model will last you thrice as long, the investment will be well worth it.
If you don't really need a battery-powered model and you plan to use your die grinder professionally, get the Ingersoll Rand 3101G. Trust me; you won't regret it!
Pros
Incredibly well-built
Affordable
Best value for money

1/3 HP motor

1-year warranty
Ergonomic design
Extremely lightweight
Cons
None – one of the best in the industry
Despite being a relatively new power tool brand, Aircat offers some of the best die grinders on the market. The brand provides unrivaled versatility, maximum durability, and some of the best-designed grips in the industry!
The Aircat 6255 is famous for its excellent internal mechanics that can help you execute your projects with the highest quality finish. It includes premium quality air chambers, state-of-the-art turbines, and bearing surfaces.
It can also efficiently work in hard-to-reach spots due to its ergonomic construction and ranks as one of the most popular choices among shoppers. If what you are looking for is a comfortable die grinder, this is the one for you, period.
Moreover, if you plan to use your newly-purchased grinder at home, keep in mind that noise can be a serious concern. Luckily, the AirCAT 6255 comes with a patented quiet technology that minimizes vibration and noise levels while maintaining the right amount of torque. Thanks to its patented design, the 6255 die grinder keeps the noise level below 82-decibel, even at full speed. Pretty neat, right?
And if you intend to use it professionally, every guy in the shop will just like you even more. After all, nothing is worse than having to work near a noisy grinder all day.
Furthermore, thanks to its feather-trigger unique design, the AirCAT die grinder has one of the best speed control in the game. If you've used a die grinder equipped with a lever-trigger such as the Ingersoll Rand model above, you know that even though they are marketed as "variable," they may be quite tricky. That won't happen with a feather-trigger model.
Worth mentioning, the AirCAT 6255 model also features a rear exhaust design, shooting air away from the user, ensuring minimal exposure to hazardous materials.
Pros
Extremely compact
High performance
Easy to use
Most ergonomic handle in the game

Quiet operation

Feather trigger
Rear exhaust
Cons
Slightly lower build quality than the two previous models but still more than good enough – it wouldn't have made the list otherwise.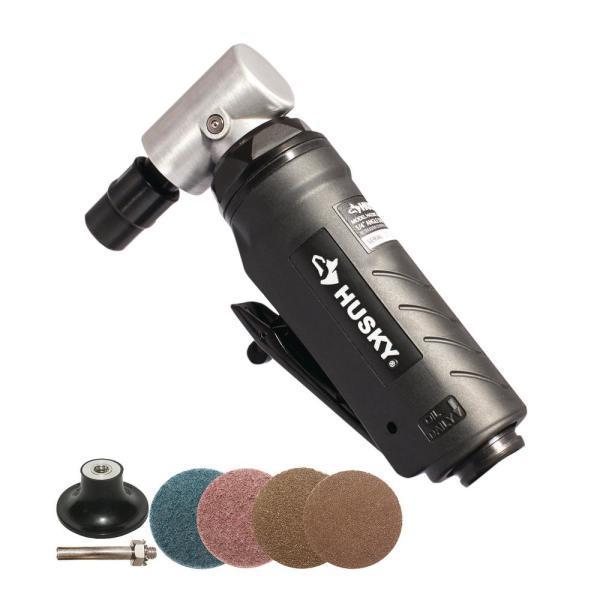 Husky is also a power tool brand known across the globe for its high performance, durability, and reliability.
Its 1/4 die grinder has an impressive motor that can run up to 20,000RPM and deliver ¼ hp of power, which is slightly less than the previous models but still more than enough to tackle most automotive work. However, it's also much cheaper. After all, not everyone needs the most powerful die grinder out there. If you mostly use your die grinder to grind off metal welds, for example, the Husky model will do just fine.
On the other hand, it's also lighter and smaller than others, meaning that it also fits in tighter spots. This is definitely not to neglect if you are a mechanic.
It also comes with an embedded silencing feature that helps reduce the noise, although still slightly noisier than the AirCAT die grinder. The Husky die grinder's clever internal construction avoids spindle run-outs and vibrations, allowing you to work with optimal precision while keeping noise to a minimum.
Moreover, its rubber handle provides added comfort and helps the user maintain a tight grip even when covered with oil or coolant.
Another worthy feature is the 'safety lock-off' lever. It helps users prevent accidental start-ups, which can be dangerous.
Furthermore, Husky's model is equipped with two lubrication ports allowing for easy maintenance. On the other hand, if you just don't want to have to bother about maintenance, look for the Milwaukee M12 FUEL model instead.
Worth mentioning, it also comes with a backup pad with mandrel, one medium-grit, one fine-grit surface prep disc, and one #40 and one #60 sanding discs.
Pros
High performance
Smaller and lighter than most

Precision bearings and gears for noise reduction

Rubber handle for added comfort
Safety lock-off lever
On the cheaper side
Comes with basic attachments
Cons
Requires regular routine maintenance
Slightly less powerful than previous models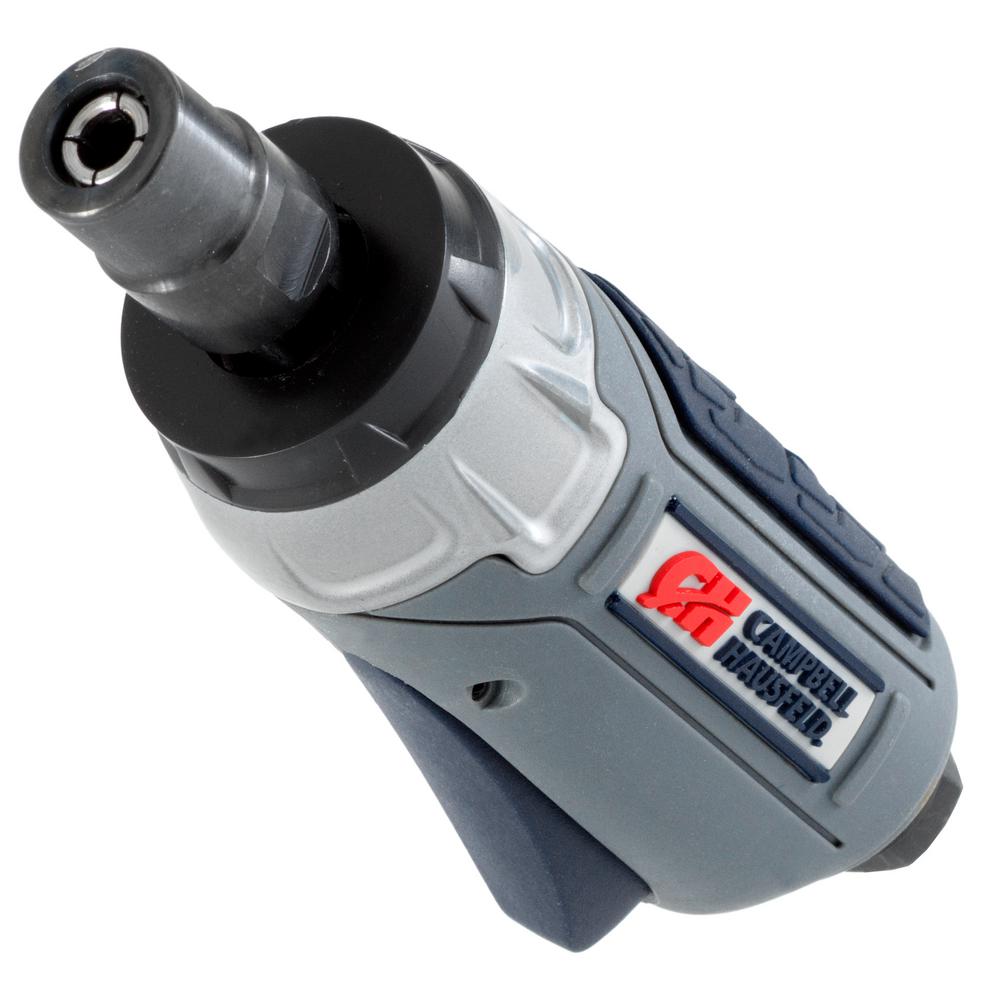 If you've been in the field for some time, you should know Campbell Hausfeld alright. While not being anywhere close to being as good as the previous models, it's still a pretty suitable die grinder to start with. After all, every mechanic out there had to start somewhere, and very few of us had the budget to buy a full set of Milwaukee power tools from the get-go.
If you are still a beginner auto mechanic or just a weekend DIYer wrenching on cars in your free time, unless you want to throw money out the windows, there's no real reason to buy the most expensive grinder you can find. The Campbell Hausfeld "Get Stuff Done" die grinder will still get the job done just fine. It simply doesn't feature all the bells and whistles that more expensive ones have.
Moreover, being on the cheaper side doesn't mean it's not good. The Campbell Hausfeld die grinder is a straight die grinder that will help you complete any job like a pro. It features all the basic features without the expensive price tag associated with big brand names.
Moreover, its straight design allows it to access spots that right-angle models just can't.
In addition, it comes with a ¼ hp motor that operates up to 25,000 RPM, which is quite good for a die grinder in this price range. It's ideal for deburring, grinding, polishing, smoothing edges, porting, and buffing wood, metals, or plastic.
Unfortunately, since it's an entry-level model, it doesn't come with easily adjustable speed modes like the Milwaukee M12 Fuel. However, you can still adjust the speed using the airflow adjustment screw. It's only a little more of a hassle since you'll need a screwdriver. On the other hand, beginner auto mechanics will mostly use their die grinder to cut bolts and clean wheel hubs. In this case, you don't really need to adjust the speed anyway. Just turn it to the max and control the speed using the trigger.
Also, Hausfeld provides an excellent 2-year warranty, making it a high-value purchase for the everyday user. And, if, for whatever reason, it breaks after that period, it only means that you are now ready to buy one of the more expensive models on the market – you use your die grinder enough to justify the investment.
A quick note to apprentice auto mechanics: I also had one of those cheap ones when I started. I used it pretty much every week in the shop, and it was just fine. Not as flashy as what the older mechanics had, but it was fine. After a year or so, I ended up buying a higher-end Ingersoll Rand model, well, because I could afford it. I then permanently installed a carbide burr on it, and I still use it as a third or fourth die grinder to this day. So yeah, it was well worth the investment.
Pros
Durable
Perfect for beginners and weekend DIYers
Extremely lightweight design
Rubber handle for increased comfort
Several airflow adjustments for full control
Provides 25,000RPM and 0.2 HP
2-year warranty
Does what it's supposed to do
Cons
Doesn't last as long as other more expensive models

No trigger lock-out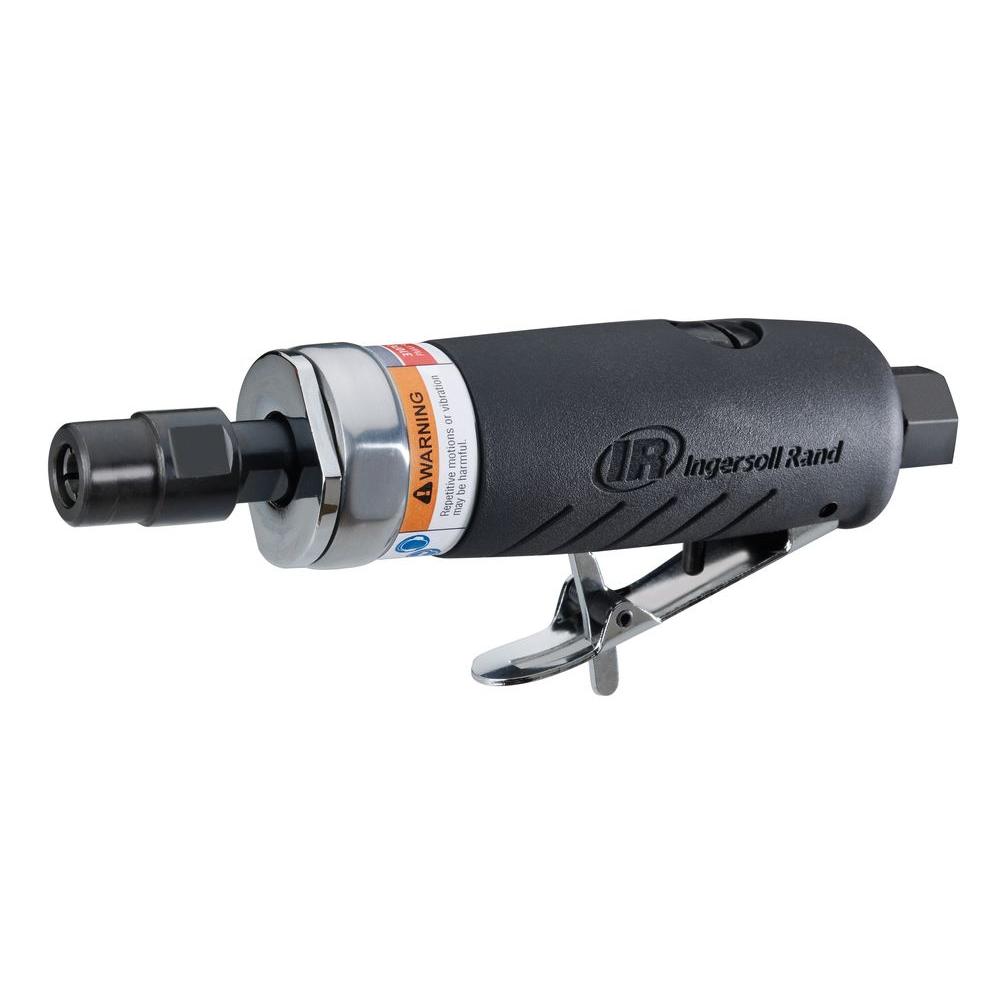 This Ingersoll Rand ¼ die grinder is very similar to the model above, although in a straight design. You might wonder why we have added both to this list, right? The reason is quite simple: Every professional auto mechanic absolutely needs one of each. Straight die grinders can reach where angle grinders simply can't. Moreover, some tasks are just uncomfortable to perform with a right-angle model. For instance, grinding an exhaust pipe still on a vehicle will often require both.
Just like any other Ingersoll Rand die grinder, this one is durable, reliable, and powerful while being encased in a very lightweight compact design. The composite housing makes it light and protected from shocks – and that's a good thing since grinders always end up being dropped at one point or another. Furthermore, due to its scope and design, it's perfect for automotive work and general maintenance.
Thanks to the powerful 1/3 hp motor, it can reach up to 27,000 RPM, making it the fastest spinning tool on the list. As a result, you can cut, polish, grind and buff metal and wood without thinking about it twice.
It also comes with a rear exhaust that helps improve visibility as you grind and prevents it from shooting dust and dirt in your face every time you press the lever.
As mentioned before, Ingersoll Rand simply doesn't make bad tools. If you need a straight die grinder built for professional use, this one is a no-brainer!
Pros
Ball-bearing construction
Highly durable
Reduced vibrations
Extremely lightweight
Rear exhaust
Spins up to 27,000 RPM
Cons
Comparatively louder than similar models
Types Of Die Grinder
Grinders come in many shapes and sizes with a variety of features. However, there are two main types of die grinders – straight or right-angle.
Both right-angle and straight die grinders are handheld, portable, and quite smaller when compared to angle grinders. That being said, both types can be used to perform the same tasks. It's really a question of taste at this point. In some cases, straight grinders can be more comfortable when working on components that are over your head, such as grinding exhaust welds on a car lifted on a hoist.
On the other hand, 90-degree angle die grinders will usually be better to clean wheel hubs, grinding parts on a workbench, etc. As said earlier, the type of die grinder you'll decide to go with will really depend on your own preference. However, if you work in the field and use your die grinder professionally, you'll end up having more than one anyway, so you might as well buy one of each.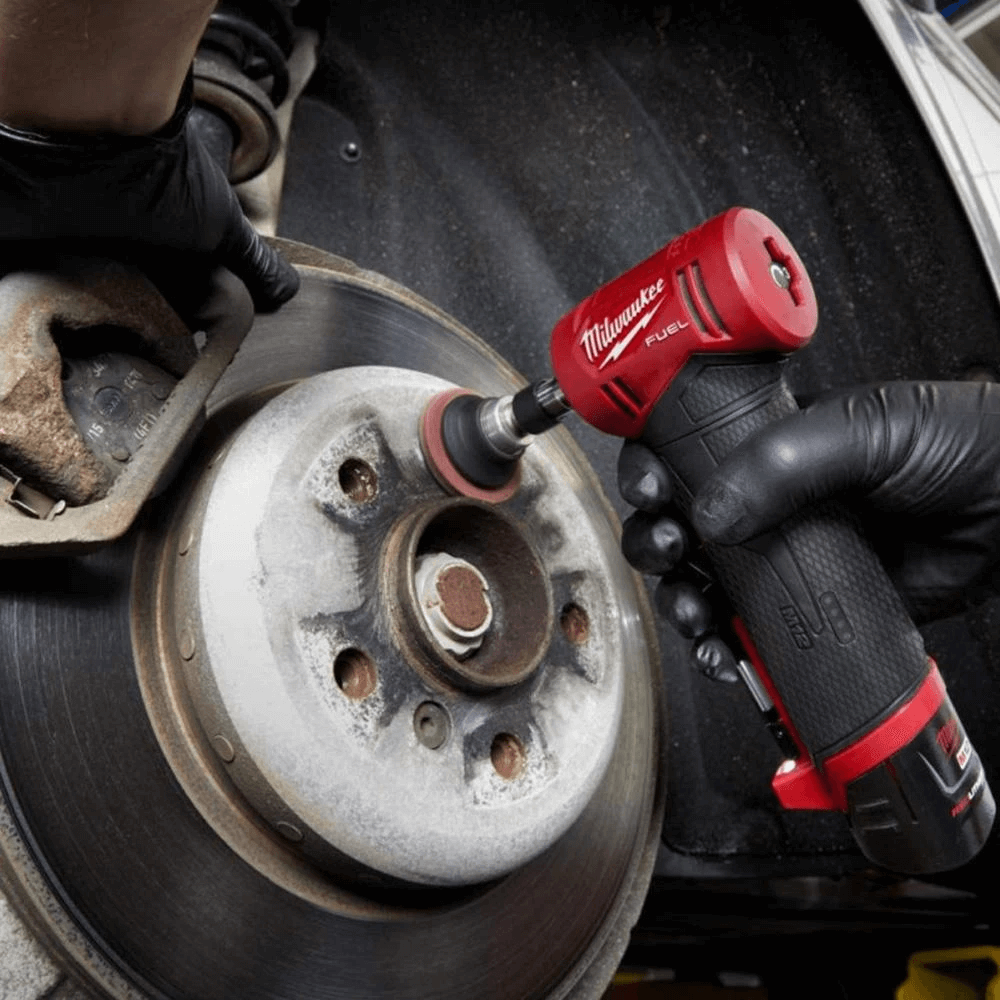 Factors To Consider Before Buying A Die Grinder
Before committing to buy a die grinder, it's crucial to consider a few key aspects to make sure you get one that suits your needs. And as with most tools, price is rarely the most critical factor.
The first thing you should do is correctly evaluate your needs and budget. What will you use your new die grinder for? Will you use it professionally? What kind of compressor do you have?
Once you are a clear idea of what your ideal die grinder should look like, you can start comparing die grinders mentioned above and select the right one for you.
Size
It's the first thing you should keep in mind. The size of a die grinder depends on the type of work you plan to carry out. If you are an auto mechanic, target the smaller ones. Larger models simply won't fit inside an engine bay, behind suspension components, or between the exhaust pipe and the car's floor for example.
On the other hand, if you are a welder and mostly grind components laid flat on your workbench, size may not be as much of a concern.
Motor Power
Like the size, motor power is also a crucial aspect in buying a good die grinder. The motor directly controls and manages the grinding wheels' speed. The more powerful it is, the harder it is to slow down when applying pressure onto the head or get stuck in the piece of metal you are cutting.
Similar to the size, the power you need also depends on what type of work you intend to do with it. Auto mechanics using their die grinder to cut bolts and grind off gaskets can do just fine with a less powerful model, while professional welders should probably look for more powerful ones.
Straight Or Right Angle Head
There is no significant difference between straight or right-angle die grinders. Deciding which one to buy is purely a matter of preference.
Between the two, the right-angled die grinders are increasingly popular due to their ability to reach closed spots with relative ease. Most tools manufacturers offer the same die grinder in both configurations. If you can afford it, get one of each.
Power Source
For all die grinders, the three primary power sources possible are cordless, corded-electric, and pneumatic. Deciding which power source type will fit you still depends on multiple factors.
However, the most important thing to consider is what type of work you're planning to do, the environment you are working in and the kind of equipment you already have.
For example, if you intend to buy a good air compressor in the future or already have one, the ideal option is to go for a pneumatic grinder. These usually last longer, and you don't risk having your die grinder run out of juice on you.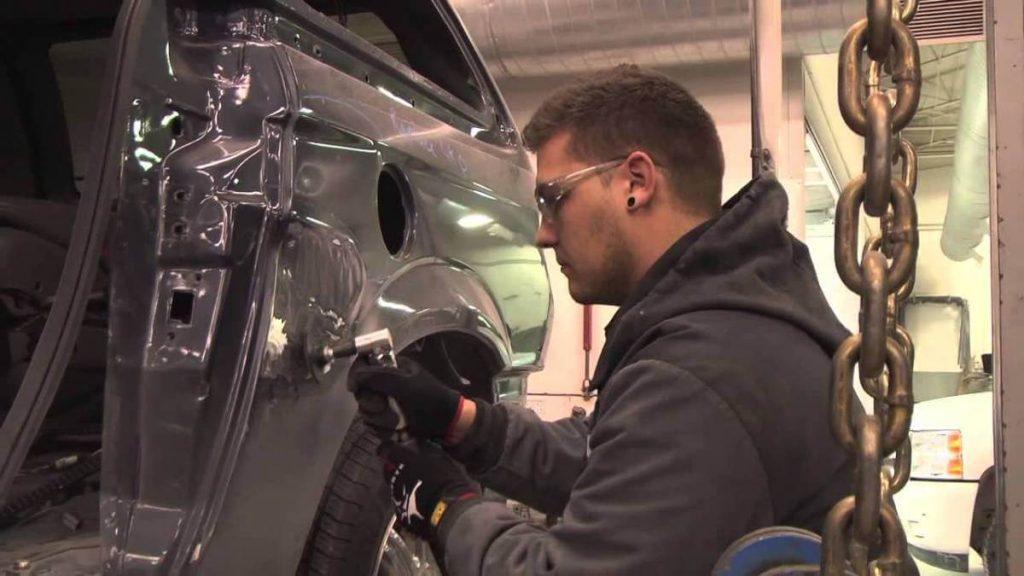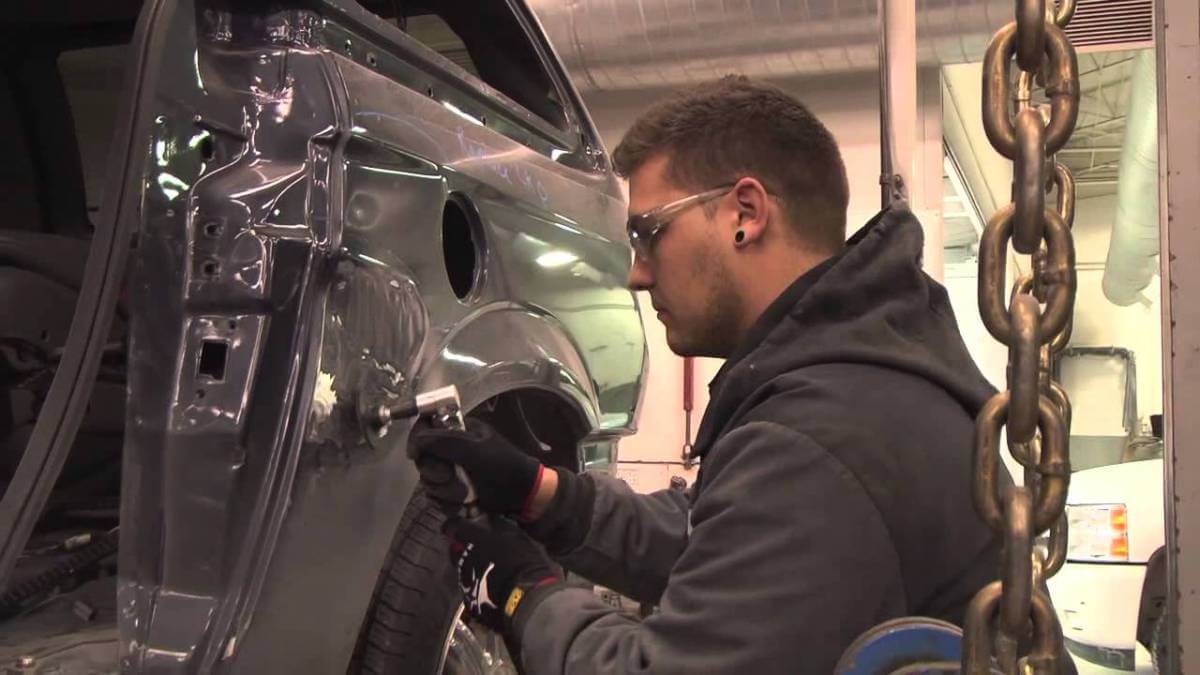 On the other hand, cordless models are battery-powered. These may require frequent battery change, especially if you work with your die grinder all day. Also, cordless models are typically much bigger and heavier than air-powered ones due to the battery pack. Nonetheless, if you work as a mobile mechanic, cordless is the way to go.
Lastly, corded electric models are perfect if you don't have access to a compressor and typically use your die grinder for long periods. If you are a construction worker, this is the model for you. However, some people just hate having to deal with a long extension cord all day. In this case, cordless is still the best option.
To lower the risk of having your die grinder die on you, a nice little trick is to carry more than one battery with you and charge one while the other is in use and switch when needed. Furthermore, battery packs from the same manufacturer are usually interchangeable. If you already own a cordless impact wrench or power drill, think about buying a die grinder of the same brand. This way, you can just carry a couple of battery packs for all your tools.
Verdict
All in all, no matter whether you are a professional auto mechanic, welder, construction worker, still an apprentice, or even just a weekend DIYer, make sure to correctly evaluate your needs before your start shopping around for the best die grinder out there.
That being said, automotive technicians shouldn't even think twice and just get the Milwaukee M12 FUEL Cordless Die Grinder. It's simply one of the best in the market. You simply can't go wrong with Milwaukee's cordless tools. Keep in mind that it's on the bigger side due to the battery, and you might need to buy a second one a little more compact in the long run. However, mechanics always end up having multiple die grinders of all shapes and sizes, so that shouldn't really be a concern.
If you are just starting in the field, or just wrenching on cars as a hobby, the Campbell Hausfeld "Get Stuff Done" Straight Die Grinder or Ingersoll Rand ¼ Die Grinder could do just fine. They are both cheaper than most while still doing what it's intended to.
On the other hand, welders and steelworkers should probably go with the Ingersoll Rand 3101G Heavy-Duty Die Grinder. It's the most reliable of the list and can tackle pretty much anything you throw at it for hours on end. And just in case something goes wrong, it's covered by one of the best warranty programs in the industry.
I hope it helps!
Happy wrenching!