EDITOR'S PICK
OTC 6502 Master Brake Flaring Tool Kit
Includes arbor, SAE and Metric dies, deburr tool, and tubing cutter in a blow-mold case
Good for single flares in 3/16-inches up to 5/8-inches and 4mm to 14mm tubing, double flares in 3/16 to 1/2-inch, 4.7mm, 6mm, 8mm, and 10mm tubing, and bubble flare in 4.7mm to 10mm tubing.
PREMIUM PICK
Mastercool Brake Flaring Tool Kit
Hydraulic ram-operated flaring tool
Creates single, double, bubble, GM fuel lines, and push connector flares
3/16-inch to 5/8-inch tubing dies
Includes a tubing cutter
BUDGET PICK
Capri Tools 3/16" Flaring Tool
Flares 3/16-inch brake lines
Easily creates 45-degree bubble or double flairs
Includes a torque handle for on-car use
Requires a 10mm and 17mm wrench to use
Every fluid line on your vehicle uses flares to provide a seal where the tubing connects to a fitting. If you plan to install custom brake lines, repair damaged transmission lines, or replace fuel lines, you'll need to make flares. To do that, you'll need a brake line flaring tool to make the correct flare style for the fitting (given that you aren't using pre-made replacement lines). However, it's important to keep in mind that making great flares take some practice. And be aware, many tools on the market are of low quality and difficult to use.
A good brake line flaring tool makes the process of creating custom tubing flares easy (well, not "easy," but a lot easier than when using a cheap Chinese-made model found on eBay). When using a quality brake flaring tool correctly, your flares will be even and consistent, so you don't have to worry about parts failing while you are driving. Always keep in mind that most metal lines on your vehicle supply fluid to vital components. A leaky brake line will irremediably cancel the whole brake system, and no need to mention how dangerous a leaking fuel line can be.
Luckily, we are here to help you find a good brake line flaring tool, no matter your budget or skill level. I've been a professional auto mechanic for over 15 years, and during that period, I used a wide range of different flaring tools. Some are better suited to repair metal lines in place, while others will require the line to be removed from the vehicle. Some are more compact, some are meant to be used in a vise, others ratchet or use hydraulics to make the process easier. No matter what you are looking for, we reviewed one for you.
Enjoy!
Best Brake Line Flaring Tool Reviews
The GearWrench flaring tool is an inexpensive one that can make single, double, and bubble flares. It includes metric dies for creating 45-degree double flares in 4.7mm, 6mm, 8mm, and 10mm tubing up to a wall thickness of .40. And, even better, it also comes with a neat blow-molded carrying case, so you don't lose the small dies in your kit.
It's well-suited to work on soft metals like copper but might require more force to flare stronger metal. Furthermore, it might require some getting-used-to and a bit more practice than some other models. However, 15 years ago, when I started in the field, this model was the only thing available, and it worked just fine. That's what I learned with, and that's what I used for years too. Anyway, I digress. Just know that if you are running on a tight budget, or you are just beginning your first day as a mechanic soon and already have to buy 10 thousand other tools, just get this one; it will do alright.
However, if you are an experienced mechanic, you might be better getting a tool designed for a more professional workflow.
Once again, it takes a bit of practice to make proper flares. Hence, you should plan to have some extra scrap tubing pieces to practice making flares before you tackle your expensive brake line project. Once you get the hang of it, it makes perfectly usable and leak-free flares.
Pros
Inexpensive brake flare tool
Ideal for metric brake lines and fittings
Cons
Not as durable as other tools
Instructions are not accurate- watch a video on YouTube before using it
Key Features
Includes tubing reamer, arbor, and metric dies
Creates 45-degree double flares and DIN bubble flares
Includes a carrying case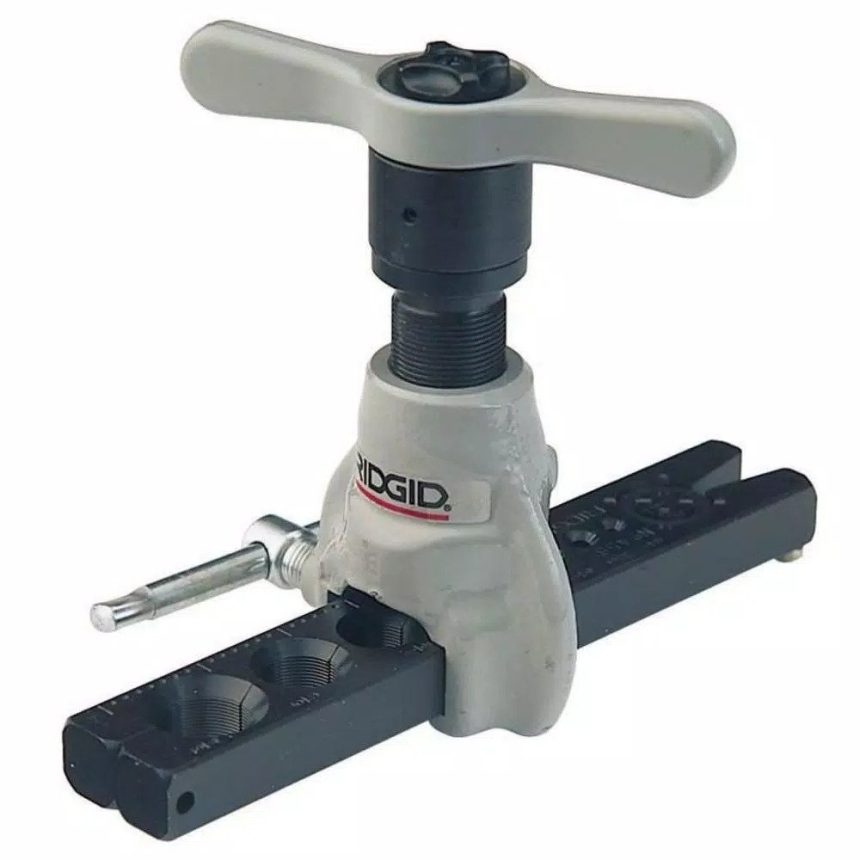 Right away, it's worth mentioning that the Rigid flaring tool isn't the best choice for automotive applications since it only creates single flares, and dies to create automotive double or bubble flares are not available.
Where this flaring tool really comes in handy is when working on low-pressure systems like oil heaters, refrigerators, AC systems, and basically anything that needs single flares. The RIGID model will create 45-degree single flares in steel, stainless, hard copper, and brass tubing and can flare tubing from ⅛-inch up to ¾-inches.
Meanwhile, the unique ratcheting action allows you to make smooth and consistent flares without the arm-bending force many other tools require. The ratcheting features also helps to prevent splits since the pressure is applied smoothly and evenly across the line.
Once again, avoid buying this model if you are working on automotive tubings such as brake lines and fuel lines. The flare type on those systems is essential for creating a solid seal. Under pressure, a single flare may split, causing a leak. However, you can use this tool to maintain the equipment in your shop. It's ideal for many hydraulic systems, AC units, heaters, and many common fittings you'll find on low-pressure systems.
Pros
Ratcheting action makes smooth, even flares without any effort
Flare bar and yoke makes it easy to get the correct size quickly—no time wasted looking for the correct die
Works well in confined spaces
Cons
Only makes single flares
Not for automotive applications
Key Features
Yoke and flaring bar with ratcheting handle for precision flares
Produces 45-degree SAE flares only
Use with steel, stainless, hard copper, and brass tubing
Handles ⅛-inch to ¾-inch tubing sizes
This Capri flaring tool is one of the best buys for working on brake lines. It does only one thing, but it does it really well: create double and bubble flairs in a 3/16-inch tubing, the size found on most modern hydraulic brake systems. In fact, it's so good that Capri Tools claims it will create flairs in half the time compared to competitors—and it's actually true.
Capri Tools speeds up the process of making a bubble or double flare by simplifying its flaring tool. Rather than having an arbor that handles various dies, this tool uses a single die inserted in different positions to achieve the correct flare. Once the die is set to the brake lines, you simply use a 17mm wrench to turn the die into the arbor and create the flare. It's that easy.
Furthermore, it's fantastic for creating flares on brake lines without having to remove them from the vehicle. Brake line fittings on older cars, those that have leaking brake lines, in fact, are usually super rusty, and you are often better to repair the line in place. Removing it might only cause more harm than good.
The arbor's compact design makes it easy to get into tight spots and still has the necessary force to flare the tubing. And for even better comfort, it comes with a rubberized handle for on-car repairs. On the other hand, if you are installing new fittings on a new line, rest assured, it works even better when held in a vice.
However, if you are converting factory steel brake lines to CuNiForm, or copper-nickel lines, be aware that the Capri flaring tool struggles to create nice bubble flares in CuNi. It tends to create a high spot on the flare, which may cause leaks. Nonetheless, it works perfectly for steel lines (the standard in the automotive industry), with no issues reported concerning off-center flares or distortion.
Pros
Compact and affordable
Easy to use on- or off-car
Works best for common steel brake lines
Cons
Numerous users report issues when creating double or bubble flares in copper-nickel brake lines.
Key Features
Flares 3/16-inch brake lines
Easily creates 45-degree bubble or double flairs
Includes a torque handle for on-car use
Requires a 10mm and 17mm wrench to use
The OTC flaring tool master kit is a standard in the automotive industry and contains everything you need to complete professional-quality flares in a variety of metal tubing. If you ever work in a dealer where they supply specialty tools, this is probably what you'll be working with.
The kit includes an arbor, a deburring tool, bubble flare adapters, SAE and Metric double flare dies, and a tubing cutter. It is a quality kit similar to or identical to the tool kits you can rent from your local auto parts store. It's a bit basic, but it's really well-built and will last you for years.
On the other hand, it's a good thing this tool is built tough—it takes quite a bit of force to flare tubing using the T-handle and larger diameter lines; steel tubing is particularly hard. However, it includes single flare dies in SAE 3/16 to 5/8-inches and metric from 4mm to 14mm, double flare dies in SAE 3/16 to 1/2-inch, and metric dies from 4mm to 10mm, and bubble flare adapters for 4.7mm to 10mm—more than enough to tackle every kind of tubing you'll encounter in the automotive industry.
While OTC advertises that this tool will perform SAE bubble flares, the kit doesn't include adapters and bubble flare fittings for SAE sizes. So yeah, it "can" make bubble flares, but you'll have to buy your own dies. Fortunately, bubble flare fittings are almost exclusively European, and thus, the overwhelming majority of them are metric.
Just like the GearWrench model above, it's better suited for off-car applications, as it should be clamped in a vice to make sure the dies turn evenly. However, as I mentioned earlier, this is the type of flaring tool I started with and used it for on-car repairs quite a lot. It's only that it might be a bit challenging to use in tight spaces.
Pros
Heavy-duty construction for long-term use
Includes dies and adapters for a wide range of tubing sizes
The addition of a deburring tool and a cutter makes it an all-in-one buy
Cons
Can be difficult to use without a vice
Takes a little practice to get the correct force to make clean and centered flares
Advertising lists SAE bubble flares, but clearly doesn't include the adapters
Key Features
Includes arbor, SAE and Metric dies, deburr tool, and tubing cutter in a blow-mold case
Good for single flares in 3/16-inches up to 5/8-inches and 4mm to 14mm tubing, double flares in 3/16 to 1/2-inch, 4.7mm, 6mm, 8mm, and 10mm tubing, and bubble flare in 4.7mm to 10mm tubing.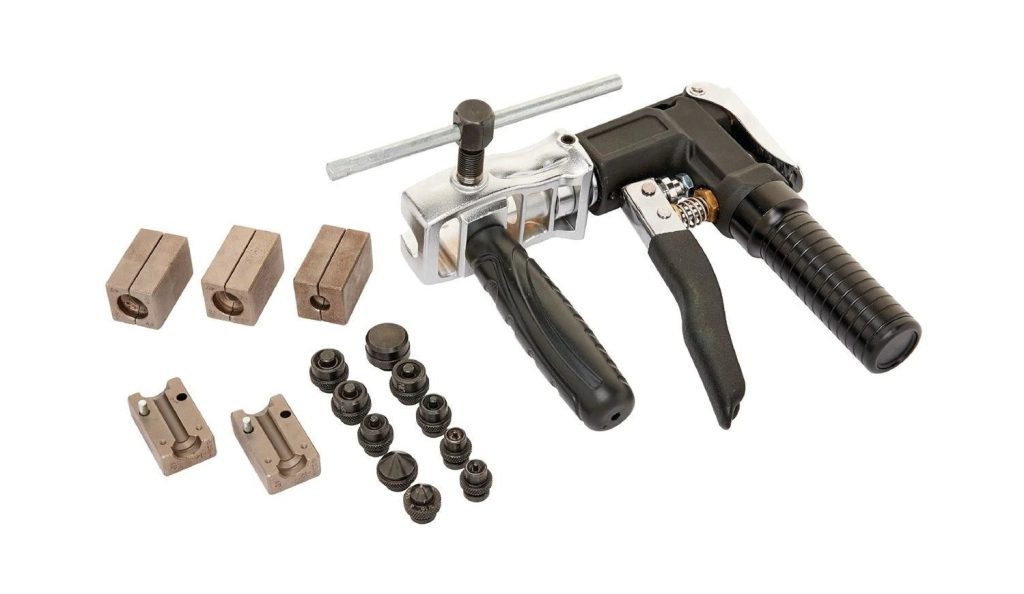 When you need to have a serious tool for flaring brake, fuel, and fluid lines, S.U.R.&R.'s model is definitely worth considering. The secret lies in the hydraulic ram operated by a pistol grip that applies 6,000 ft/lbs of pressure with a squeeze. If you have to make a ton of flares, this one might save your life.
The kit includes four dies to accommodate 3/16, 1/4, 5/16, and 3/8-inch tubings. The common metric tubing, 4.75mm, can be flared with the 3/16-inch die, covering five sizes in total. Moreover, the kit includes a total of ten punches for creating the most common automotive flare ends. And, if you need other specialized flares, additional punches and dies are available from S.U.R.&R.
The S.U.R.&R. Pistol-Grip Flaring Tool can create bubble, double, and even mushroom flares in a jiffy. It's easy to use and produces consistent flares without high spots and distortion. Besides, the magnetic yoke keeps the die aligned perfectly throughout the process, and punches are held in place with a detent ball—a really nice touch truly appreciated the next time you have to make flares with the tool upside down.
It's an ideal tool for working on lots of flare fittings one after the other. It's compact and easy to use, so you don't have to struggle to get enough force to produce a flare only to find out it is off-center and leaks. Meanwhile, the yoke handle provides excellent leverage when you are flaring steel brake lines with this tool.
If you restore old cars and basically have to remake full lines and add tons of new fittings, you'll appreciate how faster it is than most. However, it's on the pricier side, so if you only fix brake lines once or twice a year, you might be better off with a more conventional model.
Pros
Convenient tool for on-car repairs
Pistol-grip hydraulics significantly reduces the effort required
Broad selection of dies and punches for most automotive applications
Cons
On the costlier side
Only for use on steel, coated, or S.U.R.&R. UltraBEND® tubing
Key Features
The pistol-grip flaring mechanism provides up to 6,000ft./lbs of pressure without a hassle
Includes four dies and ten punches
Works on steel or coated tubing 3/16-inch to ⅜-inch in diameter
Comes in a blow-mold case
Performs double, bubble, and mushroom flares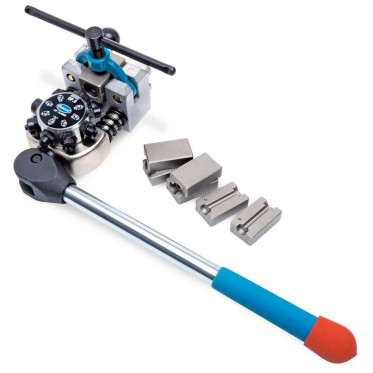 The name of this flaring tool explicitly mentions "brake line" for a good reason: it's the perfect tool for custom brake line jobs. However, it only works off-car; you need a bench vice to use it. Nonetheless, it makes quick flares due to the oversized torque handle making it much easier to use than many other manual models.
The Eastwood flaring tool is a professional quality model that makes double and bubble flares in 1/4-inch, 3/16-inch, 3/8-inch, 4.75mm, 6.35mm, and 8mm steel, stainless, copper, and aluminum tubing.
This design is really popular in professional shops since it's durable, makes clean and even flares, and doesn't require a ton of force. As long as you aren't trying to create a flare on-car, this is the best tool around.
Besides, the rotating dial allows you to quickly select between different operations, enabling quicker die changes and providing the user with ultimate control over how a flare is formed. The kit comes in a sturdy case and includes four dies.
The Eastwood flaring tool is truly impressive. However, if you are a professional mechanic, just keep in mind that you'll still need a more compact model for jobs where the line simply can't be removed from the car without requiring a complete overhaul.
Pros
Lever handle makes applying force easy
Dial wheel makes changes simple
Makes consistent flares in the most common sizes
Cons
Won't work for on-car applications
Bulky to store when not in use
Key Features
Lever-action flaring tool
Dial select for flare type
Works on 3/16-inch to 3/16-inch tubing and 4.75mm to 8mm metric tubing
Includes four dies
Comes in a blow-mold carrying case
If you ask anyone who does a lot of brake flares what the best tool on the market is, they will no doubt point to the Mastercool sitting in their toolbox. Many pros have sets identical to this one they have used for years without fail. If you want to make professional tubing flares with ease, this is the best thing money can buy.
Sure, this kit is more expensive than many others, but it more than makes up for it with what it has to offer. It'll make single, double, and bubble flares better than most tools. Moreover, it covers every tubing size you might work with one, and it also does GM fuel line fittings and push-to-connect flares. No other tool on this list will give you as much bang for your bucks.
The tool uses a hydraulic ram to apply pressure evenly for consistent flares every time. The hydraulic ram also makes it quite compact, ideal for getting into those cramped spots to repair a line on-car. Of course, there are smaller manual models. Still, it's one of the most convenient and simple flaring tools on our list.
And while it takes a little more time to set up correctly than screw-type models, the excellent performance and ease of use will make it a favorite in your shop. It also comes in a blow-mold case for storage and transport and includes a tubing cutter—no deburring tool, though.
Of course, it's also slightly more expensive, but if you are a professional mechanic or just take your flares seriously, trust me, this is the one you want.
Pros
Ideal for professionals who need to flare numerous styles using one tool
Hydraulic ram makes flares easy, even on large tubing
Kit includes everything you need
Cons
Key Features
Hydraulic ram-operated flaring tool
Creates single, double, bubble, GM fuel lines, and push connector flares
3/16-inch to 5/8-inch tubing dies
Includes a tubing cutter
Comes in a blow-mold case
Brake Flaring Tool Buyers Guide
Before you go out and buy a brake flaring tool kit, you need to know what sets some tools apart from one another. It's helpful to understand the different types of flares, tubing, and how the different types of tools work before deciding what type of flaring tool you need.
How to Make a Good Flare
Flaring the end of tubing looks easy to do, and it can be, but you need to do a few basic things to make sure you succeed. And, of course, practice makes perfect.
The flare you make must be as perfectly centered as possible, or the fitting won't align correctly with the end of the tube, and it'll leak. The most common problem is that people don't get a perfect 90-degree cut on the tube's end. To prevent that, it's essential that you use a good-quality tubing cutter appropriate for the size and material of the tubing you are flaring.
Always lubricate the tool before you make a flare. Some tools will recommend a specific type of lubricating grease, but most of the time, a few drops of clean brake fluid is more than enough. If your tubing is slipping or if it's excessively difficult to apply force, try lubricating the punch and die. Good lubrication can also prevent splitting the sidewall of the tubing.
Furthermore, always deburr the inner edge of the tubing before installing the flaring tool. Deburring removes small shards and rounds the tubing's edge slightly to ensure the punch doesn't split the metal. It may also be necessary to run a file or a piece of sandpaper across the outer edge to get good flares, particularly bubble flares.
How a Flaring Tool Works
Regardless of how the tool makes a flare, they all work the same. Tubing is held in place in a die. A punch with the desired shape is forced into the tubing, causing the contour to spread against the die and forming a shape in the metal that creates a leak-free seal when tightened to a fitting.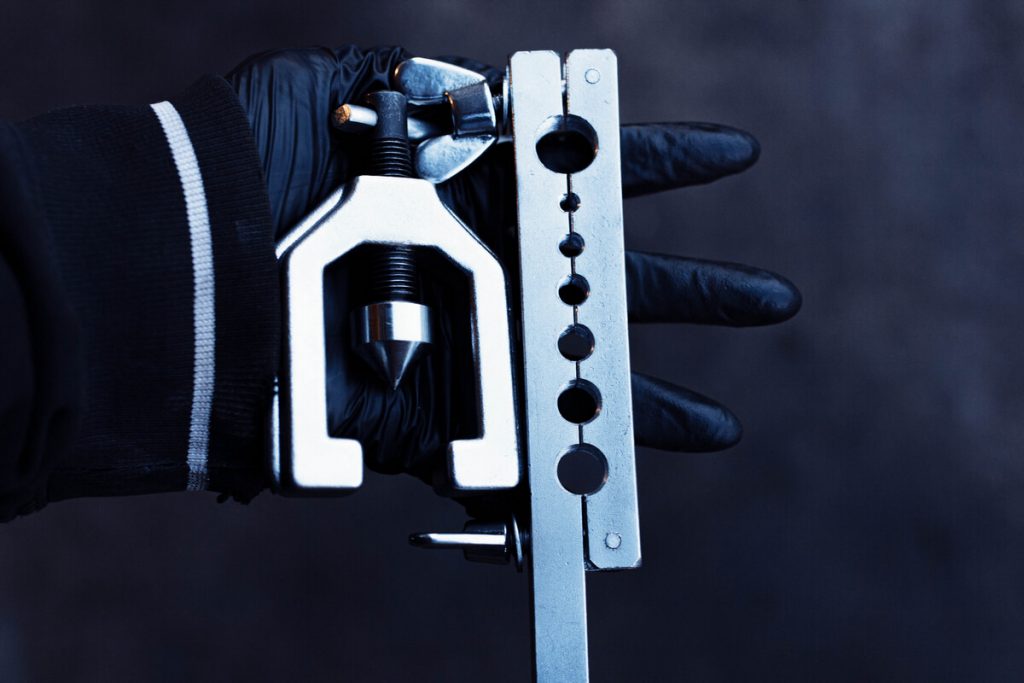 What are the Types of Flares
There are three common flare styles and several others that are used in specific applications. The main types of flares are single, double, and bubble.
Single
As the name implies, a single flare is created by pressing the inner edge of the tubing out, typically at a 45-degree angle. This is a flare not often used in automotive applications, though it is occasionally seen on low-pressure fuel lines. It tends to split and leak under pressure and is usually found in the HVAC industry, which uses much lower pressure than brake lines.
Double
A double flair turns the inside of the tubing against itself, in essence doubling the metal over while providing an angled flair. The most common angles are 45-degree and 47.5-degree. A double flair is commonly found on American and Asian automobiles and is used in brake, transmission, power steerings, fuel, and air conditioning systems.
Bubble
Bubble flares produce a 45-degree bend from inside out, then another from outside-in to create a "bubble" in the tube. It is a common fitting on European cars and is becoming increasingly popular in the automotive industry. Bubble flares can withstand high pressure without splitting and are an ideal shape to create leak-free high-pressure systems.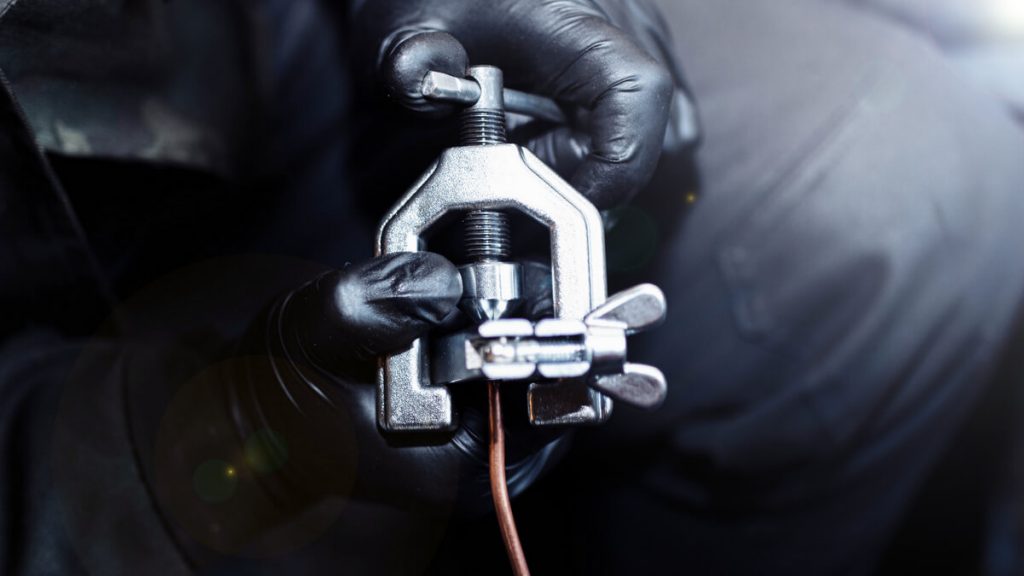 Types of Flaring Tools
Manual
Manual flaring tools come in a wide variety of styles, but all of them require the operator to use physical force to create enough pressure to shape the flare. When working with soft, thin tubing, this can be very easy, but when working with larger, heavier tubing, you may have to put significant force on the tool to create a flare, especially with a more compact one due to the lack of leverage.
Hydraulic
Hydraulic flaring tools use the force of hydraulic pressure created by a handle, frequently a pistol-grip style. Just like a floor jack, a hydraulic flaring tool will put tremendous pressure on the tubing with minimal effort by the user. These are most popular in professional shops and can be quite pricier than manual models.
Frequently Asked Questions (FAQs)
Is flaring brake lines necessary?
Yes. Brake systems are under tremendous pressure, and even a small leak can lead to system failure, so flaring brake lines is essential.
Why do the flares I make keep leaking?
There are a few reasons flares leak. The most common is that the tubing isn't cut square, so it won't align correctly in the punch, and the flare won't be centered. If the flare isn't centered on the tubing, it could cause uneven pressure when you tighten the fitting. The flare may also be deformed, leading to the same problem of leaking. For your system to be leak-free, the flares need to be perfectly shaped, and it can take practice to get it right.
Why would I buy a flaring tool if I can rent one at the auto parts store?
You may be able to rent a good-quality tool from the auto parts store, but most of the time, you'll end up with a low-quality tool the store intends to replace frequently. The tool you get may have been abused, used incorrectly, or damaged, and you won't know until it won't create a proper flare. Buying your own saves you the hassle.
Verdict
The best brake flaring tool kit you can buy is the one that works best for you. Each type of kit works well in various situations, so it's really up to the DIYer to think about whether the tool they need is going to get frequent use or if they need something to repair on-car tubing, among other considerations.
When you ask the guys who've been flaring brake lines for decades, they most often will tell you that the Mastercool tool is the most reliable, consistent, and easy to use of all the brake line fitting tools on the market, and it's been around for decades.