EDITOR'S PICK
TPI Corporation Electric Heater HF686TC
Heats 200-400 square foot
Power: 5600 W
Thermal cutout switch
Power light
240/208 V and single phase
The bracket is rotational and can be mounted on the floor, ceiling, or wall
6-foot-long power cord
PREMIUM PICK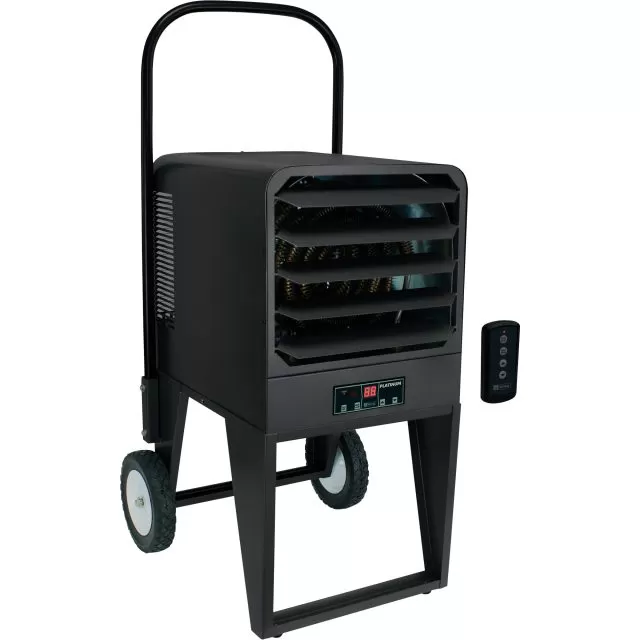 King Electrical PKB Heater
Large LED display
Heats 10,000 square foot
Power: 7,500/10,000W
Timer and fan-only modes
Smart limit protection
16-gauge wheelbase
Remote control
Unit bearing motor
Tip-over kill switch
BUDGET PICK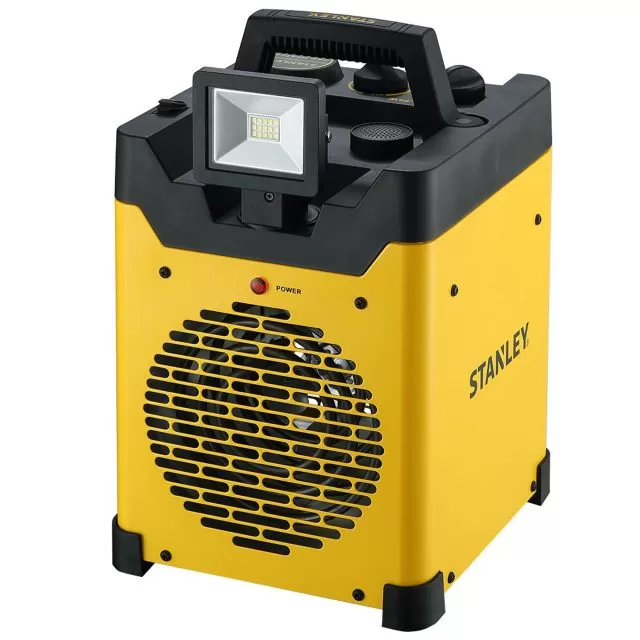 Stanley Electric Industrial Heater ST400LED-120
1500W capacity
Heating capability up to 165 sq. feet
Adjustable thermostat
Rugged and has a steel construction
Adjustable ultra-bright LED light
USB port for charging phones, cameras, and tablets
If you are like me, you spend a fair amount of time in your garage. Unfortunately, if you live in a cold climate, your garage may become quite an uncomfortable place to work in during the chilly winter months. Sure, you could always put on a winter coat, but layering on clothes will significantly restrict your movement (if you ever fixed cars outside in the winter, you know what I mean). So, when the temperature drops during winter, you want your garage to be warm and comfortable. Still, since most garages don't come with a built-in fireplace (that would be nice tho), getting your hands on an electric garage heater is the next best thing. All you need is an electrical outlet, and you're good to go.
Although garage heaters vary in functionality and features from one manufacturer to another, the best one for you will depend on your specific setup. Space available, fuel type, safety features, power output, and maintenance cost are all things to consider. To help you find the right electric heater for your garage, we have reviewed the top 8 electric garage heaters we could find, the bests in each specific category, and outlined their particular pros and cons so you can make an informed decision.
Finding the perfect electric garage heater requires some research, but we have saved you half of the hassle by narrowing the choices a little.
Hope it helps!
Best Electric Garage Heater Reviews
The Stanley heavy-duty heater comes with a 1500 W capacity and two heat modes. It is a compact unit and perfect for workbenches, construction sites, barns, and garages. Its heat output is rated at 5100 BTU, good enough to heat up to 165 square feet.
Furthermore, it packs additional features like an adjustable LED light and USB ports for connecting phones, cameras, and tablet chargers. The steel construction is also tough and rugged, so it should endure rough wear and tear in the shop for years.
The compact design is ideal for small workplaces and smaller house garages, and since it also weighs only 11 pounds, you can easily bring it around with you—the built-in handle and 6-feet-long cable only adds to the mobility.
It's also worth mentioning that the fan is super quiet and pushes warm air without creating any noise, which is especially appreciated in garages sitting underneath a bedroom or something (your loved one may not appreciate the buzz created by bigger models).
You can also use Stanley's heater as a regular fan, which should help in those hot summer months. Of course, it's definitely not the most powerful unit on this list but if you need a simple heater that will do what it's supposed to do without breaking the bank, this is what you need!
See Also: Our Selection of 5 Best 120V Electric Garage Heaters!
Highlighted Features
1500W capacity
Heating capability up to 165 sq. feet
Adjustable thermostat
Rugged and has a steel construction
Adjustable ultra-bright LED light
USB port for charging phones, cameras, and tablets
Pros
Automatic shutoff
Can also be used as a regular fan
Durable
Versatile
Cons
Not the most powerful fan out there
Dr. Infrared's DR-238 heater is perfect for winter activities, both indoors and outdoors. It is odorless, instant, and safe and features three heating outputs: 900, 1200, and 1500 W. Moreover, it is IPX4 weatherproof and made from anodized aluminum, making it ideal for outdoor use.
For maximum ease of use, Dr. Infrared's model comes with a mounting bracket, a long power cord, and a remote. You can easily keep the remote in your pocket and change the temperature without having to stop whatever you are working on, while the large LED display ensures you'll see what setting you choose even from a distance.
And if you forget to lower the temperature, the heater comes with an overheating detection feature, shutting off the heater automatically to reduce potential damages and fire risks. You can also set a timer for shutting the heater on or off, which comes really handy if you are doing auto body repair work and need to keep the temperature inside your garage on the higher side while you're waiting for that paint job to dry.
It's also worth mentioning that this model looks significantly better than most "industrial" heaters. If your garage is also used as a mancave and has a pool table and a bar, you might be better with something like Dr. Infrared's model. Most shop-oriented heaters focus more on power than looks and consequently may seem to have been sourced from an old mental hospital or a prison cell—that might not fit with your clean-looking garage.
Highlighted Features
900W, 1200W, 1500W heat capacity
Heating capability up to 165 sq. feet
Infrared heat
Overheating protection
Remote control
Ultra-quiet
ETL listed
Pros
Odorless carbon
Looks quite nice
Works both indoors and outdoors
Weatherproof construction
Cons
Dyna Glo's model is a 5000 W garage heater with three heating modes with temperature limiting control, making it ideal for a smaller garage, but also larger workshops, or even a warehouse (you might need more than one for bigger warehouses, though). Moreover, the compact design ensures it can be mounted onto the ceiling, necessary for those smaller workspaces.
Meanwhile, the commercial-grade heating element, adjustable thermostat, and premium motor ensure you'll stay warm in your garage no matter how cold it is outside. And although lightweight, the Dyna Glo can produce 17,065 BTUs, enough to warm a 500 square feet area—not bad for such a small heater.
And no need to worry about overheating. The Dyna Glo comes with overheating protection and has an indicator light letting you know when it's super hot.
All in all, it's a pretty good option for garages of all sizes and it's still quite affordable. Looking for a good heater that will last you for years? Look no further; this is the heater for you!
Highlighted Features
3 heat settings: Low (11,285 BTU), Medium (14,105 BTU), High (17,060 BTU)
500 square feet heating
Ceiling-mount friendly
Indicator light to prevent overheating
Adjustable vents
Safety lock feature
Pros
The motor is fully enclosed
Easy to install
Low noise
Quite affordable
Cons
Nothing, really—when it works, it works!
If you are lucky enough to own a larger garage, the New Air electric garage heater might be your best bet. With 5600 W of power, it can quickly turn a cold 800 square feet area into a cozy and warm workspace. Indeed, it is powerful enough for a 2-car garage or a 23 x 24 shed/workshop, even when it's freezing cold outside. However, this one requires a 240V outlet, so you'll have to make sure you have that already routed in your garage (if you already have a MIG welder in there, that shouldn't be a problem).
It's important to outline that this model is specifically designed to be used in an industrial environment so the steel body is tough enough to endure whatever you can throw at it. Nonetheless, New Air also made sure it looks the part—the black-coated matte finish and minimalistic design look quite good if you ask me.
It also comes with overheat protection, an easy-to-use thermostat, and a 6-foot power cord for your convenience. You can even move it around using the carrying handle — not something you can do with other bigger heaters.
Okay, so the New Air is powerful, but what if you don't need that much heat? In those conditions, you can rely on the single-pole thermostat with a manual dial, letting you set the desired temperature. Moreover, it is UL-certified and has an automatic shutoff feature preventing it from overheating.
All in all, it's a good alternative to the previous model, especially if your garage is on the larger side. It's extremely reliable and will be all worth the slight premium.
See Also: Some of the Best 240V Electric Garage Heaters!
Highlighted Features
UL-certified to prevent overheating
Suitable for up to 800 square feet garages
5600 W power
Built-in thermostat
Portable design and 6-foot cord
Black coated finish
Steel construction
Pros
Rugged construction for rough use
Minimalist design
Extensive coverage area
Smart automatic shutoff
Cons
Runs on 240V (although that could also be a pro, depending on your setup)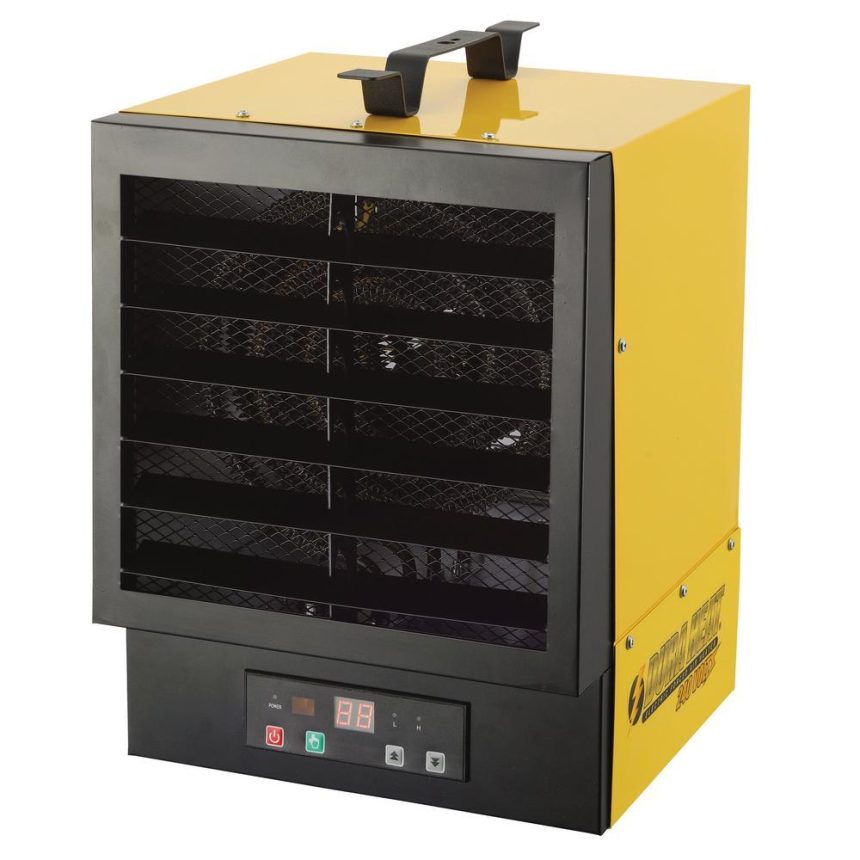 You thought that we'd stop at 5600 W and not cover the needs of professionals? Now, with 10,000 W on tap, DuraHeat's electric heater is expensive, but it's also powerful enough to heat a really large garage. Besides, with an output of 34,120 BTU and a directional louver airflow, the heat distribution is even, while the 500 CFM fan is ideal for sufficient circulation.
Still, since it's bigger than most of the previous models, it might be a good idea to mount it to the ceiling using the included hardware kit or you might lose much-needed floor space—but we leave the decision to you. Once it's up there, you can use the remote to adjust the temperature, a handy feature when you've got your hands deep in an engine bay.
Interestingly, DuraHeat's model also comes with an Eco-friendly mode, which could save you significant money down the line, which is not to neglect. Put simply, this one is a powerful model with a tough body. It will last for years and will even make an effort to keep your power bill as low as possible—what's not to like?
Highlighted Features
Spiral heating element
Rated at 34,120 BTU max
10,000 W power
500 CFM fan
Anti-freeze mode
Remote control
Overheat shutoff
ETL safety
Pros
Can heat an area of 1500 square feet
Heating distribution power is great
Comes with a mounting kit
Cons
Heating element prone to melting
This electric garage heater by TPI Corporation is a durable unit perfect for smaller garages, especially effective for spot and area heating, as well as freeze protection. Still, that doesn't mean it's not powerful. Indeed, it's a 5600/4200W and 240/280V heather with a 10 ft air throw, allowing for even distribution from top to bottom.
Moreover, it features manual reset thermal heating and is compact, lightweight, and portable, perfect to heat up your workspaces. Interestingly, TPI rates it as an industrial, residential, and commercial-use electrical heater, despite the rather small format—it's small but it does what it's supposed to do!
The HF686TC is easy to install and can be used as an air circulator, heater, and drier. Besides, the fan is shockproof, corrosion-resistant, and moisture-proof, making it suitable for the colder winter months. Also worth mentioning, TPI Corporation's heater is pretty low maintenance and easy to clean using a microfiber cloth.
Of course, this one may not be for everyone but if you are looking for a smaller heater you can direct to warm up specific areas (without having to heat up the whole garage or even to supplement another heating system for instance), TPI's HF686TC garage heater is definitely worth looking into.
Highlighted Features
Heats 200-400 square foot
Power: 5600 W
Thermal cutout switch
Power light
240/208 V and single phase
The bracket is rotational and can be mounted on the floor, ceiling, or wall
6-foot-long power cord
Pros
Flexible installation
Shock and moisture-proof fan
Low maintenance
Even heat distribution
Cons
Fostoria's electric heater is a rugged option and a great alternative to traditional propane and kerosene heaters. And with a 34,130 BTU capacity and 10,000W power output, it produces enough heat to warm up larger areas — up to 1500 square feet, in fact. The thermostat ranges from 40 to 100-degree Fahrenheit and is versatile enough for a variety of applications. No matter whether you just need a little boost to make your garage a bit more comfortable or a constant flow of heat to counteract the fact you gotta keep that garage door open until the fuel injector cleaner is all burned out and it's freaking cold outside, this heater will be there for you!
However, it's important to keep in mind that the Salamander Heater is significantly bigger than the previous models and may take some significant floor space. Still, the portable design and tubular steel frame with 10-inch wheels make for an easy-to-use electric heater and you can move it around at will, which may come in pretty handy in specific situations.
Of course, this one might be a bit big for regular house garages but if you own a larger repair shop, this one is a no-brainer. It's more powerful than most electric heaters of the same size and Fostoria simply doesn't make bad products.
You can't go wrong with this one!
Highlighted Features
Tubular and finned heating elements
Heats up to 1,500 square feet
10,000 W power
Fan only option
Adjustable thermostat
10-inch rear wheels
240V and single phase
10-foot-long cord
Pros
Many safety features
Perfect for a sizeable industry-grade workshop or garage
Low fan noise
Cons
Not quite suitable for smaller garage (you don't really need something that powerful anyway)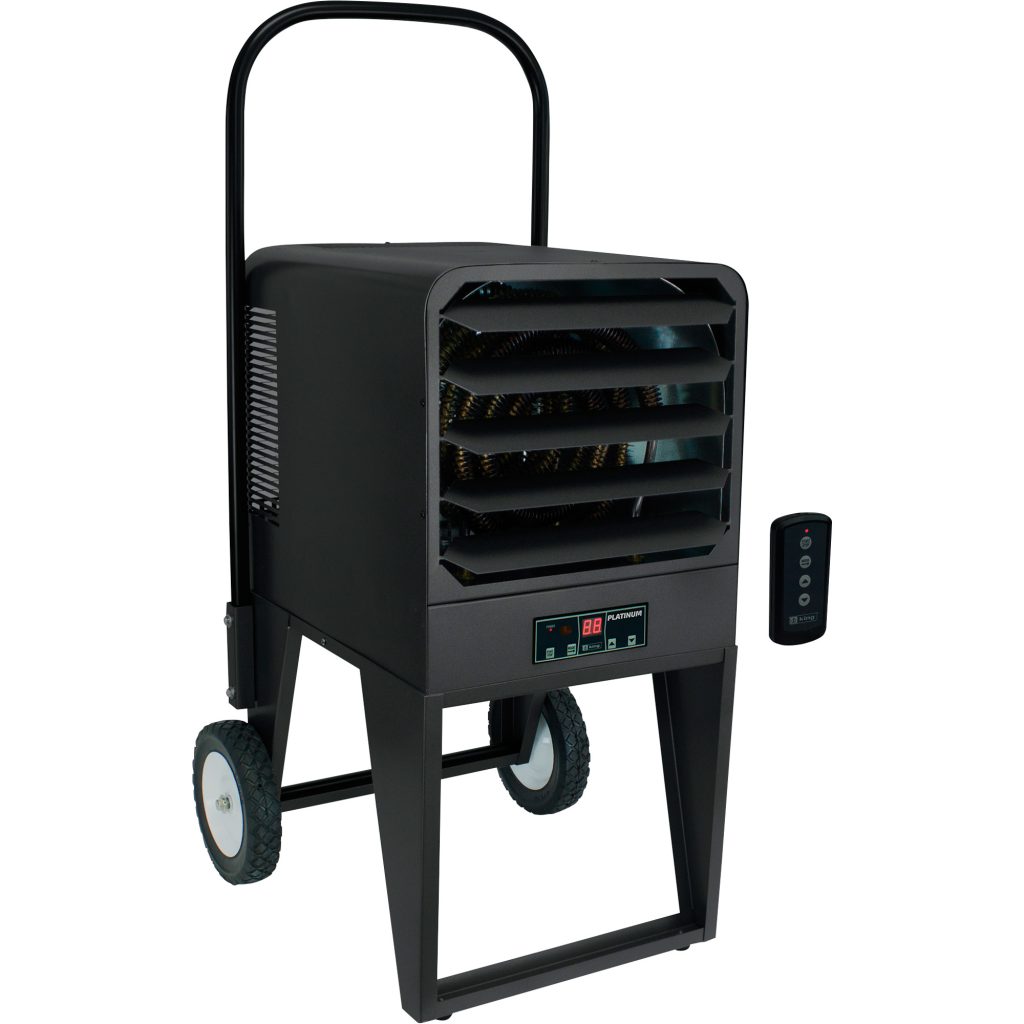 King Electrical's PKB unit is an excellent portable heater that can quickly warm up larger areas, thanks to the 10,000 W heating elements. It also has a built-in thermostat, allowing you to set the temperature (via the remote or control panel) and leave the heater to do its job. And, let's not forget the helpful timer. You may not use it that foten but you'll be happy to have it if you ever need it (I personally like to set mine to start about an hour before I leave for work so I can save power during the night and still enter a relatively hot car in the morning).
The heater's construction is also robust and the high CFM output and spiral finned heating elements for better heat distribution make it perfect for larger industrial settings. However, the 6-feet power cord is on the shorter side, especially when considering that it's designed to be used in professional environments—you might need to use an extension cord here.
The modern, a little less "industrial" look is also not to neglect. The mate black paint looks a lot better than other heaters' flashy yellow or rather dull beige. Also worth mentioning, it's equipped with a non-mercury tip-over switch so it would turn off automatically if it was to fall over (if you have dogs running around for instance).
Still, all these interesting features come at a price and may be out of most people's budget. There's no denying it, some of the previous heaters are just as powerful for a fraction of the price. Nonetheless, if you only want the best of the best, this one is a strong contender. Trust me; it's worth every penny!
Highlighted Features
Large LED display
Heats 10,000 square foot
Power: 7,500/10,000W
Timer and fan-only modes
Smart limit protection
16-gauge wheelbase
Remote control
Unit bearing motor
Tip-over kill switch
Pros
Looks much better than most industrial heaters
Adjustable louvers
Portable
Spiral steel fin for better heat distribution
Cons
Too large for small garages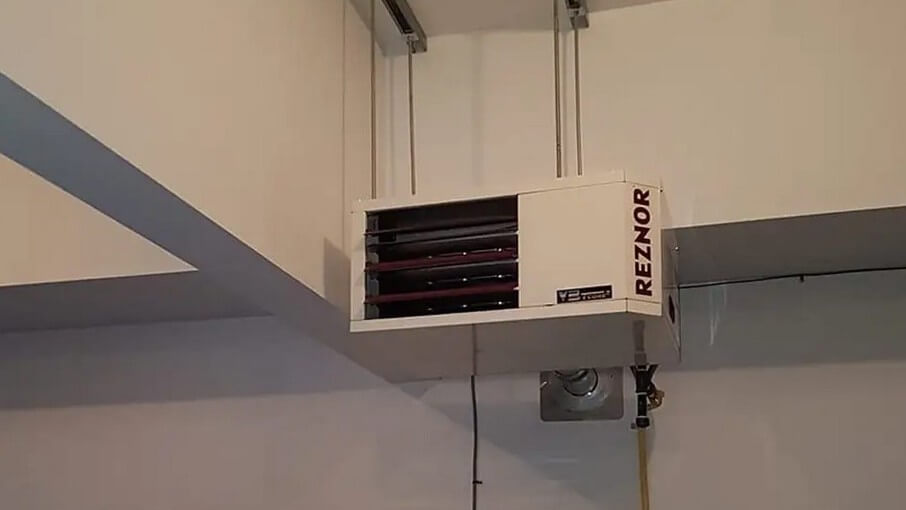 What to Consider When Choosing the Best Electric Garage Heater
Location
If your garage is on the smaller side, the heater's location won't be a problem, but it could be in larger workshops. Consequently, your garage heater should be placed near the area where you spend most of your time. While infrared heaters heat their surroundings and can thus be aimed pretty much anywhere, fan-powered heaters work better for spot heating specific areas.
Another thing to consider is whether you are going for a portable or ceiling/wall-mounted heater. A wall or ceiling-mounted model will require more hardware unless it comes with a hanger.
Power Source
The next thing is choosing the heater's power source, that is, whether you want a hardwired 220/240V or 110V plug-in model. If you go with a hardwired one, you may require the help of a professional electrician, especially for heavy-duty models. However, with a 110V-powered unit, all you need to do is plug it in, and it will instantly start heating up the place.
Safety Features
While electric heaters are safer than traditional natural gas or propane ones, they can still potentially overheat. Therefore, look for models equipped with relevant safety features such as an automatic shutoff switch and overheating protection.
For an even safer setup, it might be worthwhile to consider investing in a ceiling-mounted unit instead. It is usually a better option for DIY'ers who have children and pets running around.
Heater Size
When choosing the size of your new heater, you'll need to consider the size of your garage and the heater's power. Generally, 20-40 BTUs/square foot are sufficient to decently warm up a garage, but again it depends on other factors, such as your garage's insulation and how cold your climate is at the peak of winter.
Need more help estimating the size of the garage heater you need? Check this out!
Read more: How to Find The Right Heater for Your Garage
Frequently Asked Questions (FAQs)
What is the best place for an electric garage heater?
If you have a portable garage heater, then you can place it wherever you like. Keep changing the position until you find the sweet spot. However, ceiling- or wall-mounted electric garage heaters should be placed in the cold corner of the room.
Also, keep in mind that infrared heaters should be placed at least 24 inches away from the wall to keep the risk of fire at bay.
How many watts is needed to warm up a garage?
This depends on many factors, including the garage's layout, temperature, and size. As a general rule, 10 watts/square foot is a good metric to follow.
How much does it cost to run a garage heater?
To calculate how much it would cost you to run an electric garage heater, you will need to evaluate your local electricity charges, the heater's wattage, and the time it's in use. On average, though, a 1500 Watt heater costs about $0.18 to $0.25 per hour.
What temperature range is ideal for a garage?
Your garage should always be kept above dew point to prevent mold from growing and condensation from forming inside the garage. However, the dew point of inland and coastal states varies, but 77 to 86 degrees Fahrenheit is a good start.
How to keep garage heater costs to a minimum?
To keep your heating costs as low as possible, insulating your garage is your best bet. Most garages don't have adequate insulation on the roof, so that's a good place to start. Of course, you could also cover the windows with Styrofoam panels and install a quality garage door insulation kit.
Verdict
By now, you might have decided what kind of garage heater is better for your needs. This review tackles different types of electric garage heaters, including fan-forced, infrared/radiant, ceramic, mounted, etc—but only you know what would be best for your specific setup.
Still, before committing to a purchase, you should consider several factors and look for certain features such as adjustable thermostats, handles if you want portability, wheels, remote controls, and more.
If you are looking for a wall-mounted infrared unit, the Dr. Infrared DR-238 heater is a good pick, but Stanley's ST400LED-120 is the most reasonable choice if you are on a tight budget. Meanwhile, if you are looking for the best industrial-grade unit, Fostoria's Portable Salamander Heater should be your go-to. And if money is no concern, we recommend the King Electrical PKB Heater —it simply doesn't get any better than this, period.