Ductless Mini Split Air Conditioner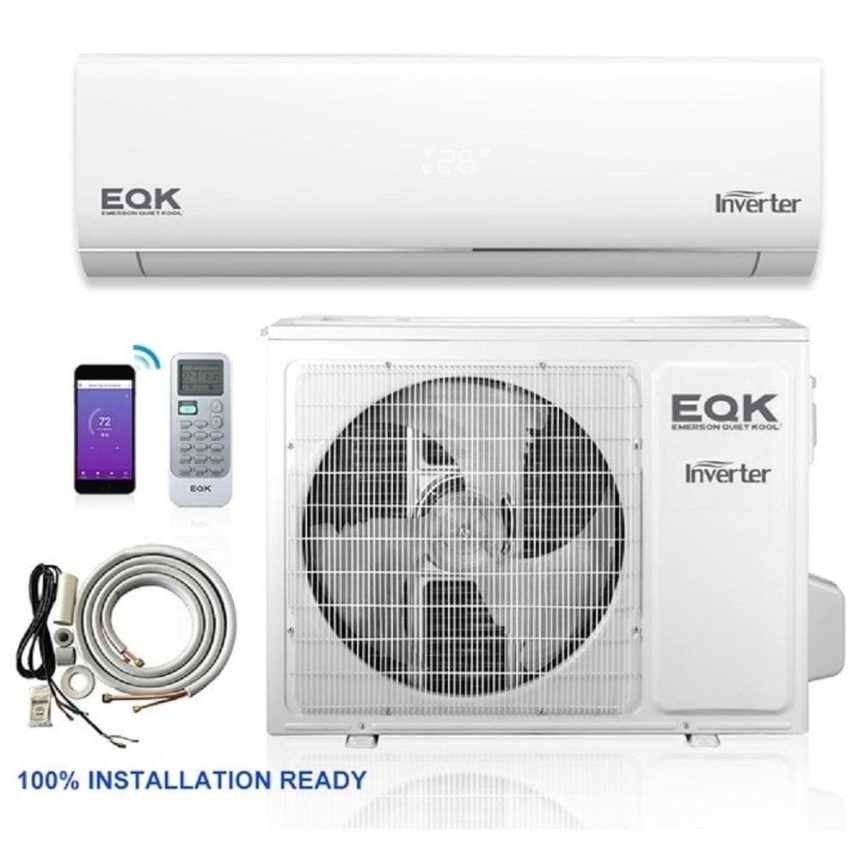 Emerson Quiet Kool 17S-EAC12R2W Air Conditioner
230 Volt
12,000 BTU, 16.9 SEER, 10.9 EER
500 sq. ft. coverage area
2-way air direction/circulation
52 dBA sound rating
Manufacturer warranty: 7 years compressor and 5 years parts
Wi-Fi and Smart Home enabled, works with Alexa and Google Assistant
Wall Air Conditioner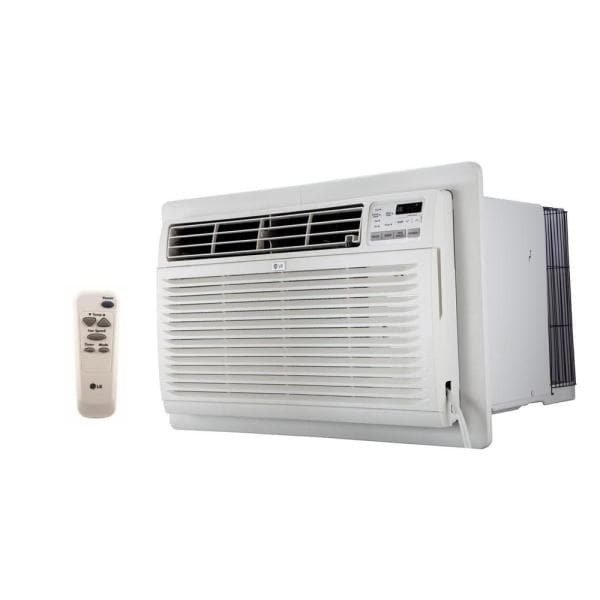 LG Electronics LT1430CNR Air Conditioner
230 Volt
13,800 BTU, 9.2 EER, 9.3 CEER
750 sq. ft. coverage area
4-way air direction/circulation
52 dBA sound rating
Manufacturer warranty: 1 year
Wi-Fi enabled
Window Air Conditioner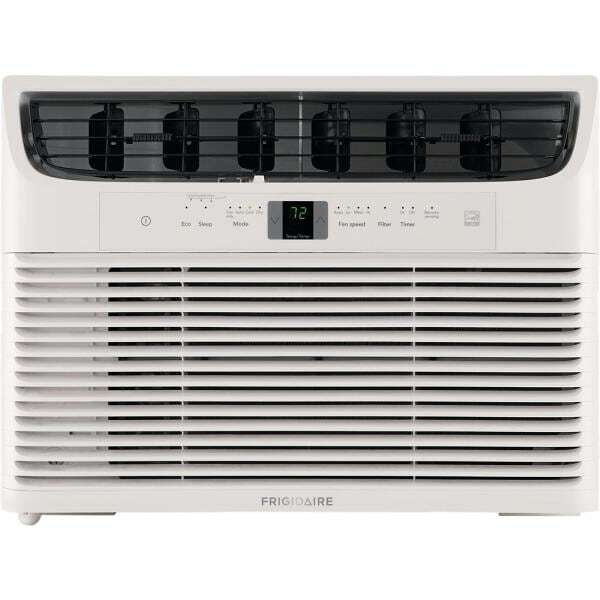 Frigidaire FFRE153WAE Air Conditioner
115 Volt
15,000 BTU, 11.8 EER, 15 CEER
850 sq. ft. coverage area
4-way air direction/circulation
57 dBA sound rating
Manufacturer warranty: 1 year full and 5 years sealed system
If you often work on cars in your garage, you may have noticed how hot it can get during summer. Of course, you can settle a mild summer situation with a traditional garage fan—not a big deal. But depending on where you live, you may find yourself in an unforgivingly hot territory, and a fan is just not going to cut it. And even if extreme high temperature is not an issue, car engines can be hot enough by themselves (especially if they are kept running while trying to troubleshoot an issue) to heat up your workspace far above what's comfortable.
If this is your case, you might have already considered installing an air conditioner in your garage, right? But of course, not all air conditioners are created equal and some are just unusable depending on the type of garage you work in (learned that the hard way myself). To help you find one that will work for you, we have curated and reviewed some of the best air conditioners for garages we could find.
I personally had been looking for a suitable option for my own garage for years now and basically ended up ordering, testing—and returning—a bunch of them. So why not make you benefit from what I learned in the process?
Added Benefits of Installing Air Conditioner in Your Garage
Apart from the obvious reason to cool, and sometimes heat, the garage's temperature to your comfy desire, there is actually a couple of other reasons why you should consider installing an air conditioning system in your garage.
Firstly, the air conditioner acts as a dehumidifier, keeping moisture levels in check and preventing condensation or mold from appearing (and if you spray paint in your garage, you already know how important it is to keep humidity as low as possible).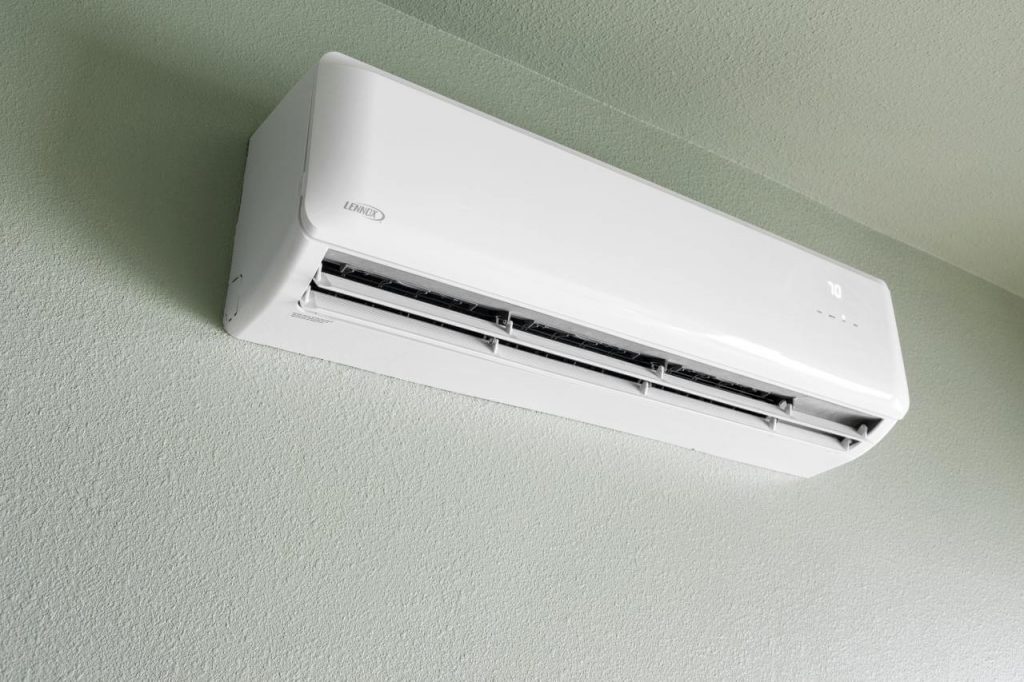 Secondly, it also keeps some of the stuff you store from degrading. Even if you don't often wrench in your garage or spend your time inside, you might still use it to store stuff prone to degradation over time due to high heat. Objects like rarely used cars/motorcycles, old electronic equipment, or materials like paint and lumber are some examples.
Lastly, installing an air conditioner in your garage might create an additional appealing feature that could attract prospective home buyers if you decided to sell your house one day (of course, not that much if it's a window-mounted type but you get the point here).
Hence, installing an air conditioner for your garage could improve your life quality, keep your stuff from degrading, and be a worthy investment overall. However, the main point here is really that you'll be able to work on your car without being drenched in sweat from late spring to early autumn.
What Types of Air Conditioners are Best for a Garage?
There will be a few options available when you choose an air conditioner for your garage.
Keep in mind it is strongly recommended you DO NOT use your house's central air conditioning system by extending ductwork through the side of the house into the garage (assuming your garage is attached to your home).
Although this solution seems cheap and logical, the side effect may vary from abnormal pressurization in the garage to potential dangerous haze entering the house via the ductwork (e.g., deadly carbon monoxide from the exhaust, paint fumes, etc). Besides, most home garages aren't isolated as well as a house and the constant warm air entering from outdoors will make it a lot harder to cool your house.
Instead, you should go with a dedicated air conditioning system just for your garage, and here are some of the ideal solutions.
Ductless Mini-Split Air Conditioners
The ductless mini-split is an efficient and consistent cooling/heating system. The system is commonly split between the wall-mounted indoor unit and the outside compressor. For frequent garage use needing consistent cool and dry air, this type of air conditioner is perfect.
Pros
The benefit of this system mostly appears in its efficiency and practicality, resulting in the highest SEER (Seasonal Energy Efficiency Ratio) and EER (Energy Efficiency Ratio) ratings of any kind of air conditioner. Moreover, the indoor unit is typically mounted up high on the wall, freeing up floor space.
The ductless unit installation is also DIY friendly, and with only a very small hole needed to be drilled into the wall, this system prevents cool air from leaking as well.
Cons
This rather modern system is much more costly compared to other types. Besides, considering you'll turn on a vehicle inside your garage relatively often means you need to frequently wash each of the unit's filters as part of the maintenance too.
Added to that, a few complex installation challenges still need to be tackled despite the unit being DIY friendly. Hence, hiring a certified HVAC professional may be more recommendable for a long-lasting result.
Through-the-Wall Air Conditioners
A through-the-wall air conditioner (also known as the wall air conditioner) is simply an air conditioning system installed into a wall. This system requires a rectangular hole to be cut in the wall so the unit can fit in between, fully exposing one side to the indoor space and the other side to the outdoor.
Pros
The main upside of wall air conditioners is their modern and streamlined look that is not offered by other types. Moreover, they are significantly less expensive than the ductless mini-split system and more comparable to window air conditioners, except they don't block a window. Therefore, it is one of the most space-saving and economic systems you can use for your garage.
Cons
While they are cheaper, they are also a lot less powerful and less efficient than ductless mini-split systems. They are permanently planted as well, so the installation is rather labor-intensive, and removing the unit leaves a rather awkward unused hole in the wall that will require extra work to cover up. Lastly, they tend to be noisy, and the cleaning/repairing process could be tricky due to their odd placement and restricted access.
Window Air Conditioners
Window air conditioners are like through-the-wall air conditioners, but they are mounted on a window instead of their own dedicated wall hole. This is the simplest air conditioning system to install, given your garage already has a window the unit can fit into. Moreover, the pricing scheme is rather similar to through-the-wall models too.
Pros
Practicality and affordability are the main upsides of the window air conditioning system. The installation system is quite straightforward if you have a large enough window in your garage, and it is not hard to find the good ones at a reasonable price.
Cons
The downside of this system is that it is only suitable for small garages. Also, even if your garage has a large enough window for the unit to fit into, most probably it hasn't got a sill yet, hence installing a bracket is a must to support it. And don't expect it to be silent either, as it is, in fact, the noisiest system compared to other types on this list.
Portable Air Conditioners
Just like the name suggested, portable air conditioners are compact and mobile. They usually sit on the floor and come with a quick setup installation kit. Most of them also have wheels, so it's easy to move them around and place them into the spot you fancy.
However, although it will perform well in other rooms, the portable air conditioner type should be your last resort if you seek a great cooling/heating solution for your garage.
Pros
Its portability makes it carry a high mobility value, and it is more affordable than fixed-mounted alternatives.
Cons
Unfortunately, there are more cons than pros when it comes to portable air conditioners, especially when used in a garage.
Apart from their inefficient use of energy, they also take up floor space, which is a major drawback for a small garage. And even with a larger garage, they are usually not powerful enough to lower the room temperature. Remember that overworking your air conditioning system also causes it to wear out faster than it should.
Additionally, they also need to be vented out from a window, and you may need to cut a hole in your wall if your garage doesn't have one. This makes it less practical, and honestly, kills its portability anyway.
Garage Air Conditioner Recommendations
With all of the air conditioner types explained, here are some of our recommendations for each type. As a side note, we are only recommending you to purchase air conditioners with official certification (e.g., Energy Star, CSA, AHRI, ETL) for safety reasons.
We are also not reviewing any portable air conditioner since the cons exceed its portability trait, so we just find they aren't worth it for a garage.
Ductless Mini Split Air Conditioners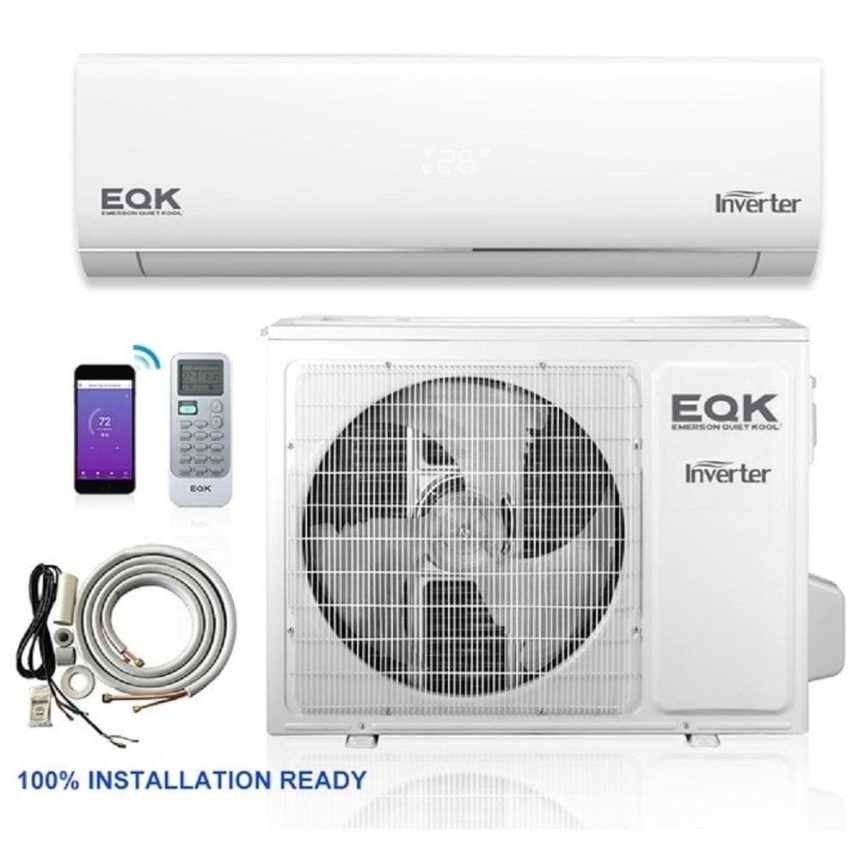 Emerson Quiet Kool is well-known for its air conditioning solutions, such as the compact 17S-EAC12R2W ductless mini-split unit. It has a 12,000 BTU rating which should be good for two-car garages.
Although quite powerful, the air handler and condenser unit are compact. It measures only 32.06" W x 10.63" H x 8.44" D for the air handler and 28.16" W x 19.00" Hx 9.44" D for the condenser, making it easy to install and shouldn't take much of the wall space.
As a part of the new generation air conditioners, the unit is packed with modern and techy features such as a 24-hour timer, a quiet mode, and auto cleaning. Moreover, smartphone connectivity is available, and you could also connect it to a smart home system such as Amazon Alexa or Google Home.
Considering its reasonable price entry, this ductless mini-split unit from a legendary brand carries a high value for money.
Highlighted Features
230 Volt
12,000 BTU, 16.9 SEER, 10.9 EER
500 sq. ft. coverage area
2-way air direction/circulation
52 dBA sound rating
Manufacturer warranty: 7 years compressor and 5 years parts
Wi-Fi and Smart Home enabled, works with Alexa and Google Assistant
Pros
Reasonably priced for its kind
Loaded with modern features
Long term warranty despite the affordable price
Cons
Higher than average noise level for its kind
The only 2-way air direction may be ineffective in balancing the temperature of a large area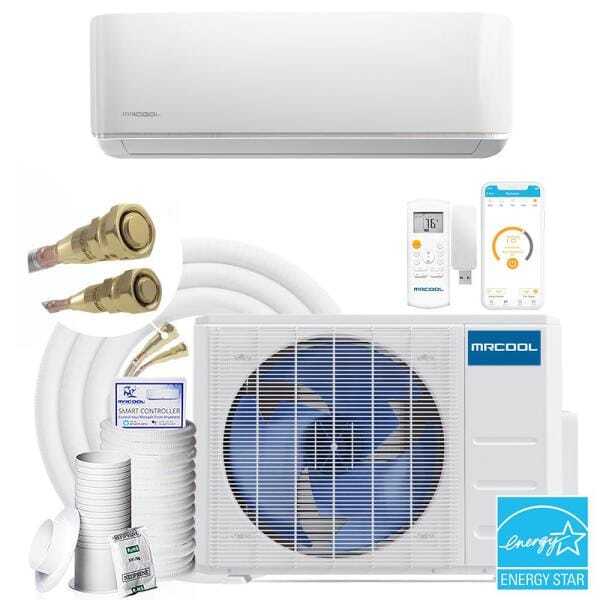 The MRCOOL 3rd Generation Energy Star DIY® is one of the most famous ductless mini-split systems. It is probably due to the practical do-it-yourself installation kit that always comes with every model.
The DIY18-HP-230B25 model, in particular, is the third most powerful unit in its lineup, with both a cooling and heating capacity of 18,000 BTU. Also, this system has one of the highest efficiency ratings in its class, at 20 SEER. This much power is surely enough to effectively cool/heat garages with up to three-car capacity.
Apart from the easy DIY installation, its high starting price also brings you many comfort and safety features. Some of them are smartphone control, leakage detection, and remote temperature tracking.
Size-wise, it hangs on the large side. It measures (in width x height x depth) 42.52" x 13.19" x 8.90" for the air handler and 33.27" x 27.64" x 14.29" for the condenser. Getting this model is recommended if budget is not an issue and you have a large garage air volume to take care of.
Highlighted Features
230 Volt
18,000 BTU, 20 SEER
750 sq. ft. coverage area
4-way air direction/circulation
32 dBA sound rating
Manufacturer warranty: 7 years compressor and 5 years parts
Wi-Fi and Smart Home enabled, works with Alexa and Google Assistant
Pros
Very quiet for its high BTU rating
Comes as a complete package with a DIY installation kit
Leakage detection feature
Corrosion-resistant condenser
Loaded with modern tech
Cons
Through-the-Wall Air Conditioners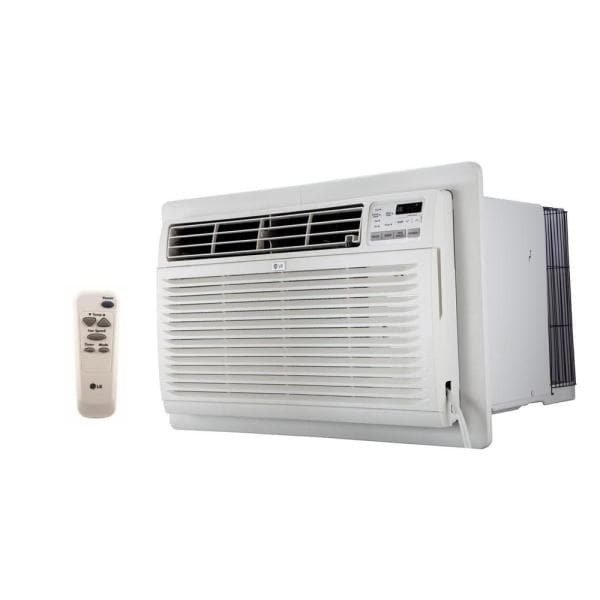 If you seek the sleek-looking wall air conditioner and don't mind the hassle of making a hole in your wall to fit the unit, the LG Electronics LT1430CNR is a system you can't go wrong with.
The unit adopts a compact design, measuring (in width x height x depth) 24.00" x 14.41" x 21.10". While the required cut-out measures at 25.88" x 15.53" x 16.72". Moreover, its small size can't be underestimated, as it has a 13,800 BTU rating. It should be more than enough to cool/heat a two-car garage space in no time.
This particular model is one of LG's newest wall air conditioners, and it is packed with current technology. It has a 24-hour timer, filter check reminder, and a Wi-Fi-enabled feature. Also, it comes with a simple installation kit to ease the setup process.
Sadly, it has a rather low-efficiency rating which could potentially hurt the electricity bill. Not to mention the excessive starting price for its kind, entering the more efficient ductless mini-split system's price territory.
Highlighted Features
230 Volt
13,800 BTU, 9.2 EER, 9.3 CEER
750 sq. ft. coverage area
4-way air direction/circulation
52 dBA sound rating
Manufacturer warranty: 1 year
Wi-Fi enabled
Pros
Has a clean filter light reminder
Fairly quiet
Trim kit included
Cons
Lower than average efficiency rating
On the expensive side
Window Air Conditioners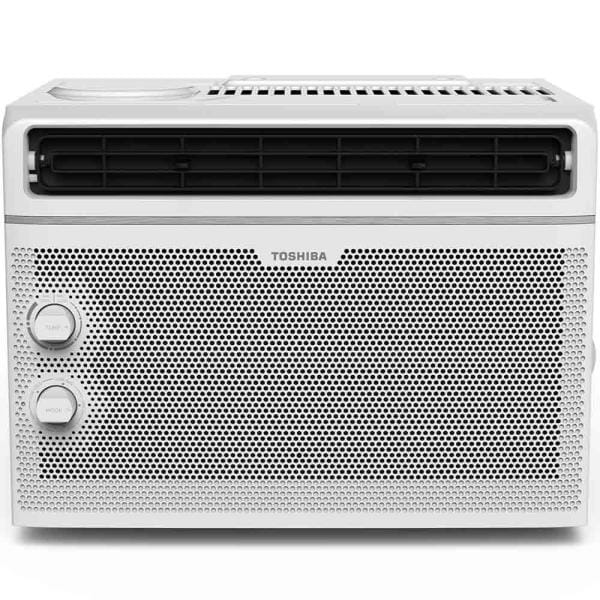 The Toshiba RAC-WK0512CMRU is a basic air conditioning unit for your one-car garage. Plus, it is also the most affordable air conditioner on this list.
The unit is very compact, measuring (in width x height x depth) 16.00" x 12.00" x 15.40". The required window opening is also not too demanding, with a standard opening minimum/maximum width of 23"/36" and an opening height of 13".
But, you need to skip this option if you don't have a large enough window (or a window at all) to fit the unit into. On the other hand, if you do have a supportive window opening and only one-car garage space to take care of, highly consider getting this unit.
Despite not having any fancy features and appearing old-fashioned, Toshiba is well known for its high functionality and long-term reliability.
Highlighted Features
115 Volt
5000 BTU, 11.1 EER, 11 CEER
150 sq. ft. coverage area
2-way air direction/circulation
56 dBA sound rating
Manufacturer warranty: 1 year
Pros
Greatly affordable
Higher than average efficiency rating for its size
Has fan mode for occasional energy saving
Sleek and contemporary design
Cons
Produces quite a lot of noise, considering it is only capable of cooling a small-sized garage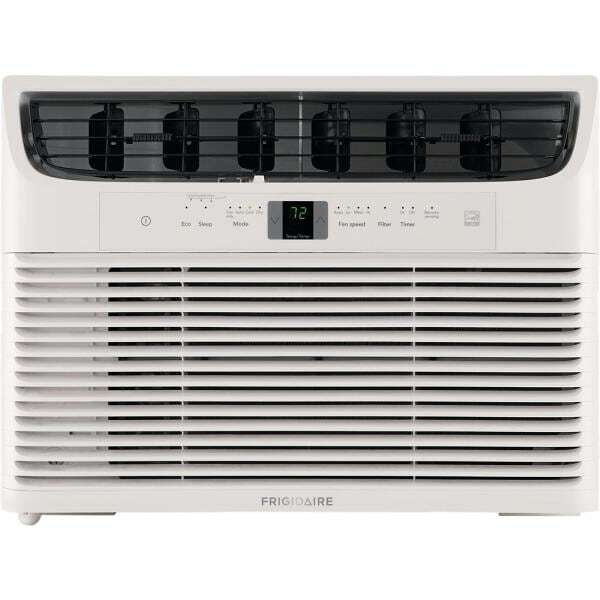 The Frigidaire FFRE153WAE is a reasonably priced window air conditioner that brings a lot of punch. It has a high 15,000 BTU rating that should handle three-car garages just fine.
In terms of size, you may need quite a wide window opening for this one. The unit measures 23.63" x 17.84" x 25.38" (width x height x depth), while the required standard opening minimum/maximum width is at 28"/41" and 19" in height.
As a part of a new-gen air conditioning system, it has also been equipped with a 24-hour timer, remote temperature tracking feature, and a clean filter alert. With 11.8 EER, it has a higher than average efficiency rating, too.
However, its biggest drawback is the noise, which could be too disturbing for some people. Moreover, the above standard window opening requirement might force you to move on to other types/models.
Highlighted Features
115 Volt
15,000 BTU, 11.8 EER, 15 CEER
850 sq. ft. coverage area
4-way air direction/circulation
57 dBA sound rating
Manufacturer warranty: 1 year full and 5 years sealed system
Pros
High BTU rating and large claimed coverage area
Has a clean filter alert
Generous deal on the warranty
Cons
The noisiest system on this list
Its large size needs a large window opening
Does not have a heating function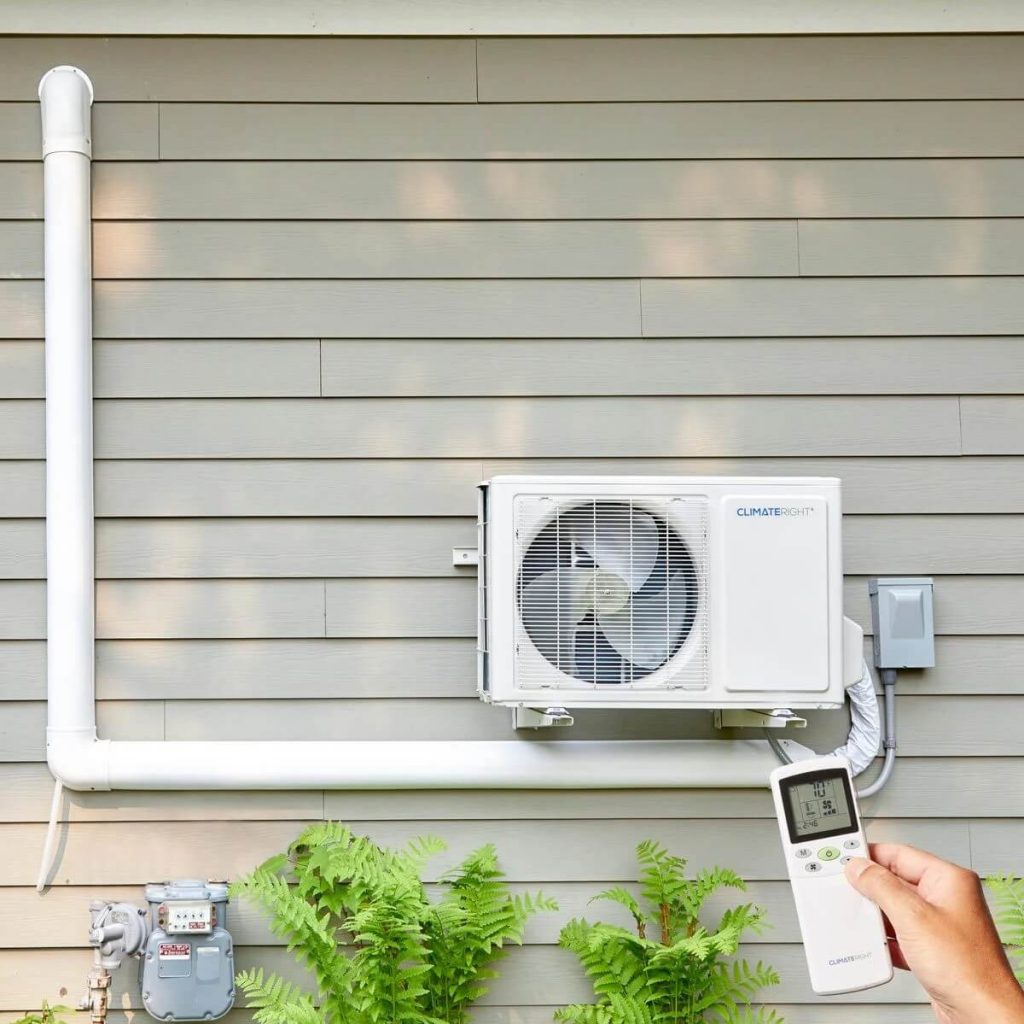 Things to Consider When Buying a Garage Air Conditioner
Choosing the right air conditioner for your garage might be a challenge without proper knowledge. However, you could at least consider a few things before making your final decision to make your investment worthwhile.
Garage Size and Air Volume
Garage volume varies, but considering you can fit one, two, or more vehicles inside, it is probably quite a larger space than your typical bedroom/living room. In addition, some garages also have unfinished ceilings, making all the space in the rafters part of the total air volume.
Thus, there is going to be a large amount of air volume demands to set the air temperature to your desire, meaning a more powerful unit. A less potent system may lead you to dissatisfaction in performance, and over-pushing your air conditioner makes it wear faster. This is actually what happened to me with the first unit I tried. It didn't break or anything but it was just not enough and it had to be left ON 24/7 or else it simply couldn't take over the heat.
One easy way to get the right amount of power for your garage size is by comparing the square footage of your garage with the BTU rating of the system. BTU (British Thermal Unit) rating defines thermal energy measurement needed to cool/heat the temperature. The higher the BTU rating in an air conditioning system, the more it can terminate hot/cold air from a larger space faster.
To figure out how many BTU rating is right for your garage, the chart below should give you a rough idea.
| Square Feet | Square Feet | Recommended BTU Rating |
| --- | --- | --- |
| 150 – 250 | 1 | 8,000 |
| 350 – 450 | 2 | 12,000 |
| 550 – 650 | 3 | 16,000 |
| 750 – 900 | 4 | 20,000 |
Installing Insulation
Most garages don't come with insulation, and it is perfectly fine if you just want to use your garage as a parking space. But without insulation, even the most powerful air conditioning system can't effectively keep your garage cooled/heated. Therefore insulating your garage to living space specification is highly recommended.
House wrap insulation and sealing gaps around walls, doors, and windows are pretty much affordable, and it is worth the initial cost as you would pay less in electricity bills due to the lesser use of energy. Moreover, just insulating your unfinished ceiling could also reduce the air volume needed for cooling by up to 50%, saving you even more energy.
But, if you don't fancy installing insulation, consider yourself getting a system with oversized BTU ratings. Keep in mind this solution could/will hurt your electricity bill in the long run.
Adding an Air Purifier
As you get comfortable inside your garage thanks to your new air conditioner, you may find yourself staying even longer. Hence, dealing with garage air pollution should be taken more seriously.
Garages can produce some highly dangerous air pollutants. These pollutants are volatile organic compounds, including harmful airborne chemicals coming out of car exhaust, gasoline containers, paint, oil, pesticides, and other chemicals stored there. Not only do they stink, but they are also very bad for you to breathe as they take a toll on your health.
Hence, consider installing an air filtration system to purify the air inside the garage, such as a HEPA air purifier for dust particle removals or a PECO filter that is designed to break up volatile organic compounds up to molecular level.
Verdict
Getting an air conditioning unit for your garage can be quite a chore, and it's not even compulsory. However, the benefits and satisfaction you get in return are well worth the hassle.
Ensure you get the right air conditioner type for your garage, do all of the installations properly, and understand the precaution well. It shall lead you to own a perfectly air-conditioned garage.
With many types to choose from, it seems that the ductless mini-split system is the most appealing of all. Although it is the costliest, it has proven to be the most efficient and quiet model. That's actually what happened to me: I started with a window-mounted model that was way too small to make any difference. Then tried to find a more powerful one but those just didn't fit in the window. I then decided to change for a more powerful portable model but then it was always in the way. I ended up getting a ductless mini-split system, realizing that this is what I should have gone with from the start. The stuff you learn…
Anyway, if budget is not an issue, going with the MRCOOL DIY18-HP-230B25 unit is by far the best option. Or, the high value for money carrier Emerson Quiet Kool 17S-EAC12R2W can be a great choice too.
But again, there is no fixed formula for the perfect air conditioning solution as all garages have different shapes and sizes. Make sure to correctly evaluate your needs and budget and you should be good to go—and save a lot of time and money avoiding my noob mistakes.