EDITOR'S PICK
AirCAT 805-HT
⅜" Drive
130 ft-lbs of rated torque at 180 RPM
Patented tuned exhaust muffler
Patented ergonomic handle
Weighs 3.19 lbs
PREMIUM PICK
Ingersoll Rand 109XPA
⅜" drive
76 ft-lbs of torque at 220 RPM
Forward and reverse
Pressure-sensitive push-button trigger
360-degree directable exhaust
Weighs 3.1 lbs
BUDGET PICK
Astro Pneumatic Tools 1119A
⅜" drive with wobble feature
16 ft-lbs of torque at 240 RPM
Forward and reverse
Lever-type trigger
Weighs 1.12 lbs
Any professional auto mechanic would agree; an air ratchet is not an essential tool. That's for sure. A normal ratchet will most often do just fine, and if you are starting in the field and only have the budget for one, get a good rachet instead. However, as you grow as a mechanic, you'll get assigned more complicated tasks involving removing tons of small bolts here and there. A good example of that is replacing an oil pan, as well as removing timing belt components and valve covers. All those little 10mm bolts are really tiring to remove by hand. Trust me; when it happens, you'll want to have a good air ratchet on hand.
Air ratchets make removing multiple bolts a breeze and can have a significant impact on your turnaround time. Weekend DIYers might not see the benefit here, but anybody serious about becoming an efficient, professional auto mechanic will. However, no matter whether you wrench 40 hours a week or only on weekends, once you start working with an air ratchet, you'll never want to go back.
That being said, choosing the best air ratchet might be a challenge. There are tons of good products on the market, and several are made by reputable automotive tool manufacturers. If you are already working in the field, you already know who they are, but if you are a beginner auto mechanic or just wrench on the side, separating the wheat from the chaff might not be easy.
To help you find the perfect air ratchet for you, we looked at the options out there, tested some, compared them with the ones I'm currently using, and selected a few designs we think are top-notch. Then, I also talked with professionals I work with and who use these tools every day for their honest opinions.
Obviously, this is not an exhaustive list. I simply couldn't possibly try them all, even if I wanted to. If you are using anything else and think it could make the list, don't hesitate to leave a comment below.
Enjoy!
Air Ratchet Reviews
AirCAT is best known for producing ultra-quiet air tools equally useful at home or in a professional shop. And the 805-HT is no different. It produces 130 ft-lbs of torque, which makes it one of the most powerful air ratchet on the market. Numerous professionals told us that this tool is so powerful, so be careful when using it since it can grab and smash your hands.
The 805-HT has a ⅜" square drive for use on impact-rated sockets. You can also use it with silver sockets, but you'll have to watch out as it can crack them when pushed to the limit.
AirCAT engineered the handle for ergonomics and even filed a patent for the design. The small trigger is a lot more comfortable to use than others with metal lever switches. Of course, the 805-HT also includes a patented adjustable muffler that provides quiet operation and allows you to direct exhaust air away from you and the work area.
This model is our top pick for several reasons. High power is only useful when the tool is durable, and the professionals we spoke with had very few tool failures, even after years of abuse. It's also the most powerful air ratchet on the list, providing enough torque to bust loose even the worst nuts and bolts with ease.
That being said, the AirCAT 805-HT isn't reaction-less. So yes, it's more powerful and a little bit cheaper than others, but you'll have to watch out for kickbacks.
Key Features
⅜" Drive
130 ft-lbs of rated torque at 180 RPM
Patented tuned exhaust muffler
Patented ergonomic handle
Weighs 3.19 lbs
Pros
High torque for nut-busting power
Quiet and comfortable to use
Very durable and reliable
Cons
Can overpower users
Slightly larger head than competitors can cause interference issues in tight spaces
Not reaction-less
When it comes to air tools, Ingersoll Rand is one of the most respected names in the business. With 76 ft-lbs of torque on deck, the 109XPA will take off stubborn nuts in seconds and will break rusted bolts loose with ease. The power output is a little lower than the AirCAT 805-HT, but it spins faster.
Moreover, the Ingersoll Rand-exclusive twin pawl plus head will give you unmatched durability. If you are a professional mechanic, you already know that Ingersoll Rand power tools are some of the best in the game.
According to professionals we talked with, the 109XPA air ratchet is one of the most comfortable air ratchets out there. In particular, the dimpled handle and push-button trigger provide excellent tool control and the ability to tackle all-day projects with less fatigue. And, even better, the adjustable exhaust lets you direct air away from your face—no more oils spraying everywhere when working on an engine head or oil pan.
The 109XPA makes this list for its long-term durability and comfortable handle. While less powerful than some competitors, the 109XPA provides enough torque to remove almost any stuck nut or bolt. If you've just started in the field and you are looking for an efficient air-ratchet without all the bells and whistles included with more expensive models, this one is a pretty good bet.
Word to the wise, since the 109XPA's body is entirely made of metal, if you work outside, you might be better with another model on this list. In hot weather, the sun might make it hot to the touch, while freezing weather will make it icy cold. Luckily, Ingersoll Rand also sells rubber cover that you can slide over it to prevent any temperature-related issues.
Key Features
⅜" drive
76 ft-lbs of torque at 220 RPM
Forward and reverse
Pressure-sensitive push-button trigger
360-degree directable exhaust
Weighs 3.1 lbs.
Pros
Perfect torque for light to medium-duty work
Excellent push-button trigger
Will last for years
Cons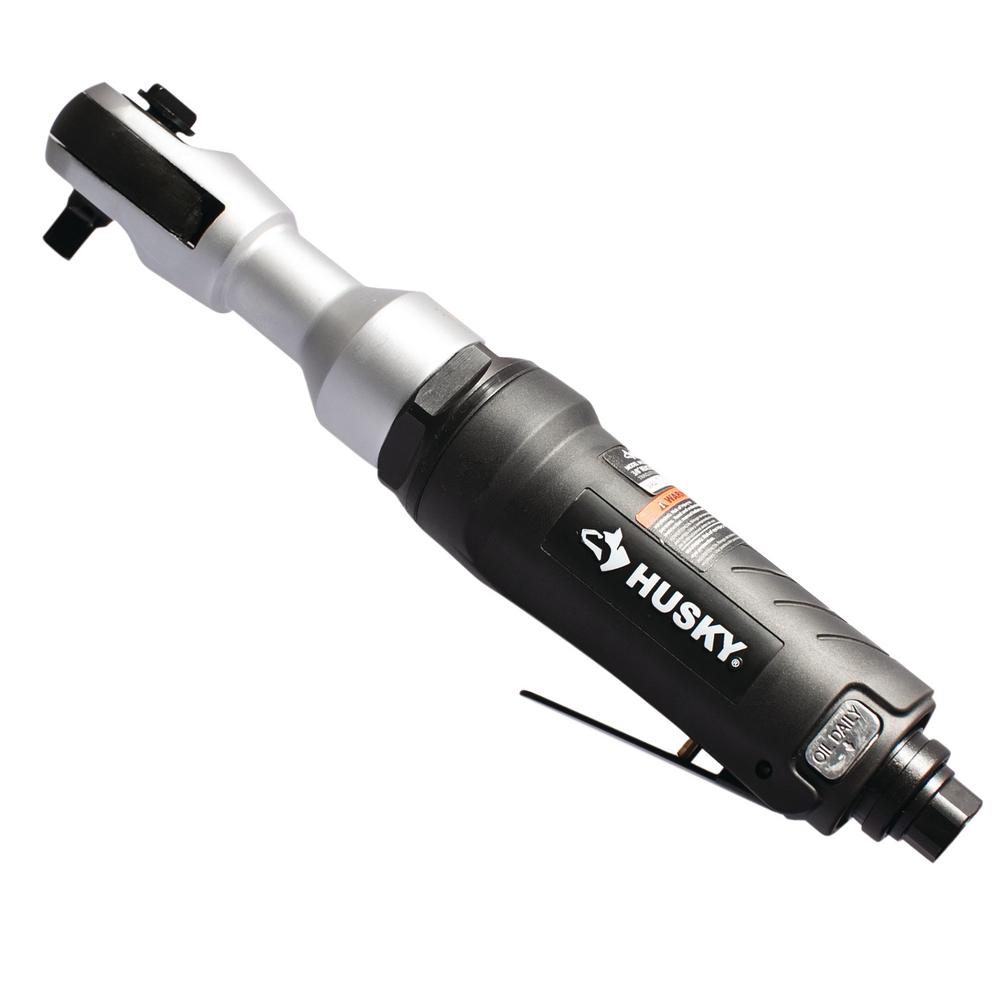 Husky solved one of the worst problems with powerful air ratchets – the tendency to kick back when a bolt doesn't come loose or is fully tightened. The Husky Reaction-Less air ratchet, as the name implies, features a reaction-less technology that eliminates busted knuckles and forearm injuries so common with powerful air ratchets.
This air ratchet is an ideal choice for professional and home mechanics alike. 80 ft-lbs of torque is ideal for removing stiff fasteners in tight areas, while the high 600 RPM speed ensures you don't waste time waiting on a slow tool. Moreover, the rubberized grip is incredibly comfortable and significantly reduces shock impact when using it all day long.
Professionals told us that the best thing about the Husky Reaction-Less ratchet is the lever-type trigger making it easy to use with either the left or right hand and easy to reach, even in awkward positions.
Key Features
⅜" drive with ball retention feature
80 ft-lbs rated torque at 600 RPM
Forward and reverse
Reaction-less clutch action
Lever-action trigger
Weighs 2.8 lbs
Pros
Incredibly fast
Comfortable to use with both hands
Reaction-less design prevents injuries
Cons
Users report torque and RPM ratings are overstated
Louder than competitors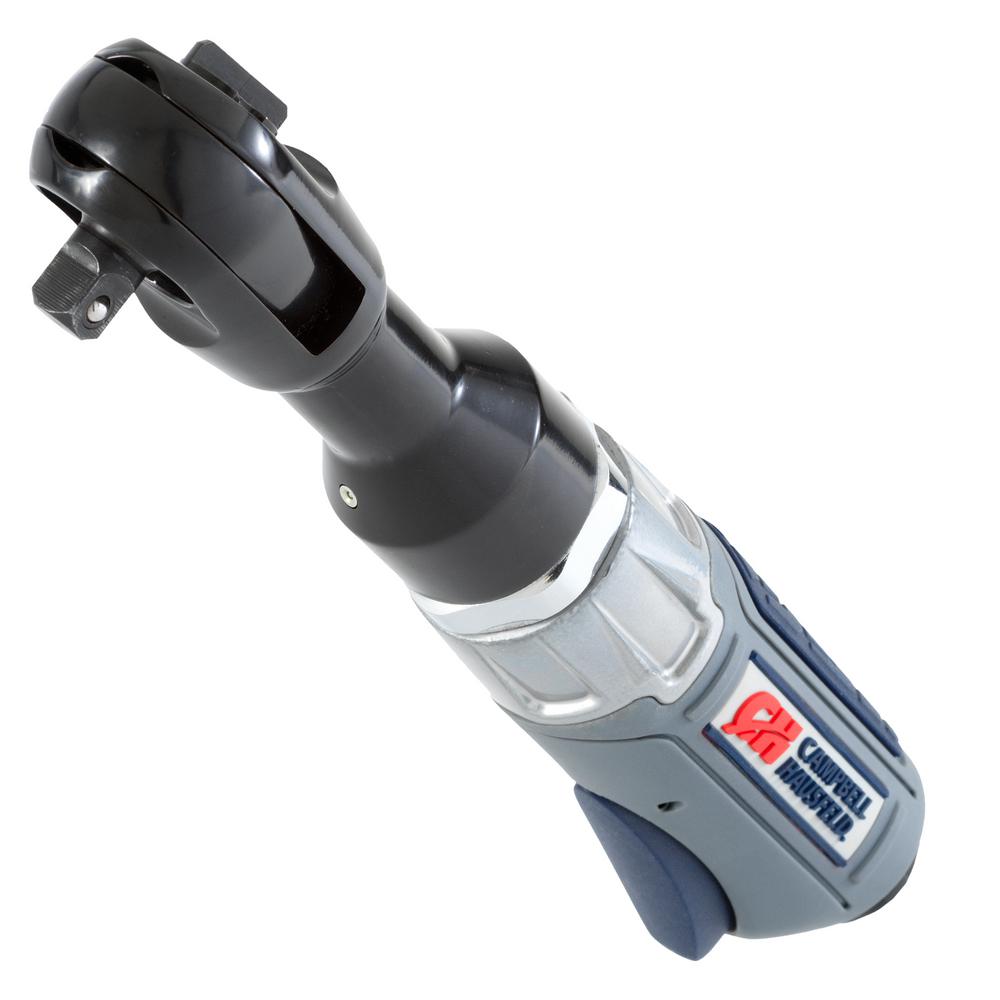 Campbell Hausfeld makes excellent tools for home mechanics, and this air ratchet is an ideal example of a high-quality DIYer's tool. It's ergonomic, comfortable to handle, and powerful enough for almost any job you'll run across. In fact, it really lives up to its name – the "Get Stuff Done" ratchet.
We particularly like the reaction-less clutch on this air ratchet. However, its working torque is only 50 ft-lbs, so don't expect it to bust loose big, nasty, rusty bolts, but it's ideal for most average jobs. Lower torque also means less over tightening, and the reaction-less clutch is simply flawless at this power.
Professionals told us that the trigger is easy to use and comfortable from any angle. That being said, they also pointed out that the Campbell Hausfeld XT051000 is mostly intended for home use and isn't quite appropriate for professional applications.
Key Features
⅜" drive
50 ft-lbs Rated torque
Forward and reverse
Reaction-less clutch action
Lever-type trigger
Weighs 2.8 lbs.
Pros
Reaction-less clutch is excellent
Comfortable to use even in tight spots
Cons
Not heavy-duty enough for professional use
You might not be familiar with SP Air Corporation, but maybe the SP-1765HD will get you acquainted. While also being a little less powerful than others on this list, it also operates faster than most. It's perfect to quickly assemble and strip parts; it'll also knock loose tight nuts and bolts, and free up rusty fasteners when needed.
The SP-1765HD can hit speeds up to 500 RPM while laying down 55 ft-lbs of torque, which is not that powerful but quite fast. The reaction-less single dog clutch means no more whacking your hands when a nut refuses to budge. Moreover, we like the rear air exit and the lever-type trigger for easy speed control and ambidextrous use.
When we talked to professionals about this tool, they said it's an ideal option for the casual home mechanic. In particular, the head's stubby size and shape are particularly suited for tight engine bays and other difficult-to-reach areas. It's also the lightest tool on this list at less than 2 lbs.
Key Features
⅜" drive
55 ft-lbs of torque at 500 RPM
Forward and reverse, with impact function
Reaction-less, single dog clutch
Lever-type trigger
Weighs 1.8 lbs
Pros
Lightweight
Ideal for quickly assembling and disassembling projects
Cons
Not powerful enough for big jobs
More expensive than most
This air ratchet from Astro Tools is a little different than the others on the list. Its mini design makes it perfect for work in confined spaces, like most modern engine compartments, under dashboards, and in all sorts of other cramped quarters. The 1119A can do the work of bigger ratchets in a smaller package.
Another interesting feature of the Astro 1119A is the wobble drive. The drive's unique shape allows the socket to angle slightly, so it's even easier to get into hard-to-reach places. The 1119A is one of our favorites when we need speed in small spaces. However, it's important to mention that, while a wobble drive might be quite useful at times, it's not always the case. Wobble drives tend to make it harder to remove tight nuts. Consequently, this specific model might be better as a second air ratchet and not your main one.
Professional auto mechanics told us that this air ratchet is best for light-duty use. It's only rated at 16 ft-lbs of torque, which is only a little more than finger tight. When used for small parts assembly, it performs like a champ, but it doesn't have the power to break loose tighter nuts and bolts. However, it's simply perfect for removing dashboards and quickly changing AC evaporators.
Key Features
⅜" drive with wobble feature
16 ft-lbs of torque at 240 RPM
Forward and reverse
Lever-type trigger
Weighs 1.12 lbs
Pros
Ideal for small spaces
Durable
Cons
Not powerful enough to be your only air ratchet
Loud for its size
See Also: 6 Best Cordless Electric Ratchet Wrenches
How to Choose an Air Ratchet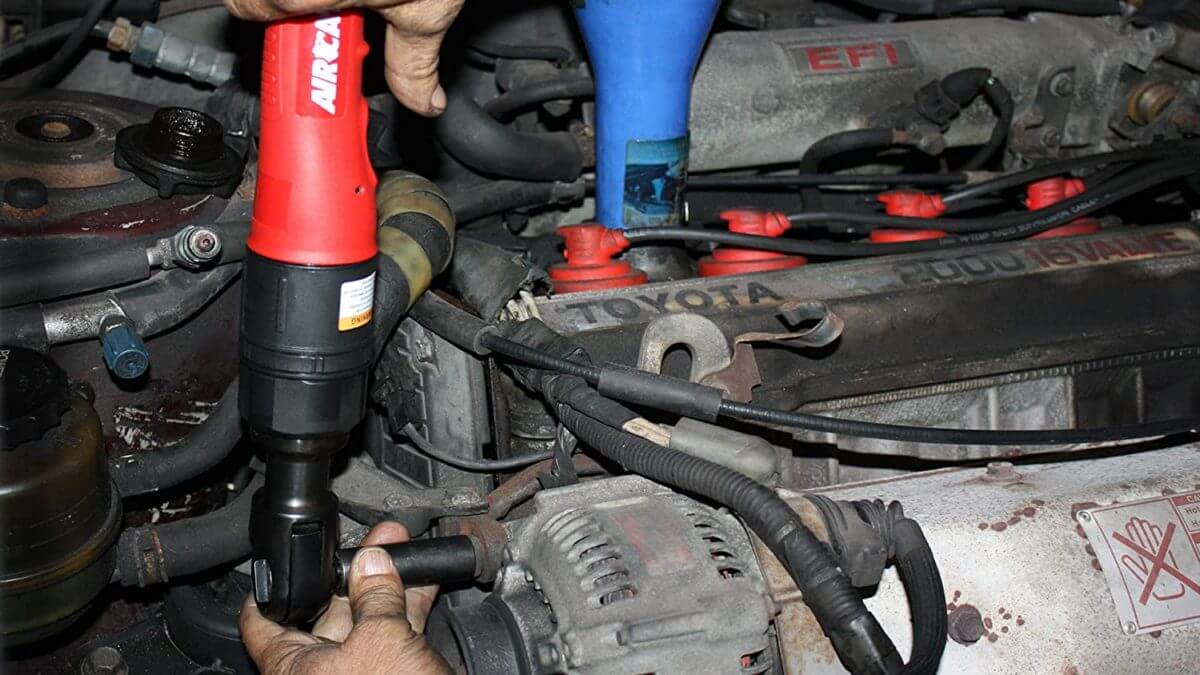 Choosing the right tool to fit your needs and budget may also be a bit tricky. There's a wide range of products out there, each with different specs, sizes, and prices. However, the only way to make sure that you get the most bang for your bucks is to find one that's good for you. No reason to pay hundreds of dollars for an air ratchet that you'll only use six times a year. On the other hand, professional technicians will only benefit from paying a little more for a model with better ergonomics.
Sometimes it's tempting to buy the most badass, powerful, most expensive tool on the market. However, it's far better to buy an air ratchet based on what you need and how you intend to use it. When you start shopping for a new air ratchet, there are a few things you should consider to help make the best purchase decision.
How Much Air Pressure Do You Have?
The air pressure demands are the first and most important thing to consider when looking at a new air ratchet. Most ⅜" air ratchets will require enough air pressure and volume to produce 90 PSI at the tool. In general, you should have at least 4 gallons of air reserve to operate an air ratchet. If your air compressor doesn't produce enough air pressure, your air ratchet will not work properly, and you'll frequently have to wait until air pressure has built back up in order to keep working.
What Type of Job is it For?
This is a crucial question. Some air ratchets are better suited for different types of work. In general, an air ratchet isn't intended for removing lug nuts; that's a job more appropriate for an impact wrench. However, if you plan on dealing with lots of rusty parts, a high-torque air ratchet will give you both the breaking power and speed you need.
It's also important to consider the amount of time you'll use your air ratchet. If it's only going to be used once in a while for short periods, the most durable tool might just be a bigger expense without any real added benefit. On the other hand, if you are a pro mechanic and you are counting on your air ratchet hour after hour, day after day, long-term durability is probably more important than overall torque or speed.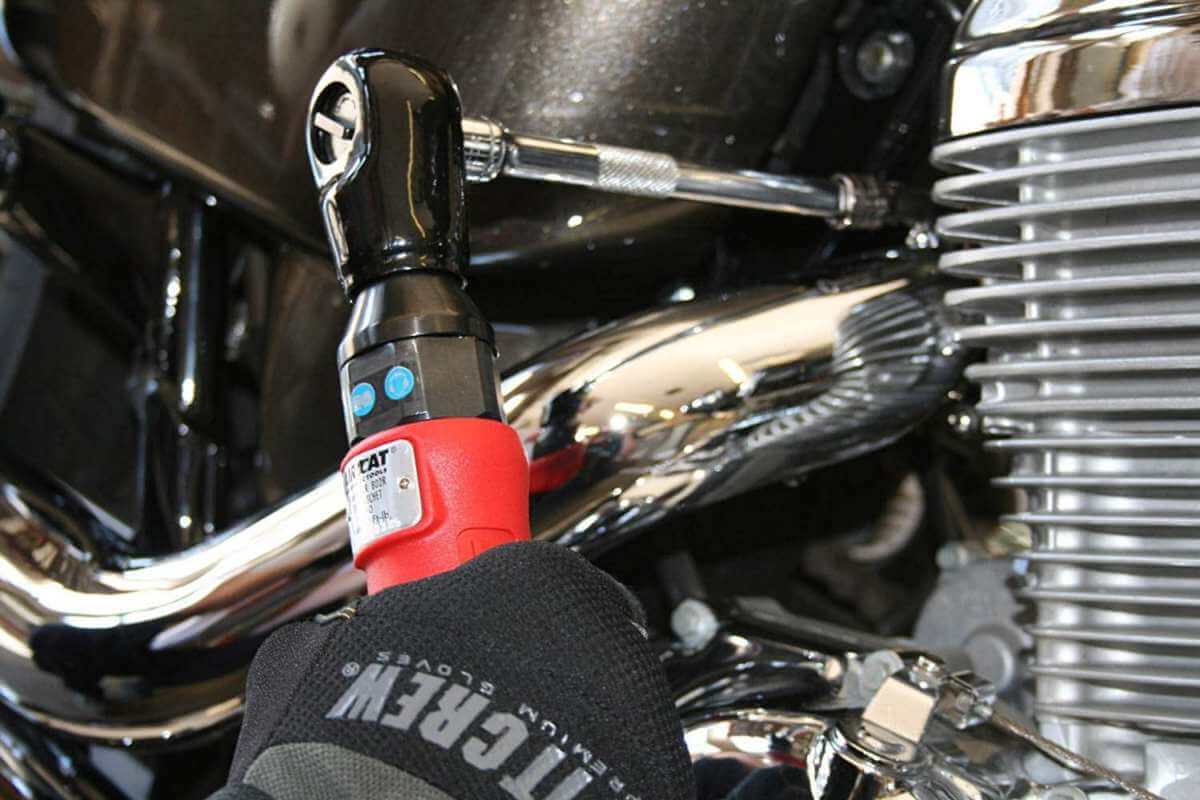 What Features Matter Most to You?
We generally prefer the quietest air tools around, but that's also us. Some people work in loud environments all day and wear appropriate hearing protection, and so a quiet air tool isn't as important as a tough tool. Similarly, some people are going to prefer a fast tool to a more powerful one.
It's a good idea to get your hands on a few different air ratchet styles so you can form an opinion about the handle design, trigger style, and exhaust placement. Sometimes, it's the little things that make a difference when trying to find the perfect air ratchet.
Price Isn't Everything
You'll notice that we don't have Snap-on or Matco tools on this list. That's because those top-of-the-line brands are difficult to come by and cost a small fortune. Sure, they are fantastic tools when you can get your hands on them, but for most of us, the brand name's added cost doesn't justify the differences in power, speed, and reliability.
The cost of your new air ratchet really should be one of the last considerations you make. You're going to be much happier in the long run with a tool that performs the way you need it to than with the one you got a great deal on – or one you got with a free branded shirt (I'm looking at you Snap-On!).
Verdict
Any of the air ratchets on this list make a great buy. These are air ratchets featuring the best features, power, and reliability of any air ratchets out there. Of course, there are tons more. Different mechanics prefer different tools, and that's totally okay. If you decide to choose a different one, just remember to correctly evaluate your needs and budget. Doing so will make sure you get the most bang for your bucks every time.
And as mentioned earlier, if you ever go with a different model than those listed above, don't hesitate to let us know in the comment box below. We're always on the lookout for new tools to test and add to improve our lists.

Happy wrenching!