EDITOR'S PICK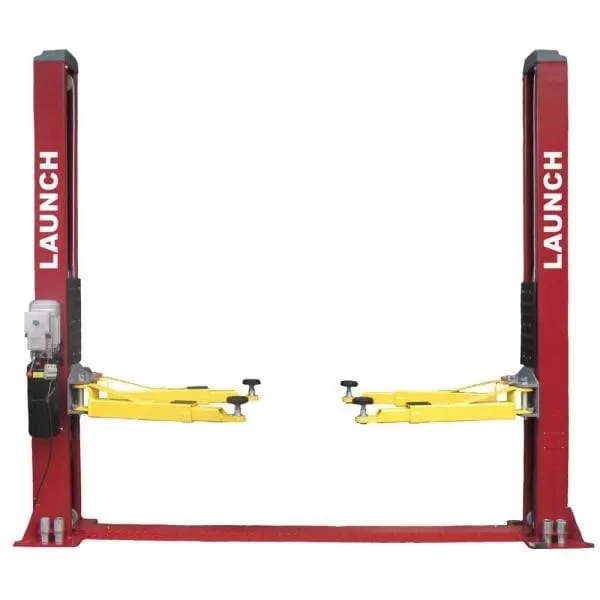 Tuxedo TLT240SB-R 2-Post Lift w/ Floor Plate (9,000 lbs.)
9000-lb. lift capacity
Heavy-duty floor plate design
Chain-over lift with dual point lock release
Steel pulleys
High-strength equalization cables
Rubber door guards protect vehicles from nicks and scratches
Reaches 73 in. maximum rise in just 50-seconds
PREMIUM PICK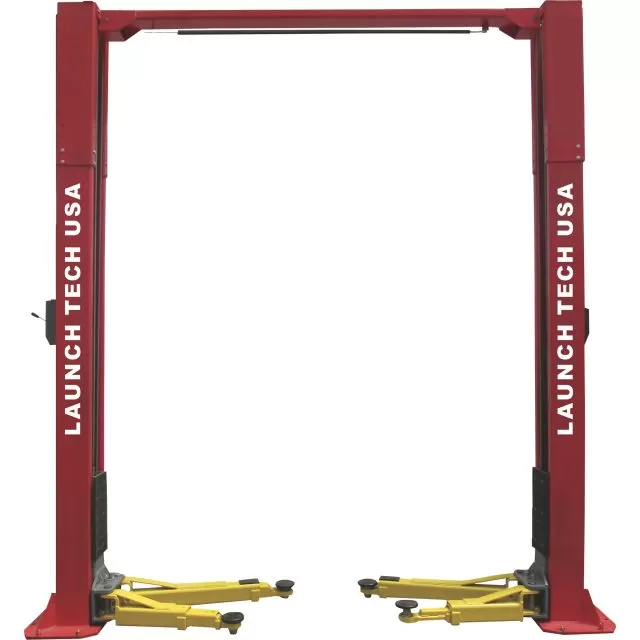 LAUNCH TLT211-AS 2-Post Asymmetrical Lift (11,000 lbs.)
11,000-lb. lift capacity
Clear Floor design
Asymmetric configuration
2 HP, 220V single phase electric motor
Adjustable columns
Heavy-duty arm restraint system
BUDGET PICK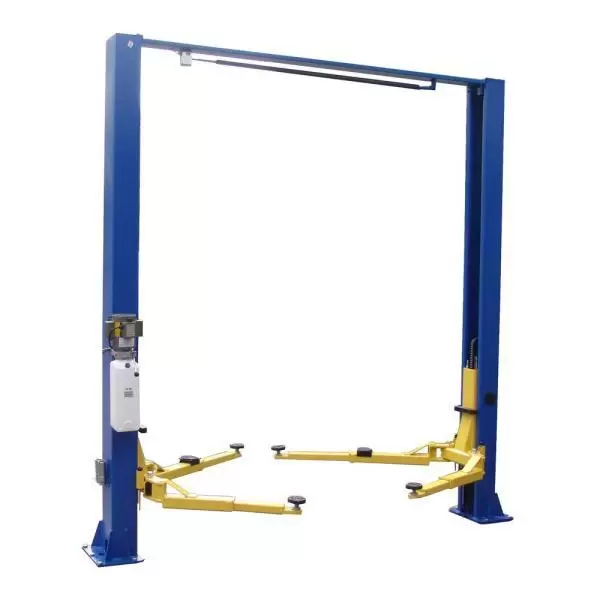 Tuxedo TP9KACX Asymmetric 2-Post Lift (9,000 lbs.)
9,000 lbs. lift capacity
220V, 2.5HP motor
Asymmetric configuration
Rubber door guards
Chain drive cylinders
Yes, car lifts are primarily used in professional repair shops. However, if you are like me, you probably want one in your home garage as well. And trust me, once you've got one, you'll never want to work on a car sitting on jack stands ever again.
Still, choosing the right car lift can be a challenge, especially since you'll be spending quite a decent amount of money on one. Luckily, no matter whether you are looking for a professional model to replace an outdated lift in your repair shop or just looking for a budget-friendly unit to help you out with your occasional DIY project, we are here to help.
Here are our top picks for the best 2-post car lifts you can buy!
2-Post Car Lift Reviews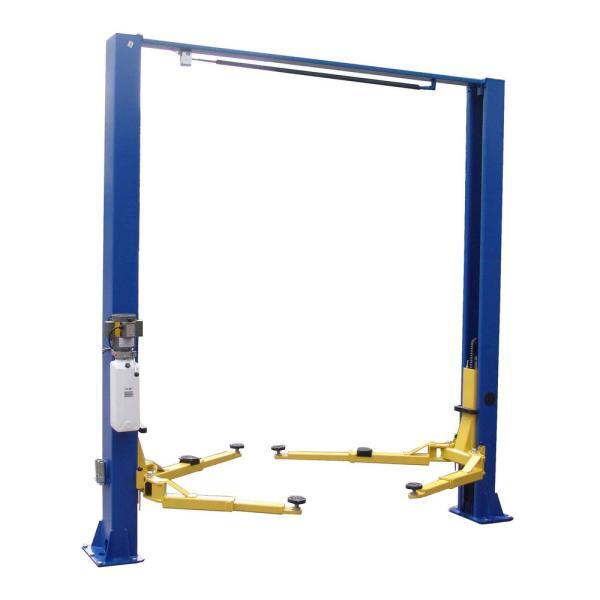 There's no denying it; car lifts can get extremely expensive. Luckily, you can easily find budget-friendly models online, without having to sacrifice quality or safety here.
Indeed, the Tuxedo TP9KACX asymmetric 2-post car lift offers unrivaled performance at a great value and has a 9,000 lbs lifting capacity, enough for most cars and trucks. Besides, thanks to the asymmetrical support arms, you can easily open the doors when the vehicle is up there. Such a feature is not necessarily essential and most repair shops use symmetrical models, making opening the doors a little more tricky. Still, an asymmetrical configuration is a must when it comes to DIY work.
As a result, Tuxedo's car lift is especially well-suited for personal garages and DIY-loving motorheads. Thanks to the reduced overall width and single-piece column construction, the Tuxedo 2-post car lift will even fit into smaller garages. Moreover, two people can quickly put it together, and we even heard of some users who built it with their young children. The hardest part of the whole building process is drilling the ten holes into the slab, and you can only install it on concrete at least 4.25″ thick.
Furthermore, the lift features a 220-Volt operation single-phase 2.5 HP motor with a powder-coated construction making sure it lasts for years, internal hose routing, a padded overhead shutoff bar with a kill switch, drop-in adjustable swivel pads with height adapters, built-in locks on the swing arms, as well as carriage and rubber door guards — that's a lot for an entry-level model.
Still, I wouldn't recommend it to professional mechanics. It's perfect for home garages and DIY'ers alike but if you work 40+ hours a week in your garage, we've got better ones below!
Highlighted features
9,000 lbs. lift capacity
220V, 2.5HP motor
Asymmetric configuration
Rubber door guards
Chain drive cylinders
Pros
DIY-friendly pricing
Silent operation
Enough lifting capacity for DIY work
Compact size is perfect for smaller garages
Cons
Isn't as sturdy as some more premium models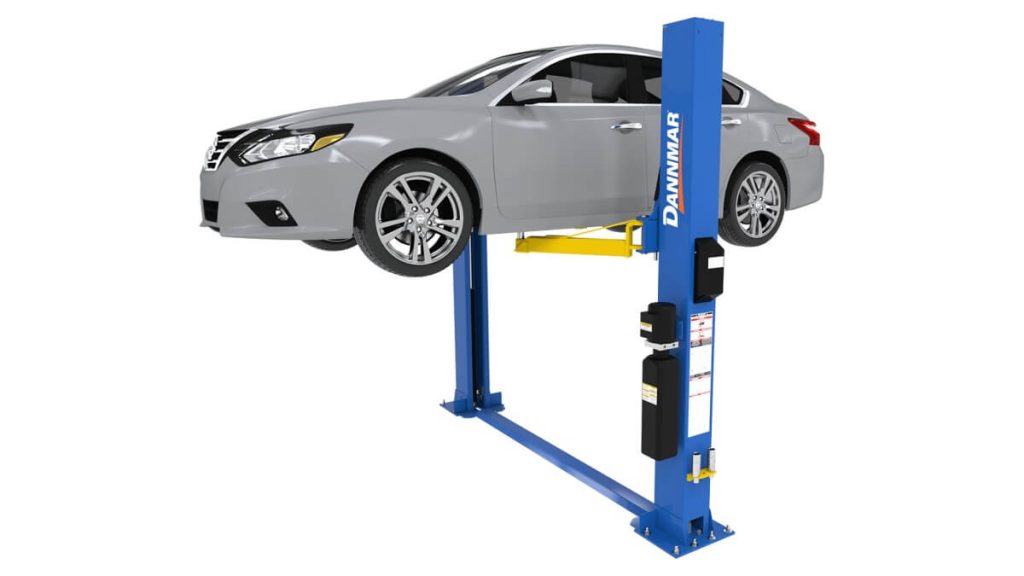 The Dannmar D2-8F 2-post Lift is made from high-quality materials and features a sturdy construction. Preferred by professionals and DIYers alike, this 2-post lift is one of the most versatile around. It is fully optimized for greater capacity and better performance, increasing safety and control during use. Danmar's 2-post lift also features an advanced hydraulic system for better productivity and longer life — what's not to like?
The triple-telescoping arms also allow for greater flexibility, and the 1/2 inch equalizer cables are of heavy-duty aircraft quality. And, as a result of having a larger cable sheave diameter, cable fatigue is minimized, resulting in less maintenance and extended service intervals.
Dannmar's lift is equipped with a single-point safety release, and each column has a safety lock spaced every three inches — not bad but that's pretty much a standard in the industry. Of course, if you are shopping for a budget-friendly model, you'll have to make some concessions here. However, it doesn't mean it's a bad thing; when working 40 hours a week lifting cars, a 2-point locking system may become a little annoying.
The Dannmar D2-8F also offers a fairly fast lifting speed, leading to quicker repairs and increased productivity. On the other hand, its 8,000 lbs. lifting capacity is not as high as the Tuxedo 2-post car lift above, and both cost pretty much the same. Speed or strength; your pick! But I wouldn't necessarily recommend this one for repair shops, as the capacity could be limiting.
Still, auto enthusiasts that want a well-made 2-post car lift that won't break the bank for their home garage, mostly looking to work on their cars on weekends, will be well-served by this model. It still has enough capacity for most sports cars, passenger cars, and trucks; it will lift them quickly, and it won't damage the underbody — it's undoubtedly a good buy.
Highlighted features
8,000 lbs. lift capacity
Electric/hydraulic power system
Oversized cable sheave diameter
Safety locks in each column spaced every 3 in.
Automatic arm restraints
Pros
High-quality materials
Sturdy construction
Triple-telescoping arms
Multiple safety locks
Low maintenance and extended service intervals
Cons
8,000 lbs. lifting capacity might be limiting for professional mechanics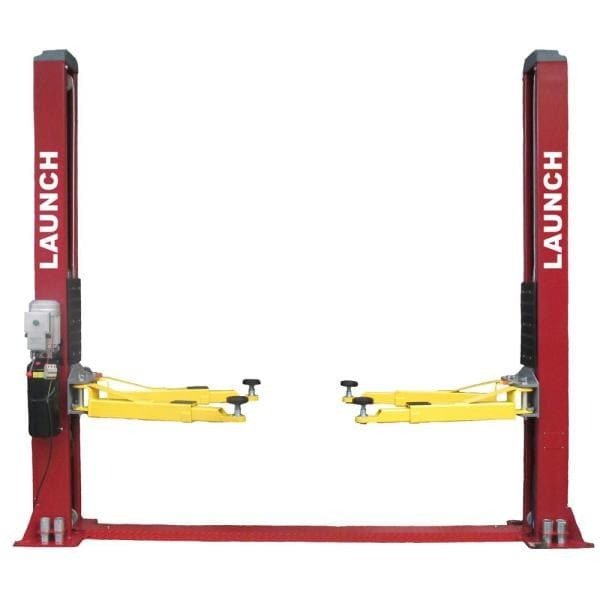 The Tuxedo TLT240SB-R 2-post lift is a great choice to work on various small and medium-sized vehicles, anything weighing less than 9,000 lbs. Tuxedo designed it meticulously (like pretty much everything they make) considering international standards and aiming to meet the demands of professional repair shops. Still, what makes it especially suitable for home garages is that the cable and oil pipes are fully concealed, providing a practical yet elegant appearance (not that regular lifts don't look good but you know… this one looks better).
Furthermore, this 2-post car lift has a dual point lock release, stackable footpad adapters, heavy-duty floor plate design, and rubber door guards to protect vehicles from nicks and scratches.
If you own a lowered car or frequently work on sportscars, Tuxedo's 2-post lift is the perfect option, with the lifting pads going as low as 110mm. Moreover, thanks to the dual hydraulic cylinder drive forcing both sides to move synchronously, effectively preventing the vehicle from tilting, the Tuxedo car lift offers stable and safe lifting.
Still, although Tuxedo's clever design can significantly reduce the risk of accidents, lifting a car is always potentially dangerous. Always remember to check your vehicle's center of gravity and try to shake it a little when it's a couple of inches in the air, so if it drops, it won't be dangerous.
Aside from that, there's not much to report on this one. It's good, it works really well and it's reasonably priced — what more could you ask? Let's just say that it does what it's supposed to do and will do it for years. You simply can't go wrong with this one.
However, it's important to mention that the floor-plate design may not be for everyone. Some people like it; others don't. I personally find myself always tripping on that plate when welding exhausts so I don't. But maybe I'm just clumsy and I know several mechanics only swearing by these so maybe it's just me — I still don't like floor plates lol.
Still a really good lift, though.
Highlighted features
9000-lb. lift capacity
Heavy-duty floor plate design
Chain-over lift with dual point lock release
Steel pulleys
High-strength equalization cables
Rubber door guards protect vehicles from nicks and scratches
Reaches 73 in. maximum rise in just 50-seconds
Pros
Great for lowered sports cars
Very sturdy and stable construction
Safe for your vehicle's underbody
Strong enough for most vehicles
Budget-friendly pricing
Cons
None — when it works, it works (maybe aside the floor plate? It might be a pro to you, though, so you be the judge!)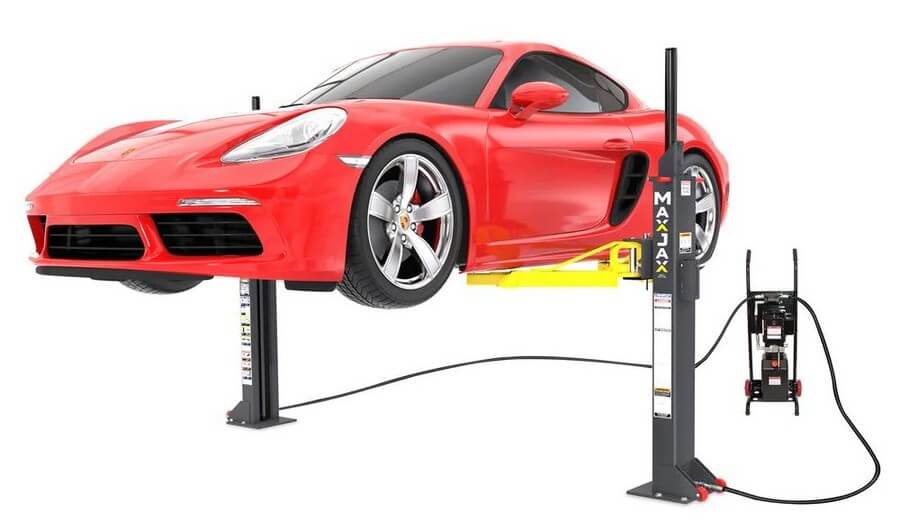 If you have a smaller garage, the ceiling is on the lower side, or don't plan to use your lift that regularly, MAXJAX's model is for you. Indeed, this one is a portable model that can be rolled and stored (kinda more like "pushed on the side") when not in use. Yup, you heard that right! No need for clunky lift chains or screw mechanisms because this lift uses two low-pressure direct-drive cylinders instead. The technology also requires less frequent maintenance while providing higher reliability and a smoother operation — a pretty good deal if you ask me.
MAXJAX uses cutting-edge floating UHMW ultra-high molecular weight polyethylene load bearings, and they don't need constant maintenance and lubrication like other options that use standard roller bearings. Also worth mentioning, BendPak Holdings LLC recently acquired MAX JAX, and the M6K is now ALI-certified, the highest certification in the industry. And if you've been in the trade for some time, you already know that the BenPak name speaks for itself — you are in good hands here.
However, it's important to keep in mind that it won't go as high as other car lifts. Still, it's much better than working on a car sitting on jack stands. And if you regularly do detailing or bodywork, this lift will be your best friend — it's perfect to lift a car just high enough so you don't have to work bent in half for hours (and if you need really need to work under your car, think about using a mechanic's creeper seat; both work wonders when paired together).
However, there is a price to pay for all the convenience it has to offer — the MAXJAX can only lift up to 6,000 lbs, which is enough for passenger cars and mid-size trucks. It can also lift some full-size trucks, but you'd be really pushing its abilities there. Hence, if you own or work on heavy vehicles, this one is unfortunately not for you.
Highlighted features
6,000 lbs. lift capacity
Portable design
Direct-drive, low-pressure cylinders (no chains or cables)
Rugged steel construction
Automatic safety locks
Pros
Great for low-profile sports cars
Portable
Excellent materials and construction
Low maintenance
Reliable and durable design
Cons
6,000 lbs. lifting capacity can be limiting for truck owners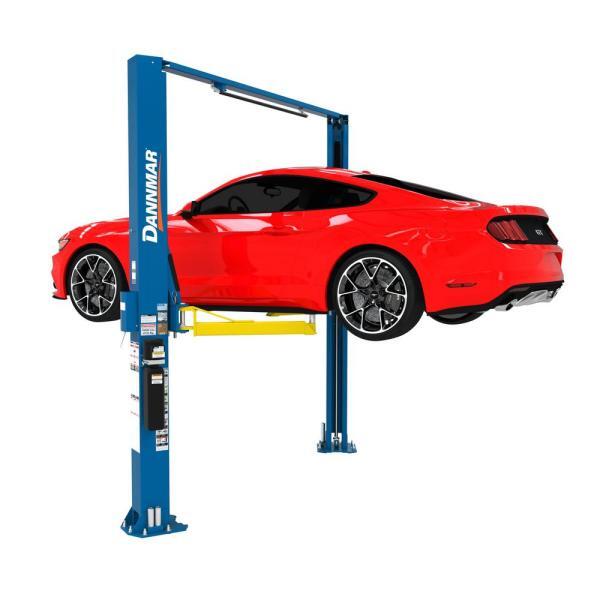 With a whopping 10,000-lbs. lifting capacity, Dannmar's high-end lift can accommodate cars, vans, SUVs, and full-size trucks. It also makes good use of the asymmetric columns positioned at a slight angle, allowing the vehicle's doors to swing open even when raised (which comes in especially handy when troubleshooting specific problems like having to crank the car while keeping an eye on your multimeter dangling from the starter or trying to press the accelerator and hearing that noise under the car at the same time lol).
The Dannmar D2-10A 2-post car lift is built to handle the most difficult tasks in your garage or workshop; it easily outperforms and outlasts nearly every other opponent in its class. Direct-drive hydraulic cylinders, the tubular steel lifting carriage, and single-piece columns ensure the highest possible performance and reliability. Moreover, the solidly designed lifting arms glide on maintenance-free UHMW bearings nested inside the strong welded steel columns — really solid stuff.
Furthermore, the cushioned column guides allow for silent staging and shudder-free movement of the lifting carriage when raising and lowering a vehicle. The arm restraints are automatic, there is an overhead safety shutoff bar and a single-point locking mechanism — nothing to worry about here.
The D2-10A has a very professional look and the durable powder coat finish and zinc-plated components will last for years. If you are looking for a car lift similar to what professionals use, this is the one!
Highlighted features
10,000 lbs. lift capacity
Telescoping screw pads
Overhead safety shutoff bar
Tru-metric arm design
Pros
Enough lifting capacity for most vehicles, even heavy-duty vans and trucks
Sturdy and durable construction
Quiet and shudder-free movement
Oversized 53 in. tall carriage for superior strength
Cons
Might be a bit overkill for smaller garages and occasional DIY'ers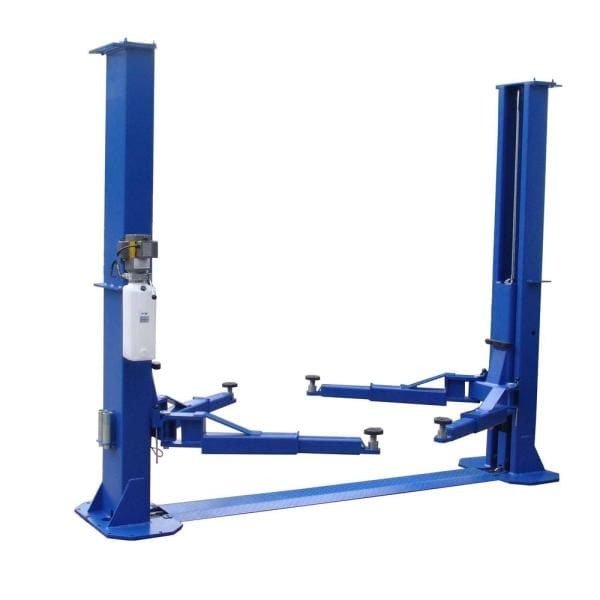 You know how they say, "Everything is bigger in Texas?" Well, they don't call this TUXEDO 2-post lift "Texas Style" for nothing. This goliath of a lift has a 12,000 lb lifting capacity, an extended overall height of 121.5″, and a maximum lift height of 76.5″. And although it's a huge machine, it's still quite fast and fairly easy to install — it takes only two people and a few hours to set up.
This heavy-duty model is equipped with "Big Foot" base plates for extra stability and the durable powder-coated finish will make sure it looks good for years — because you'll be keeping it for years. The dual 3″ cylinders with low friction chain rollers really help it out last longer despite having to lift huge vehicles. Truck owners will also appreciate the stackable 3″ & 5″ 'drop-in' height adapters (screw-types take significant time to bring up to speed, especially if you drive a lifted truck).
However, it doesn't come cheap. Still, when it comes to lifting trucks that heavy, cheaping out is never a good idea. So yeah, it's a bit expensive, but you will get more than your money's worth.
Highlighted features
12,000 lbs. lift capacity
Symmetric arms
Rubber door guards
Powder-coated finish
3 stages front arms
Chain drive cylinders
Height adapters included
Pros
Outstanging lifting capacity
Suitable for heavy-duty lifted trucks
Robust and durable construction
Very easy to install considering the lifting capacity
Cons
Expensive for DIYers and home garages, especially if you don't really need the 12,000 lbs. capacity
Bulky — it won't fit some smaller garages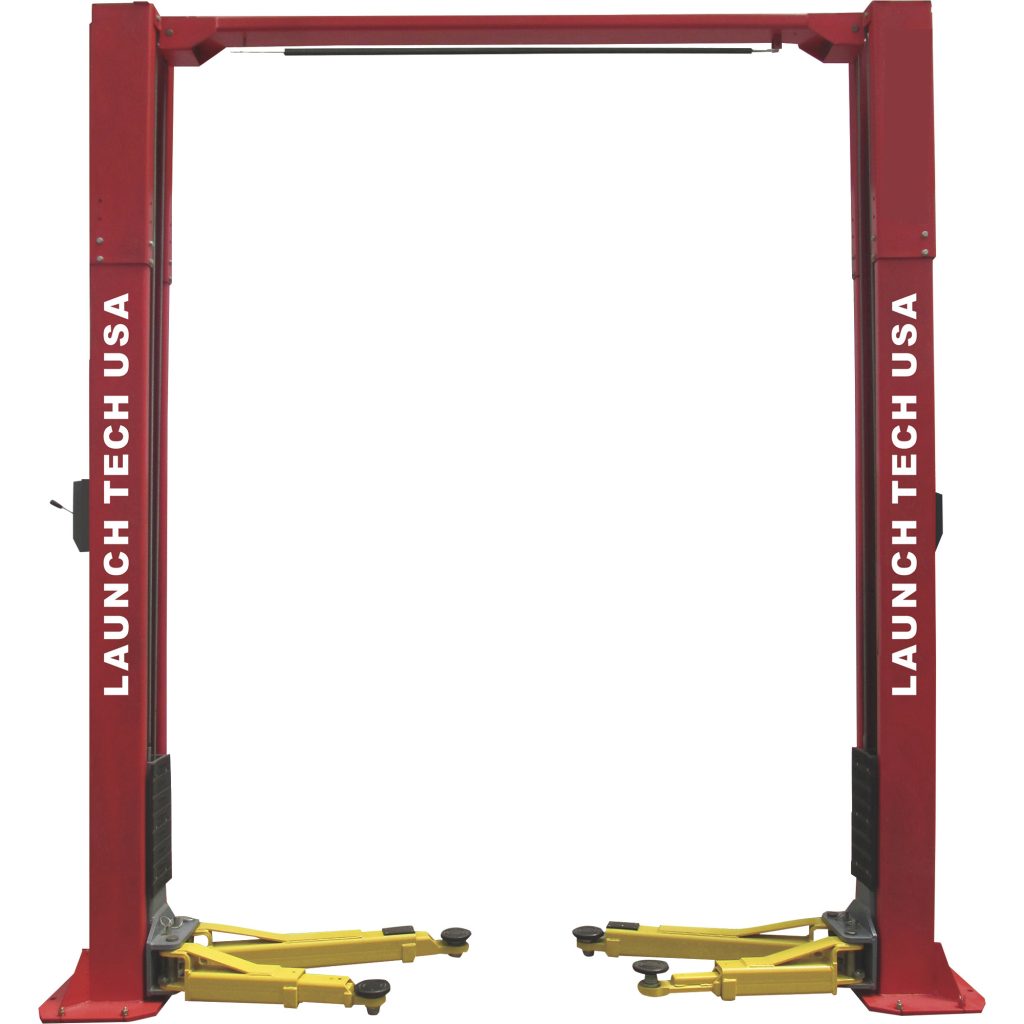 The Launch Tech USA TLT211-AS-R is an all-in-one 2-post asymmetric lift capable of lifting up to 11,000 pounds, making it suitable for heavy-duty pickups but also anything lighter than that. You'll be a fan of the professional-grade materials and construction, a pleasant surprise at this price point.
Yes, LaunchTech's 2-post car lift is more expensive than most options on this list (although less than the previous one), but comes with an excellent 11,000 lbs. lifting capacity, enough for amateur and professional use, and the specs are truly impressive.
It has a heavy-duty arm restraint system with oversized and rugged steel gears, pins, and springs for trouble-free operation. The TLT211-AS-R also has high-quality rubber door guards to provide added security against door damage and comes with two 6″ and two 3″ stackable footpad extensions for better compatibility — once stacked, we're talking about 9″ of reach so it should fit pretty much any truck out there. And if that's still not enough, the double telescoping screw pads offering an extra 6.5″ adjustment should do the trick.
Also worth mentioning, the adjustable columns provide 6″ of adjustment, making this lift suitable for various ceiling heights. If your garage has an unusual height and other standard lists don't fit or if you are just looking for a truly premium lift produced by a manufacturer with a proven track record, this one is a no-brainer.
(And if you value good aftercare, you'll be happy here as LaunchTech USA is famous for its outstanding customer service. Of course, the quality of a company's support team is rarely a reason to buy something in itself but it this case, it's only the cherry on top.)
Highlighted features
11,000-lb. lift capacity
Clear Floor design
Asymmetric configuration
2 HP, 220V single phase electric motor
Adjustable columns
Heavy-duty arm restraint system
Pros
Excellent 11,000 lbs. lift capacity
Tough construction and high-quality materials
Adjustable columns make it easy to adjust this lift just right
Suitable for most cars, SUVs and trucks
Cons
Might be a bit overkill for DIYers and light-duty passenger vehicle owners
Types of 2-Post Car Lifts
The most popular question about car lifts is: Which type is actually better, symmetric or asymmetric? Well, sadly, there isn't one correct answer to this million-dollar question. The answer is simply, well, neither, and both.
Or "it depends." It's really your personal preference, the kind of work you commonly do, and your specific garage setup that will determine the style of lift that will be best for you.
But let's discuss…
Symmetric Car Lifts
The four arms of a symmetrical lift are about the same length, so the car's center of gravity sits in the middle of the column. The main disadvantage here is that the front doors of most cars (note that I said "car" here, not "trucks") will be right in line with the posts, making them a bit hard to open when on the lift. On the other hand, the car will be centered on the lift, giving you more space when working on the front wheels themselves
However, that also means you'll have to be careful not to hit the car doors on the posts when the car is in place — there's only so much space left. It's not really a concern as long as the user remains aware of what's happening while using the lift. There are also broader symmetric 2-post options that address this issue if you look around a bit.
As a general rule, symmetrical lifts are best suited for routine maintenance and fast-moving jobs ON CARS, such as changing tires, brake jobs, and suspension and steering system work.
Asymmetric Car Lifts
An asymmetric lift has shorter front arms and longer rear arms as well as 30-degree angled columns, placing the vehicle's center of gravity behind the columns. Doing so allows the door to be opened wider when the vehicle is up there, which will come in handy for a wide range of jobs. However, you won't be able to position a vehicle backward, while symmetric car lifts will let you do that (placing the whole weight of the engine on the longer arms is definitely not the best idea).
However, this whole theory is the opposite when you work on larger trucks. When using an asymmetric lift to raise a pick-up truck, the door will more often than not be directly in line with the columns, while on a symmetric model, the doors you'd sit right before the columns.
Bottom Line
As said before, there is no right or wrong here and whatever works best for you will really depend on the kind of vehicle you work on and whatever you like most. Since you are shopping for a lift right now, I will assume you have some prior experience here, and consequently, you most probably already know which one you prefer.
Want my two cents? When it was time to buy a lift for my own garage a couple of years ago, I went for symmetrical just because I worked with that type for years. That's what I know and I simply find it easier to correctly park a car right away on symmetrical models — old habits die hard, right?
Factors to Consider When Buying a 2-Post Lift
No matter which lift model you decide to go for, they are never cheap. And there's nothing worse than spending your hard-earned bucks on a piece of equipment only to be disappointed by low-quality or a shady automotive equipment company. So to stay on the safer side, here are a few things to keep in mind when choosing the right 2-post lift for your garage.
Know your garage
Occasionally, pure enthusiasm can overpower what is physically possible (especially when it comes to tools and cars, right?). It's critical not to go overboard here. Measure and re-measure your garage multiple times. Car lift modifications are occasionally available, but they are uncommon and always expensive.
Measure twice, cut once.
Warranty
Even the best automotive lift in the world is still an assembled machine, and as such, is prone to human error and unanticipated malfunctions. Honest car lift providers recognize this and provide varying levels of guarantees on the frame, moving parts, and services, depending on their payment models.
The ALI seal of approval
The certification of the Automotive Lift Institute is the only nationally recognized standard for all types of car lifts. We strongly advise you to perform a comprehensive investigation because many businesses find themselves on the losing end of a long battle when municipal inspectors impose penalties for non-compliance.
If you plan to install your lift at home, ALI compliance may not be as essential but that will really depend on the regulations applicable in your area.
Company reputation and customer support
It's not always easy to look past the marketing hype, and a lot of reviews online are either paid for or written by people who clearly don't know what they are talking about (if this is not the first post on the topic you visit today, you probably know what I mean).
We would strongly suggest you do some research regarding the lift manufacturer you intend to go for. Consider how long the firm has been in operation, as this is frequently linked to its reputation. The longer the company has been in business, the more likely it has invested in building positive client relationships. Established automobile lift firms are also more likely to be available in the future to fulfill warranties, replace parts, and provide excellent customer care if the need arises.
Sure, many car lift brands are as sweet as candy when it comes to accepting your money, but where are they when things don't go as planned? Luckily, none of the lifts mentioned above fall in this category.
Features
If the car lift you are considering does not have ALL the features you need, you might be better spending a bit more for one that does — and don't forget to think ahead. A 2-post car lift will last you for years and who knows what kind of work you'll be doing in 10 years. You might be starting in the field and still feel that you don't really need anything more than a model that will allow you to change the brakes on your car every once in a while. But trust me; having a lift will open a world of possibilities and help you grow.
As a result, you might be spending a lot more time in the garage in a couple of years and you really don't want to be stuck with a lift that simply doesn't cut your new skills. Since it's an investment, going for a 2-post car lift that has all the features you need and then some is always a better solution in the long run.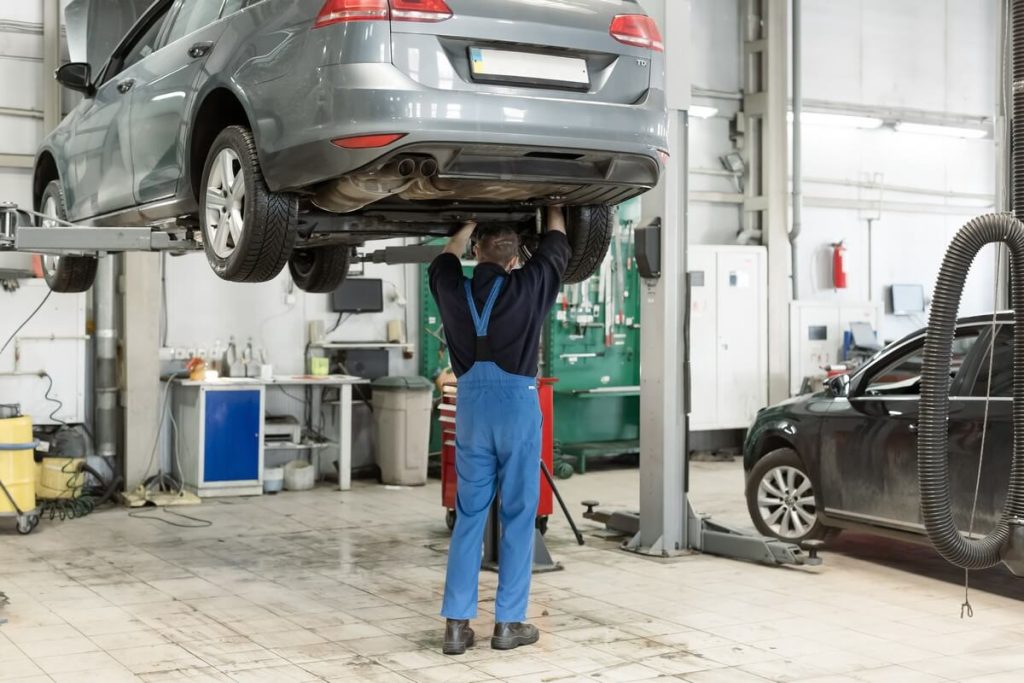 Frequently Asked Questions (FAQs)
Is there anything particular I need to support my new lift, such as a special floor or foundation?
Most lifts can usually be supported by most residential or commercial foundations. It is, nonetheless, critical to follow the lift's owner's manual and see what type of concrete support it needs. Failure to do so may result in lift failure, resulting in physical injury or death — not mentioning dents and cracks on your beloved car.
Many people say that car lifts are dangerous. Are they really?
Car lifts are perfectly safe if you follow the recommended rules and installation requirements. Every model included in our list has every safety precaution imprinted on one of the posts, so make sure to study them closely. But once that's done, and assuming you know how to lift cars the right way, lifts a perfectly safe.
After all, the same lifts recommended above are the same ones used in the industry (I don't think any manufacturer ever made a lift model specifically for home use) and are consequently tested as such. Still, keep in mind that most lift failures usually come as a result of human error or improper use.
And in this case, yes, they are very dangerous. Lifting 5,000lbs 5feet is obviously risky so make sure you know what you are doing here.
How long do car lifts last?
A well-cared-for 2-post or 4-post lift can last for decades. It's not uncommon to come across a used lift that's 20, 30, or even 40 years old on the market. However, please note that commercial lifts last much longer than enthusiast-level models, especially when used daily.
Is it possible to install a car lift in my driveway?
"You can put it outside, but should you?" is the correct response. Lifts are intended to be used indoors in a controlled environment. Installing it outside will also automatically void the warranty as it is unavoidable that natural elements will accelerate the aging of the components.
But if you really want to do it, I really don't see why you couldn't (assuming you have a decent concrete slab to bolt in onto).
Is it necessary to maintain vehicle lifts?
Aside from common-sense visual checks you'll make every time you raise and lower your vehicle, a simple monthly checklist is probably the most you'll need to undertake regularly. However, if you are running a repair shop, depending on regional regulations, lifts may need to be inspected once a year by professionals.
Do you have any recommendations for a first-time installer?
Read the instructions!
Really. Like from beginning to end.
DO NOT SKIP OVER ANY OF THE PAGES. In the long run, fully understanding the installation stages will save you time but ultimately, it could save you your life (in the best-case scenario, it will still severely damage your car so make sure do it right).
If for any reason you doubt your abilities — even just a little — have a professional install your car lift.
Verdict
We won't lie here; unless you are running a repair shop in your garage, and then it's more a workshop than a home garage, installing a lift is more an expense than an investment. Still, the extra storage space and the ability to work on your car from the comfort of your own home make it all worth the money.
Yes, they are costly, but how much is it worth to not have to work on your knees and finally be able to tackle bigger jobs like engine swaps and clutch replacements? Watch out tho; having a lift in your garage often leads to friends and co-workers regularly asking for a quick fix. "Just want to know what's causing this weird noise; it won't take long."
— Yeah, right… 😂
Read also: Best 4-Post Car Lifts for Mechanics