EDITOR'S PICK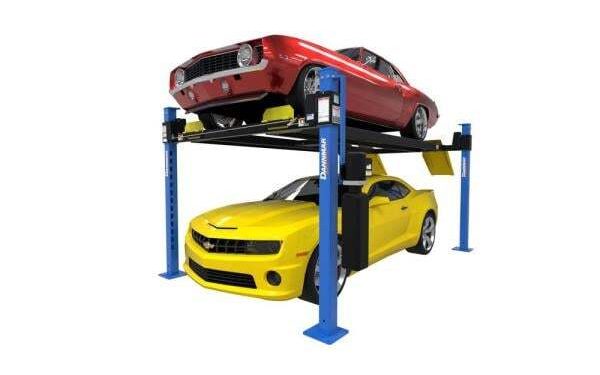 Dannmar D49 4-Post Car Lift
Dimensions: 176.5" X 89" X 114.5"
70" maximum rise
9000 lbs. maximum weight capacity
Uses an electric-hydraulic power system
Can accommodate cars measuring less than 165.5" in wheelbase and 72.5" wide
PREMIUM PICK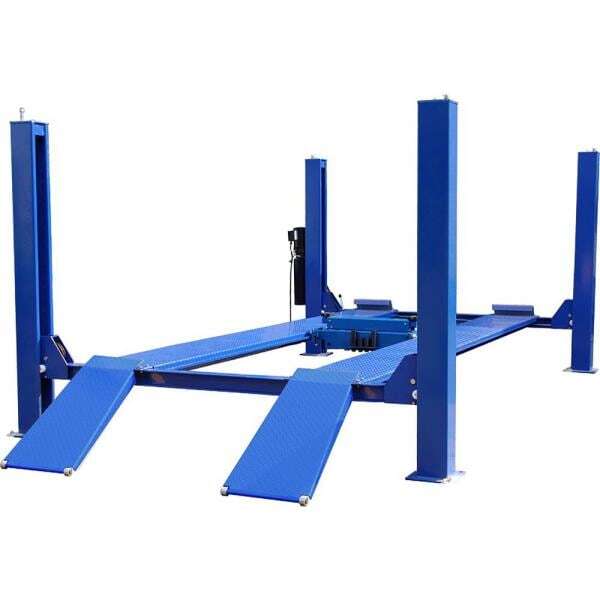 Tuxedo FP12KK 4-Post Car Lift
Dimensions: 202.5" X 123" X 84"
67.5" maximum rise
12,000 lbs. maximum weight capacity
Uses an electric-hydraulic power system
Can accommodate cars measuring less than 176" in wheelbase and 77" wide
BUDGET PICK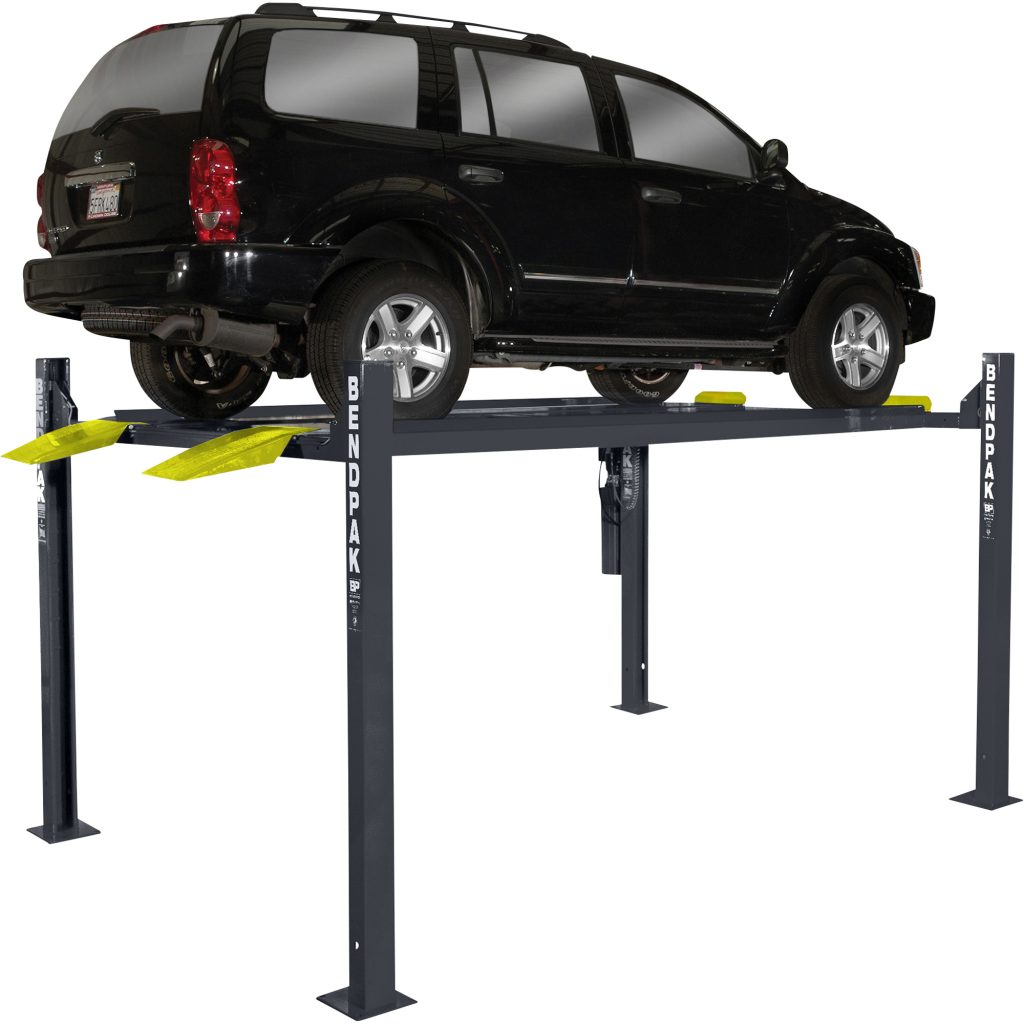 BendPak HD7P Compact 4-Post Car Lift
Dimensions: 100.25" X 174" X 100"
82" maximum rise
7000 lbs. maximum weight capacity
Uses an electric-hydraulic power system
Suitable for cars measuring less than 164" in wheelbase and 75.5" wide
Need a reliable car lift to work on your car? Would you also like to be able to park more cars in your garage seamlessly? A 4-post car lift is all you need!
A 4-post car lift is a versatile solution for your garage storage needs that also comes with a huge bonus — you can also use it to work on your car. No need to use a floor jack and work kneeling down on a piece of cardboard for hours while changing your brakes! Of course, you could be using a creeper seat to prevent that but that's another story. Besides, building an extension to your garage to accommodate more cars can be extremely expensive and time-consuming, and that's when your city's regulations even allow it. In such situations, merely installing a 4-post car lift is a much simpler alternative, especially if you own a vehicle that needs to be stored for longer periods.
And while their primary purpose is to store vehicles when used in residential settings, this is also the same type of lift used to do alignment jobs. In most cases, add-on trolley jacks or sliding jack trays can also be installed, allowing you to lift the tires from the 2 runways and work on the suspension and steering systems— they really are the jack-of-all-trades of the automotive lifting equipment industry!
Unsurprisingly, just like most large repair shop equipment, 4-post car lifts are far from cheap, and choosing the right model for you may be quite challenging. To help you with that, we have curated some of the best 4-post car lifts available today and created a handy buying guide, mention some of the stuff you want to be keeping in mind when you shop around.
Hope it helps!
4-Post Car Lift Reviews
First up, we have BendPak's HD7P, a narrow high-rise 4-post car lift. The brand specializes in developing ergonomic vehicle lifting equipment for maintenance and storage purposes. The BendPak HD7P sits at the very lower end of the brand's storage lifts line-up with a 7000 lbs. lifting capacity, which should still be more than enough for pretty much any car, SUV and small truck. It uses a clever electric-hydraulic system with a single hydraulic cylinder installed under the runway working in conjunction with a 220V AC motor to raise your vehicle to a maximum height of 82" in just 35 seconds.
What's more, BendPak also sells additional accessories like a rolling oil drain pan and a sliding jack tray if you intend to use the lift for maintenance work on your vehicle. You can also purchase a portable wheel kit, allowing you to move the entire lift assembly from one spot to another, even with a car on the runway!
All in all, the BendPak HD7P is a great 4-post car lift for those on a budget. However, owing to its relatively compact size, this lift is mostly suited to accommodate narrow vehicles. If you own a wider sports car or a bigger pickup truck, we've got better ones below.
Highlighted features
Dimensions: 100.25" X 174" X 100"
82" maximum rise
7000 lbs. maximum weight capacity
Uses an electric-hydraulic power system
Suitable for cars measuring less than 164" in wheelbase and 75.5" wide
Pros
Best budget 4-post car lift
Uses heavy-duty steel wire ropes designed for 822% of maximum capacity
Plenty of accessories available
Long approach ramps for low-clearance vehicles
Five years warranty on lift structure
Cons
Accessories sold separately
Tuxedo provides a great alternative to those looking for more lifting capacity in a similar price range to the previous model. The FP9K is another cable-driven 4-post lift predominantly meant for storage purposes. However, Tuxedo includes several additional accessories with the lift, making it easier for you to perform maintenance and repair gars in your own garage. These accessories include four drip trays, a jack tray, and a poly caster kit for moving the lift around.
This 9000 lbs. 4-post car lift is both wider and longer than the previous model and offers an extended runway of 188.5″ long, allowing you to fit longer vehicles without any issues. To give you and idea, even the 2021 Ford F-150 with an 8ft. bed only has a 141.5″ wheelbase, and even a Mercedes-Benz A-Class Limousine only has 179″ between the front and rear wheels — so it should be good enough for pretty much anything you need to lift.
Thanks to the 115V 20 Amp electric motor and comprehensive hydraulic system, it's capable of achieving the lift's maximum lifting height of 85″ in 100 seconds — not a small feat!
There's no denying it; Tuxedo's FP9K is one of the 4-post lifts offering the best bang for your buck out there. Yes, it may cost slightly more than BendPak's model, but it comes with every accessories you'll need to work on your car.
What's not to like?
Highlighted features
Dimensions: 239" X 134.5" X 97"
85" maximum rise
9000 lbs. maximum weight capacity
Uses an electric-hydraulic power system
Can accommodate cars measuring less than 181" in wheelbase and 79" wide
Pros
Comes with a host of added accessories
High value for money
Rust and corrosion resistant lift structure
Offers wider track and larger footprint
One-year limited manufacturer warranty
Cons
Installation instructions could be better
If you are looking for a reliable and long-lasting 4-post car lift but don't want to go overboard with one of the premium models, the Dannmar D49 is definitely worth considering.
Thanks to its 9000 lbs. weight capacity, it can easily hold most vehicles with and then some. Dannmar's 4-post lift uses the familiar electric-hydraulic power system to raise your vehicle to the design maximum height of 70" in merely one minute. It's worth pointing out that 70″ is slightly lower than the previous models but still more than high enough to comfortably use it to repair cars.
One aspect where the Dannmar D49 stands out from the competition is safety. Where most 4-post car lifts make do with a standard locking system placed at 4" intervals, the D49 goes a few steps forward. In addition to the traditional method, Dannmar also fitted this lift with a multi-layered locking system including manual dead-bolt locks, a secondary cable-lock, and ¾" steel safety locks.
Regardless, it's very unlikely you would ever get to test this sophisticated system anyway as the heavy-duty steel construction will keep you and your beloved vehicle safe at all times. Danmar lifts are also frequently used in the automotive industry, so there's no need to worry here.
Highlighted features
Dimensions: 176.5" X 89" X 114.5"
70" maximum rise
9000 lbs. maximum weight capacity
Uses an electric-hydraulic power system
Can accommodate cars measuring less than 165.5" in wheelbase and 72.5" wide
Pros
Multi-layered safety locking system
Accessories like a jack tray, drip trays, and a caster kit are included
Suitable for low-clearance vehicles
Rugged steel construction
Three years limited manufacturer warranty
Cons
The usable vehicle space is slightly smaller than previous models
The Tuxedo FP12KK is a 4-post car lift falling on the premium end of the scale. It features industrial-grade steel construction with boxed posts and welded seams. Like all Tuxedo products, this 4-post lift also powder-coated to keep it like new for years to come.
The electric-hydraulic power system fitted in the Tuxedo FP12KK is rated to safely lift vehicles weighing up to 12,000 lbs., meaning you can easily lift pretty much any car, pick-up truck, or SUV — the 2021 Ford F-150 weighs only max 6,000lbs so yeah, 12,000lbs is a lot!
However, if you end up buying this 4-post car lift, make sure you carefully choose the right place to install it. Tuxedo does not offer or make a caster kit for this lift, making it much more challenging to move once it's assembled.
Thanks to the higher lifting capacity, extended dimensions, and superior build quality, the Tuxedo FP12KK is the perfect 4-post car lift for repair shops or other professional work environments. The manufacturer recommends this 4-post lift for commercial use, but of course, you can also set it up in your home garage too — your friends will die of jealousy.
Highlighted features
Dimensions: 202.5" X 123" X 84"
67.5" maximum rise
12,000 lbs. maximum weight capacity
Uses an electric-hydraulic power system
Can accommodate cars measuring less than 176" in wheelbase and 77" wide
Pros
High weight capacity
Powder coating finish acts as a protective layer against rust or corrosion
Clean construction with hydraulic equipment hidden under the runway
Easy to use lever release system
Extended dimensions allow you to accommodate slightly larger vehicles
One-year limited manufacturer warranty
Cons
No included accessories
Caster kits are not available
If car lifts were superheroes, the BendPak HDS40 heavy-duty lift would be 'the Hulk.' In terms of sheer strength and raw lifting power, there is virtually nothing that comes close to the mighty prowess of BendPak's truck lift. The HDS40 can effortlessly lift SUVs, trucks, busses, semis, and practically any other vehicle weighing up to a whopping 40,000 lbs. Yes! You read that right. This lift uses high-capacity galvanized cables usually found in aircraft and a much more powerful electric-hydraulic setup compared to other low-capacity lifts to accomplish this herculean task.
The only real downside is that BendPak doesn't include essential accessories in the kit as some other brands do. As a result, you have to pay extra to get various attachments like a jack tray, drip trays, oil drain pan, and more.
Still, the BendPak HDS40 is the perfect 4-post lift for mechanics who regularly work on oversized vehicles. Admittedly, it costs a whole lot more than other models, but then again, this 4-post lift has the space or weight capacity to accommodate a full-size bus with no problems whatsoever. And if you need to lift something that big, there's really no way around the higher price tag here.
Highlighted features
Dimensions: 153.5" X 91.25" X 257"
60" maximum rise
40,000 lbs. maximum weight capacity
Uses an electric-hydraulic power system
Can accommodate vehicles measuring less than 244.5" in wheelbase and 97" wide
Pros
Uses galvanized aircraft-grade cables
High weight capacity
Quick operation considering the enormous capacity
Multi-layered safety locking system
Powder-coated body for dust and corrosion resistance
Self-lubrication system on cable sheaves
Five years warranty on lift structure
Cons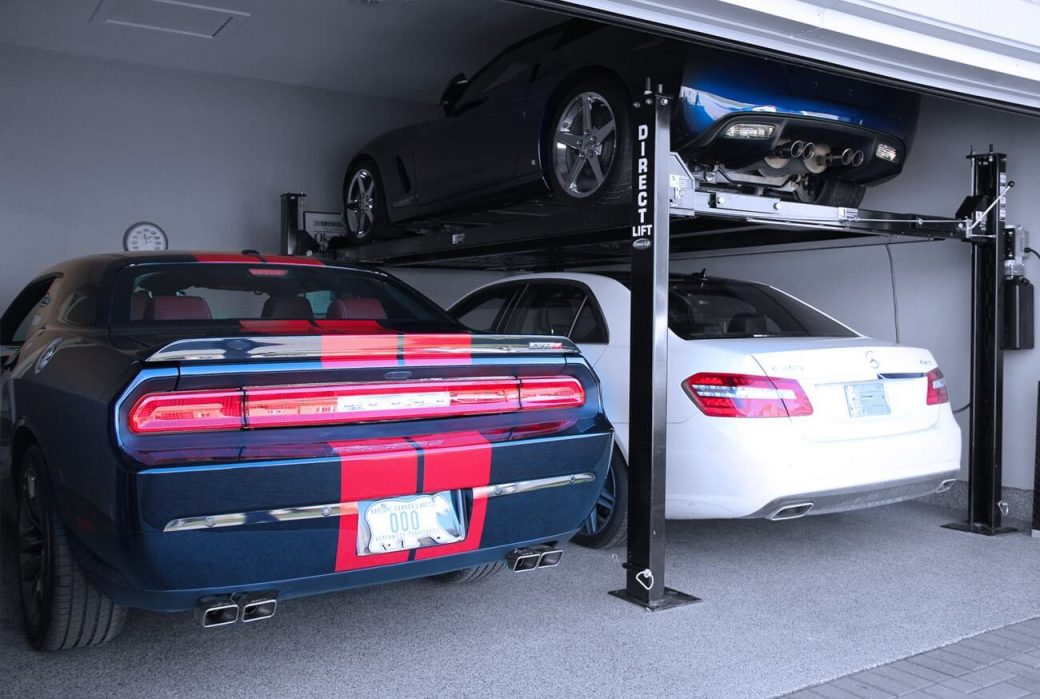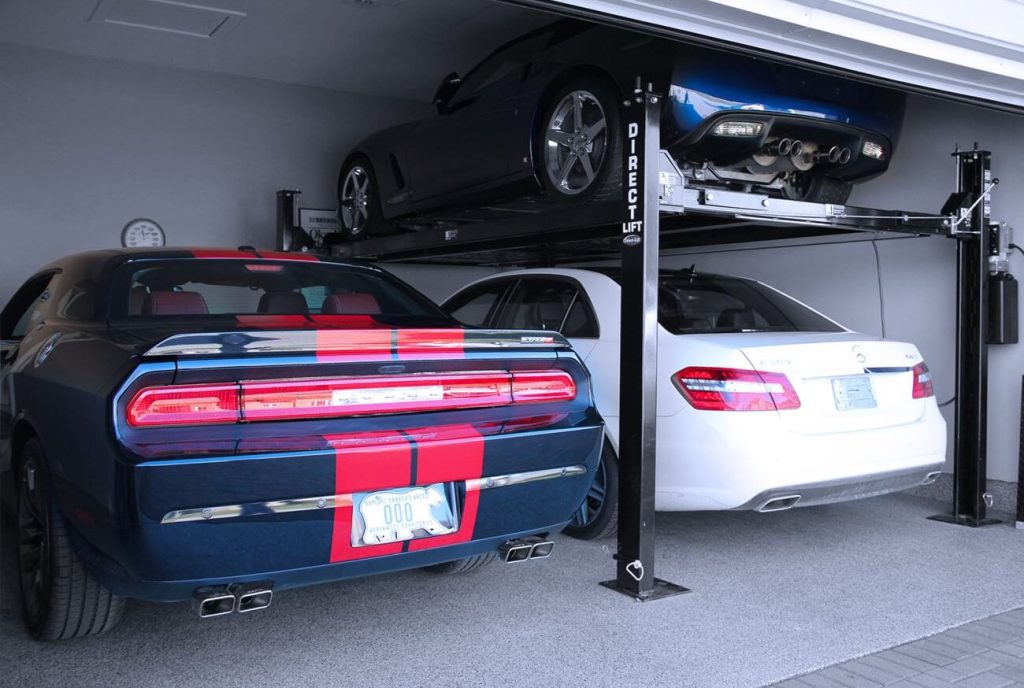 Factors to Consider When Buying a 4-Post Lift
Safety
If not used correctly, things can go south real quick with a 4-post car lift because no matter how you put it, there is a three-ton + metal body hanging a few feet off the ground. Thankfully, modern car lifts are riddled with several safety systems to prevent vehicles from freefalling towards the ground. Although such cases are sporadic, they could still technically fail, so make sure you choose a good 4-post car lift with an advanced multi-layered safety system.
Weight capacity
A 4-post car lift's rated weight capacity dictates how much weight it can safely lift. After safety, it is the most critical factor to consider while shopping around as it decides which vehicle will fit and which won't. As a general rule, we recommend you pick a 4-post lift capable of lifting slightly more weight than your vehicle. Doing so, you don't have to risk being on the lift's limit, and all critical components are not strained unnecessarily.
Runway dimensions
The term "runway" in a 4-post car lift refers to the component where your vehicle rests the entire time it is on the lift. There are two runways, and they primarily dictate how long a car you can accommodate. In addition to the length, you should also consider the usable width to ensure your vehicle will fit on there. As always, keep some room to act as a buffer while considering dimensions. Once you got a lift at home, you will undoubtedly have friends — and potentially clients? — who will ask you to work on their car so keep that in mind.
Power system
Nearly all 4-post car lifts in our list are powered by a unique electric-hydraulic system consisting of an AC motor paired to a small hydraulic unit. However, there are many more components involved in lifting your vehicle than you may think, and it is essential to make sure the entire power system is robust and reliable.
Installation procedure
Some lifts are super easy to install, and any novice with decent skills and some elbow grease to spare cand do it in a few hours. However, more complex lifts can sometimes require expert installation costing upwards of $500. Therefore, it is advisable to go through the lift's installation guide before purchase to determine if you can save some money and do it yourself — or ensure to add the installation cost in your budget.
With that being said, don't hesitate to ask for expert advice if you aren't confident, as an improperly installed lift poses a massive safety risk to everyone working under and around it — not even mentioning the car you've poured your soul into.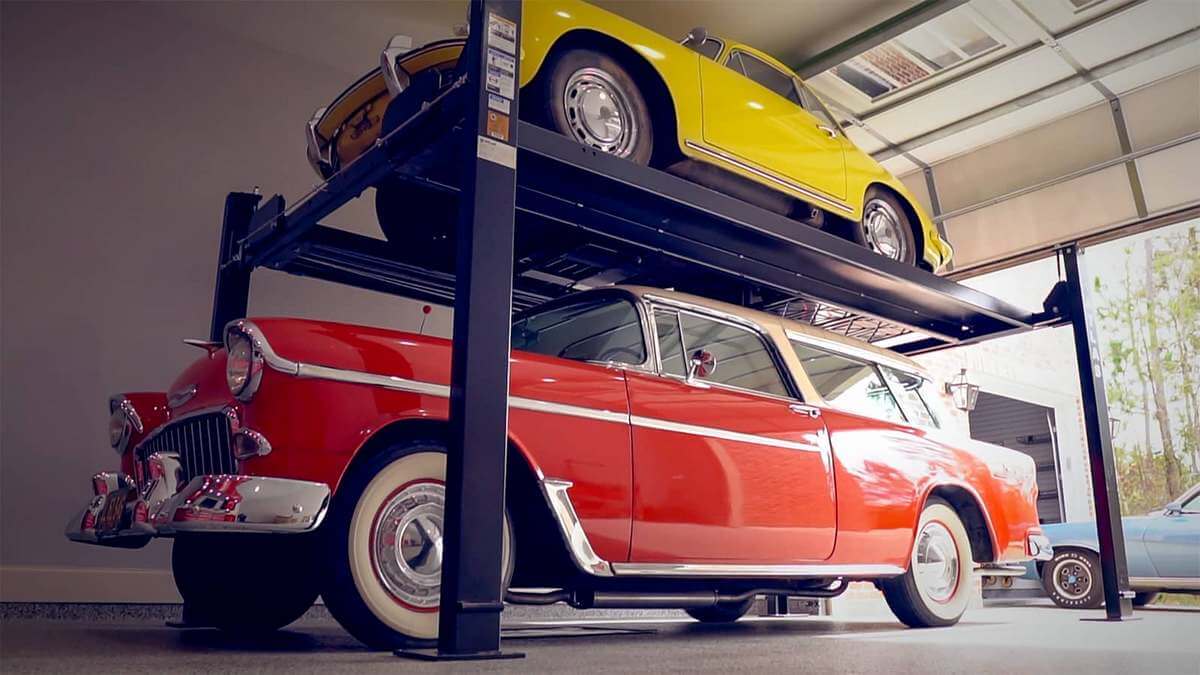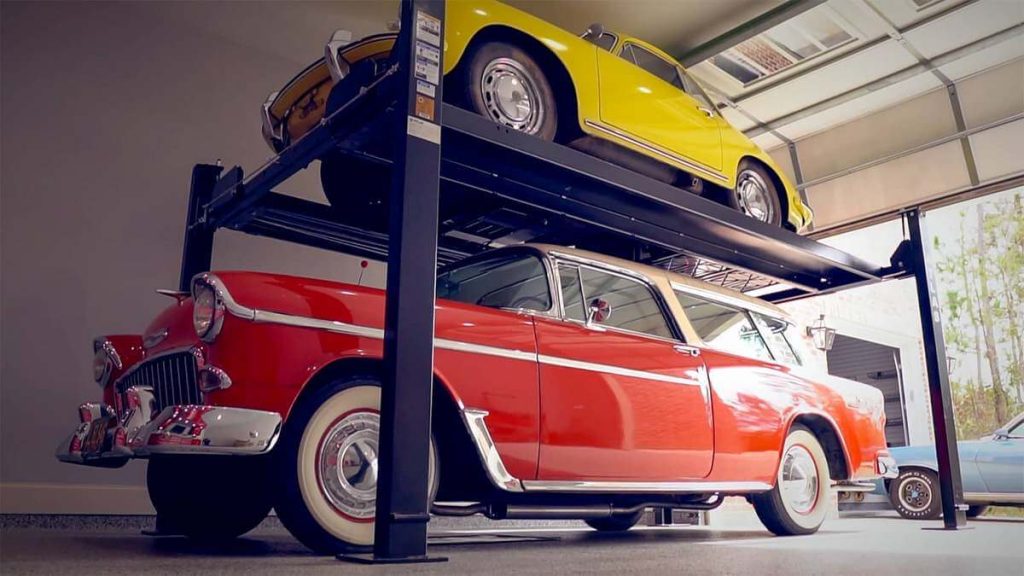 Frequently Asked Questions (FAQs)
Is a 4-post lift better than a 2-post lift?
The answer to this question would differ depending on specific applications. For example, if you are looking for a car lift for your repair shop, a 2-post model makes total sense. It provides much better access to the vehicle's underbody and takes a lot less floor space
However, when it comes to storage applications with occasional maintenance work, a 4-post car lift is the obvious choice for two main reasons. Namely, it is much safer compared to 2-post lifts as it provides more support to the vehicle. Secondly, it's also much more straightforward to operate; all you have to do is drive the vehicle onto the ramps and push a button.
How high should my garage ceiling be to accommodate a 4-post car lift safely?
Even though there are no established standards on how high a garage ceiling should be to accommodate a 4-post lift, you can easily figure out if your garage is high enough. First, measure the height of both vehicles you intend to store in the lift area. Add the two values and add two to three feet more to the final figure to create a buffer zone and take runway thickness into account. What you get is roughly how high your garage ceiling would need to be.
Do 4-post car lifts require reinforced concrete?
Some manufacturers will specify requirements relating to the floor where the 4-post car lift is to be installed. Things like concrete thickness and density will be mentioned, among other things. However, some car lifts do not need to be fixed into the ground and are free-standing units capable of being moved from one spot to another using a caster kit. Still, always check the manufacturer's website and the lift's specifications before committing to buy — better safe than sorry, right?
Verdict
4-post car lifts are cost-effective, quick, and permanent solutions to all your garage storage woes. Still, the only way to make sure you get the most bang for your bucks is to carefully select one according to your specific needs and budget.
Even though all 4-post car lifts in our list are suited for different applications, our team of experts has found Dannmar's model to be the best all-arounder. It offers a higher weight capacity with extended dimensions, making it an incredibly attractive package in this price range. Of course, there are better products, but Dannmar provides the best value for the price — this one is really a no-brainer.