I admit it: I have a secret obsession with portable lights. I've got a bunch of tactical/EDC flashlights that I rotate through all the time (I guess I should review some of those, huh?) and several larger but still somewhat compact work lights—like my favorite, the Milwaukee M18 Radius that we reviewed a while back.
What I'm missing in my glowing arsenal is an in-between—a small, lightweight, portable work light that I don't have to constantly fight with to re-position when I'm working on the Jeep during a nighttime trail ride gone awry.
Alas, LOFTEK saves the day (or night) with its new Pioneer Portable LED Work Light. This little box of usefulness packs a big, bright LED punch in a nice, neat, durable package that also doubles as a USB power bank.
Let's take a closer look…
Packaging, Design & Build Quality
The LOFTEK Pioneer Portable LED Work Light is very well packaged in a sturdy cardboard box with a molded foam insert that can likely be used to store the light when not in use for a long time to come. A pouch or case of some sort would've been a nice addition but we don't really expect one at this price point.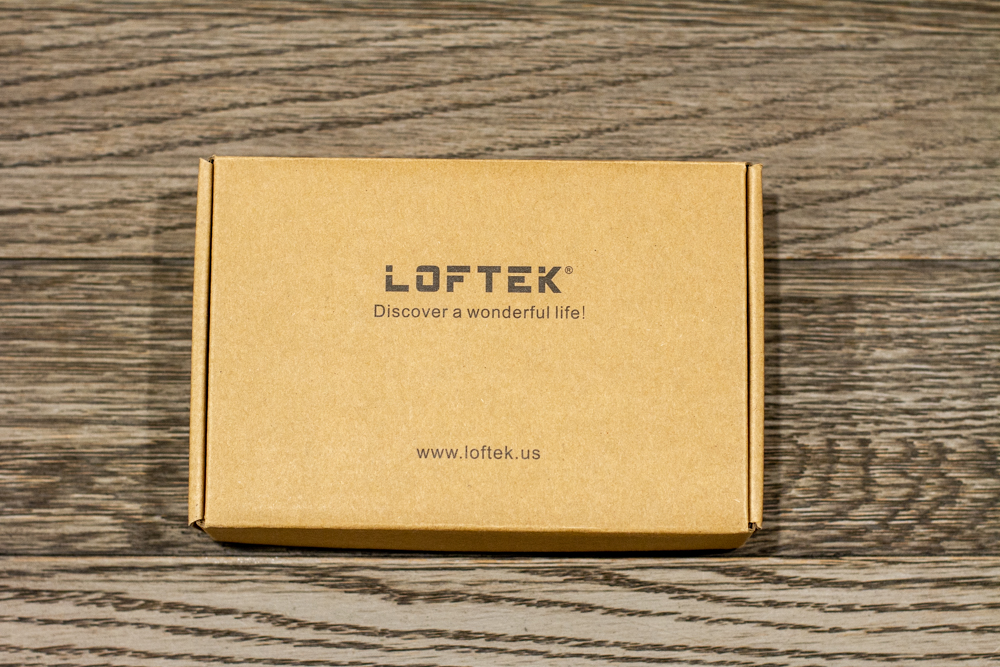 Inside the box, there's the Pioneer light, of course, a USB/Micro USB charging cable and instructions.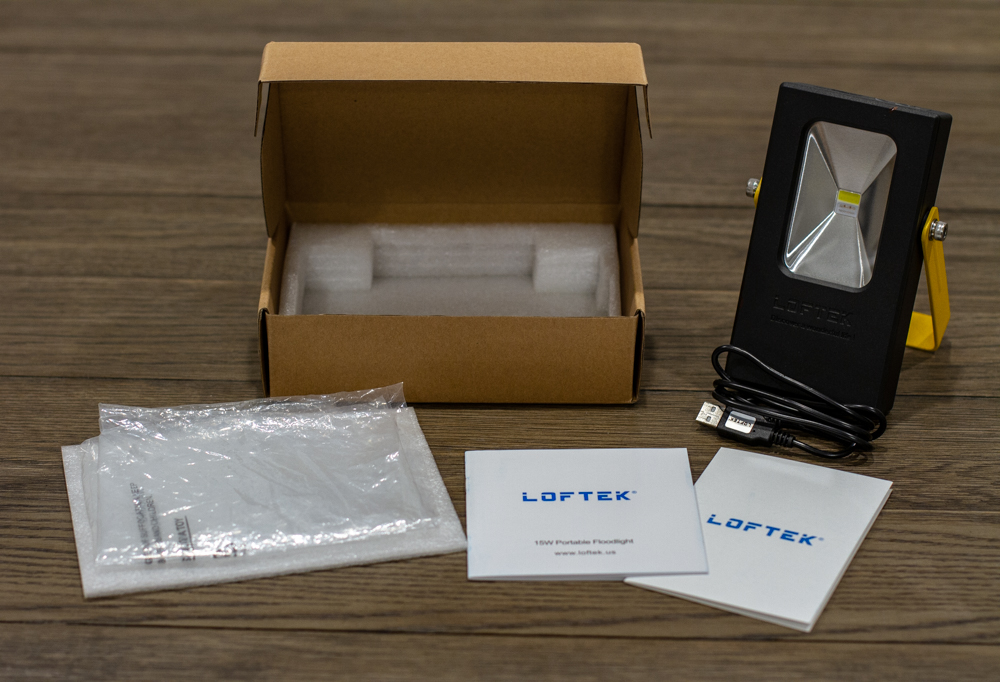 The light itself is about 8″L x 5″W x 1.5″D and weighs in at just 1.6lbs. The black powder coated metal case feels rugged and sturdy but, as we found after a slight bump on the workbench, does scratch fairly easily. A small dab from a black permanent marker fixed the slightly scarred corner of our light right up.
The LED is surrounded by a silver, plastic (?) reflector and is covered with a clear plastic lens that seems sturdy enough, although we didn't conduct any impact tests on the unit. That lens is actually recessed in a bit, which will help to reduce scratches.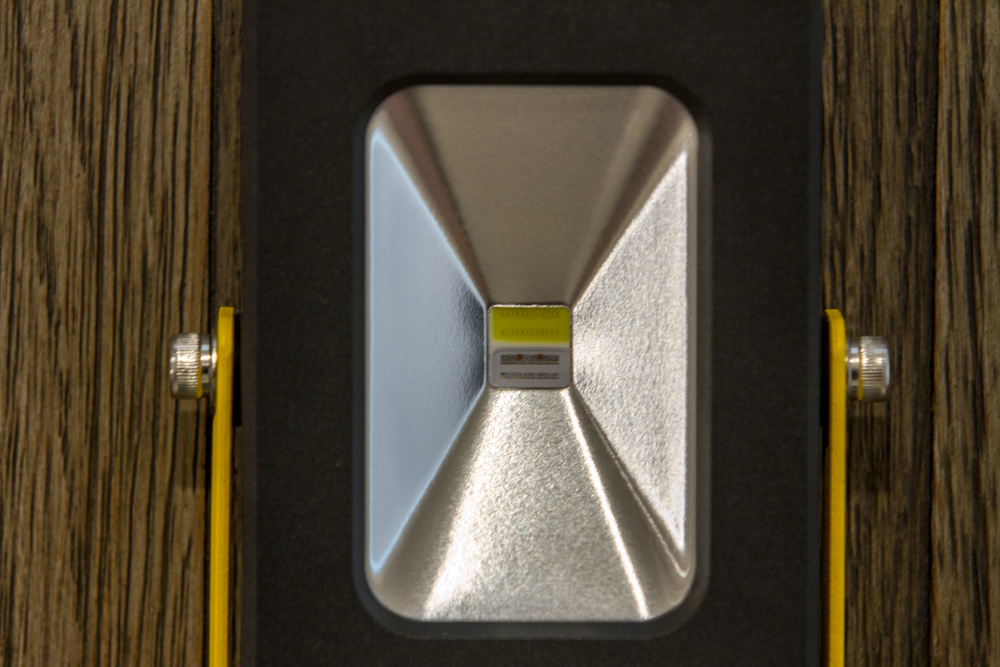 The attached powder coated metal stand is equally as well-built and swivels a full 360° around the entire light. Knurled thumb screws on either side allow the stand to be hand-tightened to keep it from swiveling once in the desired position—it can also be tightened using a hex key. This swiveling bracket allows the light to be securely positioned to just about any angle.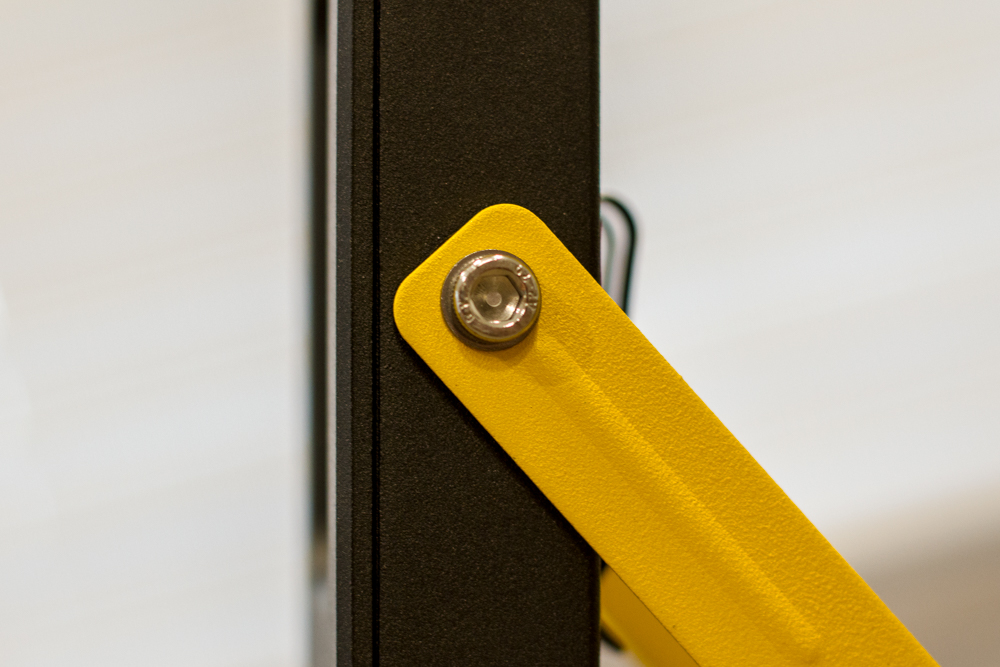 There's also a hole in the top of the bracket, which could be used to hang the light from a nail, hook, string or similar. A surprisingly strong steel belt clip is riveted on to the back of the light, too, making the light easy to haul around on the hip or on the side of the tool bag.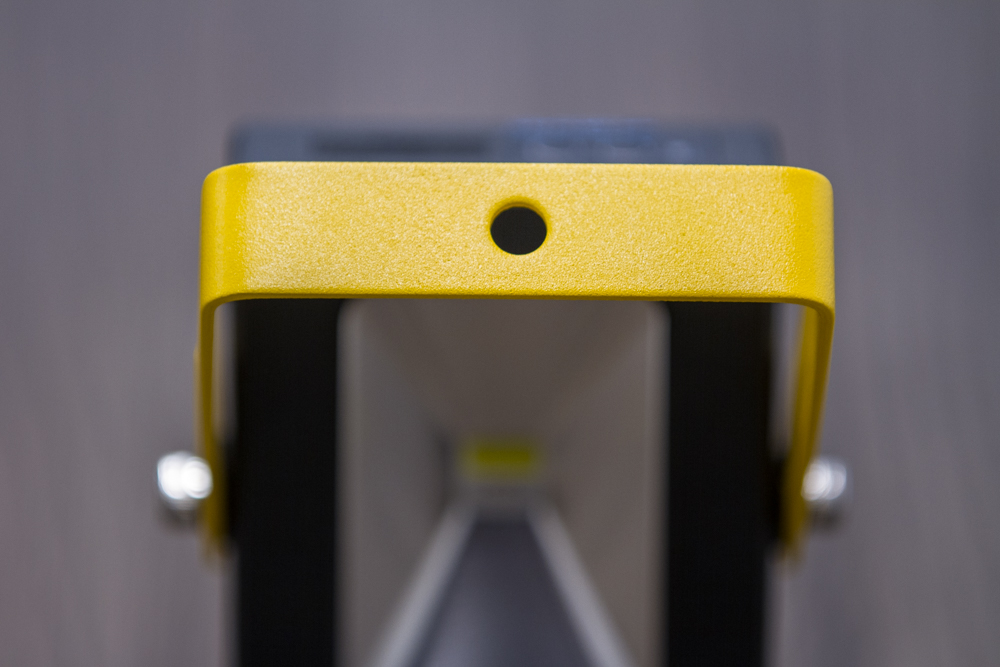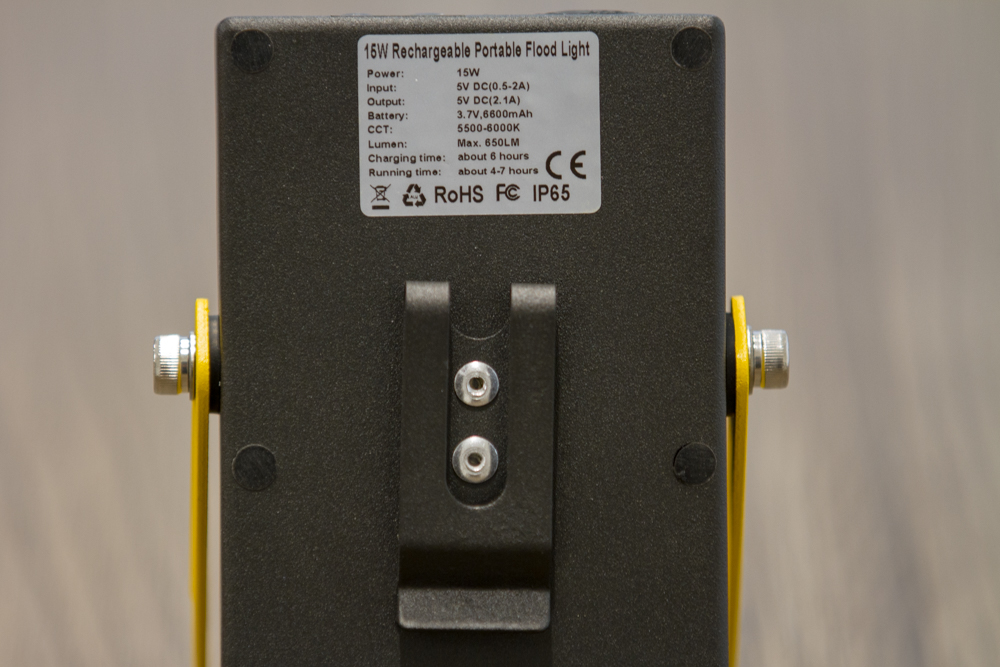 Overall, this light feels really solid in the hands and we're not afraid to actually use it as a work light. And while it isn't completely waterproof, this light is rated IP65, which means dust and splashed water can't get in. The light is not, however, rated for submersion—you can't use it underwater.
Usage & Performance
Using the LOFTEK Pioneer Portable LED Work Light is a breeze. There are just two buttons on top—one for the white light and one for the so-called "S.O.S. Mode" (more on that in a sec). We actually appreciate that it requires a deliberate two-second button push to activate the light, thereby eliminating accidental activations. The first two-second button push turns the light on at its brightest setting—about 650 lumens. A second button tap brings the power down a tad to about half power.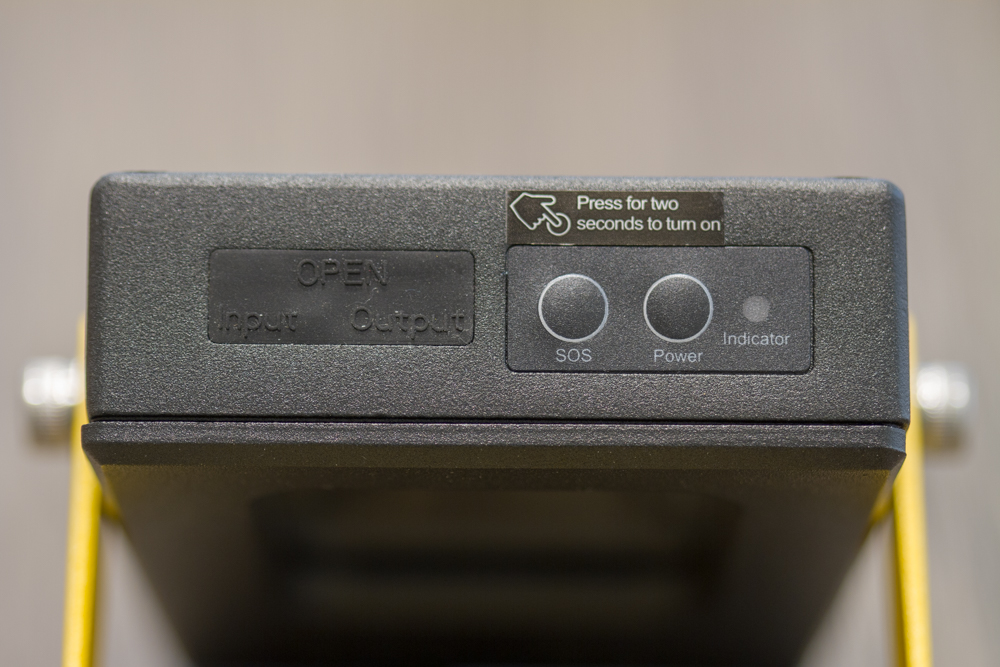 The light output of the Pioneer is fantastic and simulates daylight (about 5000k-6000k) well. And because it is a flood light, the light spreads very evenly, too.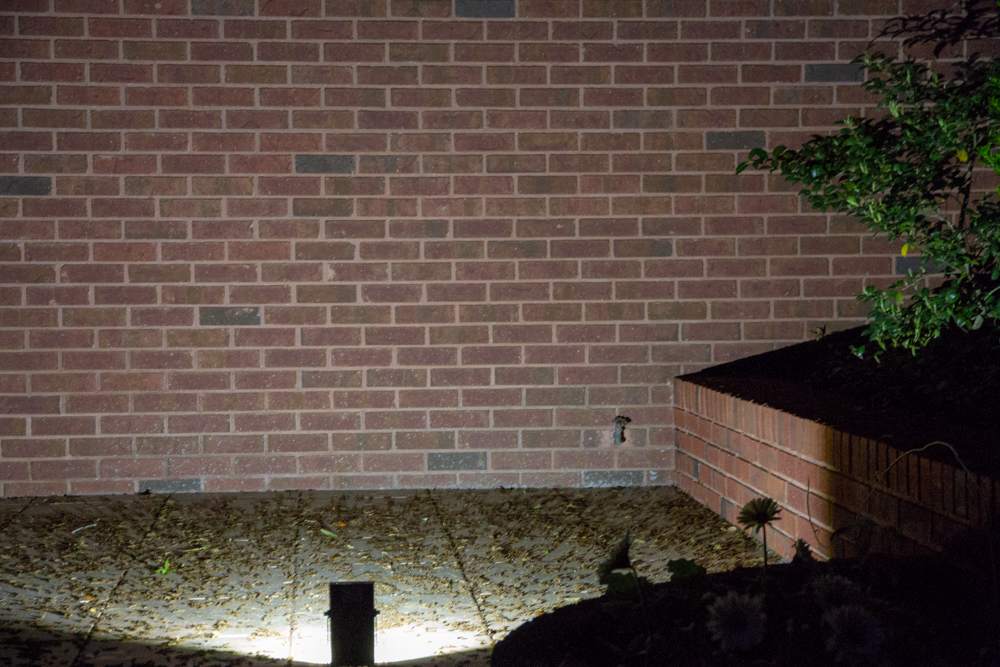 As mentioned earlier, this light can be adjusted to direct light at just about any angle, thanks to that swiveling bracket. But because the light features a 120° wide-angle flood beam, it won't take much to light an area large enough for most situations where a light this size makes sense.
We put the light in various situations to see how it lit the job area and it's definitely a great little light to keep around the house. It did just fine lighting up under counters, in closets, inside a big walk-in attic, and outside under the Jeep at night.
See Also: 7 Best Garage Lighting Systems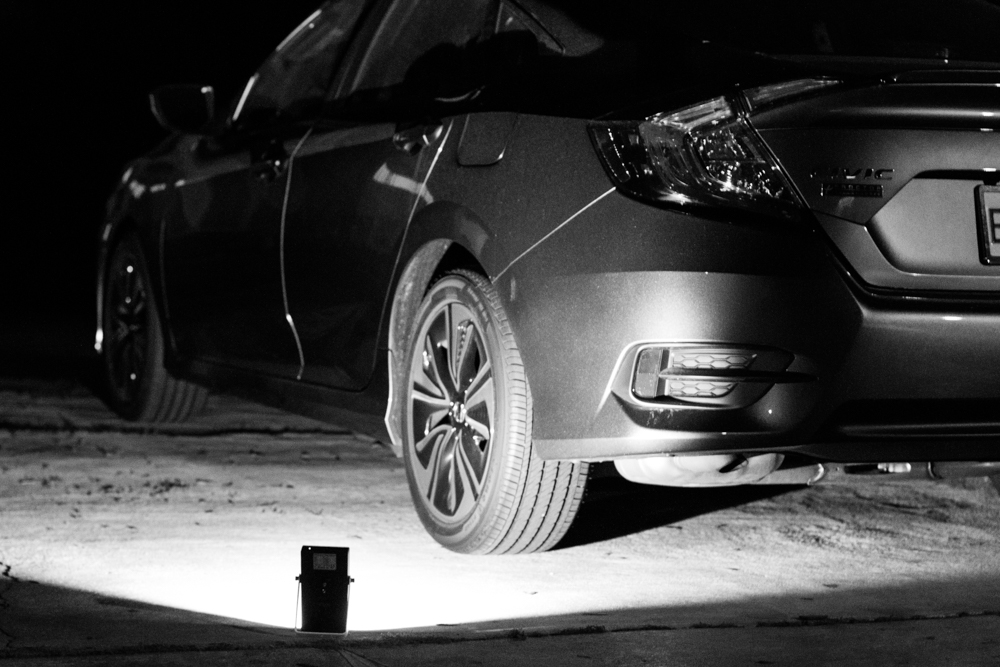 In close-to-pitch-black darkness outside, we were able to measure about 50′ of throw from this little light sitting on the ground with a slight upward cant. We didn't measure the width of the beam at its furthest point but at 120° it's a flood of light, for sure (or, you could do the math if you really wanted to).
USB Interface, Charging & Runtime
The LOFTEK Pioneer Portable LED Work Light isn't just a portable LED work light but also doubles as a portable power bank leveraging its 3.7V, 6600mAh internal battery. That means it can charge just about any mobile device—cell phones, tablets, etc.—via its integrated USB interface, located on top of the light and underneath a well-sealed rubber tab. In fact, you kinda have to pick at the USB cover for a bit to get it to pop-up on either side. It is not designed to be removed entirely, so don't break it off!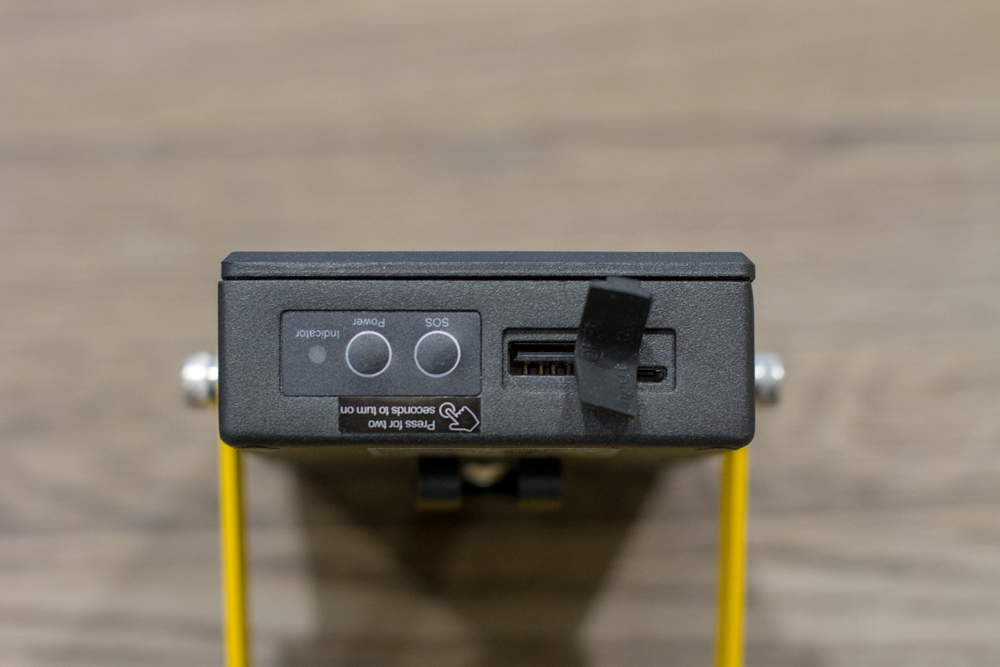 There are two plugs on either side of and under the rubber tab: a standard USB and a micro-USB. The rubber top is actually labeled "Input" and "Output" but it's really hard to see with our old eyes. Nonetheless, the "Input" port accepts micro-USB and is used to charge the unit. The included charging cable does not include the actual AC plug side of the equation, which has clearly confused some folks based on the comments we read online. We didn't find this to be an issue and just used an old iPad brick we had lying around to charge our light in about five hours—it seemed to work fine.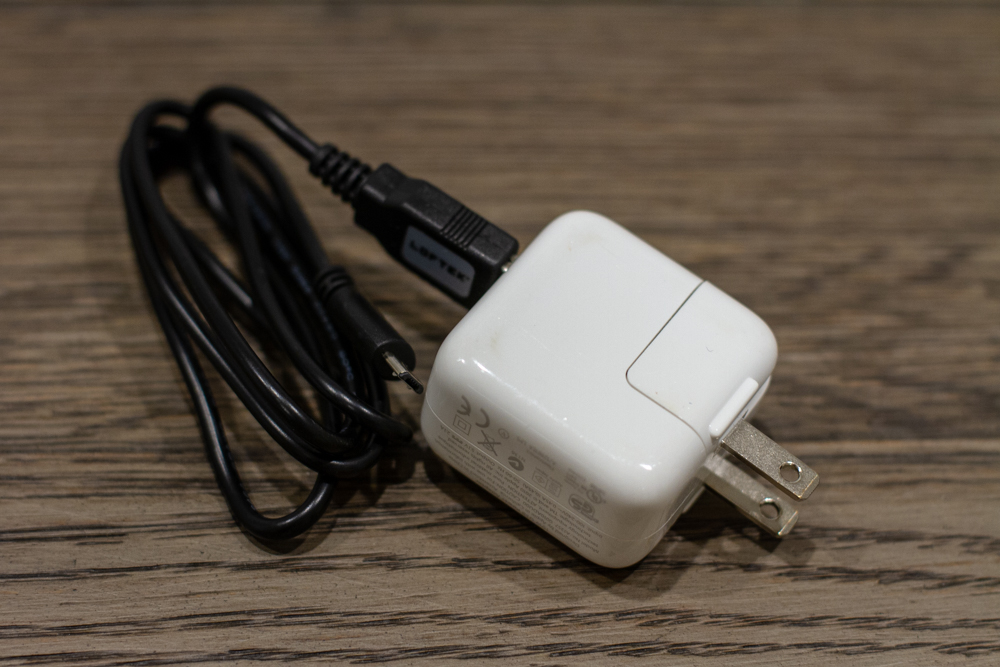 While there is no battery life indicator, there is a status light on top—green is on, flashing red means almost dead. This status light will glow red while the unit is charging and turn green when fully charged.
We turned the light on right out-of-the-box and just let it run out. The next day, we charged the unit, which took about five hours. That's a long time, comparatively speaking, but the runtime is about the same or a bit longer. We were able to get three days worth of on/off use of what we calculated to be about seven hours before the light finally gave out. We used the light mostly on its highest brightness setting but you will clearly get more mileage at its lower setting—which is actually plenty bright for most situations.
The "Output" port on top of the light accepts a standard USB cable (again, a cable is included but with a micro-USB on the other end) and can be used to charge various mobile devices, such as smartphones or tablets. We did not test how long it took to charge any particular mobile device, but we were able to verify that our USB-to-Apple Lightning plug worked to charge an iPhone 6 Plus up until we unplugged the phone.
S.O.S. Mode
Okay, so this is a strange one but the Pioneer light has what LOFTEK is calling an "SOS Mode." But it's not SOS at all. SOS is a Morse code signal that basically means "HELP!" Using a light to send an SOS signal would be achieved by sending three short flashes, three long flashes, and three more short flashes, continuously, with no pauses. The LOFTEK light simply alternates a lower-wattage red and blue light every 2-3 seconds, continuiously—kind of like an old-school sun visor police emergency light.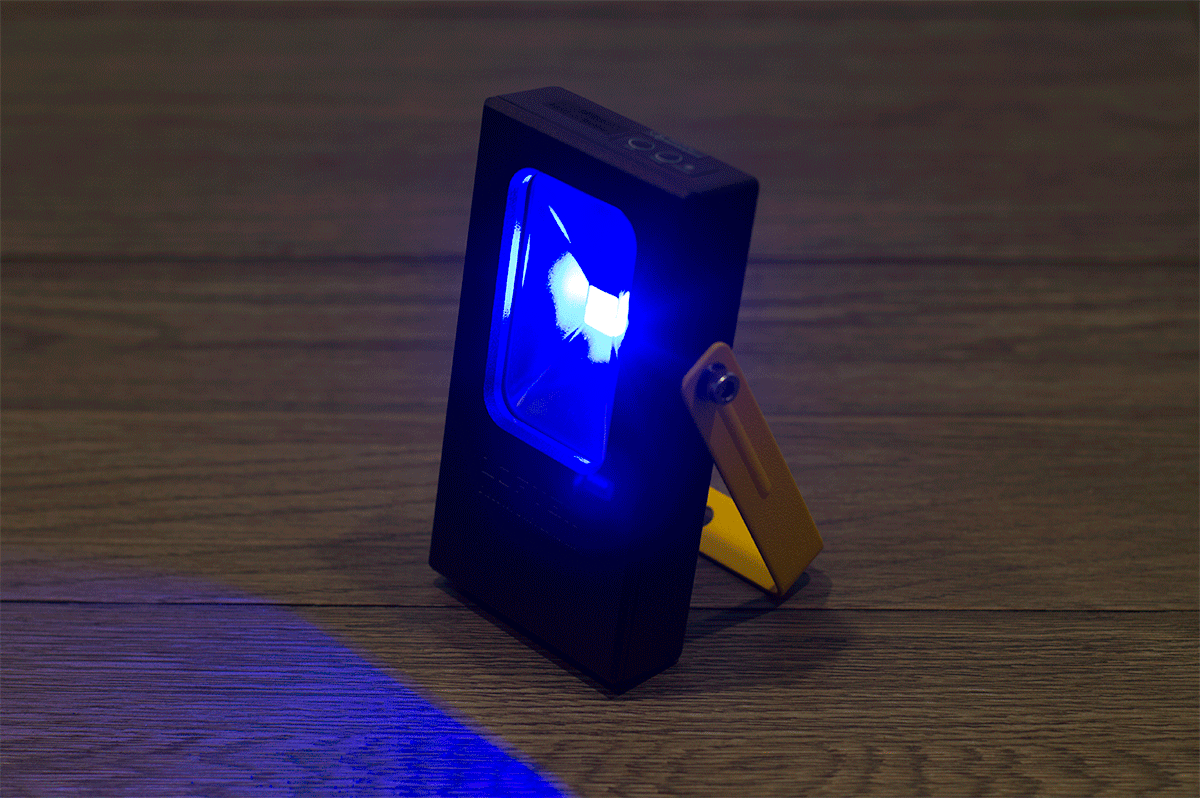 Unlike many of the comments we've seen online, we're not all that concerned with people abusing this light to pull people over in their vehicles—the actual red and/or blue strobe lights used in police vehicles are readily available online. We just don't think it's the best way to either call for help or to alert people you're on the side of the road.
Local laws regarding emergency lights aside, a flashing amber light is far more universally accepted as a sign of caution or roadside trouble. And an actual call for help—or SOS, as LOFTEK says—would be better served by… well… a call to 911.
As an aside, LOFTEK does make a light almost identical to the Pioneer model reviewed here, but that can cycle between four modes and 16 colors using a remote, and runs on AC power. It could be fun at parties! See it here.
A Great Little Light at a Great Value
We like this light because it fits perfectly between a tactical-style flashlight and a much larger 3000+ lumen work light—cordless or not. Trying to position flashlights when you're working alone on something can be a real pain, and that's where the Pioneer really shines. It's great for around the house, in the garage or at the campsite. The fact that it can charge mobile devices as well, really makes this a great light to keep in your vehicle or backpack at all times.
For between $20-$27 (depending on the color of the outer shell and bracket/stand), the LOFTEK Pioneer Portable LED Work Light is a solid deal. And if you buy more than one—at least on Amazon at the time of this review—LOFTEK have some discount codes right there on the Amazon product page.
Where to Buy: Amazon | LOFTEK Direct
Technical Specs
Includes: 1xUSB cable, 1x 15W floodlight, 1xuser guide
Power: 11 watts (white light); 2 watts (red/blue alternating pattern)
Input: 5V DC (0.5-2A) – Micro USB
Output: 5V DC (2.1A) – USB
Lumens: 650lm (max brightness); 380lm (min brightness)
Beam Distance: ~20m
Beam Angle: ~120 degree
Kelvin Temperature: 5500K-6000K (Daylight)
CRI (Color Rendering Index): Ra>70
Battery Capacity: 6600mAh
Runtime: ~4 -5 hours
Charging Time: ~6 hours
IEC Rating: IP65—dust-tight and protected against low-pressure water jets (do not submerge in water)
Warranty: 12 months, unlimited when purchased from LOFTEK.