A while back we covered a handy little work light from LOFTEK that we really liked. While digging through the LOFTEK website, we saw a bunch of other cool lights they offer so grabbed a few, including a surprisingly useful 20″ LED Cube Light.
With our cover photo looking more like something from a home decorating magazine, we get that this is not a work light or even useful in the garage, really. LOFTEK's 'Shape Lights' do, however, make for interesting yard, pool, porch or patio decor. Or, in our case, really nice ambient lighting for an office.
Available in all kinds of shapes and sizes—from balls and cubes to butterflies and cacti—LOFTEK's Shape Lights are made from a durable, safe, clean acrylic with no UV, IR, lead, mercury, or other toxic chemicals used, according to the manufacturer. The exterior is smooth to the touch with a very subtle texture. The lights are completely sealed (IP-65 rated) and everything except the bottom panel is a single piece of seamless acrylic.
The 20″ cube light that we're reviewing here is supposed to be able to hold up to 300lbs, which could make it useful for deck seating or similar. While none of us weigh 300lbs, a few of us grown men sat on the cubes with no flex at all. There are also 16″ Cube Lights available with the same 300lb capacity.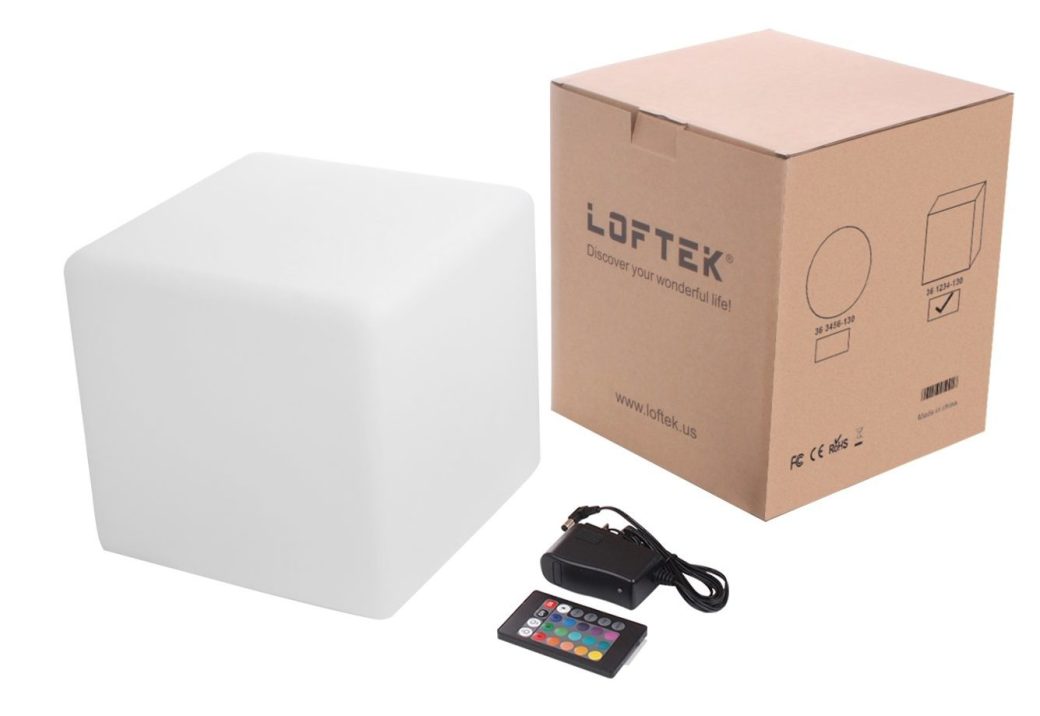 What makes the LOFTEK Shape Lights so cool is their ability to switch between colors, modes, and brightness levels. There are four brightness levels and 16 colors to chose from—reds, greens, blues and, of course, white. Yellow and purple are included in the spectrum, too. The white light appears to be close to 5000k (daylight with a slight bluish hue). The colors can animate using one of five different modes:
Continuous: One of 16 colors, continuously on (no color shifting or effects)
Flash: Colors change (blink), without any fading or blending
Fade: Colors change, dimming between each color change
Smooth: Colors change, seamlessly blending into the next (our favorite mode)
Strobe: A white strobe effect
Here's a simple still video showing the various colors and modes with the light sitting on our own geeky gamer guy's office shelf (hey, nerds like cars and tools, too!):
The lowest setting of the four brightness levels is very dim. The brightest setting is bright, but not overwhelming. We don't know the exact lumens but, again, these are decorative ambient lights, not work or task lights. Of course, white is the brightest color and several of these cube lights near each other would certainly illuminate an area plenty good for an evening of backyard entertainment.
Below, we've got the light on a pretty much pitch-black porch. The LOFTEK Cube Light is on its highest brightness setting. Sure, the camera has some trouble metering the scene, but it's pretty accurate when compared to what we experienced.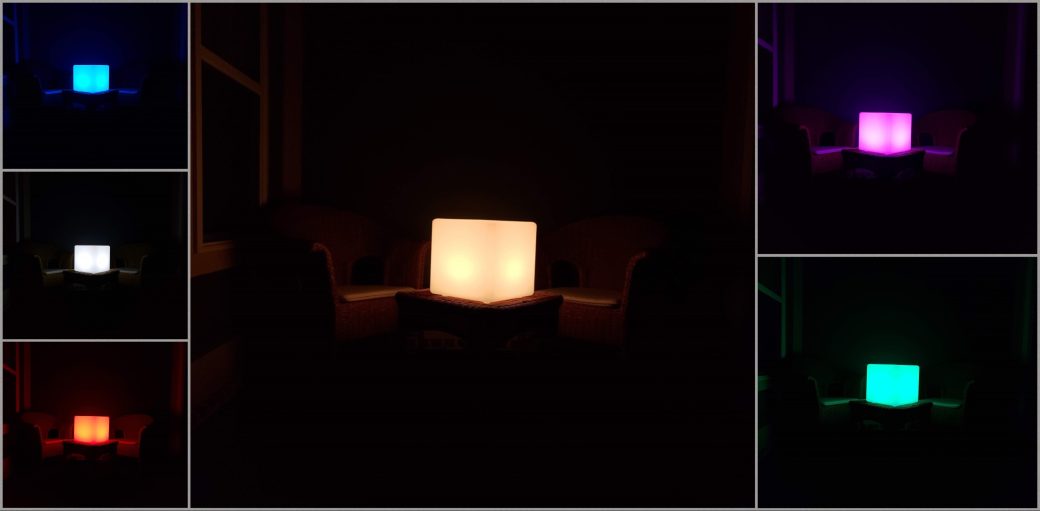 All of the settings are controlled via the included remote control, which works fine but does feel a bit cheap in terms of build quality. The remote has 24 easy-to-understand buttons to get you through every setting on the Shape Light and is powered by a single, readily available 3V CR2025 button-cell battery that should last for quite some time. The 'cheapness' factor is really just the plastic-y feel of the remote and the type of mushy buttons that inevitably wear out. Still, it's fine and there are replacement remotes available if it ever comes to that.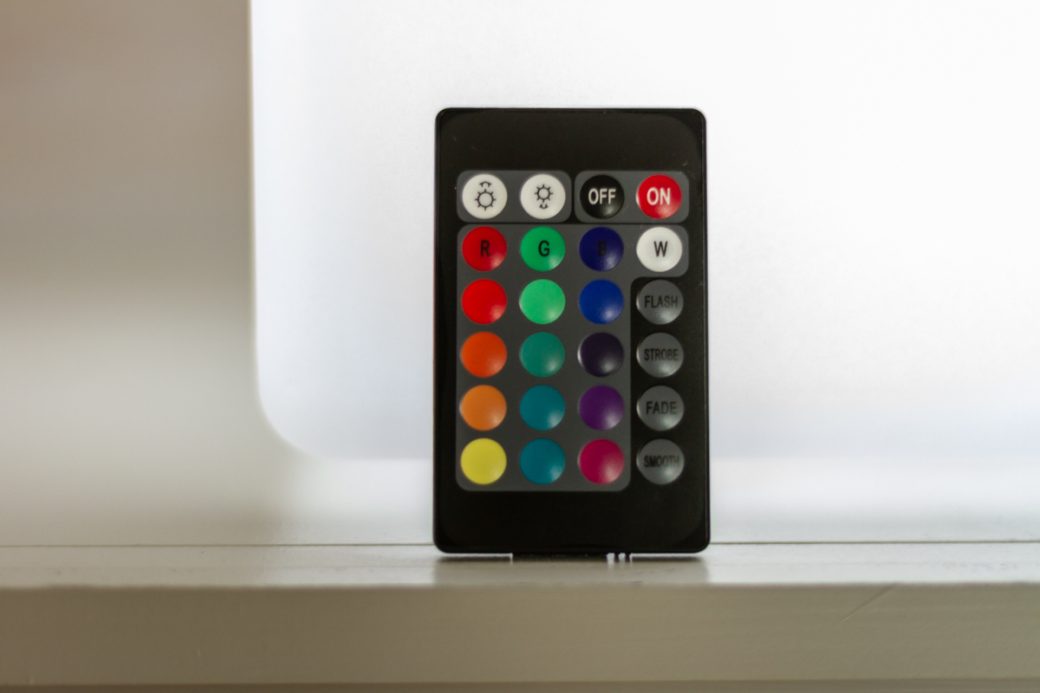 The brightness buttons on the remote also double as speed controls. So, if the light is in any of the modes other than continuous, the colors will shift (or the white strobe will flash) faster or slower, depending on the speed setting. There are definitely more than four speed settings vs. the four brightness levels, despite using the same buttons on the remote. We *think* we counted 10-12 speed settings on various modes.
One useful feature is that if you turn it off and on again later, it will be in the same state as it was when you turned it off—same brightness, color, mode, and/or speed. While we haven't tested it, apparently, multiple lights can be controlled by a single remote. But since the remote is infrared, the lights would all need to be in proximity.
Something that could be cool is if we could program multiple lights to create patterns (e.g., 10 lights create a sort of wave). That would entice people to buy more than one, too.???? Oh, and a mobile app that mimics the remote control would be useful. I could see us tailgating or camping with these lights, only to lose the remote.
On the bottom of the cube, there's a circular sealed cover where the brains of the light live. The AC power port has its own rubber seal, as does the power on/off button. The power button does double as a multi-function button (in case you can't access the remote control), but nothing in the instructions told us how it works. We figured it out for the most part, but it's definitely tricky working out which presses control which modes. Just use the remote.
There are also integrated feet, which allow the unit to sit about 1/2″ off of the surface.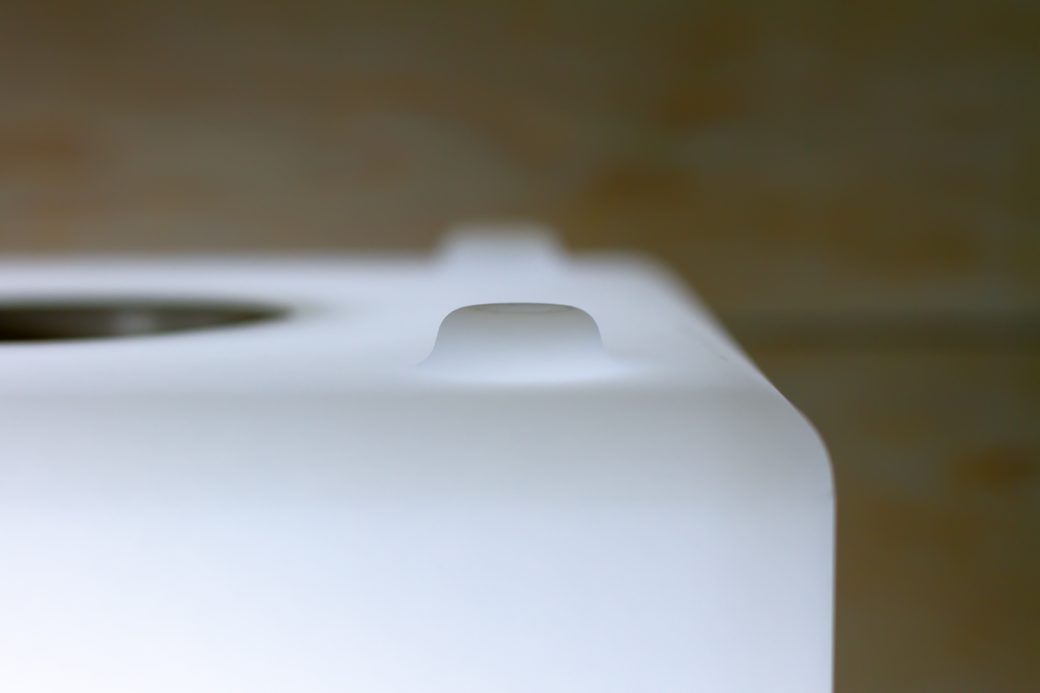 As for the innards, the replaceable 2.5W LED runs completely cool and is powered by a rechargeable (and also replaceable) 2200mAh lithium-ion battery. Charge time is about four hours and runtime up to 12 hours, depending on which colors and modes you're using. We ran this light off/on for several weeks and probably averaged about 4-5 hours but, with so many settings and modes, it's hard to nail down and your results may vary.
It's a bit difficult to do an in-depth review of such a simple device. And there's really no point in throwing it off the roof to test its ability to withstand something no normal human should be doing with these lights. Plus, we really enjoy using ours and don't want to destroy it. Nonetheless, the build quality is here, the light is innovative and fun to use and, while not super-bright, they're quite functional and versatile. We did take away a few minor points for both price and not being able to control the light via an app—it is 2018, after all.????
LOFTEK Shape Lights are a bit on the expensive side. The 20″ cube light we're using retails for over $200. If you're interested in lighting a relatively large area, things could get costly pretty quickly. Still, for smaller spaces and/or decorative purposes (and these things will get some attention), they're great little lights and we'll probably grab a few more.
See Also: 7 Best Garage Lightings