The holiday season is almost upon us, and if you are like me, you are yet to buy gifts for your near and dear ones. But deciding what to buy for whom can be extremely difficult when you want them to really like your present. Thankfully, though, almost every family has at least one car enthusiast who eats, sleeps, and breathes cars. For car enthusiasts like us, every occasion or celebration can be a million times better by merely involving vehicles and tools in one way or another.
Give your closest mechanic friend or family member a car-themed gift and instantly watch a mile-wide smile pop up on their face. Chances are, you just gave that person the best present of their life. Yes, a seemingly effortless gesture can make a fellow grease monkey's day, week, month, and even year.
To help you with that, we have compiled some of the greatest automotive-themed gifts for mechanics, so you don't have to sort through the clutter online. We have something for every budget, every type of mechanic, and even for the future ones (gotta start them young, right?). But of course, every mechanic has unique likes and dislikes, so most of the images shown below are general ideas rather than specific products. Don't hesitate to browse around after clicking the images, and you'll find something for the mechanic in your life in a jiffy.
Happy shopping!
Best Gift Ideas for Mechanics Under 20$
For those not in the know, mechanics spend a significant portion of their lives bent over a vehicle's front end, desperately trying to reach components deep in the engine bay. For this reason, pretty much every mechanic owns a fender cover to protect vehicles from scratches and fluid spills.
However, since a fender cover is not a vital accessory, most of us use an old, worn cover that barely holds itself together. So, a new fender cover might just be what the mechanic in your life needs, without even realizing it.
There is nothing better than a good cup of coffee to kickstart a mechanic's morning, and the only thing that could make the experience even better is a novelty coffee mug. You can find a plethora of mugs with witty mechanic-related quotes etched on the sides. However, if you've got a funny inside joke that would suit better, have a personalized coffee mug made for a small premium.
If I had a dollar for every time I have lost my 10mm socket, I would probably be the wealthiest person on earth. It is no secret that mechanics frequently lose parts while working on vehicles; can you blame us, though? Most components are so small, and engines are crampier than ever. A magnetic pickup tool with a LED light will make it much easier to retrieve that small bolt you dropped between the engine mount and the firewall.
Work less, work smarter.
Any mechanic's worst nightmare is scratching a customer's car by accident and ending up with extra work and, in some cases, a hefty repair bill. Scratches can be caused by even the smallest of metallic objects like pins or belts. For that reason, mechanics prefer wearing no-scratch belts where the buckle is either covered by or made from leather, allowing them to stop wearing their belts with the buckle on the side (ask around, we all do that lol.)
If you think a coffee mug is an excellent place for a witty mechanic quote, auto mechanic-themed T-shirts are here to turn it up a notch. Funny T-shirts are also good icebreakers as they are often the first things anyone notices about a person. And once again, you can either choose from hundreds of available designs or opt for a personalized auto mechanic-themed T-shirt.
The term "grease monkey" wasn't bestowed upon mechanics for nothing; we generally deal with a lot of dust, messy fluids, and dirt. At the end of most workdays, an average mechanic's hands will look filthier than a Samoyed after hours of rolling in the mud. In some cases, the situation is so bad that regular hand soap just doesn't cut it anymore, and that's where a heavy-duty mechanic hand cleaner is required.
Read more: 8 Best Hand Cleaners for Mechanics — Tough Soap for the Toughest Jobs
Working on cars is an all-year-round job, and we mechanics don't let the freezing cold stop us from doing what we do best. So, a pair of high-quality winter gloves could come in handy, especially for those living in regions experiencing freezing temperatures for months on end. Gloves don't usually last long in our work environments, so make sure you get an industrial-grade pair like this one.
Best Gift Ideas for Mechanics Under 50$
Mechanics have extremely demanding jobs where significant physical activity is required. Certain projects like working on a vehicle's wheels or suspension need the mechanic to be positioned lower than normal; auto body repairmen sanding cars day-in/day-out will also understand what I mean here.
In such situations, kneeling or bending for long periods can result in health issues later in life. Getting your mechanic friend or family member a creeper seat is a great way to show you care about their health and general wellbeing.
(Most mechanics will also tend to act tough and tell you they don't really need to sit and all but trust me; once they have a decent creeper seat that looks just as good as it works, they'll use it for sure!)
Read more: 7 Best Creeper Seats for Mechanics
A multi-tool is another handy tool you can gift any mechanic; they all need one. It's basically several tools compiled into a tiny package; think of it as a Swiss army knife on steroids. Most multi-tools come with more than ten different features like a knife, pliers, a needle, and of course, a bottle opener.
Make sure to look around; there are tons of them out there — just avoid cheap Chinese-made ones; they won't last anyway.
If you don't like the idea of a multi-tool, perhaps the concept of Vampliers might woo you. In simple words, Vampliers are pliers with a distinct jaw profile designed to handle small screws, bolts, and other fasteners efficiently. Mechanics would easily find a use for such an ergonomic tool in their daily life which predominantly involves loosening and tightening components.
Where other more "conventional" pliers fail, Vampliers get the job done.
After physical injuries, hearing disabilities are the most common occupational hazards in our profession. But many mechanics don't realize just how serious this issue is because the devastating effects take a long time to show up. Hence, a sweet pair of noise-canceling earmuffs can do wonders to prevent or mitigate any future hearing problems.
Some newer headphones also offer built-in Bluetooth, so you can listen to your favorite music or podcasts while on the job (and finally be able to listen to something else than the same AC/DC and Pink Floyd-type classic rock they play in every shop I've ever been to… Not saying classic rock ain't good, but you know, just in case you want to listen to something else, and the foreman is hogging the radio).
Most mechanics take immense pride in the way their toolboxes look. We spend hours cleaning, organizing, and maintaining our tools and waste no opportunity to brag about them in any conversation. Therefore, exotic-looking tools sets like this titanium drill bit set by DeWalt will surely make a great gift — not to mention that they work even better than they look, which is a plus.
Best Gift Ideas for Mechanics Under 100$
If you are willing to spend a little more, practical workplace accessories like an LED work light can be handy to any mechanic. Most of our work involves tinkering with intricate components under the hood of a vehicle; hence, no matter how well-lit your garage is, there will always be some dark corners left inside that engine bay, and that's exactly where the bolt you need to remove will be hidden.
In such situations, an LED work light like this 500-lumen model by Gearwrench can be easily fixed at a convenient spot, thanks to the magnetic base to provide optimum illumination wherever necessary. Of course, there are tons of different models out there, each with its own set of pros and cons.
Still, I went with this one because of the super slim design that will fit in places where traditional work lights just won't. I bought one a couple of years ago, and I can honestly say I would never go back to those cylindrical neon ones, even if they paid me.
Best Gift Ideas for Beginner Mechanics
All mechanics have to start somewhere, and at this point, a shiny new toolset can be just the thing they need to get a headstart. Gearwrench's 239-piece toolset comes with everything a beginner mechanic will need, including ratchets, sockets, wrenches, Allen keys, and a screwdriver with interchangeable bits. And even better, it all comes neatly organized in a three-drawer storage box, good enough to last until the apprentice mechanic receives a couple of paychecks and invests in a proper tool chest.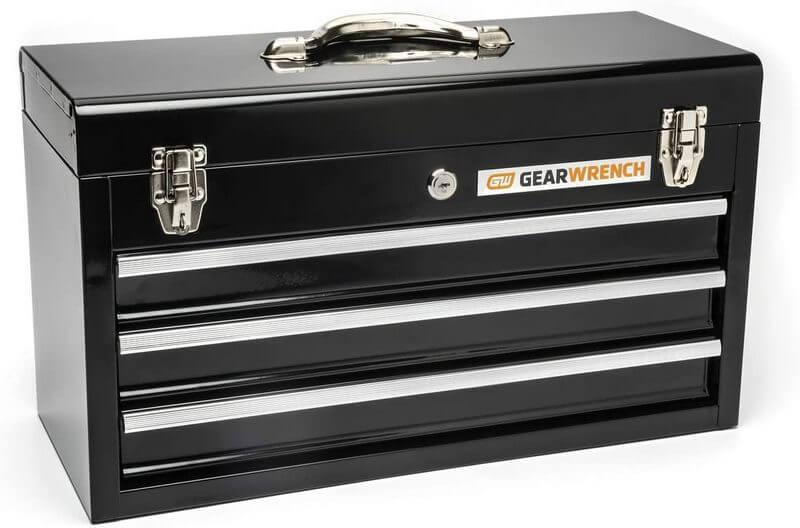 The main drawback with the previous toolset is that it's already pretty full. As soon as the beginner mechanic in your life will start to add more tools to his arsenal, he will need something a little bigger, but might not have the budget for a full-size 2 piece tool chest. In this case, a portable model like this one can be a good idea.
Of course, it won't last forever and will be quite full after a while. Still, it's a good intermediate option and can also be put on top of a workbench or a bottom tool cabinet. And once the need for a full-size tool chest arises, it's perfect as a second toolbox you can use to bring tools back from the shop on weekends and such.
Best Gift Ideas for Professional Mechanics
Professional mechanics who have been at it for a while tend to use old equipment even when it is time for a much-needed upgrade. We won't throw anything away until it is completely useless, and even then, you can trust mechanics to find a use for it somewhere in the garage. So, any shiny new equipment, like the ones mentioned below, is always welcome.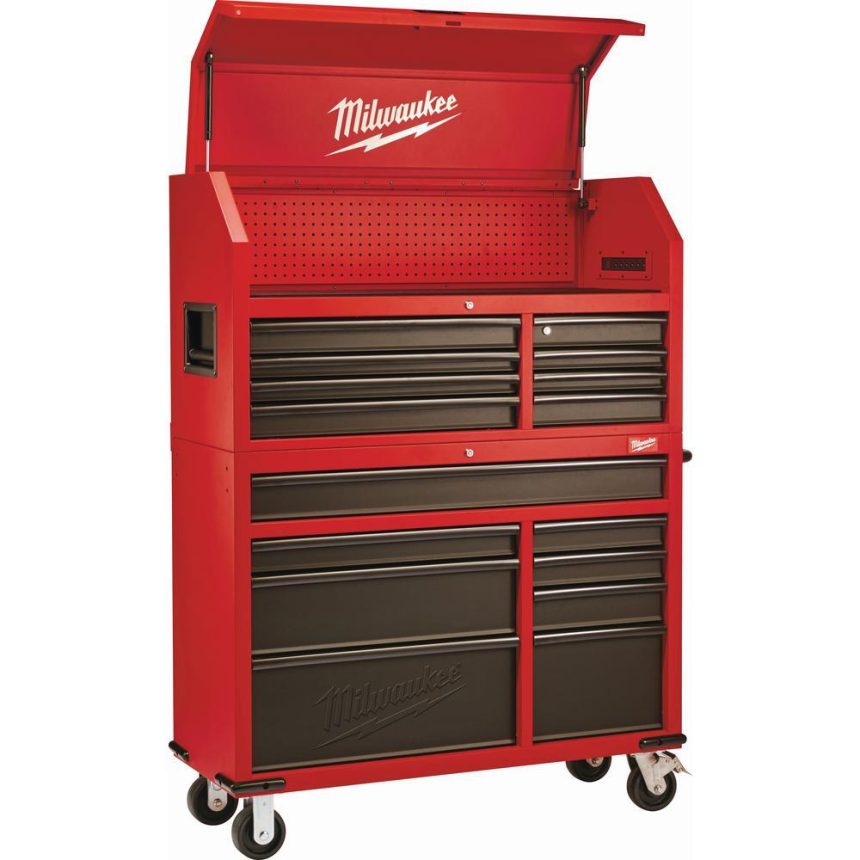 A tool chest is the perfect holiday gift for that mechanic dad who has a professional-grade tool chest at work but still has an old beaten one at home. Of course, a premium model like this one can be a little expensive but it will last for years, even in heavy-duty work environments.
Just keep in mind that mechanics have different preferences — some prefer a single bottom chest that can also be used as a workbench, while others prefer 2-piece models. Make sure to ask around and try to get some information regarding which type he would like best. When in doubt, get one similar to what he already uses at work.
Read more: 7 Best Tool Chests for the Money
While dealerships and repair shops will usually provide uniforms for their mechanics, most of us use old clothes when working in the garage on weekends. If this is the case for the mechanic in your life, a new overall or coverall might be a good idea. They look much better than an old worn-out uniform or those beat-up jeans you keep to paint and work around the house.
Not to mention that most mechanics usually prefer to invest in new tools instead of a new coverall so receiving one as a gift might be exactly what they need to look as good in the shop as the cars they work on.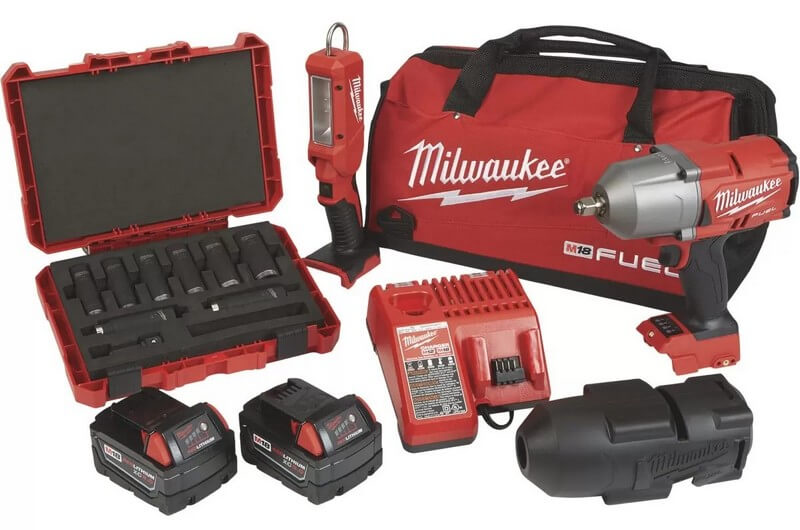 Power tools have revolutionized the way mechanics work, and that's especially true for impact wrenches. However, due to the relatively high price tag of tools, they usually keep them as long as possible. As a result, it's very likely that the mechanic in your life might still be using an air-powered impact wrench.
And while those actually do the job just fine, they are nothing compared to Milwaukee M18 FUEL Li-Ion Cordless Impact Wrench. This kit includes a high-torque battery-powered impact wrench, several sockets, two batteries, a LED work light, a charger, and a carrying bag. Milwaukee's impact toolset also uses advanced intelligent technologies providing fool-proof safety features and precise tool control.
It doesn't come cheap but it's by far one of the best battery-powered impact wrenches out there — you just can't go wrong with this one!
Read more: Best Cordless Impact Wrenches [2021]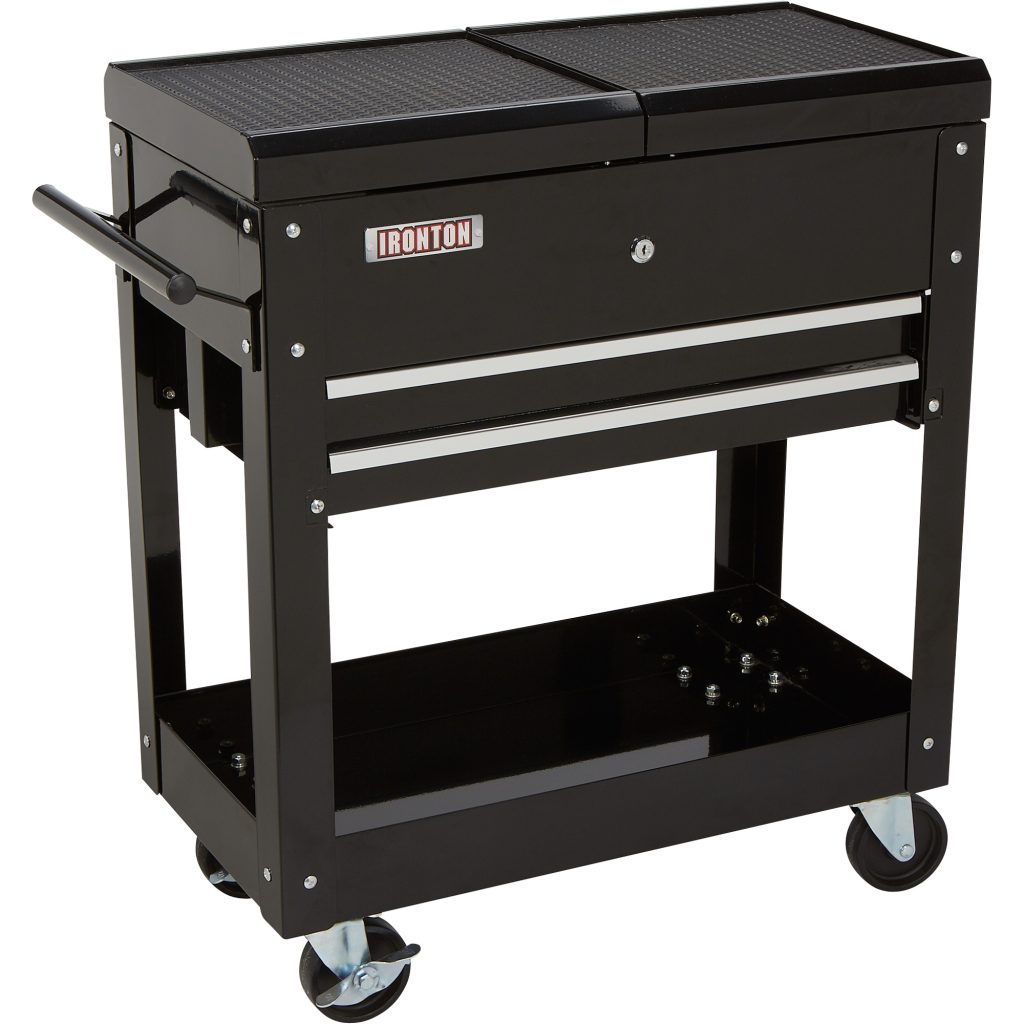 A tool cart is another valuable addition to any professional mechanic's arsenal. It's a great place to store and move around the most frequently used tools for easy and quick access whenever and wherever required. Pick a tool cart with various drawers and compartments so tools of different shapes and sizes can be easily stored. Other features, like a top workbench, locking drawers, or a power strip, are also desirable.
If you were to ask me what makes a good gift for a mechanic, I would answer something like "anything they don't use often enough to justify the investment, but that could save their lives one day" — and this is exactly what a tap and die set is.
For those who don't know, taps and dies are used to create (or repair) threads on various components. And if you were to ask any mechanic, there's nothing worst than stripping a bolt and not having the right tap to fix it. Moreover, decent tap and die set don't really come cheap so many mechanics will resort to buying the most commonly used ones separately. So of course, that's where Murphy's Law comes in and you know that the next time he strips a bolt, it will invariably be a thread he doesn't have the tap for.
Consequently, even though taps and dies may not be the most frequently used tools, every professional mechanic worth his salt should have an extensive set in his arsenal. You can be sure that next time your mechanic strips a wheel stud and can fix it instead of having to replace it thanks to your gift, he will be thinking about you.
Manual ratchets are essentials for all professional and beginner mechanics; there's no denying it. They are by far the most used tools in any tool chest. However, a cordless electric ratchet takes this concept one step further, as it requires absolutely no hand movements from the operator, saving time and reducing wrist fatigue caused by manual wrenches.
And once again, they are perfect gifts since they are not essential, somewhat pricey, and frequently overlooked in favor of other more essential tools — in most cases, mechanics can easily do without one. Nonetheless, they will make your mechanic's life much easier, which is probably the best feature tools can have.
Mechanics already work hard enough, making their life a little easier is always the best present you can give them.
Best Gift Ideas for the Perfect Garage
If you know someone setting up a new garage, or one that desperately needs overhauling, here are some great gift ideas. These may not be essential per se, but since mechanics spend a significant part of their life inside their garage, making it look a bit better is always a must.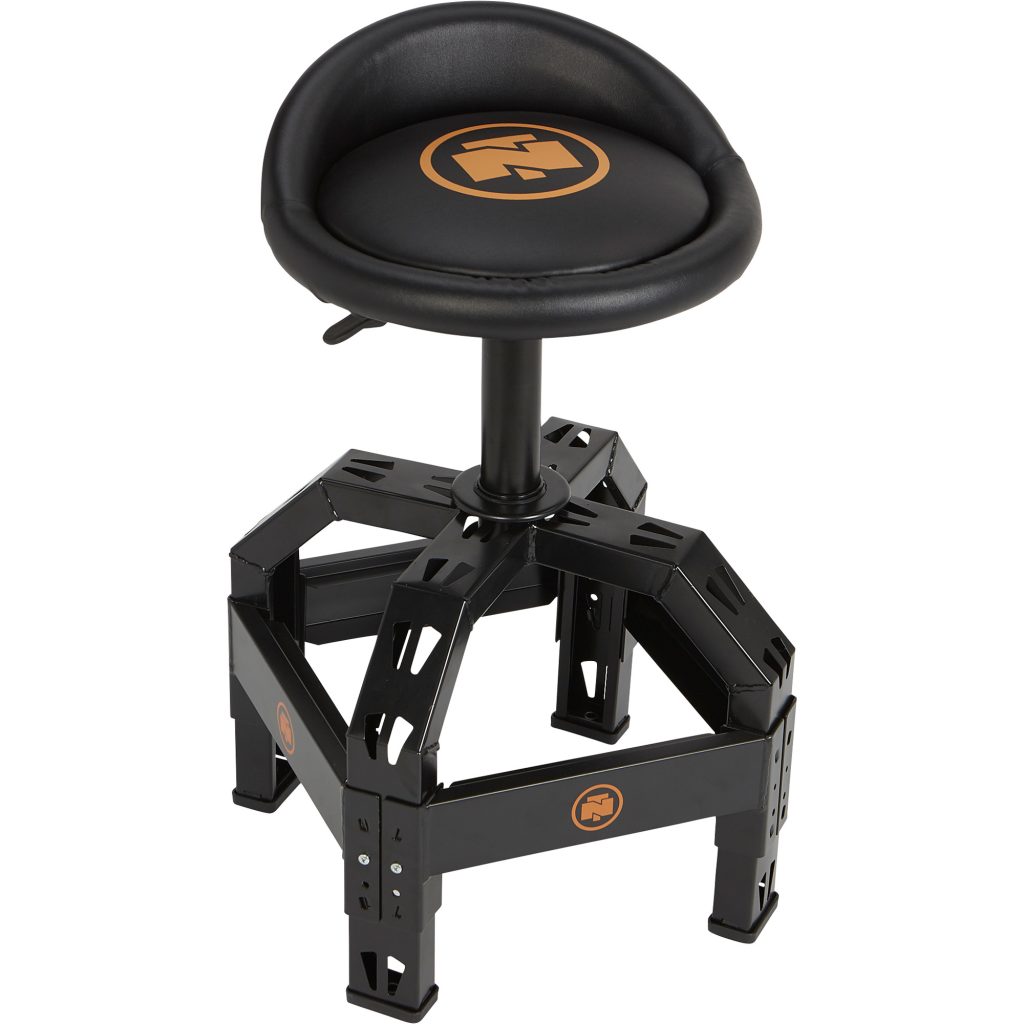 The most basic need for any garage is a stool. They will come especially handy for auto body repairmen sanding cars for hours on end or any mechanic who doesn't have access to a lift — and even if he does, a nice garage stool is always a neat addition.
Depending on the intended use (whether it's to be placed in front of a workbench or used to fix cars in a seated position), you can either pick a stool with flat feet or casters for easy mobility around the garage.
Also worth mentioning, there are thousands of stool designs out there so you can also choose one either matching his garage's color palette or one with his favorite car brand's logo.
Read more: Best Garage Shop Stools to Keep You Comfy While You Work
Any mechanic will eventually end up with tons of different fluid and oil containers, spray cans of all sorts, grease buckets, and larger tools that don't really fit in a tool chest. This can clutter their garage in no time, which is where a wall cabinet comes into play. They can be used to store pretty much anything instead of lining them up on the workbench or in a corner, keeping the garage well organized and clutter-free.
The Gladiator steel cabinet above is a good example of a budget-friendly model, but feel free to look around, as many different shapes and sizes are available.
Read more: Best Garage Cabinets for All Your Tools and Equipment
Small parts organizers serve a similar purpose as wall cabinets but for smaller stuff. Mechanics always have tons of spare bolts, nuts, washers, fuses, connectors, light bulbs, etc., and no real place to put them. When it happens, it's not uncommon to see mechanics simply pile up boxes of bolts and nuts, or store them in the smaller drawers in their tool chest. However, every inch of space on the workbench is a necessity, and filling a tool chest with anything else than tools is far from ideal.
Consequently, think about offering the mechanic in your life a handy small parts organizer. They are relatively cheap and will make his life much easier.
Read more: Best Small Parts Organizers to Properly Store Nuts, Bolts, and Whatnots
For mechanics, their garage is a lot more than merely four walls and a roof. Our garage is our little piece of heaven, our safe space, and its appearance should reflect the unique bond we share. Consequently, wall decorations make excellent gifts for mechanics. These include an assortment of vintage license plates, garage signs, and old-school car ads — the possibilities are endless here.
Automotive artwork, in any form, is one of the best gifts you can give to any mechanic, car aficionado, or petrolhead. It can be anything from a framed high-quality image of their favorite car, an oil painting, or a cartoon image with a car-related quote. And it doesn't have to cost millions, as long as it's related to cars, it's a pretty safe bet!
Best Gift Ideas for Mechanics who Already Have Everything
No matter how hard you may try to think of something new and unique, there is always that one person who seems to already have everything. If that person happens to be an auto mechanic, we've got some seriously innovative gift ideas.
If the mechanic in your life drinks, eats, and breathes cars, regular boring silverware won't cut it anymore. This tool-themed cutlery set is the perfect way to add some excitement to your meals. In addition to being ergonomic and easy to use, these are also good conversation starters. You can also look for other automotive-themed kitchen objects like tire-shaped bowls or car-related fridge magnets.

DIYers and amateur mechanics aren't exactly fond of letting someone else work on our vehicles (we know we aren't). Of course, it also means that we will first try and fix any issues ourselves, even when we're not quite sure how it's supposed to be done. To avoid that, get the mechanic in your life a repair manual for their vehicle. You can get inexpensive, reliable, and easy-to-understand repair manuals online. Simply select the suitable model and acquire a digital repair manual for easy and uninterrupted access.
When it's time for a movie night, mechanics will always prefer watching one that gives considerable screentime to cars. Besides, pretty much any movie is incomplete without a good car chase. Of course, good car movies are plenty, and creating a definitive list would be rather time-consuming. Still, movies like Le Mans, Bullitt, Ford vs. Ferrari, Rush, and Smokey and the Bandit are no-brainers.
Nothing beats a good drink after a tiring day at the shop, and the only thing that can make the experience even better is an uber-cool liquor dispenser like this one resembling a retro gas pump. It will add style and a feeling of luxury to any bar top or liquor cabinet (especially if that bar is actually in the garage).
When it's time to ditch the greasy overalls for a fancy dinner party or a trip to the opera, car-themed cufflinks will help differentiate a mechanic from the rest. Unique and quirky designs like a gear shifting pattern or 3D turbos are perfect to add a subtle touch to an otherwise classy outfit — it's the little things that matter the most.
Best Gift Ideas for Future Mechanics
There is no need to be a child behavioral psychologist to tell if a child will grow up to be a car enthusiast. If you have a future gearhead in the family, here are some cool gift ideas to nurture and help their love for cars grow.
Starting with toddlers, we have a soft toy toolset, including a hammer, screwdriver, hand drill, and handsaw. The soft and fluffy material makes this toolset safe for all children to play with and allows elders to teach them the purposes of each tool and how to use them.
Start them young, right?
For slightly older children who have developed or are in the process of developing reading abilities, automotive books can provide the required enrichment while still keeping things car-related. Depending on the child's age and skills, you can choose an appropriate book from the plethora of options available. We have included a couple of automotive-themed books for your reference (those that I would buy, in fact), but of course, you can also browse around and find one to your liking.
When it comes to kids showing clear interest in all things cars, nothing will beat a working toy engine. Not only is it quite fun to build but it will also serve as a great platform to help the child learn more about how an internal combustion engine works and what each component is used for.
And if you ask me, it is more important now than ever to teach the younger generation about this gem, considering the very real possibility that they might never see an internal combustion engine in action.
If someone had gifted me this toy engine on my 10th birthday, I would have never touched another toy.
Lego has been coming up with some excellent car kits recently for children aged between 10 and 17 years old. These kits cover several vehicles, from hardcore SUVs like the Jeep Wrangler to million-dollar supercars like the Bugatti Chiron and even classics like the vintage Ford Mustang. Choose the best category according to your child's liking and watch them spend hours working on this new project — some are so cool that you'll probably want to build it with him.
For teenagers having their eyes fixed on becoming auto mechanics, a model engine can provide valuable insights into the inner workings of an internal combustion engine. German brand Franzis makes 1:3 scale models of some of the most famous IC engines, including Ford's 1965 Mustang V8, Porsche's Carrera racing engine, and BMW's vintage flat twin engine.
Stocking Stuffers
Instead of the usual candies and goodies, go for something different this Christmas and give car enthusiasts something they will truly remember.
Candies are forgotten once consumed, but these mechanic-themed keychains will always remind the mechanic in your life how much you appreciate them. Many options are available, including turbochargers, shock absorbers, brake rotors, rims, gear shifters, NOS bottles, and much more. If you have got something else in mind, you can also opt for a personalized keychain.
As mentioned above, mechanics deal with a lot of grease oil, and fluids every day. Consequently, mechanics will frequently wash their hands up to 20 times a day, whether they wear gloves or not, which can quickly take a toll on their hands. As a result, mechanics' hands are often akin to those of an underground coal mine worker, which is only made worst if they work in a colder climate. To show how much you care, gift the mechanic in your life some heavy-duty hand cream to help keep their hands as soft as a newborn baby.
(Most mechanics will tell you they don't need hand cream but trust me; once they start using it, they will actually like it a lot… but probably in secret.)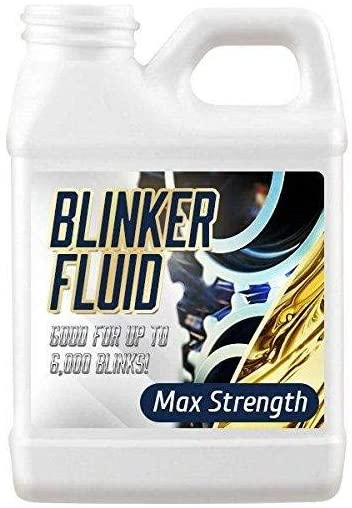 Is the mechanic in your life just starting in the field? Use this bottle of blinker fluid to play a harmless prank on the newbie (if he's not already aware of it, you might even be doing him a favor here and preventing him from getting caught by coworkers later on). It's also a pretty fun conversation starter in the shop and can be used to prank friends and the next newbie being hired lol.
P.S: If you don't get the joke yourself, better ask a mechanic.
A multi-tool pen is another gift occupying a considerably high spot on the usability scale without breaking the bank. This multi-tool pen set by RAK is loaded with valuable features like an LED light, a bubble level, flathead and Phillips screwdriver bits, standard & metric rulers, and, best of all, a bottle opener. These pens are perfect when working in a shop and will eliminate the need to fill your pockets with a separate flashlight, pen, and pocket screwdriver.
They are also perfect for employers looking for a little something to give to new employees or as thank-you gifts.
A unique trophy is a nice way to show appreciation and also look quite good on top of your repair shop's counter. Of course, they will never be recognized as official certifications but are fun addition to an otherwise serious workplace.
It's also worth mentioning that you can choose to go for either a general quote or a personalized text instead.
Last Words
Auto mechanics are truly hardworking people, and their efforts are seldom recognized. Hence, this holiday season, a thoughtful gift may be just the thing to make your loved one's day.
We hope this article will help you find the perfect gift for the mechanic in your life. If not, no worries — we are constantly brainstorming new ideas and will keep adding them to this article, so you might want to come every now and then.
And of course, if you end up going for something we haven't mentioned here, make sure to leave us a comment below and tell us what you've found; we'll make sure to add your ideas to this list too! ✌