EDITOR'S PICK
Permatex Fast Orange Xtreme Professional Grade Hand Cleaner
128oz capacity
MicroGel technology for even pumice distribution
Scent options: Ultra Cherry, Fresh Scent, Original Orange
PREMIUM PICK
3M Paint Buster Hand Cleaner
9.75oz paste hand cleaner
Contains bentonite clay, lanolin, quartz, and stearic acid
BUDGET PICK
Gojo Natural Orange Pumice Hand Cleaner
Available in 14oz or 128oz (1 gal.)
Contains pumice scrubbing particles
Citrus scent
Unlike most professions, mechanics are not afraid to get their hands dirty (literally). And there's no way around it; engines and car parts are dirty, oily, and greasy, and all of those can be pretty tricky to wash off with your regular dish soap or body wash.
Luckily, soap manufacturers recognized this problem long ago and created purpose-specific heavy-duty hand cleaners dedicated to mechanics and DIY'ers. These are soaps, lotions, or towels formulated to fight off mulish stains off the skin while leaving them soft and moisturized (hey, this is the 21st century; no need to act all tough here. Mechanics are allowed to have soft hands too these days).
Still, a quick look online will bring up a sea of mechanic hand cleaning products, all claiming to be the next best thing since the invention of fuel injection. So just in case you need a couple of pointers here and there and wondering which one actually works and which one is just a waste of money, we've gathered and reviewed 8 of the best heavy-duty hand cleaners you can buy today, along with a complete buying guide.
Oh and also worth mentioning, we are proud to report that all of these products are proudly made in the USA!
Anyway, so without further ado, let's see what we got!
Best Mechanic Hand Cleaner Reviews
I'm kicking off this review with what is probably the most famous heavy-duty hand cleaners among the mechanic community, the Gojo Natural Orange. As a cleaning agent, it's one of the most affordable and effective ones out there, able to obliterate dirt quickly. The classic Gojo smell is also worth mentioning and may or may not be a good thing depending on where you stand on the matter — some like it, some don't. However, any mechanic who worked in a shop in the last 40 years would recognize it right away.
Not only there for the scent, though, the citrus part of the formula is also there to help remove stubborn oil and grease stains off your skin. Moreover, Gojo added pumice to the mix for a spotless result, helping to scrub the dirt away. It's also nice to know that it's completely safe as it doesn't contain any harsh solvents or petroleum substances in its ingredients. Quite the opposite, it even moisturizes your skin and protects it from irritation.
You can get the Gojo Natural Orange in either 14oz or 128oz (1 gallon) format. Of course, you can get the smaller one if you want a more portable unit or give it a try for the first time. But whichever you get, they're cheaper than most lotion-based hand cleaners on the market. Hence, they are perfect for those who seek a budget-friendly mechanic hand cleaner that'll perform exceptionally well.
Key Features
Available in 14oz or 128oz (1 gal.)
Contains pumice scrubbing particles
Citrus scent
Pros
No harsh solvents
Moisturizes your hands
Cheaper than its competitors
Cons
May take multiple washes to remove heavy grease
The Grip Clean Heavy Duty Hand Soap is another excellent lotion-based hand cleaner aimed at those with more sensitive skin. The coconut oil moisturizing and nourishing your skin is really appreciated.
It's made of bentonite clay, which is incredibly efficient at absorbing oil, grease, and ink off your hand and includes gritty textured pumice for a fast clean, even under the fingernails. It also throws lime oil into the mix, giving it an extra oil cutting power and quite a pleasant scent.
As for the format, Grip Clean offers its soap in two variants — 8oz or 64oz. The 64oz jug is quite heavy and comes with a built-in pump, making it more suitable to stay at the shop but if you need something a little more portable, the 8oz tube is still good for about 30 washes on the go.
However, I'm not a fan of the container material, which feels like a grease magnet when holding it with oily hands. Yet, it's still the most portable packaging on this list for a lotion-based hand cleaner — and you can always get the bigger one anyway, which is still somewhat portable since it has a carrying handle (it only takes a little more space in the truck).
Nonetheless, it's a strong candidate for an all-natural and skin-friendly mechanic hand cleaner without compromising on power and efficiency.
Key Features
Available in 8oz or 64oz
Condensed bentonite clay with pumice
Contains coconut and lime oil
Lime scent
Pros
Fast grease removal
Moisturizes your hands
8oz container is very portable
Cons
8oz container can be challenging to holg firmly with dirty hands
Permatex is one of the best lotion-based hand degreaser brands on the market, and its Fast Orange Xtreme series is its most potent offering yet. Interestingly, there are even scent options here, including Original Orange, Fresh Scent, and Ultra Cherry. I personally fancy the cherry one, which is a nice change from the more common citrus smell found in pretty much every other hand cleaners out there.
While sent options are a neat addition, the main formula won't disappoint either, including several heavy-duty cleansing and moisturizing ingredients such as glycerin, lanolin, and aloe vera. Not only will the Xtreme Series effectively cut the grease off your hands, but it will also leave your hands smooth, thanks to the excellent moisturizing power. Moreover, Permatex's MicroGel technology evenly distributes pumice to every part of your hand, really helping with all those dirty creases.
However, it's important to mention that Fast Orange Xtreme products are only sold in a 1-gallon format, with a built-in pump and carrying handle. Though it's a shame they don't offer a more portable size, you won't regret the investment. It's genuinely one of the most effective mechanic hand cleaners you can get for the price.
Key Features
128oz capacity
MicroGel technology for even pumice distribution
Scent options: Ultra Cherry, Fresh Scent, Original Orange
Pros
Various scent options
No harsh solvents
Moisturizer will leave your hands smooth
Cons
Not available in a more portable packaging
Some mechanics are more mobile than others, and there might be times when water is not easily accessible. And if you are like me, you also hate those "waterless" soaps leaving your hands all sticky and weird after use. Luckily, Gojo's Fast Towels are there to save the day!
Unlike the lotion-based cleaners we've discussed so far, the Gojo Fast Towels achieve the same result with sand-textured and pre-moistened disposable towels—think of them as multi-purpose baby wipes, but for grown-ups (and for your hands lol). Oh, and I said multi-purpose because you can also use them to clean dirty tools and surfaces too.
But just like regular baby wipes, they are also super gentle on your skin, using a government-regulated VOC-compliant formula, proved safe and non-toxic. It also contains a bit of skin moisturizer to help prevent dryness and irritation, and Gojo's trademark citrus scent.
The Gojo Fast Towels' packaging varies according to its sheet count, available in 25, 60, 80, or 130 sheets formats. Whichever you get though, they're all relatively inexpensive and easy to carry around. However, keep in mind that you'll have to watch out and make sure that the lid stays shut tight or the towels will dry out (nothing a little duct tape can't take care of).
Overall, if you want a highly effective hand cleaner that's easy to use and requires no water, you can trust Gojo's Fast Towels to work their magic for you.
Key Features
Textured pre-moistened disposable towel
Available in 25, 60, 80, or 130 sheet count
Citrus scent
Pros
Can be used for cleaning hands or surfaces
Doesn't require water
Moisturizes your hands
Cons
The towels can dry out rather quickly when not stored properly
The Tub O' Scrub is your best option if you want an eco-friendly mechanic hand cleaner. Notably, it doesn't contain pumice like most heavy-duty hand soap and instead relies on a biodegradable ingredient, walnut shells to be exact, to kick out that stubborn oil and grease. The innovative formula gives it an advantage over more traditional alternatives like pumice as walnut shells are biodegradable and much safer for the environment, but also your plumbing system (if you don't have a dedicated washtub in your garage and need to use the kitchen sink instead, this one might be worth the investment).
Moreover, it contains aloe vera, lanolin, and vitamin E so it'll not only superbly clean and moisturize your hands, but also make your skin super soft.
You can get the Tub O' Scrub in 18oz, 64oz, or 128oz formats. If you plan to try it for the first time, the smaller 18oz tube is cheap and convenient to carry around. Still, going for the bigger ones will bring a better return on investment.
If you are looking for a waterless hand cleaner and the guilt-free experience of using an all-natural product, this is your answer. And yes, I get the irony of adding a waterless soap right after having said that these usually leave a weird feeling after use, but trust me, this one is like any other out there.
Key Features
Available in 18oz, 64oz, or 128oz
Biodegradable and lotion-based
Contains aloe vera, lanolin, and vitamin E
Pros
Plenty of moisturizing ingredients
Very eco-friendly
Requires no water
Doesn't clog the drain
Cons
Takes more effort to scrub off tough greases
6. WD-40 Lava Bar – Best Heavy Duty Soap Bar
Some mechanics still prefer a good ol' soap bar for cleaning their dirty hands and that's totally cool too. But consequently, it's no surprise to see that WD-40 kept producing its famous Lava Bar for over a century!
Yes, the Lava Bar has been around since 1893, and it's an incredibly well-known hand soap amongst DIY'ers, cold miners, and oil rig workers. Not only does it last pretty long, but the pumice particles are some of the most powerful ones out there, effortlessly cutting through even the toughest grease and grime.
The compact size allows to keep it beside the sink like any other ordinary bar soap, without taking as much space as the bigger pump-jars out there. Also, similar to other excellent mechanic hand cleaners, it contains moisturizer and leaves a subtle aromatic scent.
But the best thing is that you can get it for pretty cheap nowadays, making it a no-brainer if you want one of the finest and most reputable heavy-duty soap bars available.
Key Features
5.75oz bar soap
Contains pumice and moisturizers
Subtle perfumed scent
Pros
Cheap and long-lasting
More effective than some liquid soaps
Contains moisturizing agents
Available in twin packs
Cons
Slippery (just like all soaps, though)
Somewhat contradictory to the Lava Bar, the Knuckle Scrubber hand soap is relatively new to the game. Still, it instantly amazed me with its unique design combining a scrubber block and a soap bar into one compact unit. Both components work together for a more efficient stains removal and reach even under your fingernails.
The funky design is not just a gimmick, though, as it's complemented by high-quality ingredients such as sodium laurate, sucrose, and titanium dioxide, giving it extra cleansing power. Moreover, it moisturizes your hand with aloe vera, and the apple scent is pleasant and fresh. However, keep in mind the stiff scrubbers could hurt your skin if you're not careful.
This heavy-duty scrubber soap weighs in at just 5.5oz, and the price is surprisingly pocket-friendly. If you want something that seems a little more from the 21st century than the 100 years old Lava Bar above, this might very well be what you need!
Key Features
5.5oz soap bar
Built-in scrubber
Apple scent
Pros
Affordable
Very compact
Comes with moisturizer
Super easy to use
Effective dirt removal
Cons
The scrubber is a bit harsh on the skin (but sometimes, going soft just won't cut it)
When all else fails, give the 3M Paint Buster a go!
As the name suggests, the Paint Buster hand cleaner is made to remove stubborn automotive paint, fillers, and sealants from your skin. However, the purpose-built design might be a bit overkill for day-to-day dirt like engine oil and bearing grease. So it might not be for daily use, but when you'll need it, you'll be happy you have it.
Unfortunately, despite having a pleasant subtle smell, it doesn't contain any moisturizing ingredients, so you might want to purchase an additional hand creme here. Nonetheless, it does have some quartz particles to make sure it reaches even the tiniest creases.
As for the price, there's no denying it, it's quite pricey for the size. On the other hand, don't let the rather small tube fool you, you really need only a small bit at a time. Regardless, if what you need is a stronger than most but still safe cleaner that can get rid of any unwanted substances from your hand, this is the one.
Key Features
9.75oz paste hand cleaner
Contains bentonite clay, lanolin, quartz, and stearic acid
Pros
Highly portable
Fast dirt removal
Suitable to remove paint, body filler, adhesives, and sealants
Works really really well
Cons
On the pricier side
No moisturizer ingredient
If you are like me, you'll probably always forget to put that darn mechanics-oriented hand cleaner on your list and will eventually run out — and you'll only realize that once you are dirty and greased up to the elbows. When it happens, you can always use the dishwashing soap and sugar method (my grandfather showed me this one when I was a kid, explaining that "this is all they had in his days" and so on.
It's a tried and true method and will do just fine when you don't have anything better to use. Simply pour some dishwashing soap in the palm of your hand and add some sugar — probably about a teaspoon of it. As a result, you'll get a redneck version of a regular mechanic's hand cleaner, with the dishwashing soap acting as an anti-grease agent and soap as pumice. Don't pour water on your hands just now, and instead, rub your hands together well first. The soap and sugar will form a paste, really effective to scrub out grease and dirt.
Of course, going for an antibacterial soap containing some kind of moisturizing ingredient is your best bet here, as it will replicate the effect of more expensive purpose-built soaps. But honestly, at this point, any liquid soap would do.
However, it's important to mention that since sugar will eventually dissolve in water, you might need to repeat the process a couple of times but trust me; it actually works quite well!
---
Buying Guide: What to Consider When Buying Mechanic Hand Cleaners
Grease and Oil Cutting Power
Of course, the idea behind heavy-duty hand cleaners is for their excellent grease and oil cutting power. To choose one that does the job effectively, start by looking carefully at the ingredients. For instance, citrus is ideal, as citric acid is an excellent substance for cutting through sticky lubes. Not to mention it smells quite nice too.
Furthermore, you'll most likely prefer something with pumice or scrubbers if you'll be dealing with tough grease. Their sandy or coarse texture can make all the difference due to their ability to scrub out oils and greases.
Safe and Healthy Ingredients
No matter how effective a hand cleaner is, it's rather pointless if the ingredients harm your skin. Mechanics wash their hands a thousand times a week, especially if they don't wear gloves. Always seek a safe formula. Preferably one that is nature-friendly, biodegradable, and non-toxic, so they don't leave your skin too dry after repeated use.
That said, you want to avoid any hand cleaners containing solvent or petroleum. Although they quickly detach oil from your skin, they will cause your hands to dry out and crack, doing more harm than good in the long run. In worse cases, they might even cause skin irritation or diseases like dermatitis. Once again, this is 2021 so let's be smart here stop rubbing petroleum on our skin more than necessary. If you are like me, you are already covered in some petrol-based substance more often than not so maybe leave your soap out of it—you deserve it too.
Thankfully, all of the hand cleaner products featured above are free from any of those harmful chemicals, so nothing to worry about here.
Moisturization
While the worst kind of hand cleaners leave your hands dry like the desert, the best ones will keep them hydrated. Moisturizers are essential to keep your skin protected against irritation or other skin problems. Thus, make sure the hand cleaners you're getting contain some moisturizing ingredients like coconut oil, olive oil, vitamin E, or aloe vera.
If your hand cleaning product doesn't come with moisturizer, you'll need to get a separate one that you'll use right after the wash. But then it's much easier to have an all-in-one product from the start, no?
If you work in a cold climate, using a moisturizing soap will also help reduce those nasty cracks—you'll thank me later.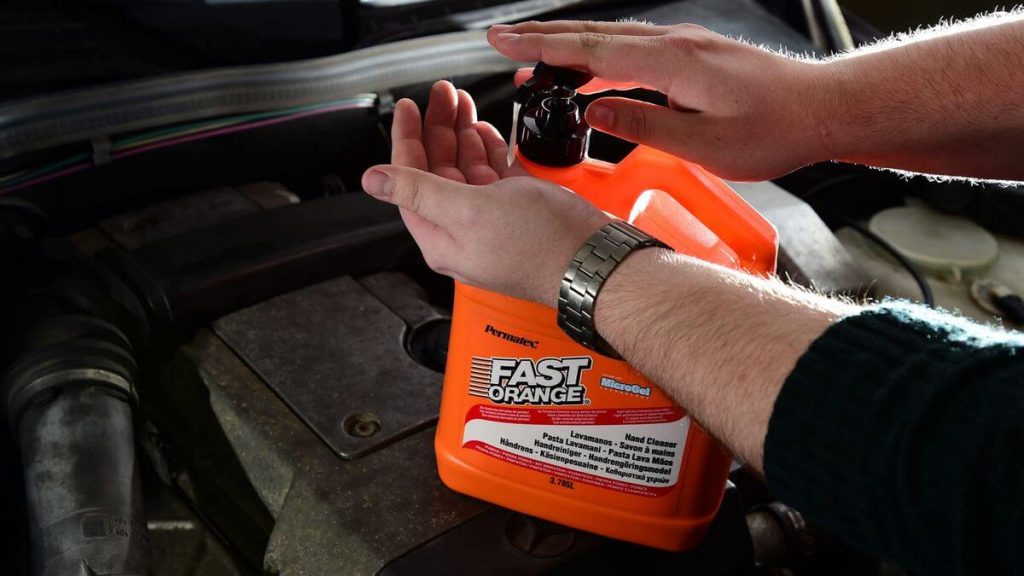 Portability
If you're a mechanic who works at the same shop every day, portability shouldn't really be a concern for you. Get a gallon of a heavy-duty hand cleaner, stick it near the washtub, or sink for the lucky ones, and then you're all set.
However, mobile mechanics, detailing technicians, and security system specialists going from dealer-to-dealer might prefer a smaller packaging (ideally less than 20oz) that's easier to carry around. Thankfully, most mechanic hand cleaners are offered in multiple formats to suit everyone's needs.
Also, if you're a mobile mechanic, there are chances you might not have access to water (or think that asking a customer to use their kitchen sink and dirty it all up with your filthy paws might be pushing it a little), look for waterless hand cleaners instead, such as the multifunction Gojo Fast Towels or the biodegradable Tub O' Scrub discussed above.
Keep in mind that mechanic hand cleaners are not an everyday household necessity, and you may need to bring your own just in case the place you're visiting isn't providing them.
Scent
Although it's not the most important thing to consider, the subtle smell of a hand cleaner does add to the clean feel. It helps eliminate the unpleasant oil and grease smell, making you feel more comfortable or confident when interacting with other people (not smelling like crap after a full engine job in the middle of summer when having to meet the client in the office after is already challenging enough, scented hand soap surely won't hurt lol).
Nowadays, most heavy-duty hand cleaners are fruit-scented from the get-go. Orange citrus is by far the most common, but there are also other fragrances.
You be the judge here.
Frequently Asked Questions (FAQs)
Can water remove oil and grease?
No, it can't. Without anything else, water only glides over oil and grease without removing anything. Thus, all heavy-duty hand cleaners are made with specific ingredients to fight off those substances effectively.
How to remove oil and grease from under fingernails?
The oils and greases below the fingernails might be the hardest to remove. As the gap is tiny, sometimes running your hands with a heavy-duty cleaner alone still won't cut it. So, in this case, get a scrub brush to assist the hand cleaner in reaching the dirt under your nails and cleaning them off.
Verdict
Mechanic hand cleaners are offered in many forms, but all of them should do at least one thing well: clean your hands from that unwanted dirt. Remember that you'll want something strong and effective but also gentle on your skin, all at once. On top of that, a pleasant fragrance is definitely a plus.
Having said that, if you really want my two cents, Gojo's Natural Orange carries a great deal to those who seek the best value for money. It's one of the most effective and affordable heavy-duty hand lotions out there, and I hardly know any mechanics who aren't familiar with this product. You just can't go wrong with this one.
Meanwhile, if you want something a bit more powerful and don't mind spending a little more, the Permatex Fast Orange Xtreme gets rid of your stains even faster by adding slightly stronger ingredients and a bit more pumice into the mix.
When all else fails, the most hardcore heavy-duty hand cleaners you can get is the 3M Paint Buster paste, period. It will clean out the toughest stuff, including car paint and body filler in a jiffy, and all that while leaving your hands fresh, clean, and smelling nice in the process.