No matter how big your garage is, chances are you will always find yourself wishing for more room to store all your tools and equipment. And since this problem will only worsen (we both know you won't stop buying tools any time soon), you will be left with no choice but to park and fix cars in your driveaway—but that's not happening.
Of course, decluttering is the best way to make the most of your garage's available floor space. But let's face it, everything stored in your garage is already necessary—otherwise, it wouldn't be there, right? So, the next best thing here is to increase the storage space by investing in a nice set of overhead ceiling racks for your garage.
Getting an overhead ceiling rack lets you increase the available storage capacity by utilizing space that would typically be left unused. As a result, you get more space without compromising—a win-win situation.
However, it is easy to be confused by the plethora of online options. Thus, to help you pick the best model according to your specific needs and budget, we have carefully curated and reviewed seven of the best overhead ceiling racks we could find to significantly increase the storage space in your garage without breaking the bank.
Enjoy!
Best Overhead Ceiling Garage Storage Rack Reviews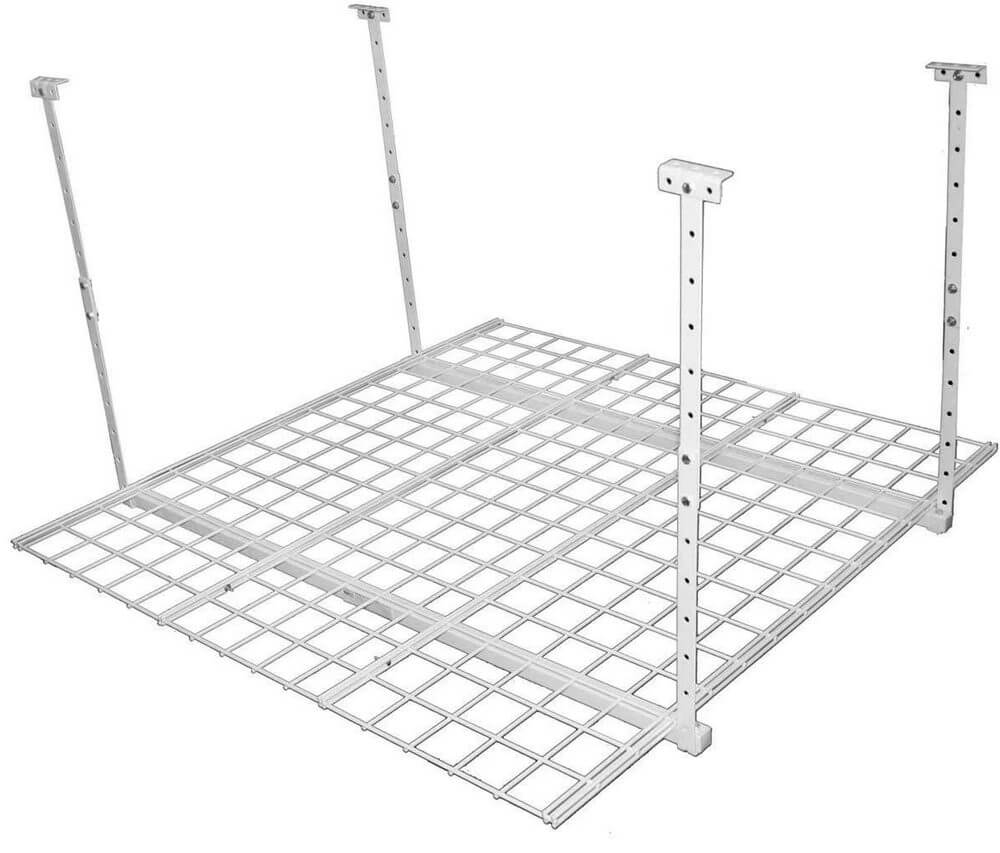 The HyLoft 00540 is your conventional 45″ X 45″ ceiling-mounted garage storage platform, perfect for storing different loose or organized equipment in bins or storage boxes. The platform is built entirely from steel, making it sturdy and durable, and the scratch-resistant powder-coated finish will ensure your rack looks as good as new, even years down the line.
HyLoft's garage storage rack comes with vertical support bars, adjustable between 17″ to 28″ below the roof, depending on space constraints. In its maximum height position, the HyLoft 00540 overhead ceiling rack provides over 30 cu. ft. of usable storage space and is tough enough to hold up to 250 lbs.
It might not be much, but it does what it's supposed to do quite well. Not to mention that the straightforward installation process and affordable price tag make the HyLoft 00540 the best overhead ceiling rack for those on a budget.
Highlighted features
Storage rack dimensions: 45″ X 45″ X 28″
Available storage volume: 30 cu. ft.
Maximum load capacity: 250 lbs.
All-steel construction
Height adjustable from 17″ to 28″
Pros
Durable powder-coated finish
Height adjustability allows for mounting on sloped ceilings
Easy assembly and installation process
Budget-friendly storage rack
The high weight limit allows for storing bulky items
One-year manufacturer warranty
Cons
Stored objects can be difficult to reach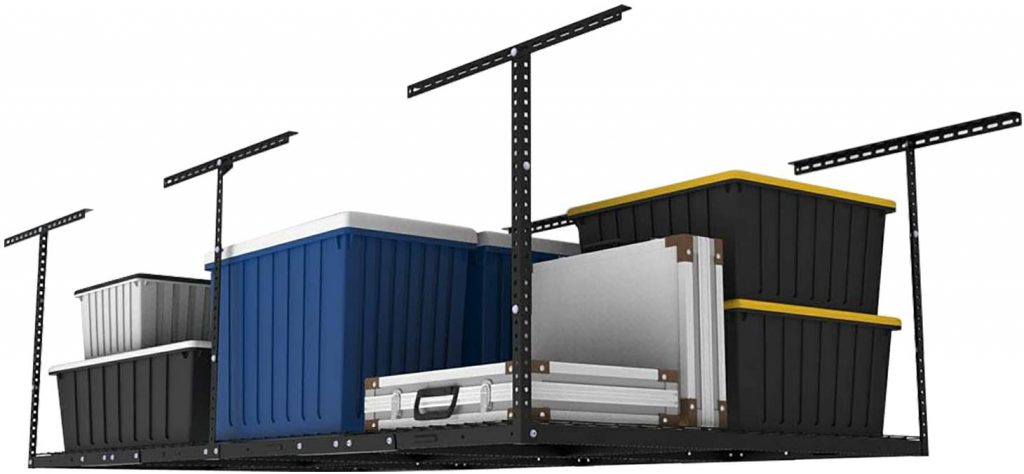 The Fleximounts GR48B is another excellent overhead ceiling rack for your garage but offers much more room than the previous model. The main platform is built from heavy-duty cold-rolled steel, resulting in an incredibly sturdy overhead garage storage rack capable of holding up to 600 lbs.
The main platform measures 96″ X 48″, making it spacious enough to accommodate a wide variety of equipment. If you have a high-ceiling garage, the GR48 B's height adjustability feature will also come in handy; it allows you to adjust ceiling dropdown height between 22″ to 40″. Utilizing the maximum volume will give you around 105 cu ft of storage space, more than adequate for most households.
The Fleximounts GR48B is the perfect overhead ceiling rack for those looking for significantly more storage space than the previous model. However, accessibility issues remain the same—you'll still need some stepladder to reach whatever you keep on there. Hence, it's much more suited to store items you seldom use, like winter tires and Christmas decorations, than everyday tools.
Highlighted features
Storage rack dimensions: 96″ X 48″ X 40″
Available storage volume: 105 cu. ft.
Maximum load capacity: 600 lbs.
Cold-rolled steel construction
Height adjustable from 22″ to 40″
Pros
It provides plenty of storage space
It comes with detailed and straightforward instructions
Incredibly strong and long-lasting frame
Height adjustable support arms
Welded wire deck holds your cargo safely
Reasonably priced
Cons
Not meant to store frequently used items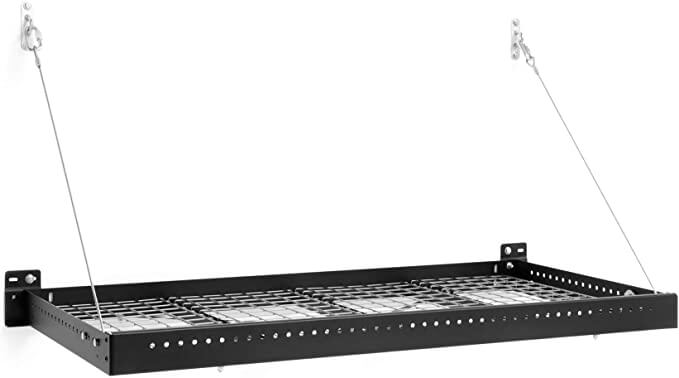 Newage has some sick engineering going on with its shelf designs. This is a good alternative for people who want a minimalistic storage option without compromising quality. The company was recently set up and offers the best after-sales service we've seen. From DIY guides to cheap installation options, NewAge has thought of everything.
This shelf design measures 24 inches in width and 48 inches in length, giving you enough space to store everyday items. The Pro Series uses 2″ bolts to secure the mounts in place and, once mounted, can support up to 600 lbs, thanks to the heavy gauge steel engineered for strength. Aircraft-grade steel support cables tested to 3000 lbs are also provided, which can be used to mount this shelf overhead or in a lower, easy-access position, meaning no ladders are necessary!
Furthermore, the package includes high-strength fasteners that you can use either on wood or concrete and can be installed only 18 inches from the ceiling. Hence, it's one of the most versatile overhead storage racks out there that will work for various items, both larger and smaller. Besides, NewAge offers the product in black and white, so you can better match it to your garage.
Highlighted features
Storage rack dimensions:
Available storage volume: 8 sq. ft.
Maximum load capacity: 1000lbs
Jet black powder coating, which matches with other storage options from NewAge
Aircraft-grade steel
High-strength fasteners and hardware are included for wood or concrete installation.
Support cables can be secured to wall studs, ceiling joists, or other shelf units
C-shaped, front perimeter beam design
Steel wire decks for even weight distribution
built-in safety features such as the diagonal support bracket for added stability and the 1.5-inch safety lip to prevent gear from sliding off
Limited lifetime warranty
Pros
Multiple mounting options
Adjustable height
It can be combined with other storage options
It also comes in white
Innovative design using cables rather than steel supports
Cons
Assembly required
It's a bit pricey
The E-Z Garage Storage: Overhead Storage Rack is a ceiling-mounted modular garage storage system allowing you to create additional storage space as and when required. E-Z Garage Storage's clever design consists of adjustable rails supporting plastic bins or "totes" that can be used to store your items. And the best part is, you can add as many rails as you want and even cover your whole garage if you want.
In the starter kit, you get two 80″ support rails that act as the foundation and four 88″ channel rails tasked with holding the storage totes. Depending on the size of the totes you choose, you can adjust the distance between each channel rail for a perfect fit every time.
Another significant advantage of this overhead storage rack is the straightforward and quick installation process. There is no complicated pulley system or multiple time-consuming assemblies; all you need to do is install the support rails to the ceiling joist, mount the channel rails onto them, and voilà! You have a fully functioning ceiling storage rack capable of storing items weighing up to 450 lbs.
E-Z Garage Storage's model allows you to neatly organize your items and access only the required storage bin instead of rummaging through messy storage racks. Even better, you can even personalize the storage bin volume based on your requirements. On the other hand, this is another system that will require a stepladder to get to, so you be the judge.
Highlighted features
Storage rack dimensions: 80″ X 82″
Available storage volume: varies based on storage bin size
Maximum load capacity: 450 lbs.
High-grade steel construction
It holds up to 12 totes
Pros
Highly efficient overhead storage system
Modular design allows for excellent flexibility
Straightforward installation procedure
Compatible with any tote or storage bin
Made in the USA
Lifetime limited warranty
Cons
Totes not included
It costs more than other models
Cannot store larger items

This overhead rack is another good option for garages, thanks to the 18 gauge steel and 96 x 48 x 45 inches size, suitable for storing large items. The company also offers storage boxes to fully take advantage of this rack's 120 cubic feet of space. Again, like NewAge's, it provides white and black powder coating finishes that blend well in any garage space.
MonsterRax is a veteran-owned company, and we think that this makes it a good choice for reliability. The company always looks at consumer reviews and carries out significant load-bearing tests on all its storage products.
The MonsterRax can hold up to 500 lbs of weight, thanks to the quality steel and sturdy ceiling mounts. It also has an adjustable dropdown from 24 to 25 inches, an excellent feature for garages with lower roofs.
Thus, the MonsterRax is an excellent option for storing bulkier items like bikes and holiday decorations, but it can also conveniently store smaller items like tools. Just make sure that the bolts are strong enough (you might want to purchase bigger ones), and you'll be fine!
Highlighted features
Storage rack dimensions: 12″ – 21″, 18″ – 33″, 24″ – 45″
Available storage volume: 264 cu. ft.
Maximum load capacity:
Available in a 2-rack pack
18 gauge industrial alloy steel
Easy step-by-step instructions and a full support center to assist you
Case-hardened bolts for solid connections
Scratch-resistant, water-resistant, and rust-resistant
Compatible with a range of accessories
Steel wire decks provided
Pros
Extremely durable and sturdy design
Large storage space
Strong ceiling mounts prevent rack movement
Assembly of parts is easy
Multiple mounting options, so once fixed, can be adjusted to make space for doors and cars
It can be combined with other racks
Cons
Comparatively lower weight capacity
Bulky design
Longer shipping times
It may require stronger bolts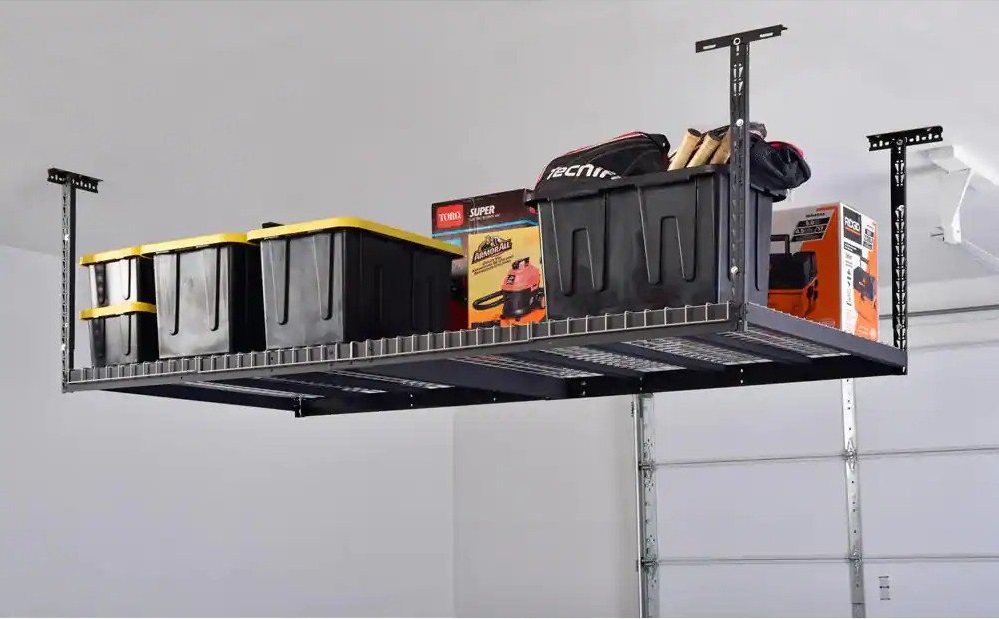 Like the MonsterRax, this is also a good option if you're looking for overhead storage space in your garage. Measurements are again 4ft by 8ft, providing ample storage space — up to 104 cubic feet.
Made from industrial-grade steel, Husky's packaging and attention to detail are impressive, and they have everything covered, from fast shipping to installation guides.
This overhead rack has a steel rivet design capable of handling loads up to 600 lbs — although the entire thing weighs less than 90 lbs! A black (and white) powder coating finish is available to better match your garage.
Furthermore, Huskey's overhead ceiling garage rack has adjustable carriers, making it a great option for lower and higher ceilings.
Still, although this product seems sturdy enough for home use, I found that the welds don't look as good as on some other premium racks. The overall construction also seems less sturdy, though I have no doubts it will easily carry 600 lbs.
Highlighted features
Storage rack dimensions:
Available storage volume:
Maximum load capacity: 600 lbs
Weight: 83 lbs
Made of industrial-grade steel
Necessary hardware and instructions are included, and the company provides full customer support
Adjustable height for versatility because of the adjustable bracket design
Black or white scratch-resistant finish
Creates additional space for your vehicle, boat, or workshop
Pros
Lightweight design reduces the overall load on the ceiling mounts and increases weight capacity
Great packaging
Fast and efficient customer support
Relatively easy to install because of the lightweight design
Lifetime warranty
Cons
Less sturdy design tends to swivel because of smaller ceiling mounts
Weak welds, so not recommended for heavy storage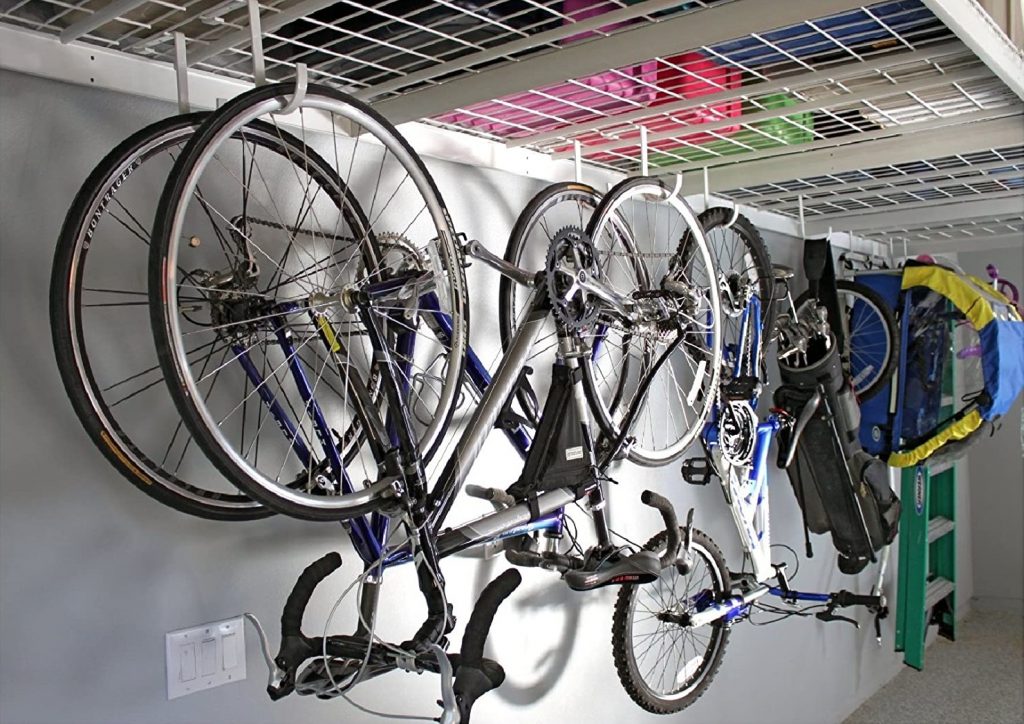 When it comes to creating extra storage space in your garage, nothing will ever be enough. No matter your storage capacity, you'll always need to buy more tools. Therefore, SafeRacks also offers a hook accessory package to clear the clutter without buying another overhead storage rack.
This inexpensive hook kit consists of ten deck hooks, four rail hooks, and four utility hooks. The deck hooks can be mounted anywhere on the rack's metal wire grid, and you can use a pair for hanging mountain bikes. The rail hooks latch onto the rack's main beams and can be used to hang golf bags, backpacks, and much more. Lastly, the utility hooks have vertical support arms to hold oversized equipment like ladders, gardening tools, or mops.
It is easy to underestimate the extra storage space you require for your garage, but a set of accessory hooks instantly provides you with a place to store various pieces of equipment. Want my honest advice? Just buy an extra set of hooks, just in case—you'll thank me later!
Highlighted features
Package dimensions: 10″ X 10″ X 4″
18-piece accessory hook set
The kit consists of ten deck hooks, four rail hooks, and four utility hooks
Alloy steel construction
Pros
Accessory hooks compatible with nearly all storage racks
White powder-coated finish
Low cost
Easy to install or remove
Limited lifetime warranty
Cons
It can be potentially dangerous if you are not careful
What to Consider When Buying an Overhead Ceiling Rack for Garage Storage
Safety
The last thing anyone wants is your overhead storage rack to fail under load and potentially injure you or damage your beloved car sitting underneath. To ensure that doesn't happen, pick a model that offers locking mechanisms or other safety features for complete peace of mind.
Weight capacity
Each overhead garage storage rack has a maximum weight rating that you must not exceed. The figure is calculated after considering several factors like construction, material, and configuration. Pick an overhead ceiling rack for your garage with a high weight rating, so there are no restrictions on things you can store. Weight capacity anywhere above 400 lbs. is enough for most household applications, but 600 lbs. can't hurt either.
Storage volume
Weight capacity isn't the only thing that governs what items you can and cannot store in your overhead ceiling rack. The available volume of space, usually measured in cubic feet, also plays a significant role. The higher the available storage volume, the more room you have.
Accessibility
Conventionally designed overhead ceiling racks for your garage are generally fixed in nature, which makes them only useful to store items that aren't needed frequently. However, pick a lift-type overhead garage rack if you need additional storage for often-used items.
Ease of installation
Buying an overhead ceiling garage rack online means you will be stuck with nothing but an instruction manual and your skills. In such a situation, the last thing you want is to get the installation process wrong and end up with weak joints or any other irregularities that could lead to failure under stress. So, pick an overhead garage rack that is simple to install, and if you still aren't sure about your work, call in an expert before using the rack.
Frequently Asked Questions (FAQs)
Are overhead garage storage racks safe?
This question is challenging to answer as many factors contribute to a safe overhead ceiling storage rack. Firstly, the rack needs to be appropriately built and made from high-quality materials that stand the test of time. The installation process is equally important; if you aren't sure of your skills, we recommend calling a professional who will do the job right.
If those things are taken care of beforehand, you probably don't have anything to worry about as long as you don't overload your overhead ceiling garage storage rack.
Which ceiling joist configuration do I need to install overhead storage racks in my garage?
Since overhead storage racks for your garage are rated to hold significant weight, they must be very carefully installed onto the ceiling joists. The spacing between ceiling joists differs from garage to garage and must be determined before buying the rack. There is no universal spacing followed, which makes it challenging to provide a definite answer. In such a situation, we recommend checking the ceiling joist requirements for your overhead rack and checking compatibility beforehand.
Verdict
When it comes to storage needs, there is no "one size fits all," as every household is different and unique in its own way. Therefore, we can't pick only one winner, as each overhead ceiling garage rack in the list is excellent at what it does. However, that doesn't mean they suit your particular setup.
And, after all, it's also a question of personal preference. Luckily, we have already done half of the work for you and selected only the best overhead ceiling rack we could find for garages. Now is the time to finally declutter your garage floor and satisfy your OCD with perfectly organized overhead storage racks.