EDITOR'S PICK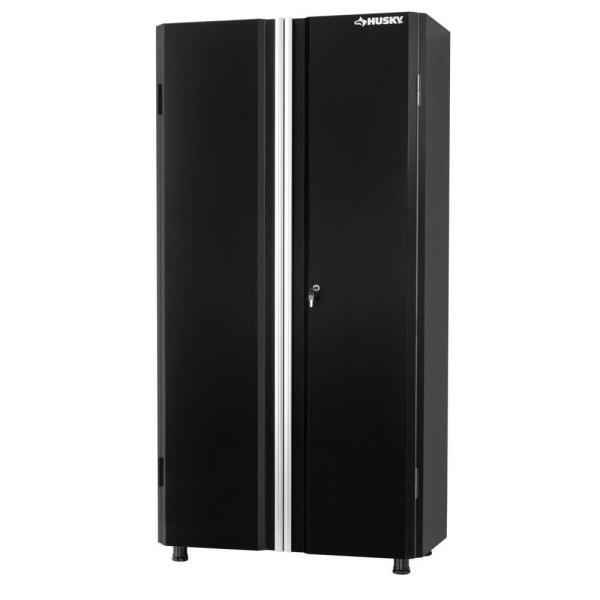 Husky G3602T Tall Storage Cabinet
Lifetime limited warranty
Highly durable and sturdy garage cabinet
Safety and security of your belongings guaranteed by a locking mechanism
Strong double-wall doors for added security
Impressive storage capacity and versatility
Numerous pegboards
PREMIUM PICK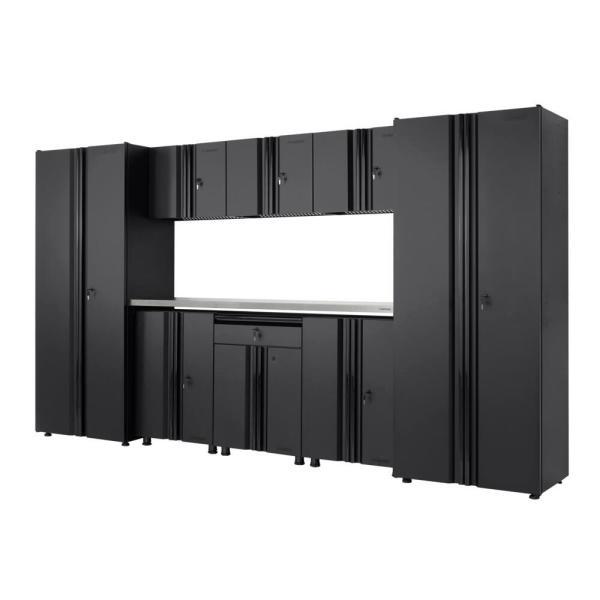 Husky GS13209-SS Steel Garage Cabinet
Lifetime warranty
Comes with an integrated workspace
Long handles for easy access
Different types of cabinets allow for versatile storage solutions
Lots of storage space
Comes pre-assembled
Adjustable shelves
BUDGET PICK
Gladiator GAWG28KDYG Steel Cabinet
Strong and sturdy steel construction
Comes with hanger brackets
Adjustable and removable shelves
Reasonably priced
Lightweight garage cabinet
Allows for versatile storage methods
Whether you are a professional mechanic or just like to spend time working on cars for fun, one thing is certain: you'll always need more storage space for all your tools and equipment. For that purpose, the straightforward choice would be to buy a rolling tool chest. But tool chests are only suitable for hand tools and such, and even then, it might still not be enough. This is where garage cabinets come in. You can use them to store a wide variety of stuff like paint cans, power tools, oil bottles, and in an organized manner so you always know where everything is.
However, garage cabinets come in several different shapes and sizes, and there is no one-size-fits-all. Rather, you need to pick the cabinet that not only has the required storage capacity but also fits in the available space. To help you with this sometimes overwhelming task, we have carefully handpicked a few of the best garage cabinets available out there.
Of course, we made sure to pick a little something for everyone. So no matter whether you have a huge 4-stall garage or a tiny one, we've got something for you!
Best Garage Cabinets Reviews
The Gladiator GAWD28KDYG garage cabinet has a rugged silver tread appearance combined with a thick steel body. Strong, sturdy, reliable; it is everything you want in a garage cabinet. Gladiator's model is designed to be wall-mounted, so you can get a whole lot of additional storage space without giving up any floor space in return. Sounds like a win-win situation to me.
Gladiator's model comes with two closed shelves in addition to one open shelf, which comes in handy to access equipment that you frequently use. This cabinet doesn't come with a power strip, but the bottom shelf has a port meant to pass through electric cables and cords. Moreover, the two shelves are independently adjustable to fit your storage requirements. And despite being an entry-level cabinet, it's still pretty tough for the price. Indeed, each shelf is rated to hold up to 40 lbs, while the whole cabinet can be used to store up to a total of 150 lbs of stuff.
This garage cabinet has been constructed from thick gauge steel to impart sufficient hardness and durability and the powder-coated body makes sure the attractive finish does not wear off any time soon. Apart from the Silver Tread finish, you can choose from two more styles known as Gray Slate and Hammer Granite.
Highlighted features
150 lbs total capacity
Steel body
10-year limited warranty
Open bottom shelf and two closed shelves
Dedicated port for electric cable access
Pros
Strong and sturdy steel construction
Comes with hanger brackets
Adjustable and removable shelves
Reasonably priced
Lightweight garage cabinet
Allows for versatile storage methods
Cons
No power strip
Offers limited storage capacity
No locking mechanism
Spending slightly more will get you this Manhattan Comfort 2GMC Fortress 31.5″ garage cabinet. The 2GMC offers two doors and one full-size drawer to fulfill your storage needs. There is an adjustable shelf behind the lower doors, which you can use to make the most of the available storage space. The entire garage cabinet is skillfully crafted from stainless steel to provide optimum wear and corrosion resistance properties.
Unlike the previous model, the 2GMC Fortress is a rolling garage cabinet. Meaning, it comes with four stainless steel swivel casters so you can conveniently bring it with you to the workstation and have all the necessary tools at an arm's length. You can even use the cabinet's top end as a mobile worktop for light work.
The Manhattan Comfort 2GMC also offers several other valuable and convenience-enhancing features that make it an attractive option that stands out among the competition. You get recessed door and drawer handles that not only look good but also prevent clothes from catching on the edges. Moreover, the doors are fitted with a robust locking mechanism, so you can be sure nobody is playing with your tools when you aren't around.
Highlighted features
Exterior dimensions: 30.3" L X 31.5" H X 18.2" W
Total weight: 51.4 lbs.
Rolling garage cabinet
Stainless steel construction with four swiveling casters
Two doors with an adjustable shelf and one full-extension drawer
Pros
Comes with a locking mechanism for complete peace of mind
Attractive silver and gray color scheme with textured components
Comes with all necessary assembly and installation hardware
Perfect for home garages and small repair shops
Swivel casters offer mobility and freedom to move on the garage floor
Recessed handles are an excellent touch
Reasonably priced
Lifetime limited warranty
Cons
Definitely not the thickest sheet metal
Assembly required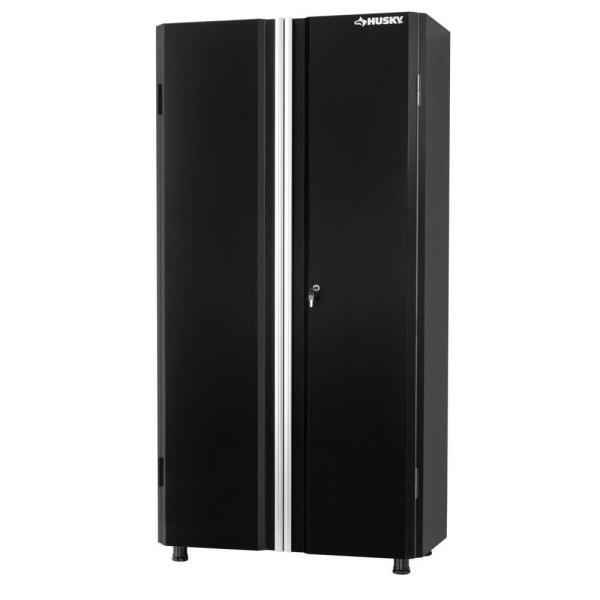 When it comes to tool storage equipment, Husky is a brand that consistently offers high-quality and reliable solutions at affordable prices and the G3602T full-size garage cabinet is a prime example of that. It's made of 24 gauge steel metal sheets and features magnetic double-wall doors, making it tough and quite user-friendly. We've all seen those cabinets with latch mechanisms that rust over time and become hard to open or close after a while—that won't happen here.
Interestingly, the brand also claims this garage cabinet can withstand extreme weather conditions, take whatever you'll throw at it, and last you for years. But just in case, it also comes with a lifetime-limited warranty to ensure total peace of mind.
Inside, you get three height-adjustable steel shelves in addition to the base body panel. Each shelf is rated to hold up to 150 lbs, while the total weight capacity is set at 450 lbs. Moreover, the lockable doors have interior pegboards to store small equipment.
If you can spare the space, this is one of the best and most comprehensive garage cabinets for the price. You simply can never go wrong with Husky.
Highlighted features
3 adjustable shelves, each with 150 lbs capacity
24-gauge steel construction
Integrated lock
It measures 72 inches in height, 36 inches in width, and 18 inches in depth
Magnetically-sealed double-wall doors
Adjustable feet
Pros
Lifetime limited warranty
Highly durable and sturdy garage cabinet
Safety and security of your belongings guaranteed by a locking mechanism
Compact dimensions
Strong double-wall doors for added security
Impressive storage capacity and versatility
Numerous pegboards
Cons
Pegboard hooks sold separately
Assembly required
No power strip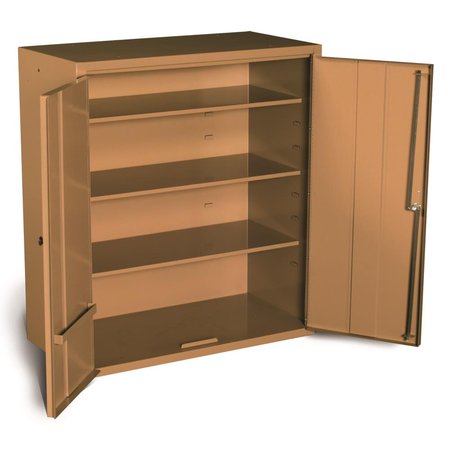 The Knaack 33K is the first truly heavy-duty model on our list. It's constructed using thick 16 gauge steel sheets and is finished in a durable tan powder-coated finish. The Knaack brand has earned quite a reputation for manufacturing incredibly strong and heavy-duty tool storage equipment over the years. Almost no other brand makes garage cabinets from 16 gauge steel, and that is why when you buy a Knaack product, you know you are buying quality.
On opening the two lockable doors, you are greeted by three height-adjustable shelves that can be used to store tools and equipment of different shapes and sizes. You get 10.75 cubic feet or just over 300 liters of storage space inside.
The 33K model comes from the factory with holes punched on the back to make wall mounting much easier. It also has fairly compact dimensions making it perfect for small garages. The price may seem slightly steep at first, but it is totally justified when considering the over-the-top sturdy construction.
Knaack offers a three-year warranty, but this garage cabinet is sure to last a lifetime when used correctly.
Highlighted features
2 door garage cabinet with 3 shelves
Powder coating finish
10.75 cubic feet of storage space
16 gauge steel construction
Lockable doors
Pros
Heavy-duty and strong steel body
Adjustable shelves allow for versatility in storage
An extremely secure locking mechanism
Made in the USA
3-year manufacturer's warranty
Cons
No power strip or port for electrical access
On the expensive side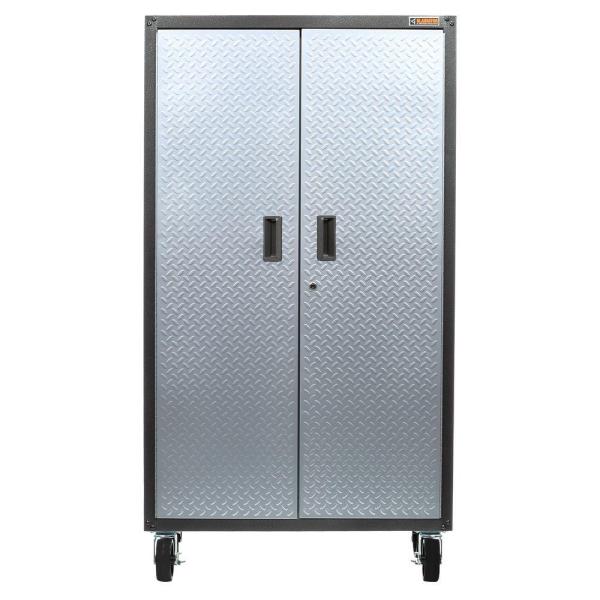 The second Gladiator garage cabinet is a much bigger unit complete with casters to enable mobility. Seen here finished in the same rugged Silver Tread as the other Gladiator model, you can also get it in a light Gray Slate or Smooth Hammered Granite.
The GALG36CKXG model has been constructed using 22 gauge steel; this may not result in the same strength as the Knaack model, but you get a lightweight garage cabinet that is easy to move around on your garage floor. In case you don't need a rolling cabinet, you can either place it on the floor or buy a separate wall mounting kit.
Its inside is decked-out with three shelves, of which two are adjustable. Each shelf is good for holding up to 45 lbs, and the total load should not exceed 225 lbs.
When fully assembled, Gladiator's garage cabinet measures 66 inches in height (60 inches without the casters), 36 inches wide, and 18 inches deep.
Highlighted features
36 in. W x 66 in. H x 18 in. D
Weight capacity of 45 lbs. per shelf and 225 lbs. in total

22 gauge steel body

10-year limited manufacturer's warranty
Lockable doors
Pros
Equipped with casters for easy mobility
High weight rating garage cabinet
Good value for money
High weight rating garage cabinet
It provides versatile storage solutions
Lockable doors ensure safe storage
It can also be wall-mounted or placed on the floor
Cons
Assembly required
No power strip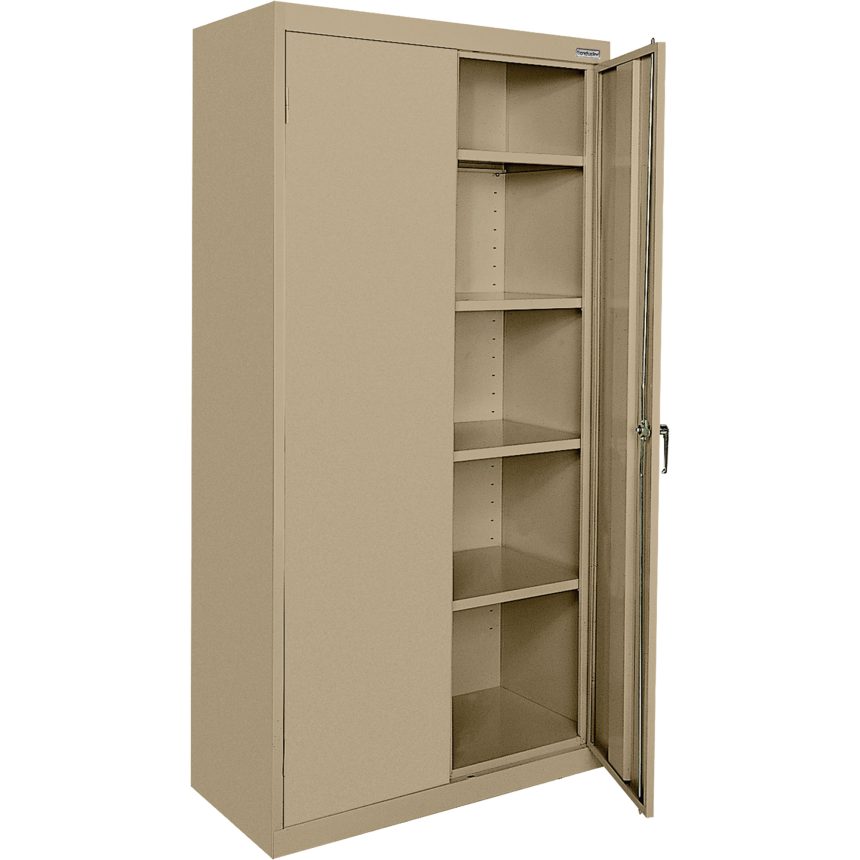 Sandusky Lee's garage cabinet is an industrial-grade unit featuring 24 gauge all-steel construction that is both strong and reliable. Besides, the main body panels are welded together the whole thing won't get loose with time. The durable body is also powder-coated for an attractive and long-lasting finish and is available in 9 different colors.
Inside, you get four adjustable shelves in addition to the base fixed shelf and adjustment brackets are placed at equal intervals of 2 inches. Each shelf is rated to hold loads of up to 180 lbs, making it suitable for a plethora of storage applications. Furthermore, this cabinet's content is protected by a three-point locking mechanism, so you don't have to worry about theft or tampering.
Worth mentioning, unlike most other models, Sandusky Lee ships this garage cabinet almost fully assembled (apart from the door handle) to save you time and effort.
Highlighted features
Comes with four adjustable shelves
Each shelf can hold up to 180 lbs
24 gauge steel body
Three-point locking system
It measures 78 inches in height, 36 inches in width, and 24 inches deep
Pros
Buyers can choose from a wide range of colors
Strong and sturdy steel construction
Comes fully assembled
Powder-coated finish ensures additional durability and prevents corrosion
5-year manufacturer's limited warranty
Impressive weight holding capacity
Cons
No power strip or electrical access to charge power tools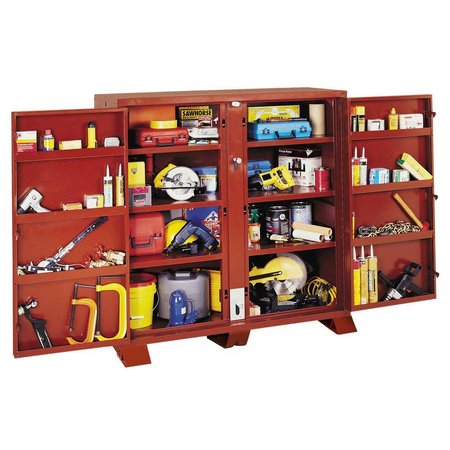 The Jobox 1698990 model features some unique perks aimed at improving its usability. Firstly, you get an extremely secure locking mechanism with a padlock and a latch release system. Each of the two doors is secured by three locking pins measuring 5/8 inches in diameter, easily unlocked using the two levers provided. Keep in mind, though, that you will need to purchase a padlock separately. Still, the lock is placed in a special welded housing to prevent any tampering or anything—once it's locked in, it can't be any safer than that.
Another unique feature is the dedicated storage shelves inside the doors for smaller equipment such as bottles, paint cans, etc. Furthermore, you get three shelves in each compartment, for a total of 58.7 cu. ft. of storage space.
The Jobox 1698990's body sits on strong skid bolsters made from 7 gauge steel with pre-drilled holes in case you prefer to install casters.
Highlighted features
Dedicated ports for electrical cables
Smart latch release system
Stainless steel door hinges
Heavy-duty 7 gauge skid bolsters
Pros
Impressive 58.7 cubic feet of storage space
Handles that sit flush with the body when not in use
Strong and sturdy construction
Innovative locking mechanism
Cons
On the expensive side
Lock sold separately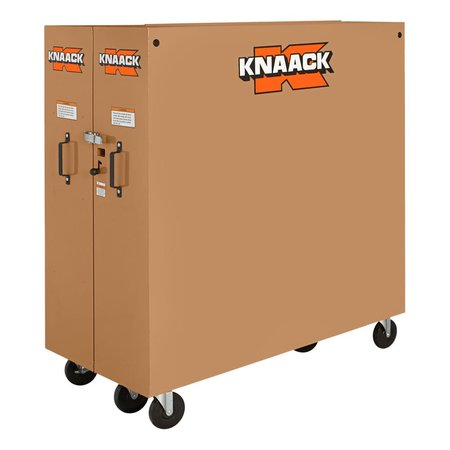 Knaack is back! Another contender for the most unique garage cabinet is the Knaack 100K. Like the previous model on this list, this one is also made of exceptionally strong and sturdy 16 gauge steel with arc-welded seams. As an added layer of protection from the elements, the body has been powder-coated and cured.
The 100K is a split-style rolling cabinet, meaning the body splits in two to reveal the storage area. On opening the lockable doors, you are greeted by four welded shelves on each side. There is also a separate compartment to store long and thin equipment like prybars and oversized socket extensions on one side. Combined, Knaack's model has 60.9 cubic feet of storage space available and can hold up to 1,200 pounds—yep, half a ton of tools!
The only drawback of such a design is the lack of depth in each shelf. Due to its split-style design, each shelf is only deep half of the cabinet's total depth, which can be somewhat limiting. However, what the Knaack 100K lacks in space, it more than makes up for in portability. With 8 casters to support the 458-pound body, moving this thing around is a piece of cake.
Highlighted features
16 gauge steel body
Powder-coated finish
1200-pound load capacity
Four shelves with an additional compartment
Pros
Made in the USA
3-year warranty
Tough and reliable construction
High load-carrying capacity
Cons
Non-adjustable shelves
Cost more compared to other garage cabinets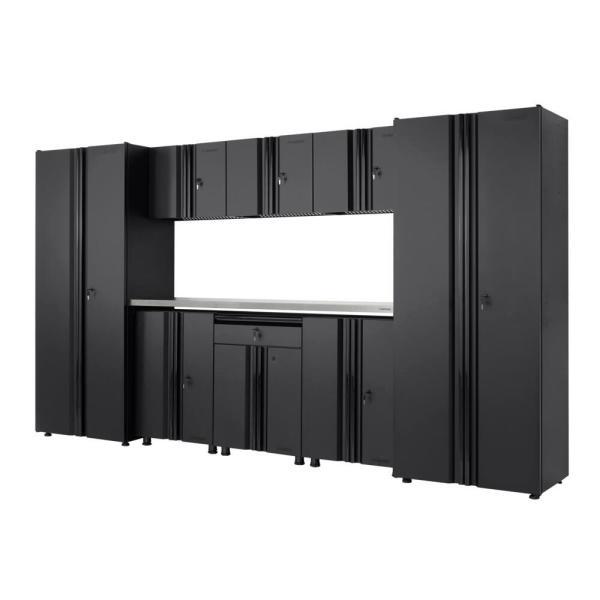 Meet the Husky GS13209-SS, or as we like to call it, the Rolls Royce of garage cabinets. With enough room for almost any equipment in your garage, Husky's model is a one-stop solution for all your garage storage needs. The entire assembly consists of 8 units, including 2 large cabinets, 3 small wall cabinets, 2 two-door cabinets, and a single 1-drawer 2-door cabinet. To top it all off, you get a 1.5-inch thick stainless steel working surface measuring 72 inches by 18.3 inches.
The GS13209-SS model is made from 24 gauge steel with welded joints to ensure optimum strength and durability. Each unit is powder-coated in a matte black finish that looks not only attractive but also imparts additional durability.
Almost all shelves found in this garage cabinet can be adjusted at required heights for greater versatility. Just to give you a rough idea, this garage cabinet can hold almost 4,000 pounds. However, keep in mind that the stated figure is the total sum of all cabinets. It is still important to load each cabinet according to its capacity, which you can find in the instruction manual.
Highlighted features
It is a combination of 8 cabinets
24 gauge steel body
Matte black finish
Pros
Lifetime warranty
Comes with an integrated workspace
Long handles for easy access
Different types of cabinets allow for versatile storage solutions
Lots of storage space
Comes pre-assembled
Adjustable shelves
Cons
Takes up a considerable amount of space
Types of Garage Cabinets
Modern garage cabinets come in a wide range of different shapes and sizes, and you need to choose a type that suits you after carefully analyzing your storage needs. Some of the most common types are:
Wall-mounted cabinets
A very popular choice among buyers, this type of garage cabinet has numerous advantages. They do not take up any space from your garage floor and are quite easily accessible, thanks to the high mounting height. Most such cabinets are quite inexpensive and easily available, making them a fast and easy solution when you need extra storage.
Drawbacks include limited storage space and, in some cases, buying mounting brackets at an extra cost.
Full-size free-standing cabinets
These are large cabinets usually measuring 60-70 inches in height. Inside, you get three to four shelves with adjustable height functionality. They come in several different colors and finishes, with almost all units having powder coating instead of traditional liquid painting. Free-standing garage cabinets can be placed at an appropriate spot in your garage, or if required, you can install casters beneath them for mobility.
Comprehensive storage systems
These are made by combining various smaller or individual garage cabinets to provide the most versatile storage solutions. They may cost more when compared to other garage cabinets, but the amount of storage space you get cannot be matched by any other type. Some features include numerous drawers, doors, and shelves, allowing you to store equipment of nearly all shapes and sizes. Moreover, some storage systems also have an integrated wooden or metalworking surface for added convenience.
However, you should note that such combined systems are not only expensive but also need a lot of space. So our advice would be to buy such cabinets only if you truly need them.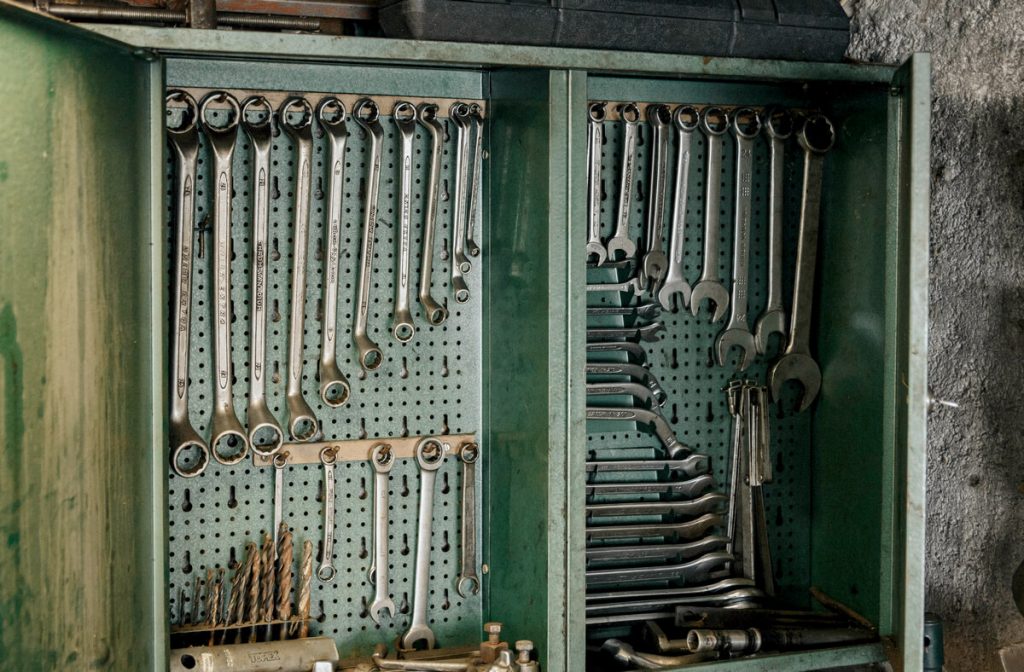 Things to Consider When Choosing the Best Garage Cabinets
Construction material and thickness
Probably the most important qualities of a garage cabinet are its strength and durability. For that purpose, you need to get a model that has been well-built from high-quality materials.
All cabinets on our list have been made from steel sheets having varying thicknesses. The gauge number of steel plays is crucial in ensuring adequate strength and toughness. It denotes the thickness of sheets used for construction, and obviously, the higher the thickness, the higher the strength. So always make sure to check the gauge number for the garage cabinet before making the final decision.
Cabinets with gauge numbers in the range of 20-24 are ideal for average garage use, while those requiring more strength can buy Knaack cabinets with 16 gauge construction.
Load capacity
Broadly, there are two types of load ratings or capacities, one for each shelf and another for the entire garage cabinet. The first kind dictates how much weight each shelf can support, while the latter sets a maximum load limit for the total equipment stored.
To maintain the garage cabinet's structural integrity and ensure your and the equipment's safety, it is important to always adhere to the limits provided by the manufacturer. Hence, it is important to pick a garage cabinet that satisfies your load capacity requirements.
Versatility
A garage cabinet's versatility pertains to its ability to store tools and equipment of different shapes and sizes. Various features play a part in a versatile cabinet, including height-adjustable shelves, high weight rating, more storage space, and ports for passing electrical cables or, even better, an integrated power strip.
Meanwhile, some cabinets come with casters that allow mobility; this feature can be extremely advantageous to mobile mechanics. However, it is difficult to find all features in one garage cabinet, so look for one that has the features you require.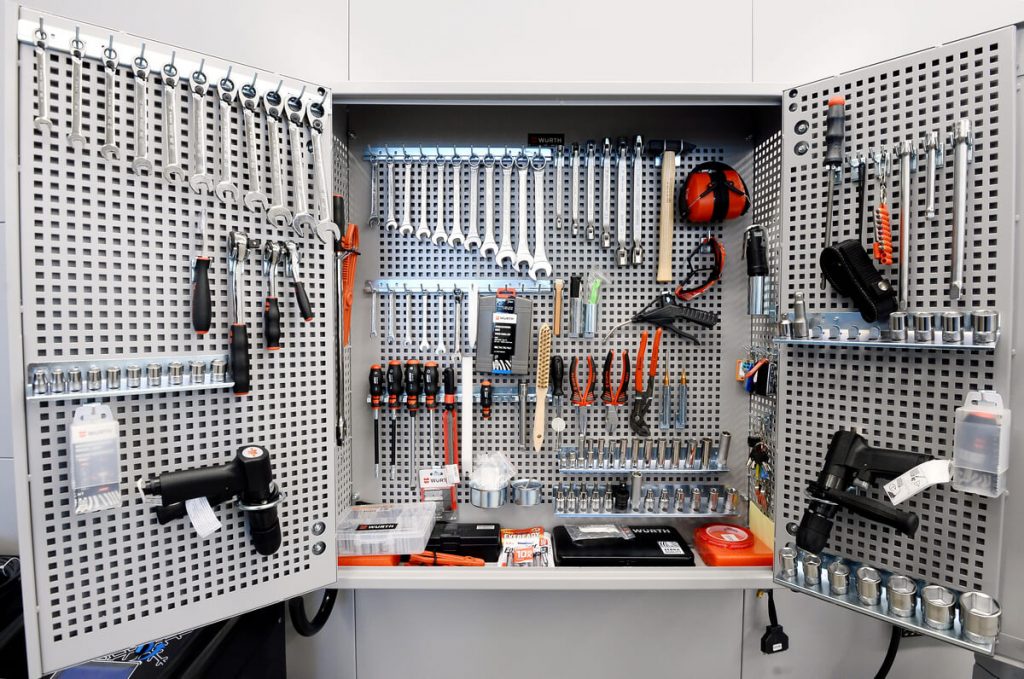 Available space
As explained in detail in the previous title, garage cabinets can be broadly classified into three types. The decision on which kind of unit to buy should be made after considering the amount of storage space you require and the floor space you have to accommodate the cabinet. Folks with no space floor space are better off going for wall-mounted or rolling cabinets. On the other hand, those having limited spare real estate should look into full-size or smaller free-standing cabinets.
Security
Almost all garage cabinets have an integrated locking mechanism of some sort intended to keep the stored equipment safe from theft or any other kind of unwanted tampering. Since different cabinets have different mechanisms, it is important to look at how secure the lock actually is. Moreover, the locking system also has to be easy to use.
Warranty
There are a lot of components that could go wrong in a garage cabinet. For that purpose, it is better to have a suitable warranty to cover any unforeseen circumstances and save your wallet from taking the hit. Cheap cabinets offer a shorter warranty period, while reliable brands like Husky can offer up to a lifetime limited warranty. Make sure to get suitable warranty coverage with your purchase.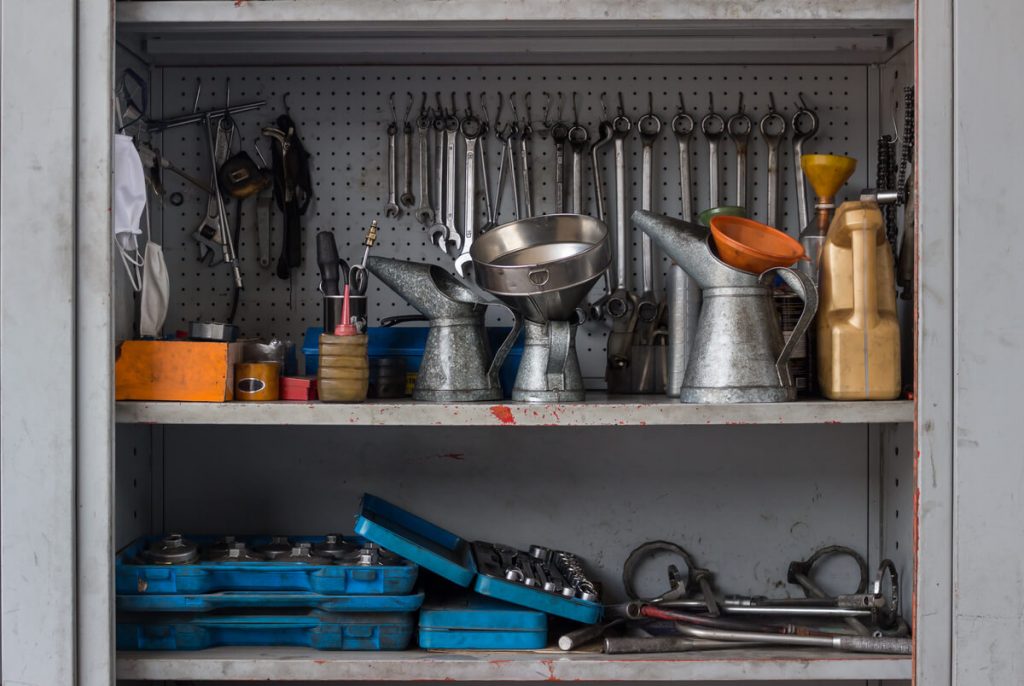 Frequently Asked Questions (FAQs)
Do garage cabinets come pre-assembled?
Yes, but not all of them.
Most manufacturers will ship unassembled parts to you with a detailed instruction manual on how to complete the assembly process; this greatly reduces the effort and cost of shipping but results in more work for you. However, that is no cause for concern as most garage cabinets have a straightforward procedure that can take anywhere between a few minutes to a couple of hours, depending on the model. Most cabinets come with an extra set of nuts and bolts, but we would advise you to be careful with them just to be safe.
Beware of some models with a difficult assembly process. Also, please note that the required tools are not even included with the purchase.
What do manufacturers mean by a "limited" warranty?
Eagle-eyed readers may have noticed that most brands mention the word "limited" in the warranty claims. A limited warranty means that manufacturers are liable to only replace certain components of the garage cabinet upon failure or malfunction. The warranty does not apply to the entire cabinet. The details of components covered by the warranty are specific to each model and can be found in the owner's manual or any other warranty document included in the box.
Is it better to buy off-the-shelf or have a custom-built garage cabinet?
Having a garage cabinet to your specifications would obviously be a better and much more desirable option. However, considering the high costs associated with such special projects, it would be much more economical to buy one ready-made as you have virtually endless options online.
Verdict
A garage cabinet is an essential asset for any professional mechanic or DIYer. Our list of 9 of the best garage cabinets is intended to aid you in the process of choosing a model by presenting you with our top picks. Of course, there is no clear winner here, as each cabinet listed serves specific needs.
However, if we had to pick one, the best all-around cabinet would be the Husky G3602T Tall Storage Cabinet. It has fairly decent storage capacity combined with other useful features including casters making it easy to move around.
Those with a little bit more budget and looking for an extra-strong cabinet should go with either of Knaack's garage cabinets. Yes, they cost significantly more but Knaack's product are simply the toughest and sturdiest cabinets on the market.