EDITOR'S PICK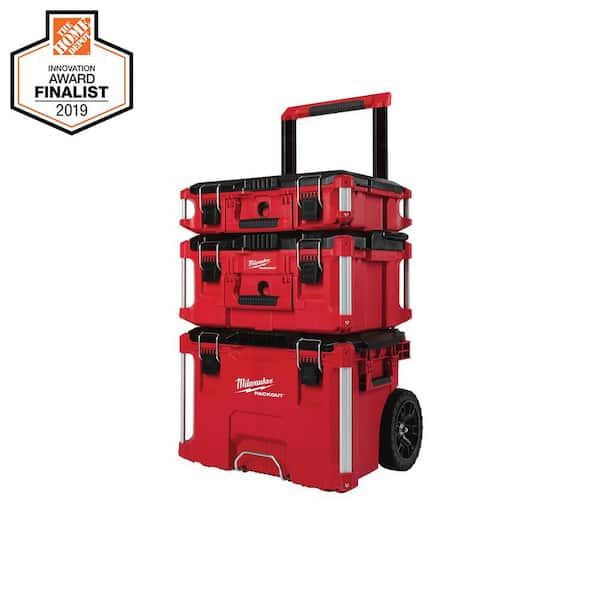 PACKOUT 22 in. Modular Tool Box Storage System
Stackable storage system
Storage types: rolling storages, toolboxes, organizers, totes, bags, coolers, kit organizers
Removeable and mountable bins
Interior organization tray
Metal lid locks
9″ all-terrain wheels (for the rolling storage)
IP65 rated dust and water resistance
3-year warranty
PREMIUM PICK
Steel Dragon Tools TLPB60 Parts Bin Shelving Organizer
Compartments: 60
Parts bin material: plastic
Rust-free steel cabinet with ten shelves (each accommodates six bins)
Cabinet dimension: 65.5" x 30.19" x 12.0"
Bin dimension: 11.0" x 3.37" x 4.0"
Load capacity: 400 lbs.
30-day warranty
BUDGET PICK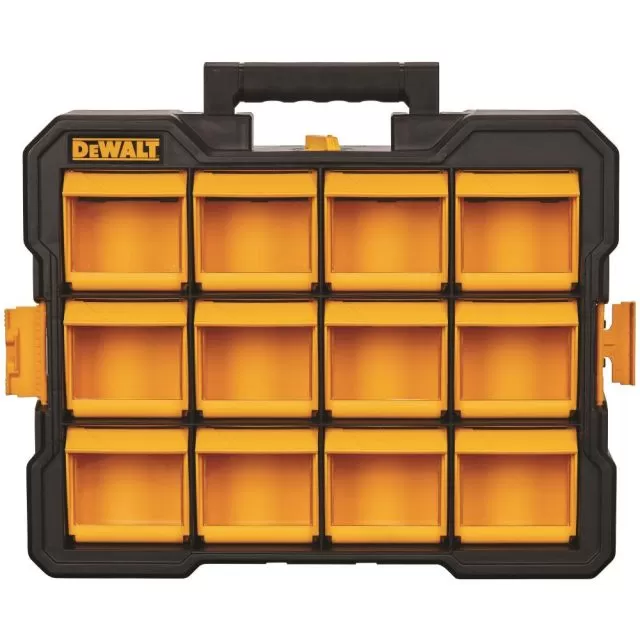 DeWalt DWST14121 Flip-Bin Organizer
Compartments: 12 (removable)
Material: plastic
Cabinet dimension: 17.75" x 3.87" x 13.87"
Bin dimension: 3.25" x 3.0" x 3.5"
Load Capacity: 15 lbs.
Built-in carrying handle
Compartment labels included
IP53 rated dust and water resistance
Lifetime warranty
If you are like me, keeping your garage from turning into a total mess is already tricky enough, managing small items like fasteners, brake springs, electrical connectors, trim clips, screws, etc., is a whole another challenge on its own. At first, I had dedicated a special drawer in my tool chest for those, but after a while, those small parts would take up more than half the smaller drawers in my top chest. So I switched to empty peanut butter jars and such, but even that wasn't quite doing the job. That's when I realized I needed a decent small parts organizer to help me keep everything in one place.
However, I quickly found out that there were tons of different models online and after testing a couple of them, I can assure you that not all are created equals. So to save you the hassle, I've curated and reviewed some of the best small parts organizers I could find. Not only will they help declutter your workspace and keep your garage a little more organized but finding small parts will also be much easier from now on. Not to mention that most small parts organizers on this list are quite inexpensive — so why wait?
I hope it helps!
Small Parts Organizer Reviews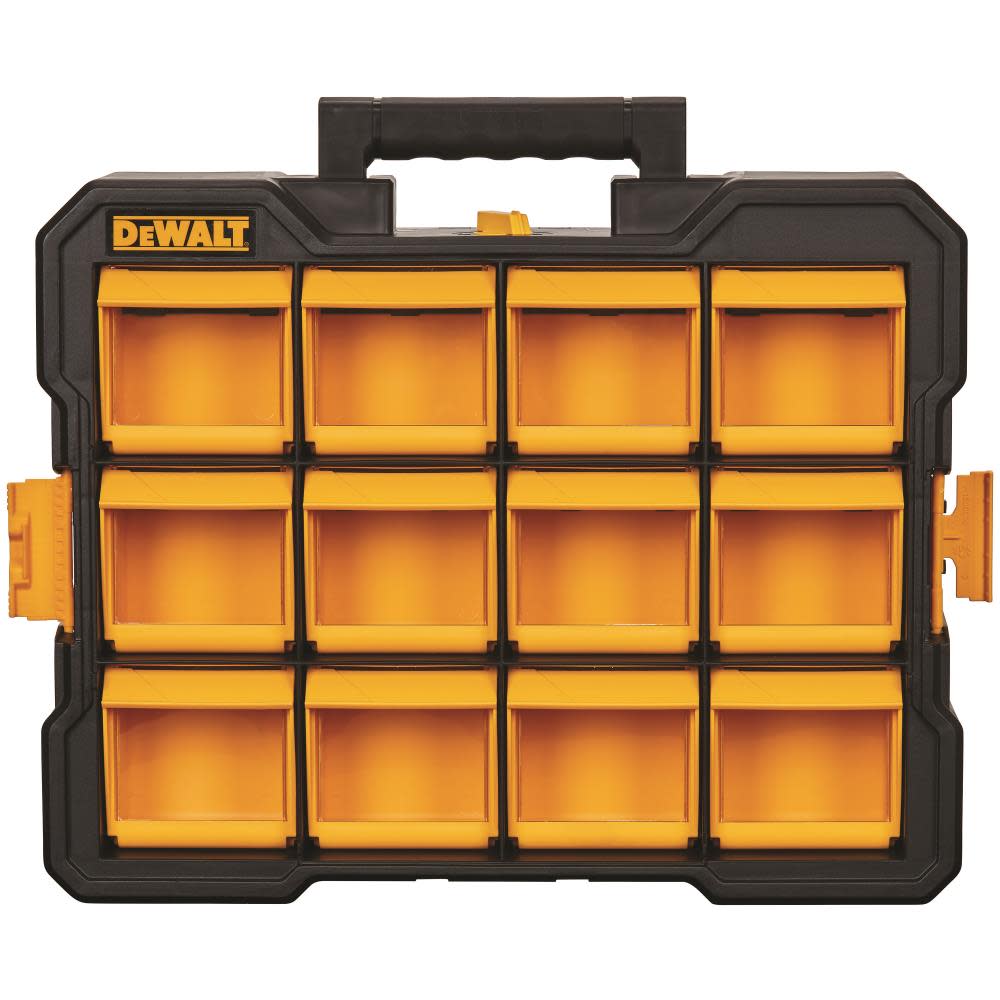 Kicking off this review is the DeWalt Flip-Bin Organizer, with 12 small removable compartments. Ok, 12 compartments may not be that much but don't let that fool you, though, as it's one of the toughest organizers on this list. Indeed, the heavy-duty plastic construction is rated IP53 for dust and water resistance capability, so it's ready to be taken outdoors — read here that it could also be used to go fishing, camping, etc.
One more appealing feature of the Flip-bin Organizer is its ability to be mounted just about anywhere. You can either store it in a workbench and tool chest, or you can also mount it on the wall. Besides, if you have to carry it around, the built-in handle and compact size make it ultra-portable.
And if you feel like you need more compartments, keep in mind that you can also buy another unit and attach them back-to-back using the dedicated latches. That way, you have double the compartments and still only one handle, making it perfect for mobile mechanics and construction workers.
Key Features
Compartments: 12 (removable)
Material: plastic
Cabinet dimension: 17.75" x 3.87" x 13.87"
Bin dimension: 3.25" x 3.0" x 3.5"
Load Capacity: 15 lbs.
Built-in carrying handle
Compartment labels included
IP53 rated dust and water resistance
Lifetime warranty
Pros
Portable unit
Reasonably priced
Multiple mount placement
Can be stacked with another DeWalt Bin/Pro Organizer
Generous warranty
Cons
Lowest number of compartments on this list
Bin size isn't the most convenient
WallPeg makes some of the best pegboards you can buy at the moment, and we can say the same thing about its accessories. Hence, I couldn't ignore its durable Pegboard Bins Kit as the perfect solution if your garage walls are actually covered in pegboards.
Made to fit snugly into 1/4-inch pegboards, WallPeg's kit consists of 36 plastic part bins, with an equal mix of smaller (5-inch) and bigger (7-inch) ones. The smaller bins are perfect for screws, nuts, washers, connectors, and bolts of all sizes, while the bigger ones can even fit small wrenches, Allen keys, and any other weird brake springs, brake lines fittings, and whatnots you don't know where else to put. I doubt you'll feel any lack of storage here (I got one and didn't even need to use all of them yet—but it will come).
While the number of bins should be good enough to organize most of your small parts, there are a couple of things to note. Unlike most organizers, there are no covers nor dividers so this model tends to collect dust (nothing a little blow gun and some air compressor won't fix, though) and you can't really split the bins (of course, you can always be a bit creative and use pieces of cardboard or old plastic trims for that).
Nevertheless, if you own a pegboard in your garage, this kit does a perfect job of organizing your small things (and it's perfect to fill all those small blank areas on your pegboard and optimize your storage space without changing much to your setup).
Key Features
Compartments: 36 (18 small & 18 large)
Material: plastic
Small bin dimension: 5.0" x 4.0" x 3.0"
Large bin dimension: 7.0" x 4.0" x 4.0"
Compatible with 1/4″ pegboards
Lifetime warranty
Pros
Plenty of bins
Plugs directly into your pegboard
Excellent warranty
Made in the USA
Cons
No compartment covers
No dividers
The Akro-Mils 10144 cabinet is a posh-looking plastic organizer trying to fit as much as possible in a limited space. Indeed, and despite the compact format, it still offers 32 small compartments and 12 larger ones, totaling 44 compartments — that's a lot!
However, the high number of drawers is not its sole glorious feature. This storage cabinet is also quite versatile — you can either put it on top of your workbench or mount it on the wall and if you plan to buy multiple units, there are built-in latches so you can securely stack them on top of each other and save some space.
Furthermore, all compartments measure 6 inches deep, which is a lot for a smaller-sized cabinet, and it comes with 18 dividers (of course, you can also buy them separately if you need more).
Let's admit it, the price is a bit on the higher side, and it lacks portability, but it still got plenty of features to make up for those slight flaws. And if you're looking for a stationary small parts organizer that can accommodate many items securely, whether it's garage stuff, craft tools, toys, or office/school supplies, it's definitely worth considering.
Key Features
Compartments: 44 (removeable, 32 small & 12 large)
Material: plastic
Cabinet dimension: 20.0" x 6.37" x 15.81"
Small drawer dimension: 6.0" x 2.22" x 1.56"
Large drawer dimension: 6.0" x 4.56" x 2.19"
Dividers included: 8 for the small drawers, 4 for the large drawers
Color options: black, red/black
1-year warranty
Pros
Loaded with compartments
Multiple mount placement
Stackable

Made in the USA
Cons
Lack of portability
Slightly steep price
You might not have heard of the Milwaukee Packout series since it just came out back in 2017, but you'll be amazed by what it can do with its modular storage system. So bear with me as I review this one as a whole series of products, instead of just one single organizer.
The Milwaukee Packout consists of an assortment of storage units that you can freely stack onto one another. The models vary from rolling units with built-in dollies, toolboxes, organizers, totes, bags, and even coolers and kit organizers. All of them create a giant storage ecosystem, where each product has built-in heavy-duty latches that allow you to stack them in any order you like, making the whole thing very customizable.
The best part about this series is that it gives you the best of both worlds. You can have a simultaneously portable and super accommodative storage unit (which is often not the case). In addition, the series has covered pretty much every storage model that you possibly need — small, thick, slim, large, small/large bins, drawer/no drawer, with/without wheels (there's even a radio you can stack in between there). Thus, this is probably the most versatile storage system you can find, making it perfect for mobile mechanics and detailing technicians.
You don't need to worry about durability, either. These things are made of rigid plastics that should resist harsh impacts and last for years. It's also rated IP65 for dust and water resistance capability. Besides, you'll get a 3-year warranty for every Packout product you purchase.
That said, note that it can be a bit pricey, especially when you feel like you want to have everything (at least, that's how I feel looking at the whole collection). And if you decide to get the rolling storage model as the base, be aware of the significant floor space it'll take.
Nonetheless, if you want nothing but the best, this is what you need!
Full Review of the Milwaukee PACKOUT Modular Storage System here!
Key Features
Stackable storage system
Storage types: rolling storages, toolboxes, organizers, totes, bags, coolers, kit organizers
Removeable and mountable bins
Interior organization tray
Metal lid locks
9″ all-terrain wheels (for the rolling storage)
IP65 rated dust and water resistance
3-year warranty
Pros
Superb storage ecosystem
Highly durable
Provides mobility and plenty of storage at once
Unified color and design
Cons
Can be quite costly if you go overboard here
Takes significant floor space
The EnnovaTools WVE9420 is a compact organizer that has plenty of aces up its sleeve. First off, it comes with 15 containers (9 small & 6 large), housed in a durable plastic frame that you can put down anywhere or mount to the wall. Furthermore, it's lightweight and has a carrying handle and a shoulder strap, so it's very portable.
While 15 compartments may not seem like a lot, each is individually removable and thanks to EnnovaTools' patented EZ-clip, each partition can also be attached to your work belt for your convenience. This feature is super helpful for mechanics or technicians who need their tools to be always available at reach. Not to mention the 15 included dividers so you can have multiple sorting in one container.
If there's any downside worth reporting, it's probably the lower number of compartments and the slightly steep price. But even so, EnnovaTools WVE9420's innovative design and the conveniences it'll bring to you are worth every penny. If you're looking for a neatly designed organizer that can stick by your side, this is the one!
Key Features
Compartments: 15 (removable, 9 small & 6 large)
Material: plastic
Cabinet dimension: 13.75" x 12.25" x 6.0"
Small drawer dimension: 3.5″ x 2.25″ x 2.25″
Large drawer dimension: 5.50″ x 2.25″ x 2.25″
Dividers included: 15
Compartment labels included
Built-in belt clip on each compartment
Built-in case with carrying handle and nylon shoulder strap
1-year warranty
Pros
Portable unit
Versatile
Neat design
Transparent compartment for easy identification
Cons
Price is on the higher side
Not many compartments
When it comes to small parts organizers, the Steel Dragon Tools TLPB60 is the complete package. Not only do you get 60 bins, but added to that is a 10-row steel cabinet — there's no doubt this organizer is the most accommodative model on the list.
Thanks to the larger size, these plastic bins can house plenty of things, from tools like sockets, drill bits, and screwdrivers, to spare parts such as light bulbs, fuses, and even spark plugs (hey it's basically what auto part stores also use so…).
And if you happen to need to carry a compartment around, you can remove it as if you're picking something out of a shelf and return it as you wish. Also, the steel cabinet has a mammoth weight capacity of 400 lbs, so you would really have to try to overload it. Not to forget, the rust-resistant coating makes it durable and ready for long service life.
While the large-sized unit might surely not be for everyone, especially since it's costly and requires quite the floor space, the Steel Dragon Tools TLPB60 is nonetheless a great option for those with tons of small parts to store and repair shop owners (it's also important to mention that you can always remove some of the bins and use a couple of shelves to store pretty much anything else in there).
Key Features
Compartments: 60
Parts bin material: plastic
Rust-free steel cabinet with ten shelves (each accommodates six bins)
Cabinet dimension: 65.5" x 30.19" x 12.0"
Bin dimension: 11.0" x 3.37" x 4.0"
Load capacity: 400 lbs.
30-day warranty
Pros
Plenty of compartments
Comes with a dedicated shelving unit
Accommodative bin size
Cons
Bins don't include dividers
Takes a lot of space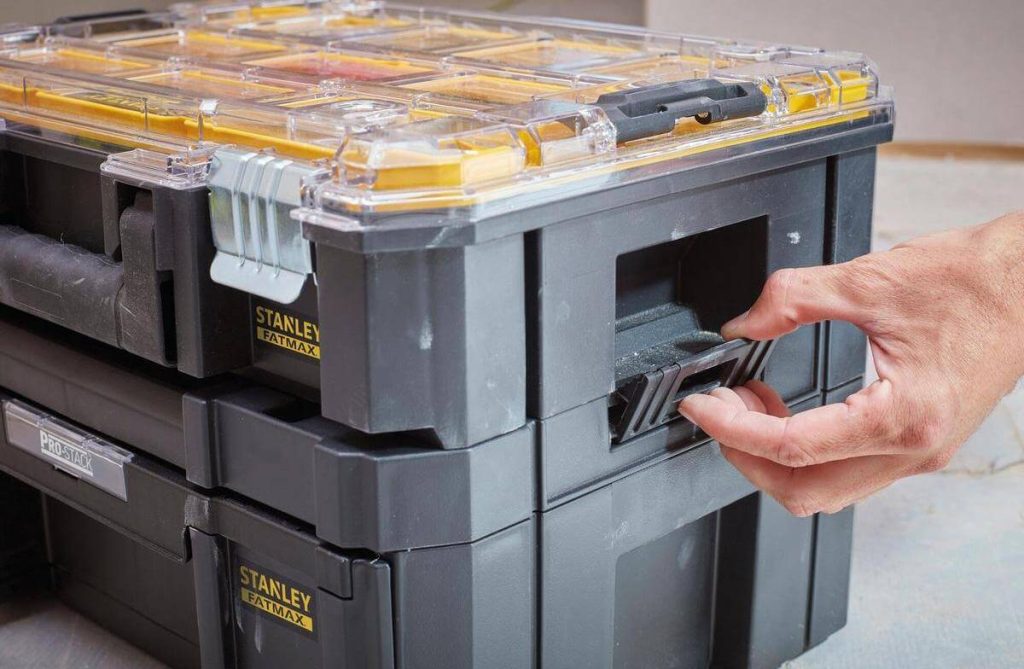 Buying Guide: What to Look for When Buying a Small Parts Organizer
Compartments
Obviously, an essential part of small items organizers is the compartments — how many and how big they are. To determine the right model for you, consider what kind of small parts you're planning to store in there and how many.
Moreover, consider how many different categories of things you have, as it should dictate how many compartments you need. For instance, a typical mechanic would want to store screws, bolts, nuts, washers, tie wraps, etc. Thus ideally, they'll want an organizer able to fit everything, with each compartment housing only one specific thing. Yes, you can always use dividers but keep in mind that the whole point here was to make it easier to keep track of small parts and make it quicker to locate them.
Consequently, dedicated and labeled compartments are usually a much better option.
Material
Small parts organizers are often made from steel or plastic. While steel organizers are super tough and have a clean look, I'd say most people could easily settle with the plastic ones. Aside from the more affordable price tag, the heavy-duty plastic construction is entirely rust-resistant and durable enough to face high impact. Also, its lightweight trait indeed benefits the portable units.
I'd say you can go for steel ones if that's what you really want (yes, they usually look better in a garage) but plastic organizers are just as good — it's really a question of taste here… and budget.
Portability
Depending on the nature of your work, you may or may not need to bring these small items with you. It that case, you'll need a portable organizer. What you'll want to look for here is a strong carrying handle or strap. Keep in mind that a good mobile unit also needs to be lightweight, so it's usually offered with fewer compartments.
Contrarily, if you want something that has plenty of bins/drawers, you may have to settle with a stationary model. You would usually mount these on top of your workbench or under a worktable; some can also be hung on the wall. Regardless, if you need to be mobile around the shop, seek organizers with removable compartments for extra flexibility
Still, if you want something that can be either portable and stationary, compact but sometimes bigger, and anything in between, Milwaukee's Packout series is a modular solution combining portability and plenty of storage in one pack — you can basically add to it, remove some stuff and customize your organizer based on the task at hand. It's really the best of both worlds.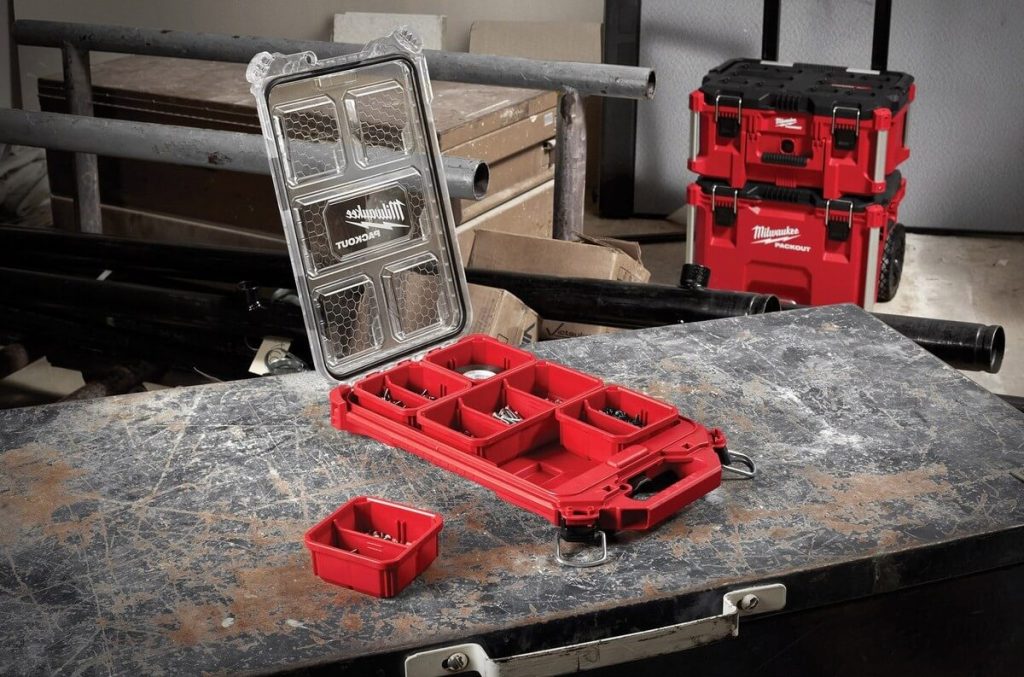 Lid and Dividers
Another vital aspect to keep in mind is how secure the compartments' lids are. They should fit snugly against each compartment's walls to maintain the placement of the items stored inside. That way, your small parts won't rattle around or shift into other sections when moving around or carrying the organizer.
In addition, you may also want to consider dividers for your compartments. Dividers are simple plastic inserts used to separate the content of the bins/drawers and may be included with your organizer purchase or available as an add-on. Some people like them, others don't; it's really a question of choice. Still, dividers can sometimes be real saviors when you need to store multiple screws of different lengths in a portable organizer with fewer compartments.
Stackability
If you plan on getting more than one organizer, keep in mind that several models can be stacked on top of each other or side-by-side using an interlocking system. If you're interested in stackable organizers, check out the DeWalt Flip-Bin, Akro-Mils 10144, and the Milwaukee Packout — they are some of the best stackable organizers out there.
Verdict
A small parts organizer is the best solution to tidy up your small things. And if you've followed this article to this point, you've probably found enough reasons to justify why you should get one. Trust me; you'll appreciate the decluttering and the quicker search time later on.
Just in case you skimmed over the article, here's a quick recap of my recommendations; if you don't have that many different items and are often on the move, your best budget-friendly option is the DeWalt DWST14121 Flip-Bin Organizer. Despite having the lowest number of compartments on this list, it's affordable, and the interlocking feature can really come in handy. However, if you can spend a little more, the EnnovaTools WVE9420 is possibly the best portable option you can buy at the moment.
Meanwhile, if you have plenty of stuff to store and work mostly in your garage, I'd say your best bet is the Akro-Mils 10144. With plenty of drawers packed in such a compact cabinet, it's affordable, doesn't take up much space, and will last you for years.
Nonetheless, if you want something that provides versatility, portability, and plenty of storage space, take a look at the Milwaukee Packout series. Start with the rolling toolbox as a base, add any other Packout cabinet on top and customize your organizer exactly how you need it — it's really the best of both worlds!