EDITOR'S PICK
Northern Tool 61228 XL Series Adjustable Swivel Shop Stool
Weight capacity: 400 lbs.
Seat height: 27.5-32 inches (adjustable)
Seat diameter: 14.1-inch
Seating material: vinyl
360-degree swiveling seat
Color option(s): black
1-year warranty
PREMIUM PICK
Craftsman 49860 Adjustable Hydraulic Seat
Weight capacity: 250 lbs.
Seat height: 28.5-33 inches (adjustable)
Seat diameter: 14-inch
Seating material: vinyl3
60-degree swiveling seat
Color option(s): black
1-year warranty
BUDGET PICK
WEN 73016 Chrome-Plated Shop Bar Stool
Weight capacity: 300 lbs.
Seat height: 29 inches (non-adjustable)
Seat diameter: 14.5-inch
Seating material: vinyl
360-degree swiveling seat
Coor option(s): black
2-year warranty
When you find yourself spending hours working in your garage or workshop, getting comfortable is an essential part. Although you're not always sitting, having a cozy spot to sit while you wait for parts or eat your lunch is always a must.
Now, some people might swear by an old office chair or a cheap plastic folding thing, and we don't blame them—to each his own, right? But if you don't want to end up with a bad back (your work already causes that more than enough already) or paying for a chair that won't last for long in a shop, we'd recommend getting yourself a proper garage shop stool. Not only are they significantly more durable than regular run-off-the-mill office equipment but they also look a lot better. And after all, being able to work in a cool-looking environment is only icing on the cake.
A good workshop stool will not only bring you additional comfort but as you sit more ergonomically, there would be a reduction in physical strain, especially if you sit for a long time while closing invoices every day. It could save you from potential injuries and possibly increase your productivity. Hence, whether you're a mechanic or just a weekend DIY'er wanting to avoid unnecessary pain, getting a garage shop stool is a good call.
That being said, many manufacturers offer a wide range of shop stools, and getting one might be a challenging experience for some. Fortunately, to help you make an informed choice, we have gathered six of the best garage shop stools you can find on the market today. We'll tell you all there is to know about each of them, their pros and cons, and also cover a few shopping considerations you might want to keep in mind before buying one.
Garage Shop Stool Reviews
There's no denying that there are tons of options available when searching for a workshop stool. With most of them featuring similar traits, the real question is usually whether you want to get a workbench stool with wheels or rubberized feet.
However, it's important to mention that all of the hand-picked garage shop stools below come with rubberized feet for a more secure grip but also for comparison purposes. Though, most are also available with optional wheels if you prefer better mobility.
And we know we said six garage shop stools earlier in the intro, but we're guilty of including one more as an honorable mention. If you're a Star Wars fan, you're going to like seeing the 7th product on this list!
(I sure am so I just couldn't leave this one out lol)
WEN has been designing and distributing high-quality and affordable power tools since the 1950s. It has plenty of garage solutions at its disposal, including some workshop stools, especially the WEN 73016, one of the best models the brand has to offer.
Although it has somewhat of a dull design, this 29-inch tall garage shop stool is strong and capable of withstanding a load of up to 300 lbs. The black vinyl padded seat also has a larger than average 14.5-inch diameter and full 360-degree swivel functionality. Moreover, supporting the seat is a chrome-plated chassis meant to prevent rust and corrosion. If you are a big-boned individual, you'll like this one.
And it's super affordable too! If you can live with the non-adjustable seat height, the WEN 73016 is a proper garage shop stool and at an excellent value. Not to mention it has the best warranty on this list, covering two years of everyday use.
Key Features
Weight capacity: 300 lbs.
Seat height: 29 inches (non-adjustable)
Seat diameter: 14.5-inch
Seating material: vinyl
360-degree swiveling seat
Color option(s): black
2-year warranty
Pros
Highly affordable
Spacious seating area
Generous warranty
Cons
The GearWrench 86992 shop stool is another budget-friendly option, but offering better ergonomic than the previous one. It has 4 inches of seat height adjustment range and can be set from 26 to 31 inches high, using a single pull height adjustment lever.
The seat is vinyl padded, measuring 14-inch in diameter, and swivels 360-degree. Meanwhile, the chassis is made of a durable powder-coated metal frame that can resist rust for years. Also, the purchase is backed up with a decent 1-year warranty.
The GearWrench 86992 is a fine workshop stool for its price. Still, the only downside is the rather low weight capacity of only 225 lbs. But if that's not a problem for you, it's still one of the most durable and ergonomic budget garage shop stools you can buy at this price.
Key Features
Weight capacity: 225 lbs.
Seat height: 26-30 inches (adjustable)
Seat diameter: 14-inch
Seating material: vinyl
360-degree swiveling seat
Color option(s): black
1-year warranty
Pros
Budget-friendly
Powder-coated metal frame
Cons
Weight capacity is on the lower side
WorkPro has put a lot of effort into making the W112010A shop stool as ergonomic and heavy-duty as possible while keeping its price tag reasonable. As a starter, it has a sturdy steel structure that can support up to 330 lbs. Also, the padded vinyl seat swivels 360 degrees and has plenty of height adjustment, going from 29 to 34 inches—the highest stool on this list.
While the WorkPro W112010A is already quite impressive on paper, the design is just as great. Unlike other stools, the frame design is pretty sophisticated, mimicking the shape of spiders' legs. Furthermore, it's offered in several color options, including black, green, and pink. I would personally pick the black model since it won't appear dirty as quickly as the other two but you be the judge here.
Minor drawbacks include a shorter than average 13.8-inch seat diameter and the lack of a manufacturer's warranty. However, customers are raving about it, and for having tried it myself, I agree completely. If you want a shop stool that visually stands out, can handle more weight than most and offering a relatively higher seating position, look no further—this is the one!
Key Features
Weight capacity: 330 lbs.
Seat height: 29-34 inches (adjustable)
Seat diameter: 13.8-inch
Seating material: vinyl
Color option(s): black, green, pink
360-degree swiveling seat
Pros
Higher than the standard weight capacity
Plenty of seat height adjustment range
Cool design
Available in a variety of colors
Cons
No warranty
Slightly smaller seat diameter
At this point, it's challenging to think of heavy-duty accessories that Northern Tool doesn't offer. Still, one of its finest to date is the 61228 XL Series shop stool, which is undoubtedly one of the best stools on the market today.
This clean-looking shop stool can bear a weight of up to 400 lbs. (the highest capacity on this list), while the seat measures 14.1-inch in diameter, and swivels 360 degrees. It is also adjustable from 27.5 to 32 inches using a pull lever, and features rugged steel rack-style legs, making the structure even sturdier (and quite good-looking to be honest). The small backrest is not much but it's still better than nothing.
Overall, if you don't mind paying a premium for a slightly better stool than most, you won't regret getting your hands on the Northern Tool 61228 XL Series! Not to mention that it's one of NT's best-selling models, so if you want one, don't sleep on it!
Key Features
Weight capacity: 400 lbs.
Seat height: 27.5-32 inches (adjustable)
Seat diameter: 14.1-inch
Seating material: vinyl
360-degree swiveling seat
Color option(s): black
1-year warranty
Pros
Spacious seating area
High weight capacity
Extra heavy-duty steel frame
Plenty of seat height adjustment range
Cons
Pricier than the competition
Dewalt rarely disappoints when it comes to product innovation, and as a result, the manufacturer packed the DXSTFH030 with minor details that go a long way to make it stand out from the competition. Firstly, the 360-degree swiveling foam-padded seat has the largest diameter on this list, measuring 15.75-inch and the textured vinyl seat cover is thicker than most and will resist rips and tears for years to come.
In terms of the design, Dewalt has made it distinct in terms of both aesthetics and practicality. The bright construction yellow is catchy, and the powder-coated steel frame, built using the same steel Dewalt uses for its storage racks, can support up to 300 lbs without flinching—no slouch indeed. Also, the unique wire grid is perfect to store small tools that you need to keep close. However, since it's still a wire grid and not a full metal plate, I would suggest using a magnetic tray to prevent losing tools and bolts.
Unfortunately, this almost perfect shop stool lacks height adjustability, and you're pretty much stuck with the 30-inch height setting. Nonetheless, it has rugged glass-filled nylon feet that can be easily hand adjusted to prevent wobbling on uneven surfaces (no need for folded cardboard here).
So, if you're looking for a practical, quite handsome, and comfortable shop stool, and you're willing to forgive its lack of height-adjustability, this one promises to be a really good investment.
Key Features
Weight capacity: 300 lbs.
Seat height: 30 inches (non-adjustable)
Seat diameter: 15.75-inch
Seating material: vinyl
360-degree swiveling seat
6-foot storage rack
Color option(s): yellow
1-year warranty
Pros
Spacious seating area
Unique design
Powder-coated steel frame
Has adjustable feet for leveling on uneven surfaces
Comes with a storage rack
Cons
Not height adjustable
Slightly steep price
The Craftsman 49860 easily gets our Premium Pick title. It looks exquisite and is available with a comforting feature no other product on this list offers – a decent removable backrest. Of course, it also checks all the boxes for ergonomic features, such as a 360-degree swiveling and height-adjustable seat, well-mounted footrest, and adjustable feet for leveling on uneven surfaces.
The vinyl-covered seat is 14-inch wide and can be adjusted between 28.5 and 33 inches high—the second tallest stool on this list. It has a chrome finished metal body, capable of bearing 250 lbs, and a 1-year warranty included with every purchase.
However, as said above, the main talking point is by far the addition of a removable backrest, which, when combined the several other interesting features, can justify its relatively high price. But if you want a long-lasting shop stool with a backrest, there are not that many options out there and this is one of the very few models heavily recommended by the community.
Key Features
Weight capacity: 250 lbs.
Seat height: 28.5-33 inches (adjustable)
Seat diameter: 14-inch
Seating material: vinyl
360-degree swiveling seat
Color option(s): black
1-year warranty
Pros
Has a removable backrest
Has adjustable feet for leveling on uneven surfaces
Cons
I know, I know. Of course, these may not be the best stools out there. They aren't anything special; just very simple stools you've already seen 10,000 times in every repair shop ever—usually with a Ford/Dodge/Mopar logo. And yes, a couple of those reviewed above are definitely better—or let's say more responsible choices. Still, I just couldn't leave those out.
Plasticolor's Star Wars Series is a set of four vinyl stools, all with a different Star Wars reference: the classic Star Wars logo, Boba Fett, Darth Vader, and a Storm Trooper.
The Plasticolor Star Wars Series has an estimated weight capacity of 250 lbs. and a 14-inch diameter seat. Sadly, the stools don't swivel and height can't be adjusted either (fixed at 29-inch tall). However, they are quit robust, thanks to the chromed steel construction and a thick footrest.
That being said, I'm not trying to convince you that they are better than most, but let's admit it, not every garage is necessarily used for heavy-duty work. Still, they are affordable shop stools and they would make a pretty neat addition to every mancave or even as bar stools. No to mention that they are also worth collecting—especially if you're heavily into the legendary space saga. Hell, you can even buy one for your living room, and it would still look damn cool!
But yeah, if you really need one for your garage where you'll be welding and fixing stuff, they might not be your best bet. But if you need stools that look better than most, those are hard to beat. And if you aren't a fan of Star Wars, keep in mind that Plasticolor has hundreds of models with pretty much any logo you might want—look it up!
Key Features
Weight capacity: 250 lbs. (estimated)
Seat height: 29 inches (non-adjustable)
Seat diameter: 14-inch
Seating material: vinyl
Color option(s): Boba Fett face, Darth Vader face, Storm Trooper face, Star Wars logo
1-year warranty
Pros
Fun and cool design with Star Wars references
Pretty affordable price
Cons
Not height adjustable
Don't swivel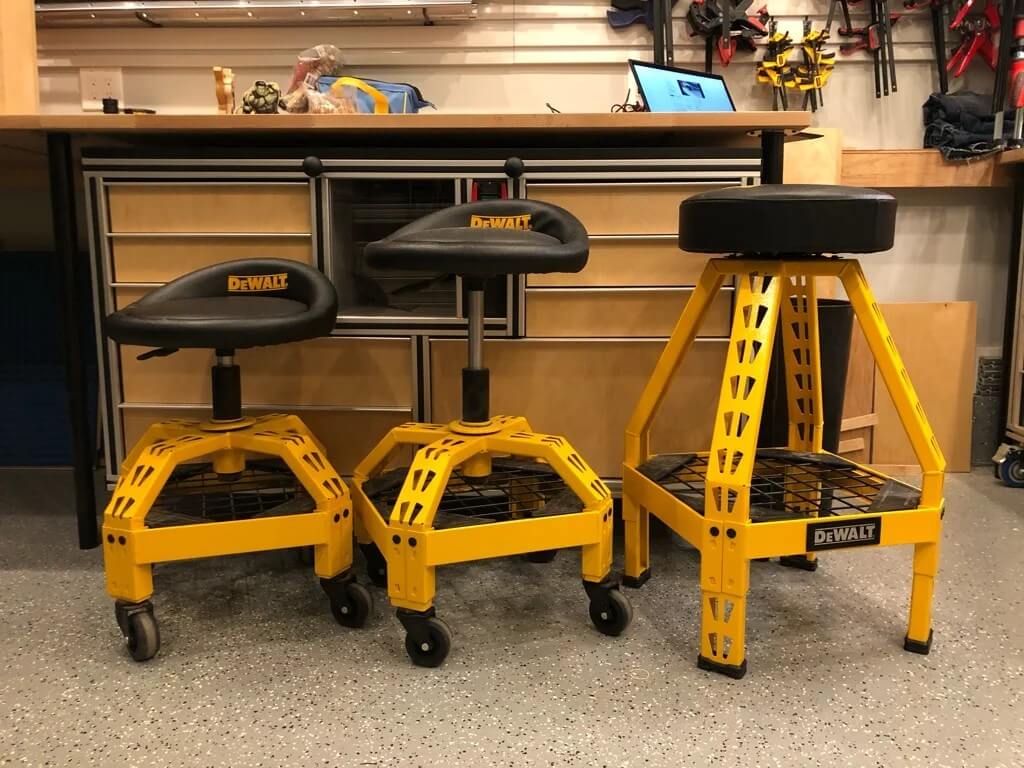 What to Consider When Buying a Garage Shop Stool
Weight Capacity
It goes without saying, a good shop stool should at least be able to withstand your weight—this one is a no brainer. Now you might be thinking, "I weigh 190lbs so anything with a max capacity of over 200lb should be enough, right?" Well, technically yes. But keep in mind that, if your stool is used in a garage used to fix cars, over the course of its life, your shop stool will most certainly end up having to hold a transmission or two.
Not swapping trannies on the daily? No problem. Still, just be aware that, as a general rule, a higher weight capacity also means a sturdier build. And a tougher build, brings a longer the lifespan too. Our advice is to go for those with a rated capacity over 300 lbs. Luckily, that's pretty much the standard for garage shop stools nowadays anyway.
Stool Material
This one is also a no-brainer—the quality of the materials used has a direct impact on durability, but also on the price tag. For the stool chassis, aluminum and steel are the most commonly used, and makes for longer-lasting stools but also typically cost more. There are plastic stools out there but I wouldn't really recommend that, especially not in a garage.
Meanwhile, you'll also want the padded cushion seat to be covered in a durable but comfortable material like polyurethane or polyvinyl chloride (basically vinyl) that can handle the test of time. Certain materials can also prevent welding and grinding burns, so depending on the kind of work you intend to do in there, that might be worth watching out for.
Comfort and Ergonomic
While the thickness of the cushion and backrest (when available) are some of the main contributing factors, the measure of a shop stool's comfort is mainly determined by its ergonomics.
First off, the seat diameter needs to be supportive of the user. Fourteen inches is the typical diameter size, and going for the larger ones usually wouldn't hurt. In most cases, a larger diameter is only better no matter your size (I have never seen anyone say, "this stool would be kinda cool if it was smaller").
Furthermore, a swivelling seat and height adjustability are also nice to have, especially if you plan on moving the stool from one place to another. And not to forget, a built-in footrest will help you stay relaxed and prevent leg fatigue if you sit for an extended period.
Design
The design of a workshop stool matters in both aesthetics and functionality. In the best-case scenario, one would complement the other. These days, manufacturers are creating garage shop stools with unique designs, allowing them to add new useful features. Take the DeWalt DXSTFH030, for example; it's eccentric and sophisticated chassis allowed the manufacturer to add a storage rack within the footrest.
Of course, if you just fix cars in that garage, look might not matter as much as durability. Still, if you are like me, you probably spend tons of time in your garage, and not only when working. Whether it's to have a beer with the boys, watching Sunday night football, or building a soapbox car with the kid, the garage is my personal space. In this case, having a stool that matches your tool chest or showcasing your favorite car brand might be a good idea too.
Not everything you buy needs to be an informed and reasonable decision either, right?
Rubber Feet vs. Wheels
As there's nothing wrong with either of them, choosing between a shop stool with wheels or rubber feet is really a question of personal preference. Put simply, go for rubber feet if you prefer to have maximum stability and grip on the floor, and you don't really need to move around so much.
However, if mobility is what you need, a rolling shop stool might come in handy. Just keep in mind that they're commonly a bit pricier than their rubber counterparts and also bring a higher risk of something breaking at some point. Caster can crack and bearings can seize while rubber feet, well, they just work.
Also, keep in mind that if you decide to go with a rolling stool, look for models with lockable wheels to help you maintain your position when you need to be steady (although it will never be as grippy as rubber, locking wheels are better than nothing).
Verdict
In the end, if like me you worked for years as an auto mechanic, or just spend most of your time in your garage, you already know the benefit of a good garage shop stool better than anyone (you've probably sit on a plastic milk crate during break times too, right?). Unlike regular chairs, these heavy-duty stools are meant to resist all those sparks, fluids and grease and still last for decades. If you're thinking about finally buying a proper stool (and throw that milk crate away for good), it might be time to treat yourself for your hard work—we work hard enough, the least we deserve is to be comfortable when not working!
If you're on a tight budget, the WEN 73016 is the perfect choice. It's an affordable workbench stool and it's just as durable as other more expensive models. Of course, keep in mind the fact that it's not adjustable seat height and make sure you're comfortable with that fixed height before buying.
Meanwhile, if you're willing to invest in a more expensive but high-quality heavy-duty garage shop stool, both the Northern Tool 61228 XL and DeWalt DXSTFH030 are some of the best ones available right now. Both feature a similar rigid steel chassis and price tag, although the Northern Tool 61228 brings a hefty weight capacity and extensive height adjustment range. Meanwhile, the DeWalt DXSTFH030 has a larger and more comfortable padded seat, as well as a practical storage rack. Regardless, you can't really go wrong with either of them.