Blackhawk B6350 Service Jack is currently one of the most popular and highly rated floor jacks for a handful of reasons. That prompted us to gets our hands dirty to find out how does it compare with other service jacks when it comes to lifting capacity, price, and design.
Let's get into it.
When it comes to maintaining and servicing your car, one of the tools you can't do without is a floor jack. This handy tool lets you lift your vehicle to a comfortable height so you can efficiently work on various stuff.
Read on our detailed review of the Blackhawk B6350 Fast Lift Floor Jack to confirm whether it can give you value for your money.
Who is it made for?
While any car owner will find Blackhawk B6350 useful, it is most appropriate for anyone looking for a 3-ton floor jack as it has a lifting capacity of up to 3.5 tons.
It's also a great choice if you're looking for a premium quality and heavy-duty floor jack at an affordable price. It is best suited for lifting standard height vehicles, but you can also use it for both lowered and raised cars. The user-friendly design also makes it great for both beginners and professionals.
Features of the Blackhawk B6350 Fast Lift Service Jack
1. Saddle and Caster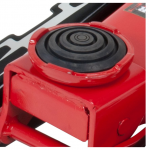 Blackhawk B6350
Is designed with rear casters and a padded saddle that swivel, making it easy for you to quickly position it under your car. The saddle has a rubber padding that not only protects your car's underside but also provides a better grip.
Meanwhile, the floor jack also has wide front casters, which enhance its stability while providing a smooth rolling performance when maneuvering it under your car or around the garage. The handle is padded with rubber to give you a firm and comfortable grip. At 50 inches long, the handle offers you the needed leverage for an effortless pump.
2. Improved Safeguards
This product features rolled side frames that provide extra strength and prevent twisting.
Furthermore, there are several safety features, such as an internal safety valve that ensures you don't overload the jack beyond the maximum rated weight capacity. There is also a by-pass device that makes sure you don't over pump the jack. Both the by-pass and safety valve help you operate the jack safely and prevent potential damage.
3. Up to 3.5 tons Lifting Capacity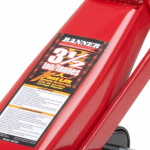 This service Jack boasts a maximum weight capacity of 3.5 tons (7000 lbs), which means that you can comfortably use it for lifting cars, SUVs, and unloaded trucks. It uses the unique Fast Lift Technology, which allows you to quickly raise the jack to your preferred jacking point in only a few, effortless pumps. It also automatically reduces the lifting rate, once it senses pressure from the load you're lifting.
The handle also doesn't stay fully vertical even when you've fully raised the jack so that it won't scratch or damage your car.
4. Heavy-duty construction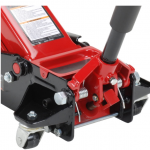 When it comes to build quality, the jack is made of heavy-duty steel. This means that it's strong enough to efficiently lift your heavy load and remain upright without exerting too much pressure on its base. Also, it makes the tool rust and corrosion-resistant to serve you for years to come. But remember, it's only supposed to lift and not to support your car.
5. High lifting range of up to 22 inches
Another stand out feature of this jack is its high lift range of about 5.5 to 22 inches, giving you enough clearance underneath lower and higher vehicles.
Product Benefits
Easy maneuverability
Swiveling rear casters for more comfortable positioning and movement
Fast Lift Technology ensures quick and easy operation
Sturdy and durable steel construction
Great for lifting both lowered and raised vehicles
Designed to prevent twisting, overloading, over-pumping
Easy to use and assemble
Wider front wheels for increased stability
Causes little to no damage to your car
The Negative Things
Slightly heavier than its competition
Not most ideal for some lowered cars due to its 5.5 inches saddle height
The release handle could get sticky at times
Doesn't have side handles for easy carrying
Highlighted Features
3.5 Ton lifting Capacity (approximately, 7000lbs)
Fast Lift Technology
Robust and durable heavy-duty steel construction
Removable padded handle
Rolled side frames
Built-in Internal Safety Valve
Over pumping bypass device
22 inches Max lift height
Swivel, padded saddle
FAQs
Will the Blackhawk B6350 Service jack lift a low-profile car?
No. That's mainly due to its high 5.5-inch saddle height. However, you could still use it for your lowered car by first rising it slightly using a stock jack, then fit in your Blackhawk B6350 in the space.
Alternatively, if you don't have a stock jack, you could drive up onto a 3/4″ piece of MDF to get enough room to fit your Blackhawk B6350 service jack. However, you should remember to place the stock jack or MDF piece back before lowering the jack.
Does the arm detach from the jack for storage?
Yes. Below the shaft, you'll find a 9/16 bolt that holds the handle in place. You should be able to remove the handle for storage by unscrewing this particular bolt.
Final Verdict
The Blackhawk B6350 is easily one of the best service jacks you can find out there, as it's feature-packed, and it's reasonably priced. The floor jack is easy to operate and works with a whole range of vehicles considering its massive lift capacity and lift range.
Sale