EDITOR'S PICK
Grey Pneumatic 59-piece ⅜" Drive Set
59-piece socket set in ⅜" drive
Includes deep and standard sockets for SAE and metric fasteners
Comes in a black blow-mold organizer carry case
Includes 72-tooth ratchet
3" & 6" extensions included
Thin-wall design
Intended for use with hand, power, and air tools
PREMIUM PICK
Wera Zyklop Metric Socket and Ratchet Set
5-in-1 ratchet with 72-fine tooth gearing
Includes screwdriver attachment
Fixed position swivel head design allows different head positions
Slide-lock flexible extensions
Metric sizes 6mm-24mm
Wera Kraftform handle
Includes T-bar driver
BUDGET PICK
Craftsman 135-piece Mechanics Tool Set
Includes SAE and metric deep and standard sockets in three drive configurations
SAE sizes 5/32" to ¾"
Metric sizes 6mm to 19mm
Comes in a red blow mold case with metal hinges
Includes extensions, had driver, and box wrenches
Anyone planning on working on cars, doing chores around the house, or wanting to take anything apart needs a socket set. For the casual DIYer, you don't need the most expensive socket set around—no reason to spend big bucks for tools you'll only use once in a while. However, for professionals, it's a totally different thing.
Nonetheless, the best socket set will have the sizes you need, be made well so that the sockets fit as they should, and resist corrosion and breakage under normal use. However, picking the right set of sockets will depend largely on what your projects look like.
To help you find a socket set that will fit your specific needs and budget, we have created this article providing you with a wide range of socket sets, appropriate for different purposes. Some are cheaper and some are pricier but all of them are the best at what they do. Of course, we also added a quick socket shopping guide to help you pick a good set, so you get the tools you need at a fair price.
Enjoy!
Socket Set Reviews
When it comes to automotive tools, Craftsman's reputation is already well-established. Many mechanics start with this socket set as their go-to, and quite often, still have parts of it when they retire. Ask any mechanic, they all have a couple of those old rusty Craftsman sockets they aren't sure how they got them. Craftsman ratchet and socket sets are durable, reliable, and affordable. Hence, this set is a perfect option for beginners just starting in the field to DIYers needing a socket for occasional use up to mechanics that want everything they need in one box.
What you get is quite amazing for this price. It includes both SAE and metric sizes in ¼", ⅜," and ½" drive. You also get Craftsman's excellent 72-tooth ratchets in all three drive sizes, extensions, a hand driver, and the most common box wrenches. And the pieces are packaged in a nice blow-mold case that has metal hinges.
Furthermore, it's a nice set of sockets that have large, easy-to-read identification markings. You'll have a hard time finding a socket set that has both standard and deep sockets, ratchets, extensions, and everything else at this price range, and you won't find anything with the outstanding quality of Craftsman Tools.
Key Features
Includes SAE and metric deep and standard sockets in three drive configurations
SAE sizes 5/32" to ¾"
Metric sizes 6mm to 19mm
Comes in a red blow mold case with metal hinges
Includes extensions, had driver, and box wrenches
Pros
Reputable manufacturer
Everything you need in one convenient place
High-quality at a great price
Cons
Some of the included tools duplicate more useful sets, i.e., limited box wrench sizes
When you want a really great-looking toolset that performs even better, check out Grey Pneumatic Tools 59-piece socket set. It's a ⅜" drive socket set featuring deep and short 6-point sockets in SAE and metric sizes. The set also includes two extensions and one of our all-time favorite ratchet designs.
It is a perfect toolset for anyone serious about working on cars or machinery. The sockets have an attractive black finish with spun metal bases. Besides, the large identification numerals are easy to read. Grey Pneumatic designed the sockets with a thin-wall design for clearance and used high-strength molybdenum steel to provide impact strength for cordless and air-powered tools.
Moreover, these sockets come in a handy blow-mold case that makes it easy to keep them organized. The set includes SAE sizes from 5/16″ all the way to 1″ and metric sizes 7mm through 22mm. The inclusion of 1″ and 22mm sockets is a bonus since these sizes are frequently left out of competitor kits.
Key Features
59-piece socket set in ⅜" drive
Includes deep and standard sockets for SAE and metric fasteners
Comes in a black blow-mold organizer carry case
Includes 72-tooth ratchet
3" & 6" extensions included
Thin-wall design
Intended for use with hand, power, and air tools
Pros
Ability to switch from hand to power tools without hunting for sockets
This set provides some of the less common but useful socket sizes
Elegant, comfortable all-metal ratchet
Cons
Some buyers report socket failures
If you are serious about your tools, Milwaukee has the perfect socket set for you. This 56-piece set includes SAE and metric sizes in ⅜" drive, a ratchet, extensions, and even includes a swivel. Both standard and deep sockets are also included and all sockets are sturdy 6-point design.
One of the most unique features of this set is the four parallel flats at the base of the socket. The design helps reduce slipping and lets you grab the socket with a box wrench. This added convenience lets you use the socket in places where even the best flexible ratchet and swivel simply can't go.
The ratchet in this set is also particularly nice. It has a slim head design and uses a 90-tooth gearing to make working in tight areas easier. The swivel is a welcome plus, as it is frequently one of those tools you have to make a special trip to the store to buy.
Key Features
56-piece socket set with ⅜" drive
Includes slim-head ratchet, extensions, and swivel
SAE sizes: ¼"-1"
Metric sizes: 6mm-19mm
Comes in a blow-mold case with a removable insert for use in toolboxes
Pros
Very high-quality socket set
Unique design adds functionality
Removable insert makes toolbox organizing fast and simple
Cons
Doesn't include 22mm in either long or short design
No socket release button on ratchet
Ingersoll-Rand is known for professional quality tools, and that's exactly what you get with this set. Instead of loading up a box with a bunch of stuff you don't need, IR only includes the most useful ⅜" and ½" drive sockets. That's right, no ratchet, screwdriver bits, or other useless bits—just really really great quality sockets.
The set includes SAE and metric sizes in a 6-point design. All included sockets are also impact-rated and real-world tested. Unlike many companies that won't honor warranties on products purchased from Amazon, IR does that even if you can't get to an authorized dealer.
The set includes deep and standard sockets with laser-etched identification numbers. Hence, it's easy to spot the socket you need quickly. However, since IR focuses solely on providing you with the best quality sockets around, there are no extensions or ratchets included, so you'll need to buy those separately.
Key Features
Includes standard and deep sockets in ⅜" and ½" drive
Sockets are impact-rated
SAE sizes: 5/16"-1 ¼"
Metric sizes: 9mm-27mm
Limited Lifetime Warranty
Includes storage carry case
Pros
All the sockets you need, none of the extras you don't
Impact rating means these are some tough tools
Provides both ⅜" and ½" drive versatility
Cons
Ratchets, extensions, swivels, and reducers sold separately
At the high-end of the price range for the average DIYer
This is one of those cases of "get it while you can." GearWrench has discontinued one of the most popular socket sets around and if you are quick enough, you could get your hands on one of the most complete sets possible. Unlike almost every socket set out there, these are made from S2 Steel, ideal for hand tools. It's harder than chrome-moly toolsets but prone to shattering if used on an impact gun.
These sockets have some advanced features, too. The off-corner loading design puts pressure on the fastener's flat side rather than the point, preventing shearing, rounding, and bloody knuckles. The sockets are hard-stamped for identification and have a knurled ring or double line to differentiate between SAE and metric sizes.
The set includes ¼", ⅜", and ½" drive sockets in both standard and deep lengths. All sockets are 6-point and have a bright chrome finish to reduce rusting and ensure longevity. However, the set does not include ratchets, extensions, or even a case, so you'll want to plan ahead.
Key Features
¼", ⅜", and ½" standard and deep socket set
SAE and metric sizes
Chamfered socket throat
Off-corner loading design
Different stamping for metric and standard sockets
Pros
Includes tons of sockets in almost every size you'll use with hand tools
Design of the socket makes them comfortable to use
Cons
Ratchets and extensions not included
Doesn't come in a case
Wera Tools is an interesting tool manufacturer, known for thinking out-of-the-box. Everything they make, every tool they create is always unlike anything out there. With the Zyklop ratchet, Wera intended to target one specific problem and succeeded quite well. One of the main drawbacks of every ratchet on the market is that the head of the handle and the lug form a fixed 90-degree angle. To address this problem, Wera came up with a design that beats out any flexible ratchet out there.
The key to this set is the three-position ratchet head and the slide-lock extensions. In combination, you can get at some previously impossible fasteners with ease. Besides, the ratchet itself is a work of functional art. The handle is engineered to provide grip where you need it without slowing the motion of your hand.
When it comes to unique designs, this is a set that stands out from the crowd. From the very different handle to the high-viz green markings and matte-finish sockets, this is a premium toolset unlike anything else in your drawer. Of course, it's more expensive than most. No doubt, it might not be the best idea to bank your whole budget on a Zyklop if you are just starting in the field—save those big bucks to buy other tools. But if you are a professional auto mechanic and really want to make the other guys in the shop jealous, get this one!
Key Features
5-in-1 ratchet with 72-fine tooth gearing
Includes screwdriver attachment
Fixed position swivel head design allows different head positions
Slide-lock flexible extensions
Metric sizes 6mm-24mm
Wera Kraftform handle
Includes T-bar driver
Pros
Unique, feature-packed ratchet set with tons of versatility
Provides excellent access to difficult to reach fasteners
Looks really nice
Cons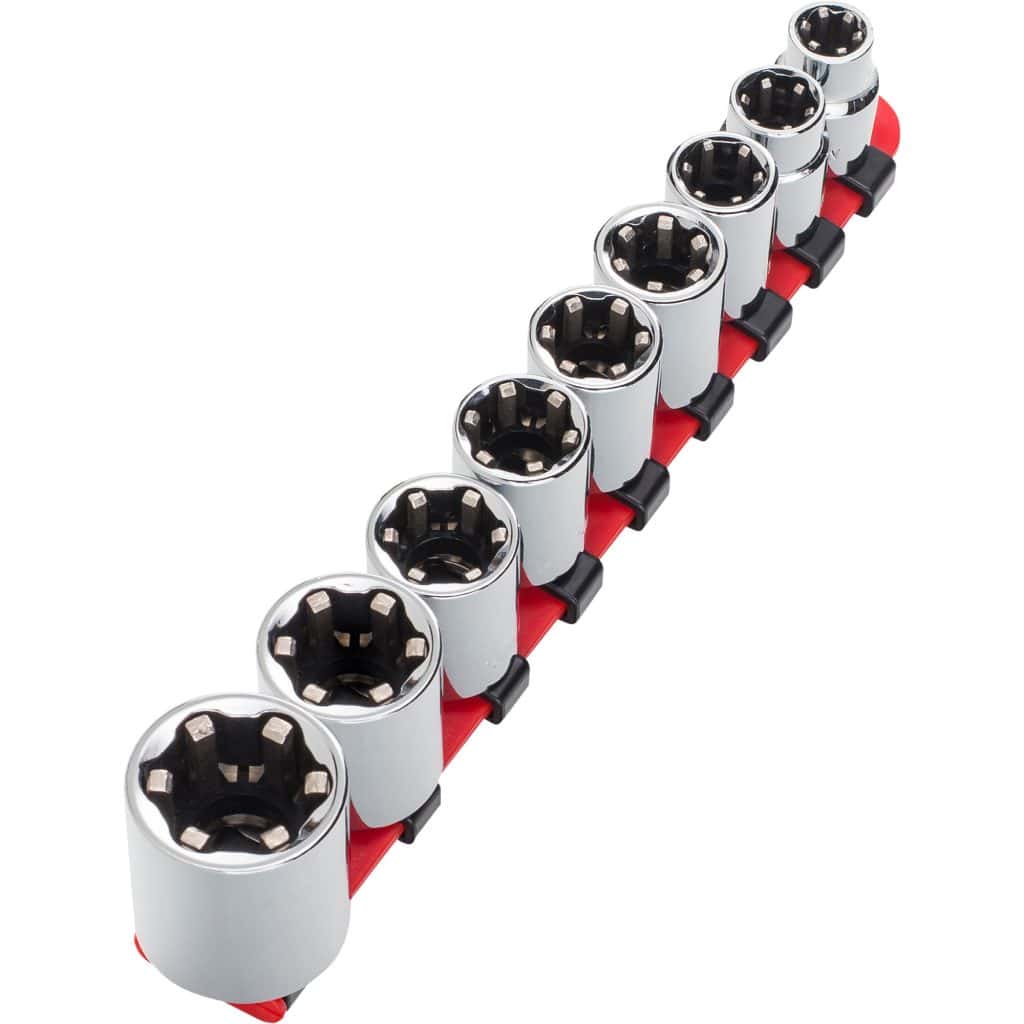 There are times when an average socket simply won't cut it. When you are working on rusty, beat-up, and rounded fasteners, an average socket will be next to useless. Reach for this set before you damage anything worse! The unique camming technology and shape of these sockets grabs onto irregular sizes firmly. The harder you turn, the harder it grips, letting you get the torque you need to break loose long-forgotten fasteners.
Moreover, the gripping design makes the installation of nuts and bolts easy and safe, something most socket sets can't say. You can hold your fastener in place and thread by hand without dropping the fastener, even in those irritating, tiny spaces. Unlike a magnetic bit, the Grip-Tite design releases easily.
This one is a 9-piece metric set, but SAE sets are available in different drives and sizes. It includes 9mm through 19mm sockets in ⅜" drive. What may be a surprise is that it also works on fought-up stuff, although it's even better on nuts and bolts in good shape.
Of course, it's not essential but if you work on older cars, classics or anything rusty, get a set—you'll thank me later.
Key Features
Camming design and unique socket shape grip rounded and rusty bolts
Sockets hold bolts for hand-starting
Metric sizes: 6mm-19mm
Made from Chrome-Vanadium steel
Pros
Excellent for removing tough fasteners
Unique design also prevents damaging fasteners
Cons
Can get expensive to buy if you need lots of sizes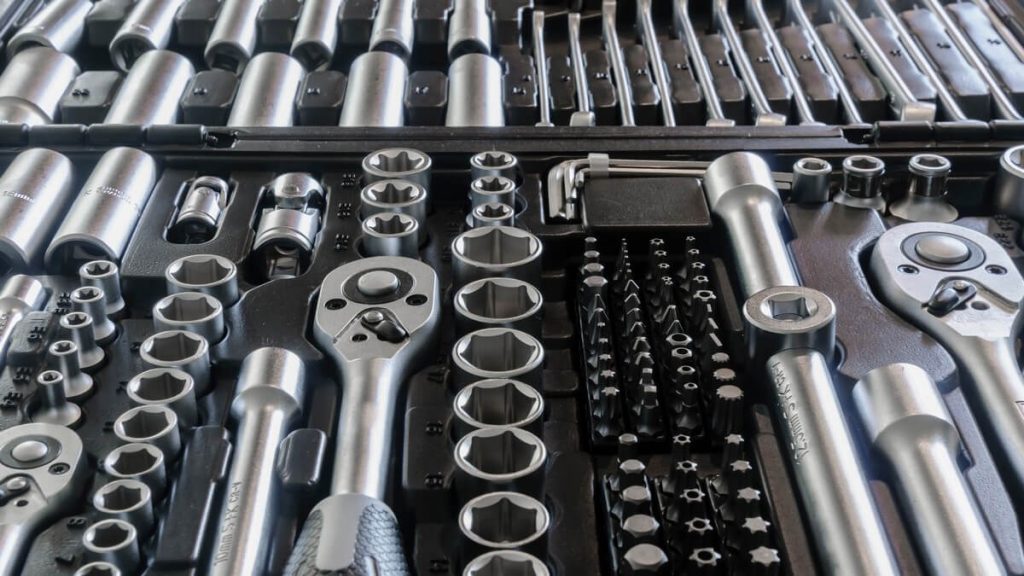 Socket Set Buying Guide
One of the most difficult and frustrating tools to shop for is socket sets. There are so many different options, different sizes, finishes, brands, and designs; it's hard to narrow down what you should get. But before you even start to shop, you should determine how you will use those sockets.
Intended Use
If you are only sporadically using a few common sizes, you don't need to buy a huge socket set. Many tool manufacturer make smaller sets, including only the most common sockets. Similarly, the kind of work you do will also dictate the kind of socket set you should buy. If you only need a set to work around the house, you'll probably be ok with only the smaller size. After all, it'S very unlikely you'll have 19mm bolts holding your freezer's door.
Meanwhile, keep in mind that, if you are mostly using an impact wrench, you shouldn't use chrome sockets—look for an impact socket set instead. Chrome sockets are simply not made to withstand the force produced by air- or battery-powered tools.
If you are shopping for a starter set, it would make sense to buy a set that includes the most useful accessories. If you plan on working in a shop, you simply can't expect to do well without a couple of extensions, reducers, and swivels. On the other hand, if you intend to make auto mechanics your career, you might also be better buying a huge socket set, covering every size you'll ever need, and buy the accessories individually—you'll have to run the numbers for yourself here.
Drive Size
The most common sizes are ¼", ⅜", and ½" inch. The smallest size is appropriate for light-duty work but shouldn't be used for fasteners requiring significant force. A ⅜" drive ratchet and socket set is among the most useful for general automotive repair and other tasks. The largest drive size is ideal for heavy-duty applications like removing lug nuts, dismantling suspension components, and other large fasteners.
6-Point vs. 12-point
This is the number of flats the socket features. A 6-point design touches the flats of a fastener. A 12-point touches predominantly on the corners but allows you to easily locate the head of the fastener. However, 6-point sockets are stronger than 12-point fasteners, a feature that becomes important as the drive size increases. Don't use 12-point sockets for high-torque fasteners.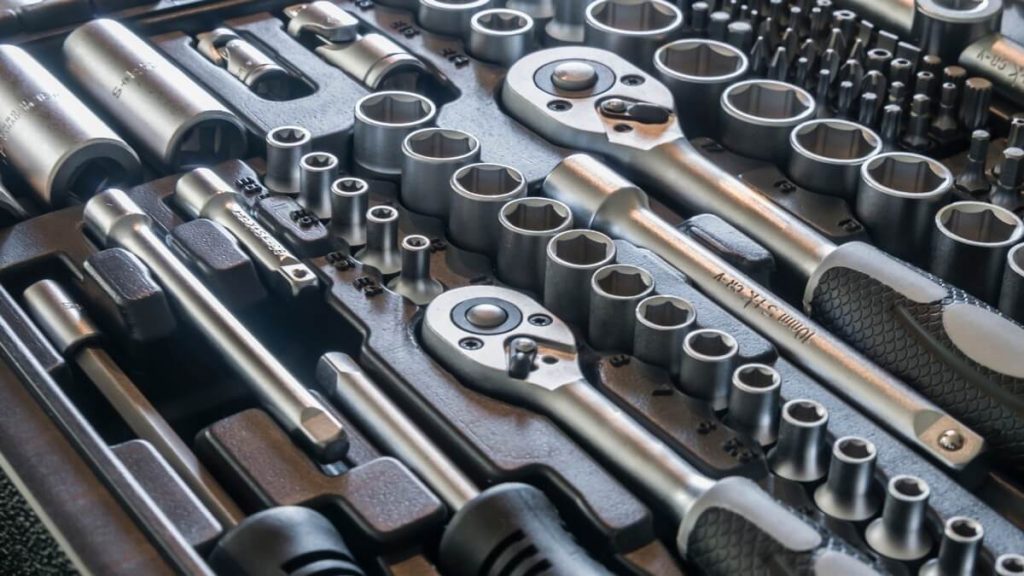 Gear Teeth
When it comes to ratchets, 72-teeth gear mechanisms are becoming more widespread but there are several different designs still commonly in use. Older ratchets used to have 36-tooth gears, while some newer designs use dual pawls to achieve up to 100-teeth. In general, the higher the teeth count, the shorter distance between each click. Meanwhile, higher teeth counts and finer tooth profiles contribute to wear and may lead to breakage sooner than a fewer tooth gear design.
Deep vs. Standard Sockets
Standard sockets work on bolts and nuts that don't have a long protruding bolt. They are the most common because they provide the best torque and help prevent slipping and knuckle-busting. Deep socket designs are simply longer sockets. This design can accommodate longer studs while still catching the fastener and often works well when a short extension isn't practical.
SAE vs. Metric
The two most common sizes of fasteners in the world are SAE and metric. SAE uses fractional standard designations while metric tools are in millimeters. In general, older cars—particularly American ones—feature nearly universal use of SAE fasteners. Metric is more common in European, Asian, and modern USDM vehicles.
Worth mentioning, some SAE sizes cross over to nearly identical sizes for metric sockets, but not all. For instance, 9/16″ and 14mm are almost identical and can be interchanged. On the other hand, some sizes are just different enough, they can be used in clever ways. For example, a rounded 10mm brake bleeder will often fit a 3/8″ socket much better.
When it comes to working as a mechanic in a modern dealer, a single complete metric set will usually be enough. However, if you can afford it, get an SAE set too—you never know when it might save your life (read here: Friday afternoon, 4:22pm, rear brake cylinder replacements on a 2008 Ford Focus).
Tolerance
One of the features rarely discussed by manufacturing companies about their sockets is the tolerances to the listed size. Only when you get into better quality sets, do you see any mention of tolerance at all. You can usually expect a good socket set to be accurate, and all of the ones on our list today meet that minimum requirement. Unfortunately, many low-priced sets are poorly made and don't work well—stay away from that or you'll regret it later.
Verdict
Buying a new socket set is lots of fun when you know you are getting a great quality product. The sets on this list are among the best on the market for their intended purpose. Once you decide how you plan to use a socket set and what accessories you'll need, picking the best option is quite simple.
With the best socket set, you'll find that projects take less time and effort, giving you more opportunity to enjoy your efforts. A good socket set can make a big difference in properly assembling and disassembling many items without damage, so it's important you have the best socket set for the type of projects you work on.