Want to treat your garage as well as it treats you? Start with a new coat of paint specifically designed for garage walls— your garage deserves the extra care!
Classic Option
Rust-Oleum 1990502 Painter's Touch Latex Paint
Latex-based paint
Available in 14 different color options
Suitable for wood, metal, plaster, masonry, or ceramic
Available in half-pint and quart sizes
High-Performance Option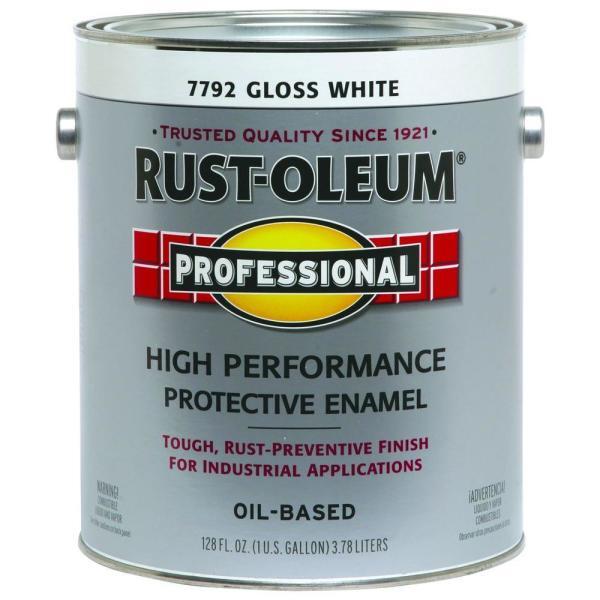 Rust-Oleum Professional High-Performance Protective Enamel Gloss
Oil-based paint for industrial applications
Indoor/outdoor use
Available in 14 different color options
Available in four sheens- flat enamel, semi-gloss, and gloss
Suitable for concrete, masonry, metal, or wood
One gallon covers around 400 square feet
Waterproofing Option
Drylok 28613 Extreme Latex Masonry Waterproofer
Latex-based waterproofer
Available in more than nine color options
Designed for use on masonry, brick, stucco, and concrete
Capable of withstanding pressures up to 15 PSI
Sizes available include 1 quart, 1 gallon, and 5 gallons
Your garage goes through significantly more abuse during its entire lifetime compared to any other room in your house. After all, garages are much more than just a place to store your vehicles and you wouldn't overhaul an engine in your living room or start welding in your kitchen, right? My point is, if you are into DIY like me, your garage is just as or arguably even more important than any other room in your house. But it isn't too late yet to start giving your garage some much-needed love, and the best place to start is by treating it to a new coat of garage-specific heavy-duty paint.
Of course, paints for garage walls come in many different types depending on the climate your region experiences and the kind of protection you are looking for. To help you find the right one for you, our team of experts curated and reviewed some of the best paints for garage walls out there. We tried our best to cover a wide range of options and include different types of paint, so all needs are catered to. No matter your requirements or budget, we are positive you'll find something suitable for you below.
Time to get to work!
Best Paint For Garage Walls Reviews
You might have heard of this one before as the Rust-Oleum 1990502 Painter's Touch is your classic run-of-the-mill latex paint. Still, it is incredibly cost-effective, does everything it says and works especially well for garages.
Although this specific model number represents flat white paint, Rust-Oleum also offers 13 other colors, including navy blue, sun yellow, hunter green, apple red, and many more in matte, gloss, and even satin finishes (blue or green might not be your best bet for a garage, who am I to judge, right?). While color and finish will depend on your personal taste, it's important to keep in mind that going for something glossy will reflect light better, helping to keep your garage well-illuminated — that's not to neglect, especially if yours doesn't have a lot of windows.
Moreover, since the Rust-Oleum Painter's Touch is a latex-based paint, it's easy to apply even for beginners. After the application process is complete, you won't have to wait long for the paint to dry and settle in nicely. Just make sure you prime the surface first to get the best possible results, especially if the walls were previously dark or stained.
Overall, Rust-Oleum's Painter's Touch line-up is perfect for garages in moderate climates. It is cheap, it comes in 14 color options, and you don't need to be a professional painter to apply it; what more could you ask for?
However, it's vital to mention that latex paints aren't the most durable option. If you do really dirty work or work 40 hours a week in your garage and don't enjoy touching up your garage walls every couple of years, you might be better with something a little more resistant below.
Highlighted features
Latex-based paint
Available in 14 different color options
Suitable for wood, metal, plaster, masonry, or ceramic
Available in half-pint and quart sizes
Pros
Provides a good surface finish
Easy to apply and quick to dry
Affordable
Non-toxic paint
Comes with Rust-Oleum satisfaction guarantee
Cons
Not as durable as other paints
Repainting a garage is hard work, and it can sometimes be challenging to get rid of stains, scuffs, and marks resulting from years of hard work. But don't worry, the Kilz High-Hide Stainblocking primer is here to save the day with its powerful and highly effective water-based formula. It provides a uniform finish while successfully covering old stains and paint. And even better, you can use this primer on almost any surface, whether it is inside or outside, thanks to its excellent adhesion property.
If you want to overhaul your garage and have difficulty getting stubborn old grease stains off, the Kilz premium high-hide primer is the best option for you. It can also be helpful when painting over darker colors with lighter ones. Think of it as preparing a new blank canvas before putting the top coat on. Still, as always, don't forget to clean the surface and remove any dust or grease before applying the primer.
Apply this primer before a fresh coat of paint, and you are sure to get a smooth and beautiful finish every time.
Highlighted features
Water-based stainblocking primer/sealer
For interior and exterior purposes
Suitable for drywall, plaster, wood, paneling, masonry, and brick
One gallon covers around 300-400 square feet
Pros
Easily covers old paint and stains
Can be cleaned with soap and water
Low odor makes it suitable for occupied areas
Designed for exterior and interior surfaces
Limited lifetime warranty
Cons
This one is just a primer and will require a coat of paint or two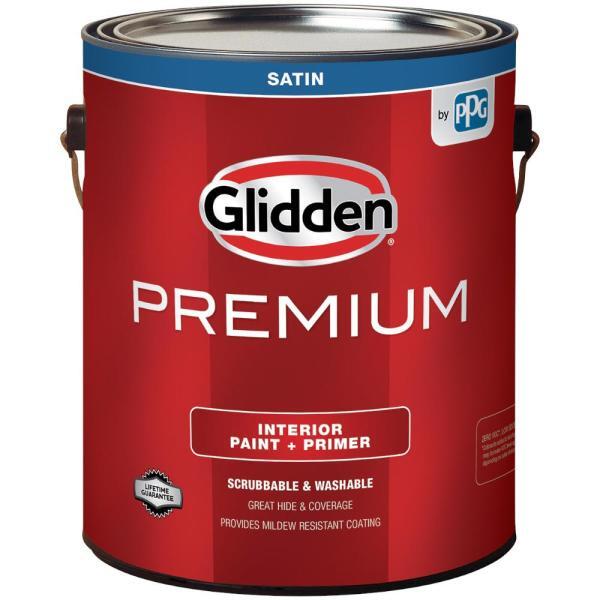 If you don't have a lot of time to work on your repainting project, this unique all-in-one paint/primer is what you need. The Glidden Premium satin interior paint is designed to eliminate the need for a separate coat of primer, significantly speeding up the process. You get a smooth and shiny finish suitable for any room with low odor and zero Volatile Organic Compounds (VOCs).
The Glidden Premium Base 1 formula is perfect for painting garage walls as they are prone to frequent stains and dirty deposits (that acetylene torch and MIG welder create a lot of fumes, you know). Indeed, you can quickly get rid of tough stains as this paint is scrubbable and washable without losing any of the shine over time. Glidden is so confident in its paint formula that it is offering a lifetime guarantee with it.
Glidden offers three other sheens (matte, eggshell, satin, and semi-gloss) with varying levels of shine. Additionally, you can even choose from over 1,100 Glidden colors to tint this Premium paint/primer — possibilities are endless here.
Highlighted features
All-in-one latex-based paint/primer
More than 1,100 tints offered
Available in four sheens: matte, eggshell, satin, and semi-gloss
Suitable for drywall, plaster, or wood
Sizes include 8-ounce, 1 quart, 1 gallon, and 5 gallons
Pros
No need to apply a separate primer layer first
Easy to clean by scrubbing or washing
Extensive color choices available
Zero VOCs and low-odor paint
Reasonably priced
Lifetime manufacturer guarantee
Cons
You might need more than one coat to get a satisfactory finish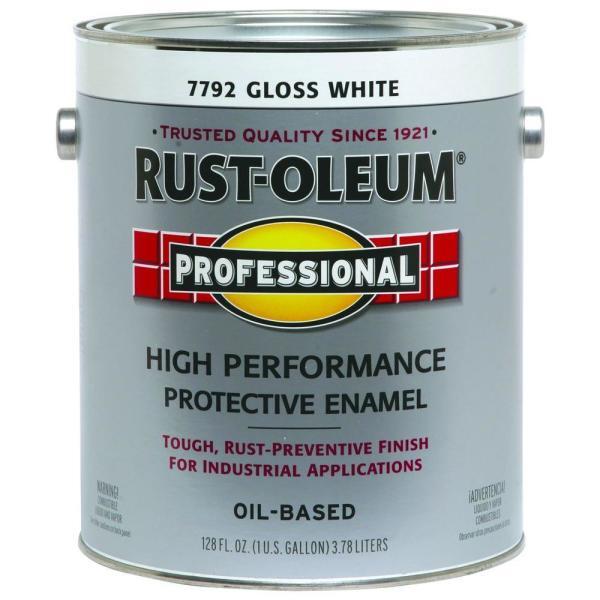 Rust-Oleum is back with another excellent product. This time, it's the professional heavy-duty enamel paint in gloss white, a unique and especially well-suited paint for garages and surfaces subjected to extreme wear and tear. Upon drying, the enamel in the paint forms a hard surface with a glossy finish providing a longer life than most, which is also really easy to clean using nothing but soap and water.
Rust-Oleum's Professional line-up of high-quality paint products is designed for use primarily in demanding work environments like garages or repair shops. The enamel oil paint will take up whatever you throw at it and still adorn the same glossy finish as day one. Additionally, this paint formula will also provide protection from rust, which is a bonus for metallic surfaces.
However, it's important to mention that, unlike the previous model, you only get 14 color options to choose from here. Still, that shouldn't be a problem as all the most popular colors are covered and after all, it's a garage, not an art gallery.
Highlighted features
Oil-based paint for industrial applications
Indoor/outdoor use
Available in 14 different color options
Available in four sheens- flat enamel, semi-gloss, and gloss
Suitable for concrete, masonry, metal, or wood
One gallon covers around 400 square feet
Pros
Perfect for industrial applications like repair shops
Easy to clean with soap and water or mineral spirits
Provides rust protection and abrasion resistance
Exceptional paint quality
Comes with Rust-Oleum satisfaction guarantee
Cons
Costs more than other paints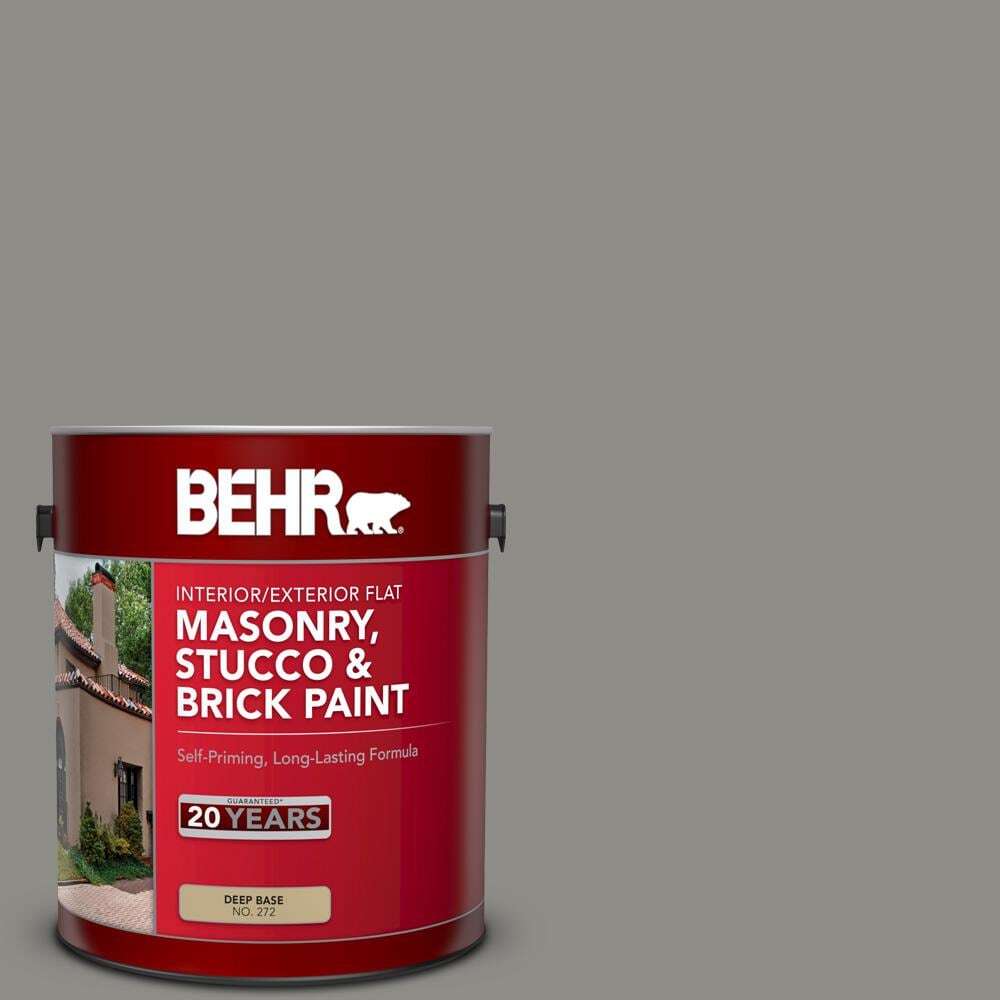 Different paint formulas are suitable for different surfaces, and it isn't possible to make a general formula for all surfaces without serious compromises. If you are in the market for a high-quality, no-compromise paint exclusively made for masonry, brick, or cement surfaces, your search ends here — meet Behr's PFC paint. It uses an innovative and specialized paint formula that works best on these surfaces and provides a smooth finish with unmatched adhesion.
The best part about this latex-based paint is its self-priming nature, so you don't have to spend extra time and money on buying and applying primer. Merely clean the surface beforehand, and you are good to go. When you are done, the result is a long-lasting, mildew- & alkali-resistant finish.
Behr offers more than 250 color options for this self-priming paint and if any of those don't interest you, you can also request a customized alternative. With the brand's state-of-the-art color-matching technology, you can easily get pretty much any custom colors of your choice. Yes, you'll be paying more than some other paints, but in return, you are getting a premium product with a 20-year satisfaction guarantee.
Highlighted features
Self-priming acrylic latex paint
Interior/exterior use
Available in more than 250 fixed colors and unlimited customization
Suitable for concrete, masonry, stucco, cement, and brick
Available in flat and gloss finishes
Sold in one- and five-gallon containers
Pros
Alkali and mildew resistant paint
Provides exceptional coverage, hide, and adhesion
Suitable for interior and exterior surfaces
Paint formula designed for specific applications
No need for primer
20 years customer satisfaction guarantee
Cons
None—when it works, it works
Most other paints mentioned in this list either provide no protection against water or are water repellant at best. However, that gap has now been filled by the Drylok 28613 extreme latex waterproofer. And when it says "extreme," it means it. Drylok claims its waterproofer doesn't simply stick to the surface, but penetrates the pores of your masonry instead, creating an impenetrable layer good enough to stop water and withstand up to 15 PSI of hydrostatic pressure, which is obviously more than enough for most household applications.
Still, waterproofing is not all the Drylok 28613 extreme is capable of; its advanced formula will also prevent radon gas from penetrating the walls by reducing vapor transfer. If you're not already aware, the EPA characterized radon as a health hazard significantly increasing the risk of lung cancer after prolonged exposure — so keeping it out is a good thing.
If, like me, you like to wash your garage floor using a garden hose and just squeegee all the water out after, you might risk dampening your drywall, causing mold and mildew in the long term. Luckily, that's something you can easily prevent using this paint. A few coats of this Drylok waterproofer can also seal small cracks in concrete in preparation for heavy rains or water leaks.
Drylok offers its extreme waterproofer in two base colors: bright white and gray. However, there are seven other preset tints to choose from, and you can also request more options by getting in touch with your nearest Drylok dealer.
This one is obviously not for everyone but if you need seriously heavy-duty waterproof paint, this is what you need!
Highlighted features
Latex-based waterproofer
Available in more than nine color options
Designed for use on masonry, brick, stucco, and concrete
Capable of withstanding pressures up to 15 PSI
Sizes available include 1 quart, 1 gallon, and 5 gallons
Pros
Advanced formula is guaranteed to stop water
Protects against radon radiation
Works exactly as avertised
Plenty of color options to choose from
Fully transferable 15-year warranty
Cons
Works only on masonry and similar surfaces
On the expensive side
What to Consider When Choosing the Best Paint for Garage Walls
Now that you have gone through the best paints for garage walls, it is time to decide the best one for you. To make sure you invest in a paint that won't disappoint, it's important to analyze your needs first, which can be difficult for beginners or inexperienced individuals. If it's your case, here are a few factors you need to keep in mind while choosing the best paint for your garage walls:
Safety
As always, safety comes first. However, when painting garage walls, 'safety' really means watching out for chemicals used in the paint and their effects on human health. Whether the paint is oil or latex-based, the toxicity of such compounds is well established by now.
Consequently, make sure to pick a paint with low or zero Volatile Organic Compounds (VOCs). They are harmful chemicals that mix into the air even at room temperature, resulting in irritation to the nose or eyes. Moreover, individuals with respiratory or skin diseases should hire professionals to paint their garage and avoid exposing themselves to toxic fumes.
In all cases, make sure the room is well-ventilated during the painting process and until it's completely dry.
Color options
Nobody likes a dull work environment, and a splash of color here and there never hurts. Still, most people just take the easiest route and either go for white or any other close shade. However, if you'd like to add a personal touch, make sure your paint is offered in a wide range of color options. On the other hand, if you have a specific shade in mind, several manufacturers can also match a color from any object and provide you with a truly customized option.
Type of use
The best paint for your garage walls can dramatically change depending on the type of material you intend to paint on. Some paints are designed for general use, including metal, wood, concrete, and more, but others may not be that flexible.
Whenever possible, it is always better to go with a paint designed for that specific surface. However, in some cases, your garage might have different wall surfaces, like 2 walls covered with drywall and a brick one. In this situation, think about buying a paint suitable for multiple surfaces or two different types of paint.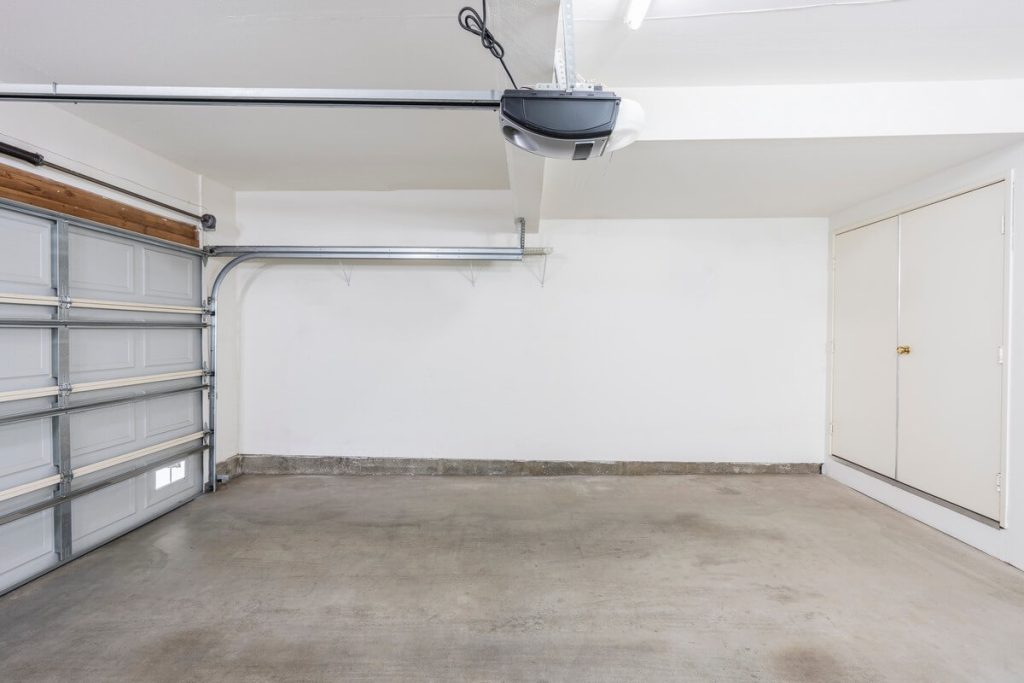 Frequently Asked Questions (FAQs)
What is the difference between latex and oil paint?
Latex and oil paints are two very different products and are suitable for different applications. Latex or acrylic paints use latex rubber or any other synthesized resin as a binder with a water-soluble base. In simpler terms, latex paints are fairly easy to clean and maintain, making them more suitable for interior surfaces. They are also quick to dry and contain little to no toxic material.
As the name suggests, oil paints can be extremely slow to dry. Fumes emitted by oil-based paints are also often toxic to humans and the environment. Nonetheless, oil paints also have some advantages — they provide a glossier finish, last longer, and are significantly easier to wash.
What is the best color for garage walls?
Choosing a color for your garage walls comes down entirely to personal preference. After all, the most important thing is that you actually like working in there, right? Still, as a general rule, light and neutral colors are usually the way to go since they reflect light better and will help illuminate the whole room more easily.
Pick a color capable of hiding stains well and, at the same time, making the garage feel airy. The most obvious choices are white, tan, light gray, and beige.
Which tools do I need to paint my garage?
In addition to a lot of paint, there are several other tools and equipment you might need to complete a repainting project. Of course, there is no definitive list since every project is different, but here are some of the most common tools you'll need:
Something to paint with — a brush or a paint roller (with an extension pole)
Paint trays
Primer (if required)
Masking tape to cover everything except the walls
A respiratory mask to protect you from harmful fumes
Other protective gear like a painting suit
Several drop cloths
Cleaning equipment
A ladder if the ceiling is quite high
Verdict
The garage is a significant part of every household, and if you're like me, you probably spend more time in there than in the house anyway. So of course, it deserves a makeover every once in a while — there's nothing worse than having to work in an environment you hate.
For obvious reasons, there is no clear winner here; instead, each paint in the list is suitable for different applications and for very specific garage configurations. For example, if you wash a lot of cars in your garage, the Drylok Extreme Waterproofer is the way to go. Meanwhile, Rust-Oleum Professional High-Performance Latex Paint is a good fit for repair shops and DIY workshops subjected to considerable abuse every day.
In all cases, make sure to take some time to think about what you need, evaluate your budget, and how long you'd like the paint to last. As usual, proper planning is always your best bet to ensure you get the most bang for your bucks.
I hope it helps!