EDITOR'S PICK
Wall Control 30-WRK-400 Standard Workbench Pegboard Organizer
Size: 32-inch x 16-inch panels (comes in 3 pcs)
Weight: 29 lbs
Material: Metal
Ideal Wall Stud Spacing: 16-inch
Color Options: Black, Gray, Blue, Green, Red, Orange, Yellow, White, Metallic
Wall Control slots
Powder-coated finish
Included Accessories: 2 shelf assemblies (6-inch and 9-inch), 1 screwdriver holder, 1 hammer holder, 3 plastic hanging bins with bin hanger, and 20 additional hooks and brackets
Limited lifetime warranty
PREMIUM PICK
Ultrawall Garage Storage
Size: 24-inch x 14-inch panels (comes in 4 pcs)
Weight: 36.2 lbs
Material: Metal
Load Capacity: 1200 lbs.
Ideal Wall Stud Spacing: 24-inch
Color: Silver
Powder-coated finish
Included Accessories: 2 shelf assemblies, 6 rails, 10 storage bins, and 50 additional hooks and brackets
BUDGET PICK
Dorman Hardware 29993 Pegboard
Size: 16-inch x 16-inch
Weight: 1.8 lbs
Material: Plastic
Load Capacity: 50 lbs.
Ideal Wall Stud Spacing: 16-inch
Color Option: Black
Bult-in standoffs
Built-in latch for additional pairing
When you have plenty of garage tools and equipment, it's essential to store them tidily. Sure, you may have a drawer or cupboard to store those wrenches and screwdrivers. But even when you keep all of them in one storage place, it might still be difficult for you to find the right tools due to the random placement of everything.
The main problem with putting everything in a drawer/cupboard is the lack of visibility and instant accessibility to the tools when you need them, which can be annoying. And if you are a DIY'er too, we both know you have too many tools to fit them all in whatever storage space you are currently using anyway, right? The good news is that pegboards are the perfect solution.
Pegboards are essentially boards functioning as an organization system, allowing you to hang tools and supplies neatly. With pegboards, your tools become visible and much more accessible when you need them. Not to mention that they also act as wall decor for your garage/workshop. You got dope tools, why even hide them in a drawer?
But as simple as it sounds, shopping for a good pegboard is not always easy. There are many options to choose from, and you have to consider several variables before getting one. To help you with that, we've gathered and reviewed five of the best pegboards suitable for garage use. We'll tell you everything you need to know about them, the pros and cons of each model, and even included a couple of buying tips to guide you in getting the right one for your garage.
Best Garage Pegboard Reviews
Before we start, it's worth mentioning that all of the pegboards below are compatible with standard 1/4-inch and 1/8-inch peg hook accessories and meant to be mounted directly into wall studs or concrete walls, with no framework.
Our list kicks off with the most affordable one, the Dorman Hardware 29993. This square-shaped plastic pegboard is compact yet sturdy, measuring 16-inch x 16-inch. Unlike the others on this list, it's only sold as a one-panel piece. However, if you decide to buy more, the panels have built-in latches to be mounted easily next to each other for an expanded storage area.
The small size and lightweight construction allow Dorman's pegboard to be highly versatile and affordable. Put it in a bedroom or kitchen, and it would also fit right in. Moreover, when appropriately mounted on 16-inch studs, each panel can bear up to 50 lbs. — not bad for such a little board. It's perfect for screwdrivers and such lightweight tools.
If you need to store a lot of tools, one board panel will most likely not be enough, and you may end up needing to buy more. Considering each unit will require some installation hardware and hook accessories, make sure to factor all that in when sending your order.
Despite that, this pegboard is perfect if you only need a smaller model to hang a couple of tools or if available wall area is minimal in your garage. On the other hand, if you are like me and just keep buying tools all the time, you might want to consider one of the bigger models below.
Key Features
Size: 16-inch x 16-inch
Weight: 1.8 lbs
Material: Plastic
Load Capacity: 50 lbs.
Ideal Wall Stud Spacing: 16-inch
Color Option: Black
Bult-in standoffs
Built-in latch for additional pairing
Pros
Highly affordable
Sturdy and versatile
Cons
Doesn't come with mounting hardware nor hook accessories
Need to buy more than one piece to accommodate a larger tool collection
WallPeg's model is a highly durable plastic pegboard panel set consisting of four panels, each measuring 24-inch x 16-inch. As a result, the pegboard is ideal for both either 16-inch or 24-inch stud spacing. Added to that is the freedom of panel arrangement, resulting in various available mounting size formats – 48-inch x 32-inch, 64-inch x 24-inch, or 96-inch x 16-inch. You can also decide the number of panels you want to install and whether or not to place them together or separately, depending on your needs.
Despite having a much larger surface area than the previous model, the panels themselves are still light, with all four of them only tipping the scale at 7.43 lbs. The plastic itself is tuff poly, which is firmer and more scratch-resistant than usual. Though, we found its claimed weight capacity strangely low, totaling up to just 100 lbs for the whole set (meaning only 25 lbs. per panel). Still, pegboards are not really meant to hold impact wrenches and drills so 100 lbs should be more than enough.
Together with the purchase, WallPeg is kind enough to include mounting hardware. Sadly, you still need to buy the screws separately, which is a bummer, but the manufacturer might be assuming that, if you've got tools to store, you probably have screws laying around, right? Moreover, the set doesn't include peg hooks but that's actually a pro since it will allow you to buy hooks fitting the specific tools you have.
At such an affordable price, there's no arguing that this board carries plenty of value, especially when it offers both solid build quality and great flexibility in one package.
Key Features
Size: 24-inch x 16-inch panels (comes in 4 pcs)
Weight: 7.43 lbs
Material: Plastic
Load Capacity: 100 lbs.
Ideal Wall Stud Spacing: 16-inch and 24-inch
Color Options: Black, White
Pros
Flexible mounting format
Lightweight and easy to install
Still fairly inexpensive
Cons
Need to buy screws separately
Weight capacity could be higher
If you're looking for a heavy-duty pegboard, you want to go with metal—and the Wall Control 30-WRK-400 is one of the best-selling metal pegboards right now. For starters, the set comes in three 32-inch x 16-inch pieces, which you can arrange as either 96-inch x 16-inch or 48-inch x 32-inch boards; the largest board area on this list when maximized. Each metal board is also powder-coated to prevent rusting and make them super easy to clean.
Wall Control claims that the board is engineered to last a lifetime; hence it threw in a limited lifetime warranty with every purchase. While that's very kind and reassuring, it impresses us even more that it's the only pegboard set on this list to offer several color options to suit your specific garage.
This pegboard also has one unique feature: Wall Control's patented bespoke slots for the included accessories. But don't worry, the 1/4-inch holes are still present here and will still fit regular hooks. However, the accessory kit includes shelf assemblies, screwdriver and hammer holders, plastic hanging bins, and additional hooks and brackets.
The Wall Control 30-WRK-400 is the most affordable metal pegboard on this list and earns our Editor's Pick title. On the downside, it's worth mentioning that a few customers complained they received the board with some of the corners bent upon delivery. Although that's something to keep in mind, we still think this is the best pegboard for the money.
Key Features
Size: 32-inch x 16-inch panels (comes in 3 pcs)
Weight: 29 lbs
Material: Metal
Ideal Wall Stud Spacing: 16-inch
Color Options: Black, Gray, Blue, Green, Red, Orange, Yellow, White, Metallic
Wall Control slots
Powder-coated finish
Included Accessories: 2 shelf assemblies (6-inch and 9-inch), 1 screwdriver holder, 1 hammer holder, 3 plastic hanging bins with bin hanger, and 20 additional hooks and brackets
Limited lifetime warranty
Pros
Metal is durable and rust resistant
Available in multiple colors
Wall Control slots allow for more accessory fitments
Complete mounting hardware and accessory kit are included
Only model with a warranty
Cons
Boards' corners are prone to bend during shipping
Torack is famous for its tool/bike storage racks and garage organizers, and also makes excellent pegboard sets. This one is made of three 28-inch x 16-inch metal panels, that can be positioned in both 84-inch x 16-inch or 48-inch x 28-inch configurations. Also, the weight capacity is impressively high at 800 lbs (assuming they are correctly installed).
Like the previous model, the metal boards are powder-coated to prevent rust and last for a long time. But, one of the Torack pegboard set's biggest advantages is the wide range of thrown-in hook accessories. In fact, together with the panels, there's a total of 109 accessories in this set, including a shelf assembly unit, some major tool holders, and an assortment of hooks and brackets. Not to be overlooked, mounting hardware is also included.
While the set does come at a slightly higher price, you get what you're paying for. If you plan to hang loads of heavy tools and equipment (or just a ton of them), the Torack pegboard set is designed to handle that task perfectly. Just keep in mind that it's only offered in white, so it might get a little dirty over time (nothing prevents you from painting them another color, though).
Key Features
Size: 28-inch x 16-inch panels (comes in 3pcs)
Weight: 24.1 lbs
Material: Metal
Load Capacity: 800 lbs.
Ideal Wall Stud Spacing: 16-inch
Color Option: White
Powder-coated finish
Included Accessories: 1 shelf assembly, 1 screwdriver holder, 1 hammer holder, 1 wrench holder, 1 drill bits holder, 6 storage bins, and 93 additional hooks and brackets
Pros
Rust-resistant metal, designed for heavy-duty use
High load capacity
Plenty of thrown-in accessories
Cons
On the expensive side

No dark color option, can get dirty
Carrying the highest price tag on this list, the Ultrawall Garage Storage is the ultimate heavy-duty pegboard set. It comes in four 24-inch x 14-inch pieces, adjustable in either 48-inch x 28-inch, 56-inch x 24-inch, or 96-inch x 14-inch configurations.
The panels are made from powder-coated steel, slightly more robust than the two previous metal boards, and comes with complete mounting hardware and a total of 72 peg hook accessories. It's also available in elegant silver color, giving a premium feel to your garage.
When installed properly on 24-inch wall studs, the Ultrawall pegboard set can hold up to 1200 lbs—not bad, right? That's heavier than most professional tool chests! With such an impressive load capacity weight, even heavy gardening and plumbing tools are a piece of cake for this one. Hell, you could even hang a bicycle on it if you want.
In a word, if you need a high-quality pegboard to hang loads of heavy stuff, this is the one for you!
Key Features
Size: 24-inch x 14-inch panels (comes in 4 pcs)
Weight: 36.2 lbs
Material: Metal
Load Capacity: 1200 lbs.
Ideal Wall Stud Spacing: 24-inch
Color: Silver
Powder-coated finish
Included Accessories: 2 shelf assemblies, 6 rails, 10 storage bins, and 50 additional hooks and brackets
Pros
Made out of a strong steel material
Top-notch maximum load capacity
Comes with a lot of accessories
Cons
Steep price
Doesn't come with an installation manual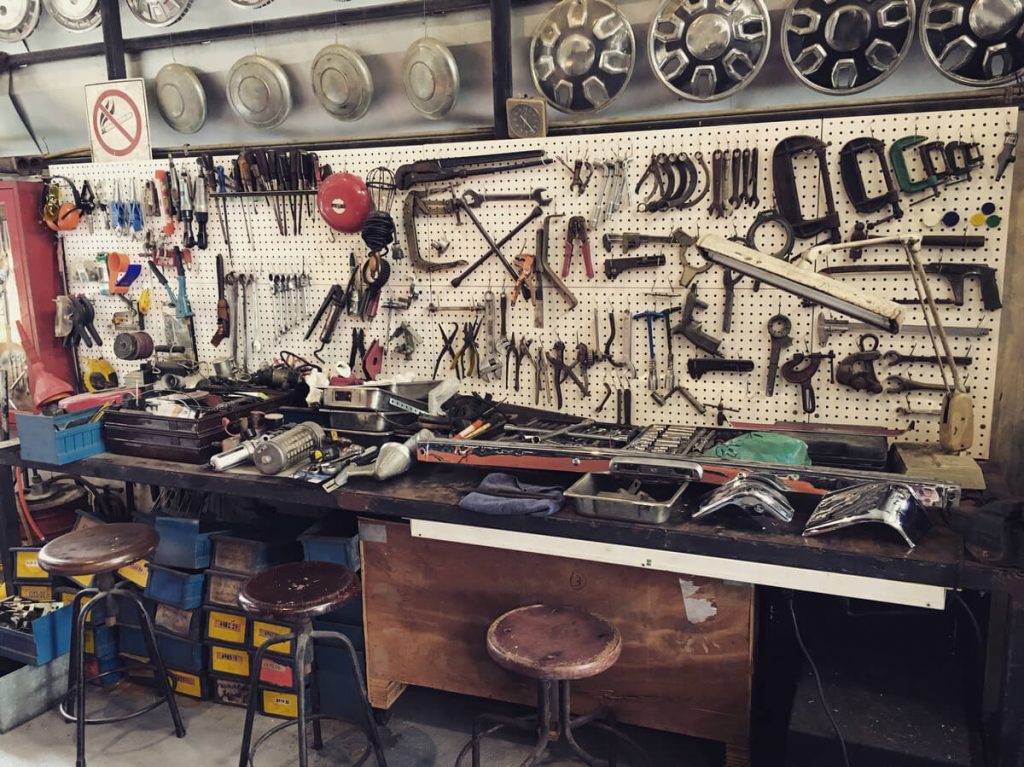 What to Look for in a Garage Pegboard System
In general, all pegboards look fairly similar. Still, some of them are built to match various places and scenarios, like the kitchen, bedroom, bathroom, or garage. And although most pegboards can be quite versatile, there are a few things to note if you're seeking to install them in your garage.
Board Size
Pegboards come in various sizes, ranging from 8-inch x 20-inch to a massive 48-inch x 96-inch. Choosing the right board size for your garage is crucial, and you don't want to overdo/underdo it.
Luckily, most pegboards come in smaller individual panels, increasing the mounting flexibility. You can even buy a few sets and customize the configuration to your liking.
Keep in mind that you'll tend to use the pegboard over a long period, and you may end up with more tools than you initially thought (we all do). Therefore, getting a larger pegboard from the beginning won't hurt.
Wall Stud Measurement
Most homes in the US have wooden stud constructions instead of concrete. While you can mount a pegboard pretty much anywhere on a concrete wall, it's a different story with wood stud framed walls.
A pegboard must be installed by screwing it directly into wood studs and not the drywall (a picture frame will only barely hold when screwed in drywall, let alone heavy tools). Luckily, wall studs are usually spaced evenly, either 16-inch or 24-inch apart. In this case, you'll want to make sure the pegboard you're targeting will fit these measurements—simply makes it a lot easier to install the boards when they already fit the studs.
Hook Size
You'll need to attach hook accessories to the board to hold your tools. There are usually plenty of holes spaced about one inch apart, but they can be of different sizes as well. Smaller 3/16-inch holes can only accommodate smaller 1/8-inch peg hooks, while larger 1/4-inch holes can fit both 1/8-inch and 1/4-inch models. We fancy the larger ones, of course, for their versatility.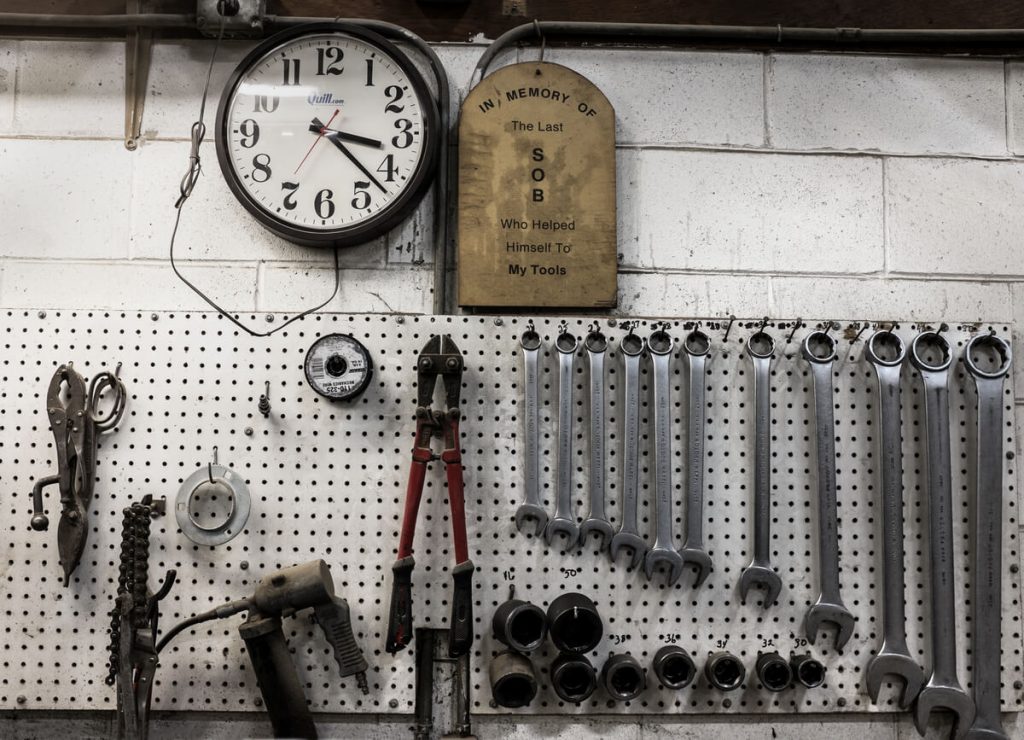 Material
Most pegboards are made of plastic, wood, or metal. Plastic is usually lighter and cheaper but won't last as long and may crack with time. Still, you can easily settle for plastic pegboards if you need to hang smaller and lighter tools like a couple of wrenches and screwdrivers.
On the other hand, steel or aluminum pegboards are much tougher. Although heavier, pricier and sometimes quite a chore to install, metal pegboards are durable and robust enough to hold heavier items like gardening tools or sports equipment.
Lastly, while wooden pegboards are actually pretty strong, affordable, and great for decoration, we prefer not to have them placed in the garage as they don't last as long as the other two counterparts. One major reason is their lack of waterproofness, and hanging wet tools could potentially soften/rot the wooden board in the long run. Hence why we're not featuring any in this review. They're not so great for those living in snow, and termites eat them for fun—so yeah, keep those for inside the house.
Installation Hardware and Accessory
Installation/mounting hardware is what you'll use to install the pegboards. Some boards like the Ultrawall, Torack, and Wall Control include a complete mounting kit with every purchase — typically consisting of screws, rigid plastic spacers, and washers. Most of them also mount directly into concrete without requiring any framework. But you do need to prepare your own screwdriver and drill.
It would also be nice if the set you choose comes with peg hook accessories, so it's ready to use. Three of the models listed above also include usable accessories, such as hooks, rails, shelves, and even storage bins to maximize the storage area. However, if your pegboard set doesn't come with accessories by default, you can always buy them separately (though it's more hassle-free if you can skip this step, right?).
Verdict
There's no denying that garage pegboards carry a lot of value, and you don't have to be a mechanic to appreciate that. It's essentially exposed storage that eases you in finding the tools/things you need in a jiffy. And considering you organize things thoroughly, it may just help you to stop losing your beloved tools again. So whether you love gardening, working on your cars, or you may just have plenty of DIY tools and sports equipment, pegboards are a great addition to your garage.
Since pegboards will typically stick around for years, getting a good quality board is totally recommended. If you plan to only store lightweight stuff, the WallPeg Plastic Pegboard Panel is probably your best bet. It cost around half the same as the metal boards on our list, and you'll still save some money even after purchasing tons of separate peg hook accessories. Best of all, the separated panels allow you to freely install the number of boards you need and arrange them however you like.
But for those who plan to hang heavy-duty tools and equipment, we suggest going straight for metal pegboards for their excellent load capacity. Frankly, you can't really go wrong with any metal boards reviewed above, as all of them are adequately large and superbly durable.
With that said, we do find the Wall Control 30-WRK-400 more appealing than the other two. Not only is it rust-resistant and budget-friendly, but it's also secured with a lifetime warranty, available in plenty of color choices, and comes with many ready-to-use accessories, making it a no-brainer.