Looking for ideas and inspiration to paint your garage? We've got you covered!
Are you spending less and less time in the garage? If so you might be suffering from something I like to call "the boring garage syndrome". In other words, your garage has become so dull/cluttered/uninviting that you don't even feel like spending time in there, working on all your projects. If that sounds familiar, it might be about time you revamp your garage, and what better way to do that than to apply a fresh coat of paint.
Of course, it isn't as simple as it sounds, as there are plenty of important decisions to make regarding paint colors, paint types, textures, and much more. Moreover, I can't overstate how crucial it is to get everything right on the first try as you really don't want to have to repaint your garage again the following year because you got sick of its new palette.
Consequently, I came up with a few popular garage paint ideas to ensure you don't end up regretting it every time you set foot in there — the goal here is to make your garage become your little piece of heaven again, not the other way around. And of course, I made sure to add a couple of tips and tricks, so you don't make the same mistakes I did when I painted my own garage (learned some stuff the hard way, to be honest lol).
So without further ado, let's dive in!
Paint Types Fit For Workshop Environments
Without a doubt, garage walls have to withstand a lot more abuse on a daily basis than the walls inside your home. Hence, it's an important factor to keep in mind when selecting the right paint type. For example, you can paint your house walls using regular acrylic paint, but your garage will need something a bit tougher, and stain resistance properties would be a must. Indeed, experts recommend using interior latex paints in garages or other workshop environments to get the best results, while oil-based paints come close seconds.
Important: Some might think using exterior paints may be a good idea due to their higher durability and easy-to-clean nature, but I would strongly recommend against that. To make them suitable to withstand rough weather conditions, manufacturers use a different formula that can prove highly toxic in small enclosed spaces.
Read more: Best Paint for Garage Walls — Expert Reviews and Buying Guide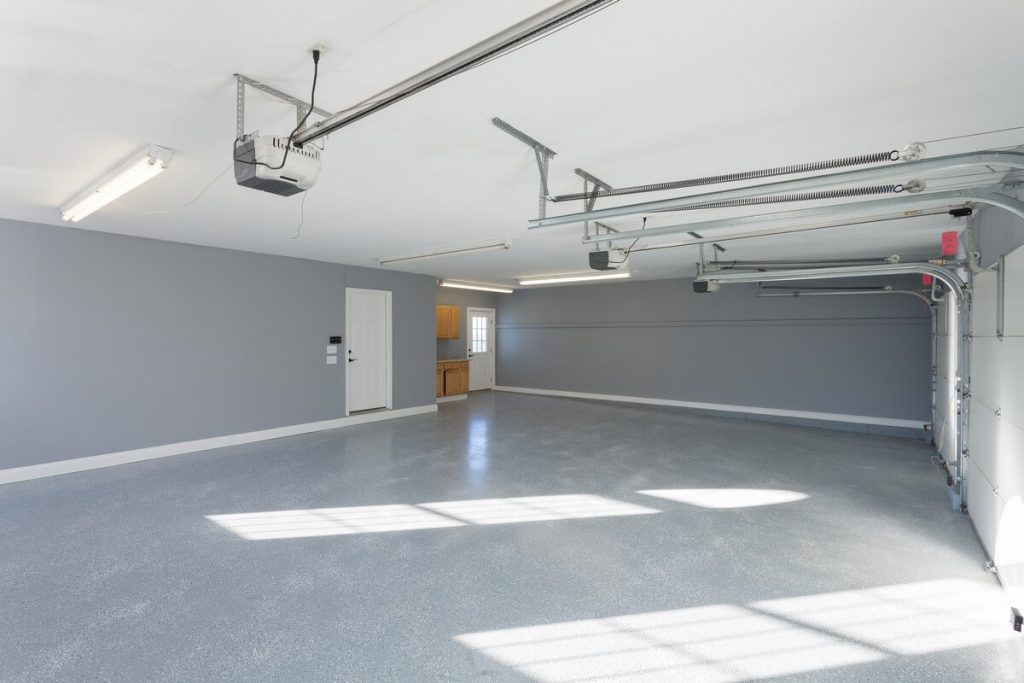 Latex Paint
You see, the name can be a little misleading as "latex" paint doesn't actually contain any of the rubbery material used to make gloves, swim caps, and even clothes. Here, the word "latex" tells us the paint contains a synthetic latex resin that acts as a binder in the paint formula.
The main reason latex paints are so favored for garage walls is that you can quickly get rid of oil stains, dust, and grime. These paints are also water-based, so they are much easier to apply and dry much faster. Additionally, they won't fade, peel, or crack as soon as other paint types, so your garage walls will look freshly painted for years to come.
Pros
Easy to apply and touch-up
Mild odor
Does not crack, peel, or fade
Superior adhesion to most surfaces
Non-toxic interior paint
Affordable even for larger surfaces
Cons
Needs priming in most cases
One coat is seldom enough
Does not work well on some surfaces like wood
Requires significant preparation time
Oil Paint
Oil-based paints emit a strong odor, take ages to dry, and contain much more harmful toxins. Which begs the question then — why am I recommending oil paints for painting your garage walls? Well, that's because oil paints offer one significant advantage over latex ones: exceptional coverage and much tougher bonding to the surface. Indeed, You can apply oil-based paints to virtually any surface, and all you need is one coat to get the perfect finish.
Oil paints are perfect for garages with complex surfaces where latex paint wouldn't be very effective. Moreover, oil-based paints will have no problem painting over an old layer, whereas you might need to sand down the surface (or at least scrub it hard for proper adhesion) with latex paint. Of course, only use these paints if you are willing to handle all the drawbacks like the longer drying process and pungent odor while it dries.
Pros
One coat is enough for most applications
Incredible depth of color
Superior coverage on a wider range of surfaces
Longer durability
Provides a smoother finish with minimum brush marks
Cons
Takes longer to dry
Emits toxic fumes
Painting accessories can be challenging to clean
Can fade or develop cracks over time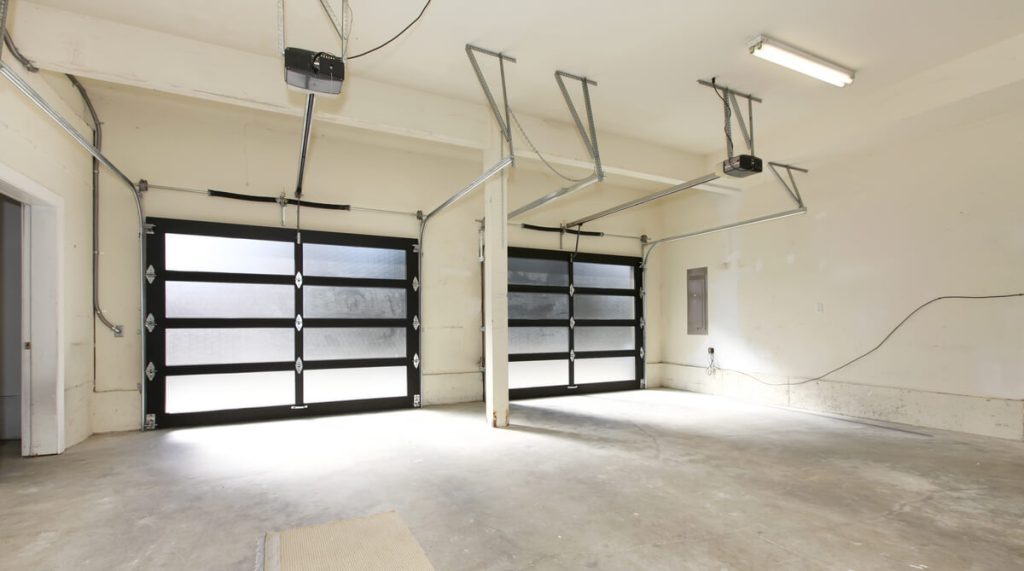 Garage Wall Paint Ideas
All things considered, I suggest using interior latex paint on your garage walls. It is easier to apply, clean, and does not emit any seriously harmful fumes during the application process. Admittedly, you might have to spend a little more time cleaning and priming the walls, but, in my opinion, the extra preparation is well worth the result.
Of course, you can also use oil paints rated for interior applications for your garage walls. Just make sure you select a formula with low VOCs or Volatile Organic Compounds, which is the indicator for toxic fumes released.
Garage Wall Colors That Compliment Each Other
Unsurprisingly, the most important point when repainting anything is obviously to decide on a color. However, that's not always as straightforward as you might think.
For instance, you might have a strong vision in mind based on that incredible supercar service center with the two-tone red and black walls you visited years ago. But trust me, these in-your-face paint schemes may seem attractive for the first few weeks, but pretty soon, you will rue the day you ever thought of it. Instead, you want to paint your garage walls in a neutral color like white, beige, or tan so it feels roomier. If you are interested in a two-tone paint scheme, I would still suggest picking two complementary shades — these usually stay a good idea longer.
It might also be a good idea to pick a secondary color matching other components in your garage like your tool chest, cabinets, decorative items, and even cars. I realize how difficult it may sound, but I promise you don't need a degree in color science to create a color combination that works — if you need any help, using a website such as Coolors.co will go a long way here.
Garage Wall Patterns and Wallpapers
If you are re-thinking the whole painting thing because it sounds a little too arduous and time-consuming, I might have a simpler alternative: wallpaper. Yes, you can apply wallpaper on garage walls even though they are subjected to significantly more abuse. Of course, the wallpaper in your garage won't last as long as the one inside your house but luckily, it can be replaced. Moreover, possibilities are endless with wallpapers; you can choose from various designs, patterns, colors, and if nothing tickles your fancy, even create your own design and have it printed.
However, it's important to mention that wallpaper is not that easy to apply, especially if you don't have much prior experience. And even when you manage to avoid any creases, the finish isn't nearly as good as paint. Still, they do provide more versatility than regular paint.
Floor Types Fit for Workshop Environments
Most garages are built with a dull concrete floor which is perfectly fine for everyday use. However, several other options are available if you are looking for an upgrade. Of course, you can't use just any material to make floors for heavy-duty workshop environments; materials like hardwood, ceramic, or marble simply won't cut it here (although I have to admit that a marble floor would look pretty dope). Workshop flooring needs to be incredibly tough, resilient, and smooth like butter, so it won't crack in the long run and allow you to easily move your floor jack around.
As a result, epoxy flooring is a common choice among professionals and DIYers, thanks to its many advantages. Sure the preparation and application process can take a while, but the result will completely transform your workspace experience. Moreover, various paint manufacturers like Rust-Oleum offer kits to cover your old beat-up concrete flooring with smooth and shiny epoxy, basically bringing it like new without having to replace the whole concrete slab.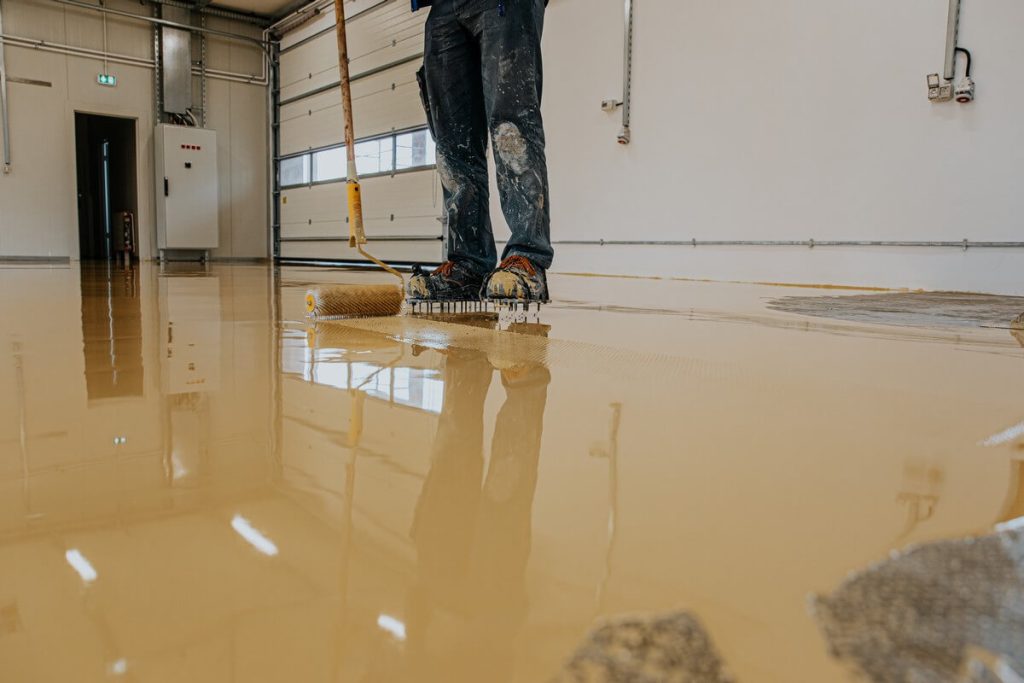 Garage Floor Paint Ideas
Applying epoxy flooring can be expensive, especially for large garages, and if you are on a tight budget, there are cheaper options — a modest coat of "regular" paint will be significantly cheaper, and needless to say, there is no "best" flooring for your garage. Instead, the choice is yours and purely a matter of personal preference (and budget), as long as you stick to the time-tested materials. However, make sure you purchase epoxy, paint, or tiles for garage use, as regular run-of-the-mill products will wear out much sooner.
Garage Floor Paint Colors
If you plan on painting your garage floor, here are my 2 cents on the topic. The first thing you want to do is get a ton of concrete cleaner liquid from the local hardware store and just scrub the old floor down like there's no tomorrow. Next, fill in all the cracks and even out any significant undulations, as you certainly don't want the floor to be all crooked.
When it comes to color, I would suggest the exact opposite of what we did with the walls. You see, the floor is going to be filled with shoe marks, tire marks, oil stains, grease, and a lot of other filth since day one, and a lighter color will only highlight that. Therefore, a darker color would do a much better job at masking the inevitable stains.
Garage Floor Patterns
If you are like me, a boring grey garage floor might not reflect your personality accurately enough. In that case, feel free to go crazy and come up with new patterns or designs of your own to set your garage apart from the rest. Still, in my eyes, a combination of two colors always looks best, though feel free to experiment yourself.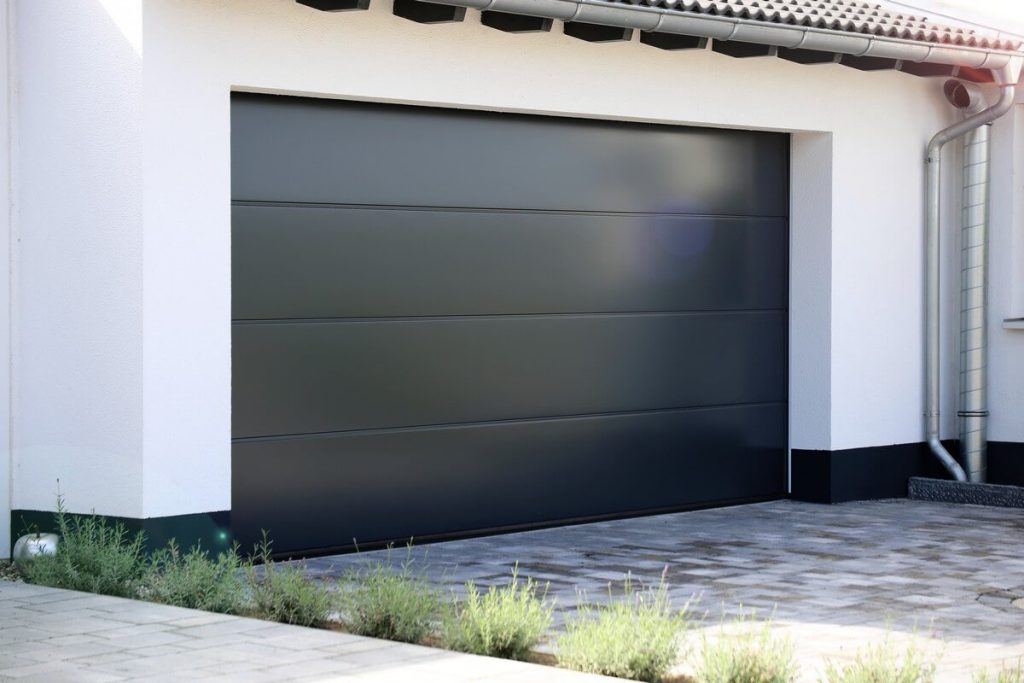 Garage Door Colors and Skins
They say never judge a book by its cover, but when the book is just amazing, wouldn't you want the cover to reflect that? For that reason, you might want to give your garage door a makeover, too. The garage door is probably the easiest to work on as your only task is to repaint it with a color of your choice. For the outside, you can also choose to go with a different shade than the rest of your house. Similarly, paint the door's inside in the same or a close shade of the color you used for the garage walls.
Feeling wild? You can also decide to go for door skins, which are basically wallpaper for garage doors. They won't last nearly as long as a durable coat of weather-resistant paint but can make a real difference on older and cracked wooden doors.
Garage Cabinet Colors
Every garage needs several cabinets, shelves, and other storage compartments all around the place. If all your cabinets are in different colors, it could really upset your garage's palette and mess with the cohesive look you are looking for. So, you want to get cabinets in colors that complement the wall and floor paint well (or vice-versa). Luckily, there are plenty of options available in the market, so finding the right door and trim colors shouldn't be too difficult.
If that's too basic for your taste, you can also have a two-tone theme going where all high wall-mounted cabinets are in one color while the bottom compartments are in another color. Of course, you still need to consider wall and floor colors while deciding the best color scheme but you be the judge here.
Read more: Best Garage Cabinets for All Your Tools and Equipment
Last Words
If you were on the fence about painting your garage, I hope this article provided all the motivation you needed to go forward. Of course, everything above is only a mere suggestion, highlighting the wide range of possibilities with projects like these. Think of yourself as the artist and every wall as a blank canvas.
I would always encourage fellow mechanics and DIY'ers alike to do something different and give their new garage a personal touch. And more importantly, don't be afraid to take some risks and be bold — after all, it's your garage and nobody else's so as long as you like it, you can't go wrong!