EDITOR'S PICK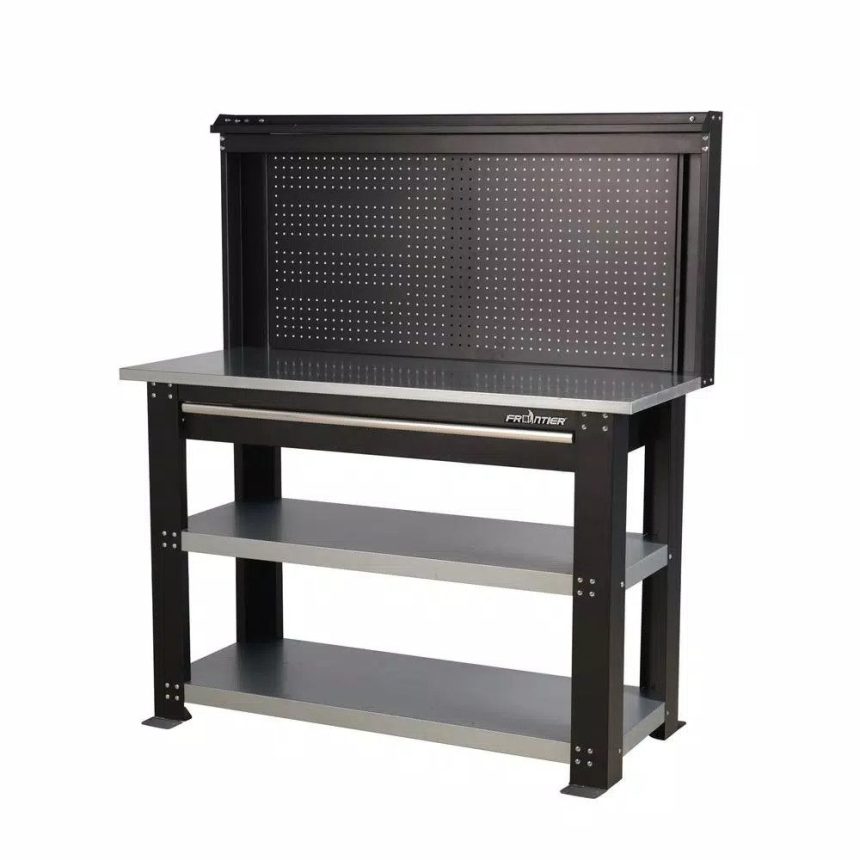 Frontier Workbench
Steel frame construction with a galvanized steel desktop
Overall dimensions: 54 in. L x 23 in. W x 61 in. H
Storage capacities include a drawer, pegboard, and two shelves
Load capacity of 1500 lbs
PREMIUM PICK
Seville Classics UltraHD Rolling Workbench
8 small drawers, 3 medium and 1 large
Cabinet with 4 positions height-adjustable shelf
Hard rubber 5″ wheels with heavy-duty metal casters
Desktop dimensions: 72 in. L x 20 in. W x 33 in. H
Load capacity of 500 lbs
BUDGET PICK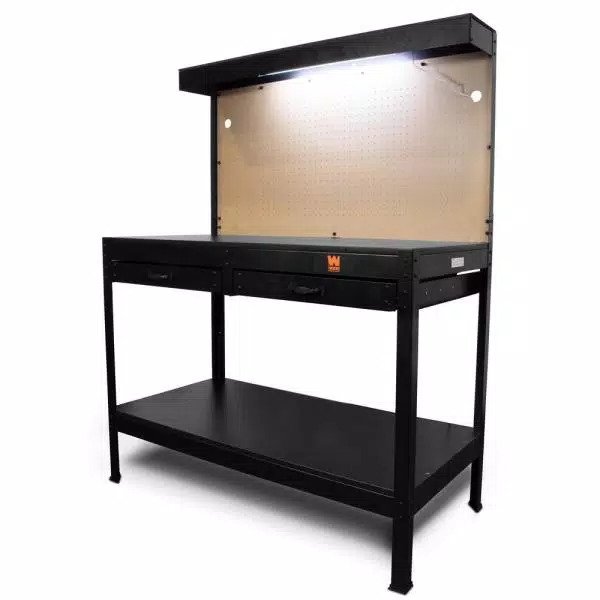 WEN Workbench
Steel frame construction with a galvanized steel desktop
Overall dimensions: 48 in. L x 25 in. W x 62 in. H
Desktop dimensions: 47 in. L x 23 in. W x 35 in. H
Storage capacities include a drawer, pegboard, and three shelves
Load capacity of 220 lbs
Having a garage workbench will not only make your work easier but more productive as well. Besides providing a stable and dependable work surface, most of them also have one or more drawers or shelves. It can help speed up any repair, as it keeps all tools and equipment organized in one place.
Still, there are many workbenches with distinct features and prices available on the market and at least as many types of mechanics, making the selection quite difficult. Luckily, this article will go through a list of the best garage workbenches on the market and see what they have to offer. We will also explain what to look for when selecting among different workbenches and how to get the most bang for your bucks.
Garage Workbench Reviews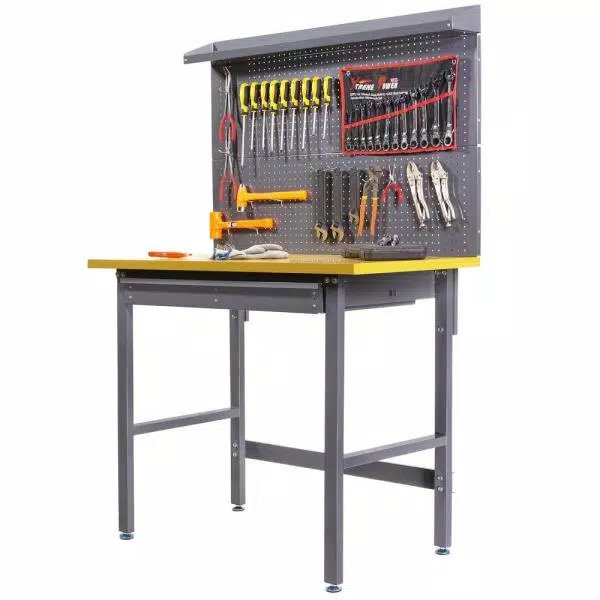 First on this list is a workbench that comes from XtremepowerUS. The main structure is a powder-coated steel frame, ensuring sufficient sturdiness that will last you for years. Meanwhile, the desktop surface uses a natural bamboo material with a layer of environment-friendly UV paint.
When it comes to footprint, obviously, it's not the biggest workbench out there, but it offers enough space for any reasonably sized project. And with a height of 37 inches, it will ensure a comfortable position while sitting or standing. Moreover, a built-in drawer offers sufficient space in width and length, although its less-generous height might keep bulkier tools out. Still, a large pegboard with hooks and a shelf above it makes up for this.
Despite its quite basic and simple design, this workbench does a good job of rounding up all necessary features. However, there are some potential drawbacks, with the maximum load capacity of only 500 lbs being one of them. Besides, the drawer might be difficult to slide out if heavy tools are inside due to the simple rail system.
XtremepowerUS' workbench is a great choice for amateurs and weekend DIYers whose projects don't involve heavy objects and excessive force. On the other hand, no matter the kind of work you do, the size of your workbench is always limited by the space you have. If your garage is on the smaller side, this one is a really good option—and after all, a small workbench is still better than no workbench.
Highlighted Features
Steel frame construction and natural bamboo desktop
Overall dimensions: 48 in. L x 24 in. W x 69.5 in. H
Storage capacities include a drawer and pegboard with a shelf
Load capacity of 500 lbs
Pros
Easy to install and use
Provides enough storage space for most users
Desktop height ensures comfortable usage in sitting or standing position
Affordable price
Cons
Lower load capacity than most other similar benches
Drawer with slide rails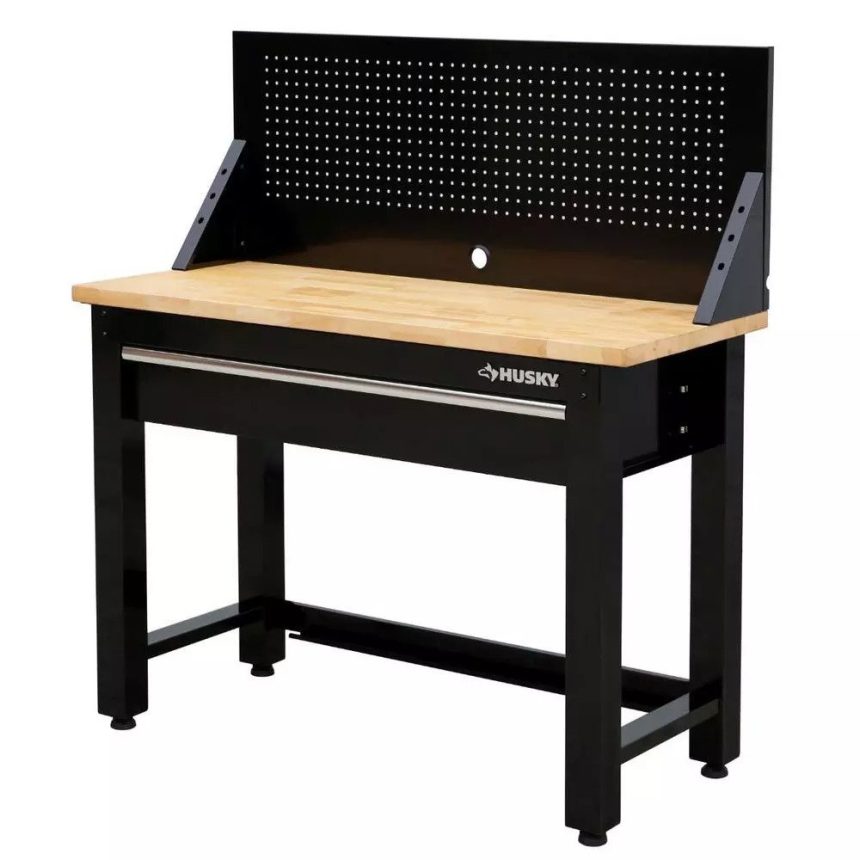 This Husky workbench may look similar to XtremepowerUS', as their key features are almost identical. The Husky model also has a steel construction with a solid wood desktop, one big drawer beneath the desktop, and a pegboard with large hooks that are easy to rearrange.
However, a closer inspection will reveal some differences. For a start, with a width of 53 inches, the desktop offers a surface that may accommodate much larger objects. Besides, with 1500 lbs of load carrying capacity, this workbench will be suitable for even more demanding applications. The drawer uses auto-return ball-bearing slides, allowing it to glide with minimum effort.
Although similar in shape and size, Husky's workbench eliminates all major setbacks the previous model on this list had. However, the improved load capacity comes at a cost and a significant increase in overall weight.
Another potential downside is the absence of an overhead shelf, resulting in less storage space for bulky objects. However, the drawer is deeper, allowing to store bigger tools. Other than that, it's a well-rounded workbench capable of dealing with more demanding applications. If you are limited in space but want something a little sturdier than the previous model, this is the one you need.
Highlighted Features
Steel frame construction and hardwood desktop
Overall dimensions: 18 in. D x 28 in. W x 33 in. H
Storage capacities include a drawer and pegboard
Load capacity of 1500 lbs
Pros
Easy to install and straightforward to use
Sturdy and durable steel construction
Exceptional load capacity
Cons
Storage space is a bit limited
Increased weight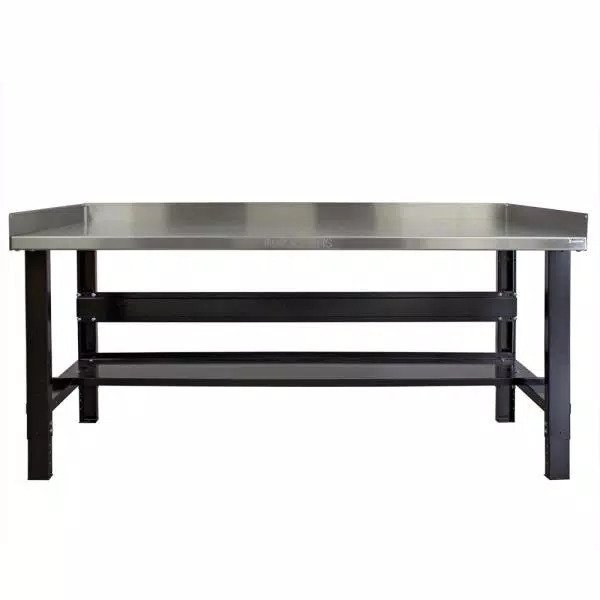 If I had to choose only one word to describe Borroughs' heavy-duty workbench, it would have to be 'indestructible.' Everything about this unit is about capabilities and durability, especially considering the impressive load-carrying capacity of up to 2200 lbs.
This workbench could basically hold a small car's weight, and it would still not bend or fold, thanks to the strong, heavy-duty steel frame construction. Moreover, the desktop surface is much larger and uses a thick plate of stainless steel instead of wood, making it almost indestructible. Besides protecting it from sharp tools or objects, it also helps when cleaning off oil or paint. Kick-plates are another useful feature, as they prevent tools and parts from falling from the desktop. And despite the monolith appearance, this workbench has adjustable legs, which help find an adequate working position.
With high structural integrity and wear and damage resistance, this workbench is suitable for the most demanding tasks. However, a lack of any serious and elaborate storage solutions is the most obvious downside here. There is only one shelf underneath the working surface, whose sturdy construction makes it suitable for storing heavy items. On the other hand, if you have a conventional tool chest on the side, the lack of storage space may not be a real drawback.
Highlighted Features
Heavy-duty steel construction with a stainless steel desktop
Overall max dimension: 72 in. L x 34 in. W x 36 in. H
Adjustable height from 27 in. to 36 in.
Load capacity of 2200 lbs
Pros
Sturdy and resilient construction
Scratch-resistant desktop
Extreme load capacity
Cons
Almost no real storage space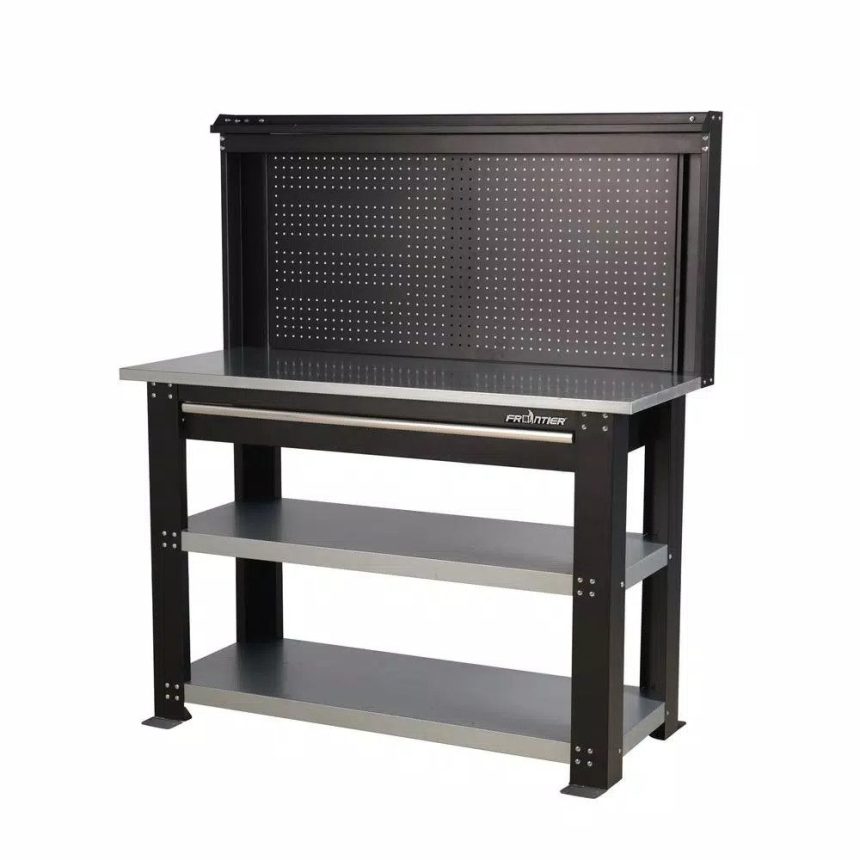 Frontier's workbench doesn't seem very different from Husky's model, as these two share similarities in many key aspects. Still, there are several important differences, with the material of the desktop being the most noticeable one. While the Husky uses a slab of painted wood, Frontier goes for a galvanized steel covering that ensures durability and longevity. Being resistant to scratches is useful, especially since this workstation is expected to take some abuse, thanks to the load-carrying capacity of 1500 lbs.
Another key difference is the shelves, with one at the top of the backboard and two more beneath the desktop. With an easy-to-slide drawer and extra holes in the side panels, this workstation also has sufficient storage space for most uses.
The only real downside is the shape and the position of the lower shelf, which can be a hard-to-reach when working in a sitting position. However, having no other apparent shortcomings makes the Frontier workbench ideal for users that need something versatile and reliable without costing an arm and a leg.
Highlighted Features
Steel frame construction with a galvanized steel desktop
Overall dimensions: 54 in. L x 23 in. W x 61 in. H
Storage capacities include a drawer, pegboard, and two shelves
Load capacity of 1500 lbs
Pros
Sturdy and durable steel construction
Exceptional load capacity
Provides enough storage space for most users
Cons
Lower shelves can get in the way when working in a sitting position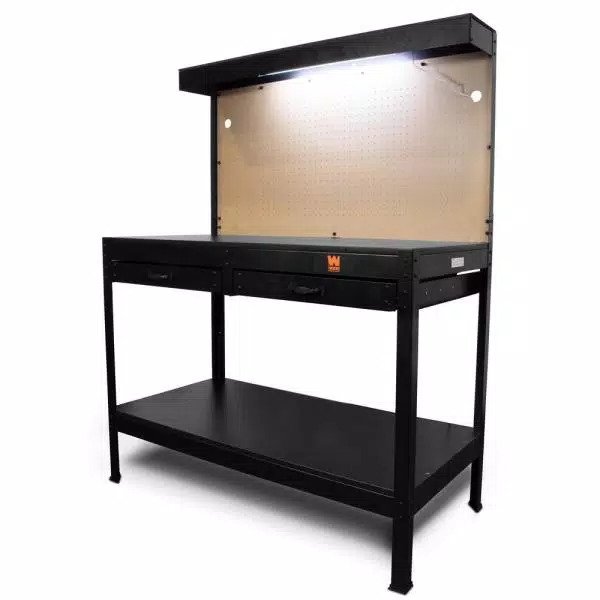 This workbench from WEN is the only one here that offers more than just hardware and ensures an integral solution. One of the most helpful features is three built-in power outlets, eliminating the need for extension cords. Furthermore, a bright overhead light ensures that the work surface is sufficiently illuminated and that there are no dark spots.
Other helpful features include two drawers, a large backboard, and several shelves, which ease keeping tools organized. Dimensions of the desktop are a bit limited, although it will provide sufficient surface and maneuvering space for most tasks. Also, having 35 inches of height, this desktop will ensure adequate working positions when sitting or standing up.
It looks like WEN created a compact workbench that might serve as an all-in-one station for various projects. Still, there is one very limiting factor to consider: the load capacity of only 220 lbs. The reason for that hides within the steel construction itself, as legs offer only limited structural integrity. Having such a limiting factor makes this workbench suitable only for users who work with lighter tools and components. But unless you plan on working on a transmission sitting on your bench, 220 lbs is usually more than enough anyway.
Highlighted Features
Steel frame construction with a galvanized steel desktop
Overall dimensions: 48 in. L x 25 in. W x 62 in. H
Desktop dimensions: 47 in. L x 23 in. W x 35 in. H
Storage capacities include a drawer, pegboard, and three shelves
Load capacity of 220 lbs
Pros
Integrated power outlets and bright overhead light
Desktop height ensures comfortable usage in sitting or standing position
Provides enough storage space for most users
Cons
The lowest load capacity among all workbenches on this list
Seville Classics' workbench has wheels, setting it apart from the rest of the pack. With heavy-duty metal casters at each corner, this is the only workbench on the list that offers true mobility. Needless to say, being able to move around the garage to the most convenient location is an enormous advantage.
Still, that is not the only upside with this unit, as it offers a vast amount of practical storage space. With many drawers in different sizes and a large cabinet, all tools and equipment will find their place inside. Moreover, the spacious and wide hardwood desktop ensures a sufficient surface for any task. Chrome push bars ensure easy manipulation, while polyurethane bumpers prevent any damage while maneuvering.
Despite all advantages, even this workbench has several potential drawbacks. Being a mobile unit prevents it from having a traditional pegboard, although each side has something similar. Also, wheels and drawers add some complexity and make the construction slightly less sturdy, resulting in a limited load-carrying capacity. Still, all of this will be less important for users who will enjoy the mobility it provides.
Highlighted Features
8 small drawers, 3 medium and 1 large
Cabinet with 4 positions height-adjustable shelf
Hard rubber 5″ wheels with heavy-duty metal casters
Desktop dimensions: 72 in. L x 20 in. W x 33 in. H
Load capacity of 500 lbs
Pros
Rubber wheels that ensure smooth and silent mobility
Huge amounts of practical storage space
Large desktop provides sufficient surface for any operation
Cons
Decreased load carrying capacity
No pegboard
Among all workbenches on this list, Shuretech's bench system is in a class of its own. Several important features set it apart from others, and the way it looks is one of them. While other workbenches have a utilitarian appearance, Shuretech units look like they came out of a high-end luxury kitchen. They are available in several colors and have a thick stainless steel desktop with a hardwood core.
Moreover, the height of the desktop is 38 inches, making it ideal when working in a standing position. But the biggest upside is that this modular and versatile system allows buyers to combine various drawer and cabinet segments. And because it's available in several lengths, every user will be able to find a configuration that suits perfectly.
The advantages don't stop there. This system aims at professionals and offers many additional components and upgrades, from drawer dividers and rubber mats to technician task light or heavy-duty vices. A very useful option is the wide computer monitor enclosure, an adjustable stand for the keyboard and mouse pad.
With these upsides, it's easy to guess the price for this workbench will also be in a class of its own. But because of all the advantages it offers, many professionals and even some amateur users will still choose this workstation. If you want only the best of the best, this is the one.
Highlighted Features
Cabinets made out of stainless steel with a hardwood-filled stainless steel desktop
Completely customizable
Load capacity of 400 lbs.
Pros
Cabinets offer high quality and precision
Modular system allows buyers to build the perfect configuration
Available in several colors and overall lengths
A wide range of additional and optional equipment
Cons
Hefty price tag
Size can be an issue in smaller garages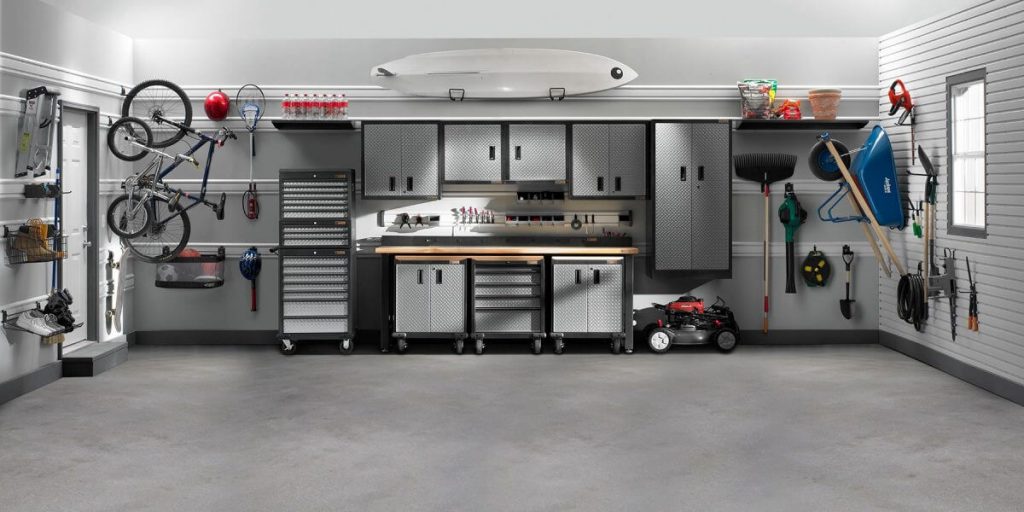 Workbench Buyer's Guide
Choose the right size to fit your needs
The feature most future users should focus on first when going through a selection of workbenches is the overall dimension. And the most important dimension here is the height of the desktop or work surface.
Choose a height that will ensure comfortable and tireless usage, depending on your working position. A too-low desktop will cause backache, and being too high up will result in fatigue to the arms.
Another key feature is the desktop and the workbench's footprint dimensions, which are usually almost identical. The desktop surface should provide enough space to place and manipulate all parts and objects that users will be working on. Still, available space for placing the workbench inside the garage may be a limiting factor here.
Choosing the right material for your use case
The intended usage of the workbench will have a significant impact on both material selection and construction requirements. Although light and easy to move, even the most robust plastic workbenches are not sturdy enough for most uses. Simply put, plastic materials still don't offer sufficient resistance to wear and flex. Still, workbenches like these can be an excellent choice for electricians or users who use only light tools and components.
Next, there are wood workbenches, which offer a balanced blend of mechanical properties and purchasing prices. When made of solid wood, these workbenches will ensure sufficient stability while giving a warm feel to the garage.
Lastly, there are steel and aluminum workbenches, which don't need much introduction. They offer superb load carrying capabilities and wear resistance, making them a go-to option for most amateur and professional users.


The amount and size of the storage facilities
The ability to store tools and equipment in an organized manner is the most important feature of any workbench. Storage facilities may range from cabinets and drawers to simple pegboards and shelves, with each of them offering different upsides.
While drawers are excellent for storing smaller hand tools, cabinets will be more suitable for larger and specialized equipment. The pegboard may be an excellent place for spanners, as it allows them to line up in an organized fashion. Meanwhile, shelves in their different forms will be great for storing larger pieces.
When selecting a workbench, it's important to check if it has enough storage space for everything it should carry. Just like with overall dimensions, this may be a compromise between needs and the actual possibilities.
Additional features
Many workbenches on the market offer additional features, which aim at achieving mobility or the ability to change shape and size. A workbench with wheels would be a great option for users needing to move around the garage, including those working on larger projects, like cars or boats. Other versions may offer height-adjustable desktops or even flexible constructions, with sections that could fold in. This flexibility level will allow users to always find a perfect balance between the needed surface and available garage space. However, the added complexity of these mechanisms may affect sturdiness and make the workbench less durable.
Frequently Asked Questions (FAQs)
How big should the workbench be?
It depends on several factors, with the size of things you'll be working on being one of them. As obvious as it may sound, larger parts and components will need more space for placement and manipulation. But unless you have a very big garage or workshop, space available for the bench will be a limiting factor.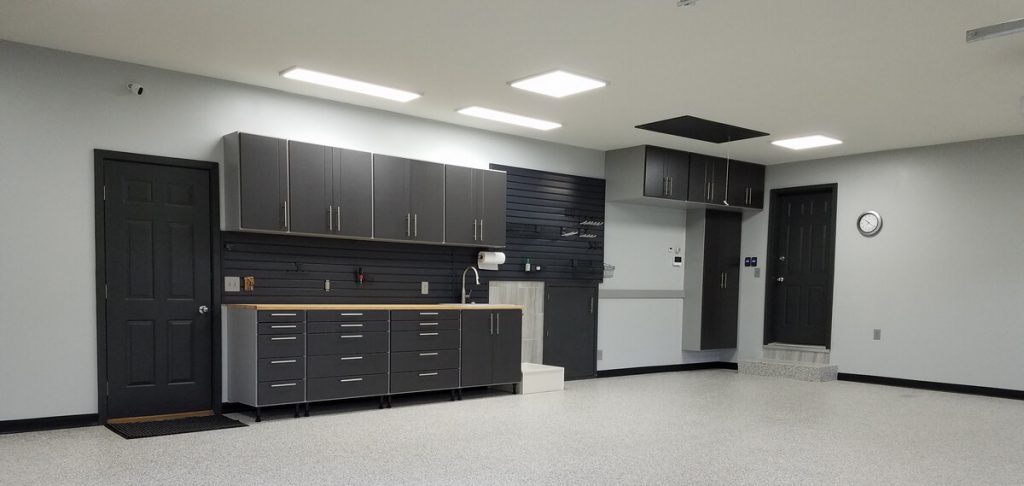 Which desktop material should I choose?
Stainless steel is the universal answer to this question, as it is the hardest and most durable option. However, working on it can be quite noisy when hammering something, and the surface is quite cold to the hands. Alternatives like hardwood or even plastic might be a better option for light-duty applications.
Are mobile or foldable workbenches a good idea?
A foldable workbench might be an excellent option if you have limited space inside your garage or workshop. The biggest upside is that these flexible units will fold in and occupy less room when not in use. A mobile workbench has wheels on each side, allowing you to move it around the garage. It will be a great option if you are working on something large, such as cars or boats.
Verdict
As we have seen in this article, workbenches come in various shapes and have unique features. While simple ones will be an adequate platform for light DIY projects, heavy-duty jobs will require a more sturdy solution.
Moreover, mobile or foldable workbenches might be an excellent solution when working around large objects or for small garages. In the end, there are high-end solutions that offer superb features and options, making them ideal for professional use.