We all want to drive a clean and shiny car, don't we? But a clean car is not just for a visual effect; it's not just for showing off. A clean car means clean windows and clean windows mean clear sight, essential for safety. That also means clean wheels from all that brake dust, a clean body exempt from all that dirt and salt, and so on. And keeping brake dust off your wheels and salt off your frame also prevents premature rust and a pristine paint job is always your best bet to make sure your car maintains the best possible resale value.
Sure, it's sometimes easier to just take your car to a car wash and pay for the service, but if you really love your car, then you should take matters into your own hands and clean up that bugger yourself! Not only will you save a bunch of money in the process but you'll also be much more confident than it's actually done right.
And forget about brushes and all that nonsense; you'll need a proper pressure washer to keep scratches and swirls to a minimum.
What Are the Benefits of Pressure Washing Your Car?
There are several benefits to owning and using a pressure washer. First of all, with a pressure washer, you'll get all the filth off your car faster and easier as it delivers a focused stream of water under high pressure. That means you'll spare time and use your water more efficiently.
There is also no need for using brushes as they can easily damage the clear coat of your paint, or worse, could even potentially damage the deeper layers. Indeed, if you don't pre-wash your car using a pressure washer, dirt and sand will just get scrubbed around using a brush. Some brushes also have too stiff fibers that can damage the coating as well. After all this, we can say with certainty that brushes are a big no-no for car washing.
Use a good pressure washer to remove most of the dirt first and then wash using a dedicated microfiber mitt. Doing so will ensure you don't create more scratches and end up doing more harm than good here.
Which Type of Pressure Washer is Best for Cars?
There are different types of pressure washers depending on their basic construction and depending on your needs.
There are two main divisions here: high-pressure washers that wash only with cold water (CW washers) and washers with water heaters that use cold or hot water (HW washers).
CW washers are simpler and consequently cheaper, which makes them more popular amongst DIYers.
Professionals frequently use HW washers as they are far better against heavy dirt and mud, greasy and oily car parts, and while working in harsh and cold environments. It is also efficient against germs, molds, and bacteria.
The other distinction is the power source. When it comes to pressure washers, there are gas- and electric-powered models.
Gas-powered pressure washers are usually more powerful but are more suitable for specific use as they run on gas, making them loud and smelly. But if you own a lovely mountain cottage without electricity, you don't really have any other choice than to go for a gas-powered washer to get that mud out of your off-roading truck. A gas-powered pressure washer would also be perfect to be used on a job site where power outlets are never close.
On the other hand, electric pressure washers are significantly more eco-friendly and quieter. If you plan on using your pressure washer mostly at home to wash your car in your driveway or in a repair shop, there's really no good reason to go for a gas-powered model.
What Kind of Washing Mitt Do You Need?
I remember the old days when my father would take me out to help him wash our car on a Sunday morning. We would take a bucket of water, dishwasher soap, and a sponge. Yeah, maybe the dish soap wasn't the best choice, but the car was all clean and shiny afterward. Of course, with a few more scratches and swirls, but after a while, you'd stop counting them anyway, right?
Back then, everything was simpler. Even the paint was not that high gloss, and scratches on that basic white wouldn't give you a heart attack. Today, It's the opposite — new sparkling cosmic grey ultra flake, candy grape, plum crazy, and whatnot metallic paint. However, all those scratches were not entirely due to using that dish soap, but more to the sponge's surface that can easily trap dirt and rub it around on the clear coat.
If you are addicted to sponges and have similar childhood traumas, do not despair, as you can use your beloved sponge for washing those dirty wheels—no harm done here. And since you should never wash your wheels and body with the same mitt, keep that sponge for the wheels.
On the other hand, washing mitts are gentle enough on your paint and yet tough enough to remove dirt. The reason is that the mitt's structure that resembles a caterpillar. All those short fibers pick up dust and dirt, creating less friction and lowering the chance of creating scratches. Most mitts are made of microfiber or wool and come in different types and styles, each with their own set of advantages and drawbacks.
Chenille microfiber mitt
One of the most popular types is the chenille microfiber mitt, as it is convenient and efficient at removing dirt and even bird droppings. Just wear it on your hand, and it works magic. There are also cuffless chenille mitts, but I prefer models with a cuff—they simply fit better but that's really a question of personal preference.
Wool wash mitt
Wool wash mitts are also great for frequent washing and relatively clean cars that need more detailing than actual washing. The wool material is more challenging to keep clean as it traps dirt and is pretty expensive for dirty jobs anyway. Moreover, microfiber mitts also last longer. Still, you can always use a cheaper microfiber mitt for the first pre-wash and then use a wool mitt for the final one.
There are also hybrids that offer the best of both worlds by combining a chenille microfiber mitt with a soft lamb's wool mitt. If you are serious about your detailing game, these should be your go-to choice.
Which Type of Soap Should You Use?
As we've previously shared our hand washing experience with dishwasher soap, in time, we've learned how much abuse it actually puts on a car's paint. Dishwasher soap is designed to fight grease and food leftover from your dishes. Hence, these soaps have to be aggressive, which is totally cool for the dishes. Bt if you apply the same method to a car, you'll get a similar result, but with a little twist. It will also remove the protective top coat of the paint. So, no dishwashing soap! Never—better not to wash your car at all here.
Luckily, there are soaps specifically designed to wash cars while being gentle on your car's paint. They are milder than dish soaps, and all you have to do is read the manual regarding the right water/soap mix.
However, car washing soaps are good, but it's complicated to apply them manually in all those places full of dirt or mud. For that purpose, foam cannons are a much better option and bring several advantages versus mitt-applied soap. Of course, it's more expensive, but a foam canon is also a good investment since it offers more detailed application in all those hard-to-reach spots, reduces the risk of scratching the paint, prevents from contaminating the water in the bucket, and is also much faster.
Material Needed
Step-by-Step Instructions
Step 1: Choose the appropriate nozzle
Different types of nozzles are used for different needs. Nozzles can start at zero degrees, which offers a very concentrated water stream, and up to 40-degrees for a wider spray. There are also low-pressure nozzles used to apply the foam. However, if you aren't sure what's best, there are nozzle sets available so you can try them all and which suits you best.
Step 2: Rinse
By rinsing your car, you are soaking the dirt to make it easier to remove from your vehicle. Take your time, and don't rush with this step. After all, water is the best washing solution on earth.
Start by soaking the car completely, wait a couple of minutes and do it once more. Always spray from top to bottom, trying to remove as much dirt and sand as possible.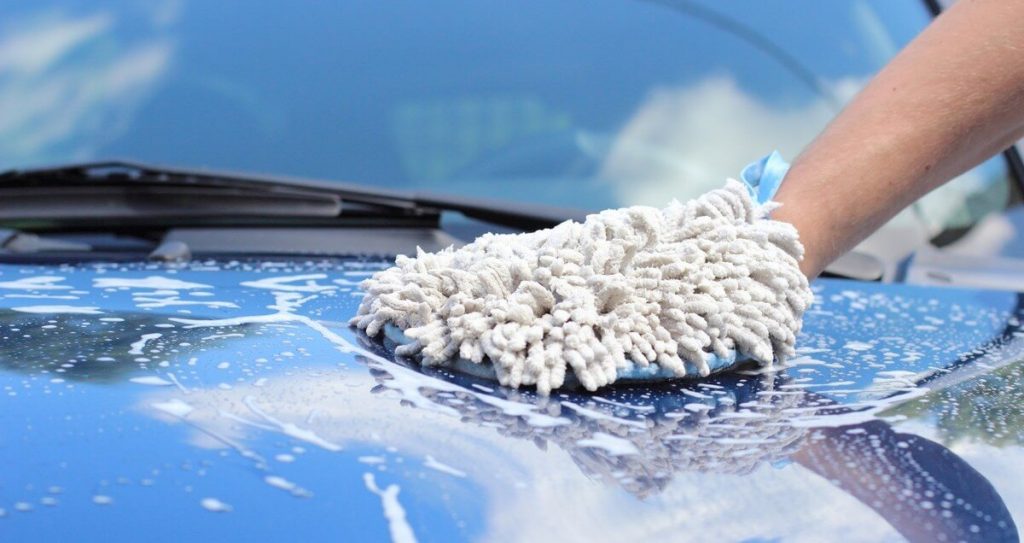 Step 3: Apply the soap
After you set up your foam cannon, once again spray from top to bottom as the foam tends to drip and drag the dirt with it. Leave the foam to work on that dirt for a couple of minutes before you rinse it. Don't spare the foam when washing your wheels, as there is a lot of dirt and brake dust stuck on them.
If you are using the two-bucket method instead of a foam cannon, mix the soap and water in the first bucket. Wet your mitt in the first bucket, and apply soap to the car. Always rinse your mitt in the second bucket before wetting it one more in the first one to prevent contaminating the clean bucket with dirt picked up from the car.
Step 4: Rinse
Now it's time to rinse the detergent. Rinse the same way you applied the foam; always top to bottom. Be careful and don't go too close to your car, as you could accidentally scratch it with the nozzle (talking from experience here).
Step 5: Dry
If your car has a ceramic coating, that could help big time with the drying step as water drips freely from a treated surface. If not, you should be fast with drying as leaving water for too long will leave drying marks on the paint. It could be nice to use an air blower as you'll avoid any contact with the car, but it is an expensive and more complicated solution.
The next best thing is a synthetic towel similar to a natural chamois and is very efficient in absorbing water. Open all doors, trunk, and hood to get all water out. Water trapped anywhere will be stuck there and will start to drip once you drive the car, leaving messy stains in the process.
Finish it with a clean microfiber towel which is particularly effective while cleaning the windows.
There you have it—a clean and shiny car!
Tips and Tricks to Clean your Car with a Pressure Washer
Pick a less aggressive nozzle and adjust the distance from the tip of the nozzle to the surface to control the spray width. Go closer for that stubborn dirt and be careful with rubber window seals, as the water pressure can easily damage them.

If you can, wash your car in a shady spot as soap can quickly dry on the car's surface, leaving nasty stains.

Lift your wiper arms for an easier approach.

Be generous with water—the more the better here.

Rinse your car, rinse your microfiber cloth, rinse your washing mitt… rinse everything as often a possible.
Last Words
It maybe sounds like a lot, but once you set up a routine, it will go quickly. And nothing can ensure the job is well done more than practice. It is your car, and it needs all the care it can get. Luckily, washing your car at home is relatively easy when using a quality pressure washer.
Of course, a pressure washer might seem expensive for something as trivial as washing a car. But once you take into consideration the money you'll save on automatic car washes and detailing services, it will make a lot more sense. No to mention that a car's paint is often one of the most significant factors influencing its resale value. Consequently, buying a pressure washer should be considered as an investment and not as an expense.