EDITOR'S PICK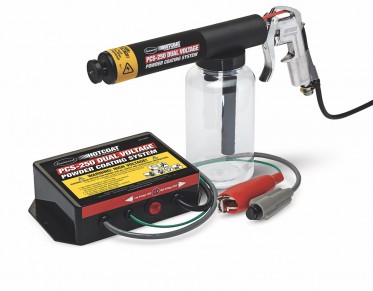 EASTWOOD PCS-250 Dual Voltage Powder Coating Gun
PREMIUM PICK
MOPHORN WX-101 Powder Coating Machine
BUDGET PICK
CHICAGO ELECTRIC Portable Powder Coating System
Do you require a thicker and more resistant paint coating than what is possible with the conventional spray painting process? If yes, then you need to try a powder coating gun. It is a process that involves applying a dry powder to the object's surface and curing it with heat or ultra-violet light to obtain a perfectly smooth and ultra-resistant finish. The dry powder can be composed of several things depending on requirements, such as epoxy, thermoplastic, or thermoset polymers.
Powder coating has many advantages over spray painting; in addition to providing a thick and dense finish, powder-coated surfaces also have a much longer life. Besides, unlike other processes, powder coating is completely environmentally friendly and produces no toxic waste. Furthermore, you can obtain a wide range of different patterns and effects using this process; other methods may take much more effort to give similar results. Spray painting, for instance, has a much steeper learning curve.
So without further ado, here is our list of some of the best powder coating guns available to buy online. After carefully evaluating your needs and going through each product's detailed features, you should be able to pick the most advantageous model for your work environment.
Of course, we made sure to include different models for different skill levels and budgets. No matter whether you are still learning or powder paint 40 hours a week in the shop, we've got something for you!
Powder Coating Gun Reviews
Ok, first, let's address the elephant in the room. Yes, this one is made in China. And no, it's obviously not the absolute best powder coating system money can buy. Still, Mxbaoheng's system is a pretty good (and super affordable) powder coating gun for beginners and inexperienced people who are just starting in the field. It works on 110V, meaning you can plug it into your regular household outlet, but the manufacturer also sells a 220V version for shop use.
After all, if you are not a professional, and you only need a cheap powder coating system to paint a couple of parts here and there on weekends, there's no reason to buy a full-fledged, super expensive professional model. This one will do the job and won't cost you an arm and a leg. Simple as that.
Moreover, Mxbaoheng's powder coating system comes with a host of accessories so that you don't have to purchase them separately, which is especially useful if you don't really know where to start. The kit includes a 16AWG power cord, a footswitch, a water separator, and a plastic painting cup in addition to the powder coating gun. The foot-operated switch is an interesting feature as it allows the operator to have a free hand to hold the parts or move it around and apply the powder with greater accuracy and comfort.
However, keep in mind that you'll also need an air compressor capable of supplying 5 CFM at 10-15 PSI, which is not that much. Even a small portable compressor will do here.
All in all, if you need a cheap powder coating system to do a couple of quick jobs and you don't really want to spend big bucks on it, this is the kit you need.
Pros
Lightweight
Affordable
Easy to use
Comes with added accessories
Convenient foot switch
Also available in a 220V configuration
Cons
Not designed for big projects or professional work
Can take a long time to deliver (you know… China)
Chicago Electric's portable powder coating system is one step up over the Mxbaoheng model. It's super versatile and, even better, it's still quite cheap. It uses the same basic components as the previous model, also works on standard household voltage but is slightly higher quality.
Moreover, this easy-to-use powder coating gun comes with a wide range of accessories included in the box. Things like the gun, power unit, foot switch, power cord, moisture separator, spare fuse, and an extra tip also come as standard. The included water separator and inline filter attach to the powder coating gun's body at the air inlet, ensuring the air entering the gun is entirely free from moisture. Just like conventional spray painting, you really don't want to have water in there.
Furthermore, the design allows for smooth and precise spraying, ensuring that the sprayed component is evenly coated with sufficient powder. The trigger is easy to control, and the gun is quite light, making it a breeze to use.
Chicago Electric's powder coating system requires 10-30 PSI to operate properly. It's slightly higher than the previous model but still well within the range of pretty much any pancake air compressor. However, there is no option to adjust air pressure on the gun, so you'll either have to fiddle with your compressor settings or install a pressure regulator on your line to get the desired result.
If you are looking for an easy-to-use powder coating system but still not ready to shell out the cost of a professional model, look no further.
Pros
Lightweight
Compact & portable
Foot on/off switch
Provides good quality finish
Comes with two hoppers
Affordable
Cons
If you are looking for a professional powder coating system, you'll like this one. The Eastwood PCS-250 is one of the best low-capacity powder coating guns out there. It comes with several important and convenient features, such as a quick change powder bottle, ergonomic handle, and a better-than-most power supply.
While it also works on 120V/60 Hz household power, this powder coating system can be switched between two output voltage modes. The 15,000v setting will do just fine for regular use and quick jobs, while a higher 25,000V setting can be used for larger areas or multi-coat coverage. Such unique and useful features greatly contribute to versatility. Furthermore, the dual-voltage feature also allows for an extremely durable and thick surface finish over the component.
The Eastwood PCS-250 comes with long and color-coded activation and ground leads. However, unlike the previous models, this one is activated using a push-button switch. This feature is somewhat of a downgrade compared to other powder coating guns as it leaves the operator with one hand on the switch and one on the gun. You'll basically have to put the switch in your pocket to turn the part you are painting around.
However, if you plan on buying this model, I assume that you know your way around tools. In that case, you can always cut that push-button switch and install your own footswitch (that's what I did). On the other hand, a push-button switch may come in quite handy if you don't always paint standing up. Indeed, if you often paint under stuff or in a crouched position, a footswitch might do more harm than good. You be the judge here.
Get this one if you are looking for a powder coating system that you can use on the job for years that will bring consistent results day-in/day-out. Trust me; you won't be disappointed.
Pros
Color-coded cables
Dual-voltage modes
Large 8 oz. powder bottle with quick-changing functionality
Easy to use and clean
Provides durable finish
Affordable
Reliable, reliable, reliable
Cons
Handheld activation switch
Of course, every powder coating systems listed above are top-loaded and only have small powder containers. If you plan on powder coating large body panels or oversized components, you'll need a much bigger container than that—or you'll have to refill it over and over.
Luckily, the Mophorn WX-101 powder coating machine will take care of that. Its biggest advantage is that it comes with a 50 liters hopper/feeder bucket. The machine needs such high powder-holding capacity as it sprays around 550 grams per minute. Thanks to a high spraying rate, it is perfect for professionals required to work on large projects, as you could go a long way without stopping to refill.
The system also comes with sophisticated controls that allow the operator to adjust various important parameters such as output voltage, current, and air intake. Furthermore, the Mophorn powder coating machine is designed to be extremely easy to use. Thanks to the auto-adjusting voltage feature, you are sure to get a high-quality finish every time.
Finally, the WX-101 also comes with various accessories such as an oil/water separator, a trolley for increased mobility, a pressure regulating valve, and all the tubing—pretty much everything you'll ever need.
If you are looking for a professional powder coating system that will last you for years and then some, I couldn't recommend something better for the price than the Mophorn WX-101.
Pros
Suitable for large projects
High-capacity, heavy-duty stainless steel powder bucket
Auto-adjusting voltage
Easy to clean
Wheeled trolley ensures easy mobility
Very high powder output
Allows operator to control the output pressure
Cons
Some assembly required
On the expensive side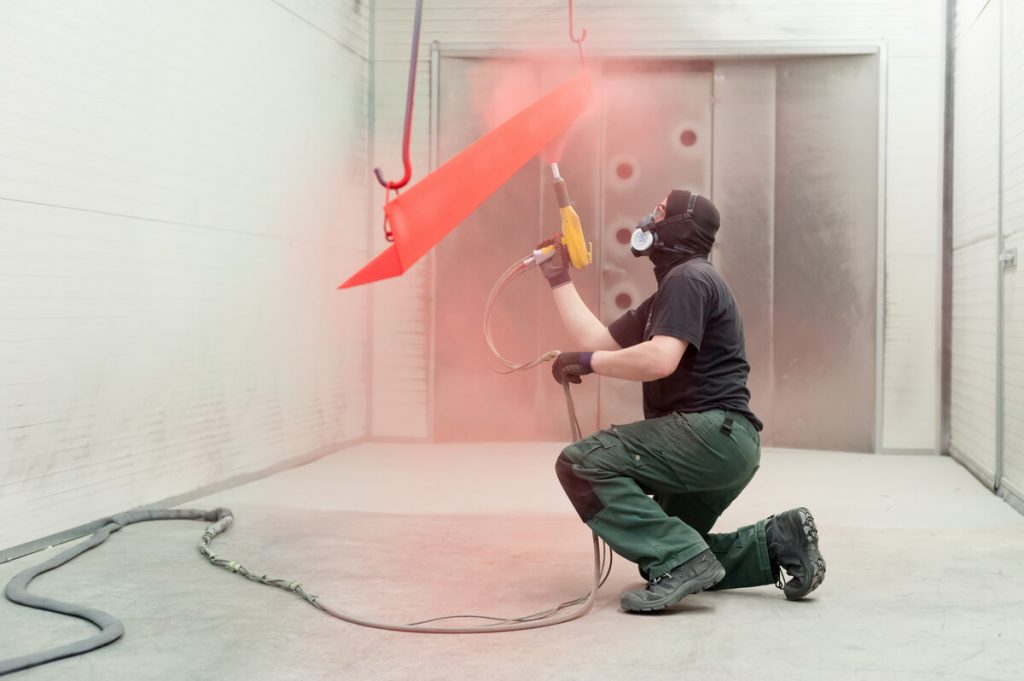 What to Look for When Buying A Powder Coating Gun
Output voltage
The output voltage represents the voltage by which the outgoing powder is charged. Some powder coating guns have a wide range of output voltage while others don't. Of course, there are advantages and disadvantages associated with different settings, and whether or not you'll need a variable output voltage will really depend on the intended use.
A high output voltage is useful as it helps the powder to stick to the surface better. On the other hand, a low output voltage is better when working on recessed surfaces. However, if you only use your powder coating gun for small projects every now and then, a fixed model might be more than enough—no need to shell out the big bucks unless you really need it.
Air requirement
Like conventional spray paint guns, powder coating guns also require a steady supply of compressed air to spray the powder out through the nozzle. For that purpose, your air compressor needs to meet the air requirements of whatever powder coating gun you intend to buy. Luckily, powder coatings require much lower air pressure than spray painting. To put it simply, just make sure you have an air compressor on hand. No matter the size, it should do just fine.
However, if you intend to use a big shop compressor that you use to power your impact tools, you'll probably need to install a pressure regulator to bring the pressure down and an inline oil/water separator to make sure you don't get droplets mixed with the powder and ruin the paint job.
Availability of replacement parts
A powder coating gun is made up of several tiny components. When something goes awry, there's no need to replace the entire machine. To that end, pick a powder coating gun with affordable and readily available replacement parts such as the nozzle, air input, activation switch, etc.
Pay special attention when buying Chinese/no-name models as you might not be able to find replacement parts. On the other hand, these models are usually much more inexpensive and might not be worth the hassle of even trying to find replacement parts.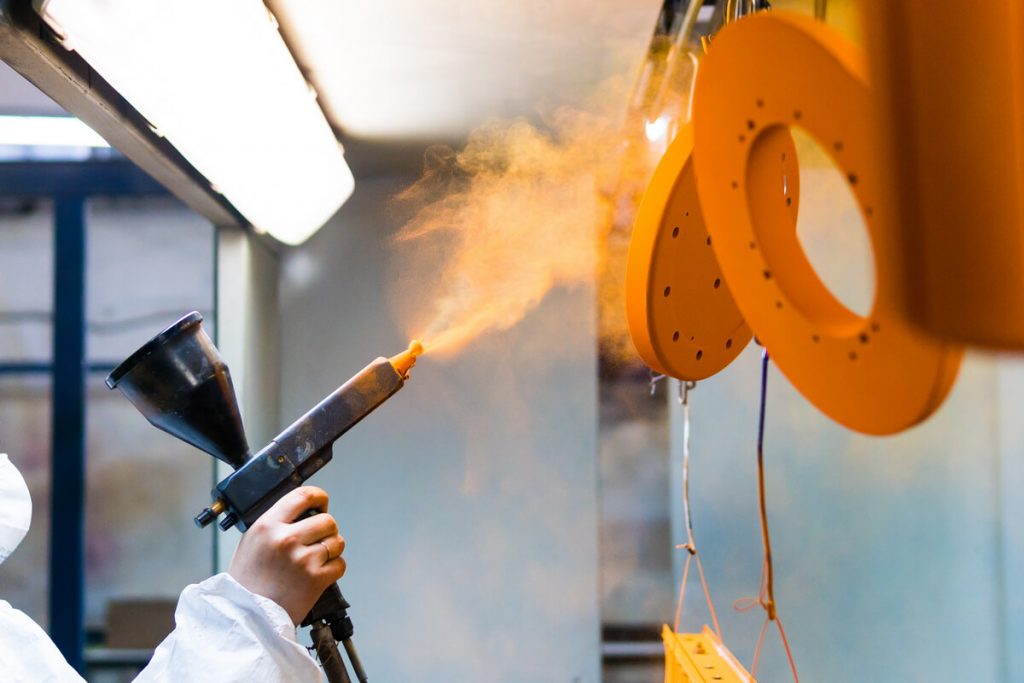 Spray rate
The spray rate is a very important parameter in powder coating guns; it corresponds to the speed at which it can shoot powder. In most cases, a high spray rate is desirable as it makes the operator's job easier by taking less time to complete a job. However, a higher spray rate is also harder to control.
If you are still learning how to use a powder coating gun, your best bet is to buy a model with an adjustable power output so you can set it to whatever works best for you.
Portability
For mobile mechanics and folks who travel a lot, this is a significant factor. A powder coating gun should be lightweight and have compact dimensions, so it is easy to carry, store, or transport. Luckily, most low-cost guns are quite compact. On the other hand, professional powder coating guns like the Mophorn WX-101 may be a bit difficult to transport. However, since these are mostly intended for shop use, that shouldn't be a real drawback.
Versatility
This attribute corresponds to how flexible a powder coating gun is. Pick a powder coating gun that allows you to control various important parameters such as output voltage, air pressure, powder input/output, and power adjustment. Having said that, the ability to adjust these parameters is mostly useful for experienced professionals. If you are a beginner, a low-cost, less flexible alternative is probably better.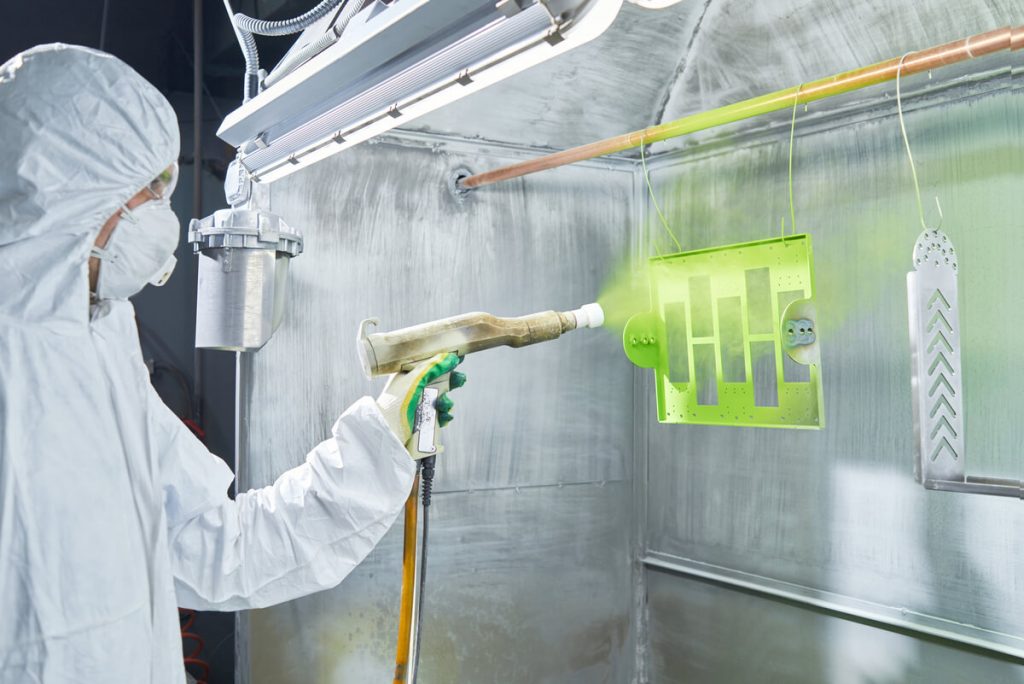 FAQs
How does powder coating work?
Powder coating is based on the Law of Attraction. First, the powder particles are negatively charged using an electrostatic gun spraying them onto any desired object. Then, a lead wire attached to the object charges it positively. Thus, since positive attracts negative, the powder sprayed sticks to the object, forming a uniform layer.
Once spraying is complete, the painted objects need to be cured to allow the powder to melt into a hard and thick layer; this is either done by heat using an oven or using ultraviolet light.
What are the disadvantages of powder coating?
One of the biggest downsides of powder coating is that you cannot achieve thin layers, as powder coating only imparts thick and durable coats. Secondly, larger powder-coated components may require a lot of time to cure and cool down, significantly increasing the manufacturing time. Not to mention that to cure a large component, you'll either need a large oven or an extensive ultraviolet system.
Powder coating also requires more equipment, resulting in a higher initial cost. Machines like the powder coating gun itself, curing oven, air compressor, voltage regulator, etc., are required to coat any component.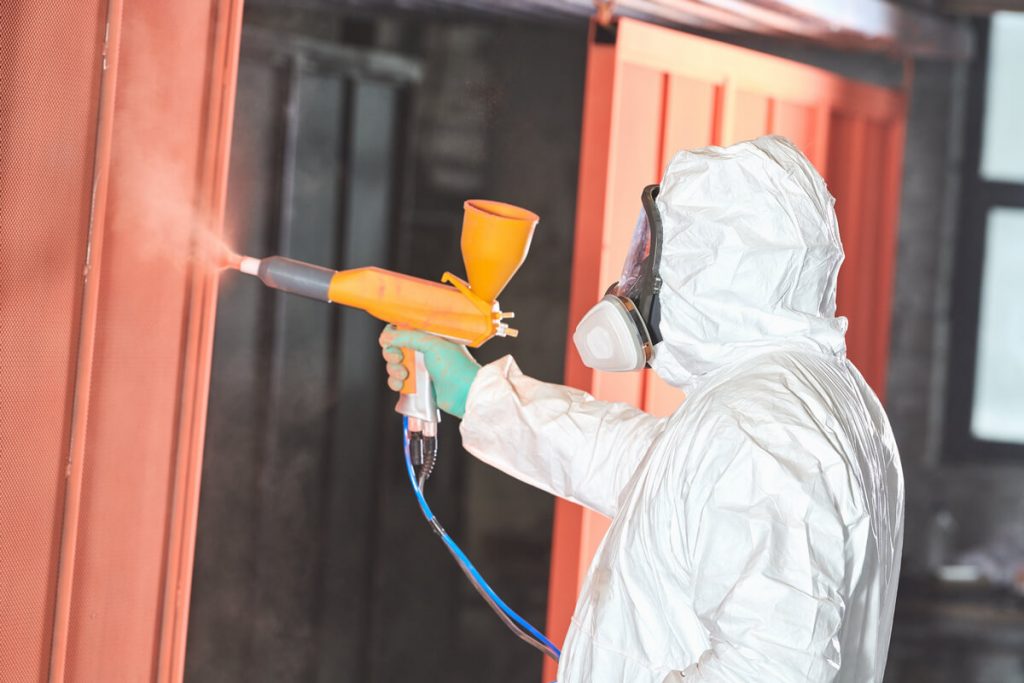 How are powder coating guns different from regular paint guns?
As some eagle-eyed readers may have noticed, some powder coating guns use components very similar to a standard spray paint gun. Indeed, the handle and other adjacent components are shared between the two. Nevertheless, a paint gun and a powder coating gun are vastly different.
To negatively charge the outgoing powder particles, a powder coating gun uses a special attachment in the form of a coil. That coil is powered by the system connected to your power outlet, and the powder passes through a tube inside the coil. As it moves along its path, the powder is charged negatively.
Also, powder coating guns only work with powder paint, while spray paint guns use liquid paint. This one seems like a given, but yeah, that's what it is.
Last Words
All in all, powder coating is not that hard to do. However, it does have a learning curve. Nonetheless, once you get the hang of it, it's more straightforward to use than a spray gun and easier to get an even and ultra-durable paint layer.
Beginners in the field looking to try out a different process should go for either of the first three powder coating guns on the list; they are easy to use and cheap, making them the best choice for amateurs.
On the other hand, mechanics and experienced professionals may prefer the last two options. The Eastwood model is a standard in the industry, and the Mophorn powder coating machine is especially suitable for farm and worksite equipment, thanks to its high-capacity powder bucket and build quality.