EDITOR'S PICK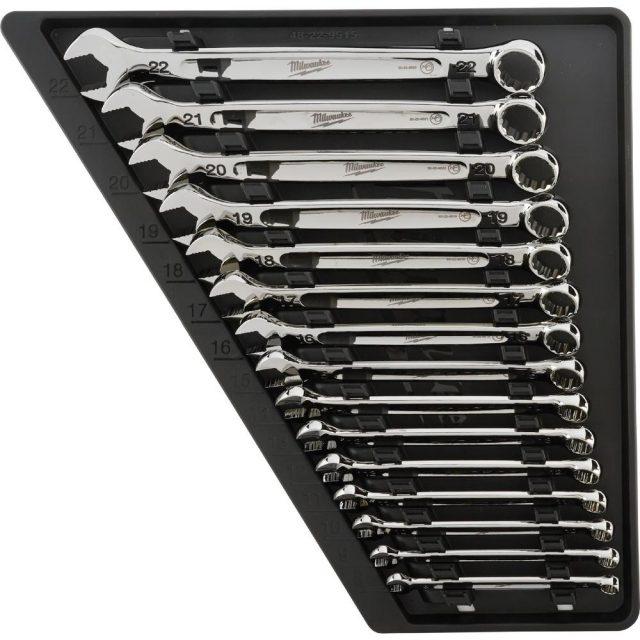 MILWAUKEE Combination Metric Wrench Tool Set
High-quality construction
Innovative "Max Bite" open-end grip
Comfortable I-beam handles
Attractive and easy to clean chrome finish
Comes with a rugged plastic storage case
Easy to see markings on both ends of each face
Lifetime guarantee
PREMIUM PICK
Wera 05020231001 Combination Wrench Set
High-quality product
Comfortable and ergonomic handle design
Color-coded by size for easy identification
Great product for experts
15° offset angle on closed-end
Placement point every 15°
Comes with portable carrying bag/pouch
BUDGET PICK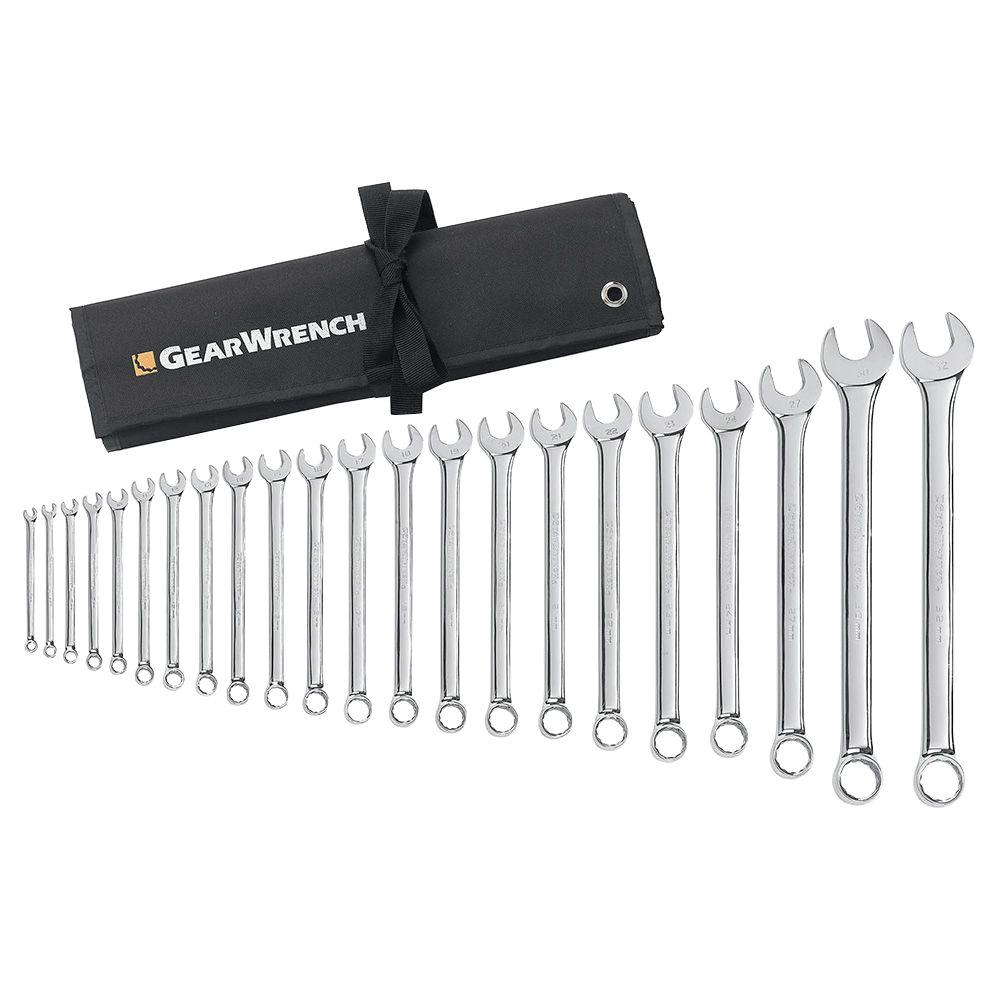 GEARWRENCH Metric Combination Wrench Set
Manufacturer's limited lifetime warranty
Strong Alloy steel construction
Long beam length
15° offset on closed-end for better access
Wide range of wrench sizes
Stamped sizes for easy recognition
High on value for money
Even though there are many power tools available for every possible application, but they can't replace hand tools altogether. Power tools may do the job quickly and efficiently, but they won't fit in really tight locations and are also often too powerful for delicate operations. Let's be honest — nothing can replace a good old-fashioned wrench. If you are serious about auto mechanics, you just can't do without.
That being said, with the many options available online, it can be easy to get overwhelmed or confused. There is a ton of different wrench models out there—short, long, angled, brushed, shiny, etc. So which one should you buy?
To help you find the right set for you, we've created a list of 7 of the best combination wrench sets currently available. We have handpicked sets for their superiority compared to other products on the market, and the best part, we have included products that fit a wide range of needs. Beginner mechanics and weekend DIYers obviously don't need the same tools as auto mechanics. Depending on the type of vehicle type you repair, you might also need differently shaped wrenches or models with special features. Luckily, we have included a little something for everyone.
Combination Wrench Set Reviews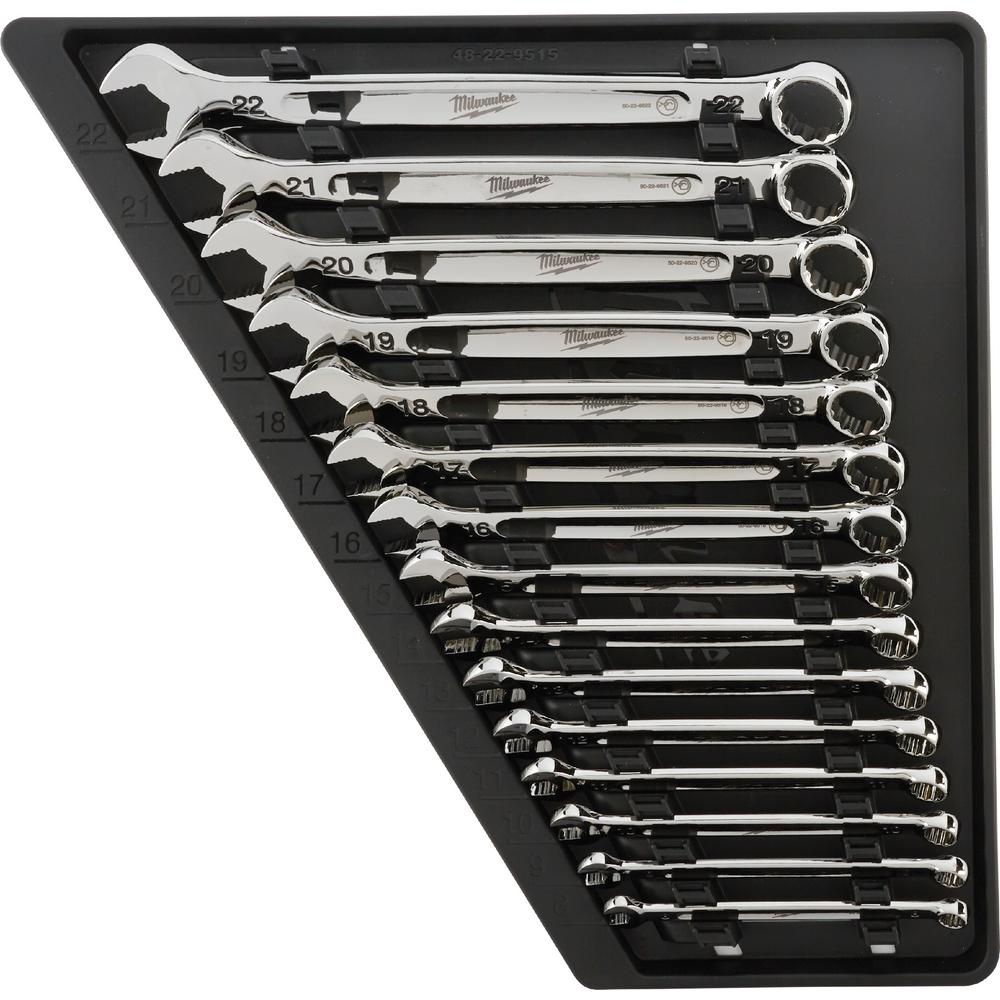 Milwaukee Tools has been a popular name in the power tool market for a while now, but it also has a great selection of high-quality hand wrenches.
Each wrench in the set comes with I-beam handles that enable the operator to get a good grip over the tool but also to be comfortable during use. Besides, each wrench has distinct ink-filled markings indicating the size, significantly speeding up the selection process.
Meanwhile, the tool's open-end features unique grooves that Milwaukee calls "Max Bite," a patented technology that increases the grip by up to 25%. In fact, this is a kit I bought some time ago and quickly became my go-to set exactly because of the grip.
The Milwaukee combination wrench set is an excellent product for beginners, DIYers, and professional auto mechanics alike as it offers versatility and durable materials. It's also a perfect starter kit since it includes every size between 8mm and 22 mm, unlike most sets that usually skip lesser-used sizes suck as 13mm, 16mm, and 18mm.
Pros
High-quality construction
Innovative "Max Bite" open-end grip
Comfortable I-beam handles
Reasonable price
Attractive and easy to clean chrome finish
Comes with a rugged plastic storage case
Easy to see markings on both ends of each face
Lifetime guarantee
Cons
Not much to say here. This one is a no-brainer.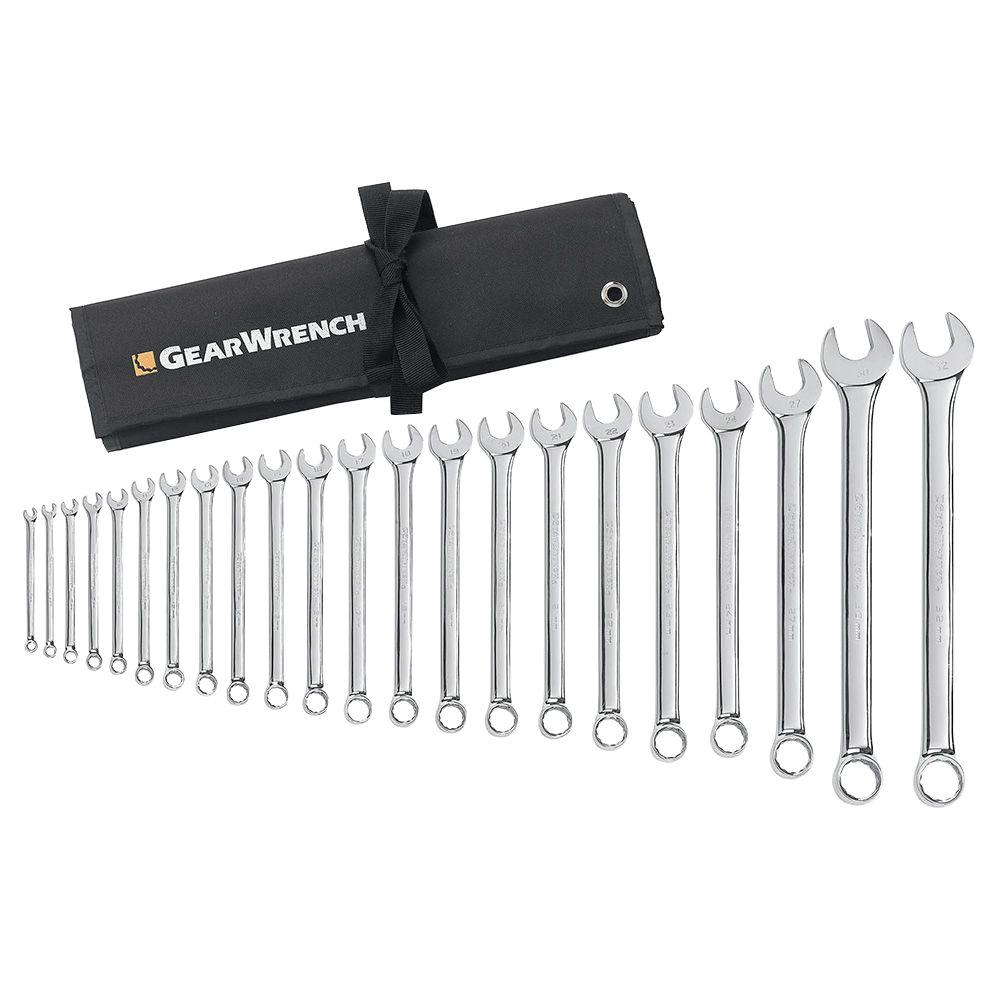 GearWrench's combination wrench set is also good for pretty much everyone, including 6mm to 24mm, 27mm, 30mm, and 32 mm sizes, making it a versatile set suitable for a wide range of applications.
All 22 wrenches in the set are made of alloy steel for optimum strength and finished in polished chrome. A cloth tool roll is included in the box for convenient, accessible, and, most importantly, portable storage of the wrenches.
Each wrench ends feature GearWrench's Surface Drive design technology that ensures the tool's firm grip over any nut. Carefully carved-out grooves not only prevent slippage but also provide up to 25% more torque at the open end. Furthermore, each wrench's closed-end has a 15° offset angle for easier access in tight spaces. Worth mentioning, the 15° offset can be a blessing or a curse depending on the situation. If you are a pro mechanic, buy one of each.
Costing around the same as the Milwaukee set above, Gearwrench's also offers all-around functionality and easy operation. However, this product has commonly found oval/rectangular cross-section handles that also provide comfort and sufficient grip.
Buyers should note that the wrenches in this set have slightly thinner handles. It can be advantageous when working in tight spaces, but it's not everyone's cup of tea.
Pros
Manufacturer's limited lifetime warranty
Strong Alloy steel construction
Long beam length
15° offset on closed-end for better access
Wide range of wrench sizes
Stamped sizes for easy recognition
High on value for money
Cons
No plastic case
Markings not painted
The Craftsman wrench set needs no introduction. If you know anything about cars, you already know this one. It's pretty much the "base" wrench kit in the industry, thanks to its high versatility and excellent value for money.
This kit also include both SAE and metric wrenches—the only set with standard size wrenches on this list. The metric wrenches go from 5 to 22 mm (without the16 mm) while SAE sizes include 1/4″, 5/16″, 7/32″, 3/8″, 7/16, 1/2″, 9/16″, 5/8″, 11/16″, 3/4″, 7/8, 15/16″, 1″, 1-1/16″, and 1-1/8″.
Of course, most modern cars only use metric bolts these days, but you never know when you'll have to work on an old muscle car. Some American car manufacturers also still use standard-sized bolts for trims and inside accessories. Besides, having SAE wrenches can come in handy when working on rounded bolts that don't seem to fit either a 12mm or 13mm.
Each wrench is finished in shiny chrome, an attractive finish, and featured individual wrench sizes engraved in large font. The stamped markings aren't as easy to see as Milwaukee's ink-filled ones, but, as said before, this is a "base" kit. It's not perfect and doesn't come with all the bells and whistles as other more expensive models. However, it will allow you to cover the most common metric and SAE sizes for less than the two metric-only sets above.
However, Craftsman's toolset does not come with a storage case or pouch. On the other hand, since you'll probably use toolbox organizers, it isn't a real drawback anyway.
Like the GearWrench set, all wrenches in this set have a 15° offset angle on the socket end for better access. However, this set does not have any special anti-slip grip on either end.
All in all, Craftsman's reputation when it comes to hand tools is already well-established. If you can find an auto repair shop that doesn't have at least one Craftsman tool, you should probably have your car fixed elsewhere.
Pros
Lifetime warranty
15° socket end offset allows for more clearance
Corrosion-resistant chrome finish
Wide range of wrench sizes
Includes SAE and metric sizes
Very cheap
Cons
Does not come with a carrying or storage case
Crescent's quite affordable 7-piece ratcheting combination wrench set is made of specially formulated and heat-treated alloy steel. Thus, it is sturdy and sure to last a long time without signs of wear or corrosion.
Instead of the traditional chrome or brushed finish, Crescent went for an attractive matte black color and laser-etched markings immune to wear. However, be warned that, while laser-etched sizes often last longer, they may be hard to read when the tools are covered in oil and dirt.
The set may contain only seven pieces, but it covers the most used metric sizes (8, 10, 12, 13, 14, 15, and 17 mm); besides, it ranks very high on the value for money scale. Moreover, the wrench's handle provides a comfortable grip while being strong and durable at the same time.
Besides, the Crescent Combination Wrench Set features ratcheting open/ends without a regular ratcheting mechanism. The innovative grip design allows the operator to turn nuts and bolts without having to lift the tool—a significant advantage when working in tight spaces.
If you are a beginner mechanic and looking to buy your first set, this one might not be your best option due to the limited sizes. Instead, I would recommend it to mechanics who already have a base/normal set looking to buy a set with a specialized grip.
Pros
Ratcheting wrench set
Attractive Black Oxide finish
Compatible with six different types of fasteners
Corrosion-resistant body
Heat-treated alloy steel construction for durability and long tool life
Limited Lifetime Warranty
Low Cost
Comes with a plastic storage tray
Cons
No anti-slip mechanism
Ratcheting mechanism not as good as dedicated ratcheting wrench sets
Capri's 6-piece metric combination wrench set is a specialty set. The extra-long design allows accessing bolts deep into the engine bay. A good example here is when trying to remove the water pump pulley or timing belt cover bolts.
Another unique feature is the closed configuration on both ends. While the unusual design can prove disadvantageous in certain situations, it can also greatly reduce the number of wrenches you need to bring for a specific job. Indeed, this set includes 8, 10, 12, 13, 14, 15, 16, 17, 18, 19, 22, and 24 mm with only 6 wrenches.
The Capri Tools extra long wrench set is made of premium chrome-molybdenum steel and finished in shiny chrome plating, which imparts strength and durability, resulting in longer life.
Interestingly, the Capri wrenches feature 0° offset angles. However, due to the specific intended use, a 15° offset would actually be quite counter-productive. For example, when removing a water pump pulley, a 15° offset would make the wrench hit the interior of the wheel well. The straight design also allows for more torque since the wrench doesn't risk slipping sideways.
Worth mentioning, since Capri Tools' wrenches have handles that are up to two times longer than other models, this is also a "second" set. While the extra-long beams will prove useful for very specific applications, they will be a real drawback when working on everything else.
Pros
Wide range of sizes
Lifetime Warranty
Strong Chrome-molybdenum steel construction
Extra-long beam useful on very specific applications
Finished with chrome plating for protection against corrosion
Cons
Similar to the Capri wrenches above, GearWrench's stubby wrenches are also useful in very specific scenarios where regular and long beams simply won't fit.
The kit includes 20 units equally divided between SAE and metric sizes and a 15° offset angle on the closed end. However, stubby wrenches may be less comfortable when used for extended periods and also obviously offer less torque. You will also need to buy a regular-sized set for use in normal situations.
The GearWrench Stubby Set includes metric sizes from 10 to 19 mm and SAE sizes of 3/8", 7/16", ½," 9/16", 5/8", 11/16", ¾," 13/16", 7/8", and 15/16".
Apart from looking extremely adorable, these wrenches are also of excellent quality. They are constructed from alloy steel for optimum strength and finished in bright chrome to impart an anti-corrosion layer.
The internal area of both ends that comes in contact with the nut has been cleverly designed with off-corner loading functionality, which not only prevents fastener rounding but also provides up to 25% more torque at the open end.
Like all other products on this list, the GearWrench 20-piece set comes with a lifetime limited warranty.
Pros
Includes metric and SAE measurements
Wide size range
Durable alloy steel construction
Attractive polished chrome finish
15° offset for better access
Easy to clean and corrosion resistant
Limited lifetime warranty
Comes with molded plastic tray for convenient storage
Cons
Priced on the higher side
Wera's Combination Wrench Set is the most technologically advanced on this list and built within strict tolerances. Thus, the 11-piece toolset is made especially for professional mechanics and highly experienced individuals.
It includes 11 different sizes ranging from 8 to 19 mm (9 mm not included), and each wrench is color-coded for easy and fast identification. And even better, each size's specific color is standard across all Wera products.
As with any other tool it makes, Wera developed wrenches with a unique but extremely useful design. For instance, placement points are only 15° apart, half of what other products offer. Besides, thanks to smart geometry technology, using the wrench in extremely tight spaces becomes much easier as the tool will have significantly more placement possibilities. And, of course, each wrench's closed-end is also offset by 15 degrees.
The Joker 6003 kit is constructed from high-grade metals to ensure strength and long tool life. The beam's shape is also carefully designed to provide the operator with optimum grip while also considering the tool's strength itself.
If you are a professional mechanic and you already have a couple of other regular wrench sets but want one that would make every other guy in the shop jealous. this is the one!
Pros
High-quality product
Comfortable and ergonomic handle design
Color-coded by size for easy identification
Great product for experts
15° offset angle on closed-end
Placement point every 15°
Comes with portable carrying bag/pouch
Cons
Priced on the higher side
Most suitable for trained professionals and experts in the field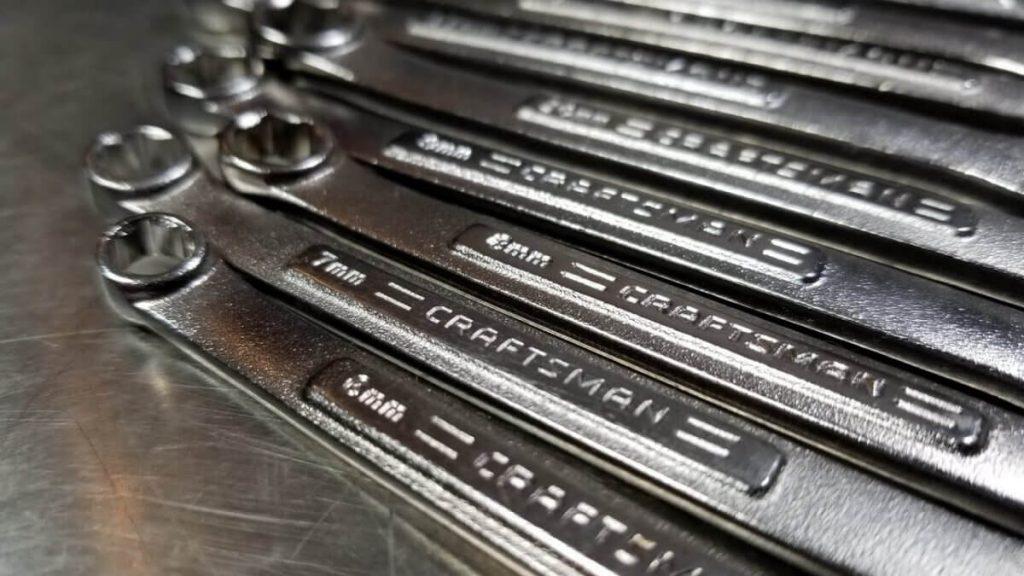 What to Look for When Buying A Combination Wrench Set
Wrench configuration
Depending on the intended use, there are many types of wrenches available in the market. While choosing a specific wrench configuration, several factors like the work environment, tool requirement, budget, and skill, need to be considered.
Combination wrenches get their name from the two different ends (open- and closed-end) in one unit. Under this type, you'll want to choose a suitable product based on the required beam length and ratcheting functionality. Wrenches usually come in three different sizes: stubby, standard, and extra-long.
On the other hand, ratcheting wrenches work similarly to regular rachets and generally speed up the process but are not suitable to break nuts and bolts.
Measurement system
A combination wrench set is available in two different measurement systems; SAE or metric. The SAE, or standard system, uses fractions of inches to denote the wrench size, while the metric system uses "millimeter."
While most modern cars now use the metric system, professionals should own wrench sets belonging to both systems to increase the scope of their work. On the other hand, beginners starting in the field, getting a grease monkey job at a car dealer will probably do good enough with only a metric set—you'll have more than enough time to buy a second set later in your career.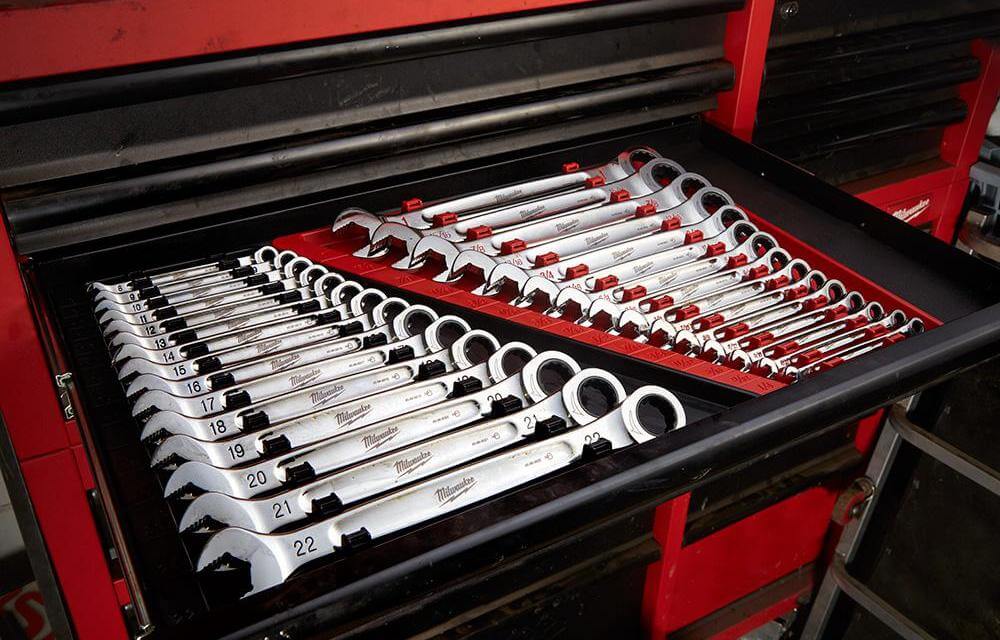 Tool material and finish
The strength and durability of any combination wrench set are obviously the most important quality. A good set should be constructed from strong material so that it doesn't crack when putting a huge load on them. Having said that, almost all products in this article come with a lifetime guarantee from the manufacturer for complete peace of mind.
Furthermore, the tool's finishing quality is also crucial as it goes a long way in preventing corrosion to the surface while imparting pleasing aesthetics. Most tools are finished in shiny chrome, while other finishes like black oxide are also trendy choices.
Offset angle
Certain manufacturers provide a small offset angle at the boxed end of each wrench that improves its accessibility into tight spaces. The idea is for the tool to access the nut when it is lower than the surrounding surface. However, it can be a blessing and a curse too. If you are a professional auto mechanic, just buy one of each.
Last Words
All things considered, there is no one-size-fits-all when it comes to buying a combination wrench set. Instead, the choice for the most suitable product entirely depends on individual requirements and budget.
For example, beginners may find the Craftsman wrench set very attractive as it includes 32 pieces of SAE and metric measurements at a reasonable price. That should be good enough to tackle pretty much everything your boss will throw at you in the first couple of years.
Simultaneously, the Wera kit is more suited for experienced professionals due to its advanced qualities. On the other hand, the stubby wrench set is for individuals looking for tools to work in extremely tight spaces.
As always, you should choose a toolset that works for you and your needs. Don't listen too much about what everyone else thinks (and that includes me). Every mechanic has different preferences, and they are all valid. Simply make sure to correctly evaluate what counts for you.
You'll be using your wrenches for years, so you might as well like them. After all, nothing is worse than working with tools you hate.