So, you bought a house and with that fulfilled your child's dream of owning your own garage space as well. Finally, you'll have a dedicated space for your car with all the bells and whistles that go with it and somewhere to keep all your tools, spare tires, shop equipment, etc. Finally, a place that will be really yours and yours only.
But then you start to add bikes as well, as it's easier to get them out of the garage than out of the basement—if you have a basement, that is. What about your Christmas decorations inventory that is getting bigger and bigger every year? Oh, wait! Your brother bought himself a Harley but doesn't have a garage of his own and asks for a favor during the winter. You can't ignore him, right?
Like so many of us, you had big goals for that garage and some kind of long-term plan, but after a couple of years, it started to become so crowded that you don't even want to hang out in there anymore? And all you can do now is to look at your garage full of whatnot, scratching your head, asking yourself how the hell did it end up like this?
Do not despair. You are not alone in this mess. According to Peachtree Consulting, more than 50% of homeowners in the US plan to optimize their garage space within the next two years and 24% of homeowners are embarrassed to leave their garage doors open.
And let's admit it—there's nothing worse than working on a car and always having to look for every single tool because you can't find anything due to the mess. Or trying to move that jack around but then you gotta move the bikes first to make some space… argh!
To make sure that doesn't happen to you, we've researched and compiled some of the best tips and tricks to keep your garage organized and everything in the right place. However, we found so many good ideas and starting points that we'll have no choice but to create a whole series about it! In part 1, we'll cover how important a proper plan is as well as the importance of correctly selecting your workbench and tool chest.
Enjoy!
How to Optimize Garage Space
Plan efficiently
As with most things in life, the first step is usually to plan ahead. Take everything out of that stuffed garage and take a minute to create an organizational plan to optimize your garage space.
Make a list and write down what is truly essential, what you need to get back to your friends and relatives, and what you can throw or give away as you haven't used them in years and you know that you'll never use them in the future either.
From the things that you'll definitely keep in your garage, you'll have to prioritize what you'll want within your reach. Tools should be stored in your tool chest and auto care products in dedicated cabinets. The things you use less frequently like bikes, weed trimmers, or golf clubs should be put on wall hooks and shelves.
Once the cleanup is done and you've stored everything you could, you will be able to better estimate what you need to do next. You've got more tools than drawers in your tools chest? You might need a new workbench with more spacious drawers. Still have tons of oil and coolant containers laying around? You'll need to buy efficient cabinets and shelves. Don't have enough space to add more storage units? If your garage's ceiling is high enough, you could consider buying a ceiling rack.
In all cases, only once you've started cleaning that garage will you see what's missing in it to allow you to store everything efficiently.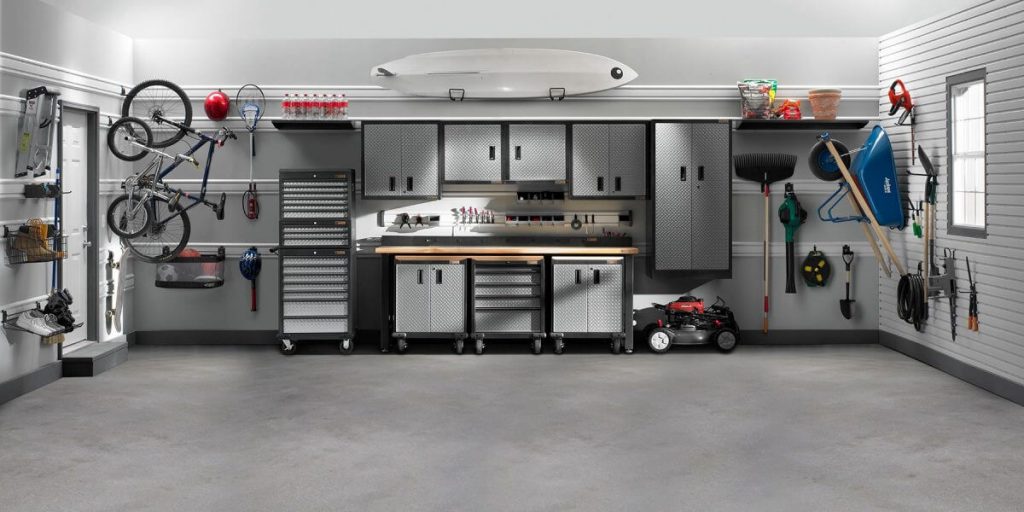 Well-designed workbenches
If you don't have a proper workbench in your garage, you don't know what you are missing. And yeah, I know I also used to work on some kind of wooden thing that I had made up with 2X4s because well, I had other more important tools to buy. It was supposed to be a temporary thing, right? But then years later, it's still there and you know you hate it. So yeah, these things sure are "good enough." However, once you start working with a real workbench, you'll never want to go back.
Workbenches are just awesome. But I mean, not any workbench but you know, one with designed with mechanics in mind—plenty of storage space, easy to clean surface, sturdy, with a pegboard and why not a power bar on the side! But that's just me. Of course, different people have different needs. Luckily, there are plenty of workbench options out there.
If you have a vast tools collection, save at least one wall for a sizeable workbench. You'll ideally want a large surface to work on and storage on the sides—don't go overboard either. Remember that you still need to fit a tool chest in there. If you are not much of a handyman or simply keep it simple when it comes to auto mechanics, consider something a little smaller and keep more space for bikes and whatever else you do on weekends.
---
---
Let us remind you once more that whatever you do, keep in mind that organizational plan and don't get ahead of yourself. Workbenches are for tools only. That's it.
There are well-designed workbenches out there with wooden tables and solid steel legs. Legs could be adjustable in height, and the wooden surface has to be solid, coated for durability, and easy cleaning. These benches are usually easy to assemble and not too bulky.
Other workbenches can be made out of stainless steel with integrated light and 110V electric inlets, and even USB ports. Sliding drawers that come with it adds to the whole practicality as you can store your electrical and hand tools and keep them organized.
If you are short on space, you can always go for a folding workbench and table. They usually have wheels so they are easy to move around and store away when you're done with your work. Don't expect this foldable workbench to be as solid as the others previously mentioned, though. Folding benches can be a bit shaky during use but still much better than nothing.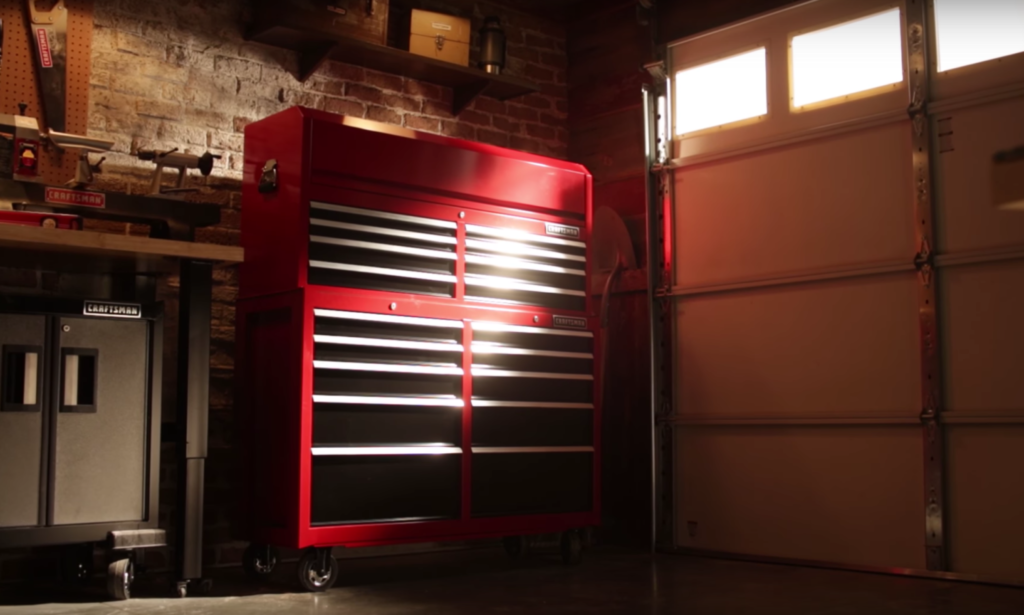 Tool chests
If you are like me, hand tools will make up the most of your tools. In that case, your best investment will be a quality tool chest. A well-design tool chest adjusted to your specific needs can solve half of your problems with optimizing your garage space. And even better, there's a whole industry competing to make the perfect tool chest, resulting in virtually endless options in sizes and forms.
But you have to be smart with organizing your tool chest as well.
There's a wide range of tool chests but shallow and thin drawers are usually perfect for pliers, screwdrivers, or wrenches.
Medium size drawers are practical for storing larger hand tools, socket sets, tape measures—you get the picture.
---
---
Full-size drawers are usually on the bottom as their size is suitable for big and heavy tools like power tools or long pry bars, etc.
As you will basically pile your mixed tools into your tool chest, you have to make sure that they will not rattle and roll inside drawers. Liners that come (or may not come) with your tool chest are not fixed to the bottom, so it's always a good idea to apply some adhesive spray and fix that liner. But that the easy solution.
For die-hard OCD mechanics, you can have custom foams made that will keep your tools in a perfectly organized manner. You'll have to first lay all the tools in the drawers and make sure they are logically placed there with optimal space between them. Then you'll take pictures of the drawers and send them to companies specialized in custom foam inserts (look it up, it's a thing! lol)
Can't get easier than that.
But more seriously, taking your tools out of their plastic casing and storing them more efficiently will also go a long way in optimizing the space in your tool chest. For instance, ditch your 3/8″ ratchet and socket set's case and organize your loose sockets using socket organizers (the same thing applies to your OBD2 scanner in the workbench).
Last Words
It is a shame to leave your car out in the sun in the hot summer and in the snow in the cold winter because your garage is just full of stuff. Parking your car in your garage, not only will you enter a colder car in summer and a cleaner and warmer car in winter, but your car will also benefit from it. The sun won't damage your car interior material, including plastic bits and upholstery, especially if it's leather, and it will also keep your paint from fading as well.
Nothing is worse than having to work in a cluttered garage where you can't find anything and can't move around as you please.
There's a ton of reason why you are better with an organized garage than a messy one. Of course, there are also a ton more tricks and tips to help you optimize your garage space so see you in part 2!