PREMIUM PICK
GEARWRENCH 46-Piece Pass Through Socket Set
46-piece pass through socket set
SAE (Metric) sizes: 5/16 (8mm), ⅜ (10mm), 7/16 (11mm), 15/32 (12mm), ½ (13mm), 9/16 (14mm), 19/32 (15mm), ⅝ (16mm), 11/16 (17mm), 23/32 (18mm), ¾ (19mm), 13/16 (21mm), ⅞ (22mm)
⅜ and ¼ square lug adapters
Includes two ratchet handles
Includes 3-inch and 6-inch extensions
Comes in a blow-mold case
Limited lifetime warranty
BUDGET PICK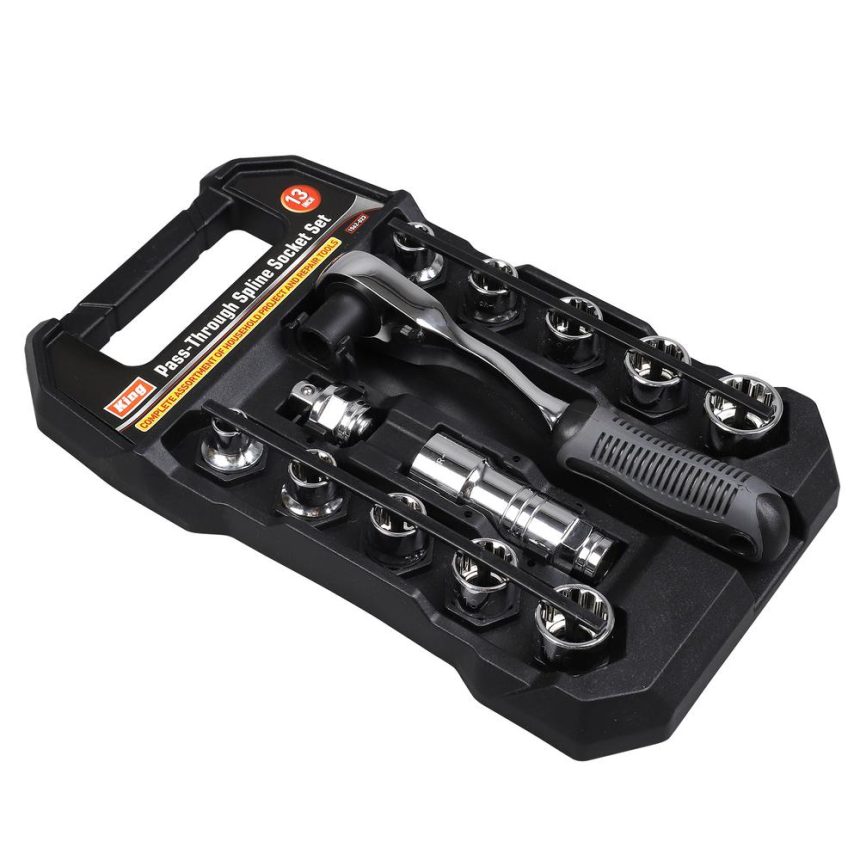 KING Pass Through Socket Set
13-piece set
SAE (Metric) sizes: 5/16 (8mm), ⅜ (10mm), 7/16 (11mm), 15/32 (12mm), ½ (13mm), 9/16 (14mm), 19/32 (15mm), ⅝ (16mm), 11/16 (17mm), & ¾ (19mm)
Includes 3-inch pass through extension and drive adapter for ¼" & ⅜" drive lug sockets
72-tooth spline drive pass through ratchet handle, reversible
Works with 4-point, 6-point, 12-point, partially rounded, and external star fasteners
EDITOR'S PICK
ChannelLock Pass Through Socket Set
16-piece pass through socket set
SAE (Metric) sizes: 5/16 (8mm), ⅜ (10mm), 7/16 (11mm), 15/32 (12mm), ½ (13mm), 9/16 (14mm), 19/32 (15mm), ⅝ (16mm), 11/16 (17mm), 23/32 (18mm), ¾ (19mm), 13/16 (21mm), ⅞ (22mm)
Universal drive design accommodates 6-point, 12-point, external star, and spline-type fasteners
Offset reversible ratchet handle, 72-teeth for 5-degree arc
Comes in a blow-mold storage case
A pass-through socket set can be a game-changer when you are trying to remove or install fasteners on a stud that is too long for a standard deep socket or when you need to remove a bolt while holding the nut in place. The pass-through design allows the socket to sit on the fastener while the ratchet grasps the outside of the socket.
A good set of pass-through sockets is versatile and quite handy to have. Of course, it's not as essential as a regular ratchet set but if you take your tool game seriously, you'll want to have one. To help you find a set that will suit your needs and budget, we have selected some of the best pass-through socket sets you can buy today and explained what sets them apart from other models on the market.
Pass Through Socket Set Reviews
We found five sets of pass-through sockets we think would meet the needs of anyone from the DIYer looking to remove shock mounting nuts to the professional busting knuckles all day long. These are all good sets, but each has specific features that might better suit different mechanics types.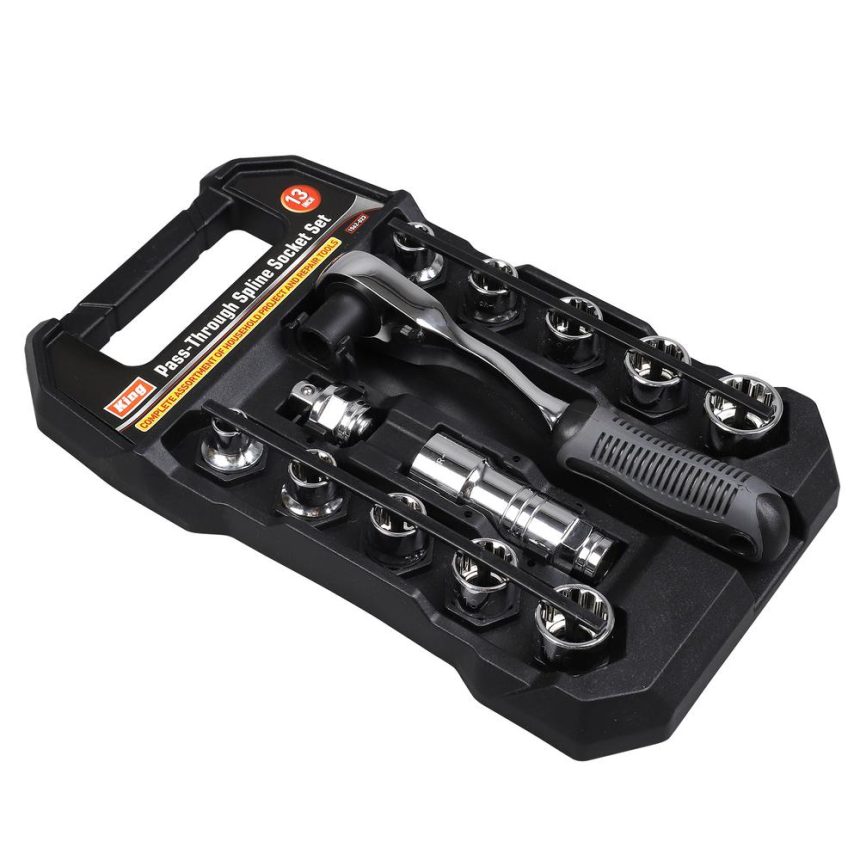 This pass-through set is a compact solution at an easy-to-afford price. The kit includes ten sockets that handle both metric and SAE sizes. Moreover, the 72-tooth reversible ratchet firmly grips sockets to prevent accidental drops. The socket design also allows you to tackle six different fastener types without having to go searching for the correct tool. The kit also includes adapters to let you use standard ¼" and ⅜" square lug sockets.
This is an ideal toolset for the casual DIYer that simply needs a simple pass-through socket set, robust enough for most jobs you'll handle in the garage or around the home. One of the features we particularly like about this set is the ratchet handle that's somewhat shorter than others and has a nice, rubberized handle that feels sturdy and secure.
Key Features
13-piece set
SAE (Metric) sizes: 5/16 (8mm), ⅜ (10mm), 7/16 (11mm), 15/32 (12mm), ½ (13mm), 9/16 (14mm), 19/32 (15mm), ⅝ (16mm), 11/16 (17mm), & ¾ (19mm)
Includes 3-inch pass through extension and drive adapter for ¼" & ⅜" drive lug sockets
72-tooth spline drive pass through ratchet handle, reversible
Works with 4-point, 6-point, 12-point, partially rounded, and external star fasteners
Pros
Affordable set that covers the most common sizes and fastener styles
Stubby ratchet handle works well in tight spaces
Included extension is a bonus many sets leave out
Cons
Hanging storage case isn't very good
Ratchet head lacks flex, which limits usefulness in some situations
Crescent Tools X6 pass-through socket set is a great option when you need to get a fastener off that a standard ratchet and socket can't reach. This set allows you to grip six different types of fasteners without having to include a ton of different socket sizes and styles, saving you money when encountering some of the less common drive types.
The socket set includes a total of 20 pieces to provide you with the proper SAE or Metric socket size. Meanwhile, the all-metal ratchet handle has a black oxide finish that looks good and prevents corrosion.
When you need to switch to a square drive sub, the set includes an adapter to match up with ⅜" drive lugs. Overall, this is an ideal set for the DIYer that needs a diverse set of sizes and styles without breaking the bank.
Key Features
20-piece set
SAE (Metric) sizes: ⅜ (10mm), 7/16 (11mm), ½ (13mm), 9/16 (14mm), ⅝ (16mm) , 11/16 (17mm), ¾ (19mm), 13/16 (21mm) and 7/8 (22mm)
Includes ⅜" square lug adapter
Reversible all-metal spline-drive ratchet handle
Laser-etched sizes
Pros
Handy set of pass through sockets in the most useful sizes
Black finish and laser etching make finding the right socket easy
Cons
Does not include an extension

Case isn't useable
GEARWRENCH's pass-through socket set is a high-quality model with a well-designed flex-head ratchet. The extra-long ratchet handle gives you plenty of torque, and the flex makes it convenient to get the wrench into those tight, awkward spaces. This 23-piece set includes all the most common sizes, and as a bonus, also includes two extensions.
However, the ratchet is the star of this set. It features micro-click movement of only 5-degrees, so you can remove the most frustrating bolts in the tightest spaces. It's also 50-percent thinner than a standard ratchet while being 40-percent stronger. Moreover, the included ⅜" drive adapter even lets you get into tough spots because it has a lower profile than a standard ratchet and socket.
Generally, this is an ideal set for the home mechanic that needs pass-through sockets on a regular basis.
Key Features
23-piece pass through socket set
SAE (Metric) sizes: ⅜ (10mm), 7/16 (11mm), ½ (13mm), 9/16 (14mm), ⅝ (16mm) , 11/16 (17mm), ¾ (19mm), 13/16 (21mm) and 7/8 (22mm)
Includes 3-inch and 6-inch pass through extensions and ⅜" square lug adapter
12-inch long spline drive ratchet handle, 72-tooth 5-degree arc
Comes in a blow-mold case for storage
Pros
Includes the most common extension sizes
Thin, flex-head ratchet is ideal for tight spaces
Cons
Limited socket sizes for the price point
This is one of our favorite sets around for several reasons. First, the shape and design of the offset ratchet handle are ideal for almost every project. It fits in your hand so nicely, you'll wonder how you worked on anything without it. And then the versatility! You can remove or install 42 different sizes and types of fasteners using one of only 13 sockets. That keeps this set very compact and easy to carry around while offering the ultimate in selection.
This is an ideal set to carry in your car. The huge range of fasteners means this compact set is the go-to when you never know what you'll encounter on the road. And let's admit it, if you are in the field, you probably already know ChannelLock's reputation. Pretty much every tool they make has the best grip in the segment. I personally have this set at work and while I still use my regular SK ratchet for common stuff, this one is the next best thing for every unusual or rusted bolt, nut, or whatever.
Key Features
16-piece pass through socket set
SAE (Metric) sizes: 5/16 (8mm), ⅜ (10mm), 7/16 (11mm), 15/32 (12mm), ½ (13mm), 9/16 (14mm), 19/32 (15mm), ⅝ (16mm), 11/16 (17mm), 23/32 (18mm), ¾ (19mm), 13/16 (21mm), ⅞ (22mm)
Universal drive design accommodates 6-point, 12-point, external star, and spline-type fasteners
Offset reversible ratchet handle, 72-teeth for 5-degree arc
Comes in a blow-mold storage case
Pros
Ideal to keep in your car for emergency repairs
Ergonomic ratchet handle
Offset design is a pleasure to work with
Cons
Only comes with one extension
This is the ultimate in versatile pass-through socket sets. It includes a staggering number of useful socket sizes in both ⅜ drive and ¼ drive, two extensions, basically everything you could want in a socket set.
The Vortex sockets will fit a wide range of fastener sizes and styles and the handles are well-built and designed to handle tons of abuse. Still, should you have any problem with the sockets or ratchets, GEARWRENCH provides a lifetime warranty—no need to stress about buying a new set if something breaks.
Overall, it is an ideal set for professional mechanics or DIYers in need of more than what most other pass-through socket sets offer.
Key Features
46-piece pass through socket set
SAE (Metric) sizes: 5/16 (8mm), ⅜ (10mm), 7/16 (11mm), 15/32 (12mm), ½ (13mm), 9/16 (14mm), 19/32 (15mm), ⅝ (16mm), 11/16 (17mm), 23/32 (18mm), ¾ (19mm), 13/16 (21mm), ⅞ (22mm)
⅜ and ¼ square lug adapters
Includes two ratchet handles
Includes 3-inch and 6-inch extensions
Comes in a blow-mold case
Limited lifetime warranty
Pros
Complete set that has nearly every size you could need
Excellent value for money
Cons
Socket retention loosens up with use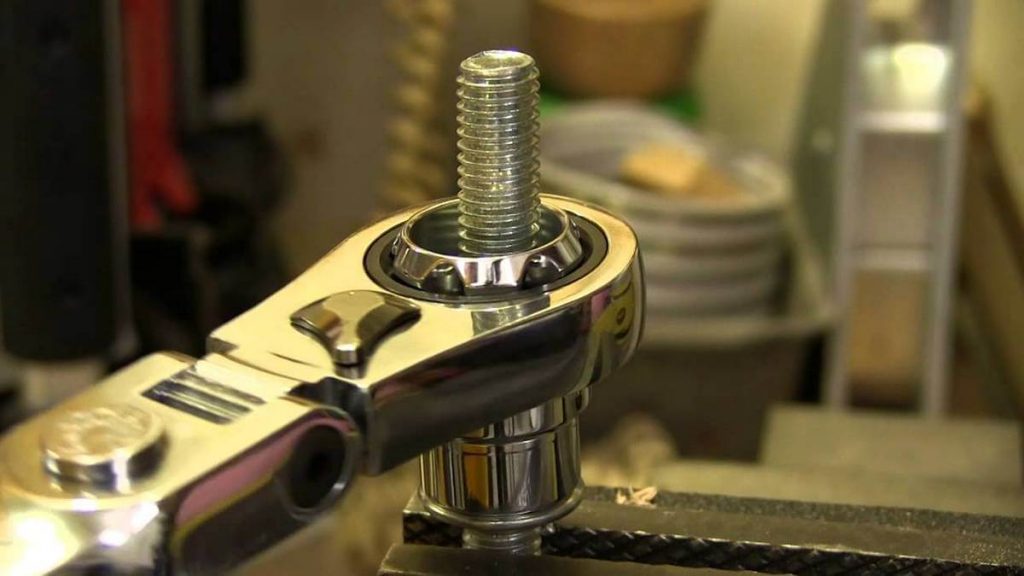 Frequently Asked Questions (FAQs)
What is a pass through socket?
A pass-through socket is a type of socket that allows the stud to pass completely through the tool. The ratchet grips the outside of the socket rather than the center, so you can use these sockets for long studs or studs that need to be gripped while removing a fastener. Examples include shock studs that can be a challenge to hold in place while removing the nut.
What is a pass through socket set useful for?
These sets are ideal for removing and installing fasteners on long studs that a standard socket won't reach while providing torque and speed with the ratcheting action.
Can pass through sockets replace standard sockets?
In most instances, a pass-through socket will do the same task as a standard socket. You should still use standard sockets for tasks that require lots of force, like torquing lug nuts, but for most jobs, you can easily substitute a pass-through socket set for a standard one.
Can I use any pass through socket with any pass through ratchet, no matter who makes it?
No. Different companies use various drive styles. However, there are currently at least two common styles of drive lug in use. You can use a socket with the correct drive lug in any brand ratchet that also uses that style.
Is it common for sockets to fall out of the ratchet?
Yes. Due to the specific design, pass-through ratchet sets have a higher risk of the socket falling out when you reach for the fastener. Some designs are better than others, and all sets on our list are among the best at holding sockets securely.
Why does my ratchet slip when I try to use it on stuck bolts?
Most pass-through ratchets use fine teeth for the gearing to allow small-arc motion. The downside is that it is easy to cause the gears to slip when trying to remove or install a fastener that requires lots of force. For these types of fasteners, you are better off using standard sockets or an impact gun.
Verdict
All pass-through socket sets on this list are among the very best on the market. However, even with the best tools in the world, there are always limitations due to the specific design. The trick here is to use the right tool for the job. One can't really replace another.
As a specialty tool, the pass-through socket system is very versatile for handling numerous tasks requiring a thin-walled, low-clearance ratchet with minute ratchet arc angles. These sets will come in handy more often than you may think. If you want to buy a tool that will pay for itself by making your life much easier, get a pass-through socket set—you won't regret it!