Looking for a professional-level wheel balancer that will last for years in your shop? Here are our top picks!
EDITOR'S PICK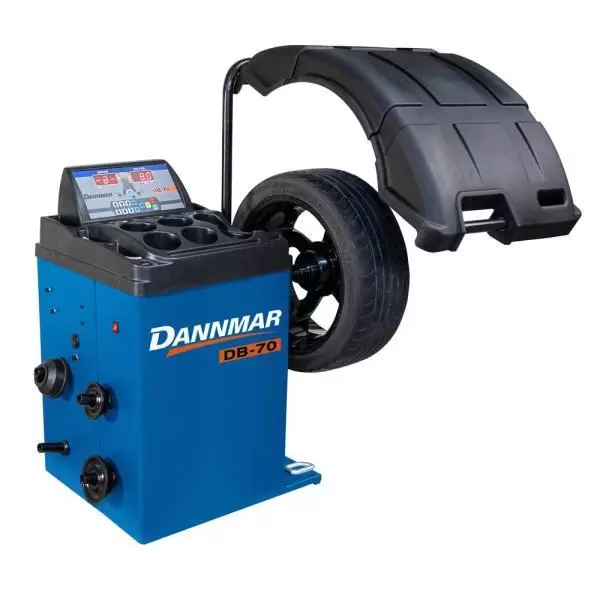 Dannmar DB-70 Automatic Wheel Balancer
Self-calibrating powered wheel balancer
One static and six dynamic balancing modes
Wheel diameter range: 10"-28"
Wheel width range: 1.5"-20"
Max. tire diameter: 49"
Max. tire weight: 150 lbs.
PREMIUM PICK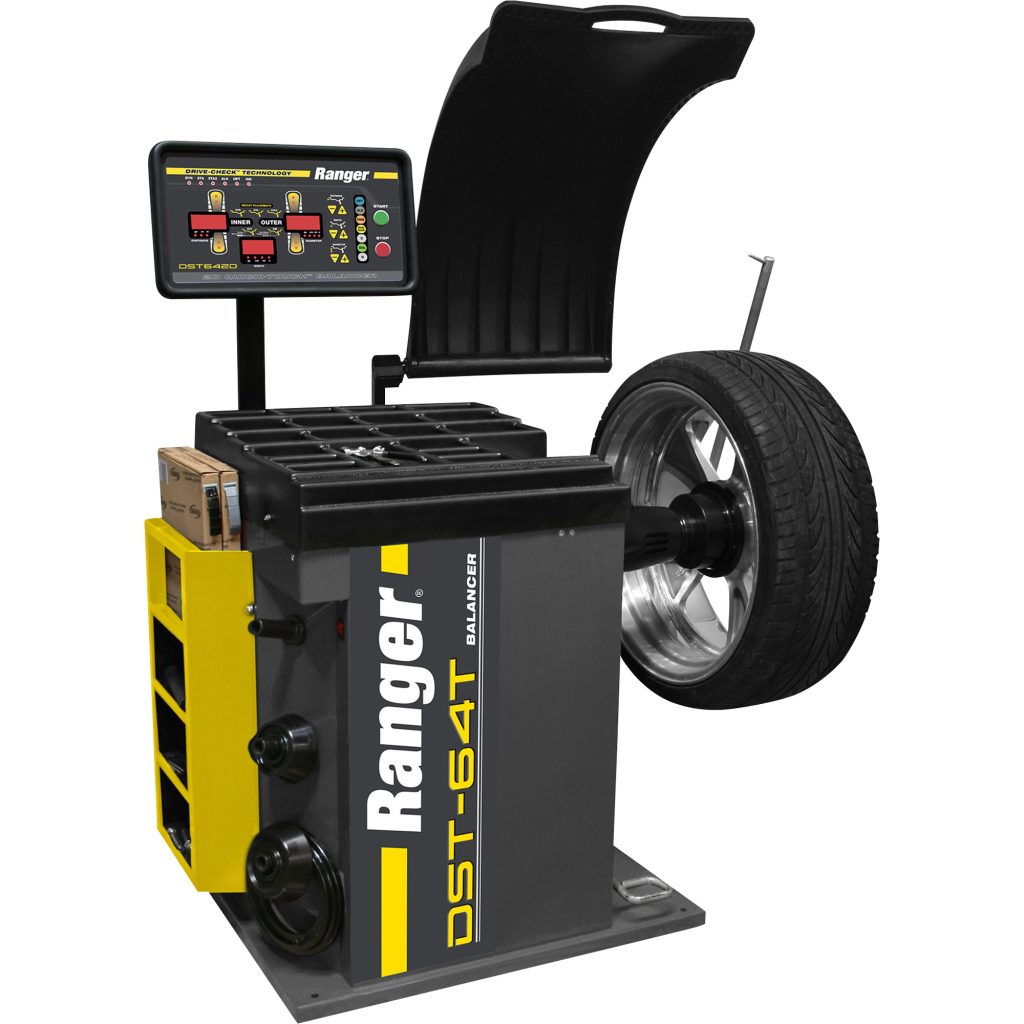 Ranger DST64T Touch Wheel Balancer
Self-calibrating powered wheel balancer
Two static and three dynamic balancing modes
Wheel diameter range: 10"-30"
Wheel width range: 1.5"-20"
Max. tire diameter: 50"
Max. tire weight: 150 lbs.
BUDGET PICK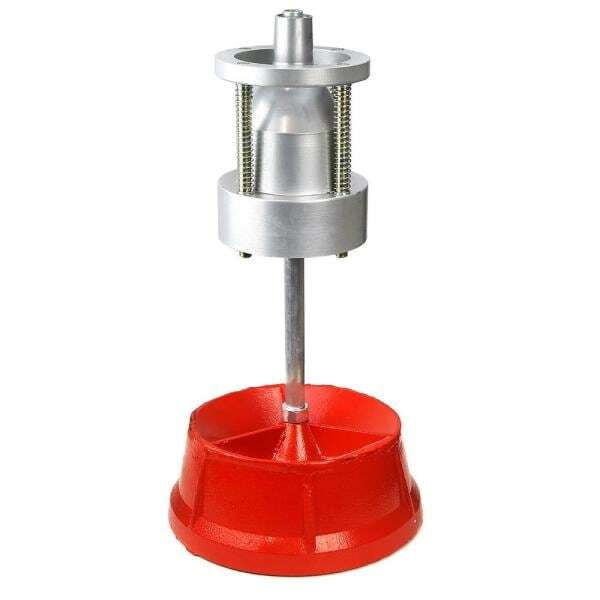 XtremepowerUS Portable Aluminum Hubs Rim and Tire Wheel Balancer
Portable manual wheel balancer
No balancing modes
Hub diameter range: 1.5"-4"
Die-cast aluminum construction finished with enamel coating
Are you often forced to turn customers away and lose valuable business just because your wheel balancer has a mind of its own and will never work right when you want it to? Maybe you are just bored of having to bring each truck in your fleet to the shop every time winter comes around? Or Just realized it was about time to replace the trusty tire balancer you've been using since the 80s and finally welcome a more modern and much faster model in your shop?
In all cases, you deserve a tire balancer working just as well as you do! However, that's easier said than done — these machines are quite an investment. Consequently, it's normal to hesitate before buying a new one, especially since well, you know, the old one still works fine, and you've been using it for so long, and learning to use a new machine would be a bummer… yeah, I know, I'm the same.
But we both know it's also time to change, and I know changing your workflow is always a drawback — but trust me; once you've tried one of the new models they make nowadays, you'll never want to go back!
That being said, I'm a mechanic myself and I understand not everyone has the time to research every model available out there, and sort out all those cheap Chinese imitations. But no need to worry! To help you with the selection process, we've handpicked seven of the best industrial-grade wheel balancers we could find and reviewed them thoroughly.
As usual, we made sure to review a wide range of models, so no matter whether your shop specializes in small passenger cars or eighteen-wheelers, there is a tire balancer for you on the list.
(And even if you just want one for your personal garage, I've got you covered too).
Best Wheel Balancer Reviews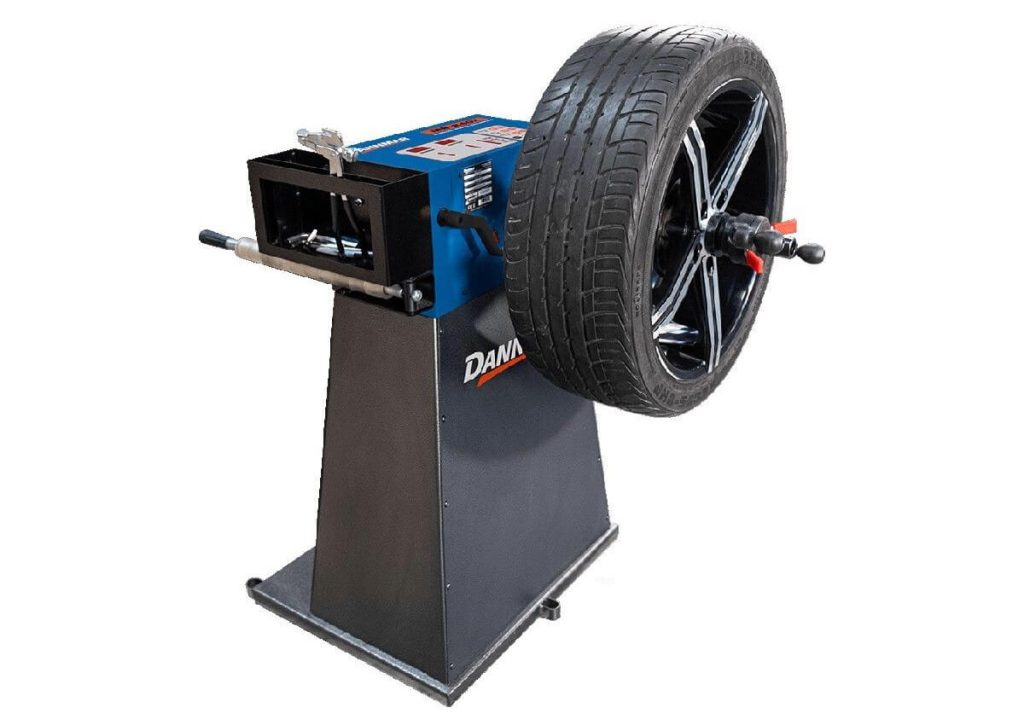 Before we get to the more expensive do-it-all wheel balancers, it's worth having a look at this entry-level model from Dannmar, perfectly suited for smaller repair shops. The MB240X manages to sit on the budget side of the scale by delegating certain minor tasks to the operator, while still doing everything you could expect it to do.
Moreover, Dannmar's cost-cutting measures don't appear to have any significant negative effect on the balancer's accuracy and precision. Indeed, it uses advanced digital sensors to tell you exactly where and how much weight to install and shows the critical data on the seven-segment digital display after a spin cycle of only 7 seconds — pretty fast for a budget-friendly model. Of course, you won't get a modern touchscreen, but at that price, you can't really have it all either.
Still, the Dannmar MB240X wheel balancer offers incredible performance and many capabilities often found only on more high-end models. For example, it has dedicated modes for static, dynamic, and aluminum alloy balancing. More specifically, it means that you can balance standard black steel wheels using clip-on weights and aluminum wheels using adhesive wheel weights. Put simply, the MB240X can balance pretty much any wheel type as long as the maximum diameter is within 12″ and 24″, and width is between 4″ and 15″ — that's almost any wheel size you might encounter in a regular auto repair shop, from a small Yaris to a big F-150.
If you are looking for a suitable tire balancer for your residential garage, this one is pretty much your best bet. And if you think buying a balancer for personal use might be a bit overkill, think again. After all, taking as much care as you do not to hit your beloved muscle car's wheels on a curb is useless if they get damaged by the first grease monkey hammering clip-on weights onto them during your next tire change.
Instead, get the Dannmar MB240X wheel balancer for your home garage and do it right yourself. Also, if you are into motorcycles, you'll be happy to hear that Dannmar also sells a motorcycle shaft kit, letting you balance ATV and motorcycle wheels on the same machine.
The only real drawback with this one is that it doesn't have an automatic spinning and braking function so you'll have to give a spin by hand, which can be a bummer if you balance tires 8 hours a day, 40 hours a week. However, if you only change a couple of sets every once in a while, it's nothing you can't live with. I've used one like that for years when I started in the field (the new guy always gets the most basic machine in the shop, right?) and it did the job just fine — being honest, I have to admit I was happy when I finally got to use the more expensive one, though.
Still, if you are looking for a good wheel balancer that will last you for years without breaking the bank, this one is a no-brainer!
Highlighted features
Manual spin wheel balancer
Dynamic, static, and three ALU balancing modes
Wheel diameter range: 12"-24"
Wheel width range: 4"-15"
Max. tire diameter: 31.5"
Max. tire weight: 143 lbs.
Pros
Budget-friendly model
Digital sensors provide accurate and reliable readings
Versatile operation with five balancing modes
Only seven seconds cycle time
Motorcycle and truck add-on kits available
One-year limited manufacturer warranty
Cons
Base stand sold separately
Manual spinning and braking
Plastic protective hood sold separately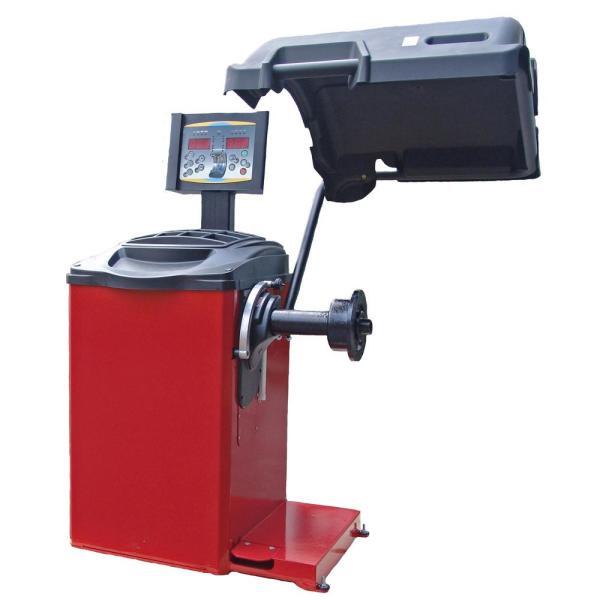 Tuxedo is one of the most underrated manufacturers of car lifts, tire changers, wheel balancers, or any vital shop equipment. Over its 18-year history, the brand has been selling nothing but high-quality auto repair equipment in the United States, and the CB66 wheel balancer is no exception.
Unlike the previous model, Tuxedo's wheel balancer comes with an electric motor, so you won't have to spin the wheel manually. What's more, you get a pretty handy foot-operated braking system to slow the wheel down once the cycle is over, significantly reducing the waiting time (or having to wear thick gloves so you can stop it by hand). No need to mention that this makes the whole process a lot faster, severely increasing productivity — and yes, time is money, especially in a repair shop.
As a result; Tuxedo prioritizes efficiency and ease of operation, making the CB66 explicitly well-suited for busy tire shops. Take the balancing modes, for example; the manufacturer provides one standard mode (STD) for steel rims, five for aluminum wheels (ALU1-5), and two smart modes (ALS1 & 2) to mount weights on aluminum wheels at the 6 o'clock position.
Yep! You won't have to mark where the weights will go at 12 o'clock, then spin the wheel 180°, stick the weight, check back at 12 o'clock, and so on anymore. And even better, both ALS modes are paired with laser indicators to help you position the weights at the right spot on the first try — isn't that handy!
Long story short, if you are looking for a reliable wheel balancer for your repair shop and don't want to spend the big bucks on a more premium model, the Tuxedo CB66 is sure worth considering.
Highlighted features
Self-calibrating powered wheel balancer
Standard, five ALU, and two ALS balancing modes
Wheel diameter range: 10"-28"
Wheel width range: 1.5"-20"
Max. tire diameter: 44"
Max tire weight: 150 lbs.
Pros
Perfect for busy tire shops
Pedal-operated braking system saves considerable time
Laser indicator for precise weight placement in ALS modes
Large protective wheel shroud
LED display panel with multi-function controls
Separate balancing modes for SUV and motorcycle wheels
Multi-pocket shelf to store various wheel weights
Comes with all required accessories
Cons
Controls can take a while to get used to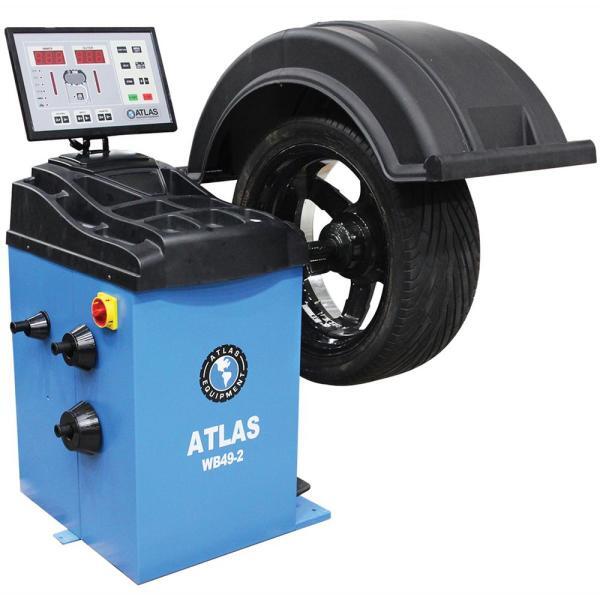 If you thought Tuxedo's model was impressive, wait till you see what the Atlas WB49-2 wheel balancer can do. Indeed, most balancers require you to manually feed various measurements into the computer, but that isn't the case with this one. Indeed, this model comes with a gauge that automatically measures and enters the distance between the machine and the tire and the rim diameter into the onboard computer. You'll still have to enter the wheel width manually, but hey, saving even 30 seconds can really add up when you have tons of wheels to balance every day.
With the WB49-2, it doesn't take an expert to see that Atla primarily focused on making the operator's life easier thanks to high levels of automation. For instance, there is no start or stop button here; the machine will automatically start to spin once the protective shroud is closed. Even the braking system is entirely automatic after the balancing cycle is complete (of course, you still get a brake pedal to hold the wheel still when hammering the weights).
Additionally, Atlas also threw in automatic LED lights, illuminating the inside of the rim, so you know exactly where to place the weights, even in low-light conditions. This feature might not be absolutely essential but it's sure a neat addition if your repair shop isn't as well-lit as it could.
Of course, the Atlas WB49-2 costs slightly more than the previous model but offers a host of advanced features in return. It is ergonomically designed, can balance nearly all wheel types, and does half the job for you — what's not to like?
Highlighted features
Self-calibrating powered wheel balancer
One static, one dynamic, and two ALU balancing modes
Wheel diameter range: 10"-32"
Wheel width range: 1.5"-20"
Max. tire diameter: 39"
Max. tire weight: 150 lbs.
Pros
Automatic start/stop depending on shroud cover position
Optional truck adapter set available
Large tray to store wheel weights
Capable of balancing various wheel types
Installation does not require anchoring to the floor
One-year limited manufacturer warranty
Cons
Not the fastest model out there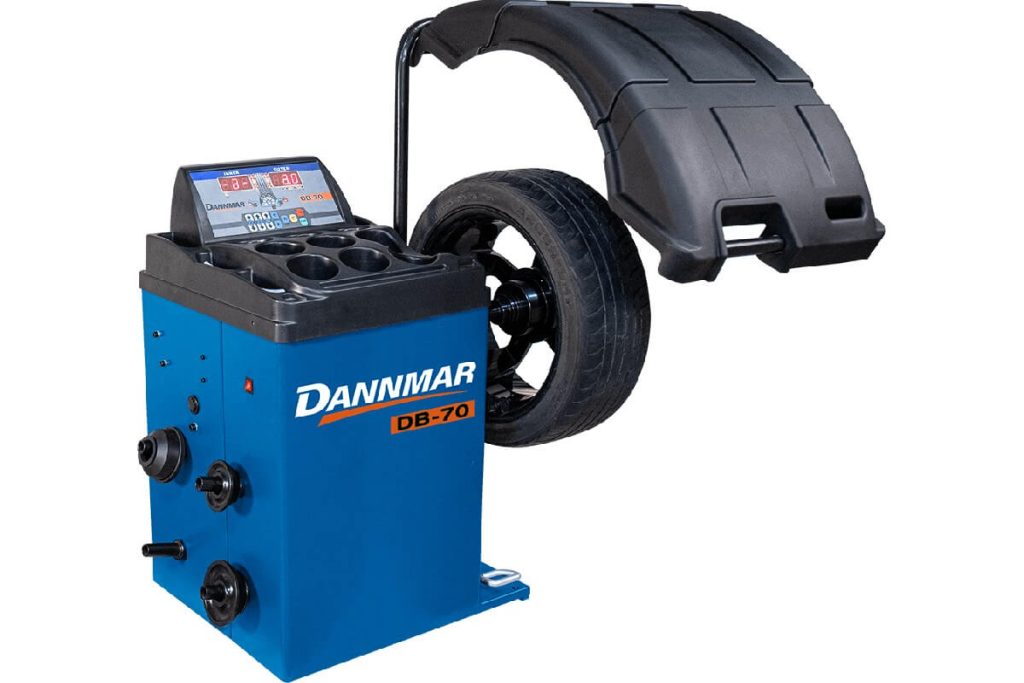 Let's end our selection of budget-friendly professional wheel balancers with another great product from Dannmar. This model uses the brand's familiar digital sensor technology to provide accurate and precise readings, wheel after wheel, and this time, you don't even have to spin or brake anything manually.
As usual, you get the whole shebang of advanced features like one static & multiple dynamic balancing modes (standard and ALU), a LED display with easy-to-read graphics, auto-start, and a versatile cone kit. But the DB-70's party trick is the powerful electric motor that can rotate the wheel at 260 rpm — an 85% increase over the previous models. Thanks to this, you get two major advantages: a higher rotating speed means the machine needs less time to complete a spin cycle, and the results are marginally more accurate.
I genuinely believe there's isn't much that can beat the DB-70's capabilities and performance for the price range. In fact, if I were in the market for a new wheel balancer, I wouldn't think twice before getting the Dannmar DB-70 — that's just how good it is. But alas! I've got an old Dannmar model, and it still works as good as new, so that'll do for now.
But if you are looking for a truly professional wheel balancer, basically the same thing that most repair shops use, this is what you should get!
Highlighted features
Self-calibrating powered wheel balancer
One static and six dynamic balancing modes
Wheel diameter range: 10"-28"
Wheel width range: 1.5"-20"
Max. tire diameter: 49"
Max. tire weight: 150 lbs.
Pros
Auto-start feature
Truck and motorcycle adapter kit available
Durable construction with reliable electronics
Great value for money
High-rpm balancing results in better accuracy and shorter spin cycle
One-year limited manufacturer warranty
Cons
None — when it works, it works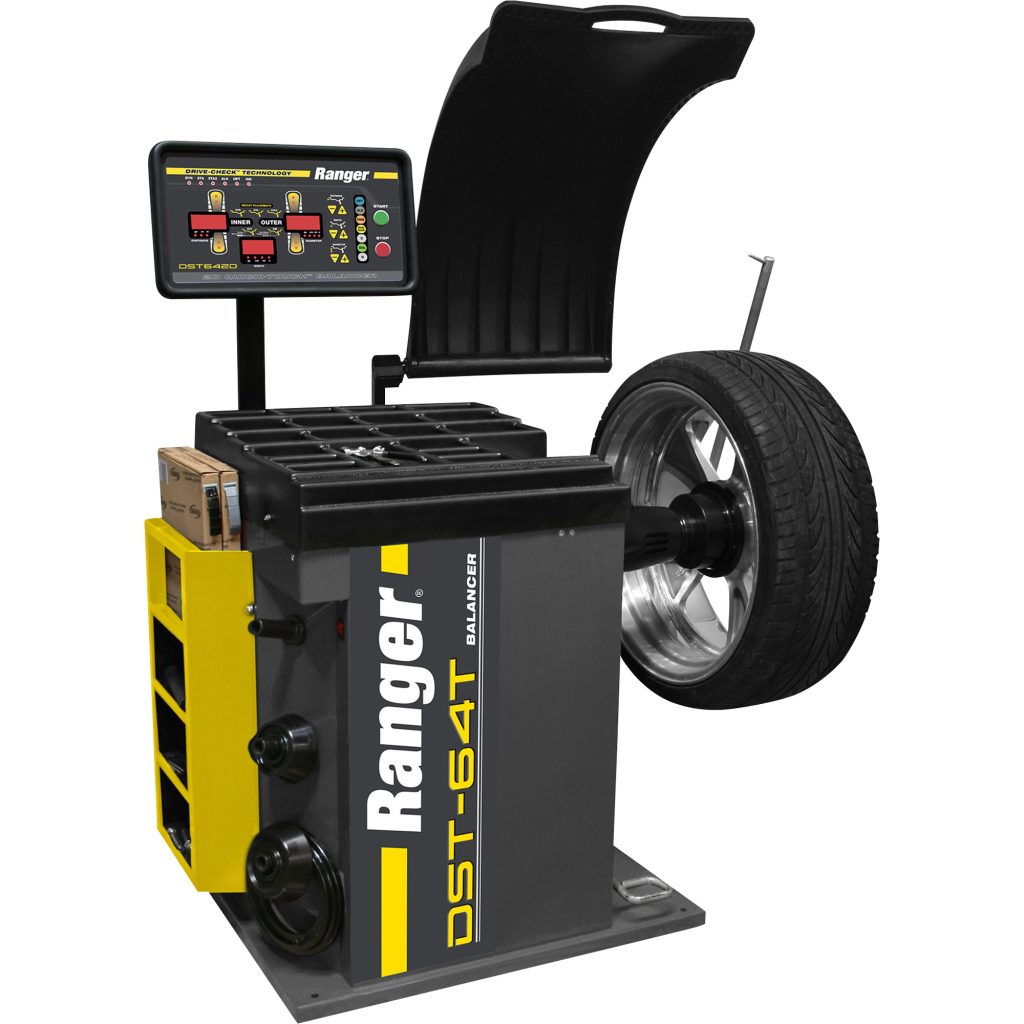 If you don't mind spending a little more, Ranger has a sophisticated model totally worth considering. The DST64T comes with the manufacturer's Drive-Check Digital Sensor Technology," featuring a 64-bit architecture for faster data processing. Ok, sure, fancy buzzwords won't really help you in the shop, so all you need to know is that this machine is one of the best for balancing regular passenger vehicle wheels.
Part of why I am confident in making such a bold claim is that the machine leaves you with very little to do. Of course, we have seen balancers capable of making one or two measurements themselves, but the DST64T can automatically feed all the required data into the computers. That's not all; it will also start the spin cycle, stop the wheel when done, and illuminate the inside of the wheel automatically.
Such extensive advanced automation applications may seem nothing more than a gimmick, but don't discount the time savings you get when the machine does all the hard work for you. Your tire shop can easily earn back the investment much sooner than with other models by significantly improving productivity (not mentioning that you'll make your employees quite happy too).
I'll tell you what a gimmick is, though — the weight applicator tool at the end of an index arm, telling you exactly where to stick the adhesive weights. Nobody who ever balanced wheels professionally will ever need this thing. After all, if you don't know where the weights should be placed, you should probably not be using a wheel balancer in the first place. Still, it's there and doesn't really take anything back — and if for whatever reason you were to need it, it's there.
But aside from that, the Ranger DST64T is an incredible machine that will make the next tire rush significantly easier. It's a bit more expensive than the previous models but if you want nothing but one of the best wheel balancers on the market, this is the one!
Highlighted features
Self-calibrating powered wheel balancer
Two static and three dynamic balancing modes
Wheel diameter range: 10"-30"
Wheel width range: 1.5"-20"
Max. tire diameter: 50"
Max. tire weight: 150 lbs.
Pros
Automatic start, braking, data entry, inner rim illumination, and much more
Hidden weight mode for balancing premium wheels
Short cycle time
Uses advanced technology to give precise results
Weight applicator tells you exactly where to stick the wheel weights
One-year limited warranty
Cons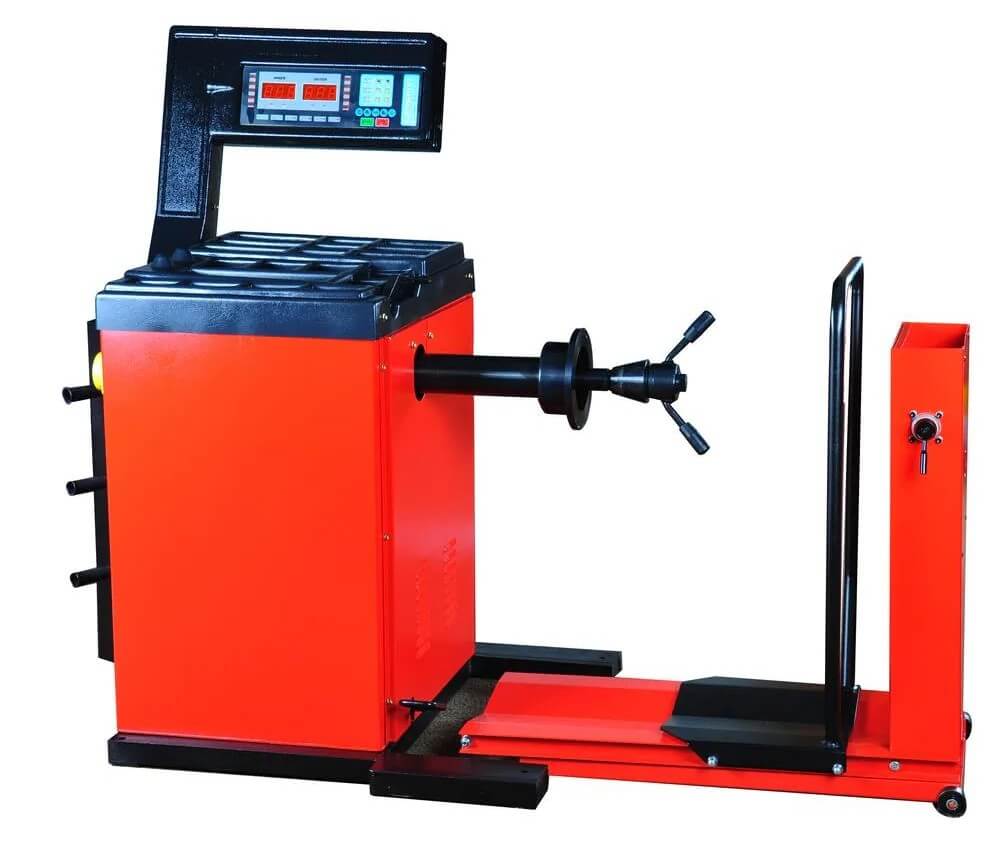 If you are working on semi-trucks and other heavy transportation equipment, you'll need something much bigger — and the Tuxedo WB-448 heavy-duty wheel balancer is here to save the day.
Of course, you may think this model looks quite similar to all the regular balancers we have seen so far, and you'd be right; the main differences are mostly structural, allowing the machine to handle much heavier truck tires. As a result, Tuxedo's WB-448 wheel balancer can hold wheels and tires up to 298 lbs., nearly twice as heavy as any of the previous models.
The machine may be beefed-up to handle heavier wheels, but your body is still the same. So, to help you mount/dismount wheels onto/off the machine without injuring yourself, the WB-448 also comes with a pneumatic lift — a pretty convenient addition, unless you can actually lift 200 lbs. wheels by hand, which is very unlikely.
Aside from that, it's very similar to any other wheel balancer you might have used before so no need for any special training here. If you've balanced passenger car wheels for years, you'll be right at home with the Tuxedo WB-448.
And no need to mention that if you need a wheel balancer for heavy vehicles, you can't really go for something smaller anyway. The sheer weight of semi-truck wheels would simply damage passenger vehicle-oriented models and some wouldn't even be powerful enough to spin such heavy wheels in the first place.
Luckily, the Tuxedo WB-448 is built exactly for that. If you are looking for a truly heavy-duty wheel balancer, suitable to balance semi-trucks, buses, and farm equipment wheels, this one is probably your best bet!
Highlighted features
Self-calibrating heavy-duty powered wheel balancer
One static, one dynamic, and five ALU balancing modes
Wheel diameter range: 10"-24"
Wheel width range: 1.5"-20"
Max. tire diameter: 47"
Max. tire weight: 298 lbs.
Pros
Built specifically for balancing truck wheels
Versatile balancing modes for any wheel type
Plenty of storage space for wheel weights
Equipped with a pneumatic tire lift
Can also balance regular-sized passenger car wheels
Cons
Costs more than other models
Bulky and heavy machine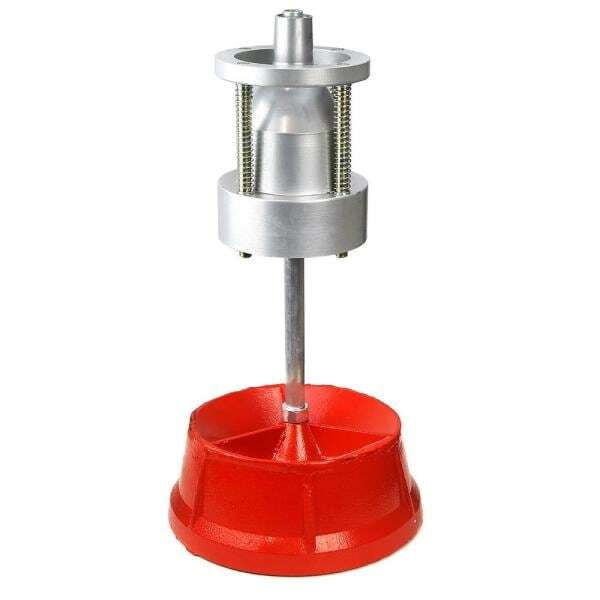 Lastly, I couldn't conclude this list without mentioning at least one of those old-school manual wheel balancers — they are definitely not the best thing out there but they work fine for residential garages and mechanics who only need to balance their own wheels once or twice a year.
Using this manual wheel balancer is quite straightforward; you mount the wheel up there and keep an eye on the integrated bubble level. If the bubble is dead centered, the wheel is already balanced, but if it is offset, you must bring it to the center by placing wheel weights at the appropriate spot.
However, while they work fine once you get the hang of the process, level-type balancers won't show you where to put the weights, and consequently, finding the right placement is more of a guessing game. As a result, balancing wheels take significantly more time than with a regular balancer, making this type unfit for professional settings.
Truth be told, this type of manual wheel balancer is severely outdated these days, mainly because it takes a lot of time to balance a wheel, and even then, the accuracy is nowhere close to more modern models. On the other hand, unless you balance wheels on a regular basis, there's really no reason to spend big bucks on a professional model.
If you only need a balancer for home use, get this one. It does what it's supposed to do (after all, mechanics used this exact same balancer type for years in the past), costs less than a visit to the repair shop, and will allow you to save a bunch of money in the long run.
Highlighted features
Portable manual wheel balancer
No balancing modes
Hub diameter range: 1.5"-4"
Die-cast aluminum construction finished with enamel coating
Pros
High-grade enamel coating to prevent rust
Precision machined body
Really affordable
Lightweight and portable wheel balancer
Suitable as a backup model
Perfect for once-a-year home use
Cons
Not as accurate as other models
Outdated design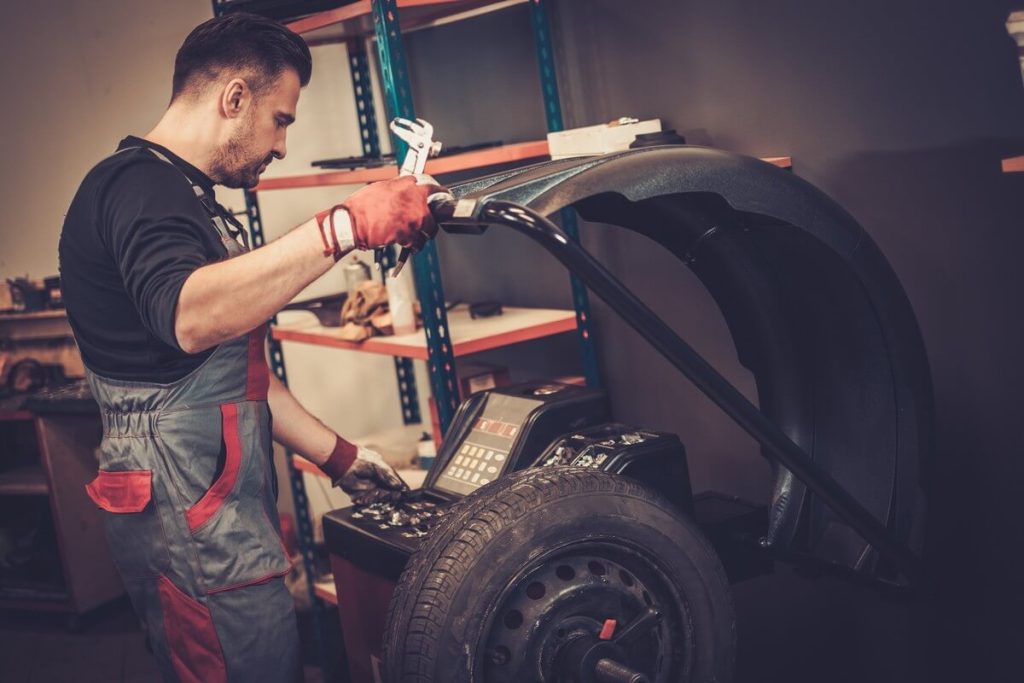 Types of Wheel Balancers
Manual spin
Wheel balancers that come with a hand crank lever and require you to spin the wheel manually are called manual-spin models. The absence of a small electric motor to do the spinning for you is nothing but a cost-cutting measure; hence these are usually the cheapest. The Dannmar MB-240X is a good example of a manual wheel balancer. Of course, Dannmar's model also features a manual braking system, but that isn't a standard feature across similar models.
Automatic spin
The opposite of a manual-spin wheel balancer is an automatic-spin model where the wheel spins with the help of an electric motor, usually not more than 2 hp. Here, all you have to do is press the start button and let the motor do its job.
Bubble-level
As the name suggests, bubble-level wheel balancers come with a small liquid-filled chamber with a bubble of air trapped inside — think of it as a much smaller spirit level — letting you know when the wheel is correctly balanced.
Just like with regular spirit levels, the bubble must be fixed at the dead center position to achieve complete equilibrium. XtremepowerUS' model is the only bubble level wheel balancer in my list as hardly any mechanic uses the type anymore. Still, in some cases, a bubble-level balancer is much better than nothing.
What to Consider When Buying a Wheel Balancer
Wheel compatibility
The first thing to look for in any wheel balancer is the wheel type and dimensions it can handle. Most modern wheel balancers have four main parameters you need to consider: wheel diameter, wheel width, maximum tire diameter, and maximum tire weight.
Those looking for a balancer for personal use know exactly what their wheels measure and weigh, but that isn't the case for professional users. In a repair shop, you never know what you'll be working on next, so buying a versatile model to cover as much ground as possible is better. The last thing you want to do is turn clients away just because their wheels are too big for your balancer.
Speed
Most mechanics and tire shops charge a flat rate for wheel balancing, and in that case, the best thing you can do to maximize profits is to purchase a wheel balancer that works fast. You see, time is of the essence here, and every second wasted can really add up in the grand scheme of things.
For that reason, machines with a high balancing speed and low cycle time are what you should be looking for. Do your bank account a long-term favor and invest in a good wheel balancer now — you'll thank me later!
Balancing modes
Modern wheel balancers are suitable for a wide range of wheels, although each type needs to be balanced using a specific method. As a result, manufacturers provide different balancing modes, including static, dynamic, ALU, and ALS. Some models will have more than one mode for each type, depending on where you would like to place the wheel weights.
No need to mention that more is always better here.
User interface
Wheel balancer machines come with several advanced features, and sometimes, it can be challenging to understand which button does what. Even worse, confusion can be economically disastrous in the fast-paced environment of a tire shop where half-a-dozen wheelsets are waiting to be balanced. Hence, we recommend a wheel balancer with an easy-to-use and intuitive user interface to keep lost time on the lower side.
Additional features
Almost every other half-decent wheel balancer comes with certain industry-standard features like automatic spinning, a storage tray for wheel weights, and a foot-pedal braking system. However, several additional options can make a world of difference. Automatic data entry, auto-start/stop, automatic LED lights for the inner rim, or even a lift for heavier wheels are all extremely useful features, leading to shorter times spent on each wheel and a much better return on investment.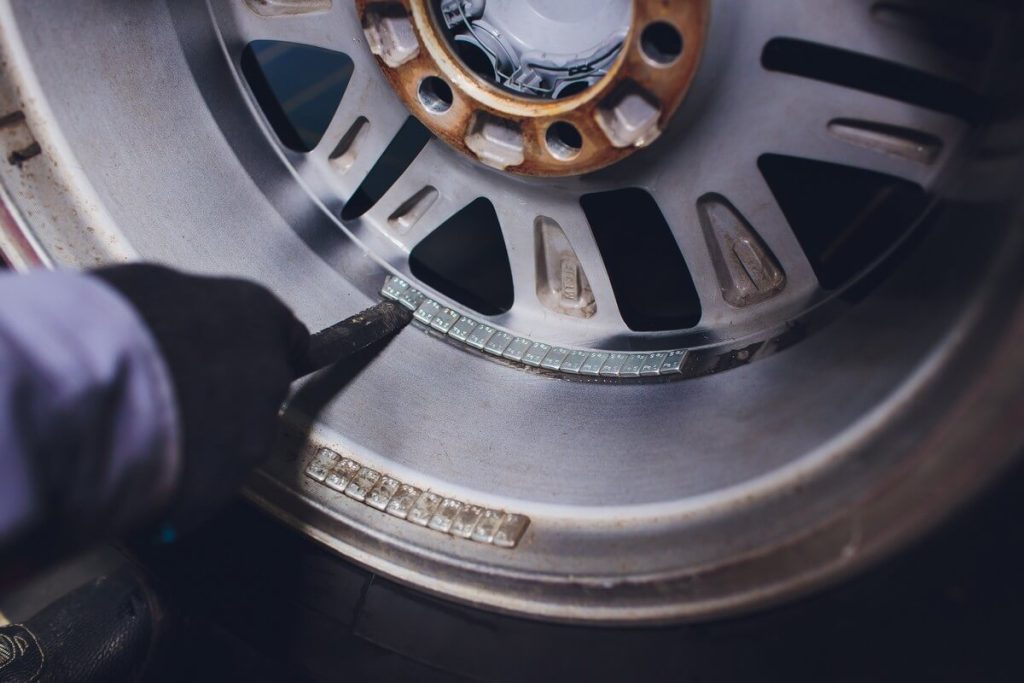 Frequently Asked Questions (FAQs)
When should I balance my wheels?
The simple answer to that question is '"every time you remove a tire from a wheel." However, that would be in an ideal world. In the real world, bumps in the road, hitting a curb, and any other hard impact can slightly change the structure of a wheel and modify the balance.
As a result, wheels might need to be rebalanced if you notice uneven wear patterns, increased vibrations on the seats or steering wheel at high speed, and so on. Of course, all those symptoms could also be related to several other potentially faulty components, so a proper inspection is always recommended. If nothing seems loose in your car's steering and suspension systems, a quick spin on the balancer will frequently identify the culprit.
Can regular wheel balancers be used for motorcycle wheels?
All-wheel balancers mentioned in the list are exclusively designed to work on car or truck wheels. Nonetheless, some manufacturers sell motorcycle adapter kits with specially-fabricated attachments allowing you to balance ATV or motorcycle wheels on the same machine. For instance, Dannmar sells such kits for $400, which is a bargain compared to the cost of a dedicated motorcycle wheel balancer.
Which is the best balancing method?
Generally speaking, there is only two main wheel balancing methods — static and dynamic. With static balancing, the weights are only placed on the inside of the wheel, while dynamic balancing uses inside and outside weights. You don't need a mechanical engineering degree to know that dynamic balancing is significantly more accurate, and hence, the best method in most cases. However, that's not always possible, and static balancing still does a pretty good job most of the time, especially on smaller rims.
Moreover, when it comes to expensive mag wheels, outside weights would not only scratch the surface but also look quite ugly. In this case, most wheel balancers provide ALU and ALS balancing modes, allowing you to place adhesive weight on the inside of the wheel, and sometimes, even hide those sticky weights behind the spokes.
As a result, make sure to select a wheel balancer offering several balancing modes, ensuring you can work on a wider range of vehicles and wheel types.
Verdict
Well, that's it, folks — here are the seven best wheel balancers available online, as promised.
At this point, you already know my personal pick: the Dannmar DB-70. It's fast, reliable, reasonably priced, and comes with easy-to-use controls — what more could you ask for? However, if you have a slightly bigger budget, nothing can beat the Ranger DST64T in terms of usability and sheer convenience.
Meanwhile, if you deal with massive semi-truck wheels, Tuxedo's WB-448 heavy-duty wheel balancer is by far your best bet, period. The best part about it is the pneumatic lift which does all the heavy lifting (quite literally) for you.