Looking for risk-free and portable gas storage? Here are our top picks for the best gas cans on the market!
EDITOR'S PICK
RotoPaX RX-2G Gasoline Pack
Construction: Three-layer rotational molded plastic
Capacity: 2 gallons (7.5 liters)
Dimensions: 17.75" x 13.25" x 3"
Dry weight: 4.29 lbs.
Safety certifications and compliance: CARB and EPA
PREMIUM PICK
Scepter USA 6792 Duramax 14 Gallon Flo-N-Go Fuel Caddy
Wheeled portable fuel container
Capacity: 14 gallons (52.99 liters)
Dimensions: 16.2" x 12.7" x 33.8"
Dry weight: 19 lbs.
Safety certifications and compliance: UN and DOT
BUDGET PICK
Briggs and Stratton Garage Boss GB351 Press 'N Pour Gas Can
Construction: Plastic
Capacity: 5 gallons (18.9 liters)
Dimensions: 15.25" x 8.63" x 14.5"
Dry weight: 2.88 lbs.
Safety certifications and compliance: EPA and CARB
If you regularly operate heavy-duty gas-powered machinery, frequently go on long road trips off the beaten paths, or just want to be prepared in case of emergency, a portable gas can is a must; I would even say essential. Indeed, gas canisters are used to store gas, kerosene, or other petroleum products in preparation for unforeseen situations like power outages or running out of gas in the middle of a trail, far off into the woods. Since gasoline is volatile, highly flammable, and can quickly melt most plastics storing it in just any storage container can be dangerous. Luckily, gas cans are built specifically for this purpose and consequently need to pass a rigorous certification process, proving they can effectively protect the user from potential hazards.
However, if you've already started shopping around, you'll see that it's fairly is easy to be overwhelmed by the plethora of choices found online, including sub-standard and low-quality models. To help you with that, we've curated and reviewed six of the best gas cans we could find. As usual, we tried our best to include a wide range of options, from good all-rounders to models designed with specific activities in mind, such as off-roading, biking, watersports, and even some attachable to ATVs.
Enjoy!
Best Gas Can Reviews
Briggs and Stratton's sub-brand, Garage Boss, developed an innovative gas can called the Press 'N Pour, featuring a push-button-controlled spout. Compared to other conventional gas cans, this unique arrangement allows for precise flow control and prevents gas from sloshing all over the place. No need to say, the Press 'N Pour comes especially handy when trying to pour gas directly in a vehicle's gas tank. However, it's important to mention that the significantly narrower opening means pouring gasoline into your car will take more time. Still, you won't make a mess so, all in all, I'd say it's still a good thing.
The Press 'N Pour gas can is molded from durable plastic compounds specifically selected to handle flammable liquids and is offered in various formats (1, 2, 5, and 6-gallon), for greater versatility. Bigger 6-gallon models are perfect to leave in the garage as a backup for your generator while the smaller ones can easily be packed in case of emergencies. Of course, a gallon of fuel won't get you that far if you are lost in the woods but it's still better than nothing (you might be better with something a little bigger if you run a gas-guzzling V8, though).
Also worth mentioning is the cleverly-designed dust cap holder located behind the press button assembly, preventing you from misplacing and losing the cap after use (I lost mine several times before — I should have got a Press 'N Pour a lot earlier).
If you are looking for a budget-friendly gas can, the Garage Boss GB351 Press 'N Pour is a no-brainer. It's the best budget gas can we could find, and despite its low cost, comes with several useful features and a design in compliance with EPA and CARB regulations.
Highlighted features
Construction: Plastic
Capacity: 5 gallons (18.9 liters)
Dimensions: 15.25" x 8.63" x 14.5"
Dry weight: 2.88 lbs.
Safety certifications and compliance: EPA and CARB
Pros
Also available in one, two, and six-gallon formats
Innovative and easy-to-use push-button operation
Provides complete fuel flow control to the operator
Translucent spout provides visual indicator
Extremely cheap
One-year "free from defect" warranty
Cons
Narrow spout opening reduces the flow rate
Takes quite some force to operate the push button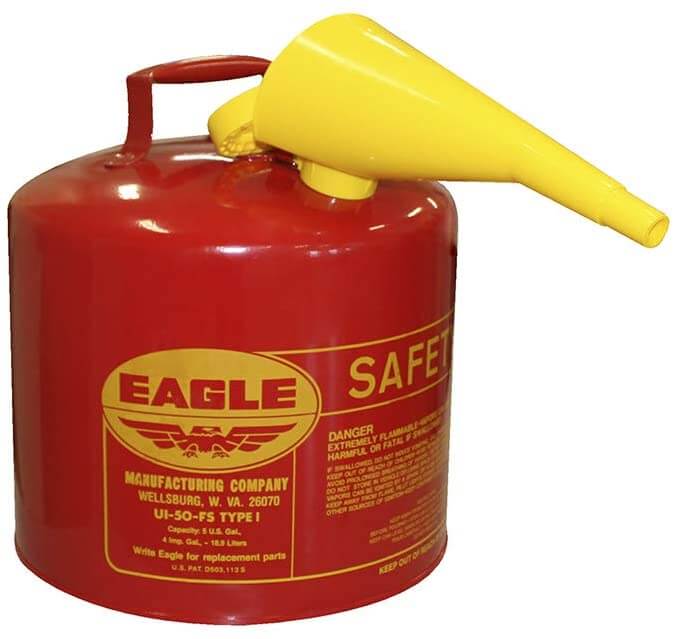 If you are looking for something a little sturdier, check out the Eagle's UI50FS Type 1 gasoline can made from 24-gauge solid steel and constructed using deep drawing methods to avoid weak welds and seams, which could be prone to corrosion over time.
The steel body is also dipped into molten zinc to provide an extra layer of protection before the red high-visibility paint is applied. And even the finishing process is chosen while keeping safety and longevity in mind. Notably, the lead-free galvanized steel body is powder coated and oven-baked to ensure the thermosetting powder particles bond perfectly with each other and form a hard and permanent layer.
Eagle's gas can also comes with a funnel making it easy to pour gasoline into smaller fuel fillers (though it's a bit finicky to use at first), and the opening features an integrated wire mesh attachment preventing contaminants from getting in. Finally, the spring-loaded closing lid acts as a safety valve, releasing built-up internal pressure and preventing unforeseen accidents — it's not as high-tech as other safety systems but it works.
All in all, the Eagle UI50FS is easily one of the best 5-gallon gas can out there, suitable for a wide range of applications. It can also frequent operation just as well as being stored away in a corner of the garage for months, and the galvanized steel construction and suite of safety features will ensure complete safety at all times.
Yes, it's a bit old-school, but for a good reason; it works, will do so for years, and won't break the bank — what's not to like?
Highlighted features
Construction: 24-gauge galvanized steel
Capacity: 5 gallons (18.9 liters)
Dimensions: 12.5" x 12.5" x 13.5"
Dry weight: 7 lbs.
Safety certifications and compliance: FM, UL, ULC, OSHA, NFPA Code 30, and CARB
Pros
Does not expand or shrink like plastic cans
Great value for money
Available in four colors and five different formats
Rugged and durable construction
Made in the USA
Ten-years limited warranty
Cons
The funnel takes some getting used to
The Scepter 08668 is a high-capacity fuel tank made from thick UV stabilized High-Density Polyethylene or HDPE plastic, specifically designed for marine applications. Interestingly, for this model, Scepter uses only one piece of molded HDPE for the entire body to achieve a seamless construction, reducing the risk of any potential weak spots. The material is also chemically treated to avoid the permeation of fuel vapor, helping it retain its original octane value for longer, which is especially handy for boats and outboards frequently docked for an extended duration.
Additionally, this gas tank is fitted with Scepter's two-way ventilated cap, allowing outside air to enter the tank during operation while keeping the internal pressure stable at 5 PSI. Still, it's important to note that some owners had issues with the ventilated cap; in some circumstances, it leaked and/or caused the can to swell. Not so much of a big deal but make sure to keep an eye on that.
As said before, this model is purpose-built for ships of all sizes, and as such, it can be secured to your boat and used as a secondary or emergency fuel tank. Whenever required, the tank's stored fuel can be delivered using the fuel feeder port via a ¼" NPT attachment, and the built-in fuel level indicator also makes it especially easy to keep an eye on the amount of fuel left.
As a result, Scepter's 12-gallon fuel tank is the go-to choice if you're looking to increase your boat's range. However, it might be a bit bulky for storage purposes, and honestly, we have better options for that below.
Highlighted features
Construction: One-piece high-density polyethylene
Capacity: 12 gallons (45.42 liters)
Dimensions: 22.9" x 14.3" x 13.9"
Dry weight: 6.75 lbs.
Safety certifications and compliance: CARB, EPA, SAI, CSA, ABYC, JCI, and ICMI
Pros
One-piece construction
Built-in fuel level indicator
Two-way ventilation cap for safety
High capacity
Retains octane value for longer periods
One-year manufacturer limited warranty
Cons
The tank is susceptible to swelling due toisolated ventilation issues
Military technology has and will always be miles ahead of what is available to civilians like you and me. But what if I was to tell you that it's possible to buy the exact same gas can used by NATO? Well, that's exactly what Wavian USA is offering with its authentic NATO-spec jerry can! Pretty cool, right?
But what's so interesting about it, you may ask? Well, even in seemingly simple tools like gas canisters, there is still a significant scope for improvement using Military-level advanced technology. For example, Wavian's gas cans will take a lot longer to rust than others, thanks to the inner rustproof Rezol lining. Moreover, the body is made from high-grade, 0.9mm thick, cold-rolled steel and protected by a long-lasting epoxy-polyester powder coat — if that's not next-level, I don't know what is.
Moreover, Wavian's gas can comes with an ergonomic bayonet-style nozzle designed with usability in mind. And thanks to the leak-proof closing mechanism, the spout will stay tightly sealed, irrespective of the can's position. And even if you were to drive on extremely bumpy terrains, you can also use the built-in locking pin in the cap for complete peace of mind. It might seem a bit much, but keep in mind that if you were carrying a jerry can full of fuel while driving in a warzone, you'd probably want to be extra careful too, right?
The Wavian JC0020RVS 20-liter gas can will easily handle any job at hand. Admittedly, it costs slightly more than similar models, but you are getting an authentic NATO-spec jerry can, manufactured by the same military supplier here.
Hey, if you ask me, just the bragging rights are already worth more than the asking price…
Highlighted features
Authentic NATO-spec jerry can
Construction: 0.9 mm cold-rolled steel – epoxy powder coating
Capacity: 5.3 gallons (20 liters)
Dimensions: 18.5" x 13.5" x 6.5"
Dry weight: 12 lbs.
Safety certifications and compliance: CARB, EPA, ASMT, NFPA, DOT
Pros
Also available in 5L and 10L formats
Internal rezol lining to prevent rust
Ergonomic three-handle design
Leak-proof bayonet spout with locking pin
Two-years manufacturer warranty
Cons
None — when it works, it works
The RotoPaX RX2G is one of the few gas cans still manufactured using the rotational molding process. Keeping the government's stringent safety regulations in mind, it is pretty challenging to get the process right, but the result well is worth the extra effort when you do. Rotational molding ensures powdered plastic material is evenly distributed throughout the mold, resulting in a high-quality gas can with no seams or weld lines.
However, the main talking point of the RotoPax system is the innovative mounting kit making it easy to securely fasten the gas can onto your truck or ATV, allowing for multiple mounting configuration and even to stack multiple cans on top of each other.
If you like to go on frequent off-roading adventures in your truck, SUV, or even ATV, the RotoPax RX2G gasoline pack is the perfect way to carry some extra fuel, just in case. Most off-road trails don't have that many gas stations nearby, so you can put your mind at ease knowing you've got a few more gallons of fuel in reserve.
And let's not forget that it will also look quite good on your truck — that's not to neglect either!
Highlighted features
Construction: Three-layer rotational molded plastic
Capacity: 2 gallons (7.5 liters)
Dimensions: 17.75" x 13.25" x 3"
Dry weight: 4.29 lbs.
Safety certifications and compliance: CARB and EPA
Pros
Durable multi-layered plastic body
Best off-road and ATV gas can
Can be mounted to your motorcycle, truck, SUV, or ATV
Leak-proof spout
Stackable
Made in the USA
Cons
Mounting kit sold separately
Costs more than other models
If you are looking for a truly professional gas can model, Scepter's Duramax Flo-N-Go fuel caddy is what you need. The larger capacity (14-gallon) tank comes in the form of a trolley, complete with rugged 6" wheels at the base, so you can easily move it around and refuel several vehicles at the same time — it's basically a regular gas station fuel pump, but portable.
The Duramax is molded from high-density polyethylene, which is incredibly tough, resistant to dents, and obviously rustproof. Meanwhile, the integrated hose provides a long enough range to deliver large fuel quantities across the dock to your boat or refill tractors, generators, lawnmower, snowmobile, or any other gas-powered machine.
Scepter's Flo-N-Go fuel caddy provides the best fuel capacity and mobility while making no compromises on either side. You get the brand's MaxFlo gravity pump to easily transfer gas from the caddy while allowing complete control at the handle.
If you need a professional-grade gas can that you can use day-in/day-out in the shop or on the farm, the Duramax Flo-N-Go fuel caddy is the model you need!
Highlighted features
Wheeled portable fuel container
Capacity: 14 gallons (52.99 liters)
Dimensions: 16.2" x 12.7" x 33.8"
Dry weight: 19 lbs.
Safety certifications and compliance: UN and DOT
Pros
Patented fuel pump handle
Durable 6" wheels for easy mobility
Suitable for a wide range of applications
Ergonomic design handle
Extra-long 10' hose for added convenience
One-year manufacturer limited warranty
Cons
What to Consider When Buying A Gas Can
Safety features and certifications
Your number one priority when buying a gas can should always be safety, even if you have to pay a few extra bucks to get a safer model. Fortunately, each gas can on our list has been handpicked after considering stringent safety measures.
The United States government takes such issues very seriously and lays out rigorous standards for critical equipment to pass before the general public can access it. One way to ensure your gas can is safe enough is to check for certifications and compliance from various government and non-government agencies like CARB, EPA, OSHA, NFPA, UL, ULC, and SAI. There are countless such agencies, and each has different rules and regulations, so the onus is on you to thoroughly research beforehand.
Construction material
Gas cans are generally made from one of two materials — plastic or metal. Plastic gas cans typically use polyethylene or other related materials, while metal ones are mostly steel. Since flammable and volatile fuels like gasoline emit vapors when stationary, plastic cans can swell up quite a bit if the trapped vapors have no place to go. Once these cans swell up and deform, they don't return to their original form, even after the pressure is relieved. On the other side, this problem is quite rare in metal cans.
Holding capacity
Each gas can is rated to hold a specific quantity of gasoline in gallons or liters. You can choose the best gas can for your needs based on the amount of fuel you would usually need. Now, this value can defer based on the application; for example, gas-guzzling machinery like boats or trucks consumes more fuel while other machines like a lawnmower can make do with only a few gallons. Even so, the list includes gas cans with capacities ranging from 2 to 14 gallons, so you shouldn't have trouble finding the right fit.
Type 1 or Type 2
Safety cans or gas cans are divided into two types based on the general layout for all practical purposes. The classification is relatively straightforward; Type 1 gas cans come with one opening for pouring and refilling, and Type 2 gas cans feature separate openings for both activities. Suppose your sole purpose for buying a gas can is to refuel your vehicle in case of emergencies. In that case, the Type 1 models are more than good enough, as Type 2 cans are suitable for more complex applications like feeding fuel directly to a boat engine.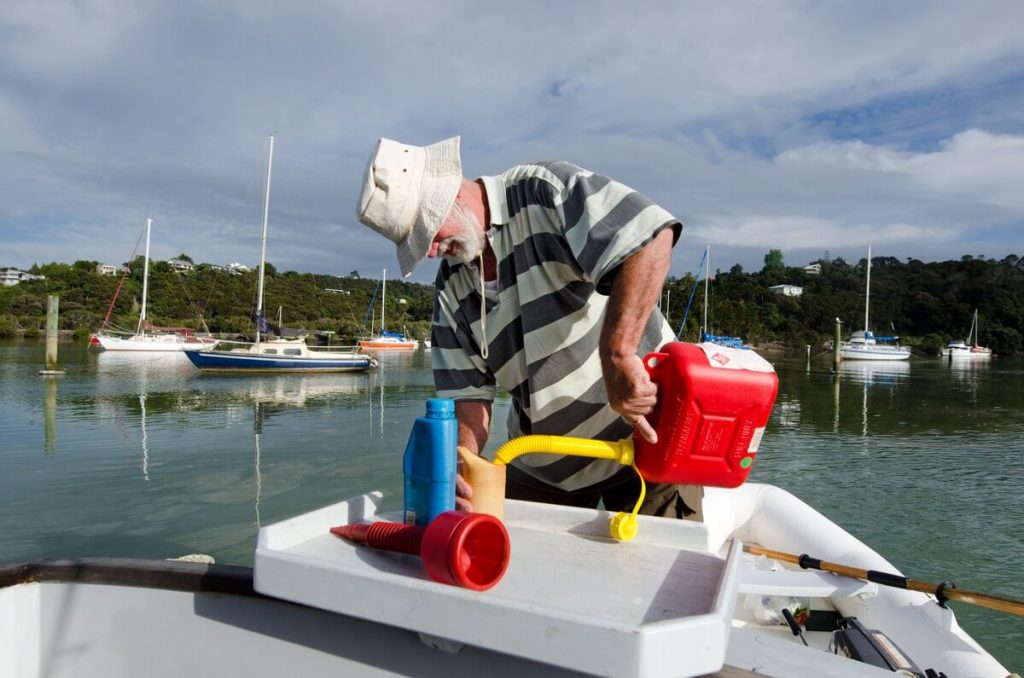 Frequently Asked Questions (FAQs)
What are the precautions I need to take while storing gas cans?
Gasoline is a volatile liquid that emits vapors, and if these vapors can't escape the can, the consequences can be disastrous. It is rare for gas cans to explode because of this phenomenon, but there is a good chance the higher internal pressure will cause the fuel to spill out onto your body once you open the cap. Thus, we recommend storing the gas can in the shade to avoid accelerated vaporization to prevent such occurrences. Moreover, it is good to open the cap for a few seconds every day to avoid excessive pressure from building up.
Does storing gas affect its octane value?
Yes, storing gasoline in safety cans for longer durations can cause a significant decline in the fuel's octane value. Several factors contribute to octane depletion, like surface permeation and natural degradation over time.
Now, natural degradation may not be in your control, but you can invest in low-permeation plastic or metal gas cans to prevent significant drops in octane value.
Verdict
Gas cans can come in handy in emergencies or unforeseen situations, and we hope this article has helped you select the best model for your needs and budget.
After much deliberation, we think the Wavian JC0020RVS Fuel Can to be the best all-around gas can. After all, it's an authentic NATO-spec jerry can made from military-grade rustproof steel — you simply can't go wrong with this one!
Of course, the other models on the list are also pretty good, but they are better suited to specific applications. For example, off-roading and ATV enthusiasts should go for the RotoPaX RX-2G gasoline pack, thanks to the easy and versatile mounting mechanism. Meanwhile, Scepter's gas cans are perfect for boating or other marine applications.