EDITOR'S PICK
Fleximount Adjustable Ceiling Rack
Multiple sizes available to accommodate large or small spaces
All-steel construction provides excellent security and safety
Adjustable height increases versatility for tall or regular spaces
24-inch bracket spacing, 16-inch spacing on sides
PREMIUM PICK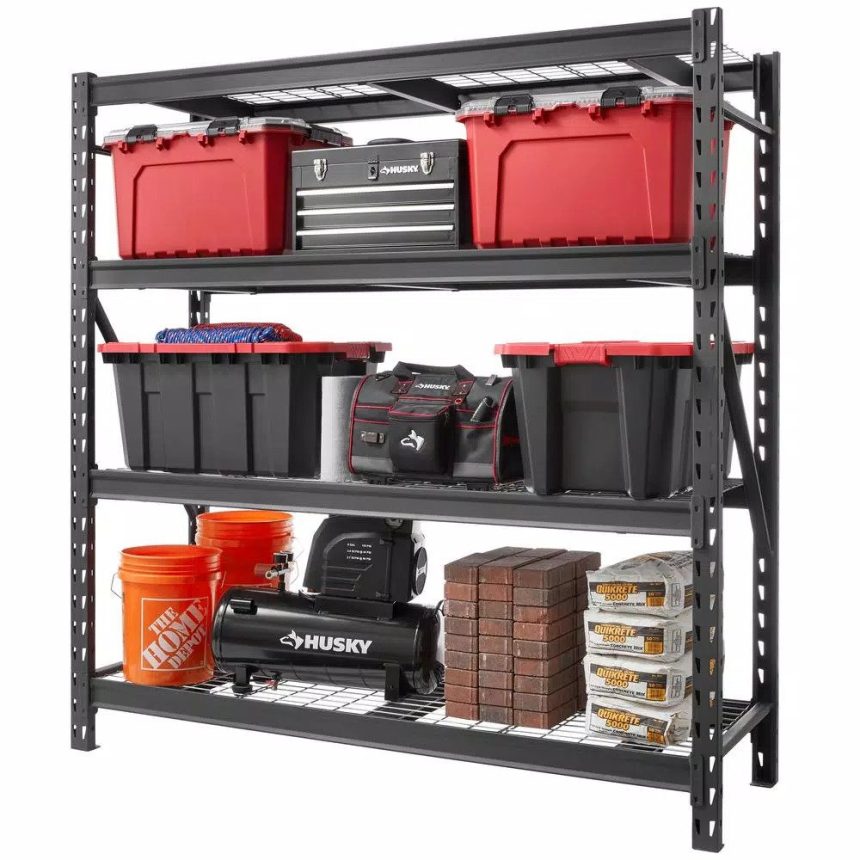 Husky 4-Tier Heavy Duty Shelving
Welded construction provides tremendous strength
Includes heavy-duty steel shelving
Easy to assemble-no tools required
Weight capacity up to 2,500 lbs per shelf
Available in several styles and two colors
Powder-coated finish
BUDGET PICK
Fleximount Wall Shelf Rack
Available in multiple depths and lengths
Cold roll steel brackets provide 200 lbs capacity per pair
Can mount to any width of stud spacing
Can mount to concrete
Includes everything necessary to install
Installing garage shelving units is the first step toward organizing your workspace or storage area. Besides, many people don't realize how versatile and spacious their garage is until they have shelving units to hold all of their stuff.
That being said, there are a lot of different types of garage shelving units on the market. Picking the perfect model for your garage will depend on how you intend to use the space. Some solutions will work better for larger spaces or are capable of safely handling more weight.
To help you find the right shelving solution for your garage and make sure you get the most bang for your hard-earned bucks, we have selected some of the best options currently on the market and reviewed them thoroughly.
Of course, it would be impossible to even hope to list or review them all. If you intend to buy a model we haven't covered here, don't forget to take a look at the buying guide we have included below the reviews. We've got a couple of tips and tricks to make sure you don't regret your purchase down the line.
Enjoy!
Garage Shelving Units Reviews
This is a perfect solution for space-challenged garages or storage areas. Fleximount sells it in a two-pack in various widths and lengths. The one we are reviewing measures one-foot deep and six-foot long, with two cold-rolled steel brackets. Each shelf has a capacity of 200 lbs.
You'll like this set because it provides flexibility. Notably, each bracket mounts independently and then the wire shelf attaches with velcro straps. It means you can install the shelves in any garage or storage unit regardless of the studs' spacing. You can even install this shelving unit against concrete. However, the velcro straps don't always work well.
Besides, thanks to the slim design, it's easy to place the shelves out of the way so you can gain storage space without sacrificing the walking room. The kit also includes everything you need to install the shelves and even has a bubble level to ensure horizontal installation.
Key Features
Available in multiple depths and lengths
Cold roll steel brackets provide 200 lbs capacity per pair
Can mount to any width of stud spacing
Can mount to concrete
Includes everything necessary to install
Pros
Easy way to add sturdy shelving in any space
One-person installation
Provides storage without taking up floor space
Cons
Velcro straps don't work well
Wall anchors are poor quality
Fleximount brings another space-saving design to your garage with this ceiling mount rack. You can add valuable storage space overhead, creating a perfect spot to stash boxes in your garage. It is a great storage solution when you have a tall garage but may cause issues in standard garages. Fleximount offers a variety of sizes. We'll review the four-foot by eight-foot version here.
The adjustable steel rack can adjust from 22-inches to 40-inches in the dropdown from the ceiling. It provides a total of 105 cubic feet of space and can hold 600 lbs when correctly installed. Meanwhile, the rack mounts align perfectly with 24-inch rafters, the standard spacing. However, you should check your garage before purchase to ensure you have standard measurements.
These ceiling mount racks also make a unique solution when you can't give up the floor space but need more capacity than a stud-mounted shelf can support. One person can do the installation, but it's best if a friend could help you. The rack is bulky and heavy, and you don't want to drop it on yourself during installation.
Key Features
Multiple sizes available to accommodate large or small spaces
All-steel construction provides excellent security and safety
Adjustable height increases versatility for tall or regular spaces
24-inch bracket spacing, 16-inch spacing on sides
Pros
Provides an excellent source of storage in tall garages
Huge weight capacity is ideal when you have lots of heavy things to store
Adjustable drop lets you store large or small objects without wasting space
Cons
Can only be safely mounted in spaces with standard joist spacing
Lots of assembly required to tighten numerous fasteners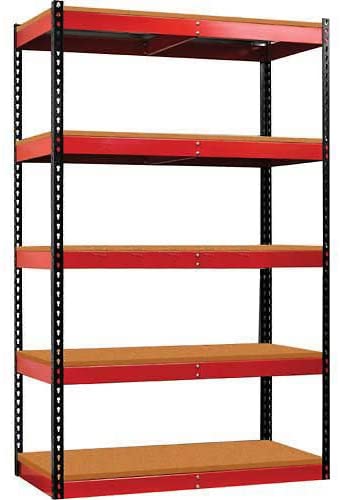 Hallowell's storage solutions have an appropriate name- these shelves are as tough as Fort Knox. Available in single- or double-rivet designs in numerous sizes, you can put lots of heavy objects safely and securely.
One of the best things about this shelving style is the rivet assembly. Simply slot the correct pieces together, and once the shelves are in place, you have a rigid, sturdy shelving rack capable of holding tools, car parts, and you can even order shelving to use it as a tire rack.
We'll take a look at a good size shelving unit here. The one we are reviewing measures 48-inches wide and 24-inches deep. Moreover, from the floor to the fifth shelf on top it measures 78-inches. Each shelf can hold up to 550 lbs, while the optional center support increases the capacity to 875 lbs. Shelving is sold separately, but you can order particle board shelving or steel from the manufacturer.
Assembly is a snap- literally. The hardest part is simply organizing the various parts, but it takes about 30 minutes to put them together correctly. No nuts and bolts mean no tools, just snap it all together in order, and you're done. However, proper installation should include bolting or using a strap to ensure the rack doesn't fall.
We think this shelving unit is an ideal solution for garages used to work on cars, trucks, and motorcycles. It has the weight capacity and storage area to handle bulky, heavy parts, toolboxes, and all other things that get in the way. Moreover, it's even more convenient to connect two units together, add a storage cabinet, or add peg wall hangers to this unit.
Key Features
Double rivet strength provides huge capacity
Easy to assemble in minutes, no tools required
Ideal for storing heavy objects
Shelving sold separately
Pros
Easy assembly without using tools
Perfect for holding heavy car parts
Lots of optional add-ons to increase the versatility of the space
Cons
Doesn't include shelving
Must be safely installed to prevent accidental tipping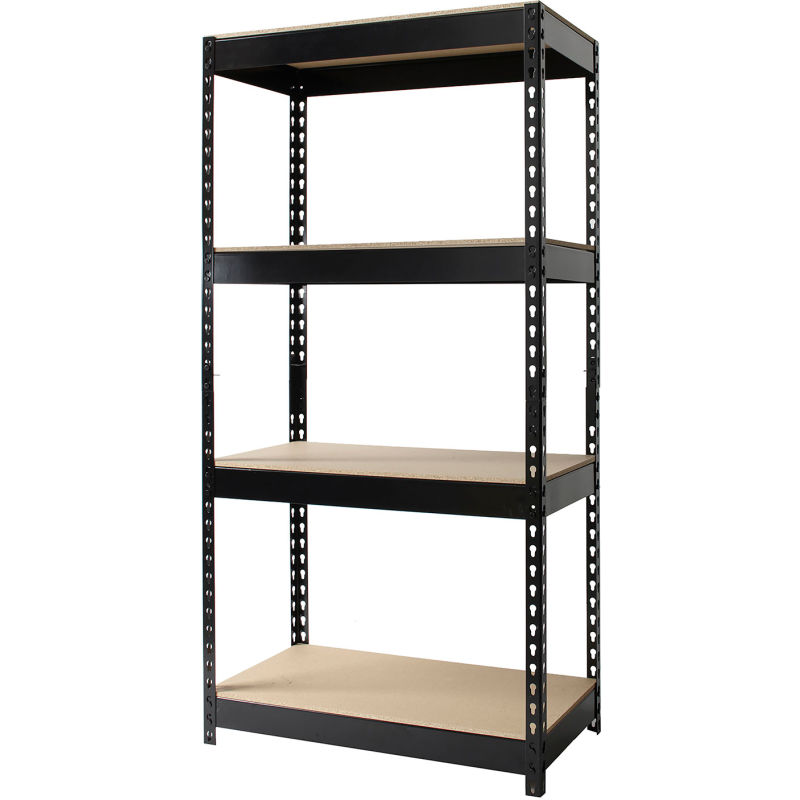 This is the solution for people that need high-capacity storage at a budget price. You could even call this basement shelving, but don't think you're getting an inferior product. These shelving units are available in numerous sizes for any space. Moreover, they assemble by tapping the various parts together with a rubber mallet in minutes.
You'd think that for the incredibly affordable price, you would give up quality, capacity, or ease of assembly, but this product will surprise you. For comparison, we will look at the same size as the unit above, 48-inches long, 24-inches deep. This one has five shelves up to 72-inches. Besides, it has a total capacity of 2,300 lbs when loaded correctly. Hence, you can get up to 460 lbs on each shelf.
What makes Hirsh's unit a great deal is that the package even includes particle board shelving. The only thing you need is a mallet and a few minutes to have top-notch single-rivet shelving in just about any garage. It's wonderful to have a storage solution that doesn't involve spending hours tightening nuts and bolts, only to lose one in the process.
Nonetheless, you should bolt or strap this unit to the wall when you install it to ensure it doesn't tip. This is particularly important in places that experience earthquakes. You don't want that perfectly powder-coated steel frame to come down on your car or you.
Key Features
Single-rivet construction provides a total of 2,300 lbs capacity
Easy to assemble using a mallet
Includes shelving
Pros
Ideal solution for budget-conscious organizations
Tough and durable steel construction
Simple assembly
Cons
Included shelves are not high quality
Spare/ replacement parts are not available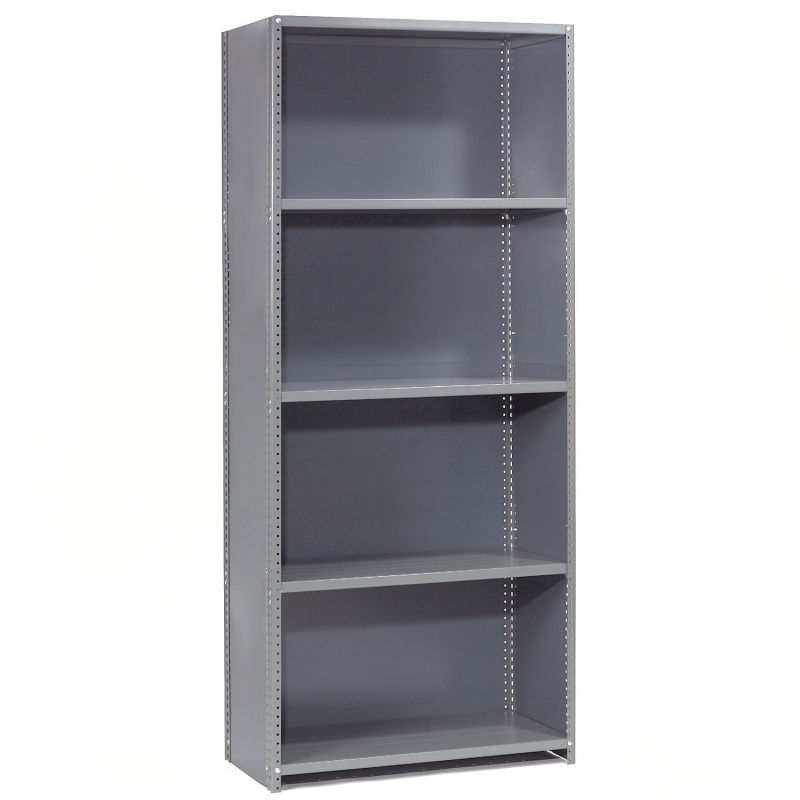 The above products are usable, but they all lack in the styling department. Here is a good-looking budget-friendly option to get heavy-duty shelving in your garage or workspace with side- and back-protection. The closed clips make for strong and simple assembly, while the steel shelves provide tremendous holding capacity.
Moreover, the shelves are roll-formed and ribbed with additional support from box beam reinforcement along the edges to provide 725 lbs of capacity per shelf. That's enough for heavy car parts, tools, paint, and even cement. These shelving are also available in a wide range of widths and depths.
The unit we are looking at measures 36-inches wide and 12-inches deep. It has five shelves, measures 73-inches tall, and is ideal for air and power tools. Its shelves are the perfect size to handle heavy tools; however, they are not so big that things get buried. You can also adjust the shelving in 1-inch increments.
You'll like this unit if you have chemicals and liquids that you don't want falling off the sides or from the back. Besides, it makes for a more complete-looking solution than open-design shelvings. Assembly takes longer, though, so expect to spend a while tightening bolts.
Key Features
Enclosed back and sides for a finished look
Sturdy, steel shelving holds up to 725 lbs
Powder Coated finish
Some assembly required
Pros
Good-looking storage cabinet at a good price
Excellent capacity- perfect for air tools, detailing equipment, and chemical storage
Cons
Several people had difficulty assembling due to missing parts and components shipped in different orders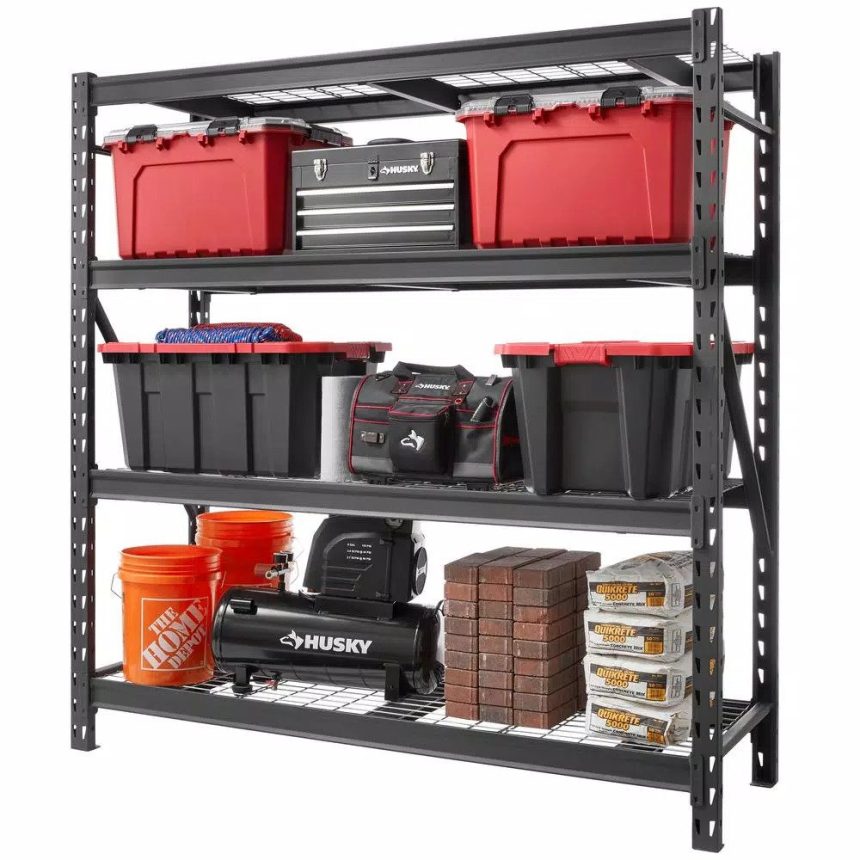 When you need storage that you can count on to take abuse, this is the right one for you. The welded rack provides enormous strength, so you'll never have to worry about a shelf breaking or giving out due to too much weight. Each wire-covered shelf provides up to 2,500 lbs of capacity.
Moreover, the rack and shelves are from heavy-duty steel. A powder-coated finish ensures years of rust resistance and offers excellent scratch protection. It also includes four shelves that are adjustable in three-inch increments. Shelving solutions are available in several sizes to fit your particular space.
The shelving we are reviewing measures 77-inches wide and 24-inches deep. It stands 78-inches tall, making it one of the larger units on the list. The shelves take advantage of steel I-beams and will take tons of abuse for years to come. Assembly is easy and tool-free, but this is a heavy unit, so ask a friend for help.
This is the perfect solution to storing heavy, awkward car parts, welding supplies, bricks, and any other heavy-duty object. It's also a great product when you need sturdy, strong shelvings at a reasonable price. It's even available in red to match with toolboxes and sports cars.
Key Features
Welded construction provides tremendous strength
Includes heavy-duty steel shelving
Easy to assemble-no tools required
Weight capacity up to 2,500 lbs per shelf
Available in several styles and two colors
Powder-coated finish
Pros
Perfect solution to storing construction tools, car parts, and other bulky objects
Super strong design is surprisingly easy to assemble
Affordable price for the capacity
Cons
Very heavy and may require leveling feet in some garages to prevent tilting
No availability of parts or spares
Some users are shipped a light-duty version instead that doesn't have an as high capacity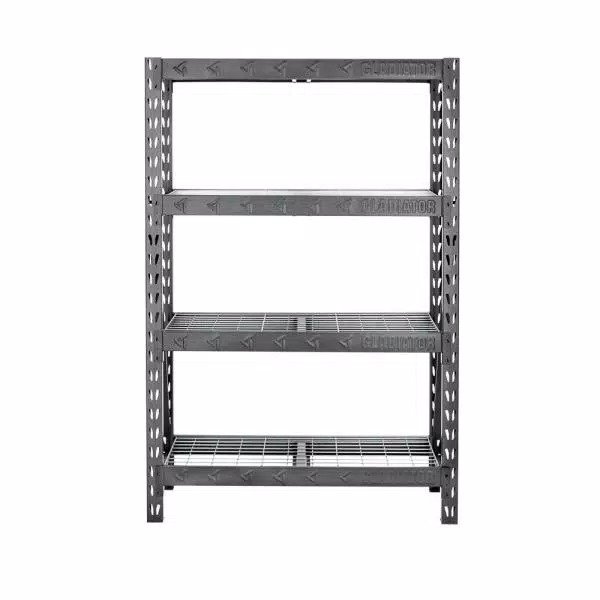 Gladiator provides you with an ultra-durable storage solution that features a welded rack and steel I-beam construction. Assembly is straight-forward and reasonably easy, though having a helping hand can make it go much easier. It connects with through-frame brackets and includes wire shelves.
The unit we are examining here measures 48-inches wide and 18-inches deep. It stands 72-inches tall, so it'll be right at home in a low-ceiling garage. This rack goes together quickly, and there were no problems with missing or mismatched parts, although some users report that a steel file may be necessary to simplify tight fasteners. When assembled, it'll hold 2,000 lbs per shelf if the weight is evenly distributed.
If you are looking for a high-quality, durable, strong shelving unit that you can put all sorts of stuff on, this is the way to go. These units are also easy to adapt. You can even add them to each other, add storage cabinets, and install peg wall hangers for organizing tools.
Key Features
Welded steel rack and wire shelving
Weight capacity up to 2,000 lbs
Several sizes available
Easy to assemble without tools
Pros
Ideal shelving solution for automotive repair, construction, and metalworking
Easy to assemble with a helper
Heavy-duty components inspire storage confidence
Cons
Some users report misalignment of fittings
Shelving is often damaged during shipping
See Also: 9 Best Garage Cabinets for All Your Tools and Equipment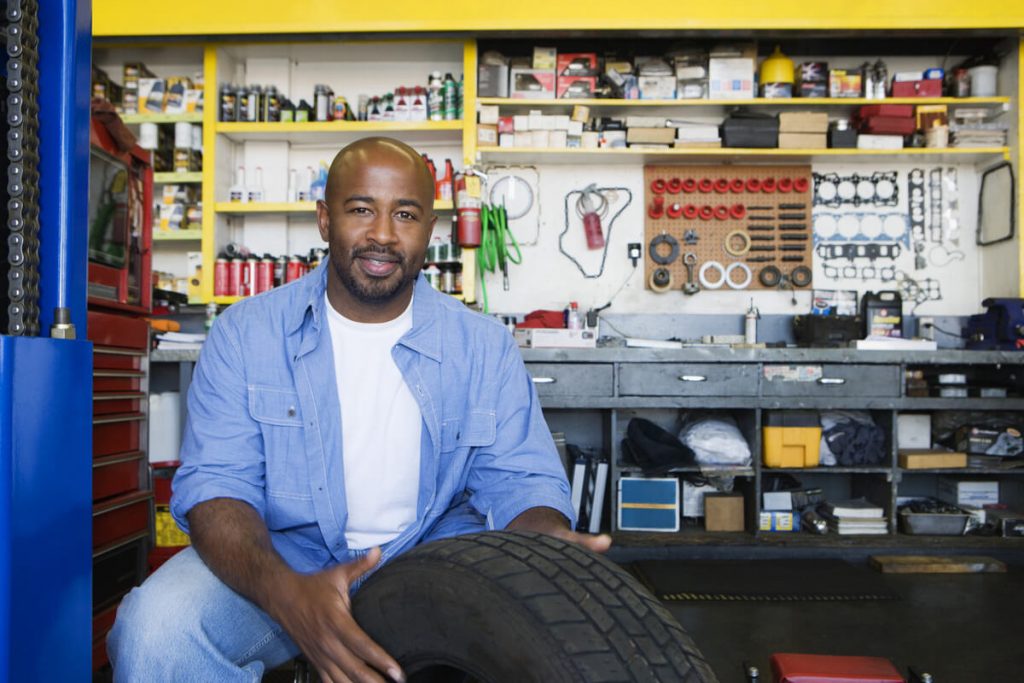 Types of Garage Shelving
There are different types of storage solutions for your garage, each having its own pros and cons. You may find that one type of shelving unit is more functional for you than others, but most garages can benefit from using several different types of shelving units to take advantage of space. We will describe the types of shelving units for your garage that you might want to consider to get your space organized.
Plastic Shelving Options
One of the least expensive ways to start getting organized is to purchase plastic shelving units. These most often clip together with the legs attaching to or through the shelves. However, this shelving option is only good for lightweight storage.
Besides, you'll need to replace plastic shelvings more often, and they are more difficult to clean. Still, plastic shelving units can be perfect for storing shop towels, laundry supplies, and other lightweight items that simply take up room on heavy-duty shelving.
Stud-Mount Shelving
This is also an inexpensive way to add shelving and helps to preserve floorspace. The best designs use heavy-duty steel brackets that mount to studs or in concrete with anchors. Hence, these designs create excellent load-bearing strength and are great for storing totes, boxes, and other medium-weight items.
Depending on the shelving type you desire, you can purchase kits that include everything you need to install, or you can buy individual components and customize how your shelving looks.
Free Standing Rack
For shelving that can handle lots of weight or awkward, heavy objects, a free-standing rack solution is ideal. There are several different designs of free-standing shelving, each with positives and negatives. You will commonly see bolt-together designs, single-rivet designs, and double-rivet designs.
The rivet designs use a "post" on one part that corresponds to a "slot" on another part. Meanwhile, double-rivet designs can carry more weight. Finally, bolt-together designs are less strong than a rivet design.
Commercial kitchen racks also use a friction-sleeve design, but these are inappropriate for garage use. Save those shelves for dry goods storage in the pantry.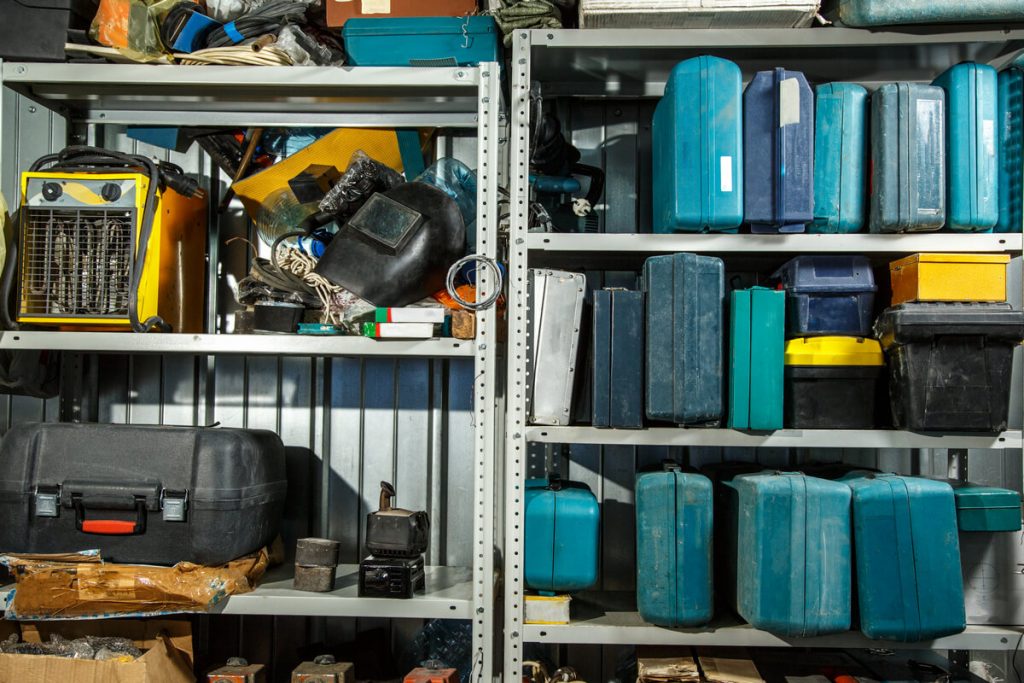 Ceiling Mount
Ceiling mount storage is an excellent solution for garages with high ceilings. The best designs can mount to standard rafters for optimal strength. These units provide a ton of extra storage in otherwise wasted spaces.
Using a ceiling mount shelving unit is a cleaner and more functional installation than cross-garage shelving and is also very safe when installed correctly.
Cabinets
A popular way to provide lots of storage for lightweight objects and large tools is using cabinets. These can be built-in designs, free-standing units, or wall mount designs.
Typically, cabinets are intended for light storage; however, some steel cabinets are suitable for storing heavy objects and are particularly helpful when storing hazardous materials like paint, acetone, and other chemicals.
See Also: 7 Best Tool Chests for the Money
Things to Consider When Buying a Garage Shelving
Whether you are dreaming about your perfect garage or getting ready to purchase a shelving solution, there are several things you should consider. Some considerations are pretty obvious, but others might make you reconsider the type of shelving unit you want for your space. Notably, there are practical and functional things you should consider before buying a shelving unit.
How much space do you have?
This one seems obvious, but it's important to figure the amount of space your shelving will take up. For example, you might know that you have at least 30-inches of space from the wall, but you won't be able to get things in and out of a 24-inch shelf. Thus, always consider the practical aspect of the available space. A good trick is to use masking tape to draw out the dimensions on the ground, then stand as though you are lifting the heaviest object on the shelf. It should give you an idea of how deep your shelves can be and still be functional.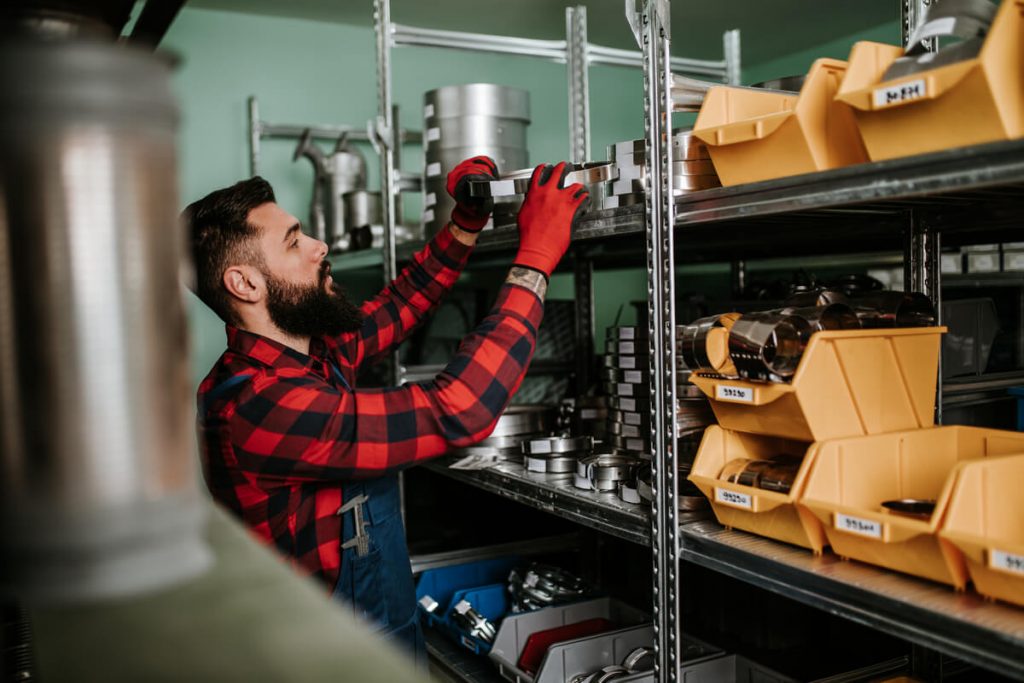 What are you putting on your shelves?
If you are just looking to store boxes of blankets, an inexpensive, light-duty shelving solution would be ideal. However, if you have heavy tools, car parts, and other large and bulky objects, a stronger shelving unit will be necessary. Always remember that the maximum shelf capacity always means even distribution across the shelf.
What do you want it to look like?
Some people want a free-standing shelf because it makes getting things on the shelves easier. Other people prefer cabinets where doors hide away the mess. Meanwhile, some designs try to balance the appearance of shelving units with toolboxes, storage cabinets, and other garage elements.
You'll be happier and spend less money in the long run if you decide how you want your space to look and make purchases according to a long-term goal. In many cases, you can start with a basic shelving unit and add to it over time to create a complete storage solution.
Verdict
Getting your garage or storage space organized is a lot of work. But, once you have a storage solution that works perfectly for your space, you will be happier and more productive. Having your things organized on shelving units also makes your workplace safer because you have fewer tripping hazards.
The solution to getting your space organized doesn't have to be expensive, but you should purchase the right type of storage for your needs.