EDITOR'S PICK
Tomioka Racing Super Slopes
Purpose-built for low ground clearance
Maximum lift height of 3 inches
Compact and durable
PREMIUM PICK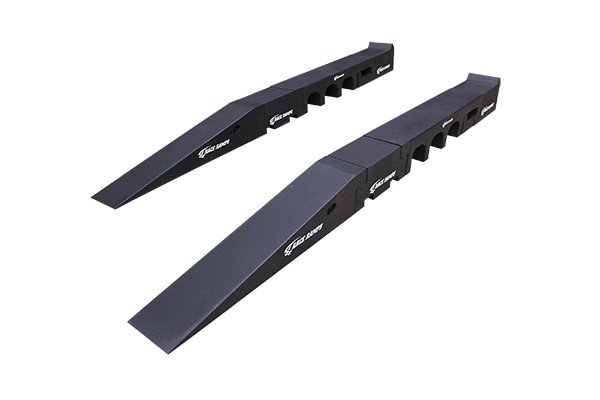 Race Ramps Portable Pit Stop Ramps
220-inches long
14-inches maximum lift height
Weigh 40 pounds
Made in the USA
BUDGET PICK
Hopkins GVW RhinoRamps®
Heavy-duty weight capacity at 12,000lbs
Low angle of approach of 17 degrees
12-inch width
One of the biggest signs of attachment to your vehicle is the urge to get your hands dirty. Of course, this urge is also often fueled by the fact that regular trips to an auto repair shop can quickly break the bank.
However, fixing cars and trucks is no cakewalk and will often require you to bend, crawl, and get greased up to your elbows. Besides, even the easiest jobs, like oil changes and regular maintenance will require you to crawl under your car, and not everyone can afford or has enough space for a car lift.
In this case, the next best things are car ramps, as you can quickly prop up your vehicle just enough to get underneath the car. Unfortunately, although quite simple at first look, not all car ramps are created equals and there's a variety of them available today. To help you find a set of car ramps that will fit your needs and budget, we have created a list of some of the best car ramps currently on the market.
Hope it helps!
Best Car Ramps Review
While the Hopkins GVW RhinoRamps® are definitely budget options, there's nothing cheap about a high weight capacity of 12,000lbs. Made from plastic, they're a reliable pair of ramps that will prop your vehicle up in a jiffy.
These ramps offer a low angle of approach, at just 17 degrees, and are also generously wide, at 12 inches. As a result, you can use them to lift a wide range of vehicles, from sedans to most pickup trucks. They're also very light, weighing only around 16lbs, and can be nested despite the thick design. You'll be able to set them up, use them, and put them away easily.
Hopkins claims that each ramp is skid-resistant, but they are definitely not the most grippy out there, especially when wet. Hence, they might not be the best to buy if you live in a snowy area, Although they should do just fine if you dry them properly before raising your vehicle.
All in all, this pair of ramps is a sturdy and practical piece of equipment you can use at home or in a mechanic's shop. They don't have fancy features or anything but if all you need is to raise cars for oil changes every once in a while, they'll do just fine. And thanks to the very affordable price tag, they are what I call "Get-and-Forget" tools. If you like to wrench on cars, just get yourself a set and store them in your garage. You'll inevitably need a set of car ramps at some point and you'll thank us then.
Key Features
Heavy-duty weight capacity at 12,000lbs
Low angle of approach of 17 degrees
12-inch width
Pros
Super cheap

Very Light

Easy to stack
Cons
Don't grip as well as they should
Poor traction on the floor; you might be better putting an anti-slip mat under the ramps if your floor is slippery when wet
With buzzwords like "racing" and "super" in the name, these car ramps scream high performance, and they specially cater to low profile vehicles. They're made from durable plastic and have a maximum lift height of 3 inches. Of course, 3 inches is never high enough to allow you to crawl under your car, but these car ramps have been designed for a totally different purpose.
Indeed, if you've got a car that has been lowered/stanced/slammed or sports a front bumper lip or bodykit, driving your car's on Tomioka's Super Slopes will bring it just high enough so you can easily slide a jack under it.
The TR Super Slopes are also easier to store and weigh less than the Rhino Ramps, a little over 10lbs. The compactness does make them lose to the Rhinos in terms of tire width and overall length. Also, the weight capacity seems to be a mystery. On the other hand, since they are mostly designed for lowered cars, unless you drive a mini pickup slammed to the floor, there shouldn't be a problem. Ramps are always at least tough enough to hold sports cars.
Worth mentioning, these ramps cost around two times as much as the Rhinos. However, if you banked a couple of grand on a full bodykit and dropped suspension, it will cost a lot less to buy dedicated ramps than to have your scratched bumper re-painted or cracked carbon fiber lip replaced. If you live the "stance life," these are a no-brainer.
Key Features
Purpose-built for low ground clearance
Maximum lift height of 3 inches
Pros
Lightweight
Durable
Compact
Cons
Narrower than most
Shorter length
The Stark heavy-duty ramps are what you are looking for if you need some extra lift and a higher weight capacity than most. To put it simply, each ramp is essentially a ramp combined with a regular bottle jack. This specific setup is good enough to lift any car up to 5 tons and 15 inches high.
The Stark Service Ramps are more than capable of lifting full-size pickup trucks and trailers you can lift the lowest sports cars while also having the power for lifting trucks and trailers. However, the steeper angle might pose problems with lower cars. On the other hand, you could easily use ramp extensions and make it work.
That being said, these quirks do come at the expense of a higher weight (40 lbs) and reduced portability. Let's not deny it, they are quite huge and significantly bulkier than plastic models. Nonetheless, if you own a heavy truck, you can't really use those anyway.
However, the biggest downside here is the price. Plus, if you need a pair, you'll have to order two of them as they are sold individually. But once again, you really don't want to cheap out on ramps if you plan to work on heavy vehicles. Furthermore, the increased lifting range makes them some of the most versatile car ramps on the market. Heck, at 15 inches-high, you could even use those to replace a clutch.
So yes, the Stark Service Ramps are premium models, but they offer quite a lot in exchange for the hefty price tag.
Key features
Platform width: 9.4 in.
Heavy-duty steel construction
Hydraulic bottle jack included
5-ton lift capacity
Pros
Cater to a diverse range of ground clearance
Decent width
Long length
Bottle jack really increases the range of task that can be performed
Cons
More expensive than most
Bulky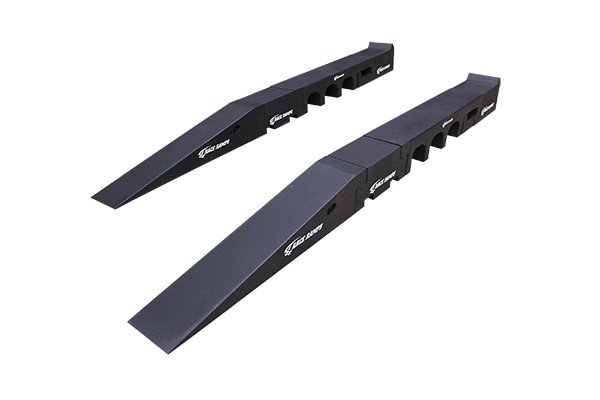 If you have a vehicle that you use for autocross or lapping, you'll want a pair of these. Made out of polystyrene, they're solid, lightweight, and purpose-built for the race track.
Because they cater to cars equipped with performance tires, they are larger and have been coated to increase traction. They're also insanely long with a total length of 220 inches and still weigh only around 40 pounds. However, storage is pretty straightforward as they can be broken down into a stack totaling 65 inches tall. Furthermore, the ramps' low 10.4 degrees approach angle allows them to be used with lowered cars without any problems.
However, the 6000lbs weight capacity is on the lower side so they can't accommodate anything larger than a mid-sized pickup truck. But once again, since they are meant for race cars and since race cars are usually much lighter than regular road-going vehicles, the lower weight capacity shouldn't be an issue.
It's worth mentioning that they aren't cheap, though. But the best of anything rarely is. If you need a set of ramps to bring to your next track day, or even if you just want the best car ramps money can buy, this is what you need.
Key features
220-inches long
14-inches maximum lift height
Weigh 40 pounds
Made in the USA
Pros
Can lift your whole vehicle
Can accommodate very wide tires
Very sturdy
Very low-angle approach, great for lowered cars
Grippy material ensures excellent traction
Cons
Expensive
The 6000lbs weight capacity can be a limiting factor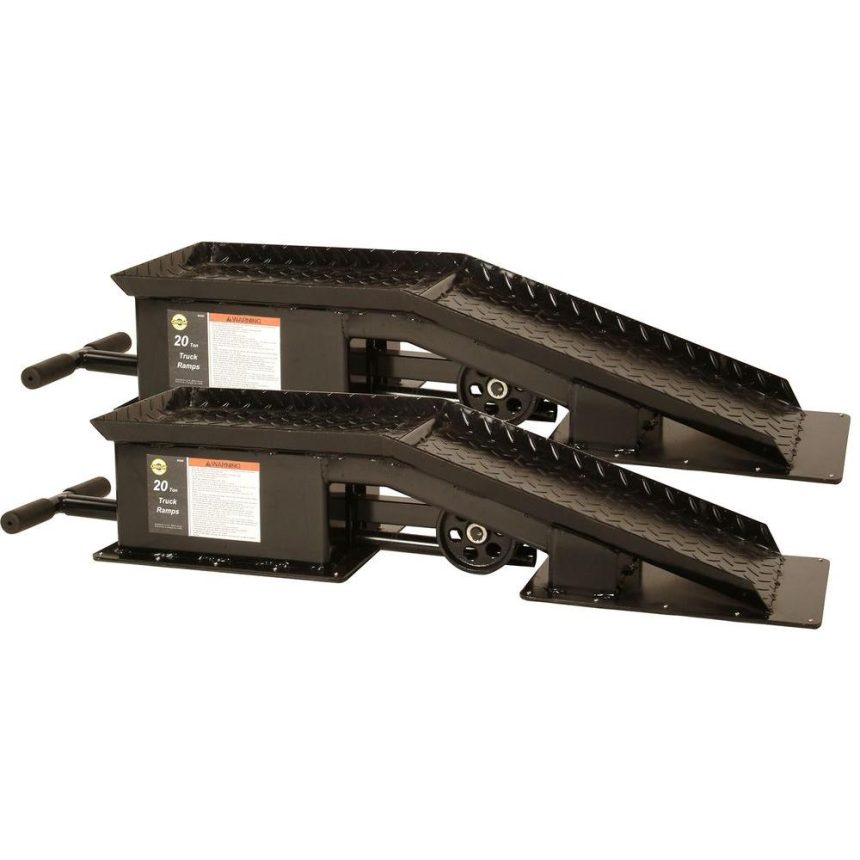 Finally, we get to the brawniest of the bunch; the Omega truck ramps. These all-steel ramps are designed to accommodate larger wheels and will last you for years.
But the real selling point is the 40,000 pounds capacity that will support even the heaviest trucks with ease. The ramps provide decent traction due to the checker plate pattern and won't slip around while they're being loaded.
While the Omega ramps' weight of about 135 lbs. each can bring doubts about mobility, they also come with foldable 33-inch handles attached to durable rubber wheels that can be used to pull them around after use.
The price is the only downside of Omega's truck ramp, although the aforementioned race ramps are even costlier. Overall, if you're a truck enthusiast or box truck mechanic, you can buy a set with your eyes closed.
Omega simply doesn't make bad tools.
Key Features
45-2/3 x 13-1/2 x 9-1/2 in.
Insane 20-ton capacity
Heavy gauge steel frame
Max. Tire Width: 11-1/4 in.
Gross weight: 134-1/2 lbs.
Pros
Built to last an eternity
Retractable handle for portability
Wide enough to handle a wide range of tires
Good traction
Cons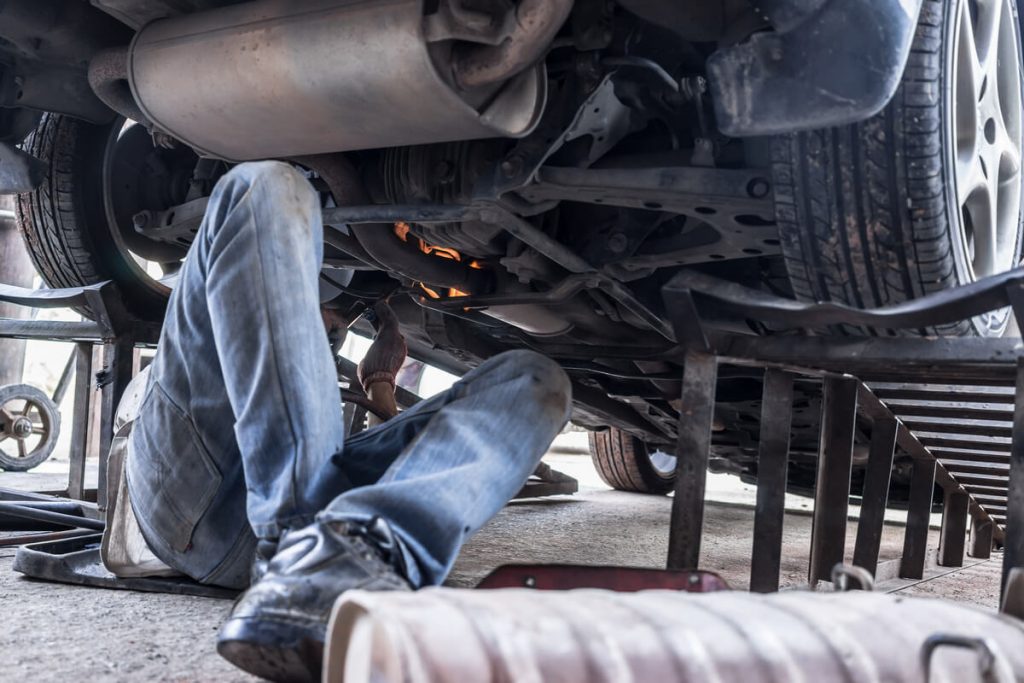 What to Look for When Buying Car Ramps
There are some key points you need to keep in mind before deciding to spend hard-earned money on a set of ramps. In fact, no matter the brand you model or brand you intend to buy, correctly estimating your needs is your best bet to make sure you get the most bang for your bucks.
Purpose of Buying Car Ramps
The first thing you'll have to do is ask yourself if you really need car ramps, or in fact, if car ramps would be good for the job you need to do. If you occasionally need to change fluids and rotate tires, then jacks will do. Besides, they're more compact and can be carried around easily in the trunk of your car.
However, car ramps are a safer alternative as jacks require you to pick a proper jacking point and a picture-perfect flat surface. Car ramps are also much cheaper than lifts, although they don't quite give you the same lift height.
Nonetheless, if you need to work on more extensive jobs like removing a transmission, flushing a radiator or replacing an oil pan, and simply don't have the space or budget to consider having a full-fledged lift installed, car ramps are probably your best option.
Your Vehicle's Measurements
Ultimately, your vehicle will go on top of the ramp, so you need to make sure that the ramp you're buying can actually fit underneath without scraping your front bumper. Whether your car is basic, dropped, or just has a lower front end, pick ramps with a lower angle of approach.
However, a lower angle of approach will require longer ramps to reach the same lift height. If you need to remove a transmission, you'll have no other choice but to look for ramps at least 12-13 inches high. Unfortunately, those usually come with steeper angles and you might need to buy extra extensions.
Next up will be the vehicle's weight, and you need to make sure you pick ramps that will fit your car. You really don't want to slide under a car supported by flimsy ramps. And finally, the ramps you choose should be wide enough to safely accommodate your tires. However, if your car has standard tires and not racing slicks, pretty much any model should do.
Your Garage's Attributes
Before buying a set of car ramps, evaluate your portability needs based on your garage space. If you have a small garage, you'll need ramps that can be stacked and put away easily after use. Unsurprisingly, larger and heavier ramps can make storage difficult.
You also need to observe the garage's height. You might get mesmerized by a ramp that promises a high lift height for easier undercarriage access, but you won't be able to use any of it because of a low ceiling.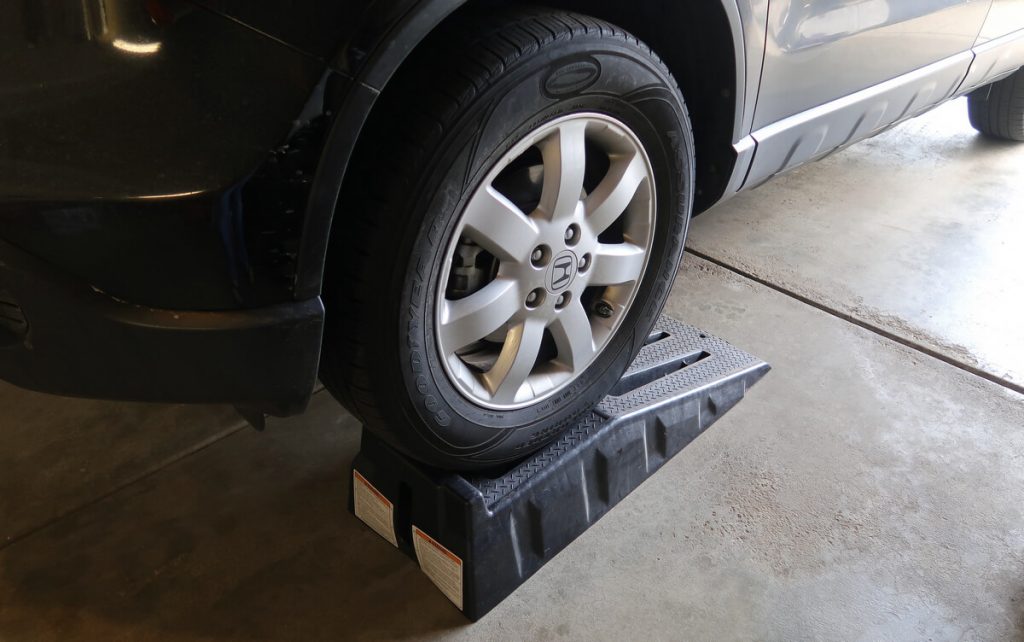 The Market's Offerings
Once you've analyzed your needs, it's time to see what different ramps on the market bring to the table. Firstly, you need to get the dimensions, lift-heights, traction levels, and weight capacities out of the way and narrow down your choices.
Then look at the ramp's material, design, and durability. Also important are the grip, portability, and lastly, the price. Do not shy away from paying a little extra for a sturdier ramp. Remember, you'll be saving a lot more from not visiting a mechanic for regular maintenance.
Brand and Warranties
Always make sure to research the brand you're buying. Look for proper consumer reviews and refrain from falling for sleazy marketing tactics. Always look out for money-back guarantees and lifetime warranties. Brands that have existed for long can always sort out these things better and are more likely to exist long enough to do so.
Verdict
It is tough to pick a clear winner from the five brilliant ramps mentioned as they all cater specifically to a different segment of automotive enthusiasts. The RhinoRamps provide an immense weight capacity for peanuts, so they're a great budget option.
Meanwhile, the Race Ramps cater to professional racing teams and track day enthusiasts and cost "lift money." On the other hand, the Omega ramps eat all other models for breakfast—they are costly but offer way more than what most DIYers need; they're a trucker's cup of tea, though.
This leaves the sophisticated Stark heavy-duty ramp and the TR Super Slopes. Both models are great, but the Super Slopes take the lead due to their price, which is why they're probably the best choice on this list, as long as you keep in mind the lower lift height.