EDITOR'S PICK
Omega 47020 3-in-1 Car Dolly Set
Lifting mechanism: Standard
Mounting point: wheel, pinch weld, or frame
Set quantity: 2
Max load (per dolly): 2000 lbs.
20.5″ x 13.9″ steel plate
4.0″ swiveling casters with built-in brakes
Built-in saddle adapters for pinch weld and frame
Height with the saddle adapter: 14.9″
1-year warranty
PREMIUM PICK
DJS Fabrication DJS-00115-4 Mobile Dolly Station
Lifting mechanism: Standard
Mounting point: wheel, wheel lugs, pinch weld, or frame
Set quantity: 4
Max load (per dolly): 4000 lbs.
22.0″ x 17.0″ steel frame
6.0″ urethane casters with built-in brakes
Built-in saddle adapters for pinch weld, frame, and wheel hub
Lifetime warranty for the chassis, 5-year warranty for the casters
BUDGET PICK
WEN 73017T Vehicle Dollies
Lifting mechanism: Standard
Mounting point: Wheel
Set quantity: 2
Max load (per dolly): 1500 lbs.
16.0″ x 12.0″ diamond steel plate surface
2.5″ swiveling steel casters with built-in brakes
Carrying handle
2-year warranty
So, you need to move your vehicle around the garage, but the space is too tight? Or, maybe it was crashed and is now missing a wheel? Or even, need to move multiple cars without having to go fetch all the keys? In that case, you'll need car dollies, as they are the perfect tools for moving any vehicle inside your garage space, even if a wheel is blocked or the whole front end isn't even on the car! Garage-friendly car dollies are easy to store, straightforward to use, and relatively inexpensive. There's no way around it; they might save your life one day (or at least make your day a whole lot easier).
Car dollies are basically skateboards, but for your vehicle. As such, they provide you with complete freedom of movement, meaning you can turn your car 360-degrees if you want. They are also an outstanding option if you have a project car that doesn't have an engine or a subframe yet.
If you feel like you can use a dolly set yourself (and if you are a DIY'er, I can assure you do), here are seven of the best car dollies you can buy today. We've reviewed them in-depth and provided a complete buying guide to help you get car dollies that will meet your needs and budget.
Let's go!
Best Car Dollies Reviewed
If you're looking for an affordable pair of dollies with extraordinary weight capacity, the WEN 73017T is a solid answer. And while it might look quite basic at first, it has everything you might want from heavy-duty car dollies.
First off, there's a thick and grippy steel plate with a diamond pattern that holds up to 1,500 lbs. (3,000 lbs. for the pair), making it capable of holding any typical car and SUV. However, you'll need to jack the car up first to place them under the wheels (if you are looking for hydraulic dollies that can jack a car up, we've covered that below).
Still, WEN's dolly has a few other tricks up its sleeve. Notably, four 2.5-inch swiveling casters support the chassis, with two having onboard brakes to keep the dollies stationary when needed. The caster are made of forged steel, which is nearly indestructible under regular applications. However, the wheels are kind of small and can sometimes be hard to rotate under heavy load (meaning you'll have to keep your floor clean. Smaller casters will get stuck on small pebbles and rocks—work just fine on dust and dirt, though).
Nonetheless, most weekend DIY'ers using dollies only occasionally can easily settle with this one. It's super capable for the price without lacking any significant feature — it's even backed up by a sweet 2-year warranty too.
Key Features
Lifting mechanism: Standard
Mounting point: Wheel
Set quantity: 2
Max load (per dolly): 1500 lbs.
16.0″ x 12.0″ diamond steel plate surface
2.5″ swiveling steel casters with built-in brakes
Carrying handle
2-year warranty
Pros
Affordable
Strong steel casters
Excellent weight capacity for its price
Cons
Thanks to its hydraulic system, the single-pack OTC Tools 1580 is one of the easiest dollies to operate. It features a hydraulic foot pedal you can use to lift the tire in a matter of seconds, without using a jack. This simplifies the process and saves time, especially if you need to move a couple of vehicles in a row (or if you need to move cars without having the keys).
The all-in-one format is not just a gimmick, though, as this car dolly is still designed for heavy-duty use (OTC doesn't make cheap stuff anyway). The unit can hold up to 1500 lbs. and support a tire width of 12 inches (where are not talking about the tire size here but really just the opening of the jaw mechanics). Also, it features four 4.0-inch swiveling phenolic casters, which glides smoothly without damaging the floor.
However, despite its impressive strength and convenience, there are a few slight drawbacks. One is that the vehicle's tire will rest on two support beams instead of a solid platform, so you have to use them a little more carefully. Also, remember to avoid using it on uneven surfaces, as there are no locking casters on this model.
Thankfully, the pros by far outshine the cons here. And if hydraulic dollies are what you're after, the OTC Tools 1580 should be on the top of your list. Just don't forget to buy at least two of the single packs if you're only getting started. Of course, if you need to move a car to which you don't have the keys, you'll need 4 of them.
Key Features
Lifting mechanism: Hydraulic
Mounting point: Wheel
Set quantity: 1
Max load (per dolly): 1500 lbs.
Max tire width: 12.0″
4.0″ swiveling phenolic casters
Hydraulic foot pedal with locking pin
2-year warranty
Pros
Easy fitment and operation, no additional tool needed
Phenolic casters designed to protect the floor from damage
Cons
The Pentagon Tools 5051 is very similar to the WEN 73017T above. It has an identical plate shape and size to the WEN's, and it's made out of the same steel material with a diamond-patterned surface. Even their weight capacity matches at 1500 lbs. per dolly. Yet, a few differences are totally worth the extra couple of bucks.
First, the Pentagon Tools 5051 is offered in a pack of four instead of two; thus, you'll have a complete 6000 lbs. capable dolly set from the get-go. Moreover, the set is painted bright red, making it more noticeable, reducing the risk of tripping. The forged steel casters are also larger (3″ vs. 2.5″), making them easier to move on a dirty or rough floor.
However, keep in mind that despite being similarly prices, unfortunately, this one is not backed by any warranty whatsoever. Still, if you prefer bigger wheels and the red paint, these are totally worth considering—not to mention that there's not much that can break on car dollies so the lack of a guarantee is not that big of a deal. If a caster was to break, you could very easily replace it (having to send them back under warranty would probably be a bigger hassle anyway).
Key Features
Lifting mechanism: Standard
Mounting point: Wheel
Set quantity: 4
Max load (per dolly): 1500 lbs.
16.0″ x 12.0″ diamond steel plate surface
3.0″ swiveling steel casters with built-in brakes
Carrying handle
Pros
Reasonably priced for a pack of four
Robust steel casters
Bright red color is more noticeable on the floor
Cons
While there are many similarities between the Eastwood 30551 and OTC Tools 1580 covered earlier (e.g., shape, size, tire width capacity, and operation method), a few things are making this one a truly heavy-duty hydraulic model.
As a start, the Eastwood 30551 is sold in pairs rather than single packs so that you can get started right away. Additionally, if you live in an area with an extreme climate, you'll be pleased to hear that Eastwood's 4.0-inch casters are made out of nylon, able to withstand solvents, extreme temperature changes, and even corrosive environments. Also, they are available with an optional storage rack to help you store the dollies neatly when not in use.
However, minor drawbacks include brakeless casters and a slightly lower 1300 lbs. capacity, the lowest on this list (yet still sufficient for most). The warranty could've also been longer, considering its pretty steep price. Regardless, it's still one of the most durable hydraulic car dollies on the market, and a great alternative to OTC Tools' model, suitable for those who live in areas with harsh winters.
Key Features
Lifting mechanism: Hydraulic
Mounting point: Wheel
Set quantity: 2
Max load (per dolly): 1300 lbs.
Max tire width: 12.0″
4.0″ swiveling nylon casters
Hydraulic foot pedal with locking pin
1-year warranty
Pros
Easy all-in-one operation, no additional tool needed
Heavy-duty large nylon casters
Storage rack is available as an add-on
Cons
Lowest weight capacity on the list
No brakes
Quite pricey
With the Omega 47020, you don't have to worry that your car might not sit right if it doesn't have wheels. Indeed, this pair of dollies is uniquely designed to support three different mount locations — the tires, frame, or pinch weld under the rockers (the dedicated lifting points for a floor jack).
In its standard form, a steel plate is used to cradle the wheel. However, each dolly also comes with a removable saddle adapter that clamps to the frame or under the rocker panels. As a result, this pair is much more versatile, especially if you're dealing with project cars or wrecked vehicles.
With the saddle attachment, the dolly's maximum height increases to almost 15 inches from the ground, giving you easier undercarriage access. Meanwhile, the strength of the adapter's arm is guaranteed by a sturdy locking pin and a 2000 lbs. rated chassis (one of the highest on this list). And the large 4.0-inch heavy-duty swiveling casters are also equipped with built-in brakes.
Of course, all those bells and whistles come at a price and this innovative dolly set do come with a pretty hefty price tag. And just like the previous model, the warranty coverage could've been a bit more generous. Regardless, the flexibility and robustness it offers are more than enough to justify the price. So if you want a set of car dollies with multiple mounting points and higher weight capacity than most, the Omega 47020 should be your go-to option.
Key Features
Lifting mechanism: Standard
Mounting point: wheel, pinch weld, or frame
Set quantity: 2
Max load (per dolly): 2000 lbs.
20.5″ x 13.9″ steel plate
4.0″ swiveling casters with built-in brakes
Built-in saddle adapters for pinch weld and frame
Height with the saddle adapter: 14.9″
1-year warranty
Pros
Multiple ways of use
High load capacity
Can lift a vehicle without wheels attached
Stackable
Cons
Poor warranty for the price
The second OTC Tools model on this list is no less unique than the first one. It has a distinctive patented design, by which the car dolly clamps directly to the pinch welds. Moreover, it comes in pairs, with each unit capable of a massive 1800 lbs. capacity.
The best thing about having the pinch weld as the mount location is the wide range of vehicles it can support, even when wrecked and without wheels. Even better, the steel saddle that makes contact with the pinch weld is foamed, so it fits more securely while simultaneously protecting the pinch weld from bends and scratches.
Meanwhile, the saddle is height adjustable up to 14 inches from the ground, providing easy access to the undercarriage. The dollies are equipped with three 5.0-inch casters instead of four, made of chemical-resistant polypropylene. Moreover, the wheels are sturdy and remarkably balanced, so you shouldn't worry about the lack of an extra caster here.
Still, the lack of brakes could be a problem for some, especially when working on uneven surfaces. And while there's no other brand offering such a dolly design, the price isn't exactly pocket-friendly. But even so, OTC has nailed making a universal compact car dolly without compromising on strength.
Hence, if you're seeking a solid yet compact dolly set, the OTC Tools 1572 is perfect for you. Or maybe you're a mechanic who does lots of suspension replacement and often has to move tireless vehicles while you wait for parts to be delivered? This one is a no-brainer!
Key Features
Lifting mechanism: Standard
Mounting point: pinch weld
Set quantity: 2
Max load (per dolly): 1800 lbs.
Adjustable height, ranging from 9.0″ to 14.0″
5.0″ swiveling polypropylene casters
Foamed saddle
Lifetime warranty
Pros
High load capacity
Can lift a vehicle without wheels attached
Foamed saddle protects the pinch weld from bend and scratches
Compact design
Excellent warranty deal
Cons
No brakes
On the pricier side
The DJS Fabrication Mobile Dolly Station is an over-engineered car dolly set, and not in a bad way. It's the strongest dolly on this list, with a steel frame capable of bearing up to 4000 lbs. each—you could mount anything from a small Miata to a Ford F-150 without any issue.
The set comes in a pack of four, together with the mobile docking station, but a single-pack is also available if you only need one or two units. Still, no matter which package you go for, each dolly comes as standard with three protective-coated saddle adapters to support different mount locations. As a result, on top of the standard wheel mount design, the vehicle can also be held snugly by the frame, pinch weld, and even the wheel lugs, depending on which adapter you choose to use.
The innovation doesn't stop there, as DJS also fitted heavy-duty 6.0-inch urethane casters with built-in brakes. These convex-style casters have excellent grip and significantly better maneuverability. The needle bearings also mean the wheels are easier to roll on an uneven garage floor and will last significantly longer than most.
In short, DJS may have created the utmost universal car dolly, capable of handling just about anything you throw at it. And as long as you can afford the premium price, this is probably the most refined car dolly set you can get.
Key Features
Lifting mechanism: Standard
Mounting point: wheel, wheel lugs, pinch weld, or frame
Set quantity: 4
Max load (per dolly): 4000 lbs.
22.0″ x 17.0″ steel frame
6.0″ urethane casters with built-in brakes
Built-in saddle adapters for pinch weld, frame, and wheel hub
Lifetime warranty for the chassis, 5-year warranty for the casters
Pros
Extreme weight capacity
Universal mount location
Large and strong casters
Practical docking station for neat storage
Also sold in individual pieces
Lavish warranty
Cons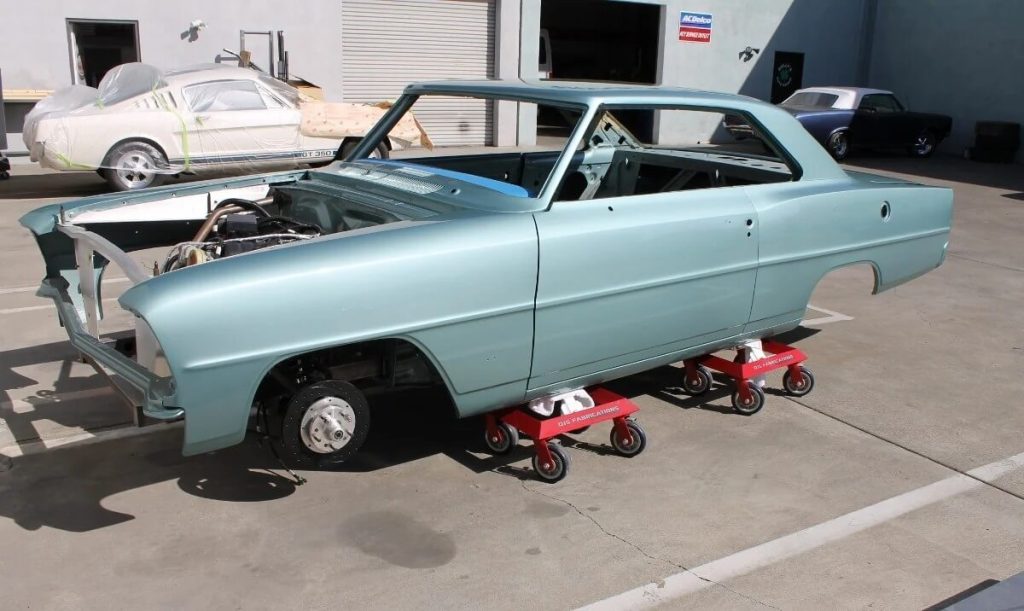 Buying Guide: What to Consider When Buying Car Dollies
As you may have realized, car dollies come in a few different types and forms. Therefore, to help you choose the right one, I've compiled a couple of things you might want to consider when shopping for car dollies.
Lifting Mechanism: Standard vs. Hydraulic
Based on the lifting mechanism, car dollies can either be standard or hydraulic.
Manual dollies require you to jack the car up before sliding them under; not a big deal but might be a drawback in some cases. It's the most common type and should be the go-to choice if you want a more affordable set. Occasional users looking for a robust dolly set for personal use will do just fine with a standard model.
Meanwhile, hydraulic dollies have a built-in hydraulic system to lift the vehicle without additional tools. Fitting a dolly under a car is then much easier and less time-consuming, perfect for professionals at the workshop who have to lift plenty of vehicles daily or for your next day at the race track. However, a set of hydraulic dollies is generally more expensive and less reliable over the long run.
Mount Location
Not all dollies are designed to fit under the tire — some more versatile models feature a saddle to support the vehicle by the frame or pinch weld.
If you plan to use dollies to move a vehicle with its wheels on, you can go for wheel-mounted models. However, if you plan to use them for a project or wrecked car with no wheels attached, you should go for those with a saddle that clamps directly to the frame/pinch weld. Frame mounts should be kept for project cars that will stay on the dollies for longer.
That said, some modern dollies like the Omega 47020 and DJS Fabrication Mobile Dolly Station offer multiple mount adaptors for a wider range of applications.
Weight Capacity
A complete dolly set (4-pack) 's rated weight capacity should withstand the whole vehicle's weight. Of course, for personal use, you just have to think about the weight of your own car. But for a repair shop or showroom, you may want to consider dollies with a higher weight capacity that can hold a broader range of vehicles.
Most cars, SUVs, and trucks weigh around 2000-6000 lbs. Since a dolly holds the weight of only one wheel, it should be capable of bearing at least a quarter of the car's weight. Thus, the safest bet would be going for a dolly with a load capacity of no less than 1500 lbs. When combined, all four of them could withstand a 6000 lbs. vehicle.
No need to mention, you should never use a dolly on a vehicle beyond its weight limit to avoid any unwanted accident. It's always wise to check your vehicle's curb weight beforehand (you can find this information inside your owner's manual or on the driver door jamb's tag ).
Chassis Size and Material
Holding such a mammoth weight, you want nothing but a rugged dolly construction. Hence make sure the model you're after is made of robust material, like steel. Powder coating is a neat plus, thanks to its rust-resistant property, significantly increasing the lifespan.
When seeking a dolly that mounts on the wheel, you also need to mind the size of the plate/frame. Make sure it fully covers the tire's width—12 inches is the benchmark here. Also, it's preferable if the plate has a diamond pattern for added grip, like the ones featured in WEN 73017T and Pentagon Tools 5051 we covered earlier.
Meanwhile, dollies that mount to the car's frame or pinch welds should come with a sturdy metal saddle/saddle adapter. Make sure the arm is strong and the saddle fits nicely onto the clamping point. It's even better if the top part is foamed to protect the pinch weld/frame from scratching or bending. In addition, look for a set that can lift your vehicle to a decent height, like the OTC Tools 1572, with its adjustable saddle height ranging from 9-14 inches from the ground.
Casters and Brakes
One of the most critical aspects of a dolly is the swiveling casters. There are usually four of them, and each one is mounted under the chassis by a bolted caster plate. You want to make sure all the bolts are as tight as possible, so the casters don't come off all of a sudden.
Further, these casters are offered in a few different materials, but the most common ones are steel, nylon, and phenolic. You can't go wrong with any of these, as they're highly durable, chemical- and oil-resistant, and able to protect the floor from damages. Also, while not a deal-breaker if absent, wheel brakes help improve stability, especially in garages with uneven surfaces.
Worth noting, casters do have their lifespan, and how soon it's going to fail depends on how often and how careful you're using the dolly. Fortunately, getting a caster replacement is often possible and probably won't break the bank.
Set Quantity
Car dollies are often sold in either a 2-pack, 4-pack, or just a single pack. Of course, you'll need two dollies to move the car in most cases, which makes buying a single unit somewhat pointless. So ideally, you want to go with either the 2-pack or 4-pack one.
A 2-pack will allow you to lift either the front or rear wheels to pivot the car. However, if you want a full 360 degrees of freedom, you'll need a 4-pack.
That said, most manufacturers are still selling single packs, just in case you break one of your dollies and need a replacement unit. It's also useful in the case of needing to move a car that only has one missing/stuck wheel, which is a smart temporary solution nonetheless.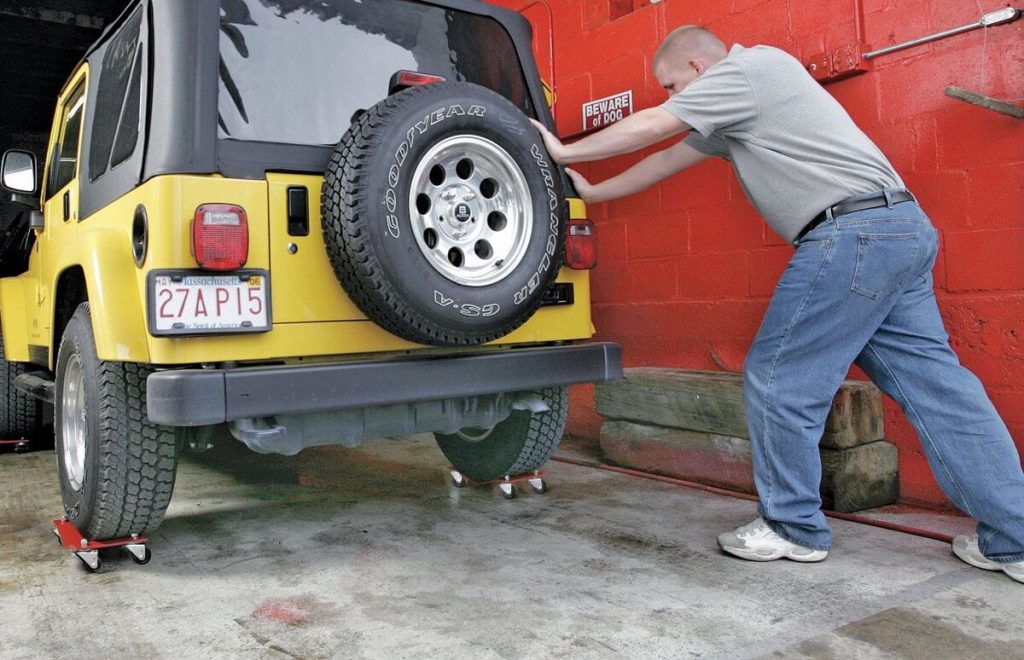 Frequently Asked Questions (FAQs)
What are car dollies used for?
Car dollies are primarily used for moving vehicles in tight spaces, or whenever they can't be moved any other way. They also help you clear up some areas in your garage for supporting your DIY activities or even just to make room for more cars. Some people also use them to move heavy car parts or furniture over short distances.
Workshops also use them daily to move vehicles out of the way—they come especially handy when trying to move a car without having to go get the keys. Have a car with no front end and the supplier just told you the new clutch won't come for a week? Just slap two dollies under there and you'll at least be able to move the car out of the bay so you can do something else in the meantime.
Car showrooms and museums also rely on car dollies to assist them in arranging their vehicle display. All in all, car dollies are useful for a ton of things and since you made it here, you probably need some, right?
Are car dollies safe?
Car dollies are safe when used correctly. But of course, you should always install them carefully and never try to carry a vehicle that exceeds the weight limit. No need to mention, it's always a good idea to have a partner/spotter when moving a car on dollies.
Moreover, when using dollies placed under the wheels, be careful not to push too hard on the car, or it might slide off the dolly (hence why pinch weld clamps are much safer).
It's also advisable to store them properly when not in use. Leaving car dollies mindlessly in the middle of the garage creates a trip or slip hazard. Thus, keep them stacked in a corner or hang them up on a wall using a garage pegboard to declutter the space and prevent potential injuries.
Can I use car dollies to transport a vehicle on the road?
Absolutely not. The car dollies we're discussing here have small casters only suitable for indoor use, only on short distances and at walking speed. For transporting a vehicle on the road, you'll need a full-size tow dolly with proper wheels and tires to be used on the road at higher speeds.
Verdict
While there are many great car dollies out there, your choices are usually narrowed to whether you want to get a standard or hydraulic unit. If you are looking for a standard model, the basic WEN 73017T is a pretty good option. It's cheap, grippy, and has a more than sufficient weight capacity.
However, if you want something more robust and versatile, the Omega 47020 is your best bet. It has a higher weight capacity than most and comes with adapters for a universal fit. Or even you can go with the full-blown DJS Fabrication Mobile Dolly Station for the best of the best dolly set money can buy.
On the contrary, if you're looking to get things done fast with hydraulic dollies, you can't go wrong with either the OTC Tools 1580 or the Eastwood 30551. Nonetheless, always remember what your needs are and get a set that suits you most. In short, there is no need to shell out the big bucks for something you'll only use once a year, but you should also be ready to spend a little more if you'll be using them 40 hours a week in the shop—no to mention that, when it comes to tools, cheaping out is rarely a good idea anyway.