Seeing your reflection on your car's hood is every car enthusiast's dream. If you feel like you fall in that category, then the TORQ 10FX is the polishing tool you should have in your garage.
The company advertises this product as a professional tool for polishing your car at an affordable price. I decided to put that to the test and do a quick review to see if the TORQ 10FX is as good as claimed.

Main Features of the Chemical Guys 10FX Polisher
Long power cord
It's not something that usually gets on the top of the list, but it's essential. I feel like long cables are necessary for these kinds of products, especially if you plan on using it professionally and the TORQ 10FX doesn't disappoint. The cord is almost 10 feet long, which puts this product near the top when it comes to cable length. You will have no problem going around your car in the garage without the need to think about finding extension cords. Even if you polish it in the driveway, you may still manage to pull it off.
Powerful and quiet
These two rarely go together in a sentence, but trust me, they do here. The TORQ 10FX has a 700W motor that may not be the most powerful out of all polishers on the market, but it's no slouch. It will go through any marks and scratches, leaving your car with a shiny surface.
Even though it is not whisper-quiet, it is far quieter than most other models I tried.
Multiple speed settings
Having a powerful motor means nothing if you cannot control the rotation speed. Luckily, the TORQ 10FX has 6-speed settings ranging from 1,500 to 4,200 OPM. When combined with the digital setup, this feature provides the utmost control. Another advantage of digital control is the lack of jerky movements when changing speed. When you power it on, it starts spinning gradually, and the same happens when you go from one speed to another.
Handling and ergonomics
Polishing tools, or any kind of tools for that matter, are usually designed for right-handed use. While that would be ideal for most people, left-handed ones will definitely struggle. Fortunately, the TORQ 10FX is designed to be used by left and right-handed people.
Furthermore, internal components are spread out throughout the body of the machine, ensuring that the TORQ 10FX is well-balanced so you won't feel it pulling to one side or the other when using it. The machine will handle smoothly and will enable you to be precise.
In addition to that, the built-in vibration reduction technology will make sure that you don't put too much stress on your wrists. While it is not the lightest polisher in the world, it is still reasonably light.
Safety
Machines with high OPMs are often seen as not very safe to handle, but TORQ 10FX changes all that. We already mentioned the slow start option, meaning that getting surprised by the spinning motion is nonexistent.
However, the polisher is also equipped with a feature that protects your car from ending up with burned paint. When polishing a car correctly, inexperienced users may apply too much pressure, which can burn the clear coat. Luckily, the TORQ 10FX monitors the pressure and stops spinning if you apply too much.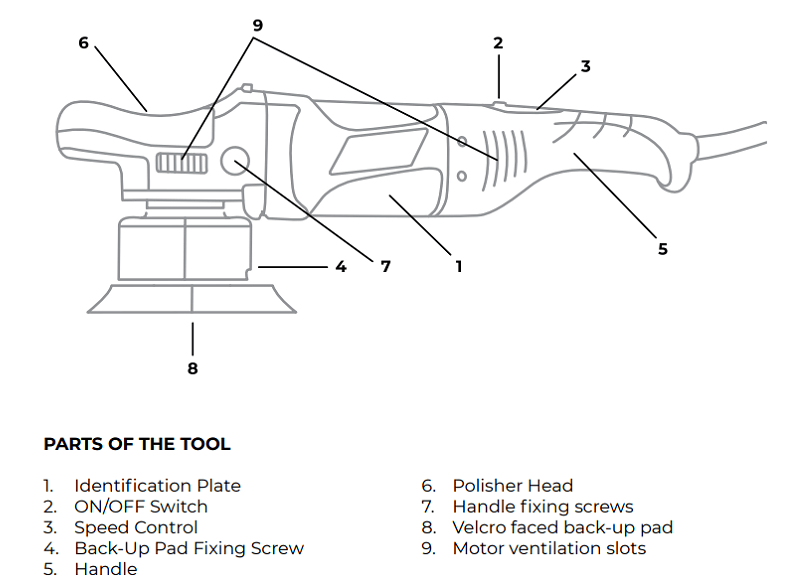 Pros
Relatively light compared to some of its competitors
Powerful motor
Slow start and gradual speed changes
Works with pads from 3 to 6 inches
Spinning stops when you apply too much pressure
Cons
Controls are not in the best position
You get only 5-inch pads in the box
Polish not included
Highlighted Features
Easy to handle
Digital controls
Long cord
Lots of safety features
Powerful
See Also: Best Car Buffers and Polishers
FAQs
Which pads will work with this polisher?
The polisher can work with any pads, as long as they are from 3 to 6 inches. Keep in mind that you may need to purchase a bigger backing plate as well.
Will it be able to remove scratches?
It depends on the scratches. Polishers are generally used to eliminate paint defects and add some shine to it. With that said, it may be able to take care of some smaller scuff marks, but don't expect it to be a miracle worker.
Can I use the TORQ 10FX for waxing?
Yes. Even though the machine is a polisher, you can also use it for waxing. Before you do, though, make sure you replace the pads.
Can it work with batteries?
No. You need to plug it into a wall outlet to use it.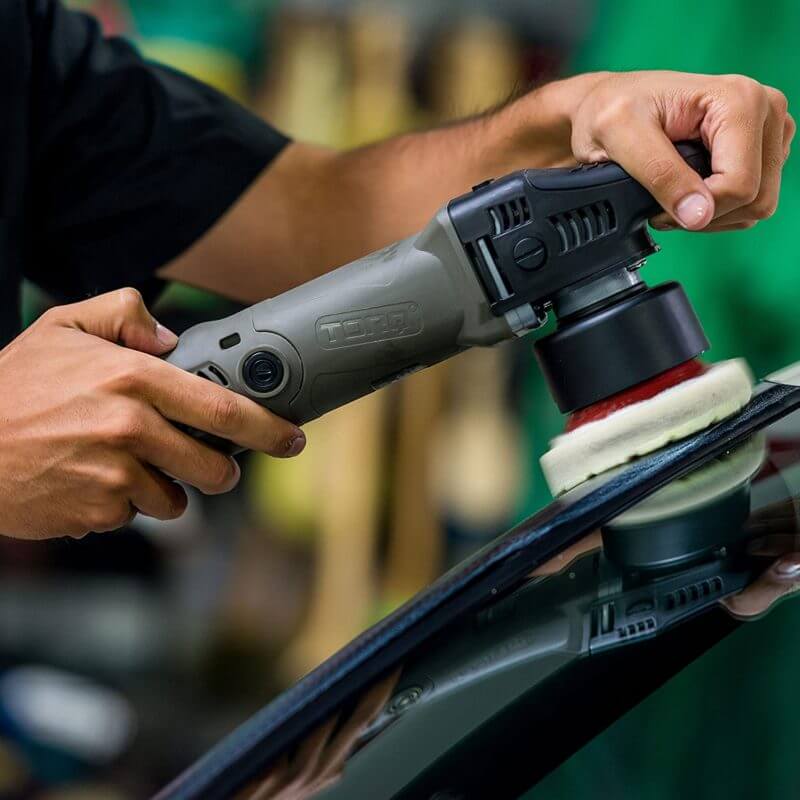 What should I do if the cable is not long enough?
You can plug the TORQ 10FX into an extension cord to get the job done. Make sure that you are using a cable rated for the power requirements of the machine.
Can I use this machine on something else?
Yes. You can use it on other areas of your car, like the headlights as well as your windows and windshields. You can also use it to polish fiberglass or other shiny surfaces like granite or marble.
Does it come with a polish solution in the box?
No. You will need to purchase the polish or wax separately.
In Brief…
Many people rarely think about polishing their cars, especially if they drive an older one. When they decide to polish it, they take it to a professional, which can set them back a hefty sum. In that case, buying a polisher and bringing back your car's paint to its original shine will not only make you save hundreds of dollars but will also significantly increase your vehicle's resale value.
The TORQ 10FX is a perfect choice for professionals and beginners alike. Pro detailers will appreciate its weight and anti-vibration technology, making sure to prevent fatigue and injuries that may arise after hours of polishing, day in/day out. On the other hand, beginners will benefit from its ease of use and user-friendly digital control.
If you fancy a good polish on your car, you should look into the TORQ 10FX right away!
Happy polishing!
Sale
Chemical Guys BUF_501 TORQ 10FX Random Orbital Polisher
PROFESSIONAL GRADE - Combines power and precision for both professionals and enthusiasts.
VERSATILE USE - Easily switch between various pad sizes and adjust speeds for diverse...
DIGITAL CONTROL - Onboard digital speed adjustment with a display ensures precise control...
ERGONOMIC DESIGN - Updated grips and balanced weight distribution make it comfortable and...
BUILT-IN SAFETY - Mechanical safety features prevent damage to paintwork, especially on...