There are a few great looking, full-sized refrigerators designed specifically for the extreme temperatures that are oftentimes found in the garage or workshop, like the popular Gladiator Refrigerator, for example. And while those are cool (pun intended), they're big and upwards of $1200. Sometimes, we just want to chill a few brewskies for that weekend project.
For that, we searched around for some mini-refrigerators that would look great next to the toolbox or workbench. There are a plethora of mini-refrigerators out there, but we wanted that garage look. Here's what we found:
In the middle of the price range is the cleverly-named Whynter portable tool box mini-fridge. This unit also doubles as a rolling tool chest, but with two locking drawers. The Whynter is a bit smaller overall, but the interior is the same 1.8 cu ft. This one also sets on four swivel casters and weighs in at ~77lbs. In fact, if you look at both closely, the Whynter looks almost identical to the Versonel, which you will see next, but is a little shorter by a drawer.
Igloo/RCA, best known for its beach and party coolers, has this quasi-toolbox-looking mini-refrigerator available with much more room inside (3.2 cu ft) than the Versonel and at a fraction of the cost. The Igloo isn't nearly as legit looking as the Versonel—which IS actually a toolbox and a fridge—but, for the price, it's definitely the better buy if you don't care about the tool drawers and can deal with the flat, modern faux toolbox look. This fridge also includes a crisper drawer to keep fruits and veggies fresh… just in case you want a carrot while you work on the car.?
Update: This Toolbox Refrigerator is unavailable currently.
The Versonel is, by far, the coolest looking and most expensive mini-refrigerator we found, but also doubles as a rolling three-drawer tool chest. Available in both red and blue (shown at the top of this post), the Versonel would look great next to almost any tool chest.
Weighing in at about 77lbs empty, the 1.81 cubic foot mini-refrigerator is 31.83″ high, 17″ deep, 18.80″ wide, and rests on four 3″ locking swivel casters. The temperature range of this unit is between 32°F to 50°F. It does not include a freezer, but the user manual warns that some beverages may unintentionally freeze if the unit is dialed-in to its lowest temperature setting.
MOPAR Limited Edition Mini-Fridge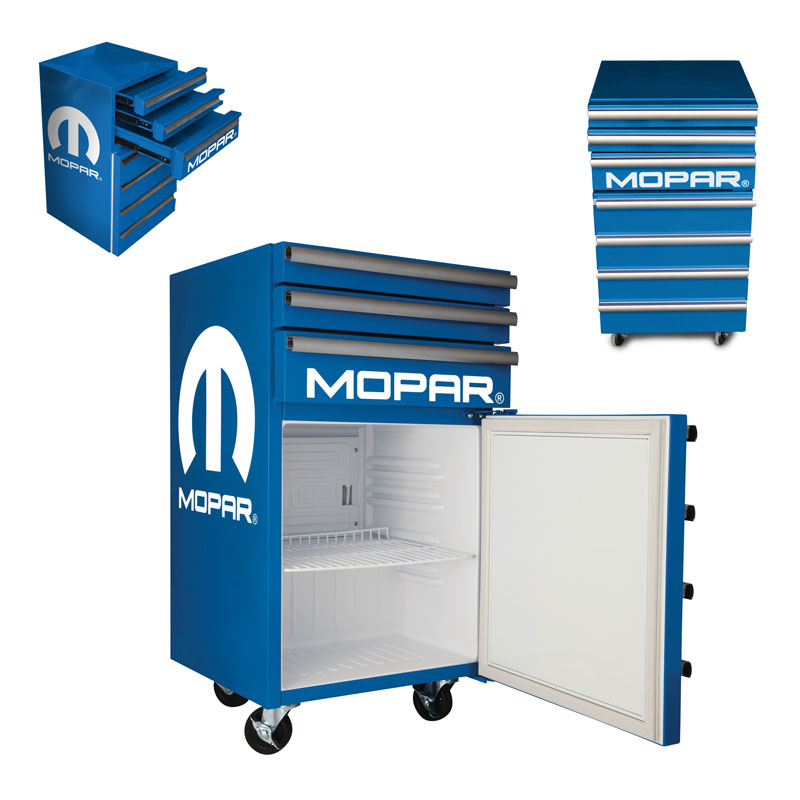 If you're a MOPAR fan, there's a limited edition mini-fridge/toolbox combo available that's very similar to the Versonel fridge, as well, with its three sliding tool drawers—two smaller drawers on the top and one larger under those adorned with the MOPAR brand.
A tad smaller than the Versonel overall, the MOPAR fridge measures 17.13″ W x 20″ D x 28.35″H with an internal capacity of 1.8 cu ft. Like the others, this unit rests on four swivel casters, two of which can be locked. The MOPAR mini-refrigerator runs at either 110V/60 Hz or 200-240V/50Hz. The temperature range of this unit is adjustable between 32°F to 50°F.
Update: This Limited Edition mini-fridge is no longer available.
If you want to save some bucks, the sliding tool drawers don't matter to you, and you want a mini-fridge that looks super-cool, you can wrap your own. There are lots of mini-fridges available, but do make sure you do some research to ensure the one you choose will withstand the extreme temperatures in your garage.
A little company called RM Wraps (which stands for Randy Miller, the artist who designed the wraps) has some sweet mini-fridge wraps, most starting at around $65. Custom designs are also available and they do lots of those, too. The wraps are easy to install, and Randy's got a few videos showing you how it's done. Cool stuff.
Related Reading: Find out other best garage refrigerators and freezers from our reviews and buying guides for 2021!
➩ Best Refrigerator For Garage
➩ Best Upright Freezer For Garage
➩ Best Chest Freezer For Garage