EDITOR'S PICK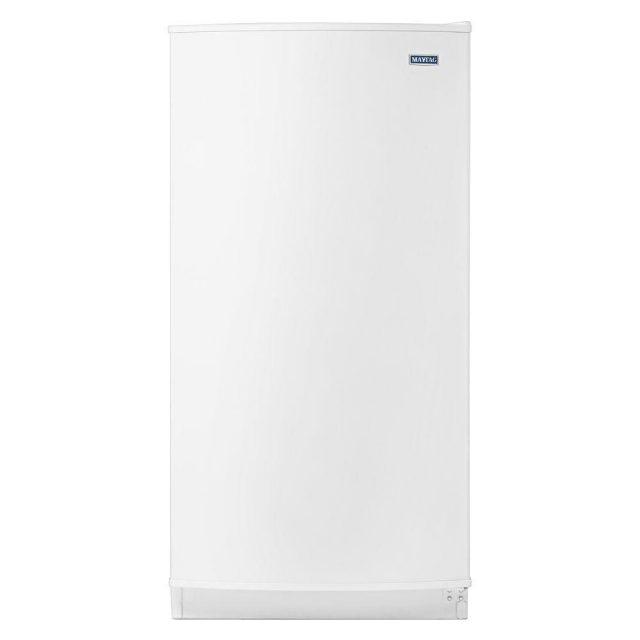 Maytag – 15.7 Cu. Ft. Frost-Free Upright Freezer
Wire shelves
Compact
The door can be set to open both ways
No-frost and fast freeze
PREMIUM PICK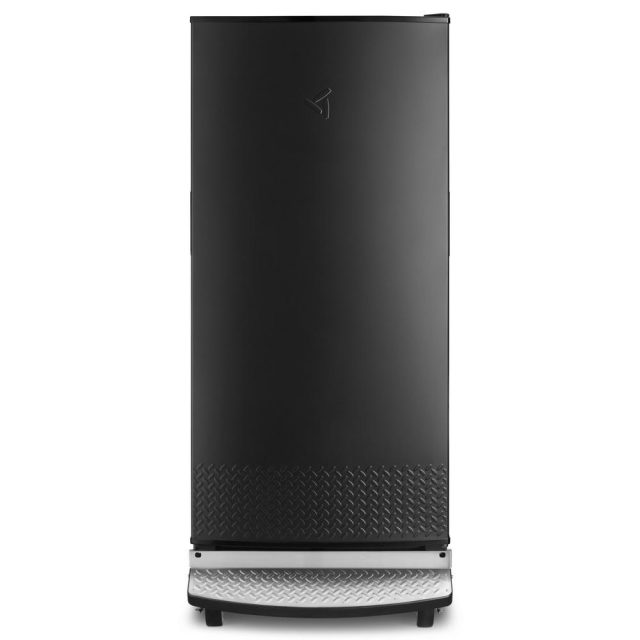 Gladiator 17.8 Cu. Ft. Upright Freezer
Durable wire shelves
Wheels make it easy to move around
You can open the door with a pedal
Designed to be durable in harsh conditions
BUDGET PICK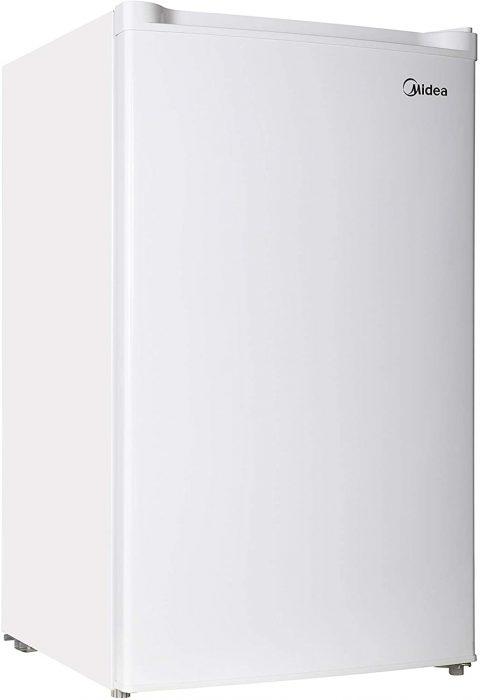 Midea WHS-109FW1 Upright Freezer
Wired shelves
Decently sized
Adjustable legs
Door hinges can be placed on both sides
Most home appliances are designed to be kept indoors. When it comes to refrigerators and freezers, you probably have them in your kitchen. The main reason is that they are designed to work in specific temperature ranges that you won't find outside your home's comfort.
However, what if you want to have an additional freezer in place with slightly harsher conditions, maybe your garage? Well, a regular freezer would not work, but luckily there's a solution – garage freezers.
While these appliances will function just like an ordinary one, they are designed and built differently. The main advantage they have is that they can work in freezing and hellish temperatures.
Lucky for you, today's review list will cover the best five upright garage freezers. As a bonus, there's a guide on picking the best one for you and a section with frequently asked questions.
Best Garage Upright Freezer Reviews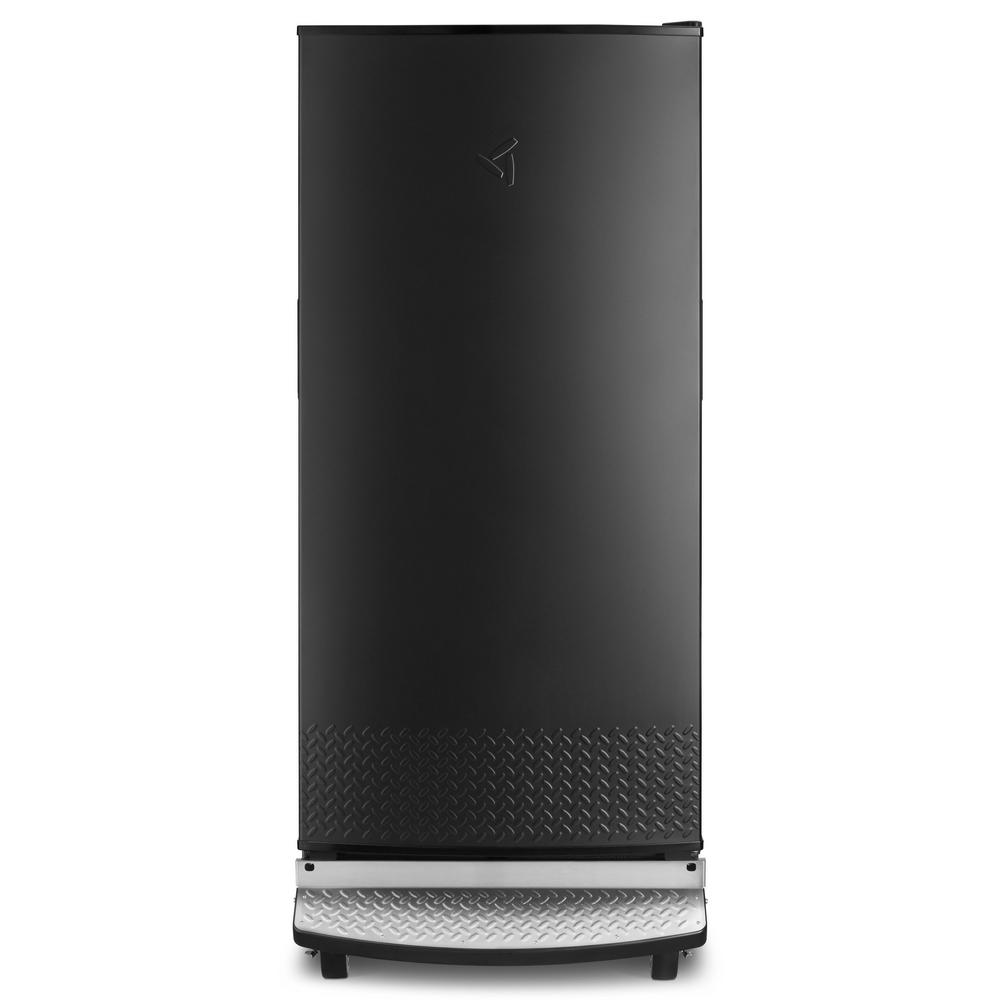 Our favorite product is the Gladiator 17.8 cubic feet freezer. As the name suggests, the freezer has a volume of 17.8 cubic feet, which is not the most but should be plenty for most use case scenarios. On the inside, you get three wire shelves and two wire baskets, and four bins. All 4 are half-width of the door, so you are free to arrange them in any way you seem fit. Considering this is a garage freezer, you get a full hammered granite exterior, ensuring it won't scratch as easily as the others on this list.
Something unique about the Gladiator freezer is how you open it. Unlike its competition, you can use the steel footplate to open the door when you have your hands full. Another great thing about it is the wheels. While most freezers have rubber or metal stands, this one has wheels, meaning that moving it around your garage will never be a problem.
When you're buying a garage freezer, you expect it to be able to cope with various temperatures, and the Gladiator doesn't disappoint. The rated working temperature is from 0 degrees Fahrenheit up to 110. Thus, that no matter how hot or cold it is outside, it will work without a problem.
Pros
Durable wire shelves
Wheels make it easy to move around
You can open the door with a pedal
Designed to be durable in harsh conditions
Cons
Not the biggest one on the market
Slightly higher estimated power consumption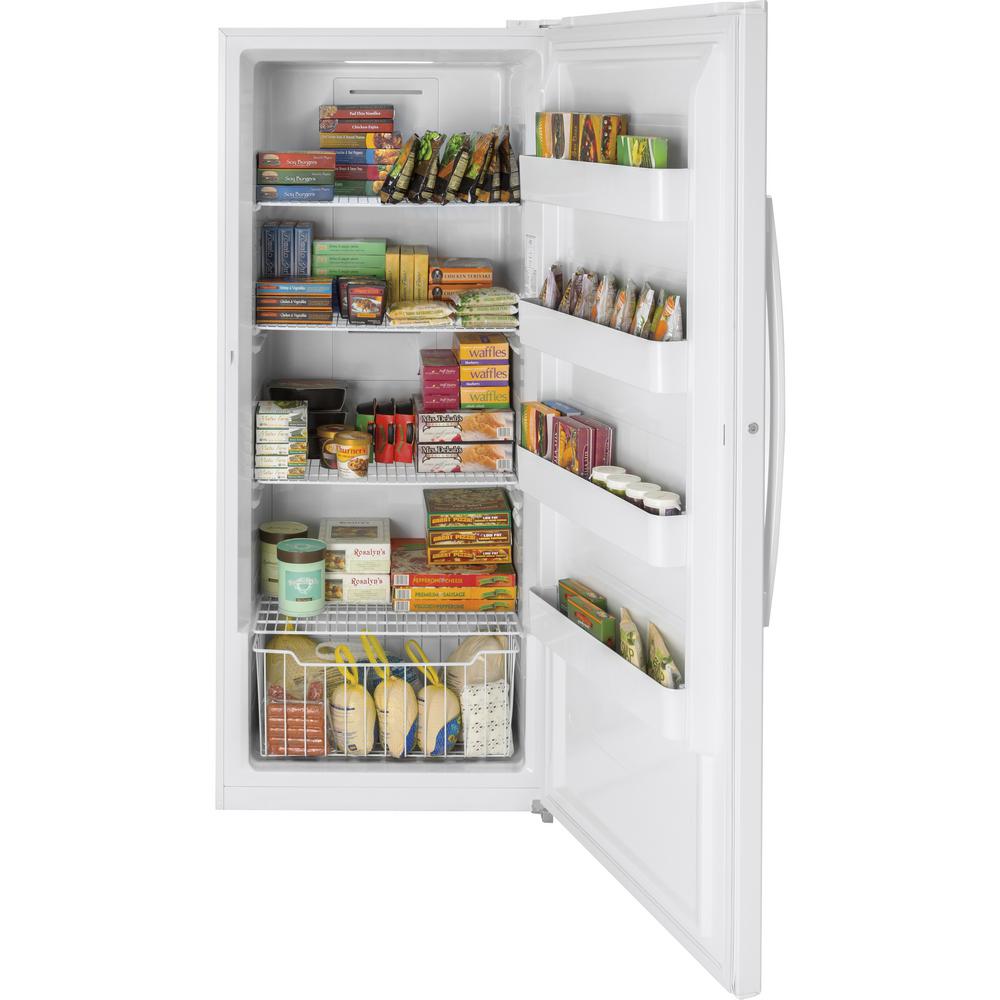 If black is not your color and you are looking for something with a bigger capacity, you should check GE's upright garage freezer. With a capacity of 21.3 cubic feet, this model takes the crown as the biggest one on the list. Inside, you get two fixed and two adjustable glass shelves, four bins along the door's full width, and two drawers for storing food. While you have a bigger area for storing things, I'm not a huge fan of the glass shelves. Even though they are not likely to break, they are still more fragile than wire shelves.
Also, although GE's garage freezer is bigger, it is lighter than the Gladiator, which is a slight drawback. The lighter weight means that it is not as resilient to scuffs and scratches. Also, moving it around the garage may not be as easy because the freezer only comes with adjustable legs.
Nonetheless, the temperature controls are on the outside, meaning that you won't need to open the door when you want to adjust it. Even if you frequently open the door, the no-frost technology will ensure that you won't have to clean ice build-up.
Regarding the operating temperature, you get the standard range of 0 to 110 degrees Fahrenheit.
Pros
One of the biggest upright freezers in the class
Plenty of storage area inside
No-frost technology
Efficient
Cons
Not as robust as some of the other models
Glass shelves are not as durable as wired ones
See Also: 5 Best Garage Chest Freezers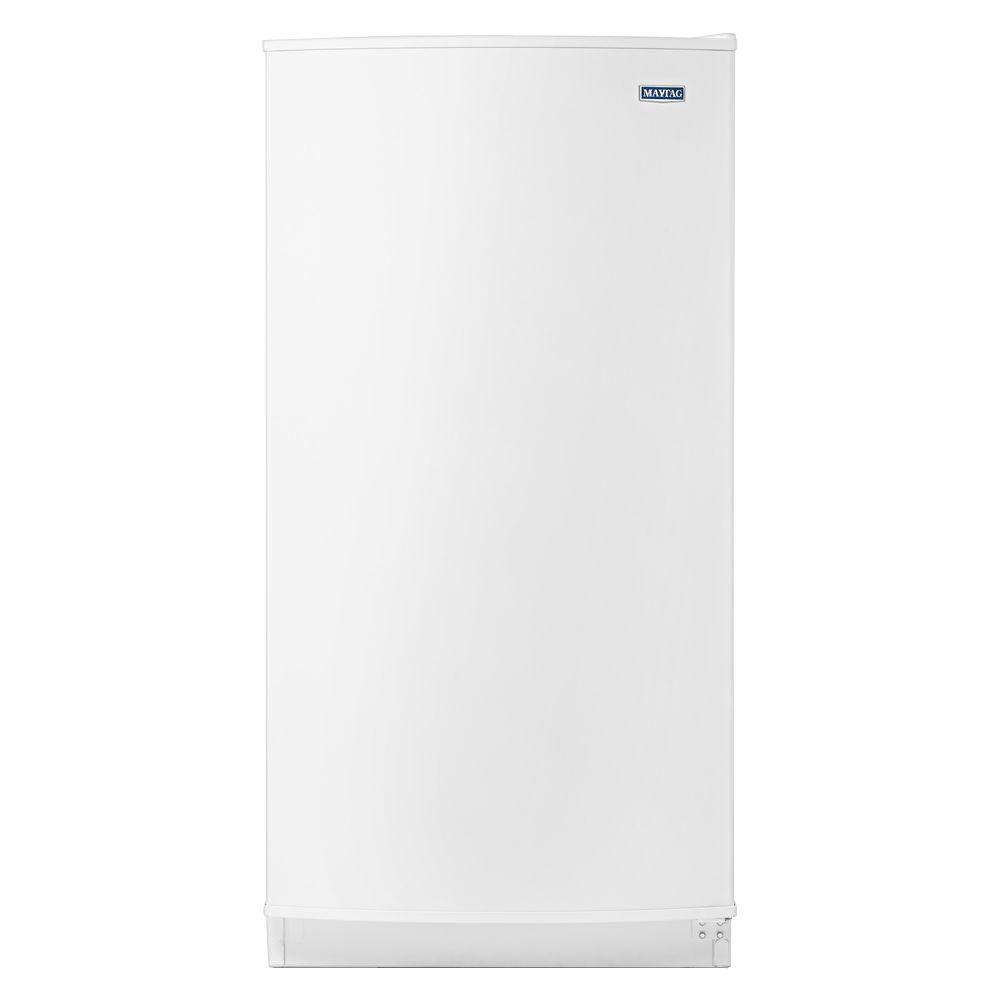 The last of the "big" upright garage freezers on this list comes from Maytag. It has a capacity of 15.7 cubic feet, which is not a lot.
On the other hand, considering the price tag, it may be the right choice for you if you don't need a giant freezer. The internal storing area is also nothing to brag about. You get three adjustable shelves, one big basket, and five-door bins. The good news is that the shelves are wired, meaning they are more durable than glass ones.
Weight-wise, Maytag's garage freezer is far from the lightest one, considering the size. As for the exterior build, you shouldn't expect it to take a heavy beating.
It's not all negative, though. You can move the door hinges from one side to another to ensure that you can fit it anywhere, regardless of the orientation.
Also, like most freezers on the market, cleaning ice from it is a thing of the past, thanks to the no-frost technology. In addition, there is a fast freeze option, enabling the freezer to keep the lowest possible temperature for up to 24 hours.
Pros
Wire shelves
Compact
The door can be set to open both ways
No-frost and fast freeze
Cons
Not the most power-efficient
Most competitors have a bigger capacity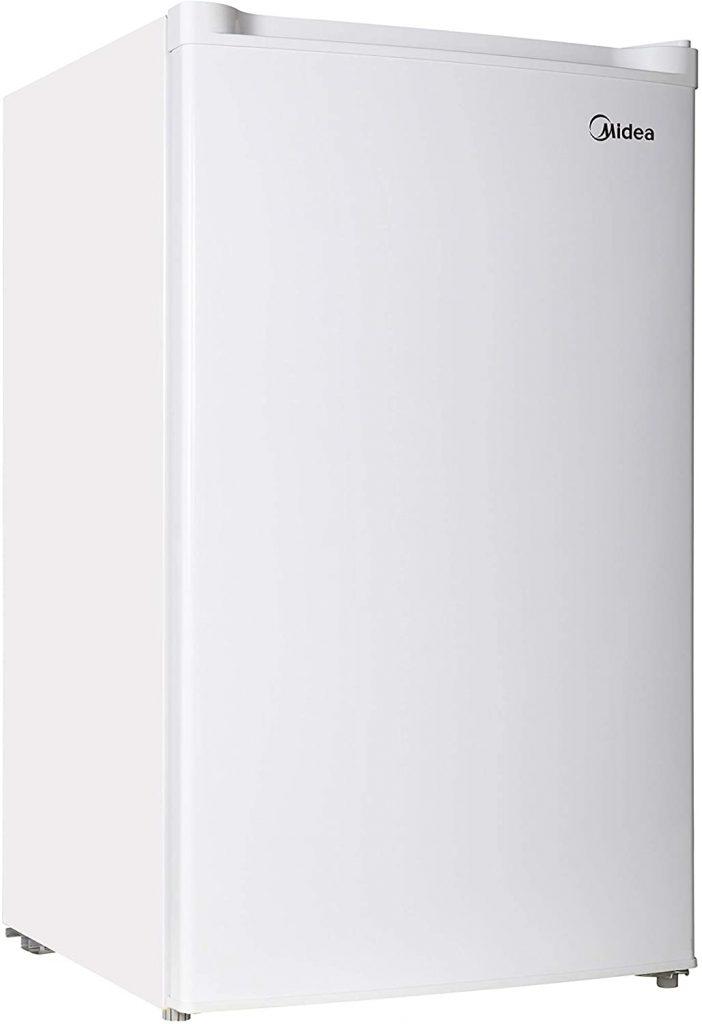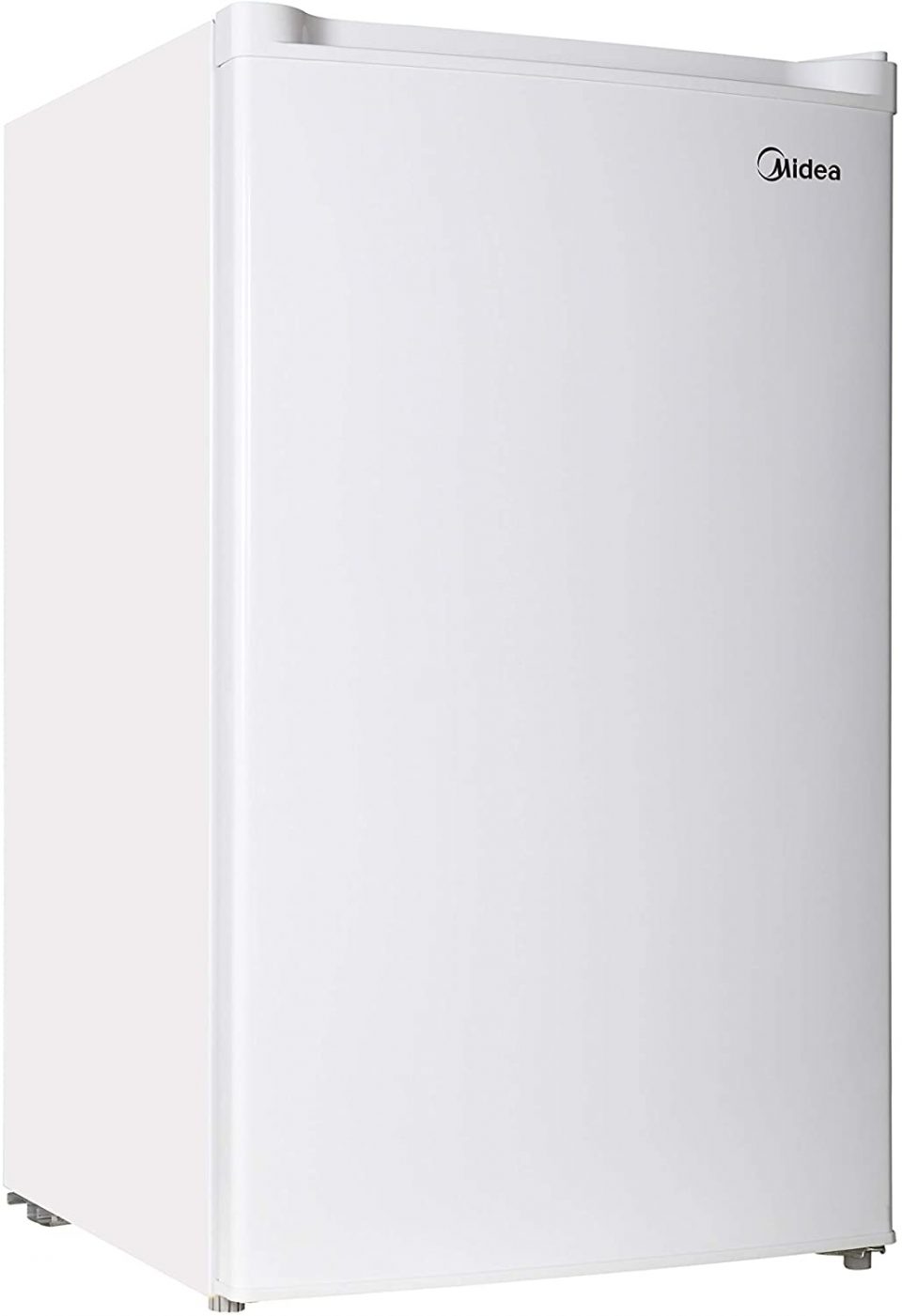 Moving away from the oversized garage freezers, we reach a model from Midea. The capacity rating is 3 cubic feet, so you won't get as much storage as the other three on this list. With that capacity, you can store up to 105 lbs. of food. Keep in mind that this is an excellent choice if you are tight with space or don't need to store too much food.
Inside, you get two shelves and one basket, all wired. However, the shelves are fixed with no adjustment option. Another thing to keep in mind is that there are no door bins like on the bigger models.
Considering that this is a cheaper and smaller upright freezer, don't expect too many features. The temperature controls are mechanical, and ice-buildup is a possibility. Good news – the manual defrost option will help you with the latter.
Luckily, you can set the door to open both ways, ensuring flexible usage. Considering the freezer's size and capacity, it is also relatively lightweight, meaning you will have no problem moving it from one side to another in your garage.
Pros
Wired shelves
Decently sized
Adjustable legs
Door hinges can be placed on both sides
Cons
Ice builds up and will need to be cleaned
Child lock feature only available on the black model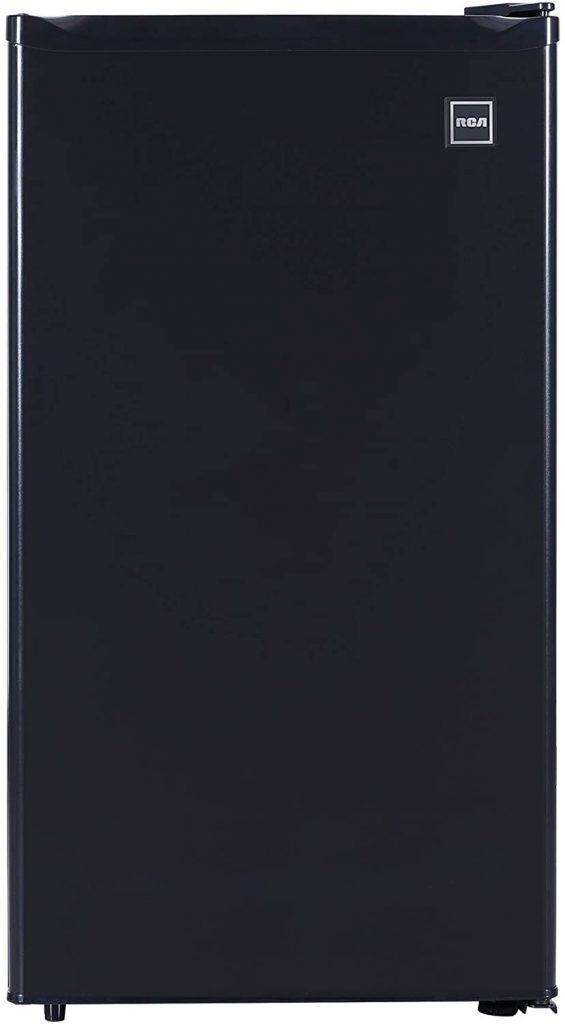 Black vs. white seems to be an occurring theme in this article. As a competitor to Midea's white freezer, we have RCA's black model. With a slightly bigger capacity of 3.2 cubic feet, you are getting a bit more storage space. To store your food, you get two adjustable shelves and a few more storing spaces on the door. Unlike the previous model, you don't get a basket, and the bottom of the freezer acts like a fixed shelf. The bottle holders on the door are metal, while the shelves are glass.
When it comes to additional features, you get more or less the same as with Midea. The door is reversible, enabling you to open it either way if you need to. Meanwhile, the temperature controls are mechanical, and the ice-build up is not something you can avoid – you will need to defrost the freezer to get rid of those icebergs.
RCA's freezer is slightly bigger, but they managed to make it lighter than some of its competitors. Regarding performance, the compressor will ensure that the freezer keeps the temperature stable at all times.
Pros
Slightly larger and lighter
Adjustable legs
A reversible door that can open both ways
Drink holders on the door
Cons
See Also: Best Garage Refrigerator
How To Buy The Best Upright Freezer For Your Garage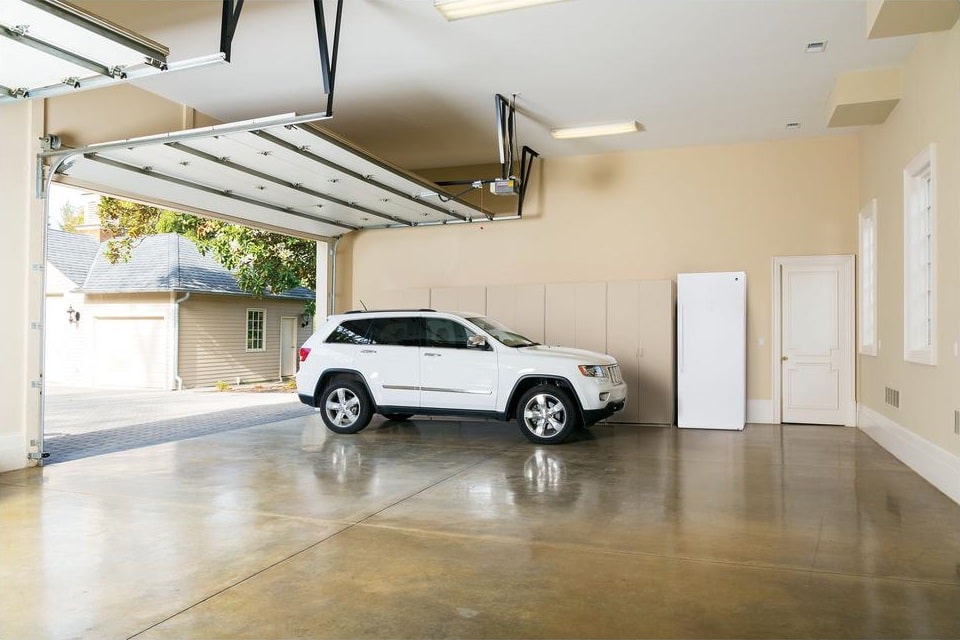 If you are on the market for an upright freezer for your garage, there are several things you need to consider before you make the purchase.
The first and main one is size and capacity. If you need to store large amounts of food, you should check out one of the first three suggestions on this list. But, if you don't store as much food, you could probably get away with a smaller option. Another thing to consider is size. Not all freezers are the same – some are smaller, others are larger, despite having similar internal capacity. Thus, make sure you measure the area before purchasing one.
Next up are the additional features. For example, if you plan to move your freezer around, then get one that has wheels. Also, the inside's layout is unique, so to get the most out of it, check the number of shelves or door bins. Some freezers don't have the option to have the door open both ways, and if the side it opens from the factory works for you, then go for it. However, if you want to have some flexibility when you decide to move the freezer, having one with a reversible door is a good choice.
Efficiency is one thing that very few people pay attention to. Having an efficient freezer means that the power consumption in your house will be lower. In return, that means a lower electricity bill. Noise is something you probably won't worry about too much since the freezer will be in your garage. On the other hand, if having a quiet garage is essential, some freezers on this list are quieter than the others.
FAQ
Can I add additional shelves to my freezer?
It really depends on the model. Freezers with adjustable shelves have more shelve slots than they have shelves. Therefore, if the company is willing to sell you the shelves, you can add more.
How much space from the walls should I leave?
Freezers should have some breathing room, especially on the backside. Check the user manual for the minimum space you need to have between the freezer and the wall.
Can I use some old shelves from another freezer?
You can, but you need to check the measurements. The internal width is not the same with all freezers, meaning that some might be too wide, while others narrower.
How long is the power cord on a garage freezer?
The cord length is not the same for all freezers. Overall, don't expect it to be more than a few feet. If the length is not enough, you can always plug it into an extension cord.
Can I keep a garage freezer in my yard?
You can, but you shouldn't. Even though these freezers work in harsher temperatures, putting one in the yard is not recommended. Dirt, leaves, or grass can easily find its way into the motor, causing problems. Also, keeping the freezer in the yard means that it will not be protected from rain, which can also be an issue.
Will the freezer have the same temperature in winter and summer?
Yes. The freezer keeps the inside temperature constant. Once you set it to a specific temperature, it may take a while to reach it, but it will remain stable once it does.
Why does my freezer get warm?
It is normal for the freezer's sides to get slightly warm. On the other hand, if you notice that they get too hot and the freezer doesn't keep the food frozen, you should take it to the repair shop.
In Brief…
Garage freezers have picked up in popularity quite a lot over the past decade or so. And for a good reason – having one in your household is very practical. It means that you can have somewhere to keep your frozen food without taking up space in your regular freezer/fridge. If you are on the lookout for a garage freezer or want to replace your old one, our list of the best upright freezers for a garage will put you on the right track.