EDITOR'S PICK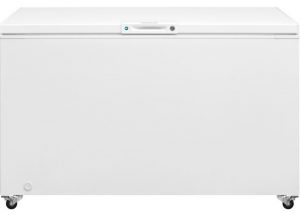 Frigidaire Chest Freezer
Lots of space
2 sliding baskets
Includes wheels for easy movement
Comes with lock and key
One year warranty
PREMIUM PICK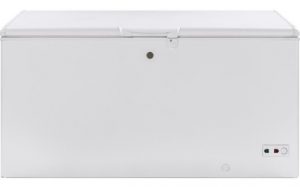 GE 15.7 cu. ft.Chest Freezer
Includes 4 sliding baskets
Has a temperature alarm
LED Light
Comes with a key
1-year warranty
BUDGET PICK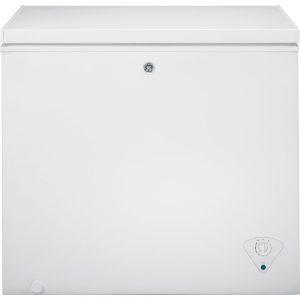 GE Garage Ready Chest Freezer
Most affordable option
Has a defrost drain
Garage ready
Very quiet
Great modern design
Regular freezers are great for storing frozen food. However, what happens when your freezer gets full? It may be time to start thinking about investing in a chest freezer.
A chest freezer opens up from the top, as opposed to standard models that open outward. These types of freezers will give you up to 20% more storage space.
When buying a chest freezer, the best option is to store it in your garage since you most likely can't fit another freezer in your kitchen. And no need to worry, most chest freezers can be stored in a room as cold as 0°F, whereas regular freezers cannot.
That being said, you can rest assured that the 5 freezers we have picked for this list can be stored in most garage climates.
If you do happen to live in a very cold location where temperatures go well under 0°F, then it would be smart to double-check the user manual, just in case.
Anyhow, in this article, we will cover the 5 best chest freezers for your garage and go in-depth on the pros and cons of each one to help you find the right one for you.
5 Best Garage Chest Freezer Reviews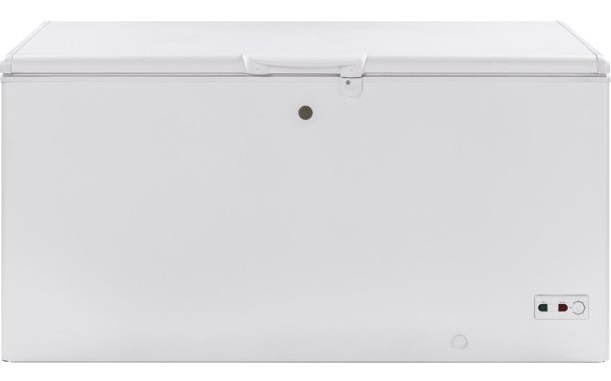 Taking the number one spot on the list is the Energy Star Chest Freezer. This freezer is sold garage-ready and can be safely used in temperatures as low as 0°F.
It comes with four slide-out baskets that make storing and finding food easier. It also includes a second rail that allows you to place baskets on different levels, allowing for easier access.
If that wasn't enough, this freezer also features a temperature alarm that will warn you if your freezer's temperature suddenly rises.
If you decide to wake up in the middle of the night to do some cooking, this model has an LED light that comes on when it's opened, providing you with the visibility needed to find what you are looking for.
Are your kids stealing all your food? No problem, this freezer comes with a lock and key, so you won't have to worry about any of your food disappearings!
If you decide to purchase this chest freezer, you can also sleep well knowing that it comes with a 1-year warranty should it malfunction.
Pros:
Includes 4 sliding baskets
Has a temperature alarm
LED Light
Comes with a key
1-year warranty
Cons:
Can sometimes frost up a bit around the edge of the baskets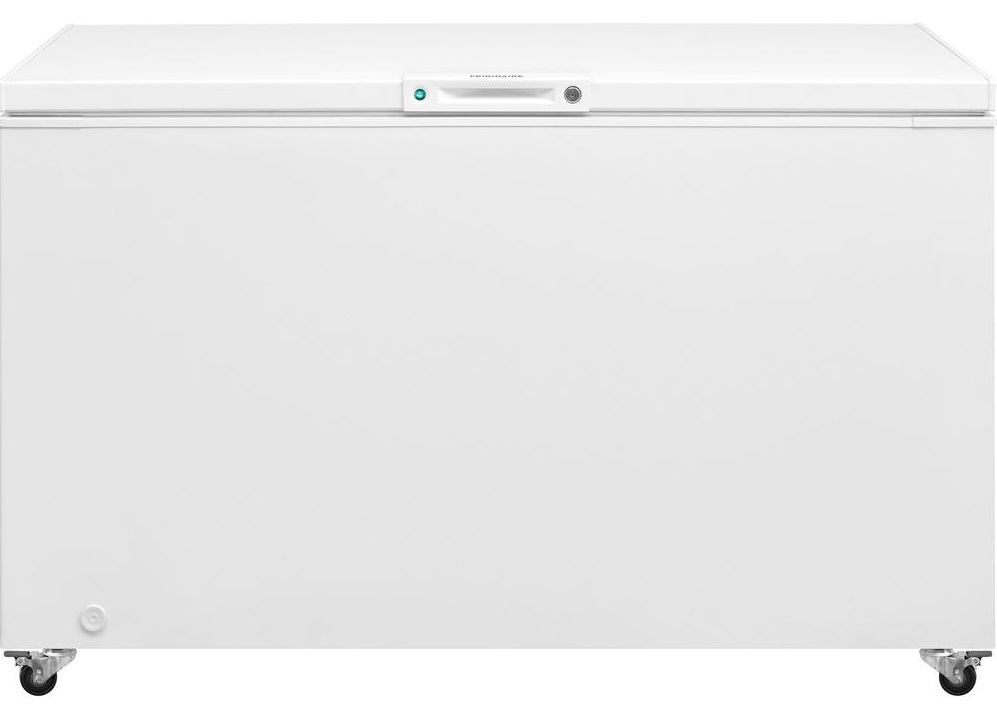 The Frigidaire Chest Freezer has a 14.8 cu.ft storage capacity giving you plenty of space.
Similar to the Energy Star Chest Freezer, the Frigidaire model comes with two sliding baskets so you can easily store and organize your food.
A great way to utilize the baskets is to use them to put the food that needs to be eaten first so that it will not get lost at the bottom of the freezer and go past its expiry date.
And when the day comes to move this freezer to a new location, you can do so easily as it comes with four wheels.
You can also adjust the temperature between -10° to 10°F using the dial located on the right side.
It also comes with a lock and key so you can rest assured knowing that your food is safe and will not go missing.
To top it all off, if you decide to go with this one, you'll be happy to learn that it comes with a one-year limited warranty.
Pros:
Lots of space
2 sliding baskets
Includes wheels for easy movement
Comes with lock and key
One year warranty
Cons:
Can build up frost from time to time
See Also: Best Upright Freezer For Garage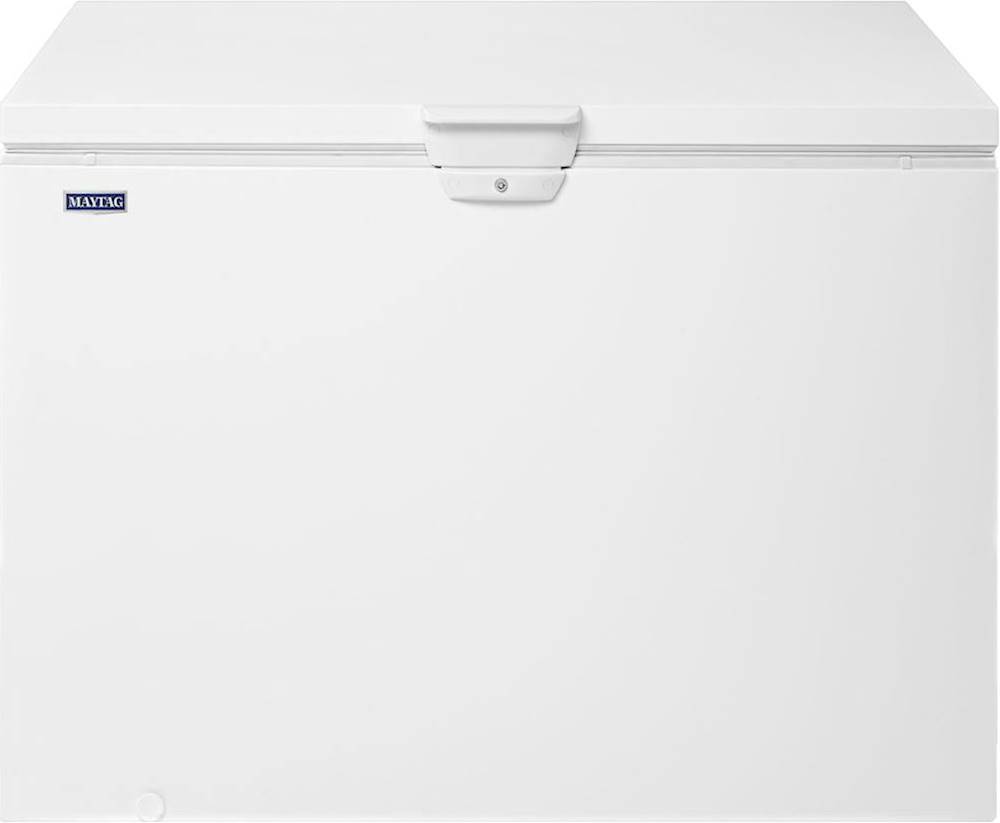 Like the previous two options on this list, this freezer is designed to be stored in your garage without the risk of being damaged by cold weather.
It features a defrost drain that allows for easy cleaning and thawing. After purchasing the Maytag model, you will have the option to control the freezer's temperature using the exterior temperature control knobs.
If for whatever reason, you believe somebody is stealing your food, this freezer comes with a lock and key that will prevent anybody else from having access to it.
If that wasn't enough, Maytag will also supply you with two baskets for easy storage and organization.
It also includes an interior LED light, which will make it easy to find what you are looking for if it is dark in your garage.
Pros:
Garage ready
Defrost drain
Temperature control knobs
Includes lock and key
Comes with two baskets
Cons:
The setting panel is located on the back of the freezer as opposed to the side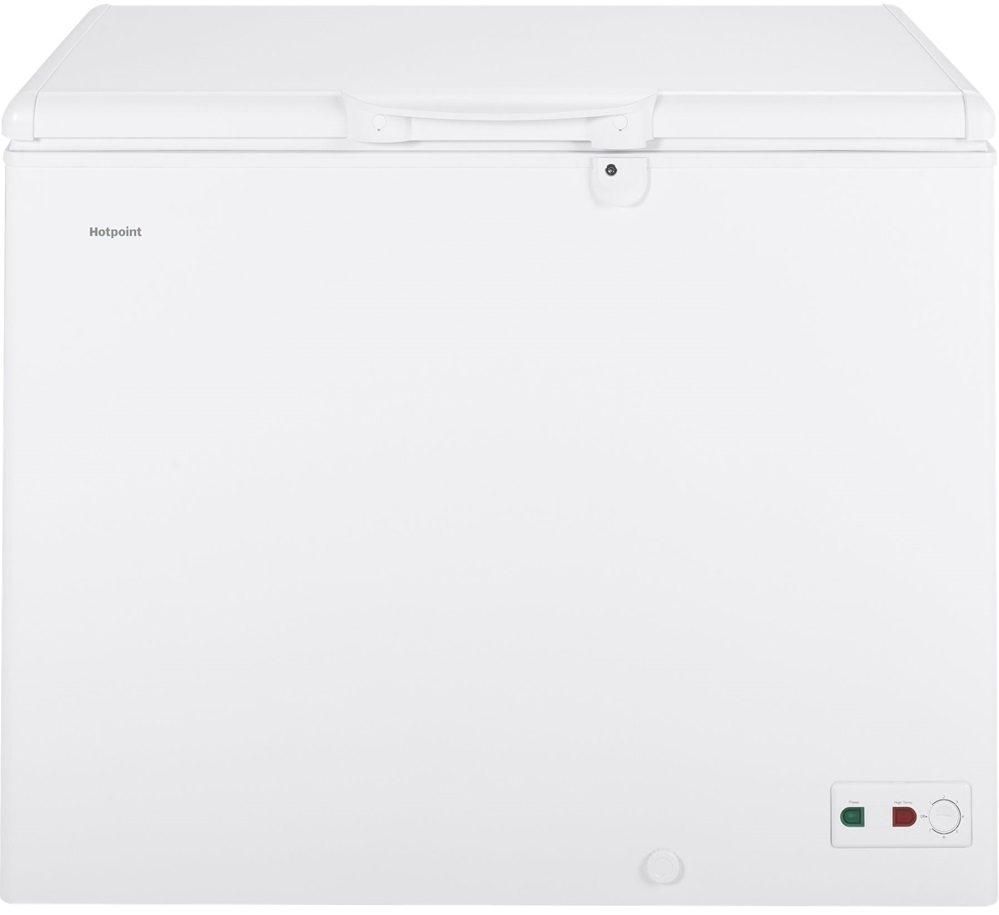 Taking the fourth position on this list is the Hotpoint Manual Defrost Chest Freezer. This freezer comes in at 9.4 cu.ft, which is a bit smaller than the previous options, but it is great if you are looking to fit your chest freezer into a smaller area of your garage.
This freezer is perfect for garages as long as the external temperature does not go below 0°F or above 110°F.
The Hotpoint also comes equipped with an interior LED light that will light up blue when opened. It also has two exterior lights – one that will light up green to tell you that the freezer is turned on, and one that will light up red if the temperature in the freezer begins to rise too high.
Interesting point, the Hotpoint model also comes with a scraper should your freezer begin to frost up. The scraper can be stored on a hook on the side of the freezer – that is good engineering right there!
Pros:
Great for smaller areas
Garage ready
Blue interior LED light
High-temperature warning light
Comes with scraper for defrosting
Cons: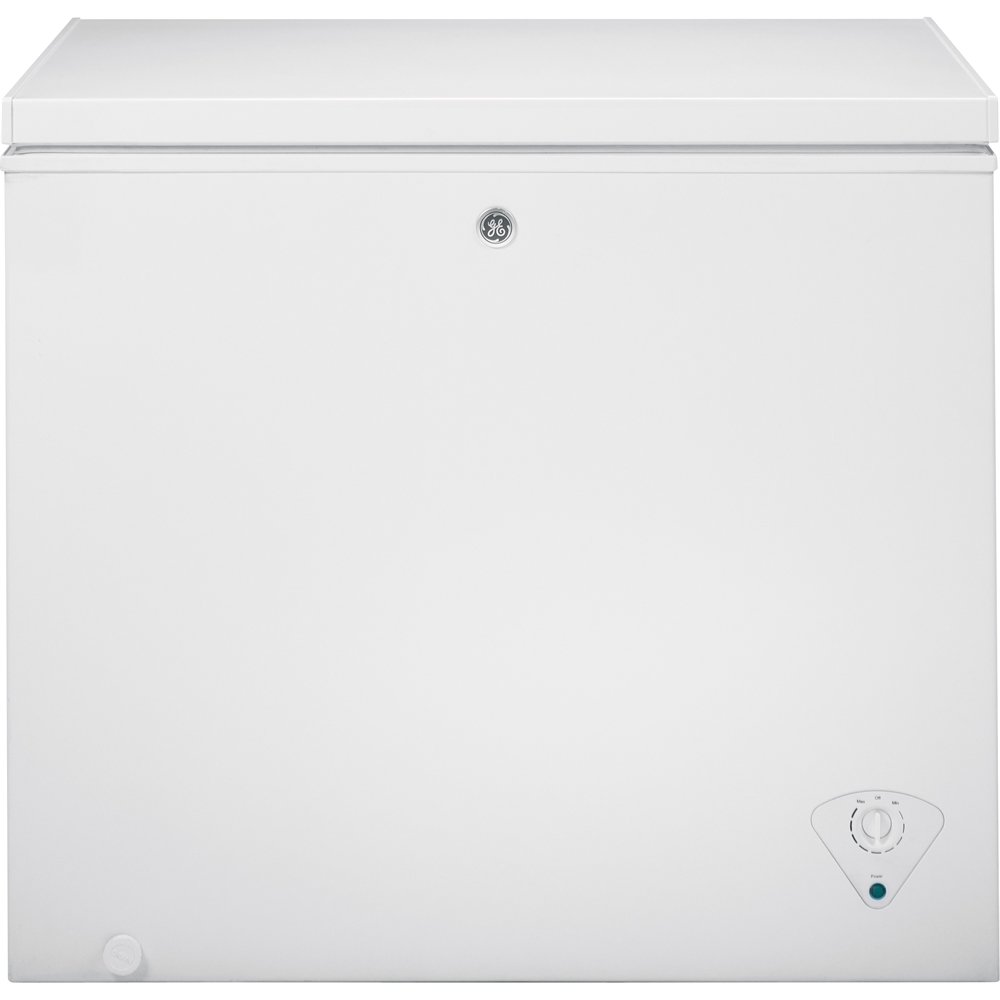 The GE Garage Ready Chest Freezer is the smallest and cheapest option on this list but provides a wide range of benefits.
Firstly, you can defrost it at any time using the defrost drain, a feature that comes in quite handy when it gets a bit too frosty and moving the baskets becomes difficult.
This freezer can perform with external temperatures ranging from 0°F to 110°F, perfect for standard garages.
Customers claim that it is extremely quiet, meaning your sleep will not be affected by a slight humming sound throughout the night. This feature is especially useful when your bedroom is located over the garage.
The only real drawback of the GE model is that it does not include an interior light. It's not a problem if your garage is well lit; otherwise, you may want to choose a different freezer on this list.
Pros:
Most affordable option
Has a defrost drain
Garage ready
Very quiet
Great modern design
Cons:
Smallest option on the list
See Also: Best Refrigerator For Garage
How To Buy The Best Chest Freezer For Your Garage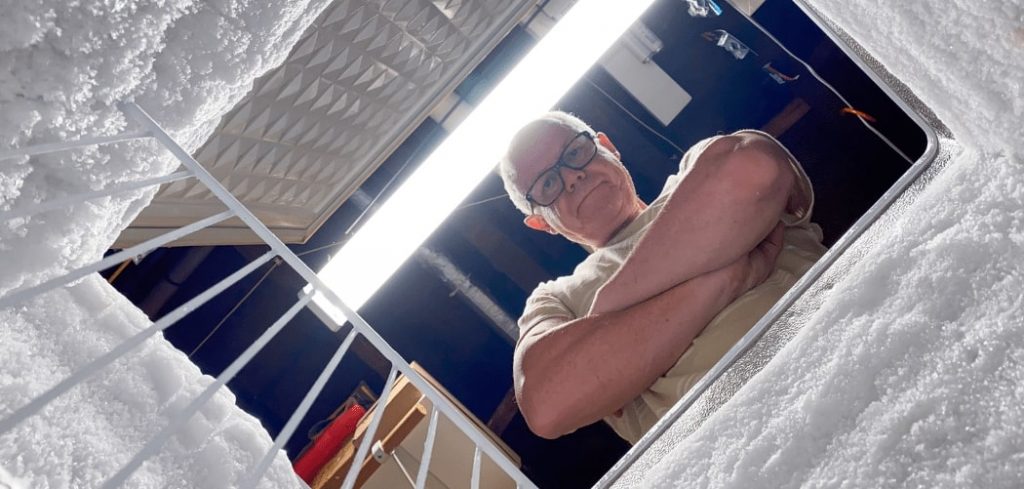 When looking for the best chest freezer for your garage, there are a few things you want to take into consideration. Also, correctly evaluating your needs and budget could be the difference between purchasing the right freezer for you and having second thoughts once it's installed.
The first and most important thing you want to look for is that your freezer is compatible with the temperature inside your garage; otherwise, it may not function correctly, or at least, not for long. Most chest freezers work fine in temperatures between 0°F – 110°F, but we recommend checking each individual freezer before purchasing.
Something else to keep in mind is that you can't just plug your chest freezer in and expect it to work perfectly. In some cases, you might need a water connection kit to provide your freezer with water that can then be frozen.
We suggest that you also look to purchase a chest freezer that comes with a defrost drain – an essential feature when your freezer gets too frosty and needs to be cleaned. In the same train of thought, if you buy one with a drain, make sure that you also have a drain in your garage. If not, make sure to get one on wheels so you can move it outside to drain it.
Finally, it is important to check if your freezer comes with a guarantee to cover your back in the worst-case scenario. All the freezers above have great reviews but you never know. Malfunctions due to defective components may happen even with the best of them.
FAQ's
Can I Store My Chest Freezer In Other Areas Of My Home?
Yes, you can store your freezer anywhere as long as the room you keep it in stays above the minimum temperature.
If you decide to store your chest freezer somewhere else than your garage, your basement would be a great alternative.
What Is The Difference Between A Chest Freezer And Upright Freezer?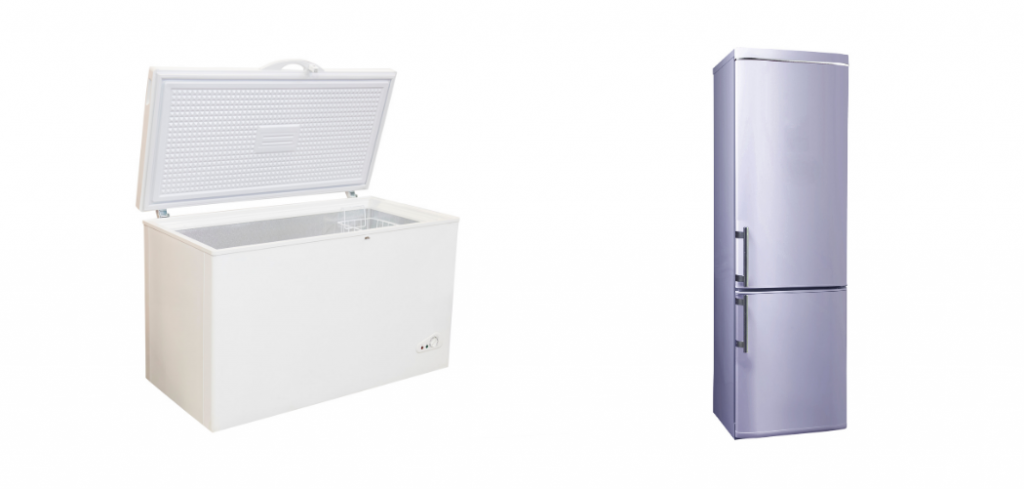 As much as chest freezers and upright freezers aim to do the same job, there are several key differences between them.
Freezer Burn – With a standard freezer, air will circulate more easily, meaning you have a greater chance of getting freezer burn. Freezer burn is when your food gets damaged due to dehydration.
Electricity – Chest freezers are known to use less electricity than standard upright freezers because they are built with side-wall insulation, keeping them cooler for longer without using so much energy.
Organization – In general, upright freezers are more efficient when it comes to organizing your food as they contain several different shelves. However, all the chest freezers in this article have baskets, which will solve this problem.
More Affordable – When you buy an upright freezer, you will be looking to spend a good chunk of your monthly income. Chest freezers, however, are far more affordable.
Noise – Most chest freezers are designed to keep noise to a minimum. However, it's not always the case with upright freezers, as some can be extremely noisy.
Is A Chest Freezer Worth It?
The answer to this question depends entirely on your situation. If you are looking for a secondary freezer because your main one is full, then a chest freezer is the way to go.
Chest freezers are great because they can maintain a steadier temperature than standard freezers. And a more constant temperature means that your food will stay fresher for longer!
Another great thing about chest freezers is that they allow you to stock up on food for long periods, saving you time having to go grocery shopping each week.
Also, if you are a hunter, chest freezers are kinda essential since half a deer won't likely fit in your kitchen's freezer.
Does A Chest Freezer Need A Special Outlet?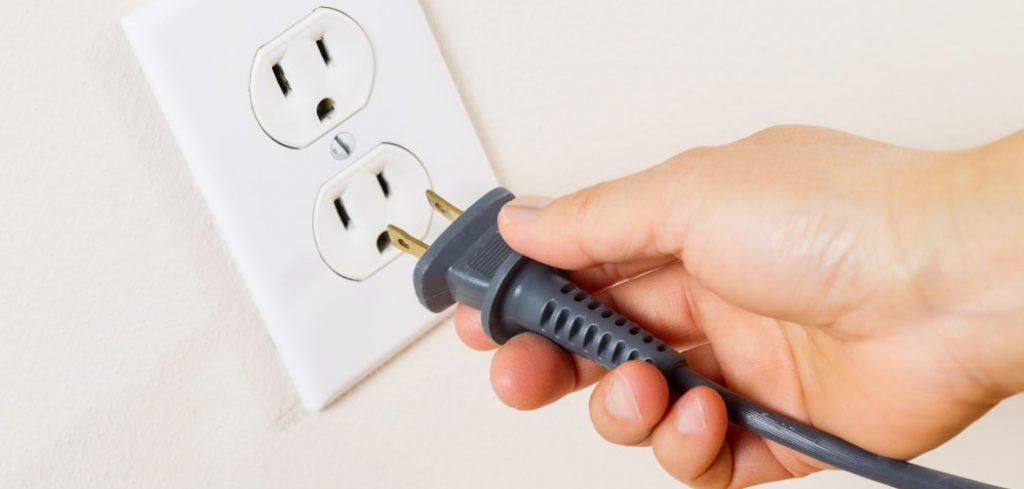 All the chest freezers on this list require a 110V-grounded, 3 prong electrical outlet.
If you decide to purchase a chest freezer that is not on this list, we recommend checking the product description first to see what type of outlet it requires.
Can I Put A Chest Freezer On A Carpet?
If your garage has a carpet, you can still place a chest freezer in there. However, you should put a piece of plywood under the freezer to prevent it from overheating.
In Brief…
Putting a chest freezer in your garage will save you electricity, cut your grocery trips in half, and allow you to organize your food more effectively.
A garage is a perfect place to store your freezer as it will not take away from your home's clean and modern look.
To summarize, if we had to choose only one freezer on this list, it would be the Energy Star Chest Freezer. This model covers all the most important areas when looking for the best chest freezer for a garage, such as size, storage baskets, a temperature alarm, adjustable temperature control and a warranty.
That being said, all the options on this list are great choices. It really depends on your specific needs and budget. Don't forget to shop around and compare before buying and you should be all good to go!