Whether you're a pro detailer or weekend warrior, something that many of us have been waiting on for years is a cordless polisher with the power of a corded one. And whether you've bought into the Milwaukee M18 FUEL platform or not, which powers dozens of Milwaukee tools, the Milwaukee 2738-20 M18 FUEL 7 by itself is certainly worth considering as an investment for your vehicle.
A constant challenge with corded polishers is the actual cord itself. Most of us throw the dirty cord over our shoulder while polishing, but the inevitable always happens—the cord slams into the paint or we step on it and almost drop the polisher on the car. Sure, we've managed to get by for ages, but the idea of a cordless polisher allowing us to get into hard-to-reach areas and not having to constantly manage a cord is a very good thing.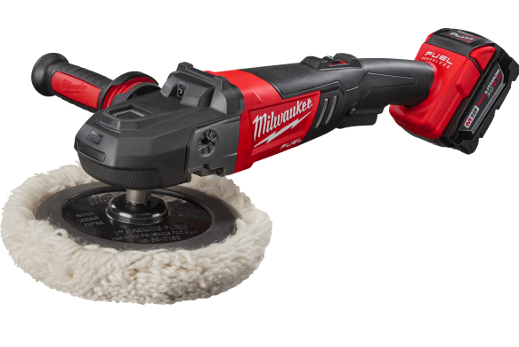 The M18 rotary polisher is a variable speed tool, adjustable from 800-2200 RPM (or 0-dial setting at the trigger). Certainly a tad slower than some pro-corded buffers running at 3,000+ RPM, but plenty of power to handle just about any standard compounding or polishing job.
The speed of the polisher can be adjusted with your thumb in 200 RPM increments using a conveniently located dial on top of the handle. There's also a trigger-lock on the side of the handle to lock the polisher on, giving you more freedom and less trigger finger fatigue.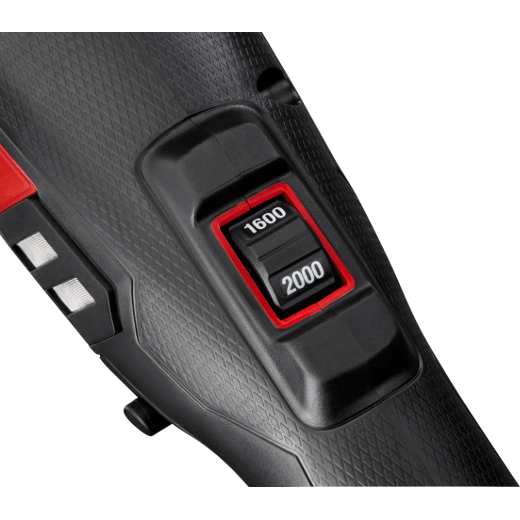 Paired with an M18 Redlithium 5.0Ah battery, the M18 FUEL polisher can complete a full-size car on one charge when working on moderate to good paint, according to Milwaukee. If you get the kit, the unit does come with two 5.0 batteries and Milwaukee's Rapid Charger
We have seen some reviews about two batteries not being enough for a full day's work—even with the rapid charger—but most of our readers will be using this on their personal vehicles. That said, the unit will work with Milwaukee's new M18 REDLITHIUM HIGH DEMAND 9.0 batteries, so that's an option for longer use, too.
The kit comes with the standard side handle that we're all used to, which can be attached to either side of the polisher, but Milwaukee also included a bail handle, making using the polisher sort of like using an orbital. The bail handle also allows for polishing up against mirrors and such easier, as there is no side handle to get in the way.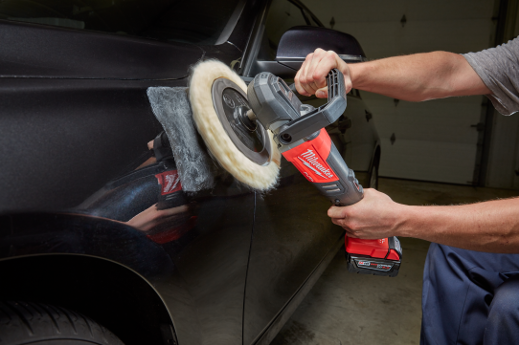 With a 5.0 battery installed, the 2738-20 M18 polisher weighs in at around 6½ lbs—a bit lighter than most corded polishers, but seemingly well-balanced with the right amount of weight on the pad.
The polisher is equipped with a rubber over-mold front housing to protect against paint damage, as well as a removable dust cover to protect the motor and electronics from wool fibers and residue that are commonplace when using wool pads, especially when they're new.
See Also: 7 Best Car Buffers and Polishers
The 7″ hook-and-loop backing pad makes quick work of swapping polishing pads, versus the old days of actually bolting a pad onto the polisher. If you get the kit, three 7″ pads are included: a wool cutting pad, a foam polishing pad, and a foam finishing pad. Replacement pads are widely available—you don't necessarily have to use Milwaukee's pads.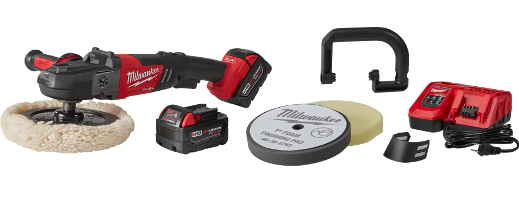 Overall, we're pretty stoked about this polisher. And since some of our crew have been detailing for years, we may just score one ourselves and update this post with a hands-on review—stay tuned.
Here's a promo video of the Milwaukee 2738-20 M18 FUEL 7:
Sale