While OBD2 implementation made the diagnosis of mechanical issues more straightforward than before, you still need to get your hands on the suitable scanner. Not all OBD2 scan tools are created equal and different types of auto mechanics may need or prefer different models.
While every scan tool on the market will allow you to read DTC codes, some more advanced models can do much more such as displaying engine data, programming TPMS sensors, adjusting fuel mapping, and, sometimes, even providing related troubleshooting charts so you can fix those issues all by yourself.
If you already work as a professional auto mechanic, you already know how essential OBD2 scan tools are when repairing modern cars. However, that doesn't mean that you can't benefit from having one if you are still an apprentice of a weekend DIYer. In all cases, having access to an excellent OBD2 scanner will significantly reduce the time required to fix a wide array of engine problems and make your life much easier.
That being said, buying just any scan tool found online is rarely a good idea. Just as it's no use for beginners to spend hundreds of dollars for a tool with features they won't need, it's also a bad idea for a full-fledged mechanic to buy a cheaper one that won't do what it's intended to.
Luckily, the INNOVA‌ ‌3160RS‌ ‌Pro‌ ‌is a very versatile scan tool, suitable for beginners, car enthusiasts, and pro mechanics alike, providing more than enough interesting features without breaking the bank.
To help you decide if the INNOVA 3160RS Pro is the scan tool for you, we have tested it, reviewed it in-depth, and outlined its major features and pros and cons. If, for some reason, you aren't sure if it's the OBD2 scanner you need, don't hesitate to take a look at the other models we have reviewed here.
Let's dive in!
Who is it made for?
As mentioned before, the INNOVA‌ ‌3160RS‌ Pro is not only perfect for professional technicians that require reliable and heavy-duty equipment to perform their jobs but also for any other car owner.
It's a one-stop solution for diagnosing issues with your vehicle and, since the INNOVA‌ ‌3160RS‌ is only about a year old, it incorporates the latest information available for troubleshooting activities. Such feature translates into fast, easy, and convenient operation by combining its feature-loaded nature and affordable pricing, making it the OBD2 scanner of choice for small repair shops and weekend DIYers.
Key Features of the INNOVA 3160RS
Optional OBD1 compatibility
The OBD2 standard is only implemented in vehicles manufactured in or after 1996. If you want to connect your scanner to an older car, you'll need a special connector to ensure compatibility.
Thankfully, INNOVA offers an OBD1 adaptor for a small additional fee that will make the 3160RS OBD1-compatible. It is a massive advantage, especially for smaller repair shops frequently working on older cars. OBD1 code readers are scarce these days and tend to be quite expensive, given that you can get your hands on one.
If you work on cars produced before 1996, no need to worry, the INNOVA‌ ‌3160RS‌ Pro got your back!
Emissions readiness test
Nobody wants to fail an emission test. Depending on where you live and the laws in effect in your state, not only could you face hefty fines and unpleasant mechanical inspection, but also potentially lose the right to drive your car on public roads.
The 3160RS‌ comes with an emissions test of its own, making sure that never happens. The device has three LED lights below the display screen that indicates whether the vehicle would pass the test or not. If the red light glows, it means that the vehicle would not pass the test in its current state and need some work done. The yellow light indicates the possibility that it could or could not pass depending on more stringent laws, while the green LED lets you know that you are good to go.
Live data display and record functionality
Live data function is one of the rarest features of OBD2 scanners out there, as it's usually found only on higher-end, professional models. Surprisingly, the 3160RS can display live engine management data in real-time.
Such a feature is a game-changer as most mid-level scanners usually have fixed-time interval data updates instead of a live feed. Fixed data update, while being better than nothing, makes it really hard to catch momentary loss of sensor signals and other intermittent problems. Moreover, the INNOVA‌ ‌3160RS‌ can also record and store data for a maximum of three previously scanned vehicles.
Freeze-frame and data recording are especially beneficial when trying to diagnose a problem that seems to come and go at will. Simply plug the scan tool into the OBD2 port, start the record and save function and go for a ride. Once the problem occurs, the scan tool will record the data so you can look at what went wrong later on.
Battery test
The Battery Management System allows the operator to perform a battery health check and, if necessary, to make sure that various electrical systems and the onboard computer are ready for battery replacement. In the case of hybrid vehicles, this device can even read the battery's cell voltage and help diagnose hybrid vehicle-related issues.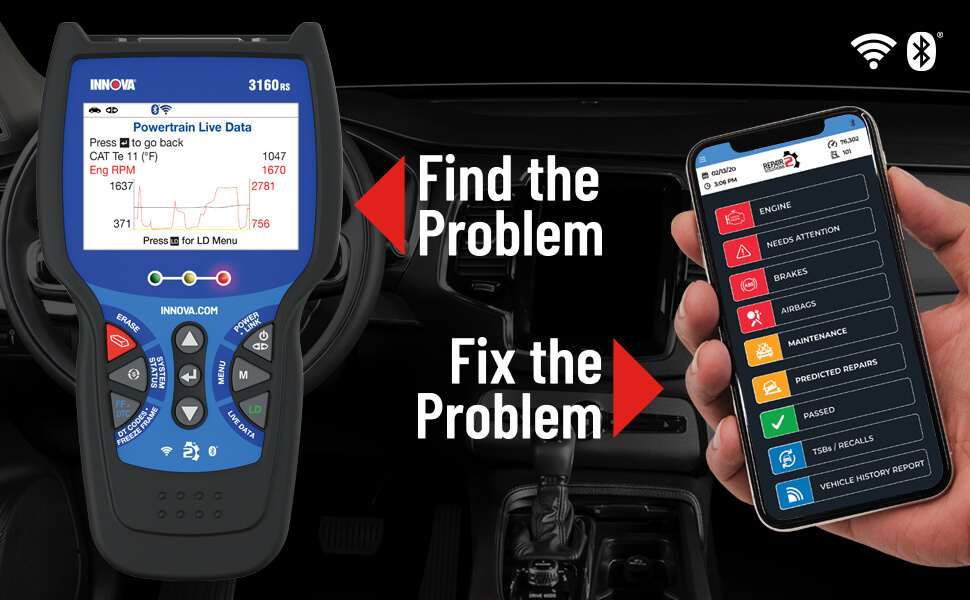 Repair Solutions 2 app
Along with this device's purchase, owners also get free access to INNOVA's Repair Solutions 2 application. Using the app, one can transmit the scanner's data to their mobile phone or tablet using Bluetooth or WiFi.
Moreover, the app will also provide the operator with instructional videos on how to fix the displayed problem with an option to buy the required replacement parts online, thereby eliminating the need to even visit a mechanic.
Code severity indicator
Being able to "read" DTC codes is rarely enough. After all, knowing which code was triggered is pretty much useless unless you know how severe it is and what should be done next. Luckily, whenever the INNOVA‌ ‌3160RS‌ scan tool finds a DTC code, it will also indicate the severity of the said code, how dangerous it can be, and how fast it needs to be taken care of.
Clever, right?
Pros
Option to choose from three operational languages
Great user interface
Online software updates available
One-year warranty
Ergonomic and compact design
Simple and easy to use
Reads TPMS sensors
Suitable for personal and professional use
Access to Repair Solutions 2 app
Cons
Requires batteries if the engine is not running
Can be a bit pricy if all you need is a basic DTC code reader
Highlighted Features
More than a dozen parameters displayed on the screen at the same time
Real-time data display
Can cover OBD1 vehicles
Tire pressure monitor system reader
Battery Test/Reset function
Oil Reset function
Smog emissions test simulation
ABS and SRS code clearing functionality

ABS bleeding capability

Battery test function
Works with hybrid vehicles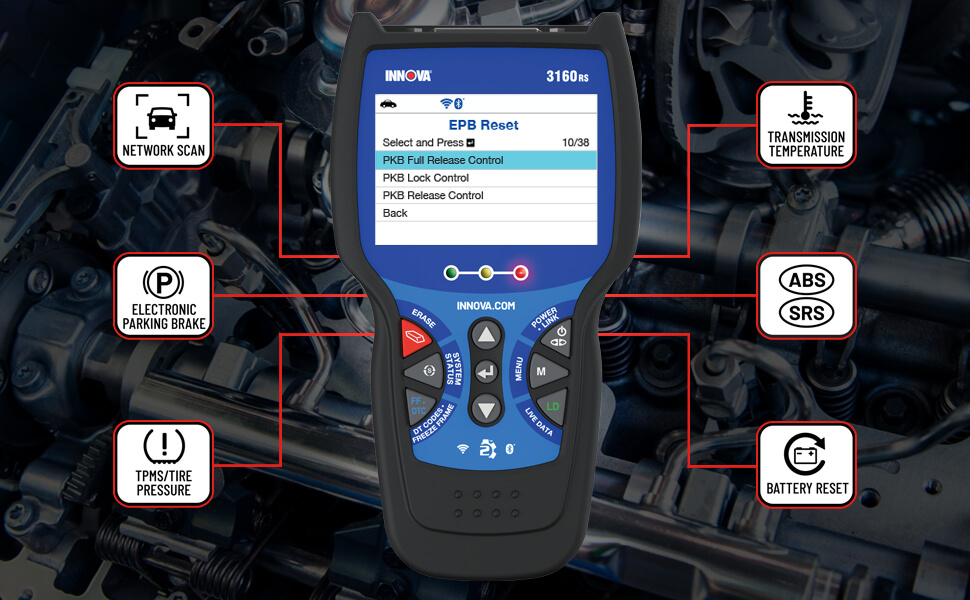 Technical Specifications
| | |
| --- | --- |
| Weight | 1.28 pounds |
| Tool Dimensions | 11.02 x 7.36 x 2.2 inches |
| ABS and SRS Capability | Yes |
| Emission Test indicator | Yes |
| Live Data Display and Record functionality | Yes |
| Battery Management | Yes |
| TPMS reader | Yes |
| Transmission Temperature Monitoring | Yes |
| Read and clear check engine lights | Yes |
| Electronic parking brake retract | Yes |
| Oil parameters check | Yes |
| OBD1 compatibility | Yes, only on optional purchase |
| Display Screen | 3.5-inch LCD |
| All-System Network Scan | Yes |
| Maximum recorded data | From 3 previously scanned vehicles |
| Live data time | Refresh after every 30 seconds |
FAQs
What is OBD2 and how is it different from OBD1?
All vehicles manufactured after the year 1996 have a universally standardized computer system that is used by mechanics to diagnose various issues with cars. For that purpose, an On-Board Diagnostics 2 (OBD2) scanner can be connected to the vehicle in order to find out the cause of the problem.
The system used by OBD1 was a similar system introduced in 1991 and intended for all cars to be sold in the state of California. This system had different versions depending on the manufacturer of the vehicle. To overcome such limitations, a universally accepted method of onboard diagnostics was developed and applied to all new vehicles manufactured in or after 1996.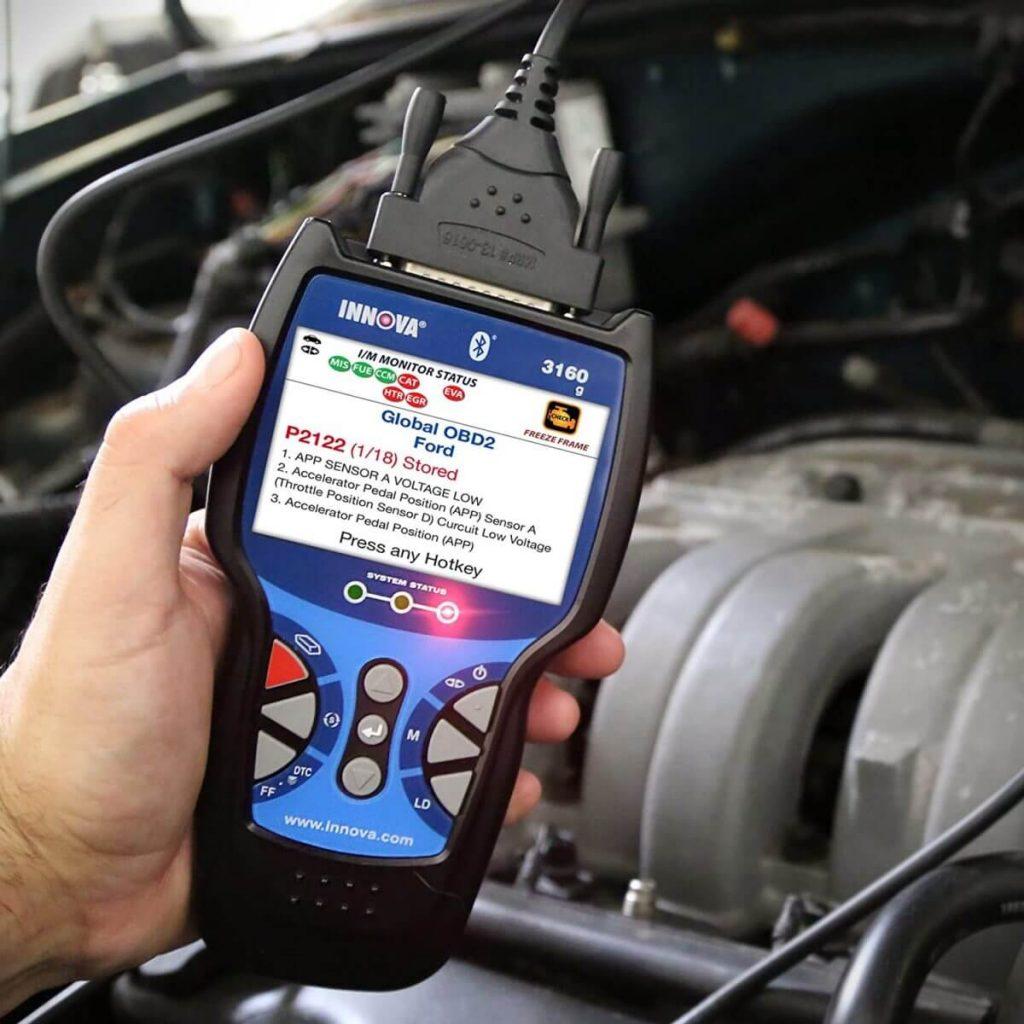 How do I update my scanner?
The INNOVA 3160RS Pro OBD2 Scanner is an updatable device that can incorporate newer technology in its system using over-the-air updates, even long after the purchase date. Moreover, since it has been recently updated, it already incorporates cutting-edge information that might not be available on other models.
Is my car compatible with the INNOVA 3160RS?
Yes.
Every car manufactured in the United States in or after 1996 is compatible with every OBD2 scan tool. However, to determine whether certain specific features will work on your car or not, we would suggest checking the feature-wise list of compatible vehicles. It should work just fine with pretty much any common modern vehicle sold in the US market, but, of course, if you drive a JDM or an imported vehicle, I'd give the list a quick look before buying.
Final Verdict
All things considered, the INNOVA 3160RS features a sturdy construction and ergonomic design, combined with it tons of helpful features rarely found on other models in the same price range. Unique features such as live data and record functionality, ABS, SRS, and TPMS compatibility, a SMOG emissions test indicator, and much more are what set this device apart from the competition. It may seem a bit expensive at first, but the performance and features it offers surely make up for it in the long run.
No matter whether you are a professional repair shop technician or just the average car enthusiast wrenching on the side during weekends, the Innova 3160RS Pro OBD2 scanner is the perfect choice for you.
INNOVA 3160RS OBD2 Scanner, ABS Brake Bleeder, ABS SRS Engine Transmission Diagnoses, Airbag Light...
RepairSolutions2 App: Get verified fixes, the exact part required for repair, maintenance...
All-System Network Scan: Scan beyond check engine, powertrain, ABS, and SRS modules;...
Electronic Parking Brake Retract / ABS Brake Bleeding: Necessary advanced brake caliper...
Transmission Temperature: Verify in real-time when the transmission fluid is within the...
Read Hybrid Battery Cell Voltage: Diagnose battery and charging issues on hybrid vehicles