My cheap and very uncomfortable rolling stool broke the other day, just as I was setting up to do some maintenance on the Jeep. Sigh. I've got some minor back issues so I kinda want a seat when working low. Getting old sucks!
I went to the closest auto parts store about a mile away but they only had a creeper/seat combo and it was wildly overpriced. I looked on the web and found the Kobalt Rolling Work Seat on sale for under $40 at Lowe's, which was actually the next closest store with a seat like this and I just wanted to buy one and get back to work.
We had no intention of reviewing this thing (that's actually how many of our reviews go), but it's a decent seat at a popular store that many may consider, so why not?
As you're probably aware, Kobalt is Lowe's house brand and has been since about 1998. We have quite a few Kobalt tools, which we find to be just fine for the shadetree/DIYers that we are. Like most folks, we put Kobalt right there next to Home Depot's house brand, Husky, and several other comparable "homeowner" brands.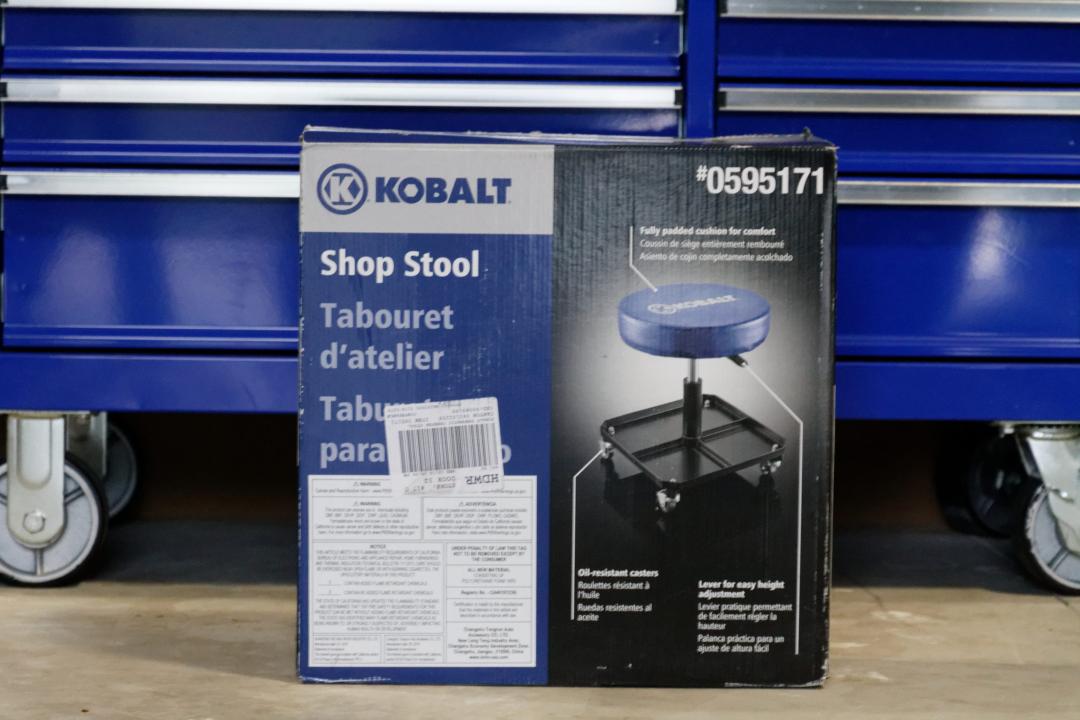 Design & Build Quality
In the box, there are four basic parts and some screws. The stool basically snaps together, but the seat cushion does have to be screwed into the bottom bracket (or vice-versa, I suppose). It took all of 10 minutes to put it together.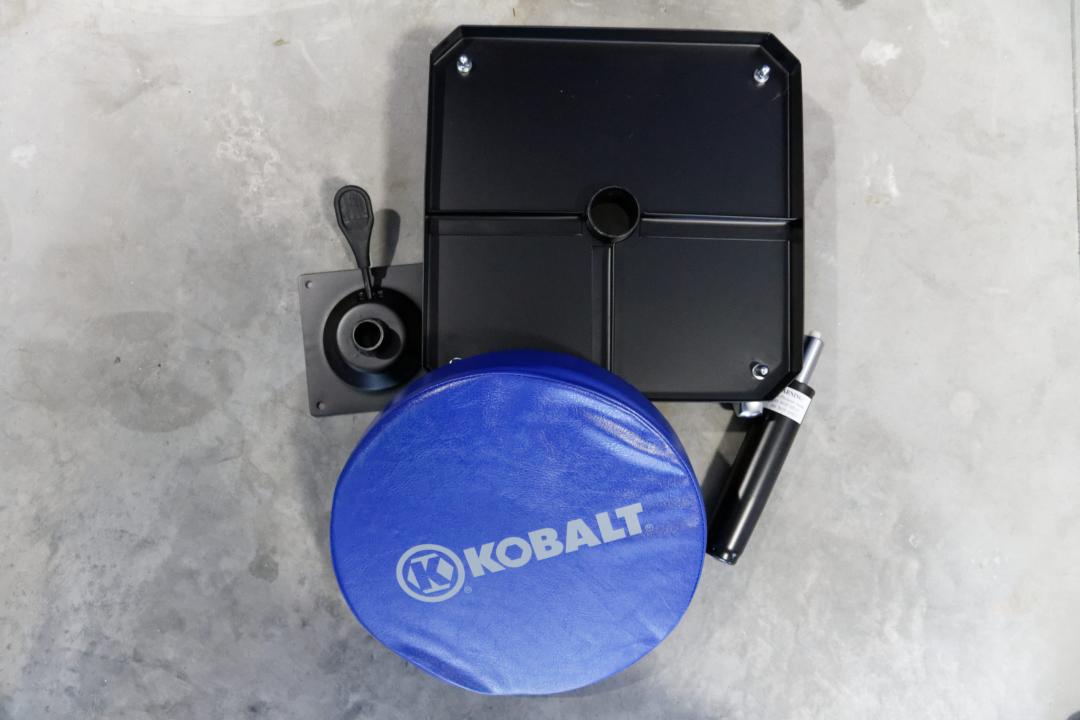 All of the parts are of decent quality—not cheap but not high-quality either. Compared to just about every other rolling seat like this that we've used (and there have been many), the Kobalt Rolling Work Seat is in the mid-to-upper-tier in terms of build quality. The steel parts are strong, the cushion is better than so many other thinly-padded work seats, and the tool tray is thin and scratches easily.
In its lowest position, the top of the seat measures about 16.5″. Raised all the way up, the seat is 21″ high. The difference is small but noticeable when working on the big Jeep tires or its suspension when on jack stands. The hydraulics are solid and never seeped on me and I'm about 195 lbs unless it's Thanksgiving or there are Debbie Cakes in our house. The seat is rated for 250 lbs.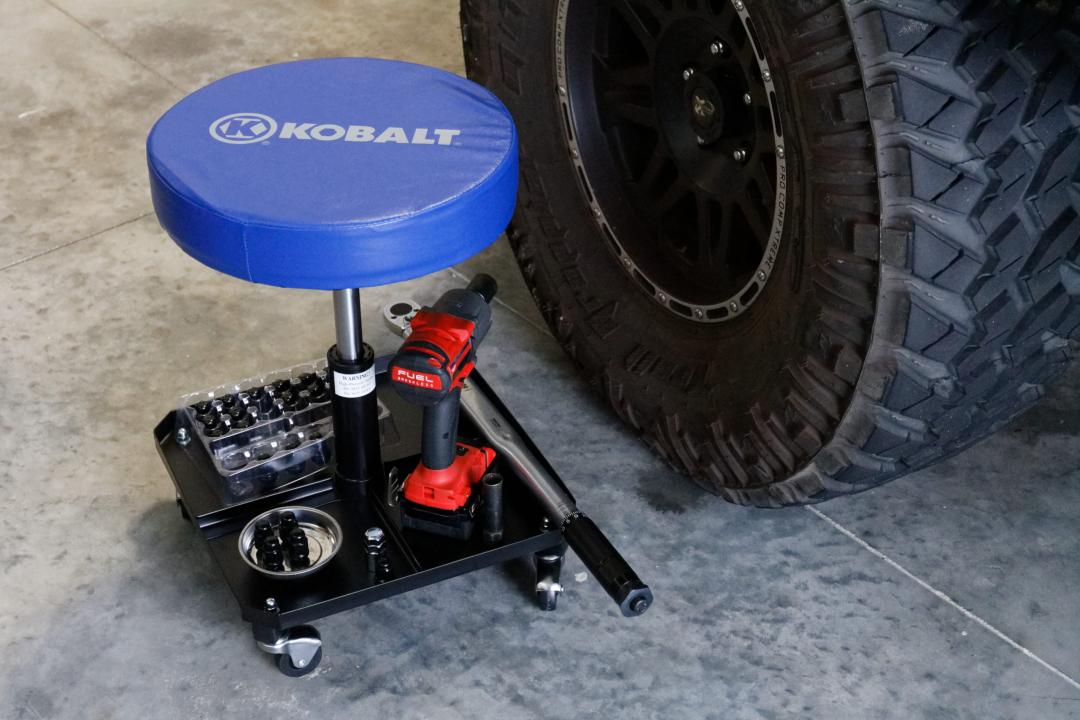 Form & Function
The blue vinyl seat cushion adorned with the KOBALT logo on this work seat is surprisingly better than so many other rolling creepers we've used. Our last one was just a pancake and really uncomfortable. This one is about three inches thick and well padded. It's not super-firm, so it will likely flatten over time but as it stands now, it's quite comfy comparatively speaking.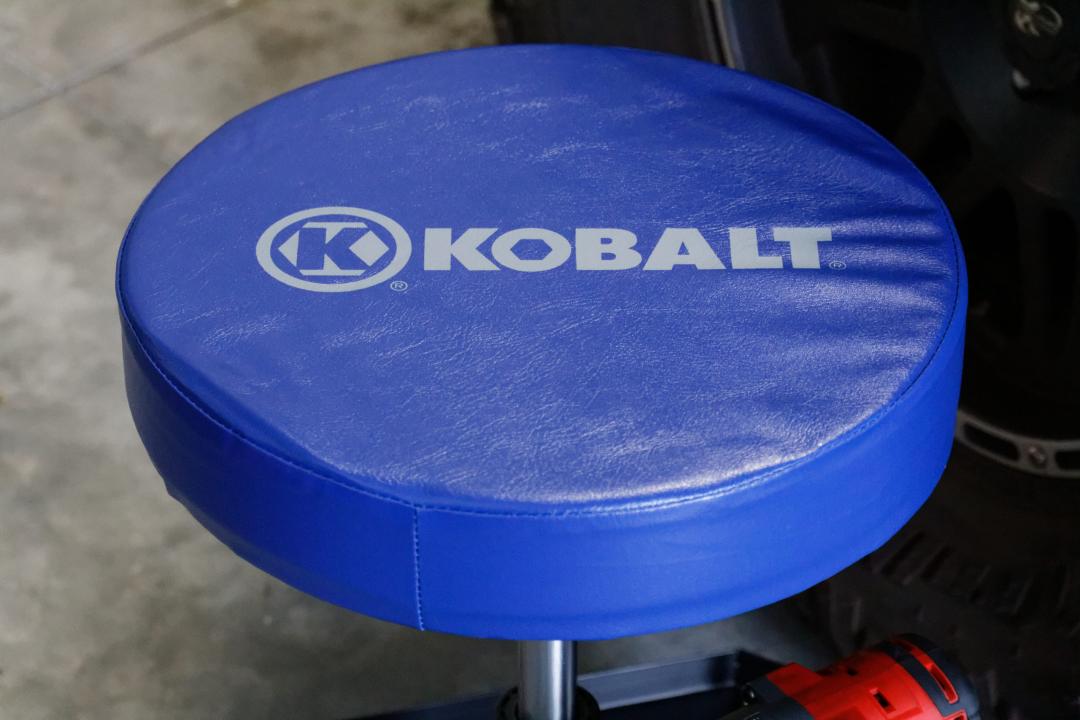 The underside of the seat is also tidier than other stools we've used. And the holes for the height adjustment bracket use threaded inserts with bolts instead of wood screws, as cheaper models often use.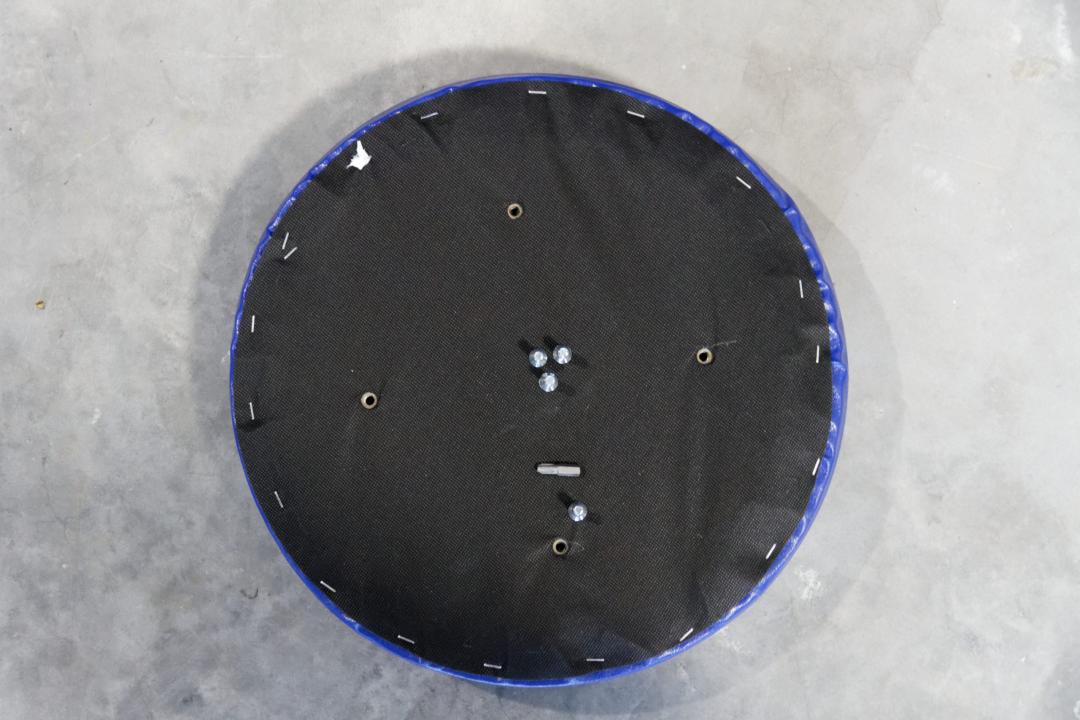 We should mention that this stool carries the recognizable Kobalt blue color and is not available in any other color. We actually like it because it's pretty close to the color of our Harbor Freight U.S. General toolbox, our Richardson Seating Garage Stool, and our Yost Bench Vise. And Smurfs. It's kinda the same color as a Smurf.
The tool tray underneath the seat is made from the same medium-grade metal that just about every similar rolling work seat's tool tray is made from. It's fine. The finish will scratch easily but this is a work seat. We like that it has the one longer tray and the two smaller trays. This allows you to store longer tools—like screwdrivers, ratchets with sockets on them, and wrenches—without having them fall off, which actually happens on seats with round tool trays. We did stick a small magnetic parts tray in one of the two smaller storage areas to keep our nuts and bolts from getting lost.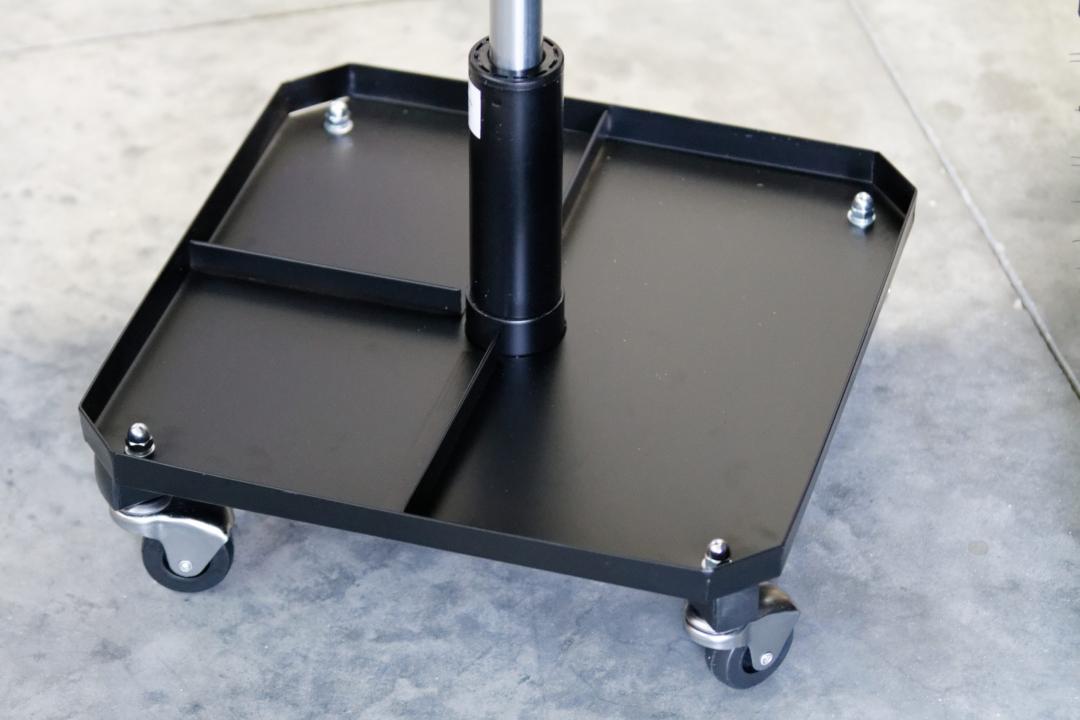 The downside to the square tool tray is that your ankles might hit it… a lot… as you're rolling around the garage or shop. Some of this is because it's square but some of it is because the four rotating casters, while they do roll nice-n-smoothly, don't quite seem to keep up with certain movements. Some of us here found ourselves struggling to get the tray turned back the correct way (to access our tools) after rolling to our next quarter panel. It's not a big deal, but it did actually become frustrating a few times and we had to sort of stand up slightly, kick the tray around and sit back down.
Overall, the $38 Kobalt Rolling Work Seat is a nice little stool and considerably more comfortable than others we've used. There are both cheaper and more expensive options available but this seat seems to be right where it should be in terms of quality vs. value. We're still debating whether we prefer a square or round tool storage tray. Decisions, decisions… what say you?