EDITOR'S PICK
GEARWRENCH Magnetic Socket Rack
Rotating clips for easy loading and unloading of the sockets
Aluminum frame that keeps those clips straight and secure
14 clips rail that uses ball bearings to secure sockets
Strong magnet on the back
Comes in 1/4″, 3/8″, and 1/2″ drive sizes
PREMIUM PICK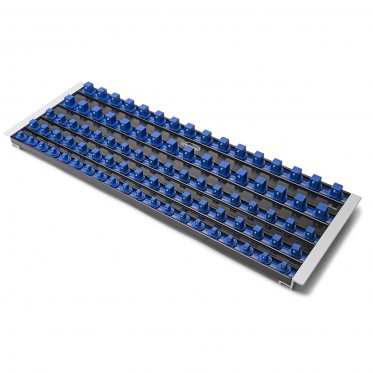 Eastwood 5 Rail Socket Holder Tray 21″
21″-long tray has 5 rails
Rail #1 holds 20 sockets (1/4″-drive)
Rails #2 and #3 hold a total of 36 sockets (3/8″-drive)
Rails #4 and #5 hold a total of 32 sockets (1/2″-drive)
BUDGET PICK
GEARWRENCH 3 Piece Socket Storage Tray Set
Set of 3 racks: 1/4″, 3/8″, and 1/2″
Sturdy, break-resistant pins
Color-coded with black for SAE sockets and yellow for metric
A friend of mine who runs a small workshop has a strange habit. He tends to buy a couple of sockets every month. No, he has no addiction or something like that, and he doesn't "eat" them either. He is just not organized and obviously tends to lose them.
In frustration, he throws a wrench or bolt, or whatever he can grab across the workshop once in a while. That is when he can't find the right socket while he is all greased and sweaty. In other words, often. After many very subtle friendly talks, he is finally ready to commit himself to buying a couple of socket organizers.
If socket organizers are so important in a one-man workshop, you can imagine how important they are in an organization where throwing tools across the shop is out of the question.
If you are also done with always having to search for the right socket and ready to be a little more organized, we prepared a list of the 7 best socket organizers on the market right now. Of course, we worked hard to include models for every individual, no matter the skill level or work scenario. In our list, you'll find budget models for amateurs, but also high-end socket organizers for professional mechanics.
Let's dig in!
Socket Organizer Reviews
We start slowly with GEARWRENCH's entry-level 3 pcs socket rack. As the name implies, it's a 3 piece 1/4″, 3/8″, and 1/2″ drive socket storage tray set that gives you the freedom to sort all those shiny bits straight. The 1/4″ tray can hold 26 sockets, 30 for the 3/8″, and 34 for the 1/2″, for a total of 90 sockets. That's quite a bit of sockets that can cover pretty much every size you might need when working on regular vehicles.
The most important thing is that it fits both standard and deep sockets. And there are size markings printed on top of the pins, so you don't have to check all the sockets to find the one you need. It's made out of plastic—so no rust here— and the vertical design is pretty handy.
Worth mentioning, while the vertical design makes taking out and placing the sockets super straightforward, the lack of a retaining system also means that the rack could fall over if the drawers is slammed shut. As a general rule, I would say that this socket organizer type is better designed to be used in the top shelf of your tool chest or to be left on your workbench.
Quick note: As you might have noticed, SAE models come in black color and orange for the metric ones. Be careful while ordering as it's easy to overlook that and mix them up.
Highlighted Features
Set of 3 racks: 1/4″, 3/8″, and 1/2″
Sturdy, break-resistant pins
Color-coded with black for SAE sockets and yellow for metric
Pros
Quick to read size markers on pin tops
Vertical storage design for easy access
Space-saving design
Very affordable
Cons
Pins can flex if used a bit rougher
Here we have a little help from a physical phenomenon called magnetism. These socket holders can be used in a drawer, or you can also hang them on the wall if that fits you better. You just place your sockets into magnetic trays, and they'll stay there 'till the next time you need them. It's funny how simple solutions can be so effective.
However, it's not the magnets that make these socket organizers a good buy but also the compact design. Moreover, that design also makes them super sturdy as well. You won't lose those sockets ever again.
The 1/4″ socket holder has a capacity of 26 sockets and is capable of holding up to 5/8″ or 14mm sockets. The 3/8″ model is suitable for up to 1″ or 24 mm sockets and has 28 socket trays. And finally, the 1/2″ holder is ready for 22 sockets and can house sockets up to 1 1/2″ or 27mm.
If you are a mobile mechanic and need to bring sockets with you, the Strongway Magnetic Socket Holders are probably your best bet—not to mention that they are quite cheap.
Highlighted Features
Weighs 1.3 lbs (1/4″), 2.5 lbs (3/8″) and 2.7 lbs (1/2″)
Holds metric and SAE both standard and deep sockets
Durable and reliable
Pros
The magnetic tray keeps sockets in place
Use it as a hanger or in a drawer
Easy to use
Affordable
Cons
Not much to say here… when it's good, it's good!
We come to our favorite socket organizer. GEARWRENCH's magnetic socket rails are for those with no time to search/place sockets as they perform brain surgery. Just plug the damn thing and move on with your life. This organizer's design lets you be more sloppy while placing sockets on the rotating clips, locking them with a ball-bearing retention system. You can't miss the clips—it's that easy to use.
If you are a professional mechanic, you probably do this too: leave sockets that you don't use right below the wipers or on top of the radiator, right? In that case, you'll be happy to hear that these socket organizers feature strong magnets on the backside so you can stick them to any metal surface such as your beloved workbench but also pretty much anywhere near the engine bay.
No more dropped sockets that end up being stuck in the plastic cover under the engine that you then need to remove to get back your socket, wasting time and money!
If I had to buy one, it would be this one (In fact, I did. That's the model I use at work!).
Highlighted Features
Rotating clips for easy loading and unloading of the sockets
Aluminum frame that keeps those clips straight and secure
14 clips rail that uses ball bearings to secure sockets
Strong magnet on the back
Comes in 1/4″, 3/8″, and 1/2″ drive sizes
Pros
You can easily get used to those 360 rotating clips
Can be used vertically, on top of a workbench, on a radiator, or pretty much everywhere
Sturdy grip
Affordable
Cons
Capacity could be bigger capacity, but then again, you can buy as many as you need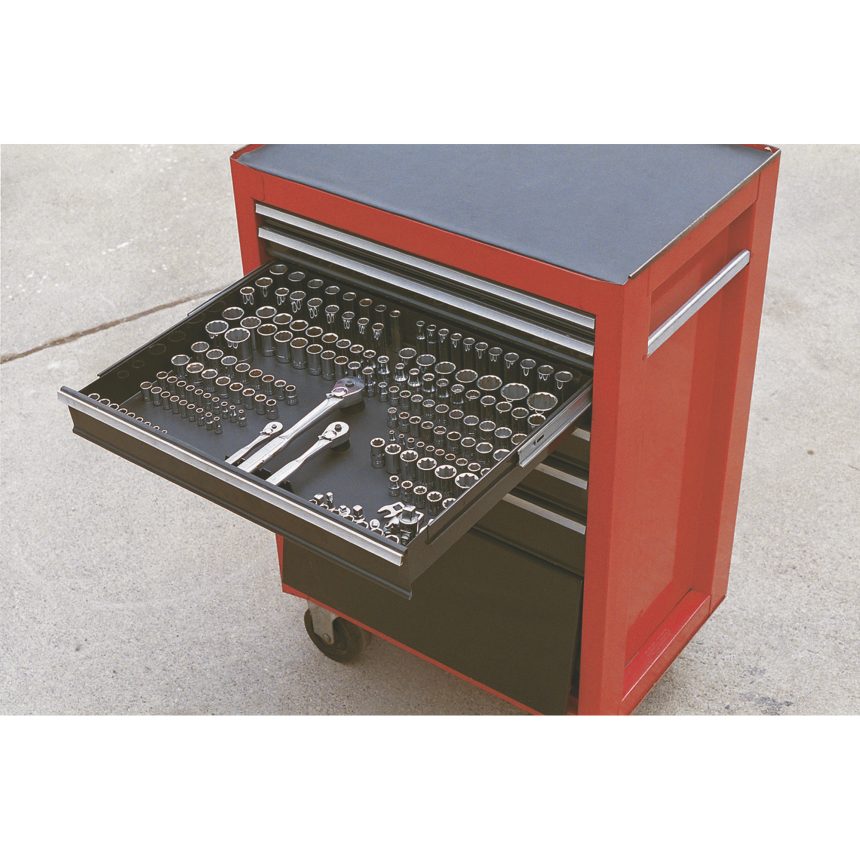 Grip's Toolbox Socket Organizer is kinda unique as you can use it whichever you like and is also easily customizable. Even though it's designed to fit the most roll-away tool chest drawers, you can still reshape it as it's made out of hard plastic that can be cut with a box cutter.
The next good thing is that you can arrange the sockets by location as you wish. Also, sockets are placed with the drive size down, so you can find the right one at a glance. Besides, if you like, you can easily engrave/mark/paint the socket size/type on the plastic material. There is even room for socket accessories and bits like hex sockets and Torx, although these would roll around since there's no dedicated space for that. Not to forget there are three ratchet wrench holders in the middle.
This model might not be a good fit for everyone but due to the innovative design, we just had to include it on this list. On the other hand, if you have drawers full of random sockets, you can't go wrong with this one!
Highlighted Features
Dimensions: 22″ L x 16 1/2″ W x 1/8″ H
Made out of plastic
Weight 2.0lbs
Pros
Easily customizable
Capacity up to 171 pieces
Easy to use
Affordable
Cons
The space between sockets could be a bit bigger
Doesn't fit impact sockets
This is maybe the most known concept of socket organizers. My father-in-law had his Roll Pouch for the last 40 years, and it's his secret belonging. There is one empty pocket that I'm regularly reminded of as I lost his 5/16″ socket years ago…
It's a very practical organizer that you can store in your car's trunk or under your seat to be ready to use everywhere anytime. However, that doesn't mean that you can't use it in your shop or whatever. Of course, the pouch design will make it a bit more complicated to pull/store the sockets. But if you need a socket organizer that won't lose sockets no matter what you throw at it, this is the one.
And on the plus side, there are also pockets for a bunch of other tools, so you'll have a mini toolbox at your disposal. The CLC Socket/Tool Roll Pouch is also perfect to bring with you on your next motorcycle road trip if you want to be prepared for anything that might come up.
Highlighted Features
Unique socket holder with hook and loop closure holds metric and standard sockets
Heavy-duty elastic strap keeps tools in place
Adjustable quick-release buckle fastens pouch when not in use
Carrying handle for easy transport
Pros
Adjustable quick-release buckle fastens pouch when not in use
Capacity up to 32 various pieces
Can fit metric and standard sockets
Can also store multiple other tools
Cons
Socket capacity could be bigger
Pouch design isn't as easy to use as rail models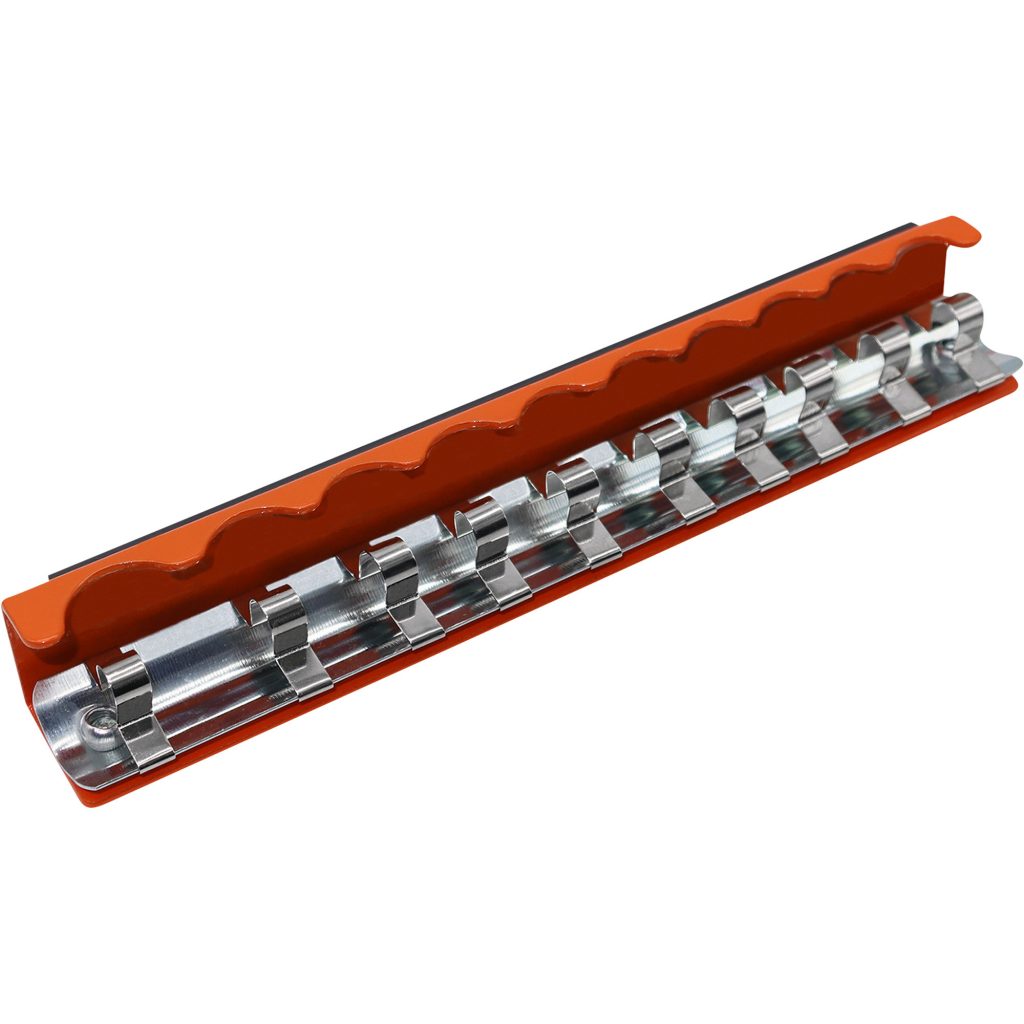 Grip Magnetic Socket Holder 1/4in.-Drive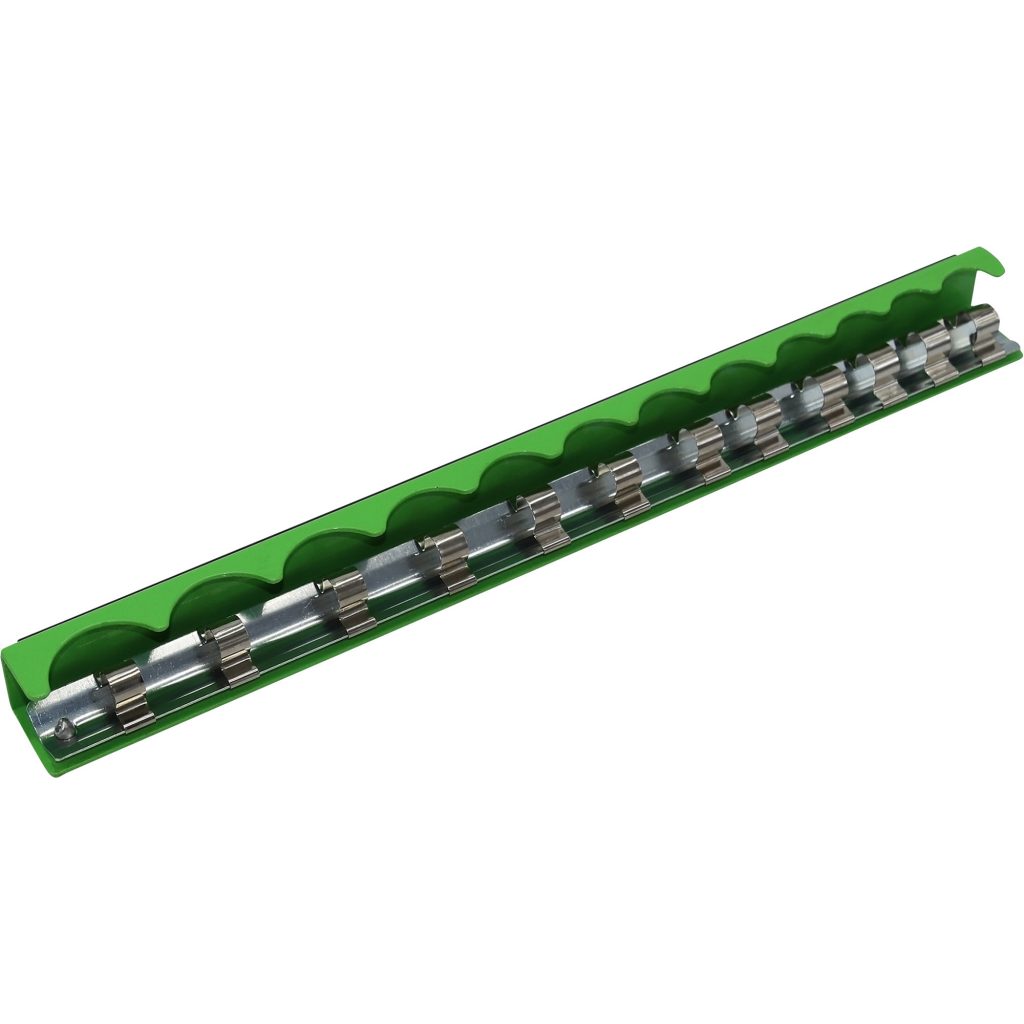 Grip Magnetic Socket Holder 3/8in. Drive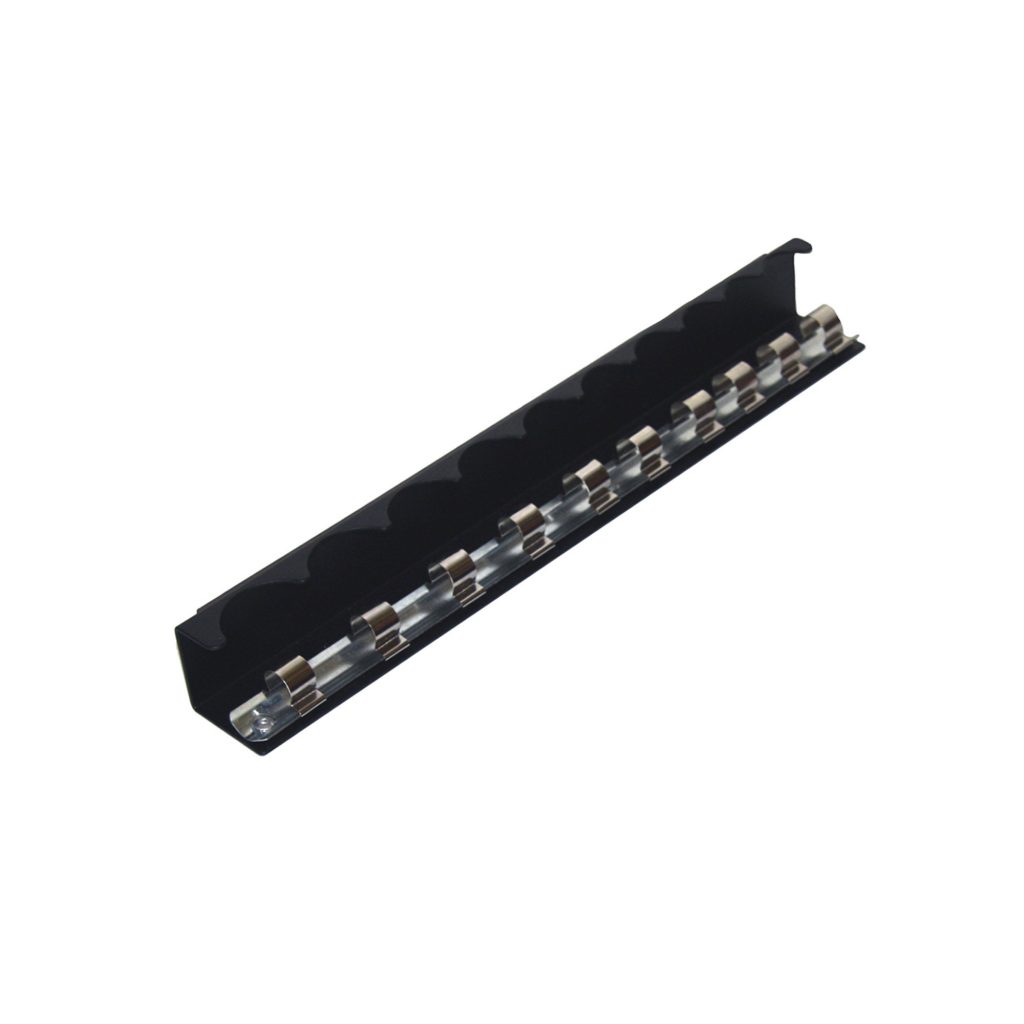 Grip Magnetic Socket Holder 1/2in.-Drive
The Grip Magnetic Socket Holder is probably the most popular model with professional mechanics. The specific design is actually an upgrade on the regular basic metal clip rail. If you used basic clip rails before, you know that they always end up being either too tight, making it hard to remove sockets, or too loose, letting sockets fall all the time. But thanks to the metal backing, this won't be a problem here.
Furthermore, it comes in 3 regular drive sizes and has a capacity of 10 sockets each. Also, each rail comes in a specific color making it easier to identify which is which—1/4″ is orange, 3/8″ is light green, and 1/2″ is black.
Thanks to the rear magnetic strip, you can also either stick them to the side of your tool chest or store them in a drawer without having them roll around every time you close it.
Aside from that, there's not much to say about it. They are affordable, sturdy, and do what they are supposed to—what more could you ask for?
Highlighted Features
Heavy-duty steel construction
Magnetic strip and built-in clips
Each drive size has a 10 socket capacity
Pros
Compact size
Holds sockets quite well
Magnetic strips prevent the racks from falling while you work
Cons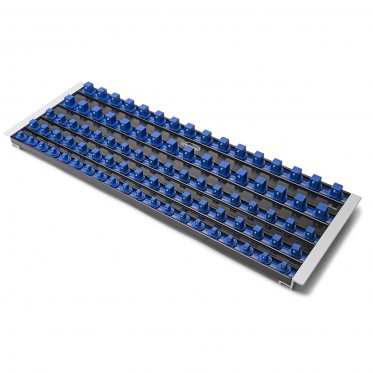 Ok now. The fun is over. Here comes the real professional stuff!
Eastwood's 5 Rail Socket Holder Tray consists of 5 different rows, each for different socket drive sizes. Rail #1 holds 20 sockets (1/4″-drive), rails #2 and #3 hold a total of 36 sockets (3/8″-drive), and the other two, #4 and #5 hold a total of 32 sockets (1/2″-drive), for a total capacity of 88 sockets.
Each individual socket holder has a steel retaining ball to lock each socket in place. Besides, each socket holder can rotate 360 degrees on the rail to quickly identify the socket you actually need. It will fit most tool chest drawers, and the robust constructions guarantee longevity.
If you are serious about your work and really want to take your tool game to the next level, this is the socket organizer you want!
Highlighted Features
21″-long tray has 5 rails
Rail #1 holds 20 sockets (1/4″-drive)
Rails #2 and #3 hold a total of 36 sockets (3/8″-drive)
Rails #4 and #5 hold a total of 32 sockets (1/2″-drive)
Pros
Compact
Fits most drawer
Easy to grip handles
Tension balls in socket well
Cons
Can't be hanged on a wall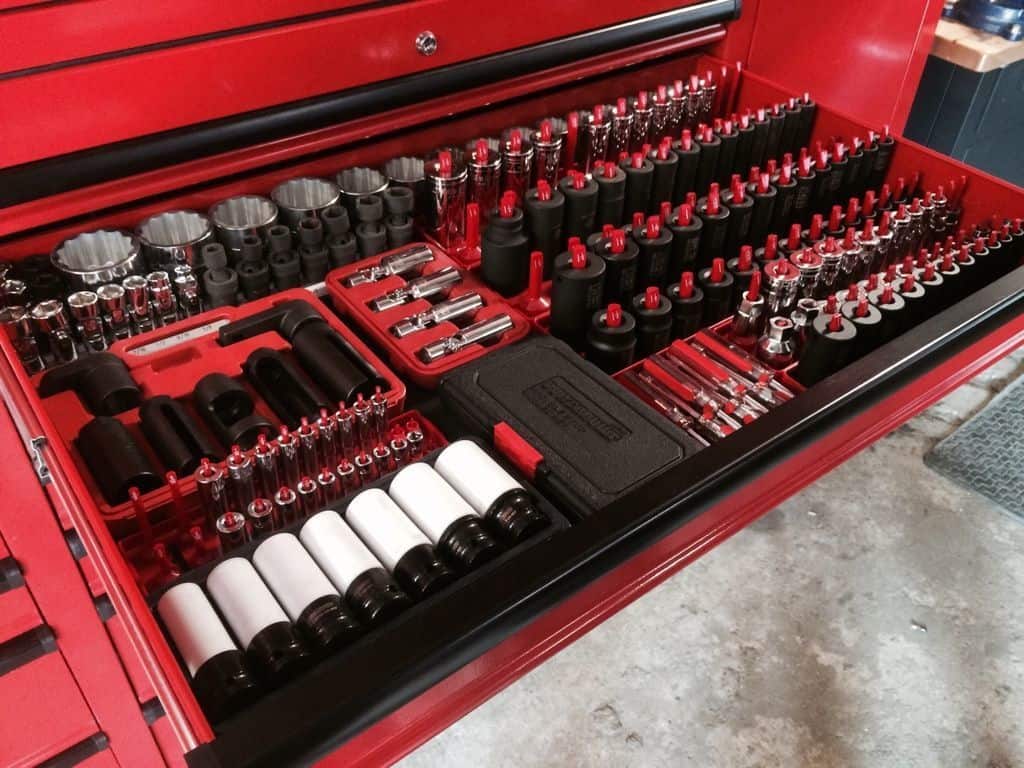 Types of Socket Organizers
As we could see, there are a bunch of different socket organizers. Why so many? Can't we have one best-of-all organizer? Well, not really, as we all work in different environments, have different tool chests, and use different tools. One type can't cover it all.
Magnetic socket organizer
Magnetic models are easy to use as the built-in magnet attracts the sockets and keeps them in place. They are usually made out of metal but can also be made out of plastic. It really is the most secure socket organizer type out there.
However, make sure to differentiate models marketed as "magnetic" while the manufacturer really means that there's a magnetic strip to the back of the tray. Not the same thing as magnetic clips.
Rail system
Clip rail holders are probably the oldest design out there but are still a neat solution. New models will feature various retention systems and can be more expensive as they are more complicated to produce. They usually come in three-piece sets, each with different drive sizes, which is good as you can buy as much as you use per size.
Tray container
A tray container is another socket organizer type that is easy to use as the sockets are arranged by size, and you really can't miss it. They can also be made out of metal, plastic, or even wood and can fit in a standard toolbox/tool chest.
On the other hand, some tray containers are magnetic while others aren't. Just watch out for the non-magnetic ones as they are mostly destined to be left on a workbench or store in your chest's top. Using those in a drawer can be a major setback as the sockets tend to roll around if the drawer is slammed shut.
Drawer insert
Ok, so not much freedom with this one in terms of portability. However, at least you'll never look for your tools. You know that they are in the drawer. They aren't as widely spread as other models but to each their own, right?
Make sure to correctly measure your tool chest's drawers as they can be a real bummer if they can move around when pulling/pushing drawers.
Pouch organizer
This buddy is everyone's friend. Portable or in a drawer, it doesn't matter as long as it does what it's supposed to. It's maybe not the neatest solution out there, but it has its own set of advantages. For instance, they are perfect to fit in a backpack or motorcycle bag.
Worth mentioning, these also often feature multiple other compartments to fit a couple of screwdrivers, pliers, etc. However, if you are looking for socket organizers to be used in a shop 40 hours a week, you might be better with a different model.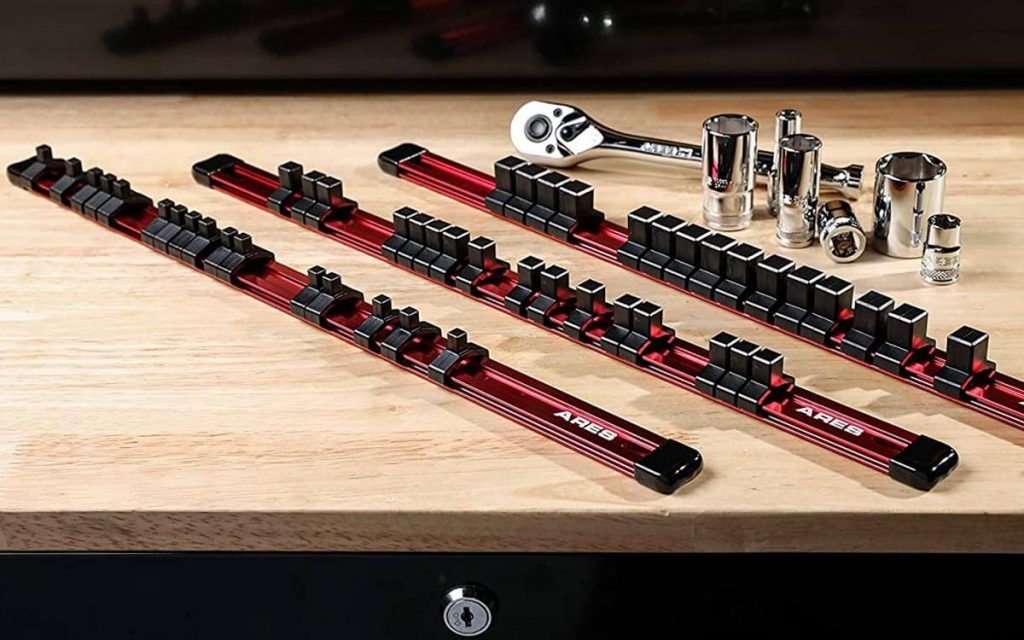 Things to Consider When Buying a Socket Organizer
Construction material
Socket organizers come in different shapes and sizes and are made out of different materials as well. Most of them are made out of durable ABS plastic or metal. We recommend choosing the one that fits you the best as it depends on which way you are using it.
Plastic ones may break when used in cold temperatures while metal ones tend to rust. There is simply not one good answer here and we suggest you get whatever fits you best. When in doubt, buy one of each, test them, and only then buy the rest of the set.
Mounting options
There are several mounting options for socket organizers. Some of them can be mounted on a wall or hung on a pegboard. Others will feature a magnetic strip so they can be stuck to the side of your tool chest, the bottom of drawers, or even to any metallic part on the car you are working on.
Size
Be careful when choosing the size of your future socket organizer. It's important as not all of them will fit in your chest's drawer or toolbox. Of course, you could always adjust your drawers afterward, but it's much easier to choose a socket organizer of the proper size in the first place.
Storage capacity
This is another differentiation between socket organizers. We saw organizers from 10 to 36 socket capacity per drive size. Just choose your fit as the more doesn't necessarily mean better. However, keep in mind that higher capacity models are also heavier, which can be a problem if you need them to be portable.
Securing mechanism
Different socket organizers have different securing mechanisms. Once again, the most important thing is to see what fits you best. It's really a question of personal preference and depends on what you are used to working with. But that's why there is a price difference as well. Well-made mechanisms keep sockets in their place better and are also more user-friendly.
However, keep in mind that more complicated securing systems also mean a higher risk of malfunction. To put it simply, a cheap plastic model with magnets at the bottom will usually last longer than models with high-tech tension balls.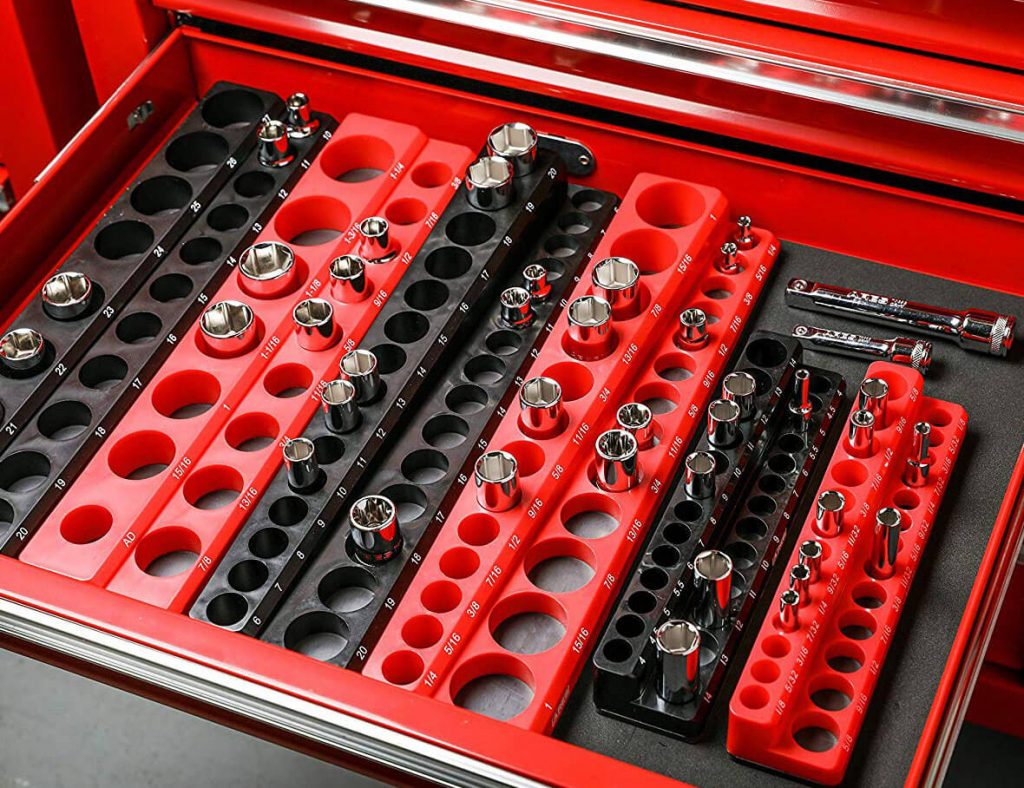 FAQs
How can I choose the right type of socket organizer?
First of all, you have to know your garage. Is it best to buy an organizer that can be put in a drawer, on a workbench, or hung on the wall? With or without magnets? It all depends on your routine and personal preferences. If you work on-call, you'll have to choose something that can be put in a small toolbox or the good ol' pouch organizer type.
How can I clean my organizer?
You can, and you should clean your organizer frequently as sockets can get stuck quite easily (depending on the organizer type, to be honest). Any kind of brush can do the deal. Even a toothbrush or a paintbrush will be helpful. If it's not too greasy, you can use a dry cloth just to pick all the dirt. In case it's too oily, you can just wash it in a part washer or brake cleaner.
Why does my socket keep getting stuck on the clips?
Getting stuck can mean two things: the socket's bottom is a bit rusty or the clip is crooked.
If your sockets are rusty, try slightly oiling them. If that doesn't work, try crimping the clips a little using a pair of pliers. Worth mentioning, ball retention systems also tend to rust when wet. My trick is to soak them in transmission oil and let them sit overnight, then clean them with brake cleaner.
As a general rule, if you work in a wet or cold climate, and your sockets organizers tend to sit in water, mud, or snow, you might be better with a plastic/magnetic model. These typically never rust or get stuck.
Can I adjust the length of the organizer rail?
It really depends on the model you are using but in most cases, yes. You can cut and adjust metal rails to your liking and manufacturers usually sell replacement clips. Just do it properly and, if needed, reinforce the ends if they are made out of aluminum. If the rails are made out of plastic, it's even easier.
Verdict
If you like/need to take your socket organizer with you, buy something portable like the CLC Socket/Tool Roll Pouch or Strongway Magnetic Socket Holders.
Meanwhile, if you need a bunch of sockets organized and at your disposal all the time, then go for Eastwood 5 Rail Socket Holder with that 88 socket capacity. And if you still need more, just buy 2!
However, the real all-rounder, the model I prefer and that I personally use every day in the shop, is the GEARWRENCH Magnetic Socket Rack. The design is simply better than any other I've tried and it's quite cheap—you simply can't go wrong with this one!