EDITOR'S PICK
Ingersoll Rand 328B
8-inch pad
Lightweight (2.48 pounds)
Easy to operate
Reasonably priced
PREMIUM PICK
3M Elite 28582 Random Orbital Sander
Sturdy and reliable construction
Ergonomic design
Low noise and vibration during operation
Lightweight (1.54 pounds)
Swirl-free surface finish
BUDGET PICK
Ingersoll Rand 311A
Easy-to-handle
One-year warranty
Less noise
Smooth finish
Reasonably priced
Ergonomic design
Sanding is no less than an art, at least, that's what any professional body repairman will tell you. And every artist needs the right tools to create his masterpiece. If you are in the market for a quality air orbital sander, look no further and keep reading.
Air orbital sanders are power tools that use compressed air to provide a surface finish of the desired quality and smoothness. However, different types are best suited for various needs and work environments. When working in a body shop, having the right sander is imperative to get the perfect paint job. To help you with that, here is a list of what we think are the top air orbital sanders for auto bodywork.
Air Orbital Sander for Auto Body Work Reviews
The Ingersoll Rand 311A is a heavy-duty sander packed with features that make the user's life much easier. It features a 6-inch circular pad and a quarter-inch air inlet.
To reduce noise during operation, it has a built-in silencer. Moreover, a balanced ball-bearing construction ensures vibration dampening, resulting in greater control over the tool, in addition to putting less strain on your wrist.
Ingersoll Rand claims that 311A's dual-action technology will help it deliver swirl-free surface finishes. A spring-loaded lever acts as a switch, and a separate knob on the side is used to regulate the speed. The speed control function can reach the maximum speed of 12,000 rpm while consuming 17 cubic feet per minute of air.
This product is relatively budget-friendly, but it comes without a dedicated dust extraction system, a must-have for the heavy-duty and continuous work environment where the 311A will operate. Weighing in at 4.02 pounds, the 311A cannot be considered particularly heavy, but all other alternatives on this list are much lighter.
Pros:
Easy-to-handle
One-year warranty
Less noise
Smooth finish
Reasonably priced
Ergonomic design
Cons:
Absence of dust collection system
The Dynabrade 56815 Supreme sander also has a 5-inch circular pad, and it is designed for professional use to provide a soft finish. This product features a powerful 0.28 horsepower setup that is good for a maximum free speed of 12,000 rpm. At full throttle, this sander will consume about 18 cubic feet of air per minute, so make sure your air compressor can pump out enough air.
To extend the Dynabrade 56815's life, the manufacturer used a triple-sealed double-row balancer bearing protecting internal components from residue contamination.
Speaking of sanding residue, prepare to see quite a bit of it. As this is a non-vacuum sander, it will let off some dust during operation. If your workspace is not sufficiently ventilated, this might be a cause of concern. However, Dynabrade offers optional vacuum self-generated or central vacuum conversion kits.
With the 56815, Dynabrade has taken operator fatigue very seriously. Consequently, it comes with an ergonomic design that provides support to the user's hands and wrist.
Pros:
Ergonomic design
Lightweight tool (2.04 lb)
Long-lasting
Cons:
Absence of vacuum system
No speed regulation feature
The second product to make this list from the century-old brand is a high-quality random orbital sander with a 6-inch circular pad. The bigger pad means that it can cover more surface area of the workpiece in one stroke.
The Ingersoll Rand 300G's lightweight construction helps to reduce fatigue, especially when used all day every day. Moreover, the 0.2 HP motor promises high-speed rotation of the tool element resulting in a swirl-free surface finish.
Unlike the previous sanders on this list, this product comes with a vacuum-ready dust extraction system. The system has several small holes in the pad surface that will suck the dust particles during operation when connected to an external vacuum. You can connect the vacuum hose to either central or portable vacuum systems.
The only downside to this is that you will need to make holes in the sandpaper at specific places to coincide with the holes on the pad. The manufacturer claims for this system to channel "virtually all dust" away.
Pros:
Sturdy construction
Reasonably priced
Swirl-free finish
Comes with a dust collection system
Cons:
The next product to make this list is another non-vacuum air random orbital sander manufactured by American multinational conglomerate 3M. The 3M brand is a popular name in car care products, and this sander lives up to that legacy. It features a 6-inch circular pad that comes with disc-adhesion capability for ease of operation. The pad is also claimed to absorb certain levels of shock and vibration and prevent it from affecting the user, thus reducing fatigue during prolonged use.
It comes with a 0.28 horsepower motor that is good for 10,000 rpm, although it does consume a lot of air in operation. To make the operator's life easier, this sander also comes with extended curved wrist support that provides exceptional comfort and helps maintain control of the tool.
Being a non-vacuum sander, the 3M Elite faces the same constraints as the first two products of this list, but that is its only downside.
Pros:
Sturdy and reliable construction
Ergonomic design
Low noise and vibration during operation
Lightweight (1.54 pounds)
Swirl-free surface finish
Cons:
No dust collection system
Last but not least is the Ingersoll Rand 328B Heavy-Duty Air geared orbital sander. This sander comes with a circular pad that is 8 inches in diameter, the largest of all. Ingersoll Rand has equipped this product with its dual-action motion technology, meaning the pad will not only rotate about the horizontal axis but also vibrate randomly. This movement will result in a clean and swirl-free surface finish.
Like the Ingersoll Rand 311A, the 328B also features a lever-type ignition switch that is easy to operate. During operation, its 0.25 horsepower motor is suitable for a maximum free speed of just 825 rpm. For increased versatility of operations, it also comes with a variable speed control function.
The only major drawback is the absence of a dust extraction system. So if you are inclined to buy it, make sure your work environment does not require this feature.
The balanced ball bearing construction of the 328B ensures exceptional reliability, so you don't have to worry about it falling apart after a long day's work. If anything does break, though, the one-year manufacturer's warranty is here to help.
Pros:
8-inch pad
Lightweight (2.48 pounds)
Easy to operate
Reasonably priced
Cons:
No dust extraction system
Things To Consider When Choosing An Air Orbital Sander For Auto Body Work
When it comes to choosing a single product from the plethora of choices available online, there are many things to keep in mind. Specific design or operational parameters of each product may make it perform well in some situations and not so well in others. This is why we have compiled a list of things for you to consider before making a decision. The list does not include price, surface quality, or build quality as all the products mentioned above are nearly at par in those measures.
Dust collection system
This is arguably the most essential criterion for choosing an air orbital sander. A dust collection system is a feature that uses vacuum power to suck small fragments of removed material. Sanders used without this will release all the dust in the work environment, and when working long shifts, it can have serious health implications for the operator.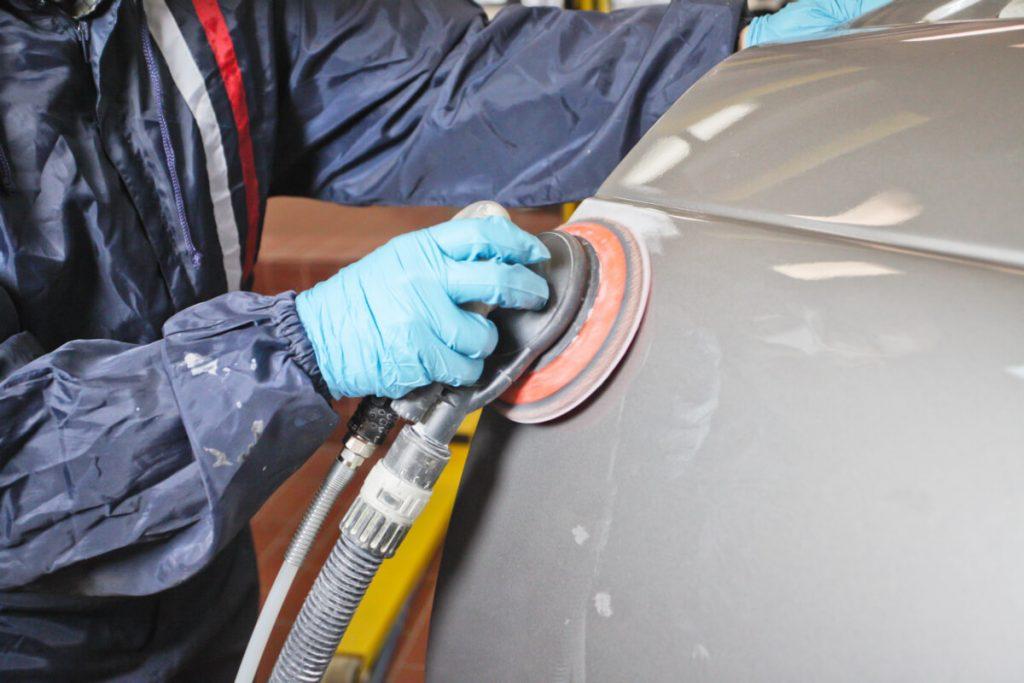 Intended application
Sanders have many different applications such as sanding of car paint, boat construction, woodworking, etc. Individual technical specifications, like rotor speed, speed control function, etc., must be considered to find a good fit.
Compressor availability
Air sanders that use compressed air to run their motors require a lot of air to operate. Thus, the compressors used to supply air must be potent enough to fulfill the sanders' requirements. Especially in a workshop, where many sanders work simultaneously, it becomes imperative to have a robust and high-capacity air compressor.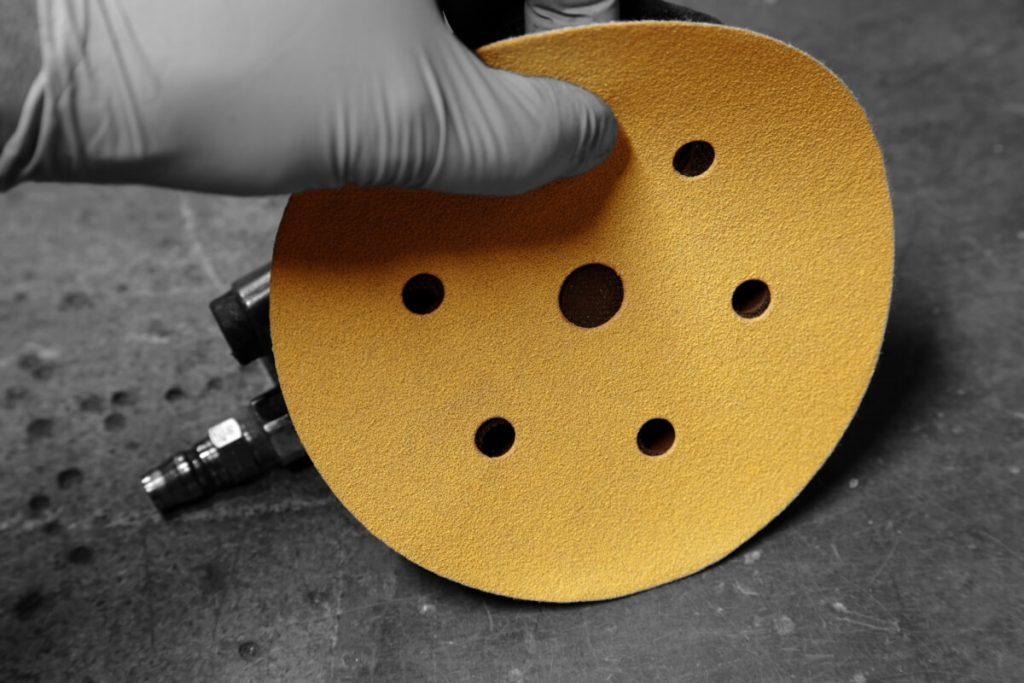 Speed regulation
Sanders equipped with speed control can perform different work types. Buyers who plan on using their products for various jobs should consider this feature.
Fatigue characteristics and control
The sanding process, irrespective of any particular application, takes a lot of time. No matter how you plan on using it, the sander should not cause a great deal of fatigue after prolonged use. This criterion can be somewhat ignored by buyers who will do most of their work on flat surfaces. In addition to not causing fatigue, you should have a good grip on the sander. Always look for a sander with rubber grips, especially if you use it professionally.
In Brief
After looking at what feels like hundreds of products, I can confidently tell you that there is no clear winner here. The best choice of sander depends on your intended use of it. For example, the Ingersoll Rand 328B would be best suited in sanding operations where less material is to be removed. Its low speed of just 825 rpm is better suited to such operations. On the other hand, operations demanding high-material removal would require faster sanders.
My final verdict on this would be conditional; if you are looking for an air orbital sander for occasional use around the house or your car, the Dynabrade 56815 is the right choice for you. It is cheap, sturdy in construction, and will get the job done.
For professionals looking to buy a sander, my recommendation would be the Ingersoll Rand 300G. Its dust collection system will make a big difference in workshop environments.