EDITOR'S PICK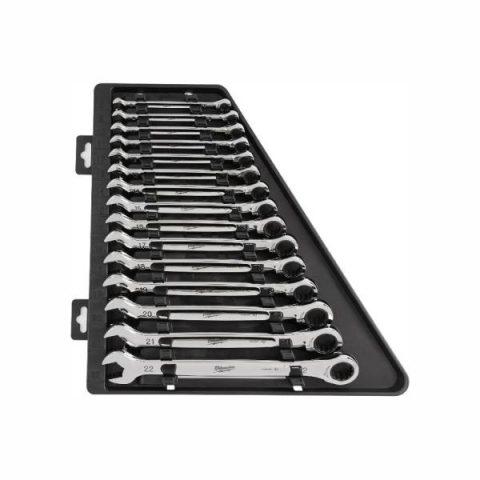 Milwaukee 15 pc Metric Combination Wrench Set
Double stacked pawl is ultra-durable
Unique "Max-Bite" toothed box end improves torque and reduces slipping
Comes with a stand designed for storing tools in your toolbox
Includes every wrench from 8mm to 22mm
PREMIUM PICK
Wera Joker 11 pc Metric Combination Ratchet Set
Unique box-end design holds fasteners and prevents slipping
Comfortable handle design
Color-coded tool identifiers make it easy to grab the right wrench
BUDGET PICK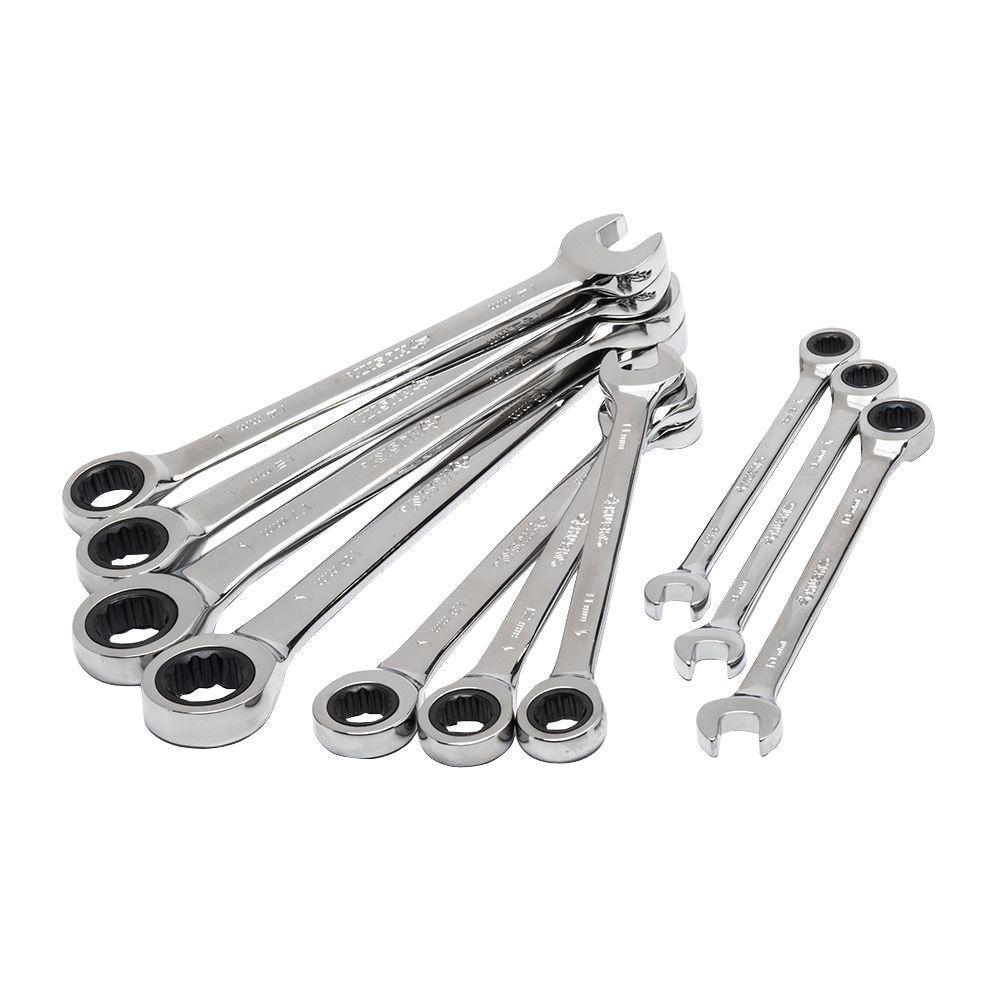 Husky 10 pc Metric Ratcheting Wrench Set
Affordable
Smooth ratcheting action
Chamfered lead-in makes it easy to get the tool onto fasteners in awkward locations
Sometimes, the simple things make the difference between the right tool for the job and hours of frustration. Having a set of high-quality ratcheting wrenches in your toolbox will save your knuckles and help you get jobs done with ease. In the last decade or so, ratcheting wrenches have become popular, and there are literally hundreds of designs on the market these days.
Consequently, choosing the best ratcheting wrench set has never been more complicated than it is now. That's why we want to share this list with you. Our decades of experience working on cars helps us narrow down the best options available, so you don't have to spend days wading through fake reviews online and marketing hype that doesn't translate to making the best purchasing decision.
Any of the ratcheting wrench sets we cover today are good buys. We will explain what they have in common, what sets them apart, and why you would want to buy each set.
Ratcheting Wrench Set Reviews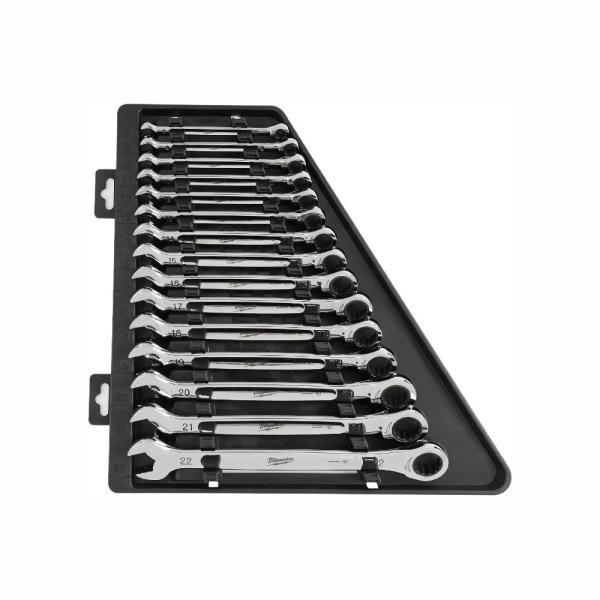 Milwaukee is famous for building tough tools that take abuse and last for years. This set of ratcheting wrenches from Milwaukee will prove to be some of your most reached-for wrenches. And should you find some way to damage one of these, Milwaukee backs them up with a lifetime warranty.
The first thing you notice about the ratcheting wrenches is the unique toothed open box end. Milwaukee says you'll get more as much as 25% more torque thanks to the innovative jaws' design. The serrations provide a better grip on nuts and bolts to help prevent rounding off.
And, speaking of a good grip, the beautiful I-beam design offers a stable and comfortable grip on the tool.
The ratcheting end features a 12-point design and 144 ratcheting positions to make it easy to get a grip on the most awkward fasteners. Besides, Milwaukee employs a stacked double pawl built into the ratcheting head for tremendous durability. The user needs only to rotate the wrench 2.5 degrees to reach the next click, translating to faster and easier installation and removal of fasteners, especially in super tight spaces.
Milwaukee's combination wrenches are some of the best in the game, although that comes with a higher price tag than most. However, if you are a professional mechanic, this one is a no-brainer.
Pros
World-renowned manufacturer
Double stacked pawl is ultra-durable
2.5-degree arc swing
Unique "Max-Bite" toothed box end improves torque and reduces slipping
Comes with a stand designed for storing tools in your toolbox
Includes every wrench from 8mm to 22mm
Cons
Fixed head design
Case design makes it difficult to see wrench sizes
On the pricier side
Gearwrench produces good-quality tools at affordable prices. This 7-piece ratcheting wrench set is an excellent buy for the casual DIYer or auto mechanic apprentices alike, in need of durable but still affordable tools.
Our favorite feature is the flex head design. Nothing is more frustrating than not being able to turn a tool once you finally get it on the nut or bolt you want to remove. By allowing the ratcheting head to flex, users will find it easier to get at those pesky fasteners, even placed in an incredibly hard-to-reach angle.
The 12-point ratcheting end requires only five degrees of movement to rotate a fastener. The ratcheting gear has 72 teeth, which is not that bad, but results in a 5-degree arc swing — twice the Milwaukee wrenches above but still an industry standard.
High-strength alloy steel allows for a thinner profile, making it easier to squeeze the wrench into narrow spaces. The flex head design is both durable and easy to get to the right angle for your project.
The open box end features off-corner loading, which puts pressure against the flat of a fastener and helps to reduce rounding bolt heads. The design also helps to promote a secure grip on fasteners, reducing the likelihood you're going to bash knuckles when a tool slips. The seven-piece set includes metric wrenches in 10mm, 12mm, 13mm, 14mm, 15mm, 17mm, and 19mm to cover the most common sizes you'll encounter. After all, when working on the most common cars on the road these days, you'll probably never need a 16mm wrench anyway.
The GEARWRENCH 7 pc Metric Flex Head Wrench Set is a perfect choice for weekend DIYers and beginner auto mechanics, thanks to the cheap price tag. It's definitely not the absolute best kit in the world and won't probably last as long as the Milwaukee one, but it will still perform better than other Chinese-made models found online, and unless you work full-time in a repair shop, there's no real reason to pay that much for a ratcheting wrench kit anyway.
Pros
Flex head and thin profile help you get into difficult to reach spots
Off-corner box end reduces rounding
Cons
Larger arc swing than more expensive models but still a standard in the industry
Sizes can be difficult to see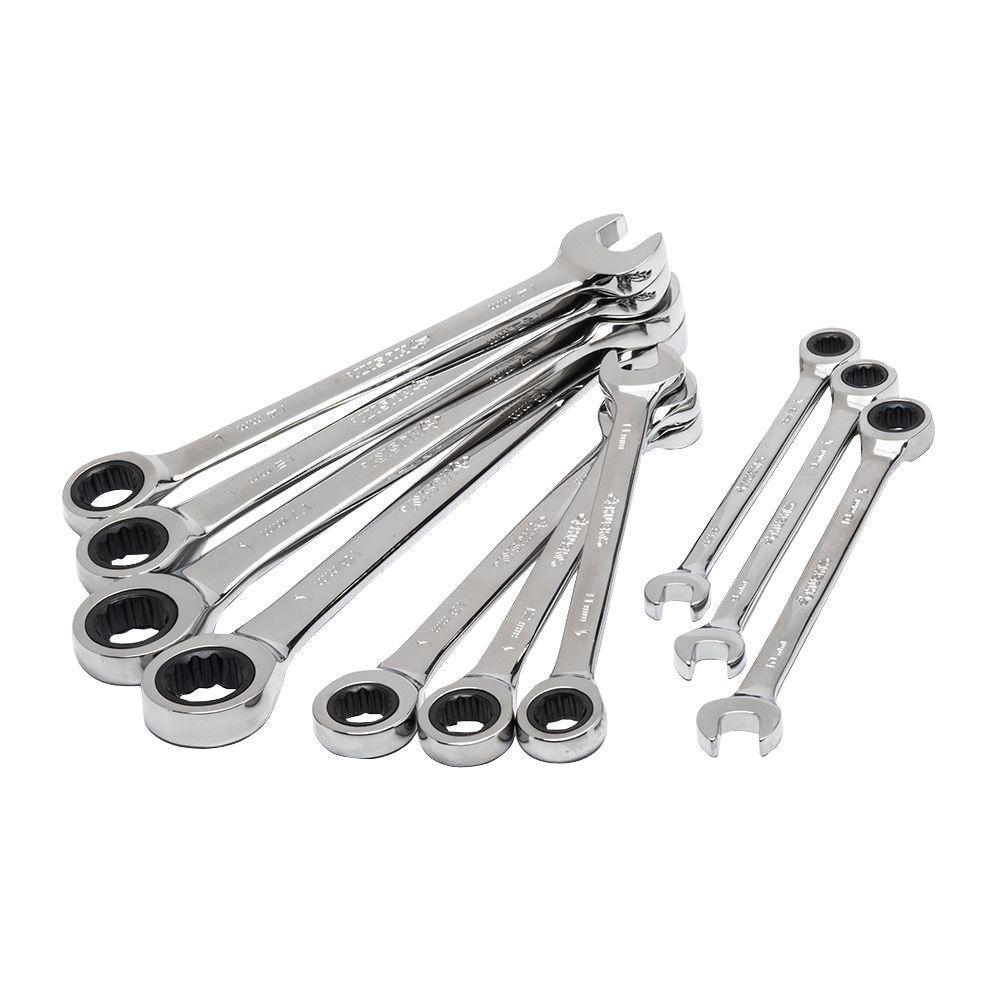 This is a very affordable 10-piece ratcheting wrench set from Husky. The tools feel high quality despite the surprisingly affordable price tag and feature some excellent tech, too. The set includes metric wrenches in 8mm through 15mm, plus 17mm & 18mm — if you do a lot of suspension and powertrain work, you might be missing the 19mm here.
This particular set features a 0-offset design intended to provide the user with easier access to tight spaces and to put more pressure on the wrench without having it slip out on you. The ratcheting end features a 12-point design and a 72-tooth gear, providing a 5-degree arc swing. Oversized engraved sizes make it easy to find the right wrench for the job, while the included storage case keeps your wrenches organized when not in use.
The Husky ratcheting wrenches are alloy steel construction with a brilliant, fully polished chrome finish that cleans up quickly even after the filthiest tasks. We really like the ratcheting head's chamfered design, letting the tool "slip" onto fasteners easily without having to fiddle around.
Moreover, Husky's lifetime warranty means you don't have to worry about breaking or damaging your wrenches.
Pros
Affordable
Smooth ratcheting action
Chamfered lead-in makes it easy to get the tool onto fasteners in awkward locations
Cons
Somewhat heavier and thicker than others
Straight-edged open box end is a very basic design
Craftsman is one of our favorite tool companies, with a reputation for building high-quality tools that are as durable as good-looking. While somewhat more expensive than other options out there, this set of ratcheting wrenches provides some of the most advanced techs around and makes them some of the best ones on the market.
Unlike many other ratcheting wrench sets that must be flipped over to change direction, the Craftsman set features a reversing lever, so you don't have to take the tool off the fastener to change directions. For instance, when trying to remove rusty bolts and screwing-unscrewing repetitively to take it out without breaking it, having to flip the wrench every time might be troublesome. Having a dedicated reversing lever makes it much easier.
A 72-tooth ratcheting gear cuts the rotational requirements down to only five degrees, similar to all the other aforementioned models except Milwaukee's. Moreover, the 12-point ratcheting end means you won't have to fiddle around to get the ratcheting head lined up on whatever you are working on. The metric set includes 8mm, 10mm, 12mm, 13mm, 15mm, 17mm, and 19mm, which should be more than enough to cover most US and Japanese cars.
Pros
Reversible, locking ratchet head
Flex head provides excellent access to tight spots
Slim designed head and shaft
Cons
Flex head is somewhat bulky due to the reversible mechanism
From the moment you pick up these ratcheting wrenches from Wera, you know you've got something special. While many companies are comfortable selling some basic ratcheting wrenches, Wera went above and beyond to add features no one else has, and that's why this is one of the best ratcheting wrench sets you can buy.
Starting with the box end, Wera uses an unconventional double-hex geometry and limit stops to prevent slipping and rounding off bolt heads. A removable plate lets the user hold a nut in place while starting the threads, a great feature when working on modern cars with minimal clearances.
The 12-point ratcheting end is smooth and easy to use. Wera uses an 80-tooth gear, so you'll only need to turn the wrenches about 4-degrees to get to the next click. This feature is particularly handy when trying to loosen and tighten fasteners in tight spaces.
Wera tools are made in the Chech Republic, well-regarded for their high-quality steel manufacturing. Not only are these tools tough, but the shape of the handle also makes them ultra-comfortable in hand. The metric set includes wrenches in 8mm and 10mm through 19mm in a handy, roll-type case.
Pros
Unique box-end design holds fasteners and prevents slipping
Comfortable handle design
Color-coded tool identifiers make it easy to grab the right wrench
Cons
Quite expensive (but you'll get what you pay for!)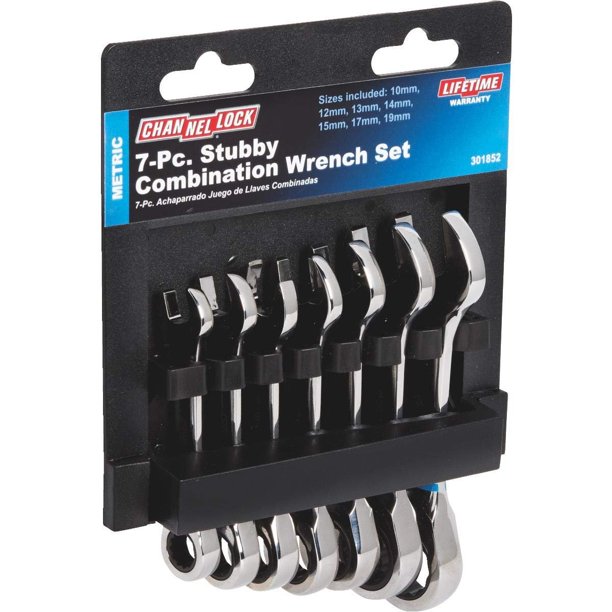 There are handy, versatile tools, then there are these stubby ratchet wrenches from Channellock. These little guys can get into all those weird spaces no other wrench can reach and still have enough heft and size to get plenty of torque.
The stubby wrenches use the standard, 72-tooth/5-degree arc swing gear head like other regular length ratcheting wrenches from Channellock, making them perfect for use in tight spaces. And thanks to their small sizes, they fit in places that other wrenches simply can't.
This ratcheting wrench set isn't big on wow factors — it's really just a basic, classic-style ratcheting wrench in an ultra-versatile shape. They are sturdy and durable but in a smaller format. The metric set includes 10mm, 12mm, 13mm, 14mm, 15mm, 17mm, and 19mm sizes.
Every professional auto mechanic should have at least one set of regular ratcheting wrenches and one set of stubby ones. You certainly won't use the smaller ones as often as the regular ones but trust me, when you'll need them, you'll be damn happy you bought some.
Pros
Stubby size makes getting at nuts and bolts easier
Sturdy and well-built quality product
Cons
Ratcheting action doesn't feel as sturdy as others
Basic design and features compared to similar products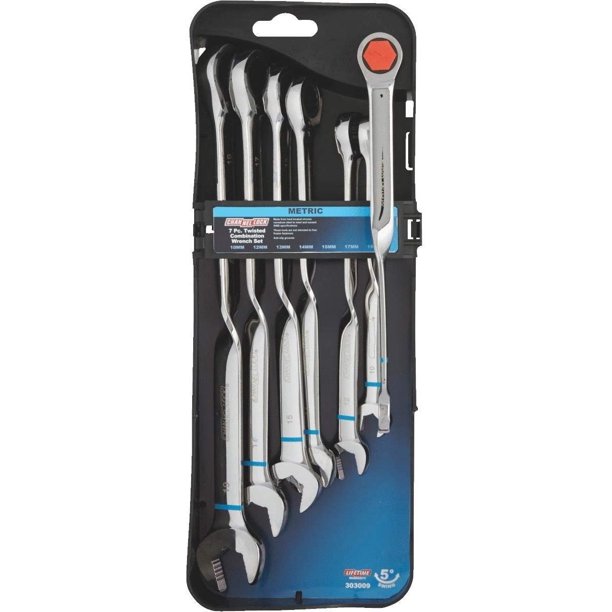 In a similar theme to the stubby wrenches above, the particular design of these ratcheting wrenches puts them into a whole different category. By twisting the handle and providing extra length, Channellock created a ratcheting wrench with superior leverage for getting after those stubborn nuts and bolts — just remember that breaking fasteners is not the job of a ratchet wrench.
However, if, just like me, you are the kind of mechanic who tends to hit tools with his palm to break bolts (yeah, I know you are not supposed to do that), you know how hitting the side of a wrench hurts. Well, not with those. Thanks to the twist design, you can hit the flat side and somewhat reduce how bad it hurts.
The extra-long wrenches are also a delight when getting at fasteners that are just out of reach with conventional ratcheting wrenches — think water pump bolts and such here.
Moreover, the open box end of the wrench has anti-slip grooves to help grip nuts and bolts securely as well as avoid rounding fasteners. If you were already aware of Channellock, you know that it knows its thing when it comes to grip. Also, the zero-offset head design lets you get solid, straight angles on bolts for the best leverage.
The ratchet head is a 12-point design and features Channellock's classic 72-tooth gear — a durable and time-proven design for years in toolboxes all over. While basic in design, its simplicity is also a benefit in terms of durability. That being said, should anything go wrong, Channellock has a lifetime warranty that's got you covered.
Just like the stubby model above, Channellock's Twisted Ratcheting Wrenches are also an excellent addition to any professional automotive technician's toolbox. However, if you are still a beginner or an apprentice, you probably don't need those right away. Make sure to invest your money on a regular quality set instead; you'll have more than enough time to buy specialty tools later.
Pros
Innovative twist design
Extra-long for better reach
Simple and durable
Anti-slip grip on open box end
Cons
Can be too long for some tight locations
Too much leverage for some situations, which can lead to broken bolts — to be used with caution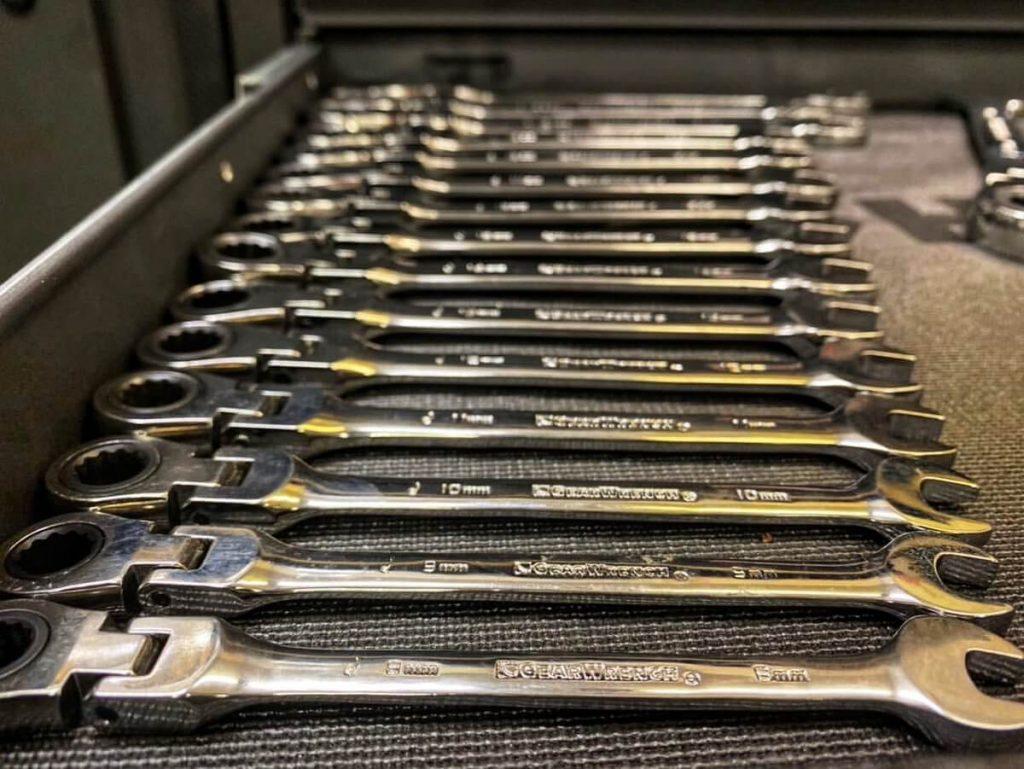 Things To Consider When Buying a Ratchet Set
Always keep in mind that not all tools are created equal, and choosing the right tool for the right job is always better than super expensive ones with tons of bells and whistles that you don't really need.
Before you lay down hard-earned cash on a set of wrenches, you should think about how you intend to use it. Depending on certain types of work, some tools may be better than others. Also, always consider your total budget. After all, mechanics need many different tools, and investing everything you got on the best possible ratcheting wrench set might prevent you from being able to afford other essential ones. Always go slow and by tools that fit your specific needs and budget.
Metric or SAE
Almost all ratcheting wrench sets are sold in metric sizes or SAE sizes, but not both. So, if you are working on an early 1960's American car, then an SAE set is what you want. But, if you are working on more recent cars, you're going to need a metric set.
If you need both, then it may make more sense to buy a less-expensive brand. For example, since I personally worked mostly in dealers and only worked on classics during weekends, I chose to invest in a more expensive metric set for work and a cheaper SAE one that I keep in my home toolbox.
Wrench Sizes
Ratcheting wrench sets are sold in various sizes, but even the most complete set won't include every size. When you are shopping for a good deal on ratcheting wrenches, consider the sizes you most commonly use and look for sets that include what you need. It isn't worth spending more money to get wrenches you'll never use that end up taking up precious real estate in your toolbox.
If you aren't sure of what you might need, I'd say that a set including 8mm, 10mm, 12mm, 14mm, 17mm, and 19mm wrenches is a good starting point.
Special Features
Some of the products on this list have unique features, but it's often the more simple tools that are the most reliable. Features like anti-slip teeth and specialized open box shapes can help reduce the likelihood of rounding bolt heads. If you work on a lot of rusty, dirty stuff, these features might be important to you, but they also increase the tool's cost.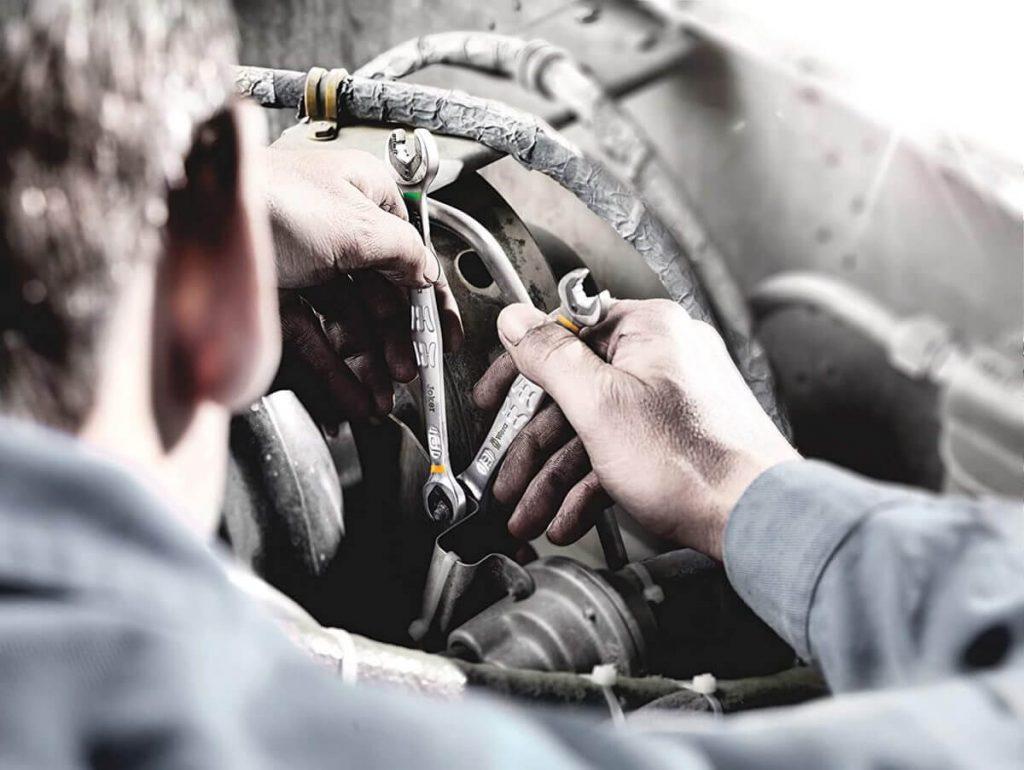 Gearing Ratio
Most ratcheting wrenches use 72 teeth gear mechanisms, letting the ratchet move in about five degrees clicks. The advantage is tightening or loosening fasteners in tight spots; smaller arcs make it a lot easier to work in tight spots. A ratcheting wrench with more teeth will turn in smaller increments, but the teeth are also more delicate. A ratcheting wrench with fewer gear teeth will be more durable when abused but will also require a larger arc swing to click.
Finish and Storage
Everyone has a preference on how their tools look. Some people like them shiny, some folks like to polish tools on a buffer, while others prefer a natural finish. The advantage of a polished finish is that the tool is easier to clean. The disadvantage is that shiny tools also become quite slippery when coated in grease and oil.
A few companies produce ratcheting wrench sets with unique handle designs that help to give the user better control. If you frequently work on greasy, oily, gunky stuff, a natural finish or a ratcheting wrench set with a unique handle design might be worth considering.
Moreover, some sets are sold with high-quality storage racks. Others are sold with cheap junk plastic racks. It's worth considering, but it really depends on how you intend to store your wrenches. That being said, how good a rack is should never be the only reason you choose a specific set. If the ratcheting wrench set you want to buy comes with a cheap rack, simply know that most tool manufacturers sell high-quality racks that you can buy later down the road.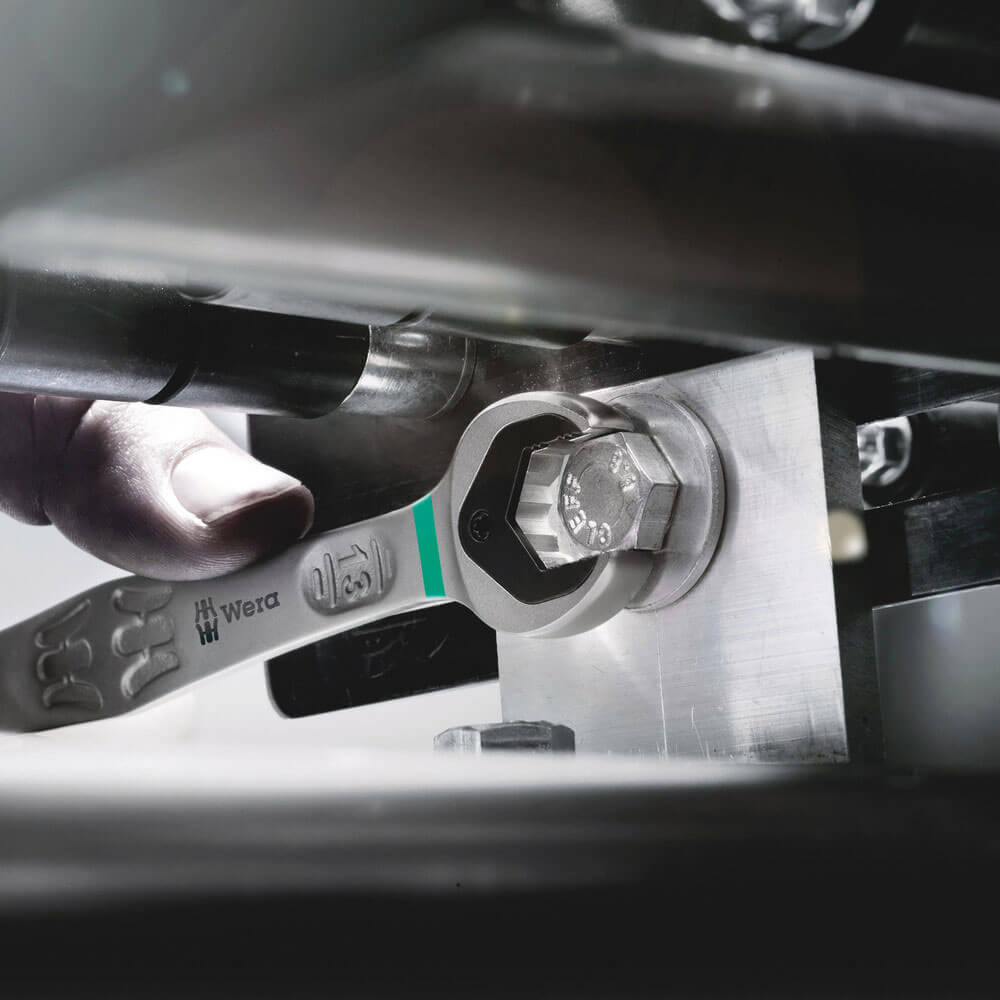 Frequently Asked Questions (FAQ)
How does a ratcheting wrench work?
Inside the wrench's head, a gear and pawl system allows the ring end to rotate in one direction but not the other.
How do you reverse direction when using a ratcheting wrench?
In the most basic design, all you have to do is flip the wrench over to change direction. Typically, these wrenches will have an arrow indicating the direction the ring turns.
What's the right way to use a ratcheting wrench?
Ratcheting wrenches should be used for speeding up assembly and disassembly. They are not designed to be used for breaking loose rusted fasteners. Excessive force can break the pawl and gear teeth, effectively destroying the tool.
The right way to do this would be to use a breaker bar to start the bolt if there's enough space or a regular non-ratcheting wrench if space is limited. Only then switch to the ratcheting model to speed up the process.
What are the advantages and disadvantages of a flex head ratcheting wrench?
A flex head has the advantage of allowing the user to set the ratcheting end at an angle, often making it easier to get into tight spots. In most cases, flex head ratcheting wrenches will have a bigger head than regular wrenches, which can cause problems. Flex head wrenches can also lose tension over time, making the flex head floppy and difficult to use.
Do you always have to flip a ratcheting wrench over to change direction?
Many companies today produce ratcheting wrenches with the ability to change direction through a mechanical switch. These ratcheting wrenches tend to be high-end products, though, so they are more pricey.
Verdict
Ratcheting wrenches can be some of the most versatile tools you own. Selecting the best type of wrench depends on what you work on, but it's easy for anyone to find a ratcheting wrench set on this list that will suit their needs.
If you are still a beginner mechanic, go for the GearWrench or Husky models. They are quite inexpensive and will do the job just fine. On the other hand, if you are already a full-fledged professional auto mechanic, you most likely have already spent thousands of dollars on tools. In that case, don't hesitate and go for the Milwaukee, Craftsman, or Wera sets. Trust me; you'll thank me later!