EDITOR'S PICK
Battery Type: Lead-Acid (AGM)
Size/Weight: 13" x 13" x 14" / 18.21 lbs.
12-Volt
1200 Peak Amps
400 Peak Watt inverter
Spark resistant clamps
Reverse polarity protection
150 PSI air compressor
Built-in USB, AC, and DC port
LED flashlight
1-year warranty
PREMIUM PICK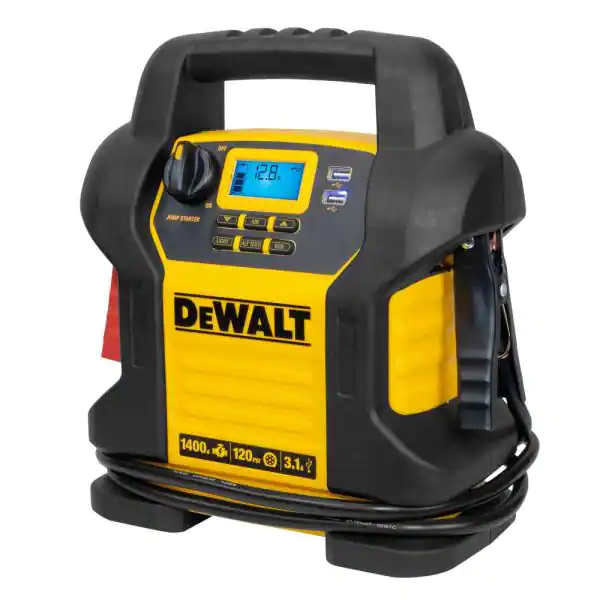 Battery Type: Lead-Acid
Size/Weight: 29.8" x 15.2" x 33" / 35 lbs.
12-Volt
700 Cranking Amps, 1400 Peak Amps
Reverse polarity alarm
Overcharge protection
120 PSI air compressor
Built-in 2 USB ports
1-year warranty
BUDGET PICK
Battery Type: Lithium-Ion
Size/Weight: 5.83" x 4.41" x 10.75" / 4.62 lbs.
Battery Capacity: 20000 mAh
12-Volt
2000 Peak Amps
Spark proof clamps + 9 safety features
Fast charging technology
Built-in DC port and 2 USB ports (USB-A and C)
IP65 dust- and water-resistant
2-year warranty and lifetime technical support
If there is one thing the lockdown taught car owners is not to forget that car batteries eventually die out if the engine is turned off for an extended period. Indeed, car batteries drain over time due to various electronics still consuming power even when the key is not in the ignition. But the seldom use of a car isn't necessarily the only cause why the battery could die. For instance, various mechanical problems such as a bad alternator could also prevent the battery from being recharged while you drive. Old batteries will also lose their capacity to hold a charge and be ready for the next morning.
Whichever the cause, the solution is often to connect your dead battery to another well-running car's battery via jump cables and jump-start your vehicle. However, this method could be considered old-fashioned and not that practical. Jump-starting requires both a donor car and jumper cables, and both may not always be within reach when you need them.
Luckily, a more modern solution has arrived; portable car jump starters are a more convenient alternative to jumper cables. These devices usually come in a compact size, and can easily be carried in your trunk or kept in your garage. Some are even small enough to fit in your glove box. Better yet, they offer the same capability as any other car battery, and sometimes even more.
However, there are a lot of options to choose from (and a lot of not-so-good ones, to be honest). Hence, it's crucial to pick one that is compatible with your vehicle, that will fit within your budget, and will do the job you need it to do. And although the specifications might look like a pile of random numbers and letters to you, we are here to help you with that.
Gathered below are ten of the best portable car jump starters available on the market right now. We have reviewed each model separately, outlined some of their most important pros and cons, and explained who they are most suitable for.
We will also discuss the benefits of portable jump starters compared to other alternatives, what to look for in one if you're planning on buying, and even added step-by-step instructions on how to use one safely.
Enjoy!
Best Portable Car Jump Starter Reviews
Nowadays, portable jump starters have improved significantly and are definitely worth investing in. Besides, most of them even carry more features than you would normally expect from a basic jump-starting device.
Regardless, what matters most is finding the most suitable one for your vehicle, without breaking the bank.
It is worth noting that all of the devices reviewed below are compatible with vehicles adopting at least a 12-volt battery system—but that's pretty much all of them. Just know that they won't work to jump-start 6v-powered golf carts and e-scooters or 24V boats, RVs, and military vehicles.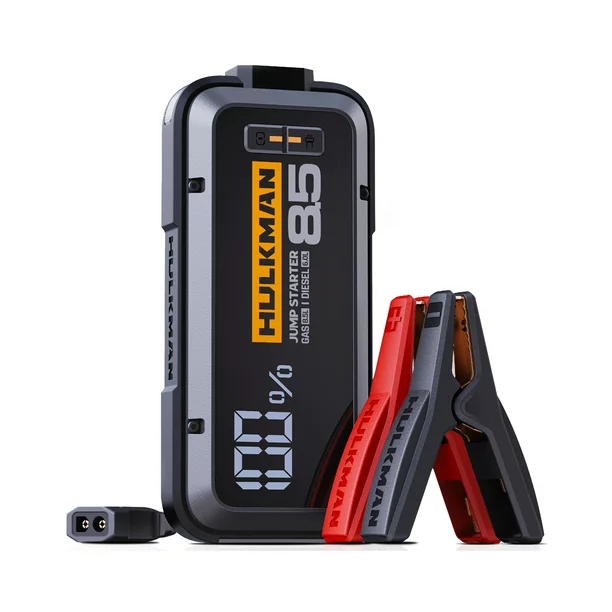 It's easy to recommend the Hulkman Alpha 85, as it offers tons of features in one compact device that fits in your glove box—and it's super cheap!
And don't be fooled by its small size. This lithium-ion jump starter offers 2000 peak cranking amps, good enough to start an engine as big as an 8.5-liter gasoline model or 6.0-liter diesel. Moreover, the manufacturer claims it can perform up to 60 jump-starts over a single charge.
Safety-wise, this is also one of the safest jump-starting devices on this list. It has spark-proof technology and several other protection bits, such as reverse polarity, reverse charge, overcharge, over-voltage, over-current, short-circuit, and high/low-temperature protection—yep, that's a lot of protection! These features work together to cut the electric current if the clamps are installed incorrectly or if the smart protection module detects any potential problem.
You'll also be pleased to know it can double itself as a power bank. It has a massive battery capacity of 20000 mAh, helping you charge mobile devices and pretty much any small electronics There are two built-in USB ports, a 12-volt DC outlet, and a flashlight too. Moreover, it's the only device on this list that features a fast charging technology, with a claimed 0-100% charging time of only 1.5 hours, thanks to the company's patented 65W Speed Charge.
The list of features could go on, and we are kinda surprised it's still one of the most affordable portable jump starters on this list. It's simply perfect as a fail-safe. If you need a jump starter "just in case," just get this one, leave it in your glove box and forget about it—you'll thank us next time your car doesn't start.
Key Features
Battery Type: Lithium-Ion
Size/Weight: 5.83" x 4.41" x 10.75" / 4.62 lbs.
Battery Capacity: 20000 mAh
12-Volt
2000 Peak Amps
Spark proof clamps + 9 safety features
Fast charging technology
Built-in DC port and 2 USB ports (USB-A and C)
Flashlight with three modes
IP65 dust- and water-resistant
2-year warranty and lifetime technical support
Pros
Handy fast charging
Loaded with safety features
Colorful and informative display
Generous warranty and customer support
Cons
Does not come with a carrying case
The Stanley JUMPiT J509 is an affordable heavy-duty portable jump starter geared towards medium/heavy truck owners. It has a powerful 500 cranking amps, and it goes up to 1000 amps at peak. And indeed, you can use it on your small/medium-sized cars/SUVs too.
While it's not the most portable, it's still one of the most user-friendly lead-acid jump starters out there. It's even made foolproof by having a reverse polarity alarm that alerts you if you hook the clamps to the wrong terminal. Furthermore, it has durable powder-coated metal clamps, a handy built-in USB port, a 12-volt DC outlet, and rotating LED work lights to assist you in the dark.
However, you'll need to purchase a standard household extension cord separately as it doesn't come with a power cord (the lack of a power cord comes in handy when using it, though. A built-in power cord would always get in the way otherwise). And keep in mind to charge it somewhat frequently when not in use, as it has a slightly high discharge rate. But considering the excellent value for money, these minor drawbacks are well worth living with.
Key Features
Battery Type: Lead-Acid
Size/Weight: 11.25" x 6.75" x 13.5" / 15.6 lbs.
12-Volt
500 Cranking Amps, 1000 Peak Amps
Reverse polarity alarm
Built-in USB and DC port
270 degrees LED rotating light
1-year warranty
Pros
Large cranking amps
Durable powder-coated metal clamps
Great value for money
Cons
Needs to be frequently recharged when not in use (every 30 days)
Power cord is sold separately
The NOCO Boost Plus GB40 is another compact lithium-ion jump starter packed with plenty of punch. It's shaped similarly to the Hulkman Alpha 85 but slightly smaller. However, small doesn't mean weak here. Thanks to the 1000 peak amps, it will easily jump-start gasoline engines up to 6.0-liter and diesel engines up to 3.0-liter. NOCO also claims it should be able to perform about 20 jump-starts on a single charge.
In terms of safety, it comes with reverse polarity protection and spark-proof clamps, and just like the Hulkman, it's also built tough and has an IP65 rating for dust and water resistance. Furthermore, there is a built-in 2.1A USB port and a 100-lumen LED flashlight with six brightness modes. But don't rely on it for too long, though, as the power bank has a lower 2150 mAh capacity.
Key Features
Battery Type: Lithium-Ion
Size/Weight: 6.57" x 3.15" x 7.72" / 2.4 lbs.
Battery Capacity: 2150 mAh
12-Volt
1000 Peak Amps
Spark-proof technology
Reverse polarity protection
Built-in USB port
LED flashlight
IP65 dust- and water-resistant
1-year warranty
Pros
Rugged design
Decent price
Certified dust- and water-resistant
Intuitive lighting indicators
Cons
Power bank's capacity is on the lower side
Clore Automotive has been in the game for quite some time, making excellent lead-acid portable jump starters since it introduced the famous Jump-N-Carry model back in 1993. Although that model is still on sale today, the company also offers a more compact version known as the Booster PAC ES5000.
This newer (but still kinda old-school) model produces 400 cranking amps and 1500 peak amps, capable of light- and heavy-duty use. In addition, it has tough-built and corrosion-resistant Hot Jaw™ clamps and quite handy 43″ long cables.
Unlike other lead-acid jump starters that are not happy being charged for too long, the Booster PAC ES5000 has an automatic recharging system. This meant the battery would be protected from overcharging, so you'll be okay leaving it plugged in over a long period. In fact, the PAC ES5000 is one of the most widely used booster packs by repair shops exactly because it can be left plugged in so it's always ready to take whatever you throw at it.
Unfortunately, it's a bit of a shame that it only has an old-fashioned 12-volt DC outlet instead of a USB port. But the overall product quality is still undoubtedly incredible, and it will last you for years.
Key Features
Battery Type: Lead-Acid
Size/Weight: 18.3" x 4.4" x 11.4" / 18 lbs.
12-Volt
400 Cranking Amps, 1500 Peak Amps
Overcharge protection
Industrial-grade Hot Jaw™ clamps
Built-in DC outlet
1-year warranty
Pros
Renowned manufacturer
Incredible track record
Long and supportive 43″ jump cables
High quality and corrosion resistance clamps
Great build quality
Cons
No built-in USB port
No spark-proof clamps
The SCOSCHE PowerUp 700 is perfect for small/medium car or SUV owners looking for a safe, modest, and budget-friendly portable jump starter. This compact lithium-ion-powered device delivers a decent output of 700 peak amp, which should be enough to jump-start pretty much any regular-sized vehicle. Moreover, it also claims it can jump-start a car up to 3 times on a single charge.
Astonishingly, despite producing less cranking power and costing less than the Hulkman Alpha 85 we reviewed earlier, it comes loaded with the same safety features. It also doubles itself as a flashlight and a 15000 mAh power bank, with which you can charge up to two mobile devices via the two built-in USB ports. And even better, it even comes with a 1-year warranty and lifetime tech support.
Sadly, heavy-duty seekers might need to look somewhere else for larger amps. The cables provided are also pretty short, making their placement slightly inflexible when in use. But if you just need an affordable jump starter for your daily commuter, this one is well worth the investment.
Key Features
Battery Type: Lithium-Ion
Size/Weight: 6.5" x 4" x 10" / 5.3 lbs.
Battery Capacity: 15000 mAh
12-Volt
700 Peak Amps
Spark proof clamps + 10 safety features
Built-in 2 USB ports
Flashlight with SOS mode
1-year warranty and a lifetime tech support
Pros
Reliable manufacturer
Super compact
Loaded with safety features
Highly affordable
Cons
Short jumper cables
No DC outlet
Schumacher makes some of the best heavy-duty lead-acid powered jump starters, and the SJ1332 is no exception. It can deliver 1200 peak amps, good enough to jump-start a gasoline engine up to 8.0-liter and a 6.0-liter diesel—it's pretty darn powerful.
Apart from having a USB port and12-volt DC outlets like most common portable jump starters, it also has a 400 watt AC power inverter powering two household-style outlets, making it quite handy to power up small appliances when camping or at your next tailgate party.
You might find it a bit bulky compared to the previous ones on this list but it's worth mentioning that it comes with a practical 150 PSI air compressor to inflate car tires but also inflatable mattresses and such. All these features make it ideal for overlanding and adventure enthusiasts alike.
It's also worth noting that the Schumacher SJ1332 uses an AGM-type lead-acid battery, which will last longer than most and provide a lower discharge rate than regular lead-acid models.
Key Features
Battery Type: Lead-Acid (AGM)
Size/Weight: 13" x 13" x 14" / 18.21 lbs.
12-Volt
1200 Peak Amps
400 Peak Watt inverter
Spark resistant clamps
Reverse polarity protection
150 PSI air compressor
Built-in USB, AC, and DC port
LED flashlight
1-year warranty
Pros
Trusted manufacturer
Practical air compressor
Handy built-in AC outlet
AGM batteries have a lower discharge rate
Perfect for outdoor enthusiasts
Cons
If you feel like the previous Schumacher SJ1332 is not powerful enough for your needs, then the DSR ProSeries is what you need. It offers 350 Cold Cranking Amps, 525 Cranking Amps, and a whopping 2200 Peak Amps. With this amount of power, you could jump-start just about any vehicle, as long as it has a 12-volt battery system.
Safety features include spark resistance clamps, reverse polarity protection, and overcharge protection (like the Clore Automotive PAC ES5000 above). In addition, it adopts the same AGM-type lead-acid battery as the SJ1332 model, so it's as durable. Finally, it comes with a built-in USB port and a 12-volt DC outlet, but sadly the flashlight and air compressor are off the list.
However, it's important to mention that the larger battery pack does cause it to weigh over 24 lbs. Still, it's only a small price to pay for having the most powerful jump starter on this list—and when you need more power than most, going big is often the only solution.
Key Features
Battery Type: Lead-Acid (AGM)
Size/Weight: 14.6" x 6.3" x 20.8" / 24.46 lbs.
12-Volt
350 Cold Cranking Amps, 525 Cranking Amps, 2200 Peak Amps
Spark resistant clamps
Reverse polarity protection
Overcharge protection
Built-in USB and DC port
1-year warranty
Pros
Reliable
Trusted manufacturer
Really powerful
AGM batteries have a lower discharge rate
Informative digital display
Cons
On the heavier side
No flashlight
Michelin doesn't only make tires— it also produces incredible portable powerhouses, and the XR1 is a perfect example.
Underneath the trendy blue shell is a decently powerful lead-acid jump starter offering 300 cranking amps, which can go up to 1000 amps at peak. It can handle jump-starting pretty much everything you'll throw at it, from small cars to heavy trucks.
Other notable features include a 200-400 watt AC power inverter, a 260 PSI air compressor with temperature protection, anti-spark technology, a USB and 12-volt DC outlet, and a built-in Bluetooth AM/FM radio with a 3.5 mm audio jack.
The Michelin XR1 is an all-in-one device that will not only come in handy in the case of an emergency but also a great companion when going camping. However, keep in mind the bulkier size, which does reduce its portability ever so slightly.
Key Features
Battery Type: Lead-Acid
Size/Weight: 12" x 11" x 8.3" / 16.4 lbs.
12-Volt
300 Cranking Amps, 1000 Peak Amps
200 Watt and 400 Peak Watt inverter
Anti-spark technology
260 PSI air compressor
Built-in USB, AUX, AC, and DC port
Built-in Bluetooth AM/FM radio
LED work light
1-year warranty
Pros
Powerful
Realiable
Loaded with features
Fairly lightweight considering its size
Rugged and durable design
Radio is a nice add-on
Cons
Large size reduces its portability
Speakers could be louder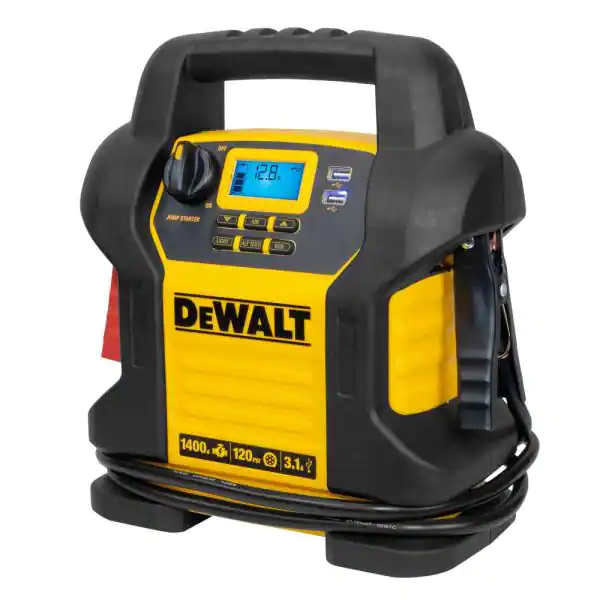 Besides being a premium professional jump starter, the DeWalt DXAEJ14 also smashes the competition by offering the most instant amps on this list—700 cranking amps. It also delivers 1400 peak amps for serious jump-starting power, enough for any vehicle that uses a 12-volt battery system. And to make sure you stay safe, DeWalt added a reverse polarity alarm and overcharge protection into the mix.
This heavy-duty jump starter also packs a 120 PSI air compressor, a lifesaver when dealing with a flat tire. Furthermore, it has dual 3.1A USB charging ports and high-intensity LED work lights. The control panel is also incredibly intuitive, thanks to the nicely laid out buttons and easy-to-use interface.
Unfortunately, just like the Stanley J509, you'll need to purchase a standard household extension cord separately. But if you want the best of the best, look no further—this is the one!
Key Features
Battery Type: Lead-Acid
Size/Weight: 29.8" x 15.2" x 33" / 35 lbs.
12-Volt
700 Cranking Amps, 1400 Peak Amps
Reverse polarity alarm
Overcharge protection
120 PSI air compressor
Built-in 2 USB ports
1-year warranty
Pros
Will last longer than most
Robust construction
High cranking amps
Durable and corrosion resistant clamps
Intuitive LCD and control panel
Cons
Heavy

Power cord is sold separately
The Quick Cable Rescue® 1800 is one of the most heavy-duty portable jump starters out there. Tipping the scale at 36.8 lbs, it is also the heaviest of the list—but it's heavy for a good reason—it comes with an AGM-type lead-acid battery, just like the Schumacher models above. It delivers 280 cranking amps and can go up to 1500 amps at peak, which should jump-start just about any 12V-powered vehicle. Not to forget, a reverse polarity alarm is also included.
The device comes with unusually long 62″ insulated cables, which increases its versatility. It also has a 12-volt DC outlet, as well as a built-in flashing amber safety light. Hence, it's suitable for roadside use and as a great tow truck essential.
Sadly, there is no USB port, and we would also expect more features at this price point. But regardless, it is still one of the most durable and reliable jump starter devices you can buy today.
Key Features
Battery Type: Lead-Acid (AGM)
Size/Weight: 16.3" x 10" x 17.2" / 36.8 lbs.
12-Volt
280 Cranking Amps, 1500 Peak Amps
Reverse polarity alarm
Built-In DC outlet
Built-in work light and flasher
1-year warranty
Pros
Very long 62″ jumerp cables
AGM batteries have a lower discharge rate
Has flashing amber safety light
Cons
Steep price
No built-in USB port
Quite heavy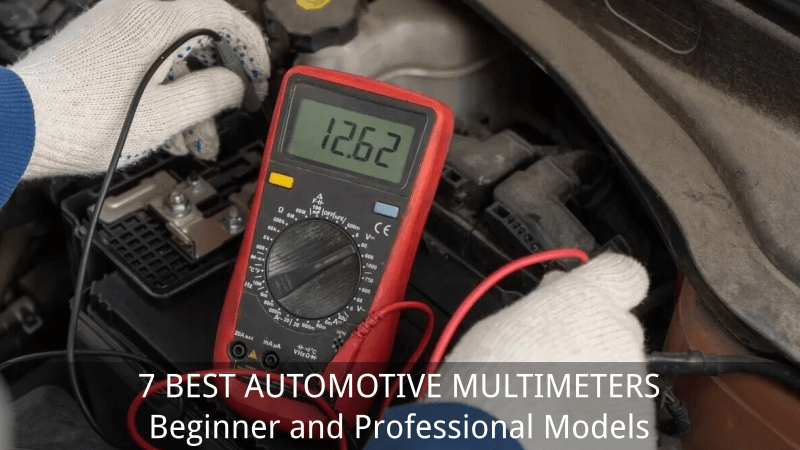 What to Look for in a Portable Car Jump Starter
Choosing the right portable jump starter for your vehicle might not be a straightforward task. To simplify it, we have listed a couple of things you need to pay attention to when shopping for one.
Battery Size and Voltage
You can use portable jump starters on any vehicle with a battery, such as cars, trucks, motorcycles, and even tractors. However, some vehicles have different battery sizes and voltages. Therefore, it is vital to get a jump starter that will fit your specific vehicle.
All petrol-powered cars, SUVs, and pickup trucks on the roads today run on 12V batteries. You'll only see 24V trucks in the military or potentially huge RVs and industrial machines. Most common motorcycles also run on 12V but you could come across smaller scooters that would use a 6V system instead.
Therefore, portable jump starters also often come in either 6-volt, 12-volt, or 24-volt. Be sure to check your vehicle's battery voltage before buying, and get one that fits. But as a general rule, if you plan to use it on your daily commuter, a 12V model is what you need.
Engine Size and Type
The vehicle's engine comes in various sizes and types. The engine size refers to the number of cylinders or displacement. Meanwhile, the engine type refers to whether your engine is gasoline- or diesel-powered. Both of them are important to determine how many cranking amps you'll need in your portable jump starter.
Vehicles with bigger engines have bigger batteries and will require a higher amp rating. It's also important to know that diesel engines also need a bigger battery than gasoline ones, despite the same number of cylinders. Hence, similar to the battery voltage, you'll need to get a portable jump starter with a sufficient amp capacity to support a successful jump-start.
We've summarized the expected amps you'll need to give you a rough idea for each engine size and type.
Engine Size

Power Needed

Gasoline Engine
Diesel Engine
4-cylinder
150-250 amps
300-450 amps
6-cylinder
250-350 amps
450-600 amps
8-cylinder
400-550 amps
600-750 amps
Keep in mind that the table provided above can be inaccurate depending on various factors. For instance, suppose your four-cylinder car's battery is completely dead. In that case, you may need as many amps as required to fire up a moderately charged six/eight-cylinder engine. As a general rule, it's best to have a more powerful jump starter than your engine requires.
Better safe than sorry, right?
Safety Features
When buying a portable jump starter, it is best to go with one packed with safety features—even if you know your thing around cars and think you don't really need them. However, despite the wide range of safety features available, you could still settle with just some of the most important ones, namely polarity protection, short-circuit protection, overcharge protection, and anti-spark technology.
Having those features in your jump starter device is enough to make it foolproof and save you from potential problems.
Extra Features
Although not as crucial, modern portable jump starters are often more capable than just solely performing jump-starts. For instance, most lithium-ion jump starters can also be used as power banks for charging mobile devices.
Some also include several USB ports, a 12-volt DC outlet, an LCD screen, a flashlight, and many more extra features that might come in handy. Meanwhile, some lead-acid jumpstarters take advantage of the large size and slip an AC power inverter or an air compressor into the mix.
As a consumer, you can always choose to go for a model with tons of bells and whistles. But don't let that distract you from getting what's really important here—power. A jump starter with a nice AM/FM will be of no use if it can't jump-start your engine when you need it to.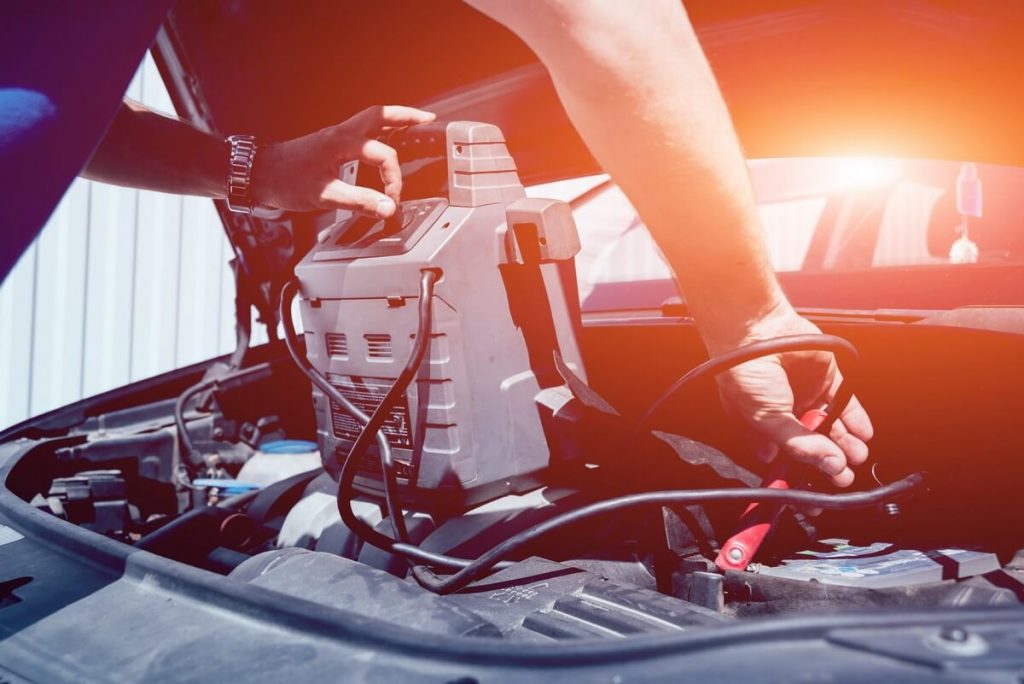 Types of Portable Car Jump Starters: Lithium-Ion VS Lead-Acid
Generally, there are two types of battery used in a portable car jump starter—lithium-ion and lead-acid.
Portable jump starters with lithium-ion batteries are usually compact, comparable in size to a portable hard drive. Despite that, they are capable of retaining their charge while not in use. They also have a faster charging rate and a longer lifespan (up to 1000-1500 cycles). However, this type of portable jump starter is more suitable for jump-starting small to medium vehicles.
On the contrary, lead-acid battery-powered jump starters are more of the heavy-duty type. As a result, they are big, heavy, and less practical than lithium-ion ones. They also charge slower, have a shorter lifespan (up to 400-600 cycles), and discharge faster while not in use.
But even so, their large size and excellent durability are favored by workshops and dealerships for maintaining a bunch of unused vehicles. Some expert mechanics also prefer the lead-acid type due to the matured technology they trust and are familiar with. Besides, they are better at jump-starting bigger trucks and commercial vehicles than lithium-ion models.
In short, although both of them have the same purpose and pricing scheme, they both appeal to different kinds of users. For regular car/SUV owners who want to keep this device for personal use, lithium-ion jump starters are their best bet. Meanwhile, those seeking a more durable option without minding the bigger size and the mammoth weight can't go wrong with a lead-acid model.
Frequently Asked Questions (FAQs)
In what situation do I need to jump-start my car?
The most common situation where you may need to jump-start your vehicle is when it doesn't start. However, multiple other problems could also cause a no crank/no start condition but as a general rule, if you turn the key and hear a fast clicking sound, your battery is probably dead.
If you try to jump-start the battery once and it doesn't work. Try leaving the booster pack on for a minute or two and try again. If it still doesn't work, your jump starter is either dead too or there might be another problem somewhere.
What is the difference between a portable car jump starter and regular jumper cables?
Although they serve the same function, portable jump starters and regular jumper cables are actually very different.
Regular jumper cables (also known as jump leads or booster cables) are a pair of insulated wires used to connect the batteries of two vehicles in parallel. The principle is quite simple: connect a car with a live battery and use its power to supply the dead car's starter. Once, the dead car starts, the alternator will take over and recharge the battery.
Meanwhile, portable car jump starters have their own batteries, eliminating the need for a donor vehicle to assist in the process. They also come with insulated wires adopting a similar setup as jumper cables, but the other end is connected to a device with its self-contained battery instead of another car's battery.
The self-contained battery makes it portable and convenient. In addition, it has a simpler setup that doesn't take up much space; it's also easier to use and safer as there is no risk of damaging the donor vehicle.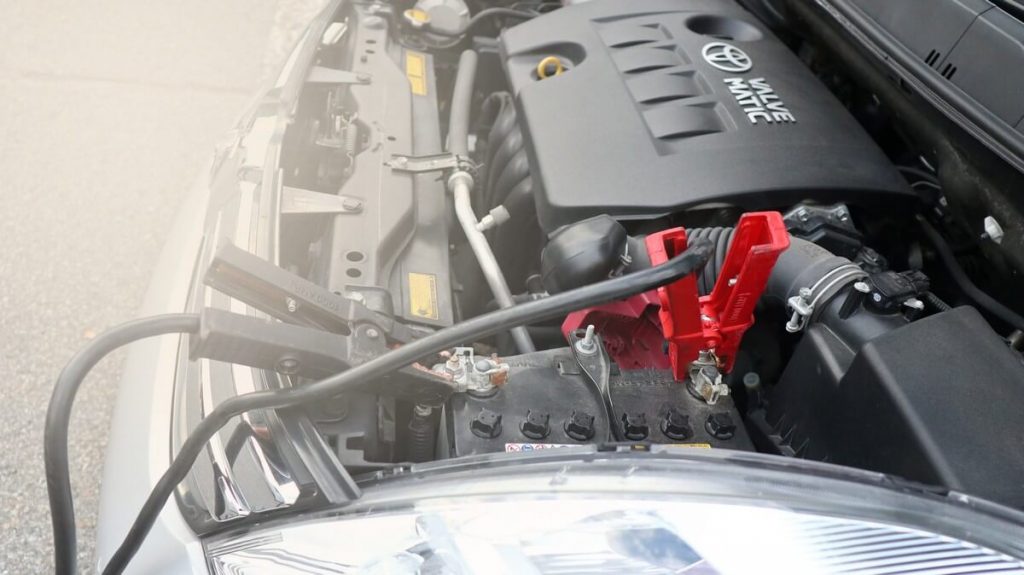 How to Use a Portable Car Jump Starter
Portable jump starters come in different shapes and sizes, but they all work pretty much the same way.
Make sure every electrical system are turned off, including any lights, the defrost, the blower fan, etc.

Locate the vehicle's battery and identify the positive and negative terminals. If you aren't sure which is which, make sure to take a look into your car's owner manual.

Prepare the portable jump starter. Make sure the device is charged and ready to use.

Identify the positive and negative clamps on the device—the red cable/clamp represents the positive, while the black one is the negative. The jump starter device should be off before attempting to hook the clamps to the battery terminals.

Pair the positive/negative terminal with the respective clamps.

Once paired, turn on the portable jump starter device and put it in a secure and steady place—preferably away from the battery or any moving parts.

Wait a minute or two and try starting the engine. If cranking the engine for 3-5 seconds doesn't work, make sure no electrical system was left on, wait for a few more minutes and try again.

After you've successfully started the engine, you may turn off the portable jump starter device.

Disconnect the cables by unpairing the negative clamp first, followed by the positive.

Let your vehicle idle for a few minutes before turning it off or taking it for a drive.
It's as simple as that!
Verdict
Overall, a portable jump starter is a device with no other purpose but to save its users in times of need. It gives you the value of independence, safety, as well as peace of mind. Now, having a dead battery has never been so worry-free, and jump-starting your vehicle has never been easier.
If you own a workshop or a dealership, and you're looking for a heavy-duty jump starter to maintain tons of vehicles, we suggest you go for the lead-acid type ones. Particularly the feature-rich Schumacher Rechargeable AGM SJ1332. But for those with a tighter budget, the Stanley JUMPiT J509 should also do the job just fine.
Meanwhile, car/SUV/pickup truck owners seeking a device for personal use, there is hardly any reason to go for a full-blown lead-acid one. Instead, the affordable and multifunction lithium-ion Hulkman Alpha 85 or NOCO Boost Plus GB40 jump starter should provide more power than you'll ever need.