EDITOR'S PICK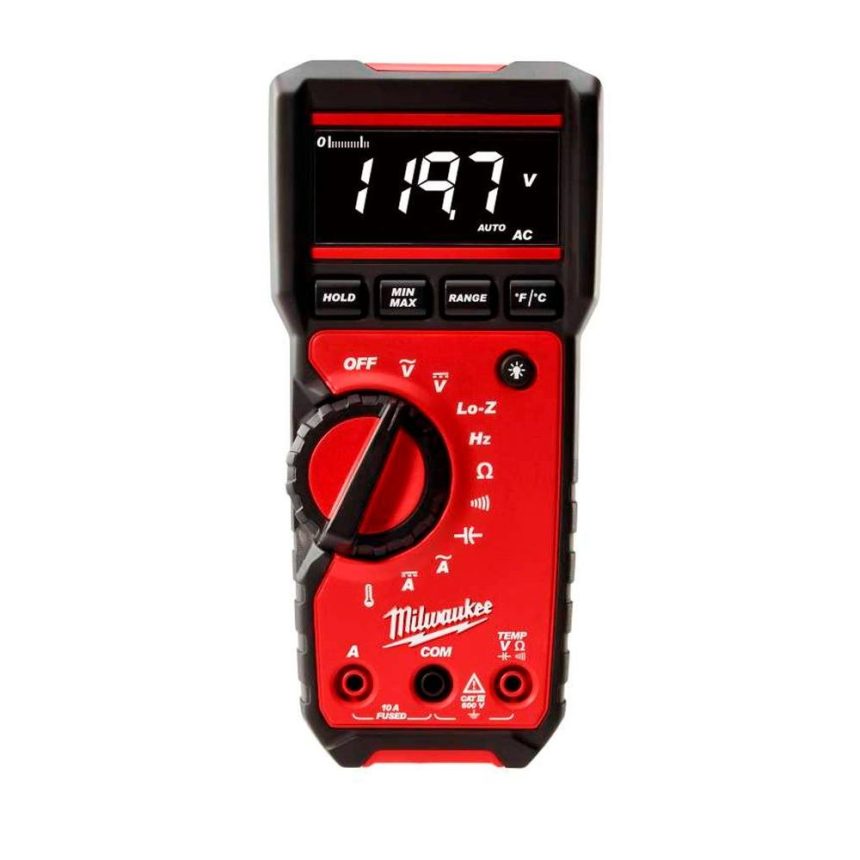 Measurement capabilities: AC/DC 600V voltage, AC/DC 10 Amps current, and 40 MΩ resistance
It can also measure frequency, continuity, capacitance, and temperature (-40° F to 752° F)
CAT III 600V safety rating
True RMS multimeter
Device weight: 1.2 lb
PREMIUM PICK
Measurement capabilities: AC/DC voltage up to 1000V, AC/DC 10 Amps current, and 50 MΩ resistance
Also measure temperature, capacitance, frequency, conductance, duty cycle, and RPM
Auto-ranging digital multimeter
CAT IV 600V and CAT III 1000V safety rating
BUDGET PICK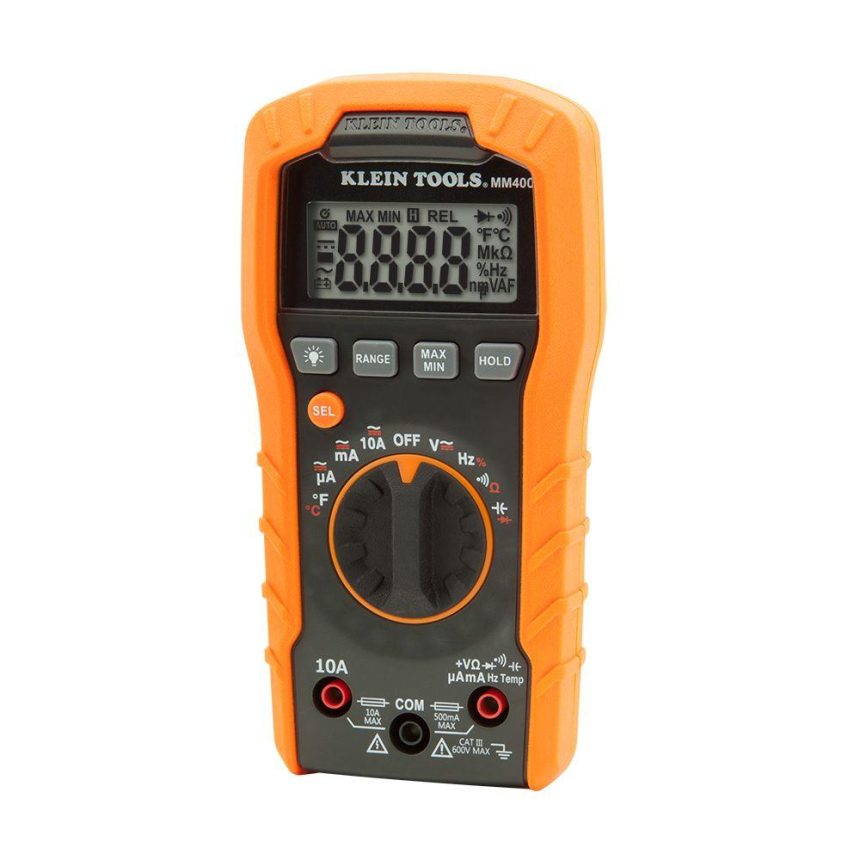 Measurement capabilities: 600V AC/DC voltage, 10A AC/DC, and 40 MΩ resistance
Device weight: 0.5 lbs
Auto-ranging multimeter
CAT III 600V safety rating
Can withstand a 3.3' drop
Comes with test leads, thermocouple, and batteries
An average modern vehicle contains a complex electrical wiring network, often spanning more than 2 miles in cumulative length. These figures represent a sharp growth compared to just 150 feet of wiring in cars sold in the 1940s. With increasing complexity and intricacy, it is evident that modern automotive electrical systems are highly vulnerable and much more likely to develop faults. Moreover, even the most experienced mechanic cannot successfully troubleshoot electrical problems in a car without the proper equipment; and that is where automotive multimeters come in.
An automotive multimeter is a measuring instrument used to measure several electrical parameters such as voltage, current, resistance, temperature, capacitance, frequency, etc. Due to such diverse troubleshooting capabilities, a multimeter is a go-to tool for troubleshooting automotive electrical problems.
However, there is a wide range of multimeters available online, and although they may look similar at first glance, not all are created equal—far from it, in fact. To assist you in the extremely important process of choosing the right one for you, we have created a list of some of the best multimeters currently on the market. We have tried to cater to a large majority of buyers by curating our list to include beginners and professional models, and everything in between.
No matter whether you have a small or big budget, that you are just starting in the field, or have been busting your ass in the shop for years, we've got a multimeter for you!
Best Automotive Multimeter Reviews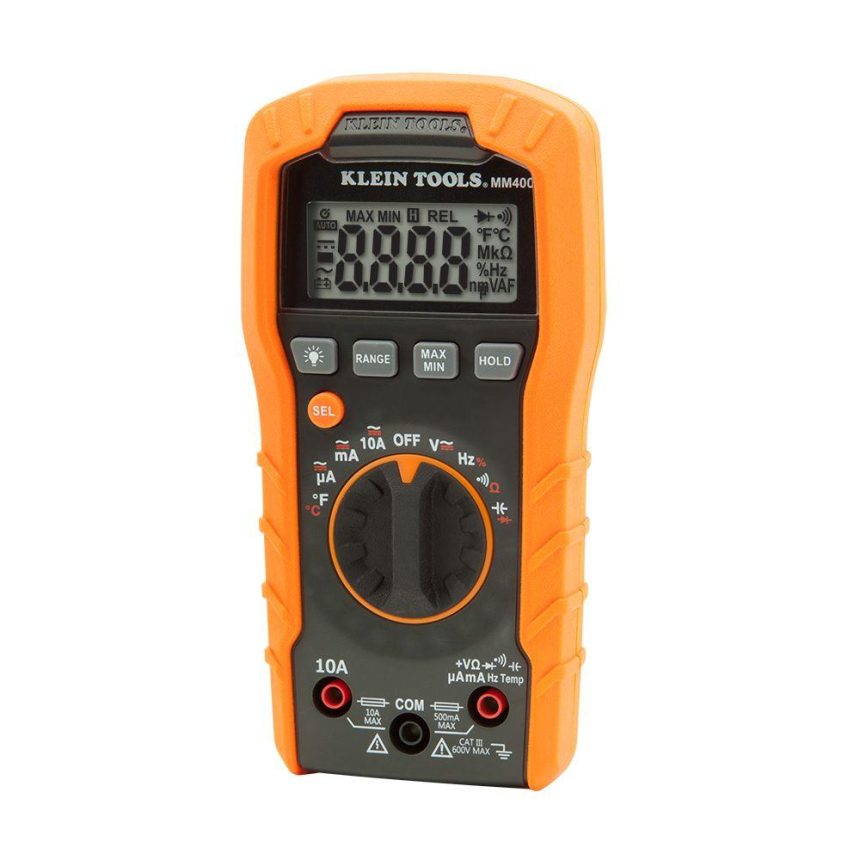 We kick off this list with Klein Tools' MM400. It is a versatile auto-ranging digital multimeter known for its accuracy and wide-ranging features. You can use it to measure AC/DC and voltage, resistance, temperature, capacitance, frequency, duty-cycle, continuity, etc.
All measurements are displayed clearly on the main LCD screen and you also get a bright backlight for low-light work environments—if you work in a repair shop, you know what I mean here. Klein's MM400 multimeter requires 2 AAA batteries, and has a low battery level indicator, so you are never caught off-guard.
Even though the bare multimeter should be capable of surviving a 3.3-foot drop, we would recommend you spend a few more bucks and get the carrying case for complete peace of mind. Meanwhile, operational safety is guaranteed by a CAT III 600 V safety rating.
The Klein Tools MM400 is perfect for buyers on a tight budget. It is one of the best automotive multimeters for beginners looking to start in the field. Although not the most sophisticated model on this list, it will do the job just fine. However, it cannot measure true RMS; if that capability is important to you, you might want to skip this one. We've got more techy ones below.
Highlighted features
Measurement capabilities: 600V AC/DC voltage, 10A AC/DC, and 40 MΩ resistance
Device weight: 0.5 lbs
Auto-ranging multimeter

CAT III 600V safety rating

Can withstand a 3.3' drop
Comes with test leads, thermocouple, and batteries
Pros
Budget option
Clear display
Ergonomic design
Tough and long-lasting construction
Easy to use
High accuracy
Low-cost multimeter
Versatile features and functions
Cons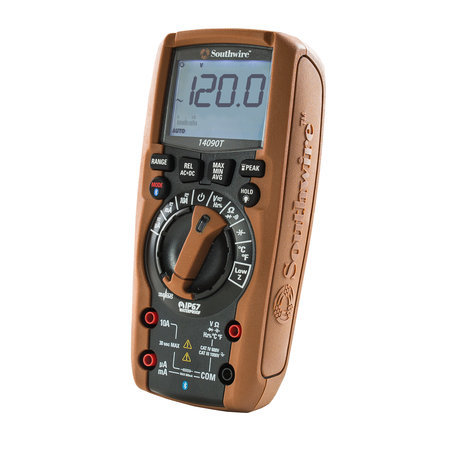 The Southwire 14090T Pro multimeter can measure every parameter that the previous model can but does it even better. The 14090T model's usability is further enhanced by a great user interface, complete with simple controls. Southwire's model also has backlit controls for efficient operations in low-lit environments.
Furthermore, the Mapp mobile app lets you connect your phone to the multimeter via Bluetooth. Once connected, all readings can directly be viewed from your phone. The app also lets you store the data with photos, GPS locations, and notes for future reference. It is also perfect for workplaces that require a level of oversight. For instance, an experienced technician can approve or reject measurements taken by the trainee with just one look on his phone.
The app is also especially useful for professional mechanics who need to complete digital inspection forms. Being able to visually show the data and explain the problem to the client will always make the pill easier to swallow.
Moreover, this automotive multimeter comes with a detailed and concrete instruction manual, making it easy for novices to find their way around the plethora of functions. If you are buying your first professional multimeter and aren't quite sure where to start, this might be your best bet.
Highlighted features
Measurement capabilities: 1000V AC/DC voltage, 10A AC/DC current, 60 MΩ resistance
Device weight: 5.74 lbs
CAT IV 600V safety rating
Bluetooth connectivity with mobile app
Pros
Bluetooth app allows you to remotely view readings
Can store readings for future reference
Backlit controls
Easy to use
High accuracy readings
Durable and reliable automotive multimeter
Reasonably priced
Comes with a carrying case for longer life
Comes with a detailed user guide
Cons
No true RMS measurement functionality
Yes, we know the Fluke 323 is not exactly a multimeter—at least not a conventional one— but it is still a valuable and handy device. Where previous multimeter models top out at 10-20 amp current, this clamp meter can measure up to 400 amps AC. It can also measure AC/DC voltage up to 600V. Moreover, the clamp meter's unique flexible jaw design allows you to measure current in wires up to 30 mm in diameter without the need to make any permanent modifications such as cuts or splices.
Also, unlike the previous models, the Fluke 323 can measure true RMS, an important capability that can greatly affect the decision-making process. Hence, we recommend it for accurate and high-output current measurements.
Of course, it can't do everything that conventional multimeters can—see it more like a potentially "life-saving" tool. You will definitely not use it as often as your standard multimeter but, in very specific situations, it can very well save the day.
This clamp meter is a great device that successfully fills the gap in capabilities left by traditional multimeters. For that reason, we wouldn't recommend this as an individual purchase. Rather, buy it with another full-fledged multimeter to have excellent all-around capabilities.
It's also perfect to test battery and alternator outputs, starter consumptions and many more. And given where the automotive industry is going lately, it's safe to assume that clamp meters are bound to become a lot more common in repair shops in the near future.
Highlighted features
Measurement capabilities: True RMS, 400 Amps AC, AC/DC voltage to 600V
Device weight: 7.1 ounces or 4.4 lbs
High current-measuring capability
CAT IV 300V and CAT III 600V safety ratings
Jaw clearance: 30mm
Pros
Ergonomic and slim design
Reasonably priced
Can measure true RMS
Clamping claws allow easy and quick attachment without the need for permanent changes
A great device to cover the shortfalls of a multimeter
2 years manufacturer warranty
Cons
You will also need a traditional multimeter to cover the full spectrum of automotive electrical issues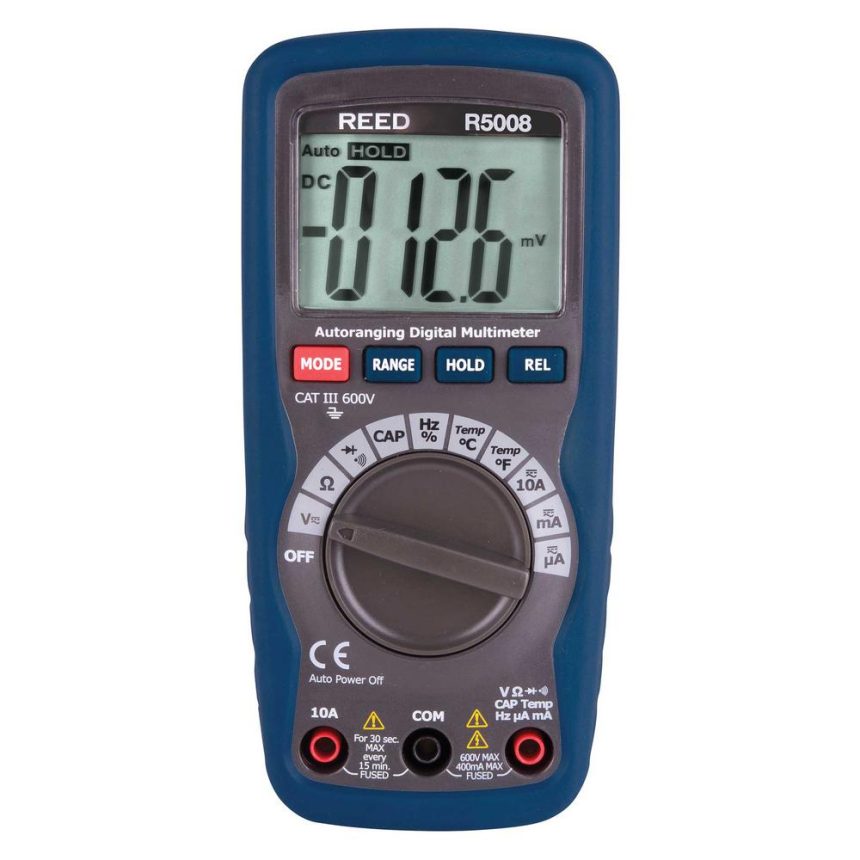 Next on our list is the Reed Instruments R5008. It is a standard model capable of measuring all the important things such as current, voltage, resistance, capacitance, frequency, temperature, etc. Furthermore, you also get a thermocouple contact probe for accurate temperature measurements.
This multimeter features a strong and durable double molded plastic housing in addition to a carrying cover for greater safety during transportation. It has a large 4,000-count LCD that presents accurate readings in an instant.
You also get several convenience-enhancing features such as data hold, relative data functions, backlit controls for low-light situations, and auto-ranging functionality.
You should get the Reed Instruments R5008 multimeter if you are looking for a slightly better version of previous models. Its feature-loaded nature makes it perfect not only for automotive applications but also for household use.
Highlighted features
Measurement capabilities: AC/DC 600V, AC/DC 10 Amp current, 40 MΩ resistance
It can also measure capacitance, frequency, and temperature (-20°C to 760°C)
Device weight: 9 ounces
CAT III 600V safety rating
4,000-count LCD display
Pros
Backlit controls
Easy to use
It comes with a carrying case for added safety
Compact dimensions
Large and clear display
Low cost
Accurate readings
Tough plastic body
Versatile automotive multimeter
1-year manufacturer warranty
Cons
It cannot measure true RMS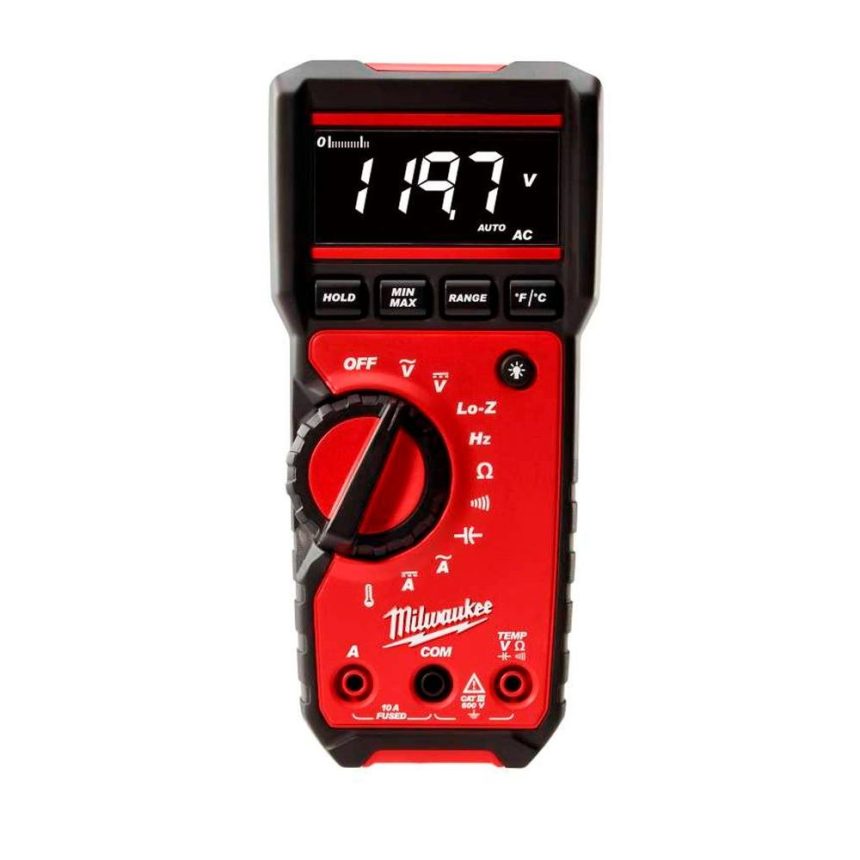 Milwaukee's automotive multimeter is our personal favorite. The Milwaukee 2217-20 digital auto-ranging multimeter is a highly versatile and potent model. In addition to the usual measurement parameters such as voltage, current, temperature, resistance, etc., you can also use this model to get true RMS readings.
Milwaukee's multimeter allows for unmatched versatility; for example, you can choose between the auto-ranging and manual ranging functions according to personal preference. Moreover, the 2217-20 has another trick up its sleeve. Instead of the commonly-found LED display, you get a high-contrast white on black display that's easy to read, especially in low-lit work environments.
The over-molded body will not only protect vital components even during rough use but also provide the operator with optimum grip. You also get special slots in the back for securing your test probes so they don't get lost—pretty neat if you ask me.
Costing just a few bucks over other models, the Milwaukee 2217-20 offers high value for money as well. Thus, it is perfect for experienced mechanics who want a great all-around model backed by a reputed brand name. Also, thanks to its high build quality standards and ergonomic design, Milwaukee's automotive multimeter is sure to last well beyond its 5-year warranty period.
If you are a pro mechanic, this one is a no-brainer.
Highlighted features
Measurement capabilities: AC/DC 600V voltage, AC/DC 10 Amps current, and 40 MΩ resistance
It can also measure frequency, continuity, capacitance, and temperature (-40° F to 752° F)
CAT III 600V safety rating
True RMS multimeter
Device weight: 1.2 lb
Pros
Backlit controls
Ergonomic design
Rugged over-molded construction
Easy to use
Reasonably priced
High value for money
5 years manufacturer warranty
Cons
The unique display may not be everyone's cup of tea
No products found.
When it comes to any kind of electrical testing equipment, Fluke is a brand known for producing high-quality devices for various applications. Whether it is the maintenance, construction, or software industry, Fluke has got you covered with a plethora of versatile devices.
One such example is the 88V Deluxe Automotive Multimeter, the first model on our list designed specifically for automotive purposes.
Fluke's model allows you to measure AC/DC voltage and current, resistance, temperature, capacitance, frequency, conductance, and duty cycle. But that's not all; since this is a purpose-built automotive multimeter, you also get the ability to measure RPM and view the accurate readings on a large LCD screen.
The enhanced display, two-step backlight, and many more features make the Fluke 88V a significant improvement over the outgoing 88 models.
Highlighted features
Measurement capabilities: AC/DC voltage up to 1000V, AC/DC 10 Amps current, and 50 MΩ resistance
Also measure temperature, capacitance, frequency, conductance, duty cycle, and RPM
Auto-ranging digital multimeter
CAT IV 600V and CAT III 1000V safety rating
Device weight: 1.3 lbs
Pros
Comes with several test probes for different measurements
Reliable, accurate, and fast
Lightweight and portable automotive multimeter
Good battery life
2-stage backlight function
Lifetime manufacturer warranty
Cons
On the expensive side
Quiet bulky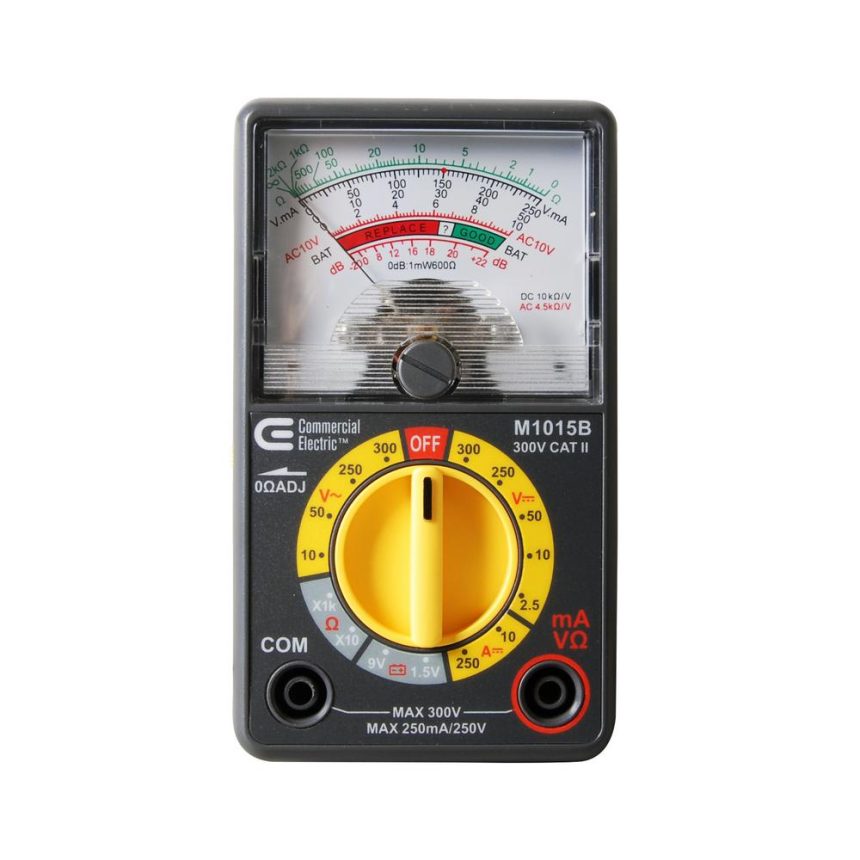 In these modern times, every button in sight is being replaced by massive touchscreens; physical mechanisms are replaced by electronic wizardry; even humans are slowly being replaced with robots and automation. For that reason, it is becoming increasingly difficult to find a truly old school and retro multimeter anymore. One of the few good options left of this dying breed is the Commercial Electric M1015B model.
As expected, an analog multimeter has much fewer measurement capabilities than its electronic counterpart. The M1015B can only measure up to 300V AC/DC voltage, resistance and determine the remaining strength of either a 1.5V or 9V battery. Not much, I agree. But what it does, it does it well.
Let's face it; if you are after performance and capability, you would be better off with one of the digital models. Commercial Electric's multimeter is better suited for those interested in experiencing the very definition of old-school cool. That thin needle may not be as accurate, but it takes you back to a much simpler world, a world oblivious of mind-numbingly complex technological witchcraft.
Better buy it while you still can.
Highlighted features
Measurement capabilities: AC/DC voltage up to 300V, current, resistance, and battery strength
Manual ranging analog multimeter
CAT II 300V safety rating
Device weight: 0.313 lb
Pros
Easy to use
Low cost
It comes with test probes
It provides a unique analog experience
1-year manufacturer warranty
Cons
Not as capable as digital multimeters
No backlight functionality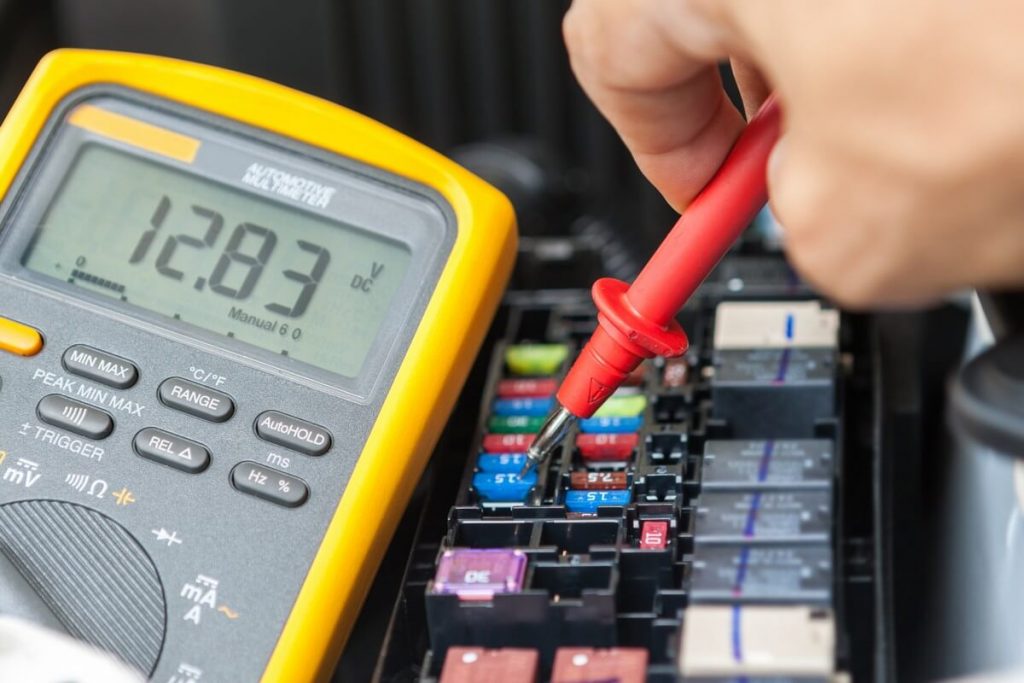 What to Look for When Buying an Automotive Multimeter
Measurement parameters
A good automotive multimeter should have the ability to measure several parameters such as current, voltage, resistance, duty cycle, capacitance, temperature, true RMS, frequency, etc. Certain automobile-centric models like the Fluke 88 V/A can also measure RPM. You must then select the automotive multimeter with all the required measurement parameters for your intended use. All multimeters in our list, apart from the analog model, have a host of desirable capabilities and are perfect for automotive use.
However, what you need will depend on what you work on. If you only need to measure battery voltage and fuse testing capability, pretty much any multimeter would do—even the analog one, in fact. However, if you work on electronic systems and electric vehicles, you might be better off with a more high-end model.
Display characteristics
A multimeter display screen's resolution is measured in counts. You will find multimeters having resolution anywhere between 2,000 to 6,000 counts. The higher the count, the better the display.
The screen is an indispensable component of any automotive multimeter since it serves as a medium to communicate the reading to the operator. A good display should also function as intended in low-light work environments. However, that display might not be that important with models with BlueTooth capability.
Ergonomics and design features
A good automotive multimeter should have a strong and durable body combined with easy controls. Other convenience-enhancing features like carrying cases, holsters, tool hanging kits, backlit controls, and several test probes, among other things, can also come in handy during regular operation—that will also depend on the type of work you do with your multimeter.
Auto-ranging or manual ranging
The ranging function in a multimeter is the process of selecting the most appropriate measurement range for each operation. As the name suggests, auto-ranging automotive multimeters can automatically select the range for you, while in manual ranging models, you have to select an appropriate range before each measurement. Most automotive multimeters sold today are auto-ranging models as they make the operator's life much easier.
However, be careful about range limits when choosing a model. Make sure the one you have selected has the required range limits for your intended use. For example, when testing sensors or other low current components, you need a multimeter capable of measuring milliamps.
Special features
In addition to the usual list of measurement capabilities, it is also desirable for a great automotive multimeter to have certain special features to increase usability. For example, Southwire's innovative Mapp mobile application allows you to access vital data directly from your mobile phone.
Another such special feature is Milwaukee's unique white-on-black display screen. It is designed to improve visibility in low-lit environments and provide the operator with clear and easily identifiable measurements. If you work at night or outside, it might be worth considering.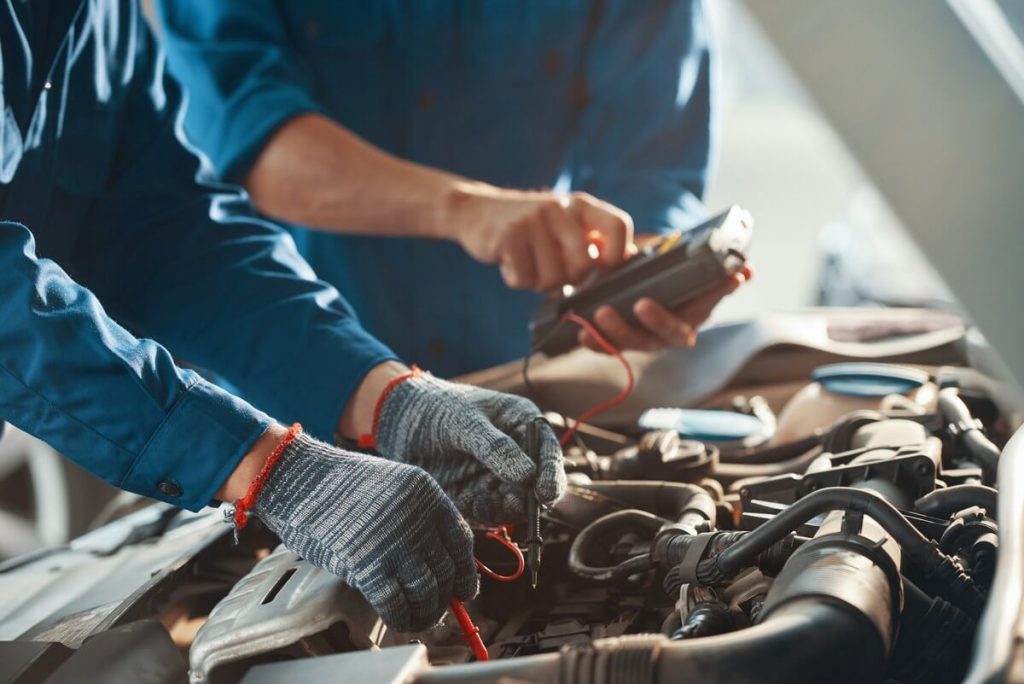 Frequently Asked Questions (FAQs)
What is a clamp meter?
In simple terms, a clamp meter is a basic electrical device built mainly for measuring current or amperage. Yes, even multimeters can measure current, but they usually max out at around 10 to 20 Amps. On the other hand, you can buy clamp meters capable of measuring up to 100, 600, 1000, or even 1400 Amps.
Clamp meters have two functional jaws that surround or clamp around an electrical conductor or wires. Such a non-contact operation eliminates the need to make any cuts or permanent modifications to get accurate, current readings.
As mentioned earlier, clamp meters are great devices to have alongside multimeters as they bolster your troubleshooting capabilities even further. That being said, clamp meter add-ons can usually be bought separately to add non-contact measurement capability to your standard multimeter.
What is a CAT rating?
Much like all automotive equipment, a certain set of safety regulations and standards apply to multimeters. These standards clearly define each model's operational capabilities while protecting the operator—and electrical system—from serious harm.
There are four categories (CAT I to IV) that dictate overvoltage damage intensity. The higher the category, the more resistant it is to energy transients. Furthermore, there are voltage figures assigned to individual models. A higher voltage figure represents a higher transient withstand rating. For example, a multimeter rated at CAT III 1000V is better protected than one rated at CAT III 600V.
Which is better, an auto-ranging or manual-ranging multimeter?
We would recommend you go for an auto-ranging automotive multimeter unless, for some reason, your scope of work requires you to set the range manually. Even then, auto-ranging models usually have the option to switch back to the manual range.
Verdict
Almost every single component on a modern car is, at some point, controlled by an electric system. It's no surprise that electric troubleshooting is making an increasing part of every mechanic's life these days. There's simply no way around it anymore. Every beginner or experienced mechanic needs a good automotive multimeter, and the final decision on which model to buy is quite important. There is no one-size-fits-all here; rather, your choice should depend on a thorough evaluation of your needs.
However, the Milwaukee 2217-20 digital multimeter is a great all-around model. It has exceptional measurement capabilities combined with easy-to-use controls and a reasonable price tag. Moreover, the unique and innovative white-on-black digital display only acts as icing on the cake.
Those on a tighter budget should consider buying Klein's or Southwire's model, while buyers looking for an authentic analog experience should get the Commercial Electric M1015B model. And if you are looking for the best of the best, get your hands on the Fluke; you won't regret it!