EDITOR'S PICK
CRAFTSMAN CMEE531 Heat Gun
Temperature range from 120° F to 1200° F
Hands-free operation
2 fan speed options
Powerful
Well balanced
PREMIUM PICK
Milwaukee Tool 2688-20 Cordless Heat Gun
Cordless
Decent battery life when used with RedLithium XC5.0
Relatively light
LED on the front for illumination
Can be used upright on a flat surface
BUDGET PICK
BLACK+DECKER HG1300 Heat Gun
Lightweight
Two-speed settings
Wide range of applications
Easy to handle
Built-in stand
A tool that is often overlooked when it comes to auto mechanics is the heat gun. Of course, heat guns aren't super glamorous tools and don't have many bells and whistles. They do one specific thing only: heat stuff.
However, despite their apparent simplicity, heat guns are actually super useful. The list of applications is enormous. You can use them for paint or wallpaper removal, melting or bending plastic, wrap shrinking, and tons more. And since they are quite simple, pretty much any tool manufacturer has one. The number of available options out there is impressive.
If you are looking to buy your first heat or replace an old one, we've got you covered. To help you find the right model for you, we've reviewed some of the best heat guns on the market today.
Let's look at the contenders.
Best Heat Gun Reviews
I'll kick off my list with the budget option aimed at amateur DIYers. The Black+Decker HG1300 is a decent and relatively flexible option. With a power rating of 1350 watts, you get a heat gun with two temperature settings: 750 and 1000 degrees. Moreover, the tool comes in a reasonably compact package weighing only a little over 1.6 pounds. All of this makes the HG1300 an excellent addition to your toolset.
Considering the weight and the overall shape, it is a well-balanced heat gun that is easy to hold. Most of the weight is above the handle, improving the overall balance. Moreover, you'll also find the heat intensity switch super easy to control.
A built-in stand in the bottom of the handle allows you to leave the HG1300 sits on its back to cool down in between uses. As the intake vents are on the side, you can also leave it running in that position if you need both hands for something else for a minute.
While this heat gun comes with only one nozzle, you have the option to purchase different ones and switch. Black+Decker has a variety suitable for various applications. Even though the HG1300 is not technically a professional tool, the use cases are not very limiting. Keep in mind that this is a corded heat gun, meaning that the 6-foot cable will limit mobility.
Pros
Lightweight
Two-speed settings
Wide range of applications
Easy to handle
Built-in stand
Cons
Cord is not incredibly long
Not the most powerful of the bunch
Moving up the range, you have the Craftsman CMEE531, which is the one I'd recommend for automotive use. Compared to the previous one, this model has a lot more to offer, which is no surprise. On the power side of things, it has a rating of 1500 watts, meaning you can use it in various output options.
Furthermore, there is a dial on the left side of the heat gun for temperature regulation. It doesn't have increments, and you can fine-tune the temperature to your needs. You can have it as little as 120 ° F and as high as 1200° F. Besides, the power switch on your trigger finger has two settings for low and high blowing power to control the airflow.
As this is a more robust heat gun with more adjustability and features, it also weighs slightly more. Holding 2.66 pounds in your hand is not too much, but with 1 pound more weight than the previous model, the difference is noticeable. Lucky for you, the Craftsman has an excellent balance, meaning that you shouldn't have problems handling it.
Meanwhile, the stand on the CMEE531 is molded into the handle, so you can place it on a flat surface and operate it hands-free. When it comes to the cord, you get the standard 6ft one. If you work in the industry, don't forget to grab a 10ft extension cord, just in case.
Pros
Temperature range from 120° F to 1200° F
Hands-free operation
2 fan speed options
Powerful
Well balanced
Cons
Slightly heavier
6-foot cord
If you want to be free of cord limitations, this model is the one you should look at. Milwaukee makes outstanding cordless tools, and its 2688-20 cordless heat gun is no exception.
One of the main selling points that the company advertises is how compact this tool is. With a length of only 6.4 inches, you are looking at one of the most compact heat guns on the market.
However, the smaller size means that there are some trade-offs and the biggest one is in the temperature department. Notably, it has only one temperature setting at 875° F with no option to adjust the fan's speed. The good news is that it can reach the maximum temperature in just 7 seconds.
You can attribute the lack of power to the fact that it's a cordless heat gun and battery life is of the essence here. If you pair 2688-20 with Milwaukee's RedLithium XC5.0 battery, you will get around 40 connections on a single charge. While it is compatible with other battery models, you won't get the same battery life.
I often talk about cordless tools, and in many cases, they are hefty little machines due to their batteries. When it comes to Milwaukee's heat gun, the story is different. It weighs just 1.7 pounds without the battery attached, meaning that the full package could weigh less than some other cordless models without a battery.
Besides, having the battery on the bottom and a short head makes it super comfortable to handle. Even better, the battery's housing is flat, meaning that it can sit upright and unlock hands-free capabilities, unlike other heat guns.
Pros
Cordless
Decent battery life when used with RedLithium XC5.0
Relatively light
LED on the front for illumination
Can be used upright on a flat surface
Cons
Temperature goes only to 875° F
No option to adjust the temperature or fan speed
Don't like to fuss around with getting the tool and then search for accessories, cases, etc.? In that case, I'd recommend the Dewalt heat gun kit. On the surface, you might think that it seems like nothing, but once we cover the special features, you'll change your mind.
On the handling side of things, it's not particularly heavy, weighing 2.3 pounds. However, a slight drawback here is the length. It's longer than most heat guns, and you may feel the weight on the front. Apart from that, it's a relatively comfortable tool to handle.
On the other hand, the D26960K is rated at 1550 watts, making it the most powerful on this list, with a temperature range from 15° F to 1100° F degrees. You can fine-tune the desired temperature in 50-degree increments using the LCD display.
The built-in kickstand enables you to use the tool upright and prevents it from tipping over. Meanwhile, to avoid burning up, there is overload protection that turns off the heating coils. Finally, there is a protector for the cord that prevents it from getting torn from the housing. As for the cord, it's also the longest one on this list, reaching 10 feet.
This heat gun comes as a kit, with a few goodies, including 12 accessories and nozzles for various uses, and you can pack all of them in a hard case for easier storage or better portability.
Pros
One of the most powerful heat guns on this list
Temperature range from 150° F to 1100° F
12 accessories included
Comes with a hard case
Overload protection
Cord protector
Cons
Kinda long
Some of the other heat guns have better balance
All tools I've mentioned so far feel like sledgehammers compared to the last one. People that need a heat gun with greater precision should check out Wagner Spraytech HT400.
When it comes to handling, you won't find many heat guns as light as this one. The angled head and compact design, in addition to a weight of only 0.8 pounds making it perfect for use in places where others wouldn't fit. The smaller outlet also allows the HT400 to be much more precise than most.
Besides, you can place the handle in 3 positions, depending on how and where you intend to use it: palm, pencil, and hands-free when used in combination with the front stand.
On the temperature side of things, don't expect too much. Considering the size, it's not as powerful as some of the others mentioned before. For instance, the maximum temperature it can reach is 680° F, and there's only one other lower setting at 450° F. Sadly, you don't get any options to change the fan speed either.
Still, it's perfect for removing or installing car decals, heat shrink tubes, unlocking frozen locks, etc.
Pros
One of the lightest heat guns
Can be used in places where bulkier ones can't fit
2 temperature settings
Handle can be set in 3 positions
Precise
Cons
Maximum temperature is 680° F
What To Consider When Choosing A Heat Gun
When you're on the lookout for a heat gun, there are several considerations you'll need to make. Doing so will ensure that you get the most bang for your bucks.
Ensure that it suits your needs
The first thing to ask yourself is what you'll be using the heat gun for. If you're more into DIY, getting the most expensive tool may not be a good idea. It will get the job done, but there's simply no reason to pay for features you'll never use. On the other side, professionals who use their heat gun every day in the shop should aim a little higher than entry-level.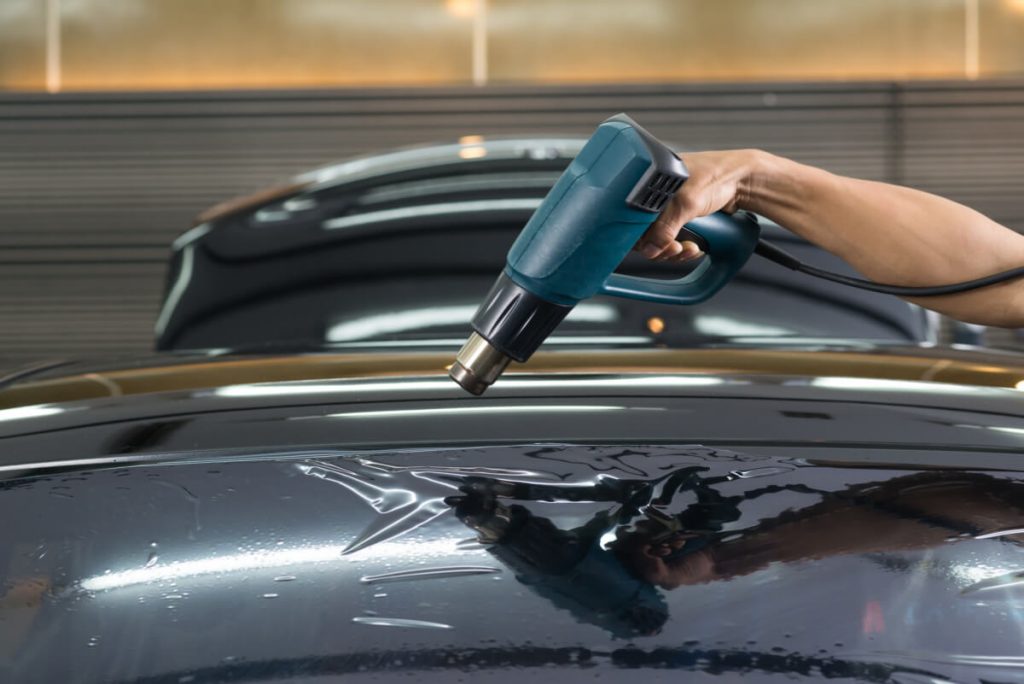 Pick the right temperature for your application
Next up is temperature. Even though this falls in the use-cases category, I'll mention it separately. As you noticed from the list, not all heat guns have the same temperature rating. Some have one or two settings, while others offer a more comprehensive temperature range. Most will say that the broadest temperature range is the best to go for as it's the most flexible. That is true, but unless you see yourself applying that range to use, there is no point in having it—let alone pay for it.
Handling and ease of use are also important
Size and easy handling are tightly linked but can also depend on the use. For example, Wagner's HT400 is a small tool designed to be light and reach tight spots where the others will struggle. With that said, it is also limited to smaller and more delicate tasks.
Corded VS. cordless
Finally, we come to the power type—corded or not, in fact. If you plan to use the heat gun outdoors, where wall sockets are simply too far away to even consider a long enough extension cord, cordless is the way to go.
However, professionals who spend most of their time in the shop or in a garage will surely have a wall socket nearby, so corded options are usually better. Keep in mind that you should check the cord's length, as there are some with relatively short ones. Similarly, if you only use your heat gun for really short periods at a time, a cordless heat gun might also be best. Taking out the extension cord and rolling it back still takes more time than just turning your cordless model on, after all.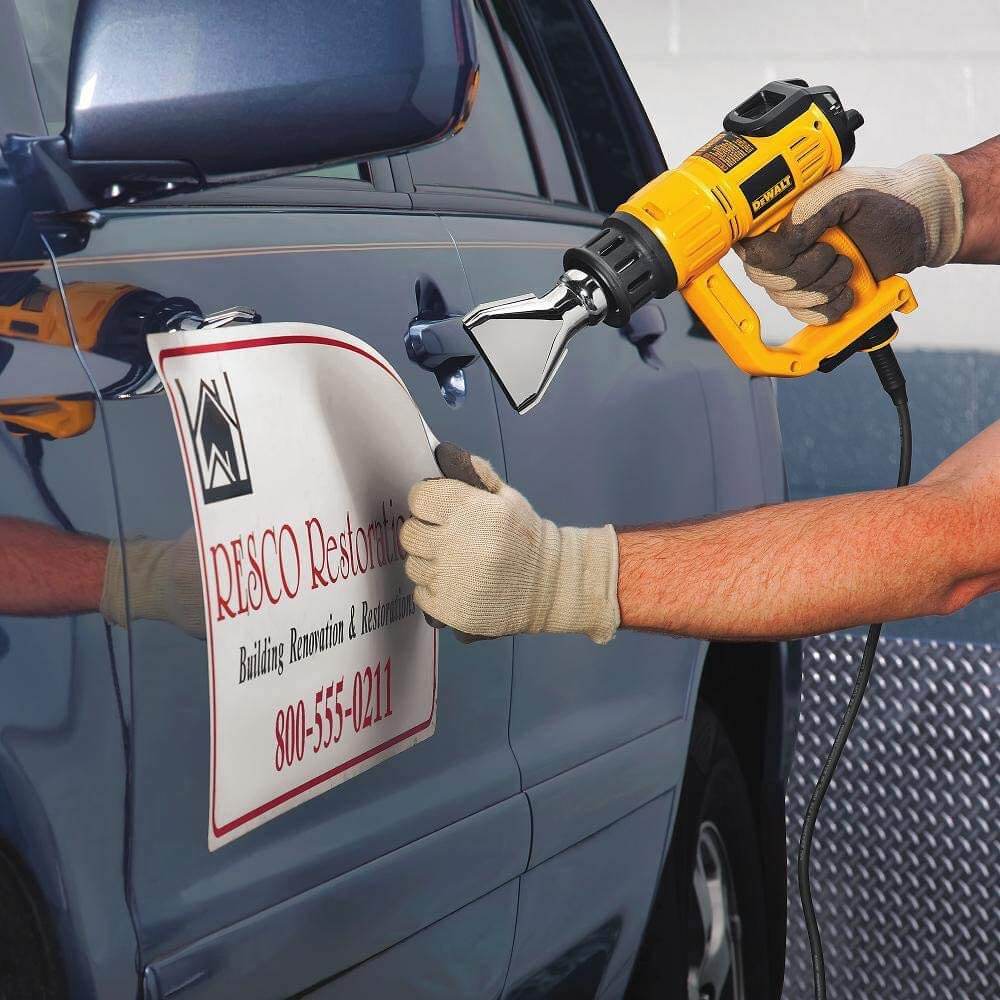 Types Of Heat Guns
There are three types of heat guns: electric, gas, and infrared.
Electric heat guns are the ones we've covered above. They are the most commonly used models and come either corded or cordless (battery-powered) models. Regardless of the power delivery, the principle is the same. A fan blows the air that passes through a heating element, increasing its temperature and shooting it out of the nozzle.
Gas heat guns are somewhat scarce due to the electric ones' popularity and a few other drawbacks. They generally use propane or butane gas, which replaces the heating component. While it sounds simple, these are often more complicated to operate as you need to have gas tanks on hand at all times; they are also usually more expensive. However, although gas-powered heat guns are far from being the most used, in some cases, they might be advantageous. However, I simply don't see when.
Lastly, infrared heat guns are the latest to arrive at the game, with the type beginning to appear on the market only recently. In these, the heating component is replaced with infrared heat, which can produce temperatures over 1100° F.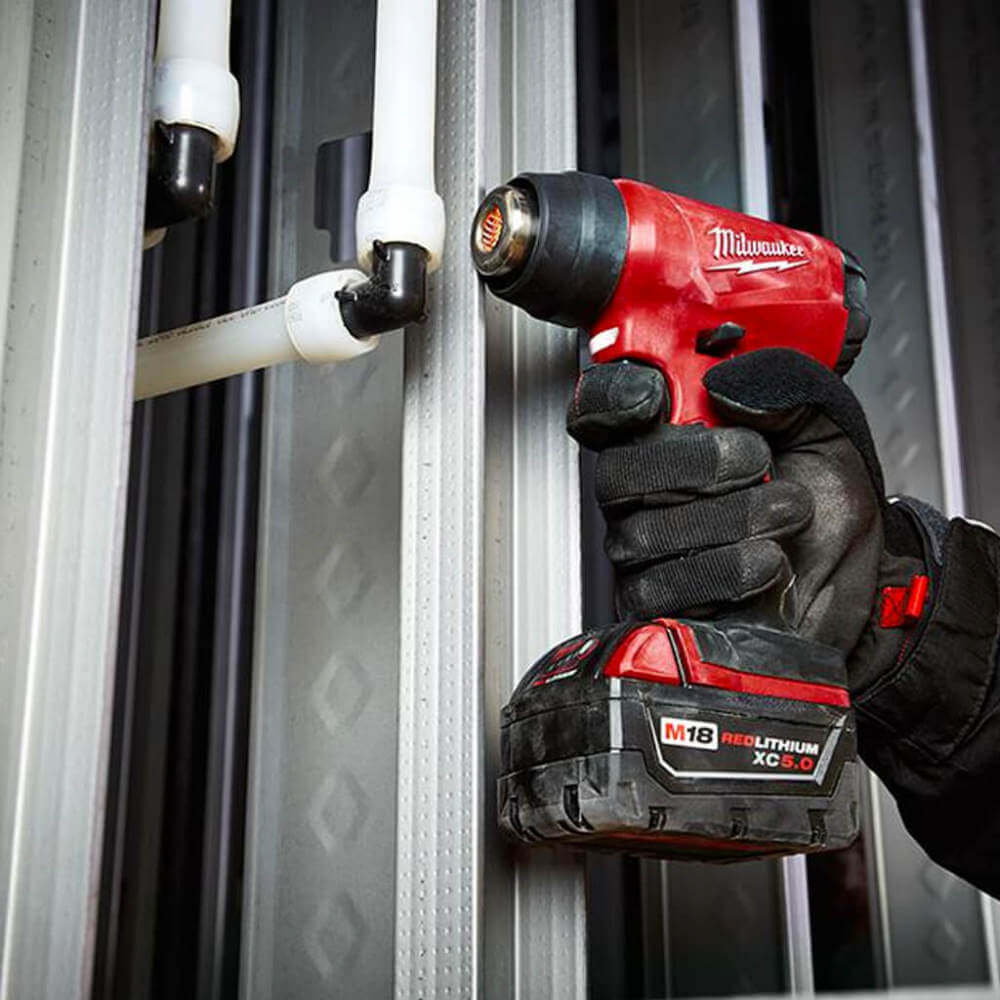 FAQ
How to tell which temperature to use the heat gun at?
It really depends on the situation. In some cases, you'll need a higher temperature, while in others, lower. You should consult a professional or the instruction manual in the case of shrink tubing.
What are the nozzle options?
That will depend on the tool's manufacturer. If you know you'll need multiple nozzles, make sure to check that out before committing to the gun model. While most manufacturers sell additional nozzles for each model, you'll see that some have a somewhat limited selection.
How long can I use a heat gun in a single session?
In general, heat guns shouldn't have a problem running for more extended periods. But, to be on the safe side, check the user manual and see what the manufacturer says about yours.
Verdict
Heat guns are one of those tools that you never think of but often find yourself needing one. Regardless of whether you are doing tons of DIY projects or work professionally, a heat gun is a must.
Since there are many models and options available, don't hesitate to come back to our list covering the five best heat guns we've found. However, don't hesitate to shop around too. There is, of course, a ton of other good models out there.
However, as always, I recommend purchasing a heat gun that will suit your particular needs. In that sense, the first model on the list is not necessarily the best—you might get the best performance from the last one; it all depends on your personal preferences, needs, and budget.