Buying a grease gun that won't break the bank while also being able to withstand years of abuse in the shop may not be as straightforward as it seems. Luckily, we have all the best ones right here!
Best Battery-Powered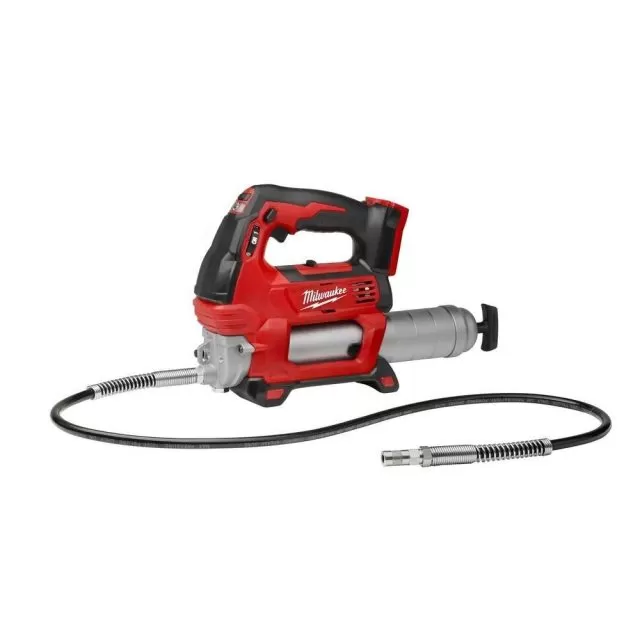 Milwaukee 2646-20 M18 18-Volt Lithium-Ion Cordless Grease Gun
Battery-powered grease gun
18V electric motor
10,000 PSI maximum operating pressure
48" flex hose with spring guard
Kit includes grease gun and hose
Best Pneumatic
Lincoln LIN1162 Fully Automatic Heavy Duty Pneumatic Grease Gun
Pneumatic grease gun
Operates at 40 CFM @ 40-150 PSI
6,000 PSI maximum operating pressure
30" flex hose with spring guard
Kit includes grease gun, hose, and a combination filler coupler
Best Pistol-Grip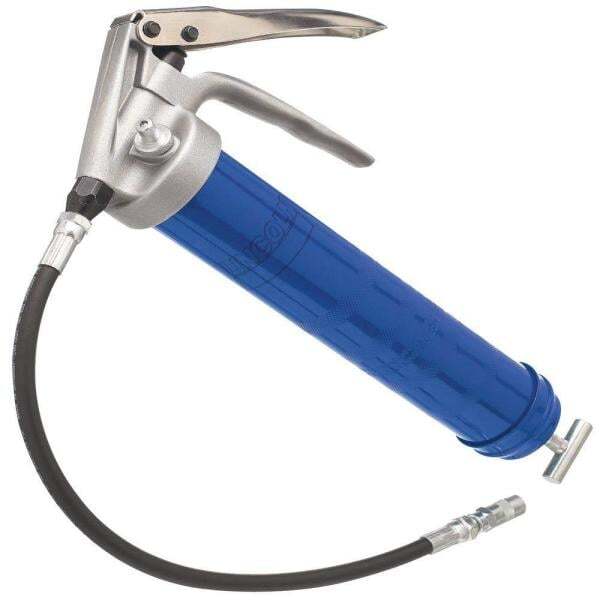 Lincoln LIN1134 Heavy Duty Pistol Grip Grease Gun
Pistol grip manually-operated grease gun
Single-piece head casting
7,500 PSI maximum operating pressure
18″ flex hose with a threaded output end
Kit includes grease gun, hose, a combination filler coupler, and rigid tube
If your daily activities involve performing maintenance on heavy trucks or equipment and greasing various components, you'll need a decent grease gun in your tool arsenal. The only problem? There are several different types available, and it can get a bit difficult to pick the best one, especially if it's your first time buying one. Luckily, there's nothing to worry about as this article will show you everything you need to know about grease guns, along with a selection of some of the best ones out there.
Of course, the "best" model for you will depend on several factors, including what you'll be using it for and how often. Nonetheless, we've already done half of the work for you and selected the best ones depending on different types, uses, and budgets.
I hope it helps!
Best Grease Gun Reviews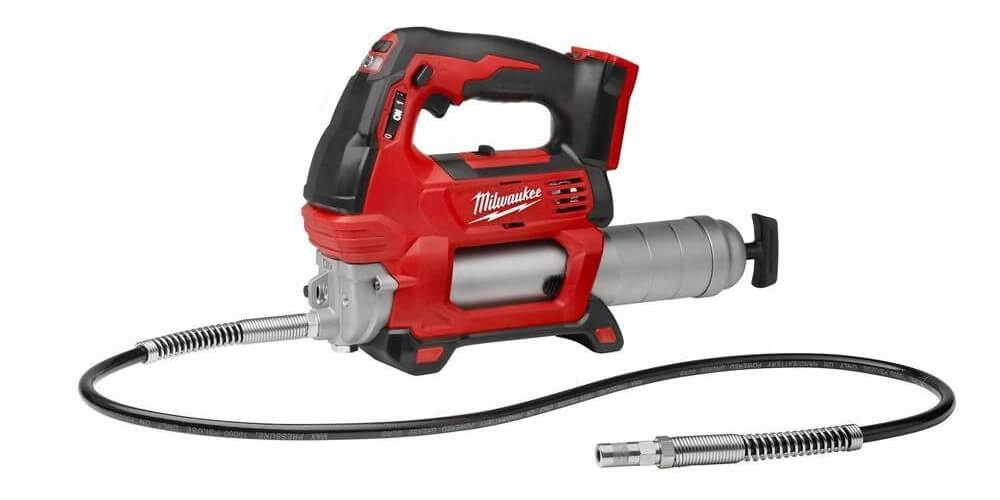 The Milwaukee 264620 is a cordless battery-powered grease gun part of the brand's M18 tool series. Thanks to the robust 18V motor, the 264620 can push grease out up to 10,000 PSI of pressure, making it one of the most powerful grease guns in the market.
You get two operating speeds; the low-speed setting delivers maximum pressure while the higher setting will deliver the highest flow rate, up to 10 Oz/min. Moreover, the preset grease counter lets you accurately determine the quantity you want to deposit beforehand, so there is little to no wastage (if you work on an assembly line or on similar components repetitively, this feature will come in especially handy).
Other useful features include a 48″ flex hose with a spring guard, a lock-on/lock-off trigger switch for convenience, and an integrated LED light for working in low-lit environments (read here that you can leave your portable worklight on your workbench).
Milwaukee's grease gun is perfect for mobile mechanics, thanks to the cordless operation. It is also a must for anyone who already owns one or more M18 cordless tools. In that case, you can use the same M18 Red Lithium batteries compatible with more than 40 other tools, thereby saving you valuable time, money and space.
Highlighted features
Battery-powered grease gun
18V electric motor
10,000 PSI maximum operating pressure
48" flex hose with spring guard
Kit includes grease gun and hose
Pros
Preset counter allows unmatched precision
Long flexible hose can easily reach tight spots
Lock-on/lock-off button for added convenience and one-hand operation
High-pressure rating
Five years limited manufacturer warranty
Cons
Batteries and charger not included
Air bubbles can form in the system
In sharp contrast to the previous model, the Lincoln 1162 is powered by compressed air instead. It is a fully automatic grease gun; all you have to do is pull the trigger and grease will be forced out of the hose in rapid bursts at a maximum pressure of 6,000 PSI. And thanks to the variable trigger, you can adjust how fast grease comes out by increasing or decreasing pressure on the trigger.
Interestingly, to remove air bubbles in the grease cartridge or gun system, Lincoln Industrial provides an air bleeder port (I'm looking at you Milwaukee). Furthermore, the brand also runs an informative YouTube channel where experts show how to tackle other common problems with your grease gun.
The Lincoln LIN1162 grease gun is exceptionally cost-effective, but keep in mind this tool requires an air compressor. As a result, it's definitely not as portable as the previous one and it is only financially suitable for garages or repair shops already equipped with a compressor — honestly, it makes no sense to buy one only to power a grease gun.
Highlighted features
Pneumatic grease gun
Operates at 40 CFM @ 40-150 PSI
6,000 PSI maximum operating pressure
30" flex hose with spring guard
Kit includes grease gun, hose, and a combination filler coupler
Pros
Variable speed trigger allows flexibility
Ergonomic handle with rubber grip for comfort
Air bleeder port helps release trapped air bubbles
New and improved design
One-year manufacturer warranty
Cons
Requires an air compressor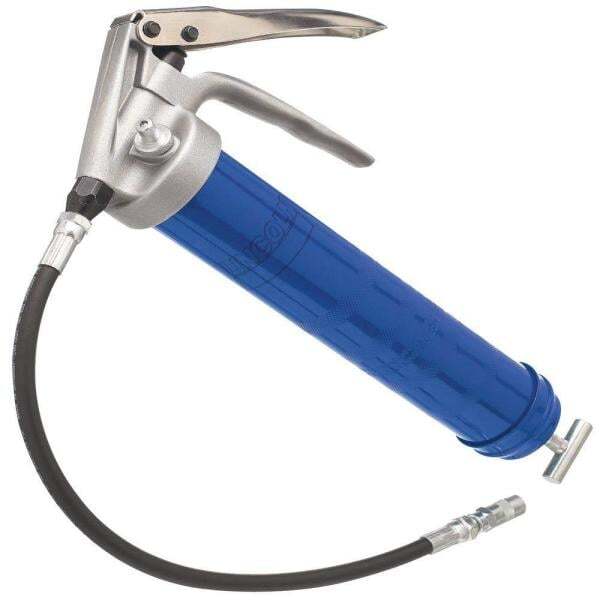 If you are on a tight budget or simply don't want to deal with the hassle of keeping batteries charged or buying an air compressor, Lincoln Industrial also makes a more straightforward pistol-grip model. Simply load the chamber with bulk grease or a grease cartridge, make sure there are no air bubbles in the system, and you're good to go. Place the hose's output end at the appropriate spot and operate the pistol grip lever to get greasing.
The 1134 grease gun's unique design allows you to change the stroke design depending on the requirement and choose between a high-pressure or high-volume output. Moreover, since this is a manual grease gun, you don't need electricity, batteries, or an expensive pneumatic system to operate it — you can use it anywhere and at any time. However, it's important to mention that it's not ideal in confined spaces; the lever-action is sometimes hard to operate when there's not much space around.
Lincoln's pistol grip grease gun is perfect for working in remote areas where urban resources like electricity or compressed air are scarce, such as the middle of a field for farm equipment. There are very few components, meaning fewer chances of something going wrong. And even if something does go wrong, you get a one-year warranty and manual grease guns are quite easy to repair anyway.
Highlighted features
Pistol grip manually-operated grease gun
Single-piece head casting
7,500 PSI maximum operating pressure
18″ flex hose with a threaded output end
Kit includes grease gun, hose, a combination filler coupler, and rigid tube
Pros
Hassle-free and straightforward manual operation
Jam-proof handle
Lightweight construction
Compact design
Variable stroke design makes it versatile
One-year manufacturer warranty
Cons
Hose is shorter than other models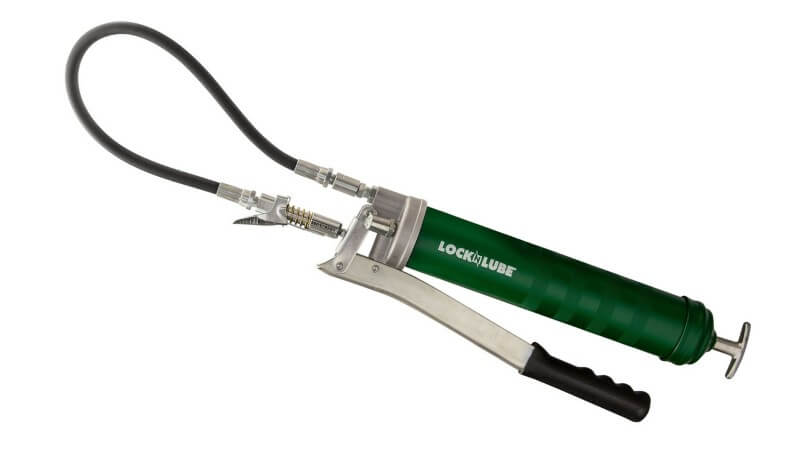 The LockNLube LNL151 is a lever-operated grease gun and while it may look just like any other ordinary model, don't be fooled by its modest appearance. The LNL151 is a very versatile and reliable tool capable of delivering grease up to 10,000 PSI, more than some powered grease guns. Such superior performance is made possible by a relatively simple yet clever pumping mechanism operated using an external lever.
The only major downside to this arrangement is that you'll need two hands to operate the lever, and none is left to hold the hose in place. Don't worry, though; LockNLube came up with a patented LockNLube grease coupler designed to create a leak-proof seal on any zerk. The coupler uses a unique sliding sleeve locking four steel jaws onto the zerk fitting making sure it stays on even under high pressure.
The lever-operated mechanism can be a curse and a blessing depending on the specific situation. When there's a zerk, the process is quite simple, but when there's none, it can be challenging to hold the hose in position while operating the lever simultaneously. Still, several mechanics only swear by these lever-operator models so we had to include one here.
Highlighted features
Lever grip manually-operated grease gun
Compatible with 14.5 oz. grease cartridges
10,000 PSI maximum operating pressure
20" flex hose with in-line hose swivel
Kit includes grease gun, hose, and a LockNLube coupler with a rebuild kit
Pros
Most bang for your buck
Patented LockNLube coupler design provides a leak-free seal
High maximum pressure
Coupler comes with a rebuild kit
One-year manufacturer warranty
Cons
Operating the lever mechanism requires two hands, leaving none to hold the hose in position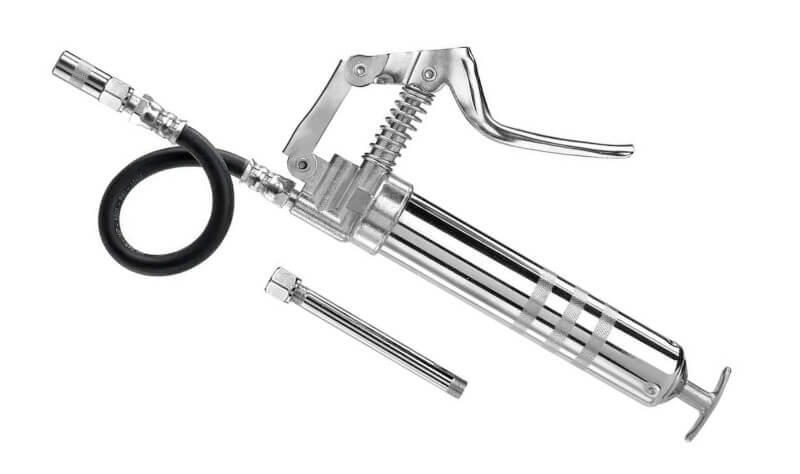 When it comes to light-duty lubrication equipment, Legacy Manufacturing's Workforce line-up of miniature grease guns has been stealing the show lately. More specifically, the L1305 mini grease gun has proven to be quite popular among the auto mechanics community. It is a highly versatile pistol grip grease gun made with a unique die-cast head, so you get high-quality and long-lasting components within close tolerances.
Like the previous model, this one also comes with a 4-jaw coupler capable of providing a leak-proof seal with zerks and most other grease fittings. Moreover, since it only requires one hand to operate the pistol grip, you won't have a problem holding the hose when greasing components without a dedicated zerk attachment.
It's important to mention that the Workforce L1305 grease gun is only suitable for light-duty and low-intensity use due to its miniature construction. The barrel is compatible with 3 oz. grease cartridges, which should last sufficiently long when subjected to home or light commercial use but might be a bit small for professional repair shops.
Still, it's one of the best grease guns for DIYers or light vehicle mechanics who don't really need to lubricate components that regularly. After all, in the automotive sector, cars only rarely come with greasable parts nowadays. On the other hand, if you work on semi-trucks or heavy equipment, this one might not be your best bet.
Highlighted features
Pistol grip manually-operated mini grease gun
Compatible with 3 oz. grease cartridges
2,500 PSI maximum operating pressure
12" flex hose with 4" straight extension
Kit includes mini grease gun, hose, and a straight hose extension
Pros
Cheapest grease gun on the list
4-jaw locking coupler works really well on zerks
Durable and robust die-cast head
Attractive chrome finish
One-year limited manufacturer warranty
Cons
Not suitable for heavy-duty use
Hose could be a bit longer
Lower pressure compared to full-size grease guns
Mechanics will often deposit a big dollop of grease in areas requiring frequent lubrication and call it a day, but you cannot use this method everywhere. Certain precision projects may require only a fixed quantity of lubrication to avoid any unnecessary mess (for auto mechanics, read "lubricating your impact gun" here). In these situations, you'll need a more precise grease gun to prevent from making a mess.
Enter the Astro Pneumatic Tools 101 push-button-operated miniature grease gun.
Unlike all the previous grease guns, the APT101 deposits material through a narrow nozzle instead of a hose, fed by the 3 oz. lubricant barrel. The compact design and light body also allow this model to be operated using only one hand, making it easier to reach tight spaces.
The needle nozzle delivers a thin line of grease exactly where you want it while reducing waste. Hence, if your line of work involves lubricating small and intricate components like watches, electronics, and air tools, the Astro Pneumatic Tools is the best grease gun for your needs.
Highlighted features
Push-button manually-operated mini grease gun
3 oz. grease capacity
Works on the suction principle
No hose included
Kit includes mini grease gun with needle nozzle
Pros
Thin needle nozzle perfect for small and precise projects
Lightweight grease gun
Extremely cheap and inexpensive
Can be operated with one hand
Back to basics, proven, and time-tested gun design
One-year warranty on material and workmanship
Cons
Grease cartridges are not compatible; manual loading only
May require frequent priming
The LockNLube GG80001 is an industrial-grade grease gun designed to withstand heavy-duty use in the harshest work environments. One of the most unique features of LockNLube's grease gun is that it doesn't need any batteries or an expensive pneumatic system. Indeed, the gun requires no external power, being operated by a simple foot pedal instead. Besides, since the entire foot pedal assembly is situated at the bottom of the canister, it is constantly lubricated by the moving grease, thereby significantly increasing the gun's lifespan.
Another great thing about the mechanism is that it leaves both your hands free, so you can use them to operate the patented LockNLube locking coupler, hold a work light to see what you are doing, or anything else for that matter. And when you feel like there is a lot of back pressure developed in the system, the patented pressure release valve will come to your rescue and clear it back into the canister safely.
The G. Gun comes with a 10′ long hose, letting you access a larger surrounding area without having to carry the bulky 2-gallon grease canister around. Speaking of the massive canister, it's obviously not compatible with regular grease cartridges, so you need to bulk load it every once in a while. Still, that shouldn't pose a big problem as you get a G. Scoop tool to load the grease into the canister easily, and as said before, the container is quite large and will last for quite long.
No need to say that this one is only suitable for heavy-equipment mechanics and professional auto repair shop owners. If you only work on cars on weekends, it might be a bit much.
Highlighted features
Foot pedal manually-operated industrial-grade grease gun
2 gallons grease capacity
10,000 PSI maximum operating pressure
10' flex hose
Kit includes the grease gun, hose, a G. Scoop, and a LockNLube coupler
Pros
Buying grease in bulk will cut down costs
Suited for industrial environments and heavy-duty use
Advanced pressure release system
Clever G. Scoop tool
High value for money
One-year manufacturer warranty
Cons
Initial priming can be a challenge
Since the grease's weight keeps the piston primed, you might have to refill the canister before it is empty
Types of Grease Gun
The diverse list above shows that several different types of grease guns are available today. In order to decide the best style for your needs and budget, it is essential you know more about each of them:
Battery-powered
As the name suggests, battery-powered grease guns come with an electric motor drawing power from an onboard compact battery. The motor is activated by the touch of a button. The batteries usually last for a long time but will need to be replaced at some point. This type of grease gun is really a must if you also have other battery-powered power tools with interchangeable batteries.
Pneumatic
Pneumatic grease guns use compressed air to push grease out of the canister. These are usually cheaper but require a pneumatic system with an air compressor, filter, pressure gauges, and much more. Of course, if you already have an air compressor, that won't really be a problem, but keep in mind that you'll be tied to the length of your hose.
Pistol-grip
As the name implies, a pistol-grip grease gun's trigger and handle assembly resembles a regular pistol. It's operated by squeezing the trigger, creating pressure, and pushing the grease out. They work well, can be rebuilt but can be a bit tiresome on the hand when used for longer periods.
Lever grip
Imagine a pistol grip grease gun but with a long lever instead of a trigger. Lever grip grease guns usually take two hands to operate but provide a much higher output pressure than pistol-grip models.
Mini model
A mini grease gun is perfect for those who don't enjoy applying grease by hand but have limited use for a grease gun. These miniature models can usually hold grease cartridges of up to 3 ounces, making them perfect for home garages.
Precision model
Certain lubrication activities demand precision when it comes to the quantity and accuracy when depositing the grease. For such projects, you'll need a precision grease gun with a thin needle nozzle. They are definitely not as widely used but in some cases, you simply can't use anything bigger.
Industrial Model
For large heavy-equipment repair shops and service centers where numerous vehicles come in every day, a mini or even a regular-sized grease gun might just not cut it. What you'll need is a larger industrial grease gun offering a much larger capacity. Those may be a bit overkill for regular automotive repair shops and occasional or home use.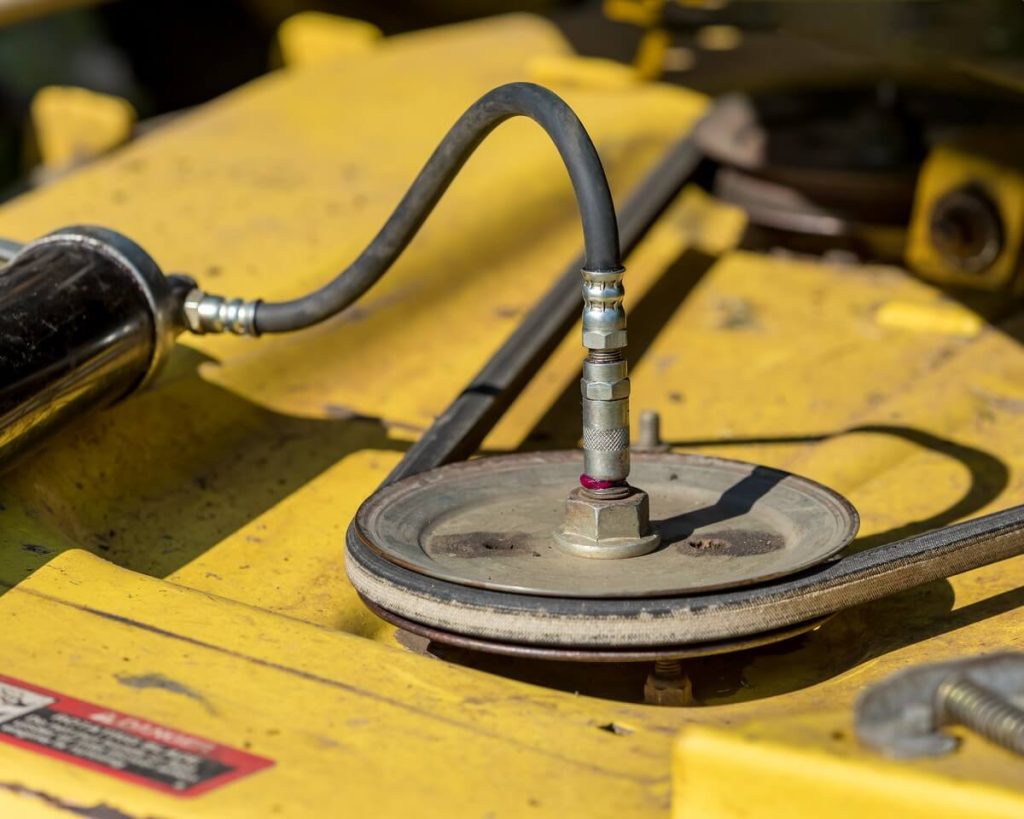 What to Consider When Buying a Grease Gun
Capacity
Every grease gun is equipped with a barrel or a canister to store grease before sending it out through the hose. Selecting a grease gun with a big enough barrel is vital as it can save you time by requiring less frequent refills. However, it's a bit tricky to suggest what you need as it really depends on your specific line of work — just make sure to pick a grease gun with enough holding capacity so it lasts at least 10-15 days before needing a refill.
Loading method
There are two ways to fill a grease gun with grease: using a grease cartridge or bulk loading the barrel using a scoop. Each method has its pros and cons; for example, grease cartridges are simple to use and create little to no mess. However, they are also costlier than buying a 5-gallon bucket and merely refilling the barrel by hand after use — your pick.
Hose length
Since most components requiring regular lubrication are usually located in tight spaces and small corners with limited accessibility, most grease guns deposit lubricant by sending it through a flexible rubber hose.
I recommend picking a model with a long hose to avoid any problems when working in cramped spaces. Still, this isn't a significant constraint. If your favorite gun isn't available with a long-enough hose, you can easily buy a longer one separately and attach it later.
Maximum operational pressure
Each grease gun comes with a maximum pressure rating, describing the maximum force applied per square inch. A higher pressure rating, anywhere between 7,500 to 10,000 PSI, is considered "heavy-duty" and will work for most applications — anything above 6,000 PSI is deemed respectable here. Anything lower than that, though, and your gun may face problems forcing lubricant into tight components or high-pressure grease fittings.
Additional features
While most grease guns come with common standard equipment in addition to the primary tool, including a flexible hose and a coupler, you can look for models offering something more. For example, LockNLube throws in its patented locking coupler for free with every purchase. What's more, the coupler comes with a complete rebuild kit with extra seals and other components, so in case the original coupler fails for some reason, you can easily repair it yourself. Similarly, other manufacturers offer an air bleeder valve making it much easier to remove air bubbles from the system or various hose attachments.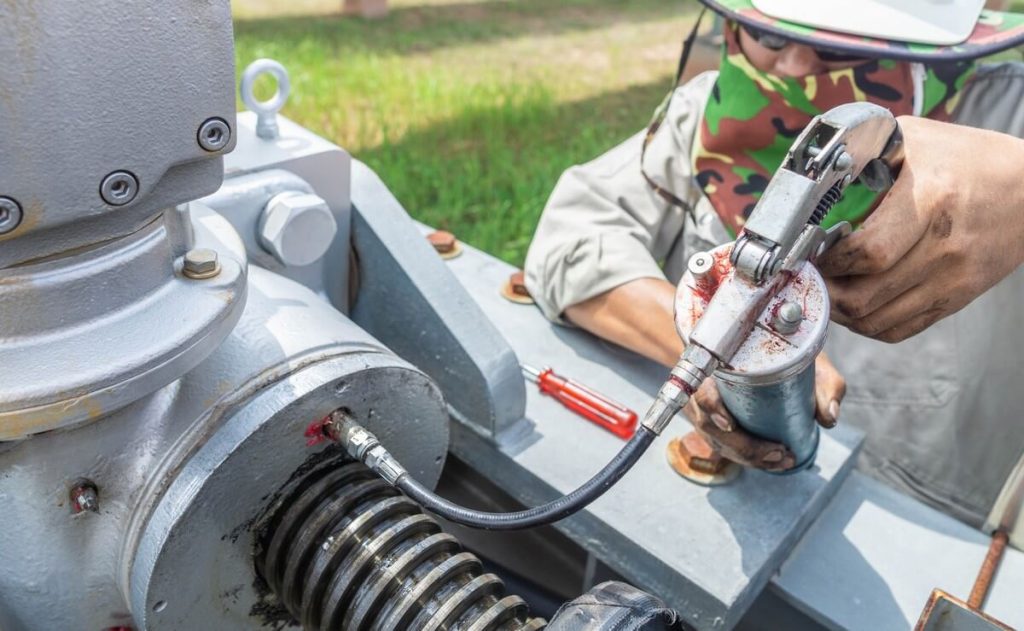 Frequently Asked Questions (FAQs)
Are cartridges better than bulk loading?
If you consider the speed and ease with which grease cartridges reload a gun, they are undeniably the better choice. However, grease cartridges are expensive, and even though small volumes may not make that big of a difference, the numbers really add up in the long run.
So, if you rarely use your grease gun and don't want to deal with the hassle of bulk loading, grease cartridges are the perfect option for you. On the flip side, for industrial work environments going through gallons of grease a month, purchasing the lubricant in bulk makes much more economic sense.
How to properly prime a grease gun?
There are several proven methods to prime a grease gun correctly, but the technique can differ depending on the specific model. The first and easiest method is to use the air bleeder valve (if it has one) to let the trapped air escape. If there is no valve on your model, unscrew the grease barrel one to two turns after refilling and activate the pump a couple of times. If that doesn't work, you might have to look in the owner's manual for more details.
Verdict
Any home garage, repair shop, and service center is filled with machines and vehicles requiring periodic lubrication. With a grease gun, you can make sure they are well lubricated and do so while saving valuable time.
We hope this detailed article will help you pick the best grease gun depending on your needs and budget. There is no clear winner here for obvious reasons as each model included in the list is meant for specific applications and is excellent at what it does. Different mechanics need different tools so you be the judge.
Happy greasing!