EDITOR'S PICK
US Energy Products NASA TECH White Reflective Foam Core Garage Door Insulation Kit
Roll-type garage door insulation kit
Roll dimensions: 2′ X 18′
Total weight: 10.63 lbs.
NASA developed insulation material
R-value: 8
Provides thermal and sound insulation
PREMIUM PICK
SmartGARAGE- Reflective Garage Door Insulation Kit
Roll-type garage door insulation kit
Roll dimensions: 21.25″ X 18″
Total weight: 5.04 lbs.
Closed-cell polyethylene foam sandwiched between pure aluminum
R-value: 6
Provides thermal and sound insulation
BUDGET PICK
US Energy Products Double Bubble Reflective Foil Insulation
Reflective foil garage door insulation
Insulation material dimensions: 48″ X ¼" X 10′
Roll weight: 4.4 lbs.
Polyethylene air bubbles and reflective aluminum layers
R-value: around R2
Provides only thermal insulation
So you are in the process of building your dream garage and you can finally enjoy your little personal space, right? But before you settle in, have you thought about insulating it? Keep in mind that, in most cases, garage doors are constructed from thin wood, steel, or aluminum panels and usually don't provide any kind of sound barrier or insulation. If you live in a cold climate or in a location where summer gets scorching hot, you might very well benefit from insulating your garage door properly. After all, behind those thin door panels lie things you truly love.
Luckily, to protect your car, bike, and tool box from the outside temperature (and also you while you work on that car), all you need is a decent garage door insulation kit, providing a better seal and better energy efficiency. In hot climates, the insulating material will prevent hot air from entering your home through the garage and making your AC work harder than it should, and prevent cold air from entering in winter. Moreover, insulating your garage door against temperature changes will often also provide some level of soundproofing, which can come in handy when living in a residential area and wrenching late at night. Yeah, I know. It was supposed to be done by 5 pm but here we are, 11 pm, and still only halfway done—been there, done that!
Of course, different garage doors, different sizes, different needs, different budget—the important thing here is to pick the best garage door insulation kit according to your specific needs and budget. However, it can be a bit difficult to differentiate between high-quality models and cheap ones due to the ton of options available online. To help you make an informed decision, we have curated and reviewed 8 of the best garage door insulation kits we could find.
Enjoy!
Garage Door Insulation Kit Reviews
The Double Bubble reflective foil is an easy-to-install entry-level insulation kit for your garage door, consisting of a 48″ X 10′ roll of two layers of Polyethylene industrialized air bubbles wrapped in 99.97% reflective thermal aluminum polyester film.
The Double Bubble foil will reflect a sizeable majority of the heat and prevent it from entering the garage door. And we are happy to report, this garage door insulation kit is relatively successful in doing that, Indeed, it's able to reflect 97% of radiant heat, thereby reducing stress on your garage's air conditioning system—because, of course, no dream garage is ever complete without proper air conditioning, right?
Worth mentioning, the foil is entirely safe to handle without any additional personal protective equipment. Once installed in place, it will not be affected by moisture or humidity, so you can even leave it on all year round without having to worry about mold or fungus—just set it and forget it.
The US Energy products Double Bubble reflective foil insulation is perfect for use in hot climates. Its clever thermal technology will reflect most of the hot air away, keeping the inside of your garage comparatively cooler. It's also quite inexpensive so it's well worth the investment.
Of course, it also works to keep cold out quite well, although there's better option for that below.
Highlighted features
Reflective foil garage door insulation
Insulation material dimensions: 48″ X ¼" X 10′
Roll weight: 4.4 lbs.
Polyethylene air bubbles and reflective aluminum layers
R-value: around R2
Provides only thermal insulation
Pros
Reflects 97% radiant heat
Perfect for winters and cold climate regions
Hassle-free installation
Does not sustain fungi, mold, or dew
Moisture and waterproof
Lightweight garage door insulation kit
Made in the USA
Cons
Does not come with any installation hardware
Shiny finish is not everyone's cup of tea
The Reach Barrier 3009 is another simple DIY garage door insulation kit, using the brand's revolutionary bubble barrier technology. And unlike the previous model, this garage door insulation kit comes with everything required to complete the installation process entirely on your own, including permanent bond adhesive tape, a garage door cleaner sponge, and straightforward instructions.
The insulation panels are made from two layers of barrier bubble lamination sandwiched between a layer of reflective polyethylene material on either side. These panels can block out up to 95% of incoming heat and help reduce the load on your heating/cooling systems. You get eight pre-cut insulation panels inside the package, each measuring approximately 24″ X 48″. Luckily, if you have a bigger garage door than that, you can buy a second one and cut the panel accordingly.
Overall, the Reach Barrier 3009 is a handy garage door insulation kit and it's also quite affordable. However, it's important to mention that it may not be suitable for use in regions with extreme temperatures. Still it makes a noticeable difference in mild climates. Moreover, the included Stick'ems adhesive stickers make the installation process incredibly quick and easy.
Highlighted features
8-panel Reflective foil garage door insulation
Insulation material dimensions: 24″ X 48″ X 5/32″ per panel
Total weight: 3.2 lbs.
Barrier bubble layers with reflective polyethylene coating
Sufficient to cover an 8′ X 8′ garage door
Provides only thermal insulation
Pros
Lightweight insulation doesn't affect door opening mechanisms
Fire-resistant material
Reflects 95% heat
Complaint with all building code requirements and regulations
Comes with installation material
Made in the USA
Cons
Not suitable for extreme climates
The Matador SGDIK001 is the first proper or "professional" garage door insulation kit on this list. Not that the first two were not good but they were definitely budget models—this one is the real thing.
The SGDIK001 garage door insulation kit comes with eight high-impact polystyrene laminate panels that provide much better insulation than foil kits. Each panel measures 54″ in long, 20.25″ wide, and 1.25″ thick, making it sufficient for 8′ garage doors. The panels might look like they would add significant weight to your garage door, but surprisingly, the entire kit weighs merely 10 lbs.
Even the installation process is pretty simple; all you have to do is measure the distance between the vertical & horizontal rails on your garage door, and cut the insulation panels accordingly. And even better, the panels are bendable, so you don't need to dismantle any components on your door to achieve a snug fit.
In addition to improved insulation properties, the Matador SGDIK001 garage door insulation kit also provides a much better overall appearance. There is no silver foil to distract you from the job at hand and blind you while you work, and you can even paint the white laminated surface for added personalization.
Highlighted features
8-panel garage door insulation kit
Insulation material dimensions: 20.25″ X 54″ X 1.25″ per panel
Total weight: 10 lbs.
High-impact polystyrene laminated panels
R-value: 4.8 at 75°F
Provides only thermal insulation
Pros
Better insulation properties
Lightweight and easy to install garage door insulation kit
Compatible with all garage doors
Decent insulation value
OEM-grade insulation material
Aesthetically better than other models
Bendable panels allow for better coverage
Cons
Panels need to be handled with care
If you are looking for a garage door insulation kit offering a lot of bang for your bucks, ADO Products' model is definitely worth considering. The GDIKS kit comes in the form of a roll that you can easily cut according to your garage door's exact dimensions. The insulation material used in this insulation kit is fiberglass, boasting an impressive R-8 insulation value.
The 37′ X 22″ roll can cover a 68 sq.ft. area, more than enough to insulate a standard 9′ X 7′ single garage door. Although first-time users can find the process a bit more time-consuming than with the previous model, the installation is quite simple. Indeed, the GDIKS garage door insulation kit comes with 17 metal pins for safe and secure mounting. Simply cut the material to the right size, stick the pins onto the garage door, place the material and cap the pins—voila!
Unlike previous models, the use of fiberglass as an insulation material also provides a dampening effect against excess noise (your neighbors will thank you for this one). If you need a garage door insulation kit offering a good balance between insulation from extreme temperatures and excess noise, this is the one you need.
Highlighted features
Roll-type garage door insulation kit
Roll dimensions: 37′ X 22″
Total weight: 12.8 lbs.
Fiberglass insulation material
R-value: 8
Provides thermal and sound insulation
Pros
Simple installation process
Insulates against extreme temperatures and excessive noise
Reasonably priced
Perfect for standard 9′ X 7′ garage door
Comes with metal pins for installation
Not messy or delicate
Cons
Installation process can be time-consuming
The Cellofoam FOAMGDK garage door insulation kit is quite similar to Matador's model, and for a good reason—it's simply one of the most common yet effective types available in the market. The kit consists of eight insulation panels built from Expanded Polystyrene (EPS), a lightweight material made of small hollow spherical balls. The high-quality EPS used in this particular model is quite dense, which results in better thermal properties than most.
For better longevity, Cellofoam has also covered one face of each panel with a high-impact styrene laminate to prevent foam fibers from disintegrating from the insulation panels. In doing so, you get not only optimum durability but also a much cleaner look.
The kit includes eight 54″ X 20″ X 1 ½" EPS insulation panels, each providing an insulation rating of 4.8, making it suitable for mild to hot/cold temperature regions.
However, if you are located in hot places like Nevada, Arizona, or even some parts of California, you probably need a garage door insulation kit with a much higher R-value.
Highlighted features
8-panel garage door insulation kit
Insulation material dimensions: 20″ X 54″ X 1.5″ per panel
Total weight: 5 lbs.
High-quality Expanded Polystyrene panels covered with high-impact laminate
R-value: 4.8
Provides only thermal insulation
Pros
Thicker insulation panels than other models
No special tools are required for installation
Rear laminate covering adds longevity to the panels
Quick and straightforward installation process
Even insulates from noise up to a certain extent
Panels can be painted
Cons
Not suitable for extreme climates
US Energy Products is back with another excellent garage door insulation kit. And yes, this kit really uses insulation technology developed by the National Aeronautics and Space Administration (NASA)—and NASA sure knows a thing or two about insulation, given that it develops such technology for use in out-of-this-world applications.
US Energy Products' white reflective foam core is arguably the best garage door insulation kit out there and includes four rolls of insulation material, a sharp razor, double-sided tape, a squeegee, and a detailed instruction manual.
And don't be fooled by the thin-looking insulation material; the use of NASA's technology makes this garage door insulation kit extremely effective against cold and noise, despite being thinner than its competitors. Notably, you can expect a 15°-20° drop compared to the outside temperature, even in extreme weather conditions.
Aside from NASA's tech, another significant advantage of purchasing this garage door insulation kit is the brand's unmatched customer service. Interestingly, if you are having any trouble with your kit (not sure what could go wrong here but just in case), you even can directly call Mike, the owner of US Energy Products, for a quick solution—that's not something you see every day.
Highlighted features
Roll-type garage door insulation kit
Roll dimensions: 2′ X 18′
Total weight: 10.63 lbs.
NASA developed insulation material
R-value: 8
Provides thermal and sound insulation
Pros
Exceptional customer service
High insulation value
Virtually weightless for your garage door
Compliant with all US fire codes
Comes with all required installation hardware
Enough material for 2-car garage door
Made in the USA
Cons
None—when it works, it works
When it comes to construction, roofing, or insulation equipment, Owens Corning is a name that stands out from the crowd. The brand consistently develops high-quality and reliable products that are manufactured to the highest of standards.
The 500824 garage door insulation kit is one such example; it uses fiberglass as an insulation material, resulting in a favorably high thermal value of R8. The kit includes eight 22″ X 54″ X 2.25″ insulation panels providing up to five times better thermal insulation than an uninsulated door. Moreover, one kit is enough to insulate a 9′ X 7′ garage door entirely.
In addition to good thermal insulation, the fiberglass material is also suitable for insulation against excess noise. However, a significant inherent disadvantage of fiberglass is that it can easily break or crumble. Hence, Owens Corning has installed a rugged vinyl cover on all panels to address this issue.
The Owens Corning 500824 is, beyond doubt, a great garage door insulation kit. But minor issues like the messy and time-consuming installation process and ineffective clips make it a little less than perfect.
Highlighted features
8-panel garage door insulation kit
Insulation material dimensions: 22″ X 54″ X 2.25″ per panel
Total weight: 11.8 lbs.
Fiberglass with durable vinyl facing
R-value: R-8
Provides thermal and sound insulation
Pros
Reduces noise by up to 20%
Comes with all required installation hardware
Provides excellent thermal insulation properties
Suited for use in extreme temperature regions
Panels are washable
Cons
Fiberglass is challenging to cut
Included clips are not that effective
If you don't enjoy cleaning after installing messy fiberglass or foam garage door insulation, the SmartGarage reflective garage door insulation kit is the best option for you. The kit includes four rolls of superior-quality insulation material made from a 4 mm thick layer of closed-cell polyethylene foam protected by a layer of pure & highly reflective aluminum on either side.
Cosed-cell polyethylene foam is a good insulation material due to its excellent thermal resistance and sound dampening properties. Additionally, the pure aluminum coating will further help maintain optimum temperature by reflecting most of the incoming heat.
The kit includes enough insulation material to fully insulate a two-car garage door measuring 18′ X 7′. You also get the brand's improved high-grade double-sided tape for easy and quick installation.
The SmartGarage reflective garage door insulation kit's shiny silver finish may not be to everyone's taste, but don't let that stop you from purchasing this fantastic product. The closed-cell material may only be ½" thick, but it provides optimum insulation from extreme temperatures and significantly reduce noise.
Highlighted features
Roll-type garage door insulation kit
Roll dimensions: 21.25″ X 18″
Total weight: 5.04 lbs.
Closed-cell polyethylene foam sandwiched between pure aluminum
R-value: 6
Provides thermal and sound insulation
Pros
Easy to install in most garages
You get heavy-duty double-sided tape
High thermal insulation value
Also insulates against sound
Non-toxic insulation material
Enough material for a two-car garage door
Cons
Silver finish may not be to everyone's taste
Types of Garage Door Insulation Kits
Before you pick the best garage door insulation kit for your needs and budget, it is essential to understand the different types of insulation materials available. Evaluating each based on its advantages and disadvantages will ensure you get the most bang for your bucks and prevent you from regretting a hasty decision.
Reflective foil
Reflective foil is probably the most common material found in garage door insulation kits. There are several reasons for this; firstly, reflective foil is used for its low production cost. You also get reasonably decent thermal properties even when the material is relatively thin. Additionally, the thin insulation material helps keep the weight down and, in turn, reduces the load on your garage door's opening mechanism.
In most cases, you will get an aluminum reflective coating on each side along with dedicated insulation material in between. The outer layers, often aluminum, help reflect most of the incident heat rays away from the surface, while the rest of the work is taken care of by the insulation material.
Unsurprisingly, reflective foil is mostly efficient against heat and not so much against cold. However, how resistant to cold a specific product is will really depend on the inner material, and not so much on the outer one.
Laminated fiberglass
Fiberglass is a strong plastic material made from several layers of woven glass fibers tightly intertwined based on the requirements and desired properties. Generally, fiberglass is known to be a solid & reliable material suitable for several different applications.
Fiberglass can be used as an insulation material thanks to its excellent thermal properties. However, since the material is relatively weak and can easily crumble, most garage door insulation kits provide fiberglass panels with a laminate cover for better longevity.
Polystyrene panels
Another popular material used in garage door insulation kits is polystyrene foam. It is a hydrocarbon polymer often used as a low-cost solution in insulation, packaging, and even CD cases. The type of polystyrene used for insulating a garage door is a foam-type material designed with low thermal conductivity. Hence, it may not provide the best protection against noise or vibrations, but you get pretty good thermal properties. Some garage door insulation kits that use polystyrene panels claim a 15°-20° temperature difference, making it perfect for extreme weather conditions.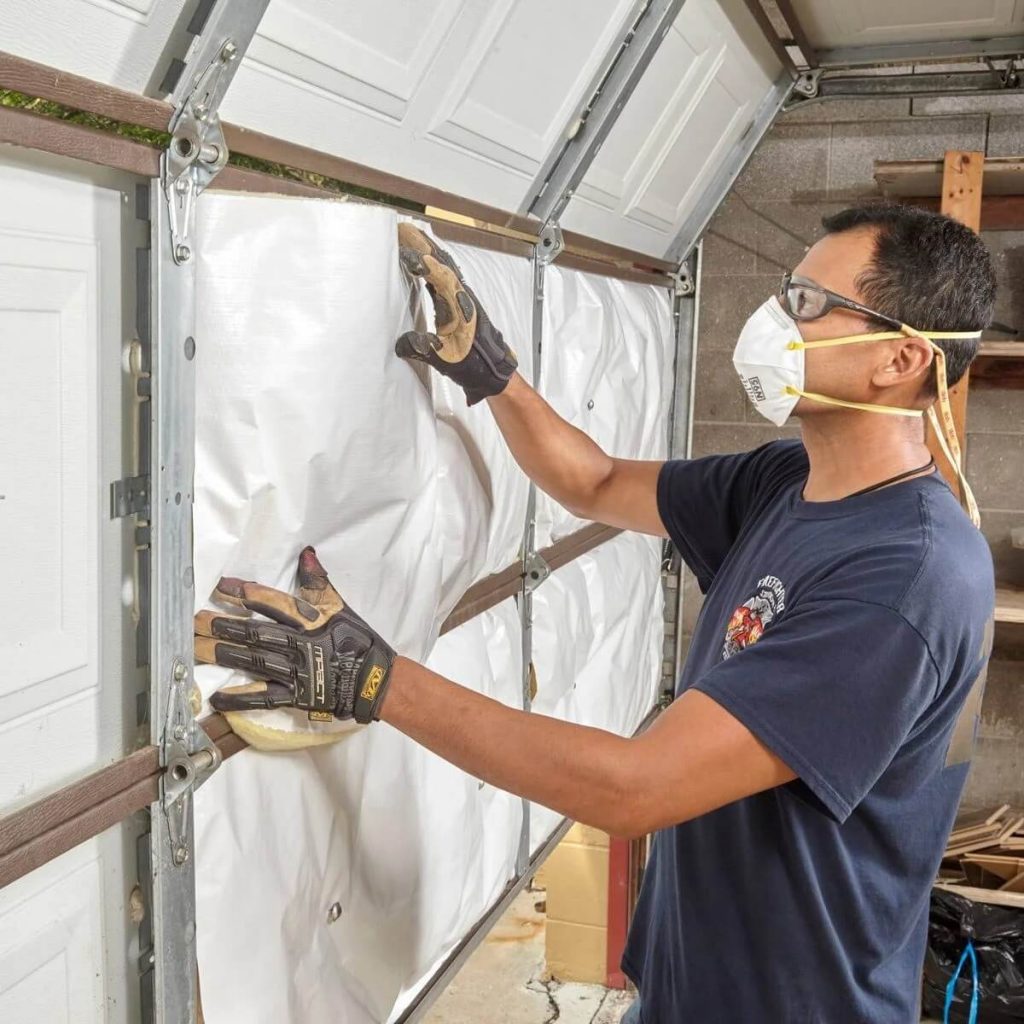 Shopping Considerations for Choosing the Best Garage Door Insulation Kit
Your quest to find the best garage door insulation kit for your needs doesn't stop at selecting the insulation kit type; several other factors need to be considered before making the final decision.
Insulation value
R-value, thermal value, or insulation value, all mean the same thing. In the world of construction materials and all things related, R-value refers to the ability of any two-dimensional surface to resist heat conduction.
In the context of garage insulation, the R-value of any particular model simply states its ability to create a temperature difference. So, the higher the thermal value, the better it is at insulating your garage.
Insulation material and properties
Of course, the most common insulation materials are already covered in the previous subtitle, so no need to repeat it again—but choosing the right insulation material is really important as it has a direct impact on the thermal value.
Moreover, your insulation material should be non-toxic and completely safe to handle. If it's not, you really don't want to be working in that garage and breathe all that stuff for hours. It should also be water and dustproof so that it can survive multiple seasons. Good insulation material should also prevent the growth of fungi or mold and be compliant with all US fire codes.
Yes, all this might seem pretty obvious by itself, but you wouldn't believe the kind of sh*t they sell online so just watch out for that.
Ease of installation
It may not seem like it, but installing several insulation kits on your garage door can be a tedious task. Insulation materials like fiberglass or polystyrene foam are made of various fibers intertwined together, requiring cutting the panels as per your requirement. In doing so, you are left with quite a mess since some of the material is bound to disintegrate and spread all over your garage floor. Meanwhile, foil-type and pre-cut garage door insulation kits are much better in this regard as they are a lot easier to install.
Your geographical location
Your geographical location or, more precisely, your year-round weather conditions must also be considered when looking for the best garage door insulation kit. Models rated at a low thermal value are suited for mild climates as they aren't all that effective in insulating your garage. On the other hand, insulation kits with high thermal value are meant for extreme temperature regions and can provide a 15° temperature drop in summer.
Surface finish
It may not seem like the most critical factor to consider while selecting a garage door insulation kit, but in the long run, it matters more than you might think. The type of external surface you get can make a huge difference in your day-to-day life. When using aluminum foil-type insulation, the shiny silver finish can be a bit distracting and, at some point, even irritating for some (try adjusting headlights with that!).
If you weld in your garage, the best option is to go for fiberglass or polystyrene insulation kits that provide a white washable cover so the spark is not blinding everyone. You can even choose to paint the surface to tie in with the rest of your garage's theme.
On the other hand, reflective foil can also be beneficial in some cases. If you spend significant time working on cars in your garage, you already know that light is always a concern. Installing reflective foil will significantly help illuminate ever dark corners of your garage (thinking of it, I wonder what it would do to cover the ceiling and walls with reflective foil too).
Soundproofing
Garage door insulation kits aren't only meant to protect your garage from extreme hot or cold weather; some models can even insulate your garage against excess noise. Even if you don't have a noise problem at the moment, we would recommend picking a garage door insulation kit that provides both thermal and sound insulation—you never know when you'll need to operate your impact wrench past a reasonable hour.
Verdict
That's all, folks! We sincerely hope this review of the best garage door insulation kits will help you make a well-informed decision. Everyone with a garage needs insulation as it provides various benefits for a reasonably low cost. Moreover, what you spend on installing the insulation is nothing compared to the money you'll save on power bills over the years.
Although all products on the list are great at what they do, for us, the US Energy Products NASA Tech reflective foam insulation kit is the best all-around option. If the fact that it uses NASA technology for far more critical applications than insulating a garage door doesn't convince you, the exceptional customer service definitely will.