Best Freestanding Rack
BIKEHAND YC96 Bicycle Floor Type Parking Rack Stand
Folded dimensions: 19" X 15" X 6"
Holding capacity: 1 bike
Heat-treated steel construction
It can fit kids, mountain, and road bikes
Foldable freestanding garage bike rack
Rubber feet
Best Wall-Mounted Rack
Delta Cycle Leonardo Da Vinci Single Bike Storage Rack
Rack dimensions: 11" X 3.5" X 5"
40 lbs maximum weight capacity
Holding capacity: 1 bike
Wall-mounted garage bike rack
Powder coating finish
Best Ceiling Rack
RAD Cycle Products Rail Mount Bike Lift
Rack dimensions: 8" X 8" X 30"
75 lbs maximum weight capacity
Holding capacity: 1 bike
Ceiling-mounted garage bike rack
High-grade aluminum construction
It doesn't matter if you are a hardcore cycling enthusiast or just a weekend joyrider, storing your beloved bike in the garage is no easy feat. Most garages are packed with a bunch of tools and car parts, and there is a good chance yours is too. For that reason, it can get quite tiresome to sort through the mess when all you want to do is go on a pleasant and peaceful bike ride. Luckily, all you need is a handy garage bike rack.
A garage bike rack is a safe and convenient way to store your bike in your garage. It makes your life easier by providing safe and secure storage solutions and will also reduce the risk of having your bike scratch your recently buffed and waxed car paint.
Bike racks come in various shapes and sizes, so to help you decide which model to buy, we have curated a comprehensive list of 7 of the best garage bike racks out there. Our list includes several options with different mounting options, designs, and holding capacities to cater to as many readers as possible. Each model is accompanied by highlighted features, pros, and cons to aid with the decision-making process.
Enjoy!
Freestanding Bike Racks
The Bikehand YC96 garage bike rack is a simple yet effective option from the floor type line-up. It is built from high-quality steel that has been heat-treated for additional strength and durability. The slim frame is then powder-coated, resulting in an attractive matte black finish that also provides an extra protective layer.
Of course, one of the most significant advantages of floor-type garage bike racks is the minimal effort required to mount your bike on. All you have to do is roll either tire into the front holder, forcing it to tilt, and Voilà, your bike is now secure.
Get Bikehand's model if you are looking for an easy and quick mounting/dismounting process. The YC96 will securely hold your precious bike, and thanks to a lifetime manufacturer warranty, you haven't got anything else to worry about here. For those who own more than one bike, this bike rack is also available in a double and triple bike configuration.
Highlighted features
Folded dimensions: 19" X 15" X 6"
Holding capacity: 1 bike
Heat-treated steel construction
It can fit kids, mountain, and road bikes
Foldable freestanding garage bike rack
Rubber feet
Pros
It comes fully assembled
Simple and easy operation
Lightweight garage bike rack
Compact dimensions make this rack portable and easy to store
High value for money
Perfect for heavy mountain bikes
Secure mounting
Strong and sturdy frame
Also available in two and three-bike configurations
Lifetime manufacturer warranty
Cons
Cannot be used for bikes with tires wider than 2.4″
Freestanding bike racks occupy garage space
Chances are the only reason you are considering buying a freestanding or floor-type garage bike rack is because your bicycle weighs a lot. Besides, heavier bikes usually have extra-wide off-road tires that cannot fit into a regular bike rack. Fortunately, Delta's Bike Rack can help you overcome this problem. Thanks to its easily adjustable design, this model can easily accommodate bikes with a tire width up to 5″.
It boasts an all-steel high-quality construction combined with a long-lasting and durable powder coating finish. You also get rubberized feet that protect your garage floor from unwanted scratches.
Delta's bike rack will make a great addition to your garage, especially if you have a heavy bike or don't want to go through the trouble of lifting it 5 feet in the air every time you come back tired from a ride. The downside, however, is that it will take quite a bit of your garage space that you could better use for other applications.
Highlighted features
Rack dimensions: 22″ x 15″ x 17″
Holding capacity: 1 bike
Industrial-grade steel frame
Powder-coated finish
Adjustable floor-type garage bike rack
Pros
Quick and easy initial assembly
It can be adjusted to accommodate bikes with a tire width of up to 5"
Easy to use
Simple modifications allow several racks to connect in series for added capacity
Low cost
Safe and secure garage bike rack
Rugged construction with a long-lasting finish
Limited lifetime manufacturer warranty
Cons
Some assembly required
It takes up considerable garage floor space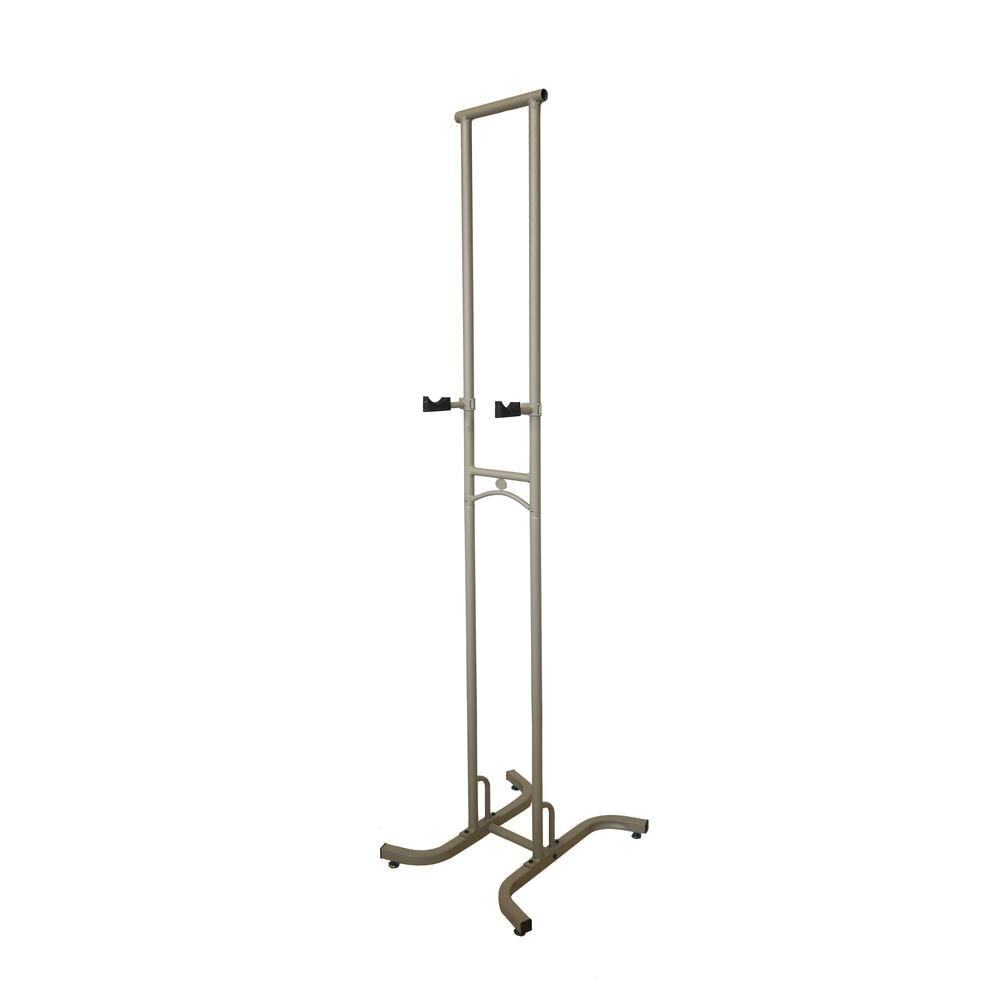 Sparehand's DBR825 is the latest version in the brand's freestanding bike rack line-up. It is a modern rack constructed from tubular steel to keep the weight down and impart enough strength to hold up to 80 lbs. Furthermore, a wide 24" X 22" base ensures all that weight is held as securely as possible. Lastly, the rugged construction is finished in a unique and attractive "Pebble Silver" paint.
Unlike most hanging bike racks, the Sparehand DBR825 does not require any drilling into walls or ceilings. Instead, there is a simple and straightforward assembly process that gets you going in no time.
Thanks to the height-adjustable plastic-coated cradles, this garage bike rack is capable of accommodating anything right from a small kid's bike to full-size mountain bikes. However, only consider purchasing this model if you have significant floor space to spare since the extra-wide base will certainly need it.
Highlighted features
80 lbs maximum weight capacity
Holding capacity: 2 bikes
Tube steel construction
Freestanding garage bike rack
Total height: 78"
Pros
Wide base provides a secure foundation
Impressive weight capacity
Attractive pebble silver finish
Height-adjustable hangers
Soft contact points to prevent damage to your bike
Assembly requires no drilling or any other permanent changes
5-year manufacturer's limited warranty
Cons
Some assembly required
Female bikes require a separate adapter
Wall-Mounted Bike Racks
Delta Cycle Corp. has developed a solid reputation for building quality products over the last 30 years. The Leonardo Da Vinci bike rack is just another prime example; it is a wall-mounted rack that stores your bike against the wall and perpendicular to the floor. The bike is securely held in place by an innovative hook coated in a non-slip rubber compound to prevent scratches or marks. Also, a special tray will house the rear tire and protect your garage wall from tire marks; Delta has thought of everything.
Even the initial installation process is easy; all you have to do is fasten a couple of screws for the central unit and stick the tire tray using the peel-and-stick adhesive base.
If you can get past the tacky name, you would see that the Delta's Leonardo Da Vinci garage bike rack is a very usable and practical model. Its ability to work efficiently even in the tightest of spaces makes it perfect for use in garages with space constraints.
Highlighted features
Rack dimensions: 11" X 3.5" X 5"
40 lbs maximum weight capacity
Holding capacity: 1 bike
Wall-mounted garage bike rack
Powder coating finish
Pros
Great attention to detail
Easy to install and use
It holds your bike securely
Versatile weight capacity
Attractive Premium Silver finish
It saves significant floor space
Limited lifetime manufacturer warranty
Cons
It involves drilling holes into your wall
The domed head screw can potentially damage your bike
You'd be wrong to think we are done with Delta just yet; its high-quality bike racks keep us longing for more. Meet the Michelangelo gravity stand; it is a 2-bike bike rack that requires no screws or other fasteners. Instead, it is designed to lean against your wall and occupy minimal floor space.
Much like other models on this list, the RS6002 Michelangelo also features an all-steel high-grade construction. A rugged powder coating finish complements the robust construction to ensure the shiny frame stays that way for a long time.
This garage bike rack can hold up to 2 bikes at once, and each bike is mounted using height adjustable arms coated in a protective rubber compound to protect the frame. You get two pairs of these arms, and each pair is rated at 40 lbs giving this rack a total weight capacity of 80 lbs.
This is one of the best garage bike racks if you don't want to commit to any particular permanent spot for storing your bikes. Since this is a wall-leaning model, you can quickly move it from one place to another in seconds.
Highlighted features
Rack dimensions: 84" X 20" X 16"
80 lbs maximum weight capacity
Holding capacity: 2 bikes
Wall-leaning adjustable garage bike rack
Steel frame with powder coating
Pros
Easy installation process
You can easily move it from one place to another
High value for money
Sufficient weight capacity
Strong and sturdy frame
Height-adjustable arms allow for versatile storage
Modern and sophisticated appearance
Limited lifetime manufacturer warranty
Cons
Ceiling Bike Racks
The Saris Glide bike storage ceiling rack is the ultimate space-saver model. As the name suggests, it is a ceiling-mounted garage rack that can hold up to four bikes weighing 50 lbs each. If that is not enough for you, you can expand its capacity to 6 bikes by purchasing a unique add-on kit for a small fee.
The Saris Glide is meant to be installed above your car to maximize your garage's storage space. Once installed, you can use the wheel hooks to hang your bike in an upside-down fashion. You can adjust each pair of hooks to store bikes with varying wheelbases. It will accommodate bikes with a wheelbase up to 56″ and tire width up to 2.5″.
Saris' garage bike rack is one of the best options for those with a tall ceiling. You can make excellent use of the space that would otherwise not be fully engaged. Yes, this rack does cost more than other options on this list, but it makes up for it with its high-quality construction and the ability to store 4 bikes at once.
Highlighted features
50 lbs maximum weight capacity (per bike)
Holding capacity: 4 bikes
Ceiling-mounted garage bike rack
Made from recyclable and stainless materials
Pros
One of the best space-saving garage bike racks
Impressive weight capacity
Versatile storing options
Adjustable wheel hooks
Rugged and durable construction
1-year manufacturer warranty
Cons
You cannot use it on bikes with fat tires
On the expensive side
Lifting your bike takes considerable effort
Do you hate lifting your bike onto wall-mounted bike racks but don't have enough garage space for a floor-type model? Well, you are in luck because the RAD Rail Mount Bike lift is the best garage bike rack for you. It is a ceiling-mounted rack that hoists your bike using rope, hooks, and pulleys arranged appropriately. That way, you don't have to go through the trouble of lifting your bike; instead, you can just attach the two hooks and pull the rope until the bike is high enough.
RAD's garage bike rack combines the advantages of floor type and ceiling-mounted bike racks to give you the best of both worlds. Additionally, you can adjust the spacing between the hooks to accommodate a wide range of body styles. You also get a 75 lbs weight limit that is more than enough as bikes rarely weigh more than 40 lbs.
Highlighted features
Rack dimensions: 8" X 8" X 30"
75 lbs maximum weight capacity
Holding capacity: 1 bike
Ceiling-mounted garage bike rack
High-grade aluminum construction
Pros
It has a built-in safety mechanism
High weight capacity
Adjustable hooks allow for greater usability
Low cost
High value for money
Easy to use
Strong and durable frame
Rubber hooks to prevent damage to your bike
Lifetime manufacturer warranty
Cons
Complex assembly process
Some buyers have experienced minor quality issues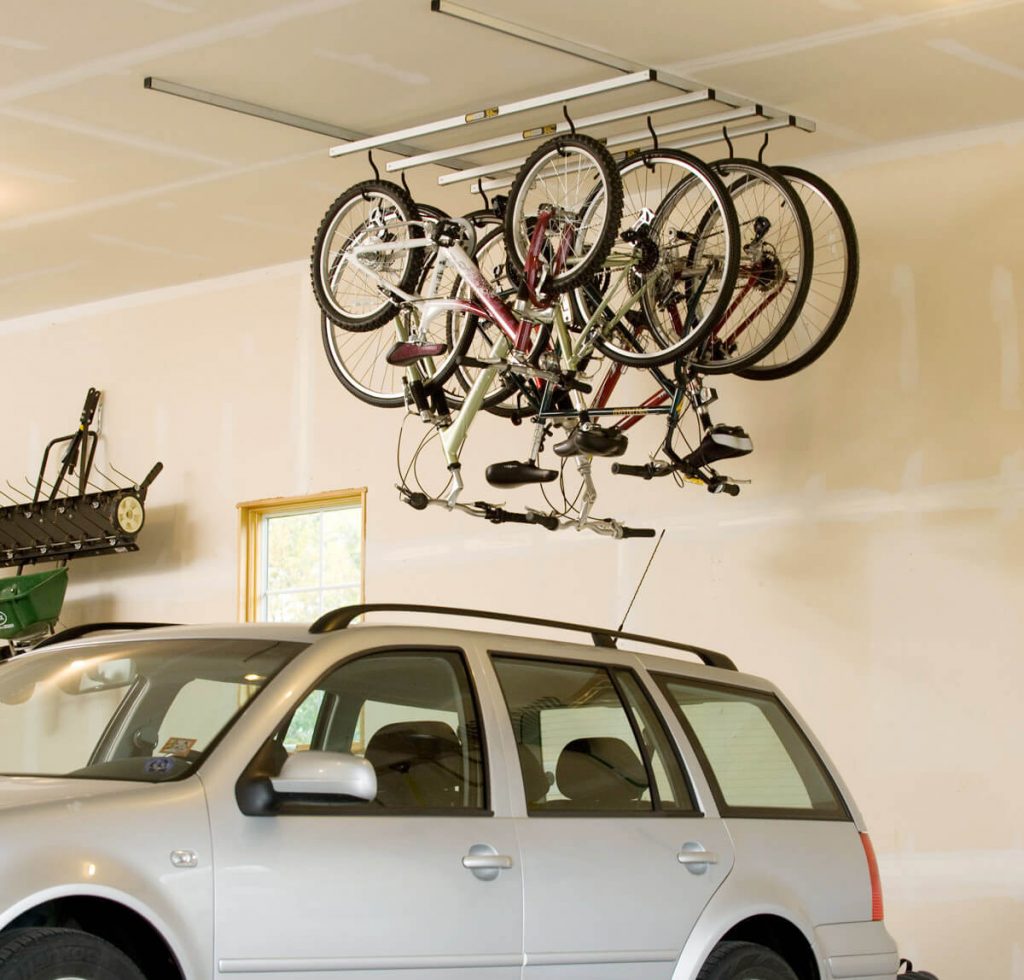 ​Garage Bike Storage Installation
In some cases, installing a garage bike rack can be as simple as unpacking a box and placing it on the ground, while on the other end, some models require an elaborate and complex assembly process. The point being, the installation process entirely depends on the particular bike rack you decide to purchase.
However, that's no cause for concern as we have some guiding points for you. Let us take an example of floor-type bike racks first; they do not require you to drill holes in your walls or ceilings and usually have a relatively simple assembly process. Tighten a couple of joints here and there, and you're all set.
Meanwhile, wall-mounted or ceiling-mounted bike racks can get a little complicated. The first step would be to decide on a suitable mounting spot in your garage. Ensure you put a lot of thought into determining the perfect location, as moving them from one place to another is not advisable. Once you have decided on the right spot, drill the required holes and carefully screw the rack.
Since all bike racks are different, refer to the instruction manual before getting to work. You will find detailed steps concerning the installation process.
Verdict
We hope our review of 7 of the best garage bike racks has gone some way in bringing clarity to the decision-making process. Since all bike racks on our list serve a different purpose, there is no clear winner here. Instead, we have options for nearly every imaginable scenario.
Floor-type bike racks like the Bikehand and Delta Cycles are perfect for those with some space to spare. They allow for a certain level of ease when mounting and dismounting activities that other options simply cannot match. But, let's face it, garage space is a commodity always in short supply. We think the best all-around choice is RAD's rail lift; it is a ceiling-mounted bike rack that gives you the advantages of a floor-type model.